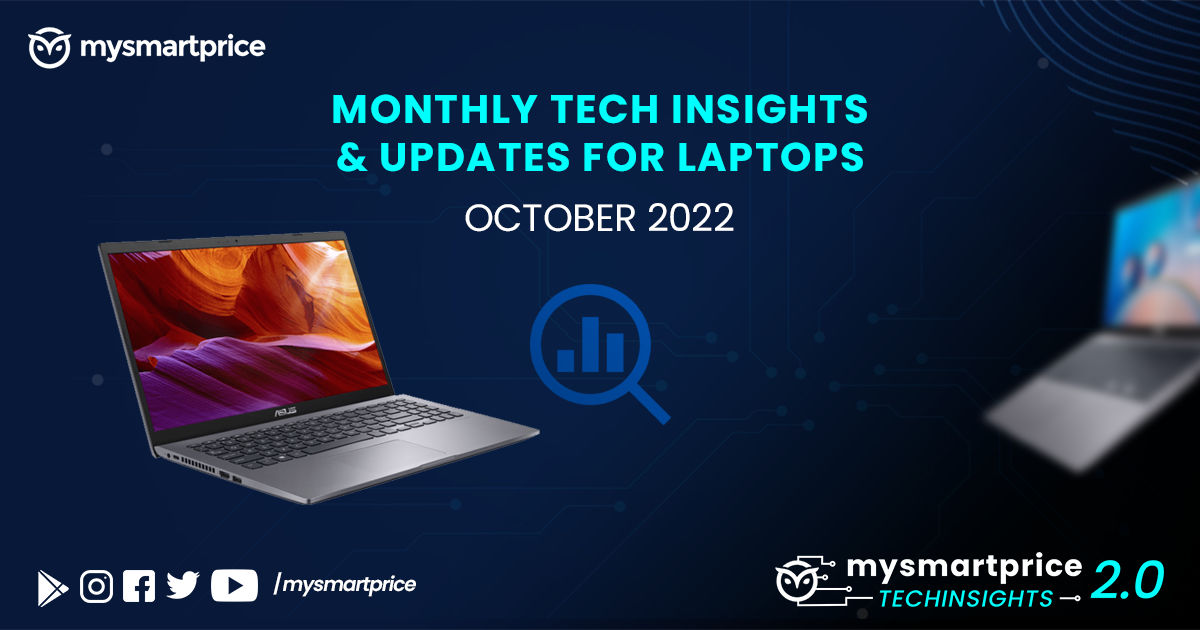 The Indian smartphone market declined in India in the third quarter of 2022, as per a report from research firm, Counterpoint. However, it seems that the laptop market was on the rise in the previous month. MySmartPrice recently conducted a survey in October to know about the latest trends in the laptop industry. To get an in-depth learning about how consumers prefer to buy a laptop, we studied the buying habits of over 15 million people that visited our platform.
The report was divided into different categories by taking each factor that a user can get in mind while buying a laptop such as its screen size, price, brand value, processor, etc. We also listed the top five laptops that were most popular among all. Let's check out the MSP October tech insights for laptops.
HP is Still the Most Popular Laptop Brand
HP managed to retain its number-one position among all the laptop brands. Compared to 29.4% popularity in September, the brand reached a new high with 33.7% interest. Lenovo claimed the second spot with a high popularity rate of 24.4% compared to 22.4% in September. However, other brands in the report saw a decline compared to the previous month.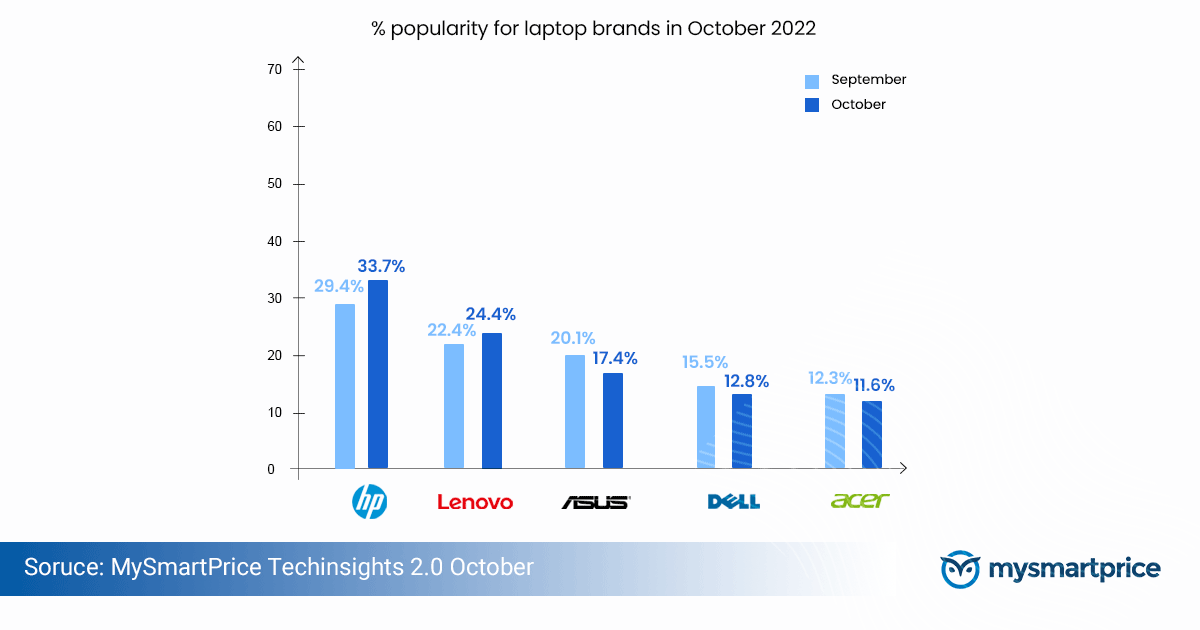 Asus, which reached the third position, saw a declined popularity rate of 17.4% in October compared to 20.1% in September. Dell and Acer got the fourth and fifth spot respectively with 12.8% and 11.6% popularity.
Huge Interest in Laptops Under Rs 25000
The low-budget segment i.e below Rs 25,000 registered an interest of 34.2% compared to 9.6% the previous month. That's a huge difference and sale season could be one reason for it. However, the mid-budget segment i.e. between Rs 35,000 to Rs 49,999 saw a huge decline in popularity rate. It decreased from 43.4% in September to 20.5% in October.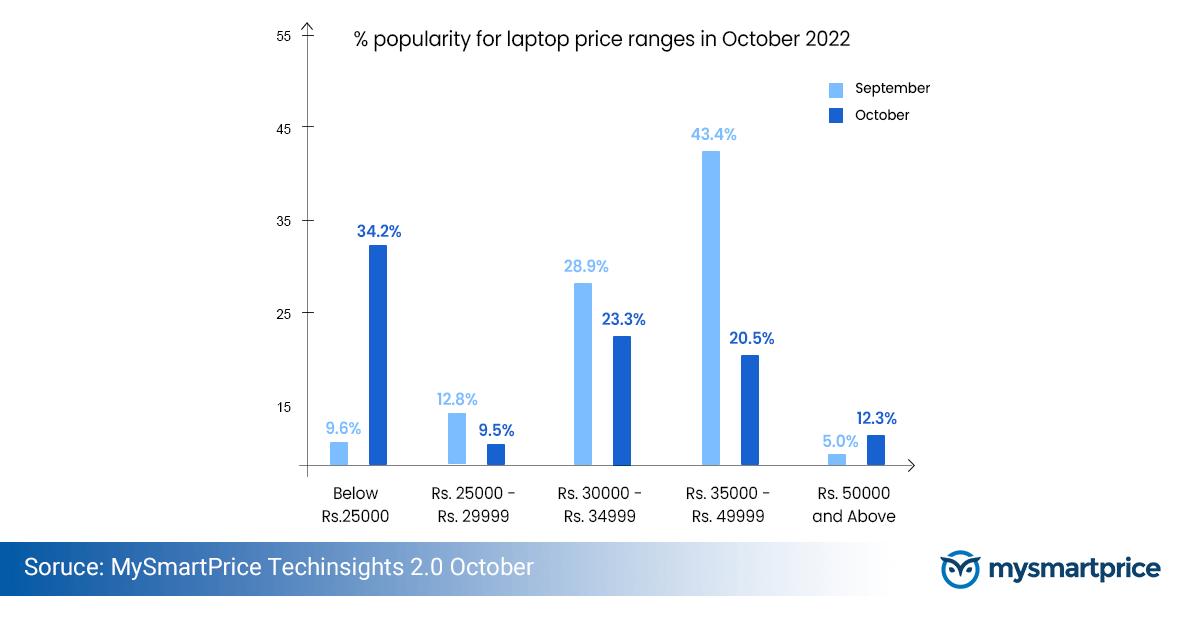 Other price segments received a similar response as the previous month. The Rs 25,000 to Rs 29,999 received a decline in popularity rate. The rate dropped from 12.8% to 9.5% in October. The popularity rate decreased from 28.9% to 23.3% between the Rs 30,000 to Rs 34,999 segment.
The above Rs 50,000 segment recorded an increased popularity rate of 12.3% compared to 5% in September.
Most Popular Laptops in India
MSP monthly laptop insights found that two of the top five laptops are from HP whereas the other three are from Dell, Asus, and Lenovo. These are the most popular laptops in India.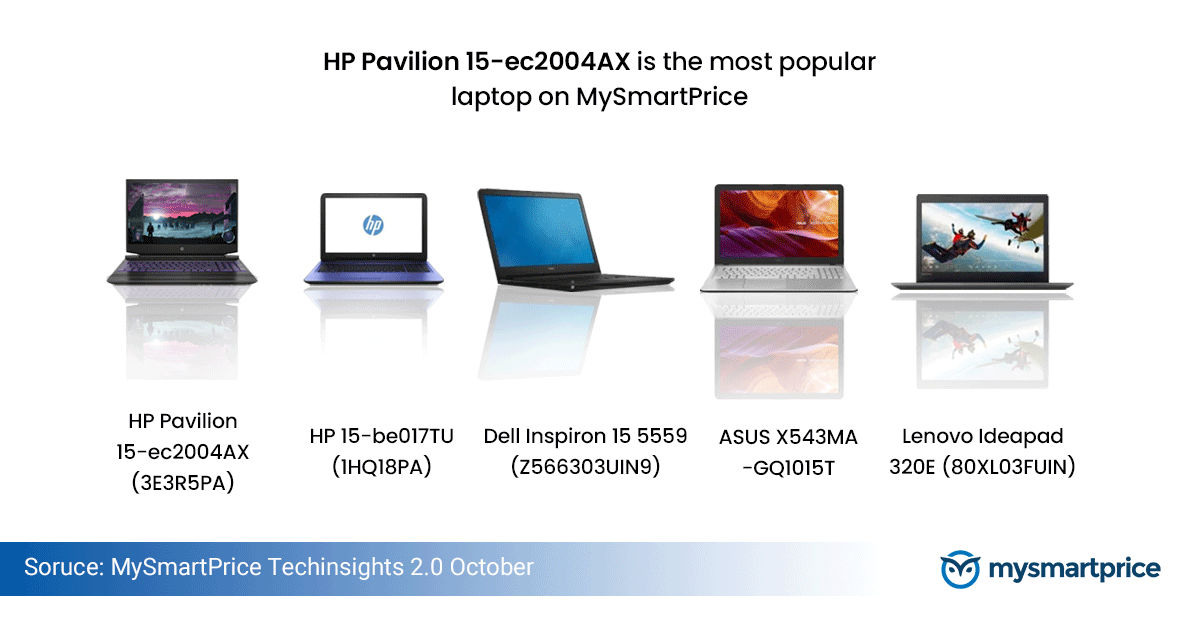 Laptop Users Prefer 512GB SSD Capacity
SSD, also known as Solid State Drive is the latest and a popular generation of storage devices that is being used in laptops. Users are now preferring it over HDD as it's fast. SSD is generally available in four storage capacities – 128GB, 256GB, 512GB, and 1TB. Out of which, we found that the 512GB variant was the most popular SSD capacity in October with a 52.8% popularity rate. The 1TB variant was the second most popular capacity however it recorded a declined popularity rate of 24.9% compared to 32.4% in September.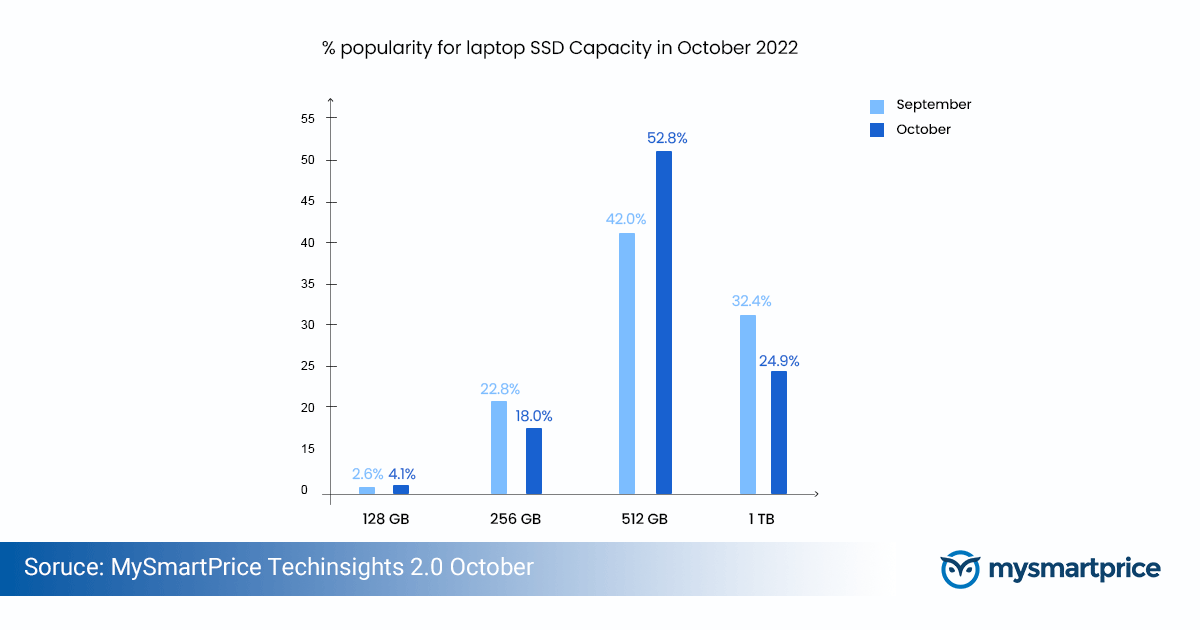 The 256GB variant also registered a declined popularity rate of 18% compared to 22.8% in September. Last, the 128GB was the least popular configuration with just a 4.1% popularity rate in October.
Intel is the Most Preferred Laptop Processor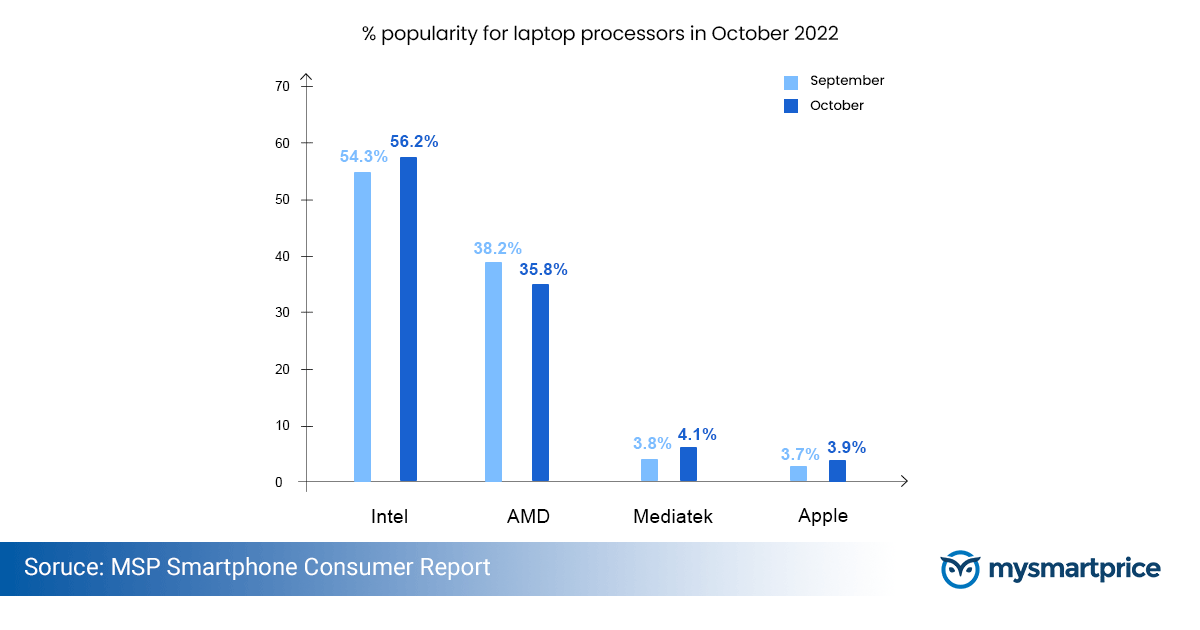 Choosing a laptop with a powerful processor is always a hot debate. Our survey indicates that Intel is among the most popular laptop processors with a 56.2% popularity rate compared to 54.3% in September. AMD remains the second but also saw a decline in popularity rate. It decreased from 38.2% in September to 35.8% in October.
Mediatek and Apple gained third and fourth place respectively with a popularity rate under 5%.
8GB Graphic Memory is Most Popular for Laptops
More graphic memory means a better gaming experience and this could be a reason we got to see 8GB memory being the most popular for laptops. Although its popularity rate declined from 35% in September to 33.6% in October, it remained the most popular choice for buyers.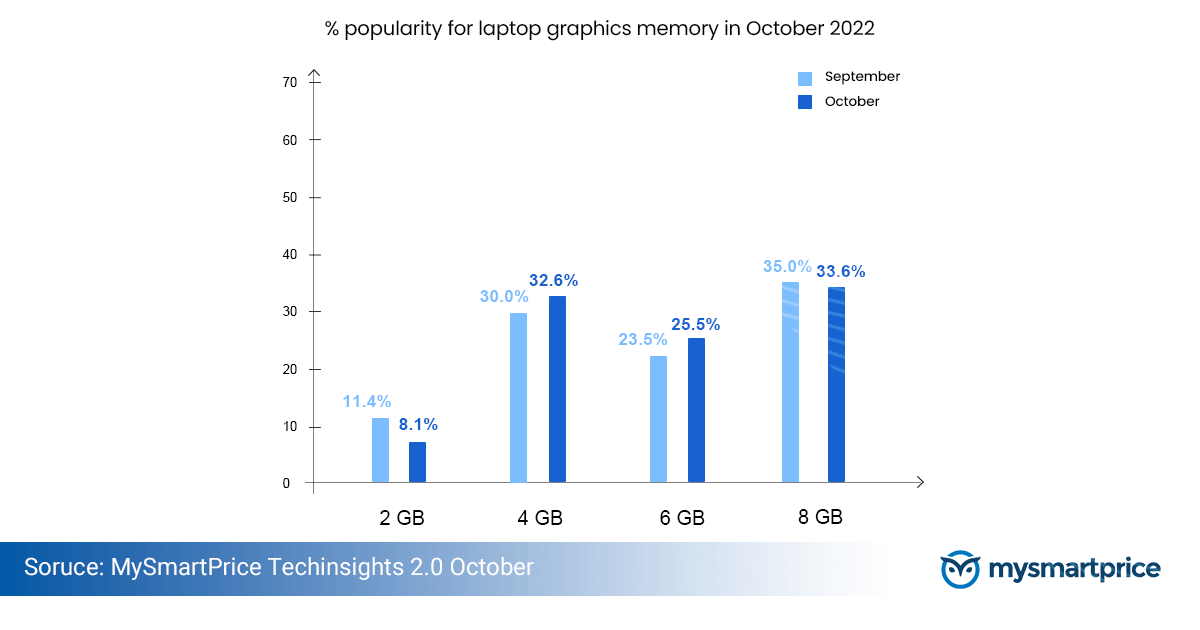 4GB and 6GB graphic memory recorded an increase in their popularity. Interest for the 4G variant went up from 30% in September to 32.6% in October whereas the 6GB gained 25.5% popularity in October compared to 23.5% in September.
Last, 2GB remained the least popular graphic memory for laptops with a declined popularity rate of 8.1 in October.
Laptop Buyers Prefer Big Screen
MSP October tech insight report indicates that the essence of small screen laptops is going away completely. No user visited the laptops that have a screen size below 12.9 inches in October. Even the 14-inches to 14.9-inches category saw a huge downfall, it dropped straight to 18.1% in October compared to 27.9% in September.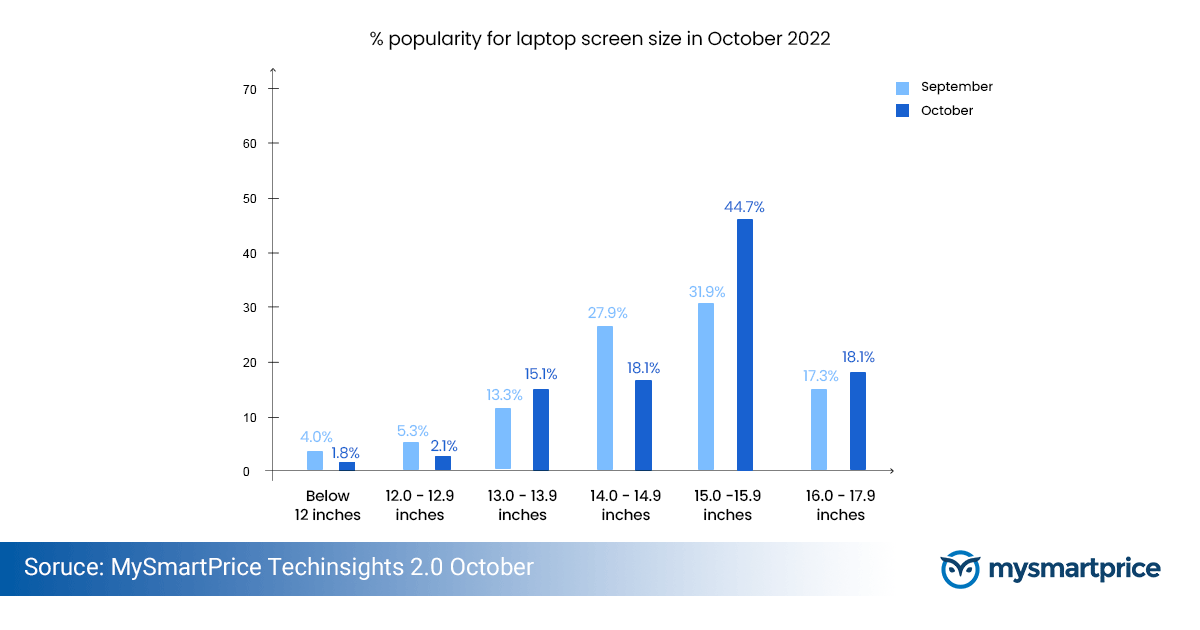 On the bright side, users reported huge interest in big-screen laptops with the 15 inches to 15.9-inches category being the most popular. It saw a huge increased popularity rate of 48.4% in October compared to 31.9% in September. It seems that this category could be a new trend going forward.
You can check out the full report here.
Join the discussion here.