Highlights
Qualcomm has announced its next-generation Snapdragon X Series PC platform.
The new series is based on custom Oryon CPU cores and has an integrated neural processing unit.
The new Snapdragon X Series will compete with Apple M series chipsets.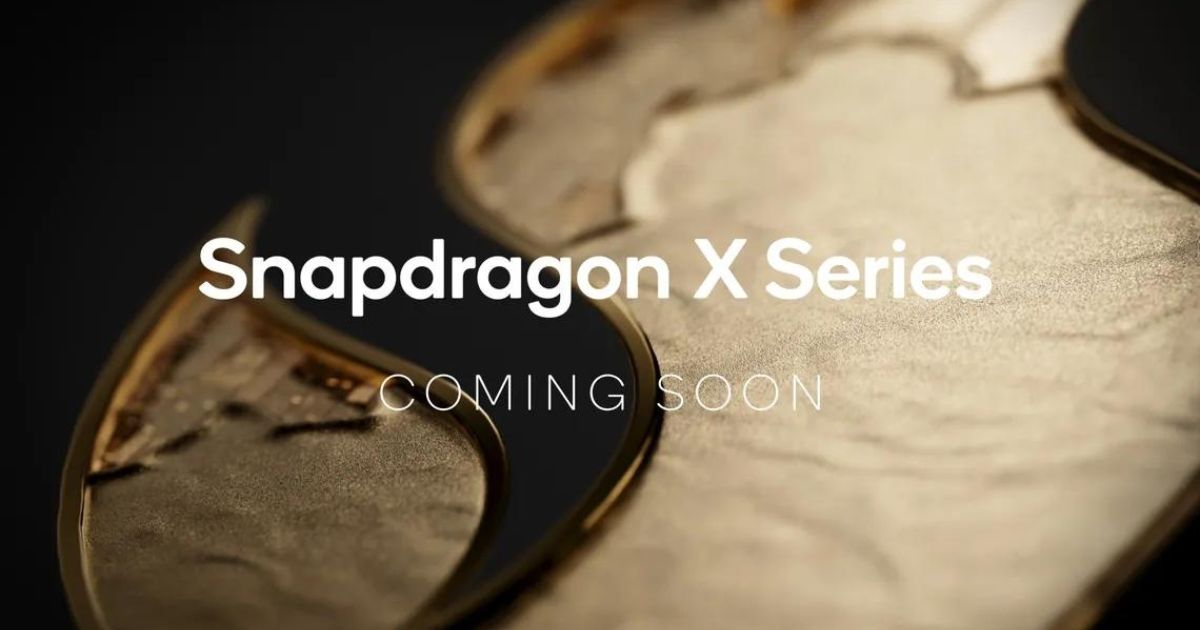 The Snapdragon X Series is the latest PC platform announced by Qualcomm ahead of its Snapdragon Summit. The brand has announced several details and a fresh naming system for its upcoming smart PC platforms. Notably, Qualcomm Technologies last launched the Snapdragon 8cx PC platform five years ago in 2023. The latest Qualcomm Snapdragon X series will compete directly with Apple's M series of chipsets. Let's take a look at the latest announcement from Qualcomm.
Qualcomm Snapdragon X Series Availability
Qualcomm has announced that the Snapdragon X Series will be unveiled at its Snapdragon Summit this year. The summit is scheduled for October 24 to October 26 in Maui, Hawaii. Qualcomm has also announced that the Snapdragon X Series will get a new logo and platform badges, which will also be unveiled at the same event. We can expect Snapdragon X Series laptops to hit the market starting next year.
Snapdragon X Series Will Compete With Apple M Series
Qualcomm Snapdragon X Series is the latest PC platform from the brand since the launch of the Snapdragon 8cx series five years ago. According to the brand, the new naming system marks a new beginning and distinguishes the Snapdragon X Series from other Snapdragon products. The new Qualcomm Snapdragon X series is intended for laptops and is aiming to match the performance and efficiency offered by Apple's M series chipset, which debuted in MacBook Air in 2020.
To achieve this goal, Qualcomm will build and manufacture X Series chipsets from the ground up, just like Apple. Qualcomm acquired Nuvia for this purpose. For the uninitiated, Nuvia was founded by Apple engineers, who were part of the Apple A series chipset development team. Qualcomm says that the Snapdragon X series will come with a simplified tiering structure for exemplary performance.
In Qualcomm's words. "2024 will be an inflection point for the PC industry, and Snapdragon X compute platforms will deliver next-level performance, AI, connectivity and battery life."
For the Snapdragon X Series, Qualcomm will use custom Oryon CPU cores from Nuvia. With this, Qualcomm is planning to achieve the same battery efficiency and performance offered by Apple M-series MacBooks. If the company manages to achieve the same, it will indeed be a turning point for Windows notebooks as performance and battery life are tradeoffs when it comes to sleek laptops.
Another similarity that the Qualcomm Snapdragon X series will have with M series SoCs is the presence of a neural processing unit. It will help Snapdragon X-powered laptops to perform AI processing natively "for the new era of generative AI." Moreover, the Snapdragon X Series will retain the 5G support from 8cx, which gives it a leg up over Apple's offerings.