Highlights
All three budget phones run on MediaTek Helio chipsets.
You only get 4G support on these phones.
Focus is on the big screen with long battery life.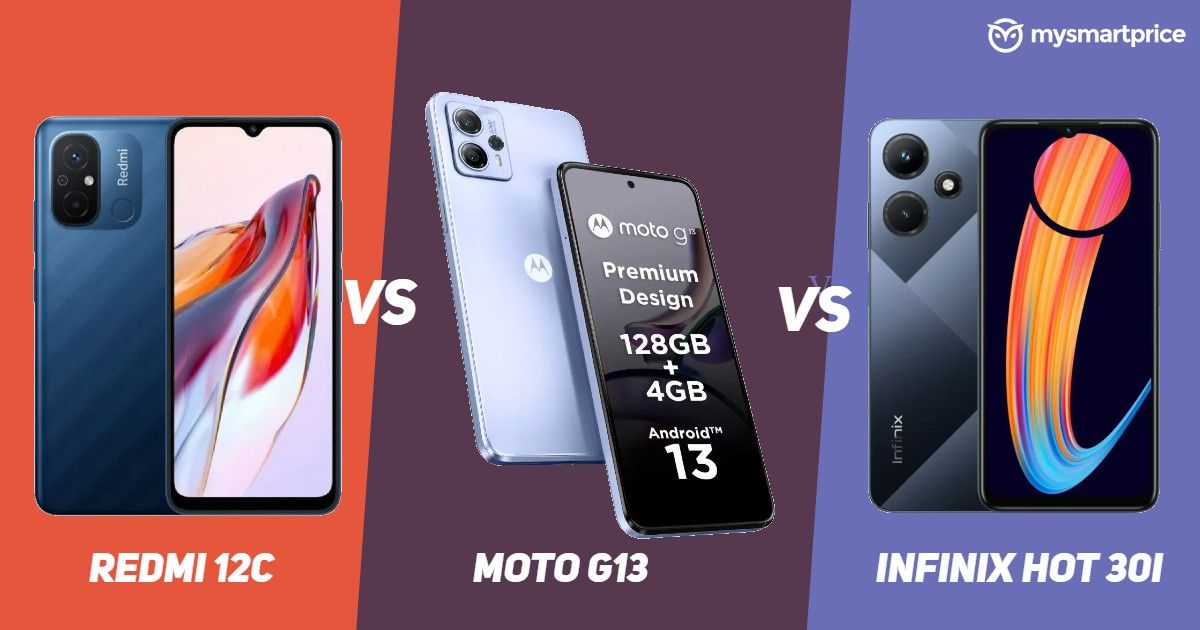 Xiaomi has upgraded its budget Redmi series in the Indian market this month with the Redmi 12C smartphone, giving buyers more options in the affordable segment. Redmi 12C is the successor to the Redmi 11 from last year, and the main focus of this range is to offer value-for-money products with a big screen and a big capacity battery.
However, Redmi 12C isn't the only product to have this focus, with the likes of Moto G13 and the Infinix Hot 30i also putting their names in the ring, making it enticing for buyers to choose from these three phones since all of them come in the same price range. Choosing one out of the three can be challenging, but here, we try to simplify this step and list out the details for comparison between these devices.
Redmi 12C vs Moto G13 vs Infinix Hot 30i: Price in India
The Redmi 12C base variant has 4GB of RAM with 64GB of storage and costs Rs 8,999. You also have a 128GB storage option with 6GB of RAM that can be bought for Rs 10,999.
The Moto G13 also comes in two storage options in India. The 4GB + 64GB variant is priced at Rs 9,499, while if you need the 128GB storage option, the price is Rs 9,999.
The Infinix Hot 30i is available in a single 8GB + 128GB variant and is priced at Rs 8999 in India.
Redmi 12C vs Moto G13 vs Infinix Hot 30i: Design
Redmi 12C looks to offer style with comfortable ergonomics. The phone weighs 192 grams and comes with an 8.7mm thickness. The back panel has a striped design with a textured finish that ensures you don't get smudges and fingerprints easily.
Moto G13 has a polycarbonate body and frame, and the company claims it has added a layer of glass to make the panel look premium. The phone has a slightly flat frame design, weighs 183 grams and comes with a thickness of 8.19mm which makes it easier to hold than the Redmi 12C.
Infinix Hot 30i also takes an adventurous approach for a budget phone. The back panel gets a diamond pattern design, with options of glass and leather-like finish available. The phone weighs around 181 grams, making it the lightest out of the three, but at 8.4mm, you have a slightly heftier phone than the Moto G13.
The Moto G13 offers the best value design with an overall focus on making the phone look premium without compromising on its comfort.
Redmi 12C vs Moto G13 vs Infinix Hot 30i: Display
Redmi 12C has a 6.71-inch IPS LCD display with an HD+ resolution of 1650 x 720 pixels. The screen gets a standard 60Hz refresh rate with 500 nits peak brightness, and you have the water drop notch where the front camera resides.
Moto G13 sports a 6.5-inch HD+ resolution display, but the screen gets support for a 90Hz refresh rate. It has a hole-punch cutout for the front camera. The screen gets Panda glass protection.
The Infinix Hot 30i features a 6.6-inch IPS LCD display with a 90Hz refresh rate screen and supports HD+ resolution at (1612 × 720 pixels. The display panel has Panda glass protection like the Moto G13, and the water drop notch at the top of the screen houses the front camera.
If you go by the display specs given here, the Moto G13 offers the best quality. But if you need a bigger screen, Redmi 12C would be our pick.
Redmi 12C vs Moto G13 vs Infinix Hot 30i: Performance and UI
Redmi 12C is powered by a MediaTek Helio G85 SoC with up to 6GB RAM and 128GB expandable storage. It runs on MIUI 13 version, which is based on Android 12 OS.
Moto G13 4G also uses the MediaTek Helio G85 chipset for performance, with 4GB of RAM and up to 128GB of storage, which is expandable via a microSD card. Motorola offers a stock Android-like experience with its My Ux, which is built over Android 13 out of the box.
Infinix has powered the Hot 30i with MediaTek Helio G37 processor, which you get with 8GB of memory and 128GB of internal storage. The memory can be further extended by another 8GB with MemFusion technology (extended RAM). The smartphone comes pre-loaded with XOS 12, which is sadly based on Android 12, and we don't know much about future updates.
Redmi and Moto are a close match, but if you need more RAM, then Infinix would be our pick. Having said that, Moto G13 is an easy choice for people who like less bloatware on their phones.
Redmi 12C vs Moto G13 vs Infinix Hot 30i: Cameras
Redmi 12C carries a dual-camera setup on the back which consists of a 50MP main camera and a QVGA lens. For selfies, the 12C has a 5MP front camera.
Moto G13 has a triple-camera setup at the back, wherein you have a 50 MP main camera, a 2MP macro camera and a 2MP depth sensor.
The Infinix Hot 30i comes with a dual-rear camera setup that consists of a 50MP primary shooter along with an AI lens. There is also a 5MP front shooter with dual-LED flash on offer.
Redmi 12C vs Moto G13 vs Infinix Hot 30i: Battery
Redmi 12C packs a 5000mAh battery with 10W charging but only via a micro-USB port. Moto G13 also gets a 5000mAh battery, but the 10W charging speed is supported through a USB Type-C port. And the Hot 30i smartphone, with its 5000mAh battery unit, also gets 10W charging support.
Once again, you would have to go for the Moto G13 in this segment.
Redmi 12C vs Moto G13 vs Infinix Hot 30i: Verdict
So, there you have it. Redmi 12C is the most affordable, along with the Infinix Hot 30i offering 8GB RAM for the same price. But Redmi as a brand should have more takers than Infinix, even though the features skew in favour of the latter.
Moto G13 comes out as an all-rounder for us, with its quality design, high refresh rate screen, reliable performance, decent camera and long battery life. Not to forget, the Android 13-based software sans bloatware, which neither Redmi or Infinix can offer. Moto G13 is also easier to hold with its compact design and flat frame. Redmi 12C opting for a microUSB port for charging is a drawback which goes against the phone.