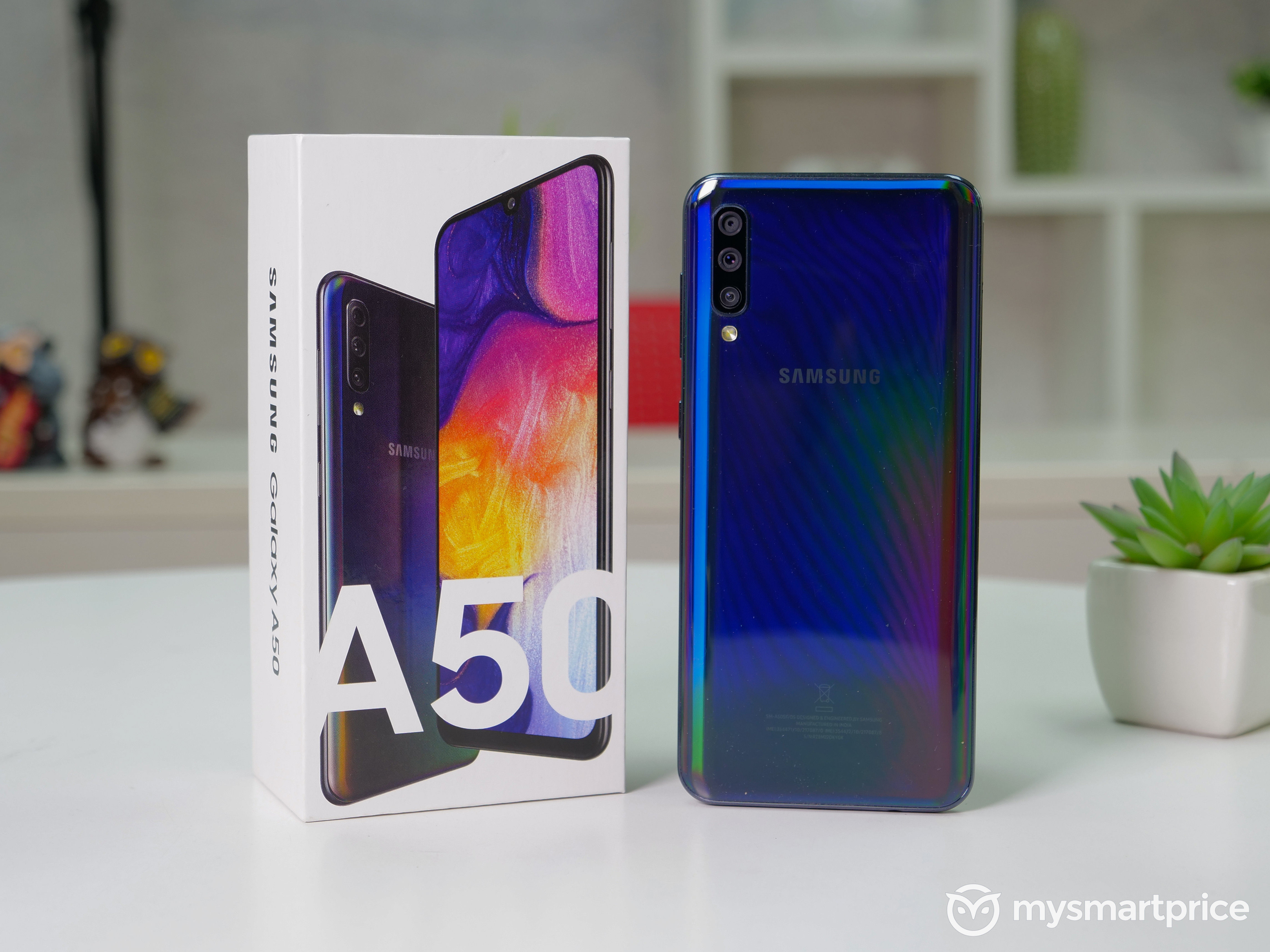 With the launch of the Galaxy A50, Samsung finally has a promising mid-range smartphone. With key features such as an in-display fingerprint sensor, three rear cameras, an AMOLED screen, a large 4000mAh battery, and a starting price of INR 19,990, the Galaxy A50 does seem to have what it takes to be a formidable contender. However, Chinese phone makers such as Huawei, Xiaomi, and OPPO have already dominated this end of the smartphone scene with some impressive offerings of their own, featuring flagship processing chipsets.
Has Samsung figured out the right strategy to take on the competition or does it need to go back to the drawing board? In the following review of the Samsung Galaxy A50, we try to answer just that.
[P_REVIEW post_id=150964 visual='full']
Samsung Galaxy A50 Design & Build Quality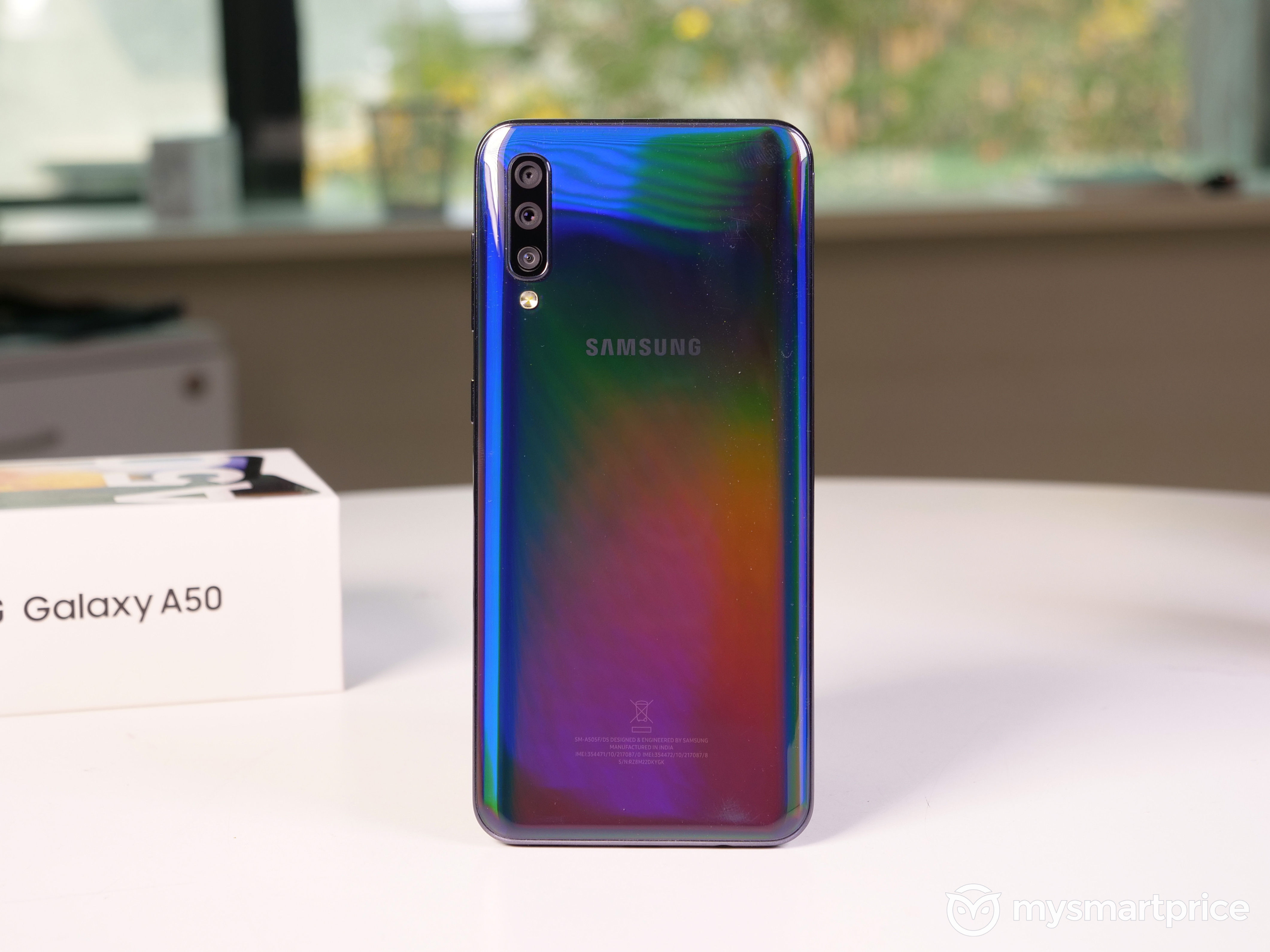 The Galaxy A50's appearance is slightly unconventional. You get a few colors to choose from (Black, Blue, Coral, and White), and we got our hands on the Black variant. This model has a glossy layer over its rear panel that produces a rainbow-like effect, depending on how the light falls on it. The Vivo Nex (Review) did something similar with its pixelated back panel, but the effect on the Galaxy A50 is more fluid and lustrous.
With that said, the Galaxy A50 doesn't feel entirely premium as the frame and rear panel are constructed using plastic. Samsung calls it "3D Glasstic" for some reason. Part of the base and the back panel were scuffed up a fair bit after the first few days of use. Samsung does provide a transparent case that can help prevent scratches, but it is just as much a fingerprint magnet as the rear panel itself. If you are the one who doesn't care about carrying around a smudgy mess of a phone, you should be fine.
On a more positive note, you will be able to use dual SIM cards alongside a microSD card as the Galaxy A50 provides a triple card tray for the same. This card slot is on the top left edge of the phone, while the power button and volume rockers are on the right. Since there is no dedicated Bixby button, the power button can be configured to trigger Samsung's AI assistant. Then we have the bottom part of the phone that houses a USB Type-C charging port, 3.5mm headphone jack, and bottom-firing loudspeaker.
There are three rear-facing cameras which are vertically stacked in the top left corner of the Galaxy A50. Turn the phone around and we have an Infinity-U Super AMOLED screen with a fingerprint scanner embedded underneath. The overall heft of the phone is on the lower side, thanks to its plastic build. Its size is also ideal for one-handed use. I did miss the notification light on this phone, but the always-on display feature is a decent enough substitute.
Samsung Galaxy A50 Display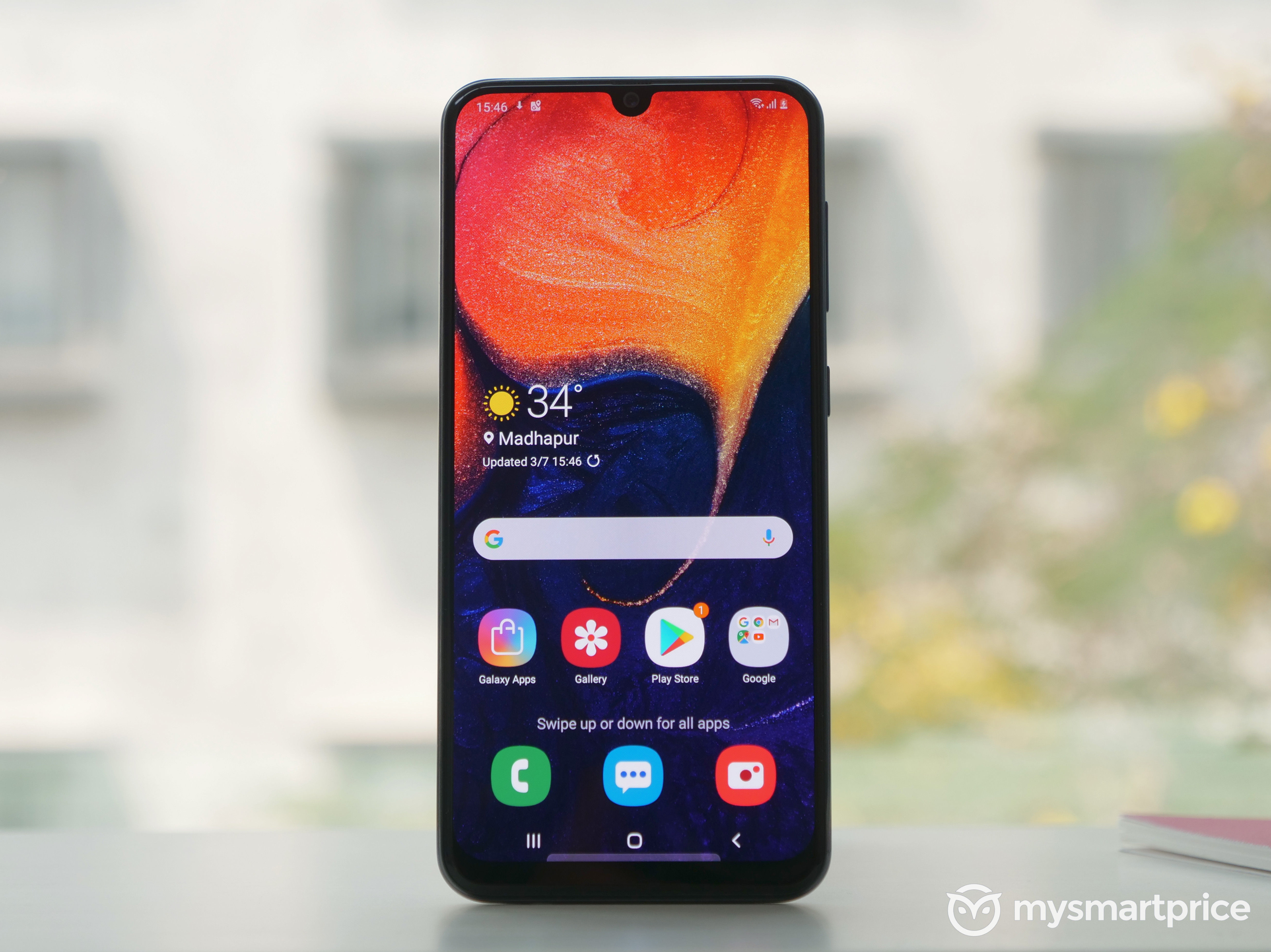 The Galaxy A50 makes no compromises when it comes to the screen. Its 6.4-inch Super AMOLED screen panel has Full HD+ resolution (2340×1080 pixels). This is an Infinity-U display, which is Samsung's fancy name given to a waterdrop-style notch design. The Galaxy A50 offers four display modes for adjusting the overall color output. Most users are likely to remain on the Adaptive Display mode which is set by default and adjusts the color output on the fly. AMOLED cinema, AMOLED photo, and Basic are the other three options available.
Overall, the Galaxy A50's screen is just as good as those found on Samsung's flagship offerings. There are no issues with legibility in sunlight. Conversely, brightness levels can be turned down enough for comfortable use in the dark. Black levels are excellent, and the range of colors is outstanding. The minimalistic notch at the top doesn't get in the way all that much. But it is to be noted that you cannot hide the notch with a software toggle which is something most other phones allow.
Samsung Galaxy A50 Software & Performance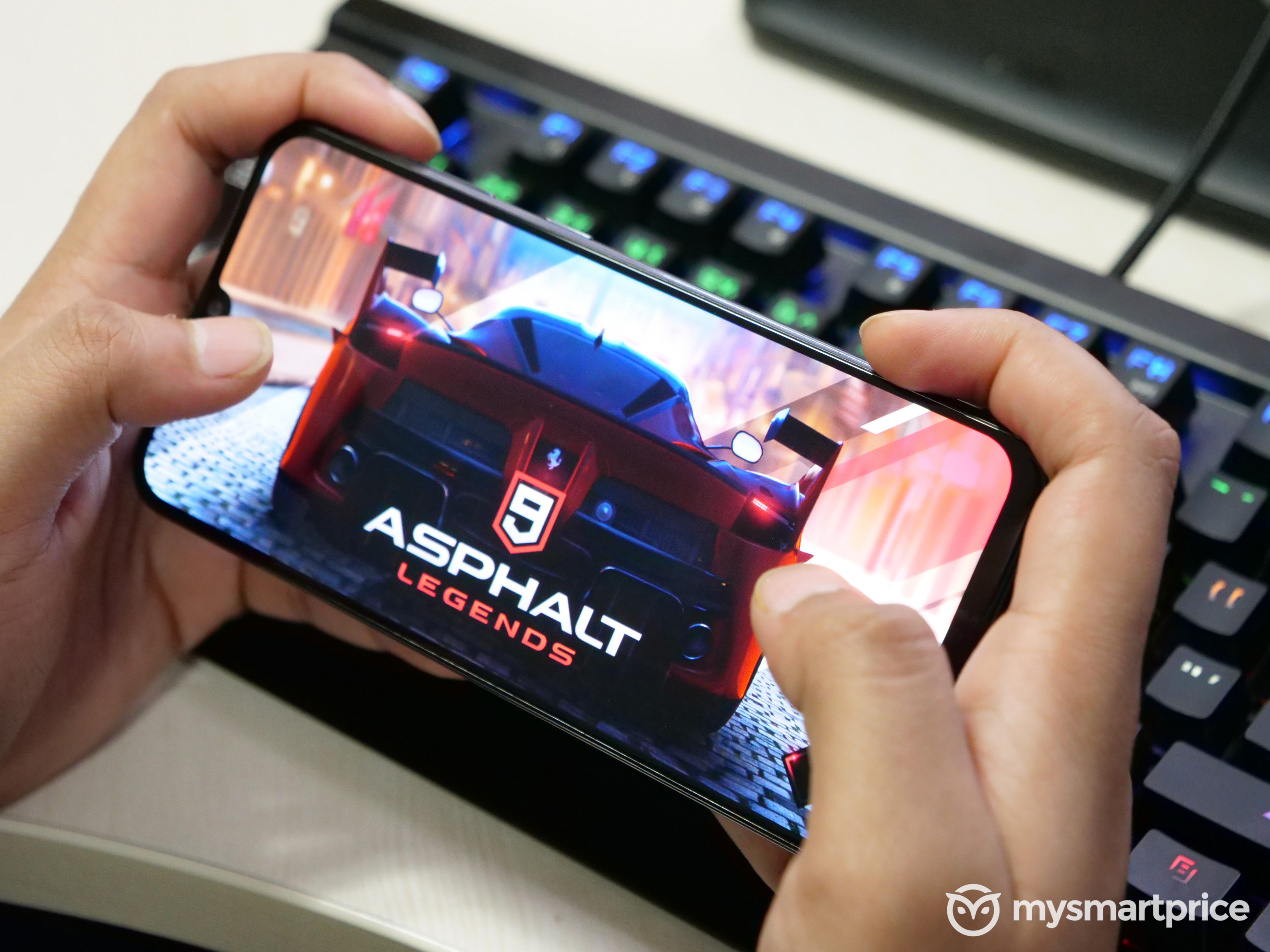 Onboard the Galaxy A50 is a 10nm Exynos 9610 chipset that offers an octa-core CPU where four Cortex-A73 performance cores are clocked at 2.31GHz with four Cortex-A53 power-efficiency cores clocked at 1.74GHz. While our review unit came with 4GB of RAM and 64GB of storage, Samsung also offers a 6GB RAM variant. As for software, the phone ships with Android 9.0 Pie out-of-the-box with Samsung's latest One UI skin running on top. From a pure numbers' standpoint, the Galaxy A50 should have performed remarkably. Benchmark tests also exhibit impressive results. However, I soon realized that this is not the case with this smartphone's real-life performance. More on that later.
First, let's take a look at what Samsung has managed to achieve with One UI. The phone maker has certainly stumbled along the way but has learned from its mistakes and has presented a software experience that truly compliments the Android operating system. The settings menu has been redesigned with one-handed usage in mind, where a swipe down will bring the topmost option to the middle of the screen. The notification panel can also be brought down all the way to the bottom, making it easier to hit toggles with your thumb without resorting to any hand gymnastics.
A toggle for a system-wide dark mode is present as well. The recent apps view has been redesigned with app icons appearing at the top of its corresponding app card. Tapping this icon presents further options for the specific app such as 'open in split screen view,' 'open in pop-up view,' 'app info,' 'lock this app,' etc.
While Samsung has taken a step in the right direction with One UI, there are elements that are less than desirable. For one, there is still a bit of bloatware despite Samsung giving you an option at startup to choose some of the Galaxy apps that will run on the phone. I did manage to uninstall or disable some of them, but persistent applications like Galaxy Apps and Samsung Pay Mini cannot be removed.
Now let's get into how this software and hardware combo performs. Right out the gate, I wasn't impressed by the A50's overall speed and responsiveness. Everything from app startup times to transition animations presents lag and stutter. Clearing up the RAM sometimes helps get things moving along, but it is still not enough and opening up just a couple of apps again will bog down the performance. Once an app starts up, there isn't t much of a problem. Games are a similar ordeal where once launched, they tend to run pretty well. It is mostly the day-to-day usability where this phone is simply not up to the mark.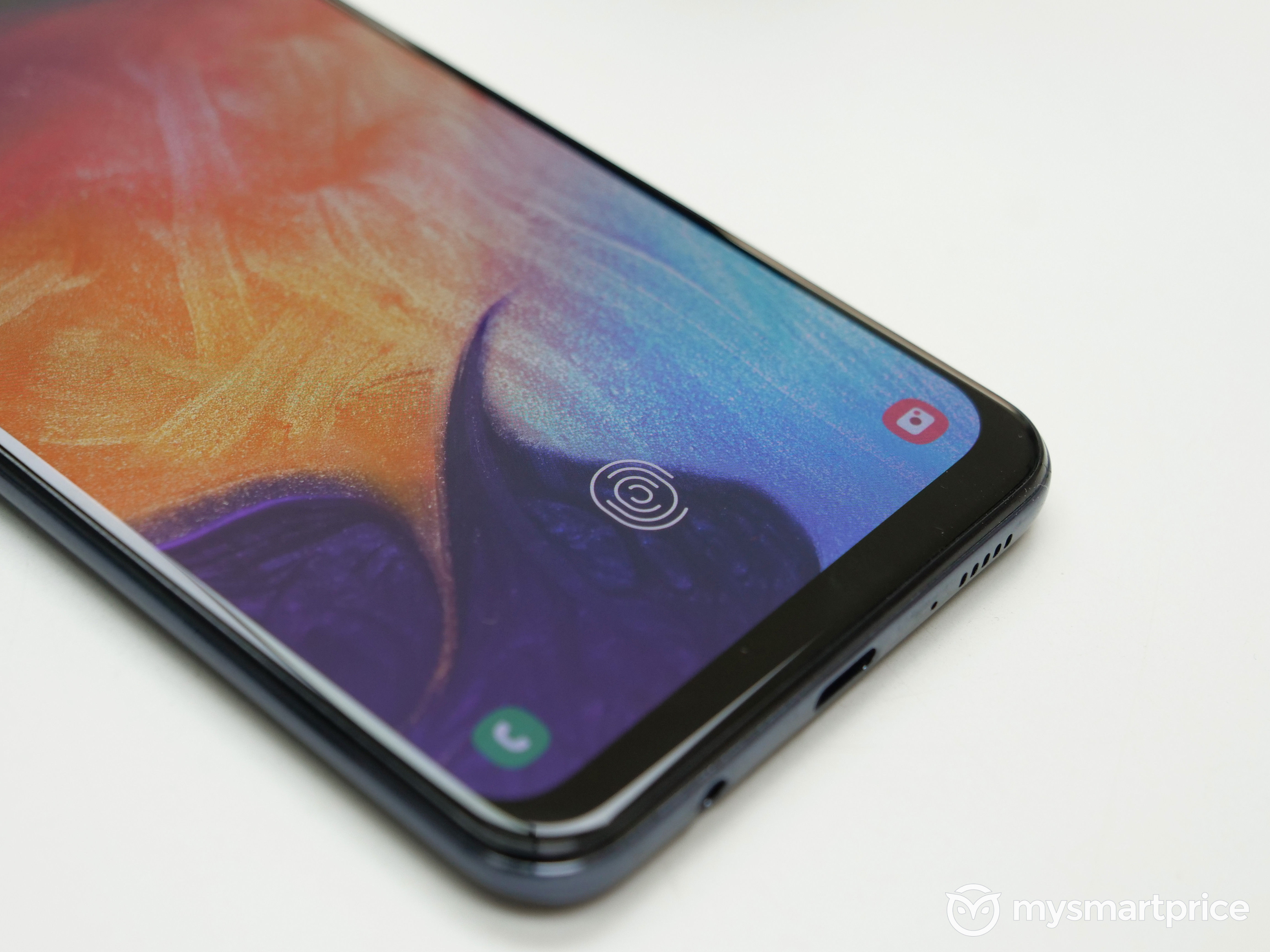 And perhaps the worst aspect of this smartphone is the one thing that was meant to be its USP – the in-display fingerprint scanner. This is the most inconsistent optical sensor I have ever used in a smartphone, at least in 2019. Even the Vivo NEX's in-screen sensor wasn't this bad. The A50's scanner fails to recognize fingerprints half the time. Setting up multiple scans of the same fingerprint does not make much of a difference. And when it does manage to get the right scan, it takes three to four agonizingly long seconds for the phone to start up. At first, I thought it had something to do with the unlock animation but cutting down system animations barely helps. I did receive a biometric security patch, but even that failed to improve any aspect of the fingerprint scanner. Face unlock, on the other hand, is much faster on this phone. But since it isn't as secure, I ended up relying more on a passcode to unlock the device.
Samsung Galaxy A50 Camera Quality
Imaging is one aspect where the Galaxy A50 has managed to make considerable strides forwards. Due to the subpar experience I had when I reviewed the Galaxy A9 (2018) (Review), my expectations were quite low. However, the combination of a 25MP primary sensor paired with an 8MP wide-angle lens and a 5MP depth sensor on the Galaxy A50 performed much better.
With the 25MP primary rear sensor, you get sharp images and reasonably accurate colors in daylight. The amount of detail captured is decent as long as you don't zoom in too much. The 5MP depth sensor also helps capture nice portrait shots with fairly accurate edge detection. In low-light, image quality does take a hit, but overall quality is not too bad.
Then we have the 8MP wide-angle camera which produces some impressive shots (only in daylight, of course). The dynamic range goes down in wide-angle shots, but the difference in quality isn't too bad. Weirdly, the camera app does not provide a way to fix the fish-eye effect that appears on these photos. As I recall, this feature was offered on the Galaxy A9 (2018), and I'm not sure why Samsung chose to have it removed.
As for selfies, the A50 offers a 25MP front-facing camera that performs reasonably well in bright conditions. Images are vibrant with good details. Edge detection in bokeh shots is about as good here as it is in the rear cameras. Dynamic range is also quite decent most of the time. However, low-light once again proved to be a problem as images captured in such scenarios ended up looking soft and they had noticeable amount of noise.
Samsung Galaxy A50 Camera Samples
It is worth noting that all cameras on this phone tend to over-expose images to make them look brighter. Samsung's software has likely been tweaked to do this on purpose. With that said, some of the resulting images did benefit from having already been lit up which is something avid Instagrammers are likely to appreciate.
Samsung Galaxy A50 Battery Life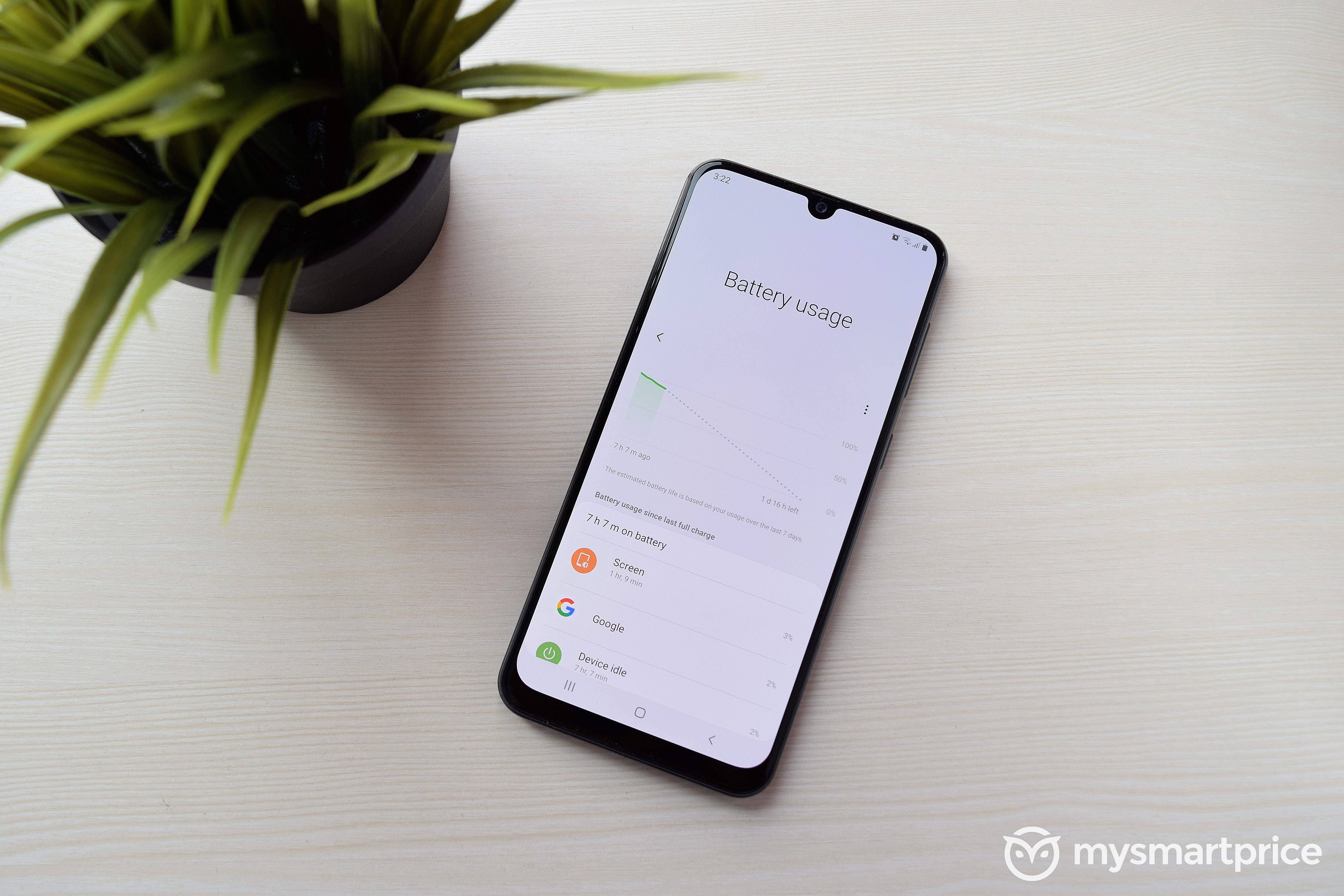 Battery life on the Galaxy A50 does not leave a lot to be desired. The phone comes with a 4000mAh cell that supports 15W fast charging. With heavy use, the phone managed to provide 5 hours of screen-on-time with just over 24 hours of standby. On a more standard workday, I was able to get over 6 hours of screen-on-time with 44 hours of standby time. Most users will be able to easily make the phone last for a day and a half before needing to reach for the power brick. Once you do need a top up, a full charge can be had in about an hour and a half.
Samsung Galaxy A50 Verdict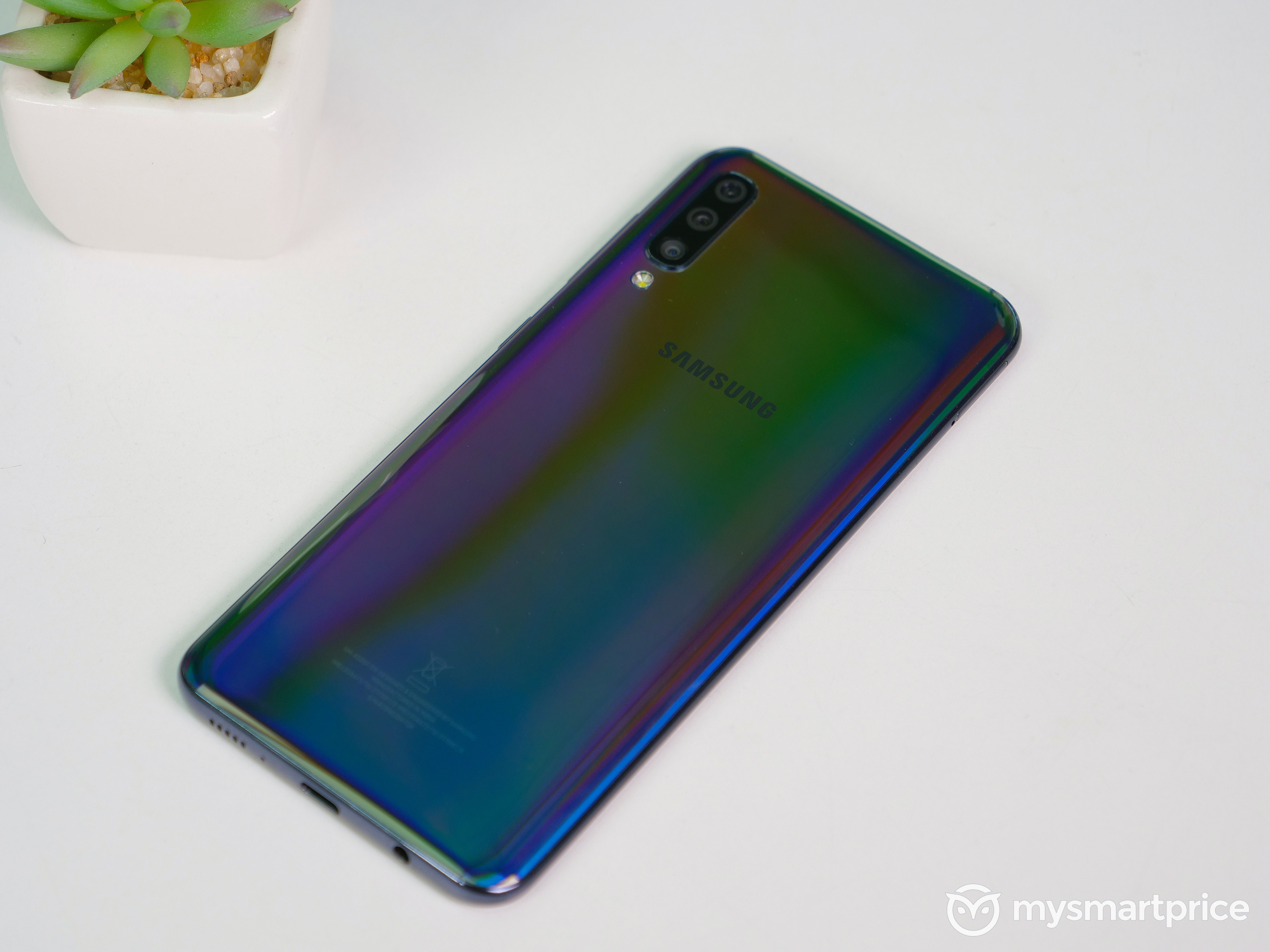 With the Galaxy A50, Samsung most certainly tried to offer all the best it could while maintaining a low price tag. And there are indeed aspects of the phone worth praising such as its superb AMOLED screen, great battery life, and cameras that are capable of impressive photography. Unfortunately, the phone faulters in a few key aspects which proves that Samsung still has ground to cover if it wants to succeed at this end of the market. Specifically, the inconsistent in-display fingerprint sensor and overall sluggishness of the device make it difficult to use this phone as a daily driver.
Perhaps tweaking the software on the Galaxy A50 can help provide a better overall experience considering the phone's chipset by itself has potential. With that said, devices like the Honor Play (review) and POCO F1 (review) can be found at discounted prices these days, making them ideal for power users who can make do without the Galaxy A50's AMOLED panel and modern design. Furthermore, those who are simply looking for a device with an in-display fingerprint can look at the OPPO K1. This phone retails for a bit less and offers about the same computational performance.
Samsung Galaxy A50
Rs 19,990
Design and Build Quality
8.0/10
Front-Facing Camera
8.0/10
What Is Good?
Excellent AMOLED screen.
Good imaging in bright lighting conditions.
Gaming at high graphic settings is indeed possible.
Samsung's One UI has been designed quite well.
USB Type-C fast charging with decent battery life.
What Is Bad?
In-display fingerprint scanner performance is terrible.
Usability is hampered due to intermittent lag and stutters in interface/navigation.
Poor low-light imaging.
Plastic rear panel is susceptible to scratches