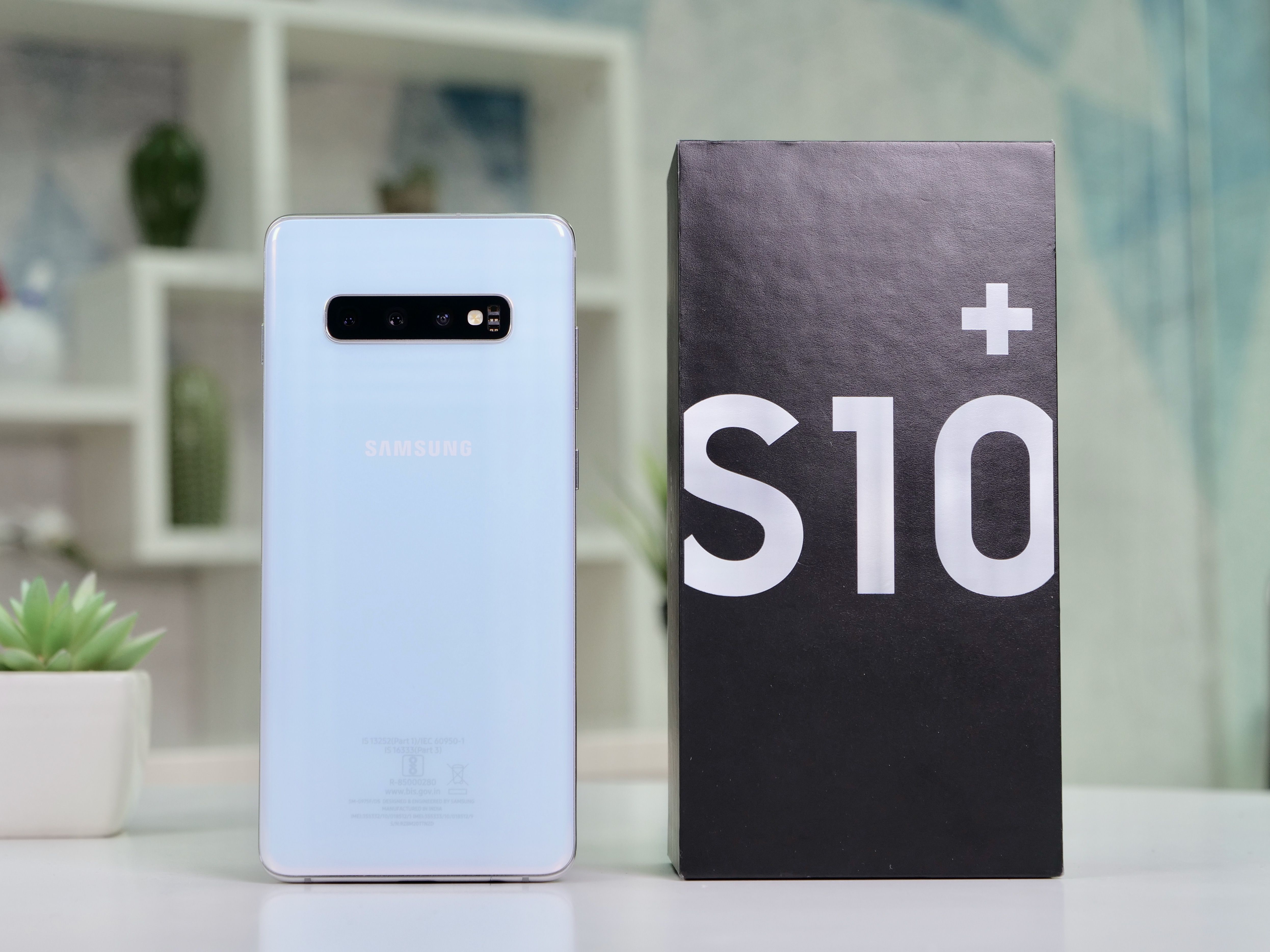 It has been ten years since Samsung launched its first flagship smartphone based on Android, the Galaxy S. Imagine that! Since then, Samsung introduced dozens of smartphone innovations—Super AMOLED and curved bezel-less screens, S Pen, the phablet form factor, software features that went on to become a part of stock Android, dual-standard wireless charging, and MST-based Samsung Pay—and to become the undisputed leader of the smartphone market. Last month, Samsung launched the tenth iteration of its flagship Android smartphone. There are four variants of the Galaxy S10: Galaxy S10e, Galaxy S10, Galaxy S10+, and the Galaxy S10 5G.
The Galaxy S10e, Galaxy S10, and the Galaxy S10+ compete with Apple's iPhone XR (Review), iPhone XS (Review), and iPhone XS Max, respectively. They also compete with the likes of Huawei Mate 20, Mate 20 Pro (Review), Huawei P30, Huawei P30 Pro, LG G8s ThinQ, OnePlus 6T (Review), Xiaomi Mi 9, and the Mi MIX 3 5G. The Galaxy S10 5G will be launched in only a few markets, though, where 5G networks are available.
All Galaxy S10 series phones feature Super AMOLED Infinity-O screens with HDR10+ playback, flagship processors, dual or triple camera setups (quad-camera in the Galaxy S10 5G) with 4K HDR10+ video recording, beautiful design, microSD card slots for storage expansion, Wi-Fi 6, fast wireless charging, reverse wireless charging, IP68 certification, Samsung Pay, stereo speakers, and all the software bells and whistles Samsung is known for. We think that the Galaxy S10e and the Galaxy S10+ are the two most sensible variants of the Galaxy S10, and we had the chance to review the Galaxy S10+ (SM-G975F) for a couple of weeks, and here's how it performs.
[P_REVIEW post_id=151663 visual='full']
Samsung Galaxy S10 Plus Design & Build Quality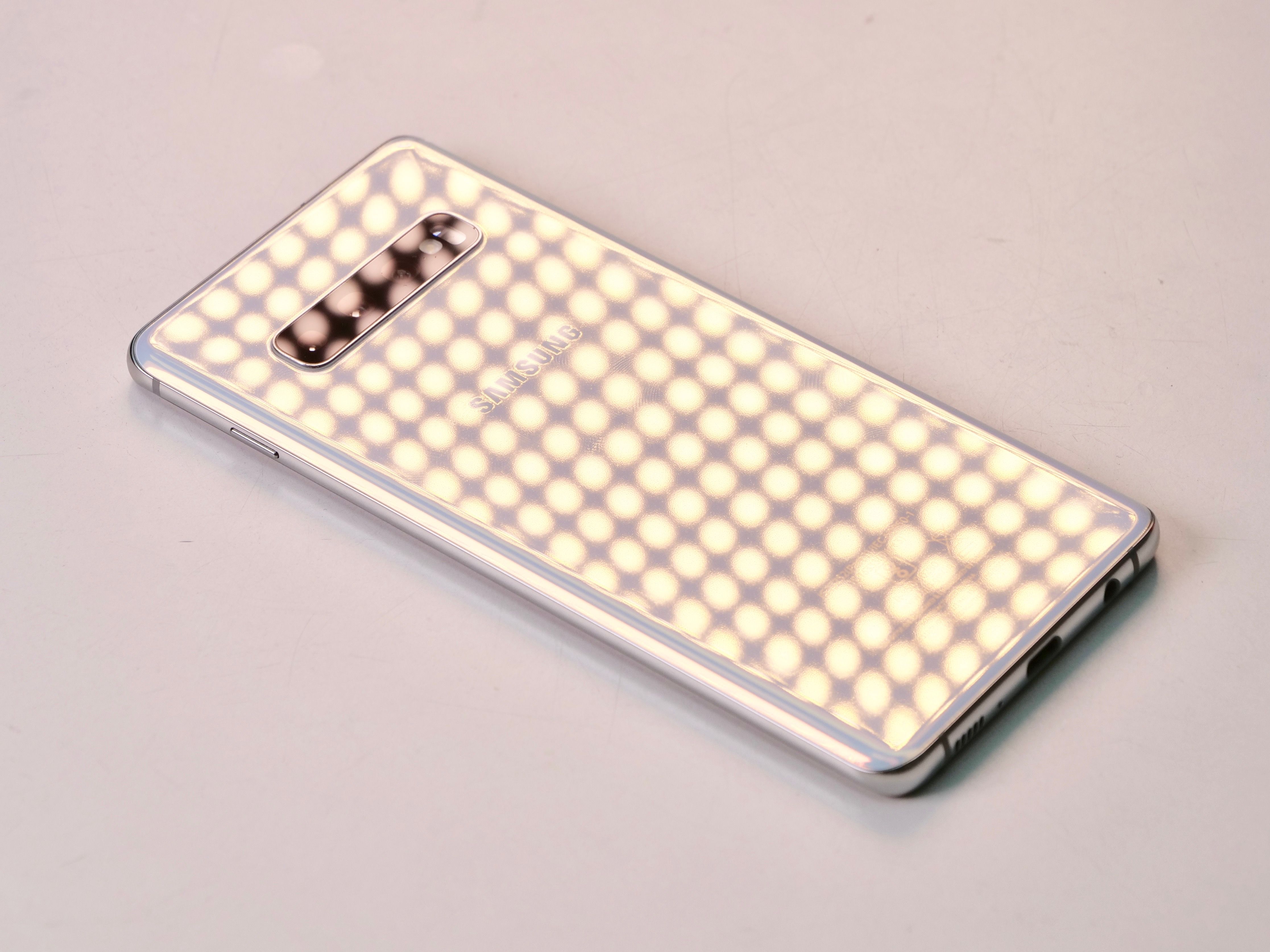 The Galaxy S10+ uses the same build Samsung has been using since the past four years. The phone's aluminum frame is sandwiched between two Gorilla Glass 6 panels. However, there has been a lot of improvement in the way the phone looks and also the way the phone feels in the hand. Samsung has optimized the design even further but reducing the curve of the screen's edge and thinning the bezels as much as possible. The Galaxy S10+ feels extremely premium in the hand and the new Prism White color variant shows a subtle pearl-like color effect when light strikes against its glass back, showing shades of pink and blue. The phone looks attractive and premium, thanks to its edge-to-edge screen at the front and color splashing glass rear. Thanks to reduced weight (175g) and better weight distribution on the Galaxy S10+, it feels lighter in the hand compared to the Galaxy S9+ (189g) and the Galaxy Note 9 (201g) even though it has a higher capacity battery.
Samsung Galaxy S10 Plus Design
For the first time ever, the company has used a pill-shaped selfie camera cutout so that it could maximize the screen real estate. The edge-to-edge screen is bezel-less and the company can now proudly claim that it has managed to duck from the notched screen trend, at least for its high-end phones. The Galaxy S10+ has curved corners, which makes the phone easier to hold. There's an ultra-slim earpiece. Buttons feel clicky, but the power button is placed much higher than it should be, making it harder to wake the phone up or lock it using the button. Then there's the Bixby button, which shouldn't be there, but at least it's customizable now. There's a USB-C port at the bottom along with a 3.5mm headphone jack and the main loudspeaker. At the top, there's a SIM card and microSD card slot.
The phone is IP68 certified for dust and water resistance, which means that you can take the phone along in the rain or on a beach and not worry about it. In spite of what brands lead you to believe about improved build quality on their phones, one thing still holds true: drop your phone from waist shoulder height (or even lower, sometimes) once and see its glass crack or shatter, leaving you with an expensive hole in your pocket when you get it to the repair center. The Galaxy S10+ is one of those phones, and its glass front or rear can crack if you drop the phone on a hard surface such as floor, pavement, or tarmac. One would be lucky (like me) if it falls on a hard surface and comes back unscathed. I would advise any Galaxy S10+ (Galaxy S10e and Galaxy S10 as well) owner to buy a good-quality case and protect your phone against unintended drops.
Samsung Galaxy S10 Plus 
Screen & Audio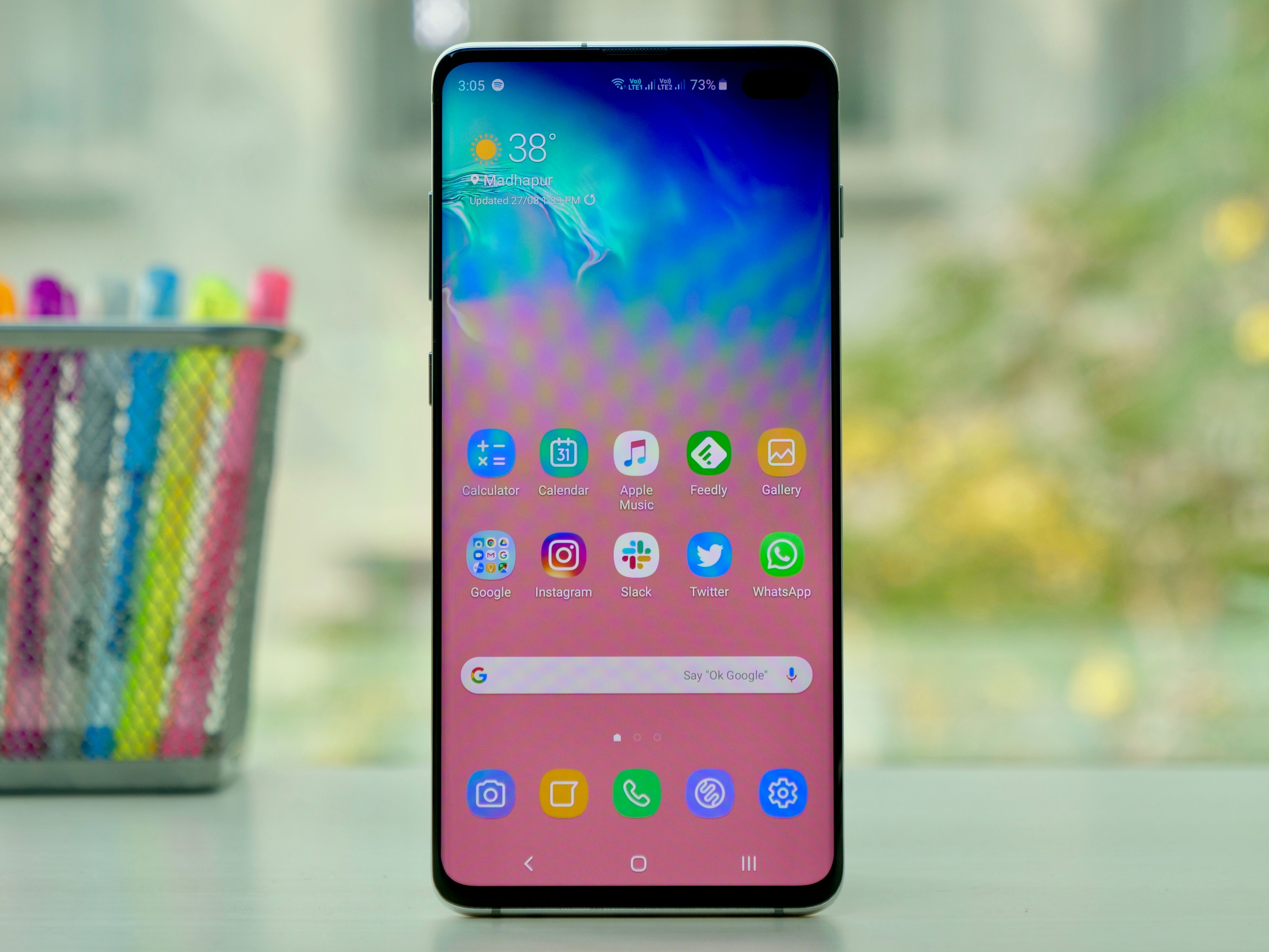 The Galaxy S10+ has a 6.4-inch Dynamic AMOLED screen with QHD+ resolution, a pill-shaped notch (to accommodate not one but two cameras), curved sides, and almost no bezels on any of its sides. Since the pill-shaped cutout is at the corner of the screen, it doesn't get in the way as much as a conventional notch. You can hide the cutout if you want, using an option in display settings, but it displays a black bar at the top, leaving a lot of screen real estate useless. The screen resolution is set to Full HD+ (2340×1080 pixels) by default but you can change it to HD+ or QHD+ from display settings.
The screen is also certified to play HDR10+ (a Samsung-developed, open source HDR video format that rivals Dolby Vision and features frame-by-frame dynamic range metadata) videos using the stock video player. It is also the brightest screen Samsung has ever put on a smartphone. It can go as high as 800 nits in the Auto Brightness mode, but I couldn't test the actual brightness level due to the lack of a proper tool in our test lab. I can say one thing, though: the screen gets extremely bright outdoors. Viewing content under bright sunlight isn't a problem. Blacks are inky and as deep as they can get. There is high contrast and the color shift is minimal. Out of the box, the Galaxy S10+'s screen showcases slightly punchy colors (Vivid Mode) but you can change the setting to showcase true-to-life colors by choosing the Natural display mode. There's some black crushing, though. Still, the Galaxy S10+ currently has the best on any smartphone.
When it comes to audio quality, the Galaxy S10+ relies on the stereo loudspeaker setup and a 3.5mm headphone jack. There's Dolby Audio enhancement for both wireless and wired audio modes. The phone sounds loud in most scenarios and there's enough bass (at least in the smartphone segment). However, it's not as loud as the iPhone XS Max's stereo loudspeaker setup. There's a 3.5mm headphone jack at the bottom of the phone, and audio quality through the headphone jack is extremely good but the volume level could've been higher. There are various high-quality wireless audio codecs: AAC, aptX, aptX LL, aptX HD, LDAC, and Samsung Scalable Codec. Listening to music on my EOZ One and the Galaxy Buds was an enjoyable experience, thanks to AAC and aptX codecs. You can also tune audio output using the equalizer (9-band) and the Adapt Sound technology (that optimizes audio as per your age and listening abilities).
Samsung Galaxy S10 Plus
Cameras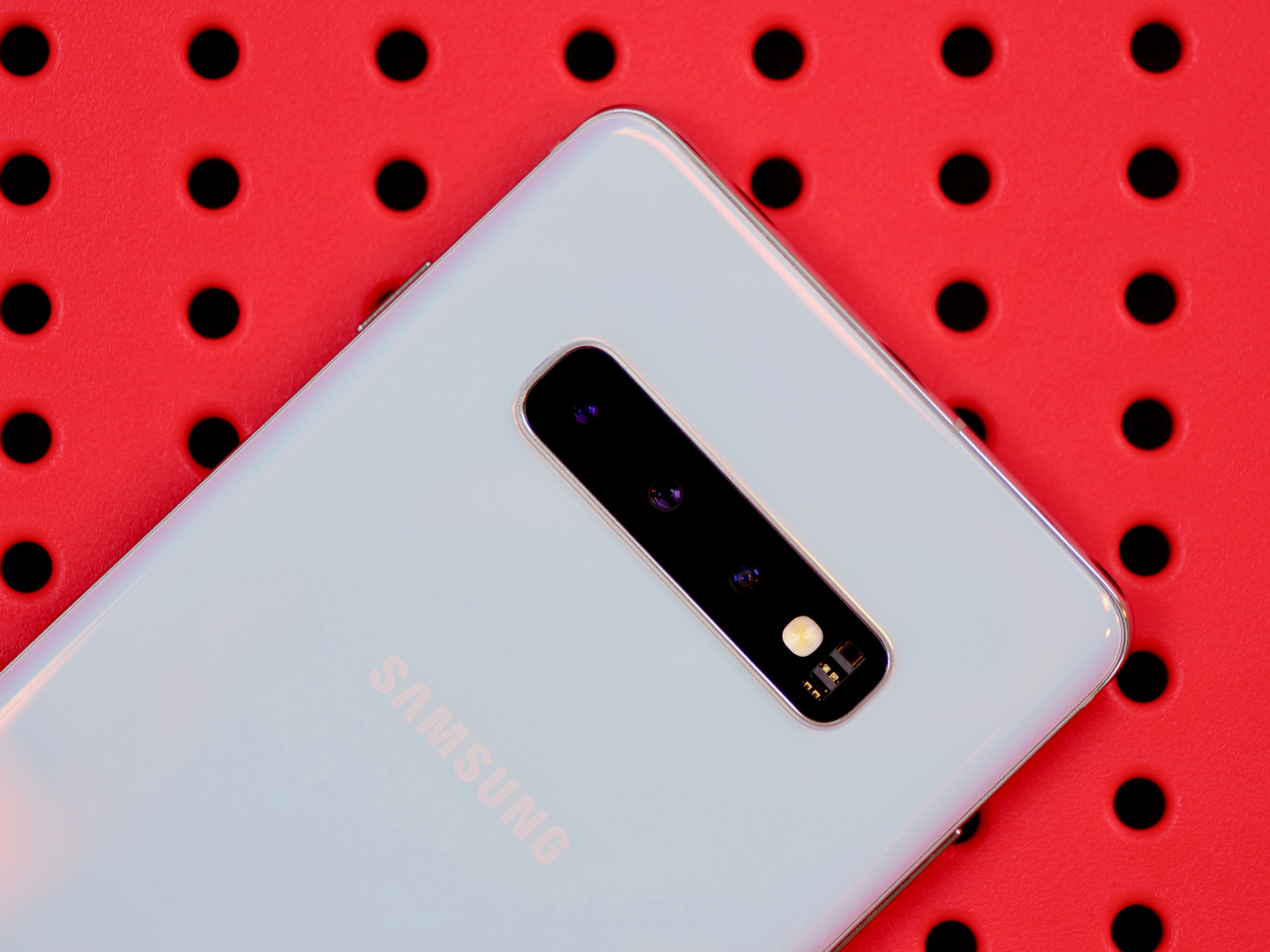 The Galaxy S10+ has two cameras on the front and three cameras on the rear. The rear-facing camera setup includes a 12MP primary sensor with a wide-angle lens, a 12MP sensor with 2x optical zoom telephoto lens, and a 16MP sensor with a 123-degree ultra-wide-angle lens. Both 12MP sensors are equipped with optical image stabilization. The primary sensor features dual-pixel phase-detection autofocus (DP-PDAF), f/1.5-f/2.4 dual-aperture, and 26mm lens. The other 12MP sensor features phase-detection autofocus (PDAF) and 52mm telephoto lens. The 16MP sensor has a fixed focal length and a 12mm lens. All three cameras can record up to 4K 60fps SDR videos or 4K 30fps HDR10+ videos. HD 720p super slow-motion videos can be recorded at 960fps and Full HD 1080p slow-motion videos can be recorded at 240fps.
Samsung Galaxy S10+ Camera App
Samsung uses its own AI-powered scene detection feature that adjusts aperture, exposure metering, shutter speed, colors and other camera settings on the fly. Images captured in broad daylight showcase plenty of details (with slight oversharpening), extremely wide dynamic range, and good colors. Samsung's image processing algorithms still use slight color boost so that they look good even before editing and that's how most people like their images. Even against the sun, the phone manages to capture details in highlights and shadows, but the Pixel 3 series is slightly better in this regard.
Samsung Galaxy S10+ Camera Samples - Daylight
Even in low-light conditions, the Galaxy S10+ manages to capture bright images with a good amount of details and low noise. In pitch black lighting conditions, Google's Night Sight mode trumps Samsung's 'Bright Night' mode. And the worse thing is that the Bright Night mode can't be activated manually, so even phones like the Galaxy Note 7 Pro beat the Galaxy S10+ in some low-light scenarios. Samsung still hasn't solved the bug where images turn out with a yellow cast in low-light conditions, which makes us believe that it's not a bug but the algorithm is tuned that way.
Samsung Galaxy S10+ Camera Samples - Low-Light
Images captured using the ultra-wide-angle camera have good dynamic range, good details, but slightly blurry corners (that's the nature of ultra-wide-angle cameras). However, as the light starts to drop, noise starts to creep in, but it's nothing bad. Even the telephoto camera performs similarly to the ultra-wide-angle camera.
Live Focus, which is Samsung's adaptation of Portrait Mode, is brilliant. There's a good amount of separation between the subject and the background, and the best thing about Live Focus is that you can change the strength of background blur effect even after capturing the image. The built-in gallery app also offers three more background blur effects, but I am sure most people won't use them after a few days of experimenting. The Live Focus mode can recognize not only faces but also objects. Since the Galaxy S10 series uses the primary sensor for capturing a Live Focus image, the end result consists of a wide-angle view and background blur, which I personally like from the iPhone XR and the Google Pixel series.
Videos captured using the Galaxy S10+'s rear-facing camera system are second to none in the Android ecosystem. The frame rate is high (at 60fps), continuous autofocus works as intended, and stabilization works well. Videos appear sharp and the audio sounds clear. There's a big downside, though. If you select 4K 60fps video resolution, you can't record videos using the telephoto or ultra-wide-angle camera. The Super Steady option drops the maximum video recording resolution from 4K to 1080p, but the end result is, as the name suggests, super steady.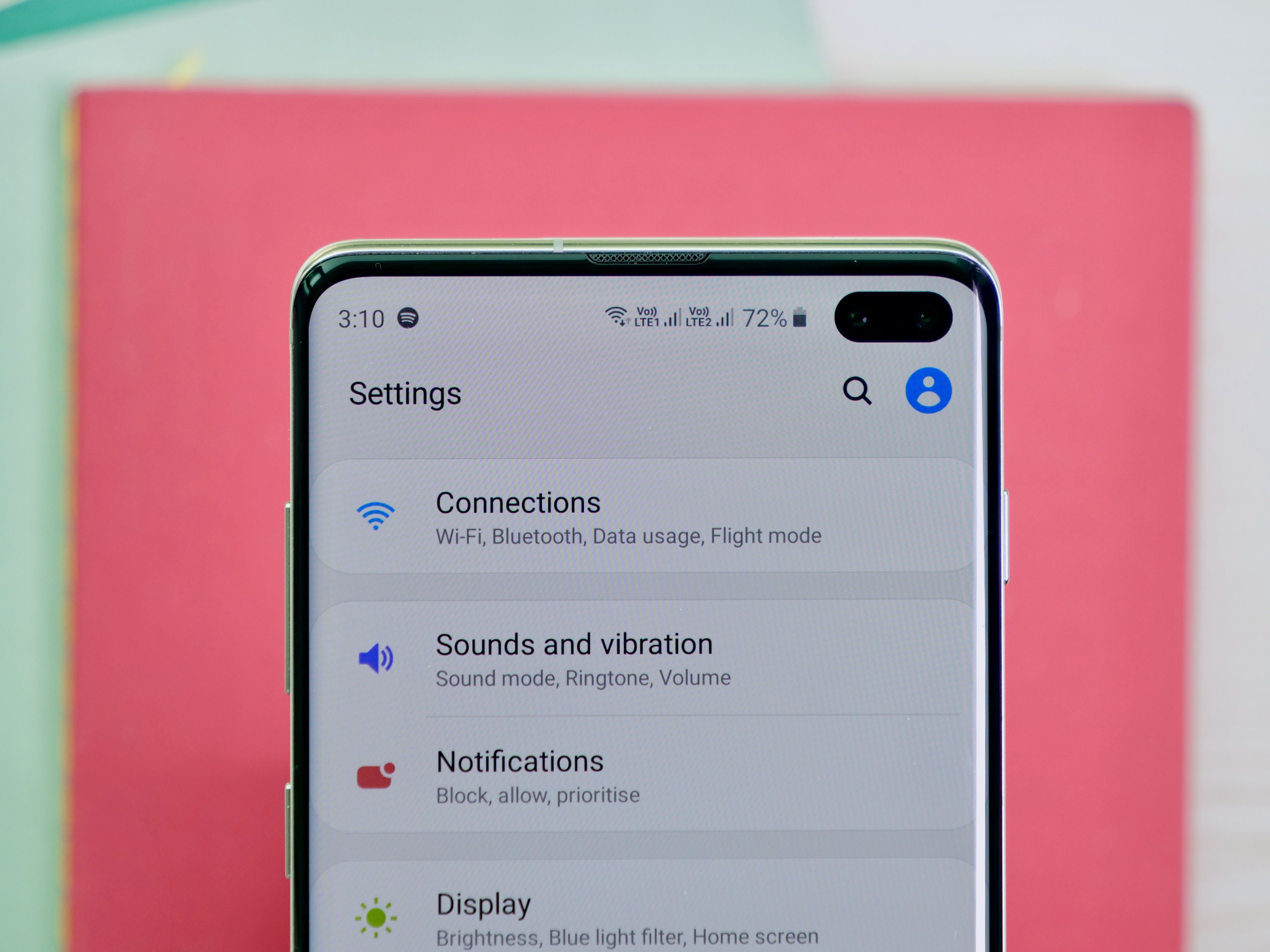 At the front, there is a 10MP primary camera sensor with DP-PDAF, 26mm lens, and f/1.9 aperture. The 8MP secondary camera sensor is used as just a depth sensing module. You can choose between a wide-angle and ultra-wide-angle field of views. Self-portraits (selfies) captured using the Galaxy S10+ in daylight look sharp (thanks to autofocus) and have a wide dynamic range (thanks to HDR).
Samsung Galaxy S10+ Camera Samples - Selfies
Selfies that are captured using the Galaxy S10+ in outdoors or indoors with low ambient light have low details. This could be due to the lack of OIS, but the Pixel 3 and the Pixel 3 XL capture much better selfies in similar situations even without OIS. 4K videos that are captured using the Galaxy S10+'s selfie camera showcase good details and colors but the dynamic range is relatively limited.
Samsung Galaxy S10 Plus 
Performance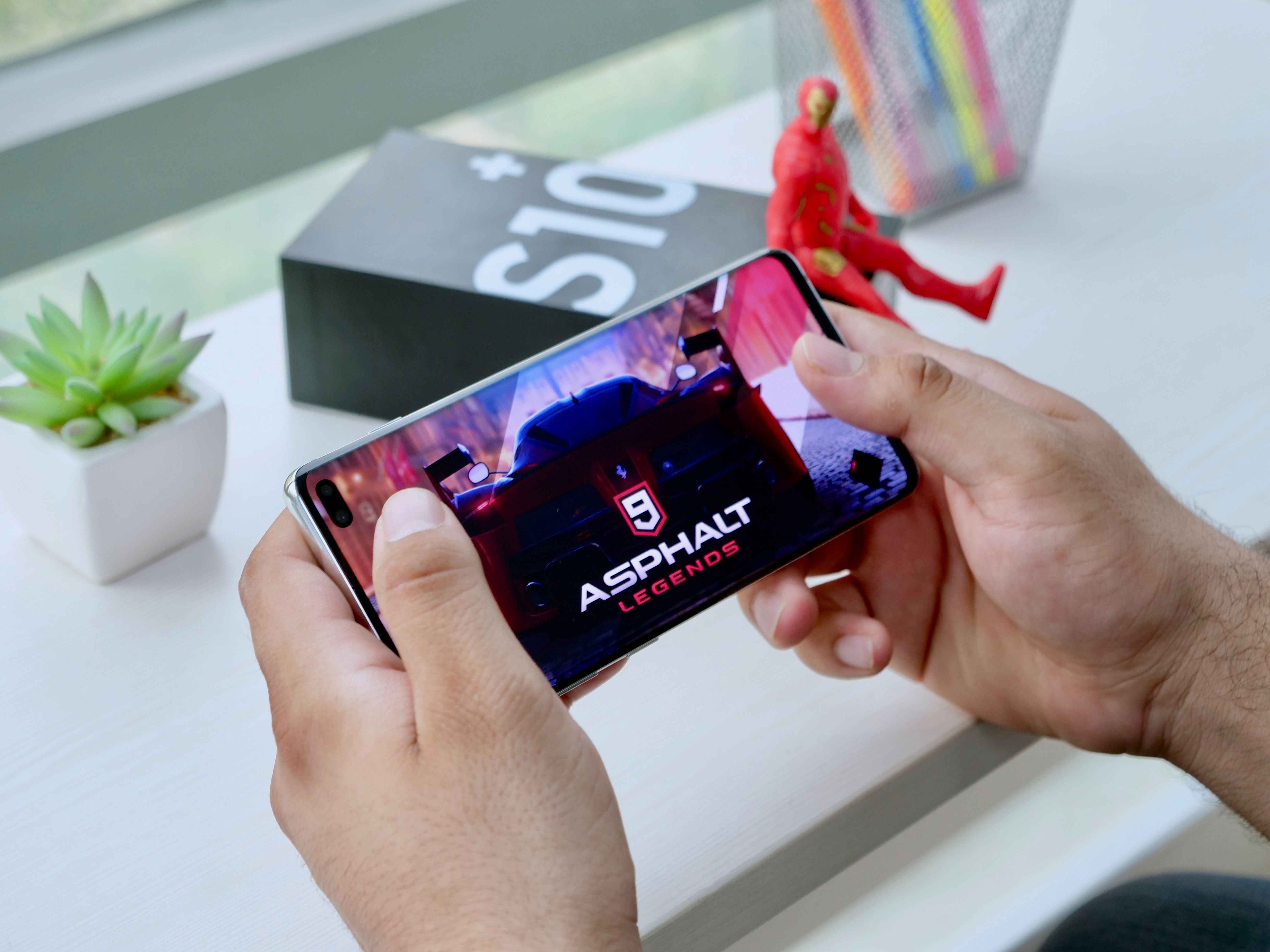 There are two variants of the phone, some markets like the US get Snapdragon 855-equipped Galaxy S10 phones, while the rest of the world, including India, gets Exynos 9820-equipped Galaxy S10 devices. The Galaxy S10+ unit that we reviewed had 8GB of RAM and 512GB of internal storage. The phone felt quite fast in most scenarios. The only times it felt slightly sluggish was when I used the camera outdoors in extremely hot conditions or when apps were being installed or updated in the background. The phone still doesn't feel as zippy or smooth as a recently released OnePlus or Huawei smartphone. However, it is fast enough for most people and unless you compare it side-by-side with the OnePlus 6T or the Huawei Mate 20/P30 series phone, you won't notice a performance difference.
Samsung Galaxy S10+ Performance Synthetic Benchmark Scores
There's some throttling issue in the Galaxy S10+, at least in the Exynos 9820 variant, as we noticed falling benchmark scores after a few consecutive test runs. After running the Geekbench 4 Pro 15 times, the single-core CPU test score dropped from 4,500 points in the first run to just 1,803 points in the eighth run. The multi-core score dropped from 10,108 points in the first run to 8,219 points in the eleventh run. That's quite a performance drop, at more than 60% performance drop. I also checked the temperature of the phone's front and rear part of the body, and it peaked at around 46℃. The temperature was the highest around the heart rate monitor and towards the bottom 1/4th part of the phone's front and rear. There are frame drops here and there sometimes. It looks like Samsung still couldn't solve extreme performance throttling which was evident last year on the Galaxy S9 series of phones.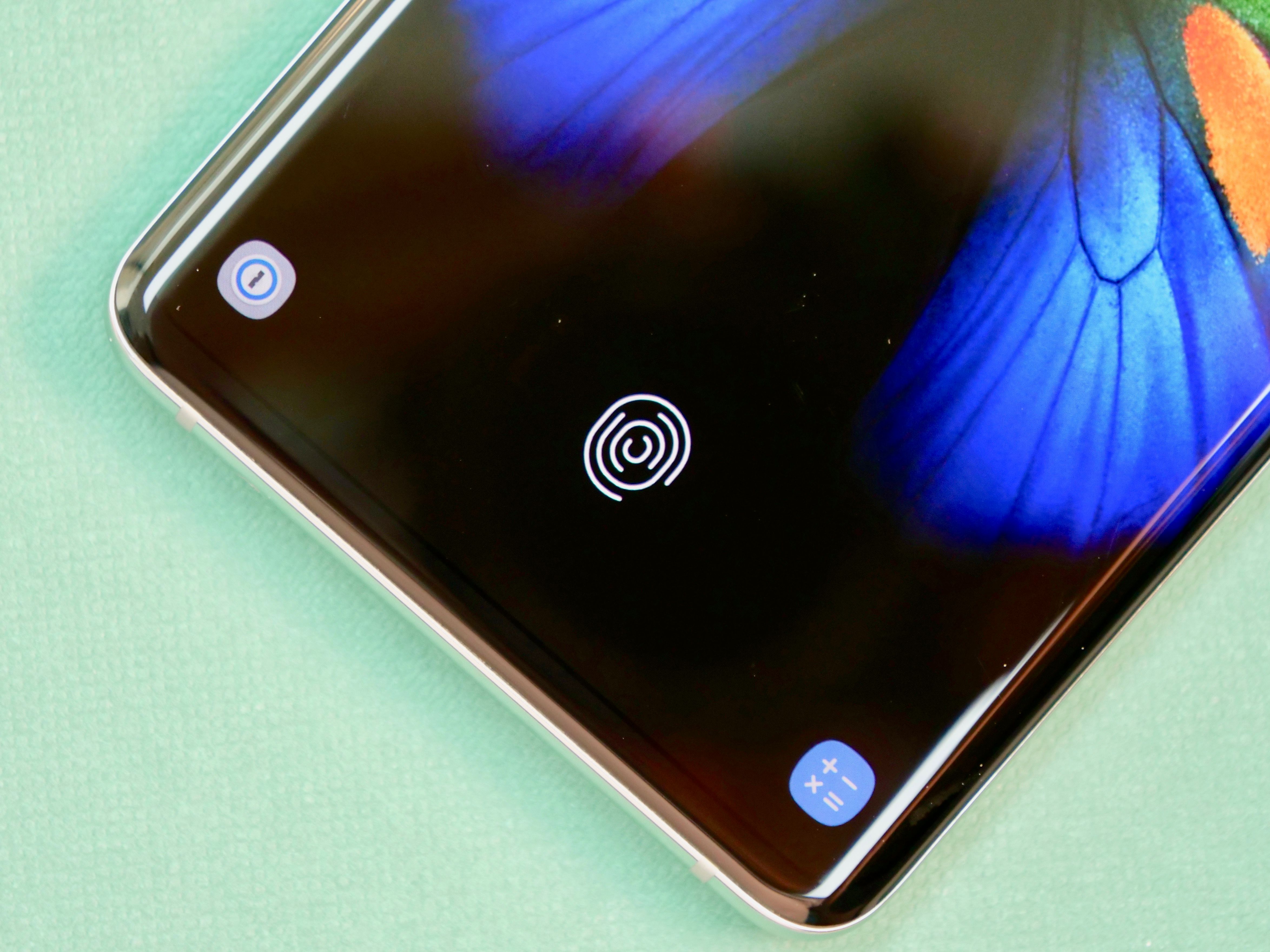 The Galaxy S10, Galaxy S10+, and the Galaxy S10 5G use Qualcomm's 3D Sonic fingerprint reader. After installing the initial software update that was rolled out to these phones to improve the speed and reliability of the under-display fingerprint reader, it was really fast and accurate. However, I noticed two issues: the fingerprint reader sensor area is small and it takes longer to recognize dry fingers. Since the fingerprint reader's surface area is small, you have to place your finger at the correct position for it to recognize in one go. Since it doesn't need bright backlit similar to optical fingerprint readers, it becomes harder to locate the sensor when the screen is turned off. Also, the fingerprint reader worked fine with wet or dirty fingers but recognizing dry fingers was an issue. It is being reported that Qualcomm's second-generation 3D Sonic fingerprint readers will have a larger surface area, so we hope that the fingerprint reader on the next-generation Galaxy S device will be even better.
Samsung Galaxy S10 Plus 
Software Features & UI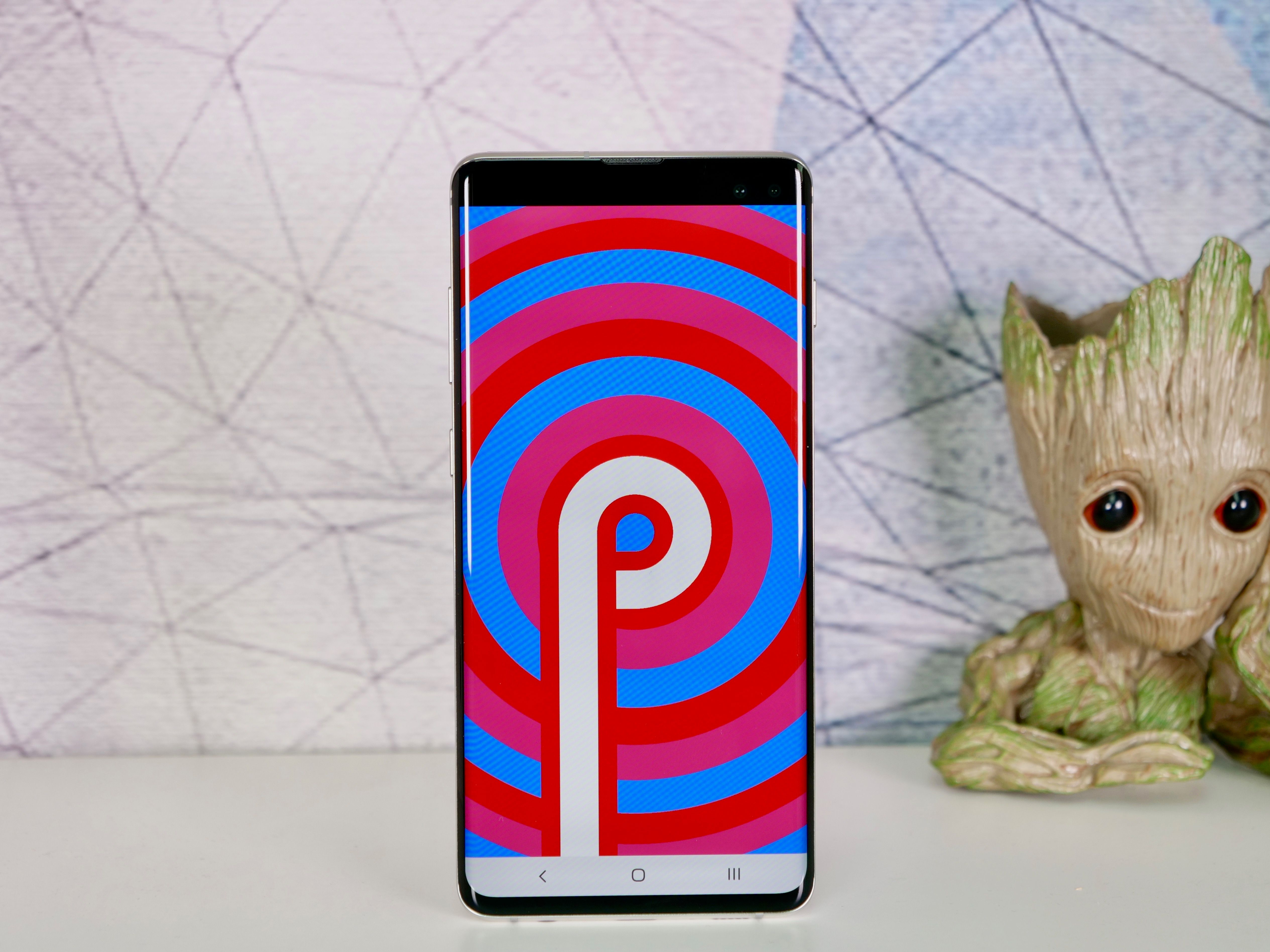 The Galaxy S10+ runs One UI 1.1 interface, which is based on Android 9 Pie, and it will receive the next two big Android version updates, going by Samsung's software update track record. One UI's icons have a more cohesive design, but they appear slightly cartoonish. The interface has been designed from scratch to make it easier to handle the phone's large screen with one hand. Whenever a pre-installed or stock app is opened, all the content is displayed on the bottom half of the screen, while the top half of the screen shows the app's name in big font size. The notifications area and quick setting toggles can be accessed by swiping down anywhere on the home screen. Swiping up on the home screen opens the dedicated app drawer. You can turn off the dedicated app drawer if you like or set it to auto rotate. Even the keyboard features one-handed mode, which makes it easier to type with one hand. Furthermore, the whole UI can be dragged down to the left or right side of the screen when needed for one-handed usage.
Samsung Galaxy S10+ Software UI, Stock Apps
There's Android 9 Pie style multitasking UI with horizontal cards and the on-screen home button can be dragged towards the right to switch between open apps. You can also switch to gesture-based UI navigation, but the current implementation is unintuitive right now. One UI also brings a dedicated Night Mode for the first time, which turns most of the phone's UI darker so that it is easier on the eyes. Most stock apps, including the dialer, messaging app, keyboard, app drawer, settings menu, Samsung Internet web browser, clock, calendar, email, and others support the Night Mode by turning their base color from white to black.
The Always On Display mode shows battery percentage, date, notification icons, and time on the display even when the phone is in sleep mode. Since activating this mode drains the battery, Samsung offers to schedule this mode as per your convenience. Or, you can also set it to show the information only when you double tap the screen. Lock screen doesn't show notification cards by default, but you can switch back to it from lock screen settings. Two shortcuts on the lock screen can be customized. The notifications area has been redesigned and so has been the quick setting toggles area. Swiping down from the home screen twice brings all the quick setting toggles on the bottom half of the screen and the top half shows a large digital clock.
Let's start with the bad news about Samsung's AI-powered voice assistant, Bixby: it is still here and there's still a dedicated button to summon it. Now the good news: you can remap the Bixby key to open an app of your choice (unless it's a voice assistant like Alexa or Google Assistant). While Bixby has improved over the past two years, it's still nowhere close to Alexa, Google Assistant, or Siri when it comes to compatible services. Its voice recognition isn't up to the match. Bixby Home's design and layout have been improved. There's something new called Bixby Routines, which are a series of Bixby voice commands (like Google Assistant Routines or Siri Shortcuts) that you can set to trigger at once.
The Game Launcher shows all the installed games at one place and gives you various options to improve gaming performance and muting notifications. However, Samsung is pushing unnecessary ads there. This is not something I would expect from the company. Edge Panels, which debuted with the Galaxy Note Edge, Additional features include Dual Messenger and Secure Folder. Dual Messenger lets you run two instances of IM apps like Facebook Messenger, Snapchat, and WhatsApp. Secure Folder can be used to save apps, files, images, and videos into a folder that can only be opened by an authorized user (via fingerprint or PIN code).
Samsung Galaxy S10 Plus 
Battery Life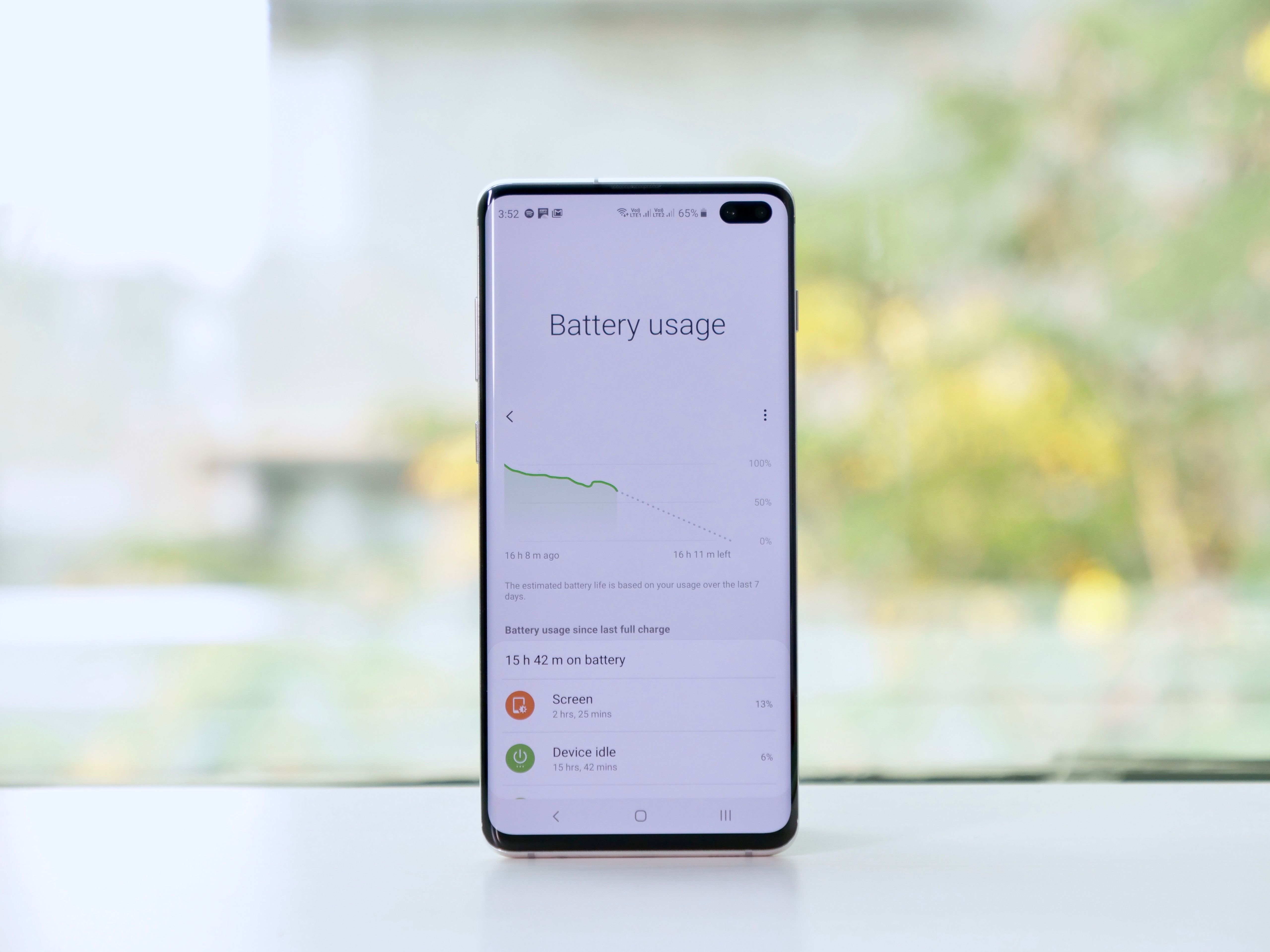 The 4100mAh battery, which is the highest capacity battery Samsung has ever packed in a Galaxy S series smartphone, can be fast charged wireless (at 15W) or through Adaptive Fast Charge/Quick Charge 2.0 (at up to 18W). While it's great to see Samsung packing 15W wireless charging, you'll probably have to buy a new compatible wireless charger to take full advantage of the increased charging speed. In the box, Samsung bundles a 15W AFC charger and a compatible USB-A to USB-C cable.
The Galaxy S10+'s battery charges from flat to full in 90 minutes. In times when competing brands like Huawei, OPPO, Vivo, and Xiaomi are equipping their phones with as fast as 50W charging, it's heartbreaking to see Samsung cheap out on its flagship smartphones with puny 15W charging. While there have been reports of Samsung activating 25W USB-PD charging on Galaxy S10 series phones with an upcoming software update, we're yet to see an official word on it.
Samsung Galaxy S10+ Battery Life
In real-life usage, the Galaxy S10+ lasted a whole day on a single battery charge, achieving screen-on times of anywhere between 4 to 5.5 hours, which isn't as much as I expected from a 4100mAh battery. Competing phones like the OnePlus 6T and the Huawei Mate 20 Pro achieve screen-on times of up to 7 hours. I always use dual-SIM phones with two 4G LTE network compatible SIM cards (Airtel and Reliance Jio) in dual-VoLTE mode. My usage includes a bunch of social networking and IM apps, three email accounts, dual-WhatsApp, half an hour of YouTube, a couple of hours of music streaming, a lot of web browsing, and a few minutes of voice calling as well as gaming.
Is The Samsung Galaxy S10 Plus The Best High-End Smartphone of 2019?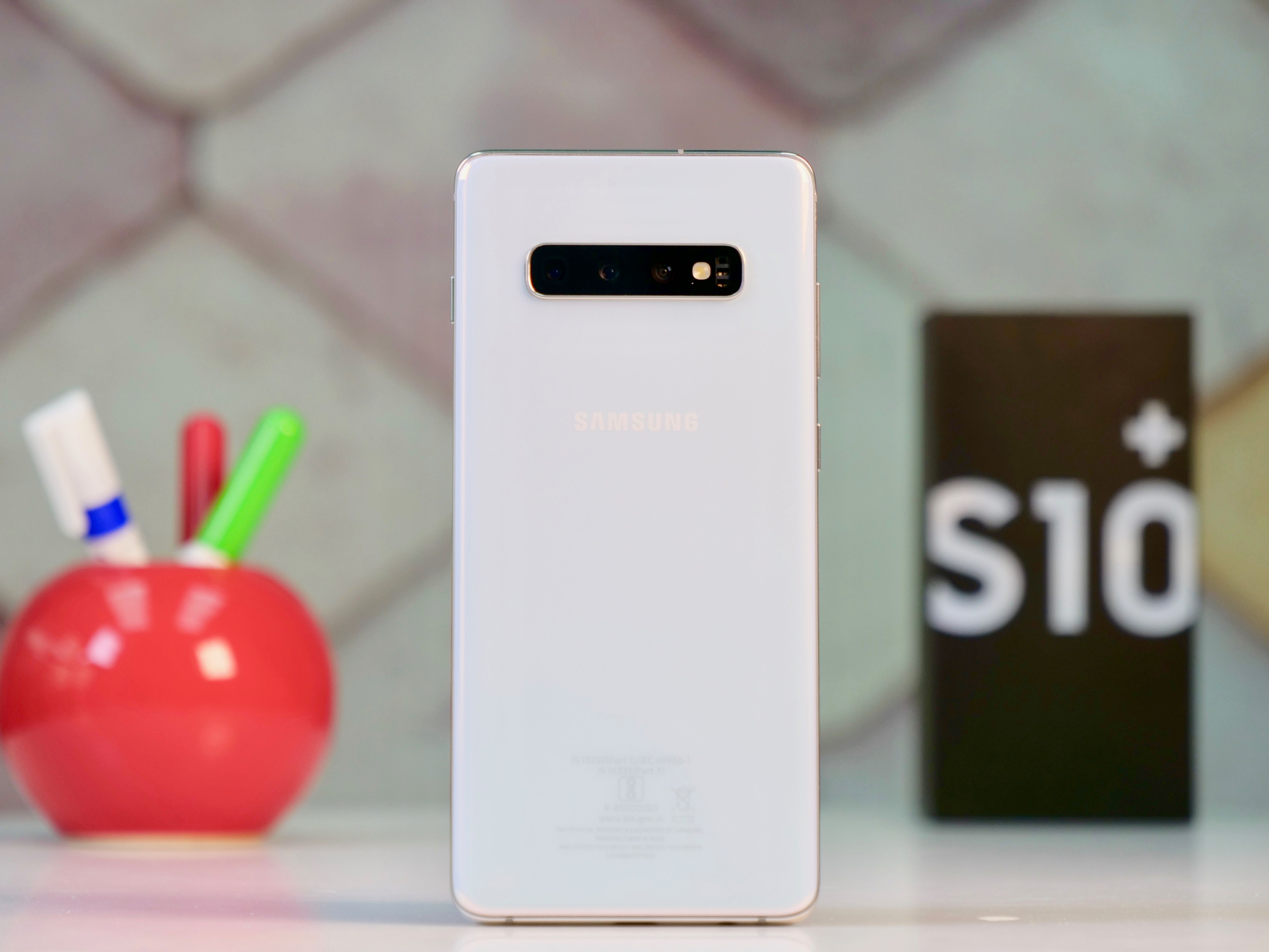 The Galaxy S10+ is close to perfection. It has an excellent display, complete with HDR10+ video playback, and loud stereo speakers as well as a 3.5mm headphone jack. It has an amazing design, complete with IP68 certification for dust and water resistance. It performs well, comes with the latest version of Android, and has an excellent set of cameras. The phone also features excellent software design and plenty of software features such as Secure Folder, themes, and extensive UI customizability. Advanced features such as an ultrasonic under-display fingerprint reader and wireless reverse charging. Samsung Pay is one of its feature that can't be found on smartphones from other brands.
The only areas where it could have done better is battery life (and battery charging speed) and sustained performance (at least in the Exynos 9820-equipped variant). Samsung needs to step up its chipset game if it wants to be remembered as a brand that makes fast and consistent phones. However, all things considered, the Galaxy S10+ could very well end up being one of the best and most complete high-end smartphones of 2019, unless Apple or Google bring something revolutionary in the smartphone market later this year.
Samsung Galaxy S10+
₹73,900
Front-Facing Camera
9.0/10
What Is Good?
Excellent design and build quality.
Big, bright, colorful, and bezel-less screen.
Great front and rear cameras, HDR10+ video recording.
Well-designed, tasteful software. Extensive customisability.
Fast ultrasonic fingerprint reader.
Latest connectivity features, including Wi-Fi 6.
Samsung Pay.
It still has a 3.5mm headphone jack.
What Is Bad?
Bright Night mode needs improvement and manual activation.
Battery life could've been better. Slow charging speed as per 2019 standards.
Thanks for reading till the end of this article. For more such informative and exclusive tech content, like our Facebook page