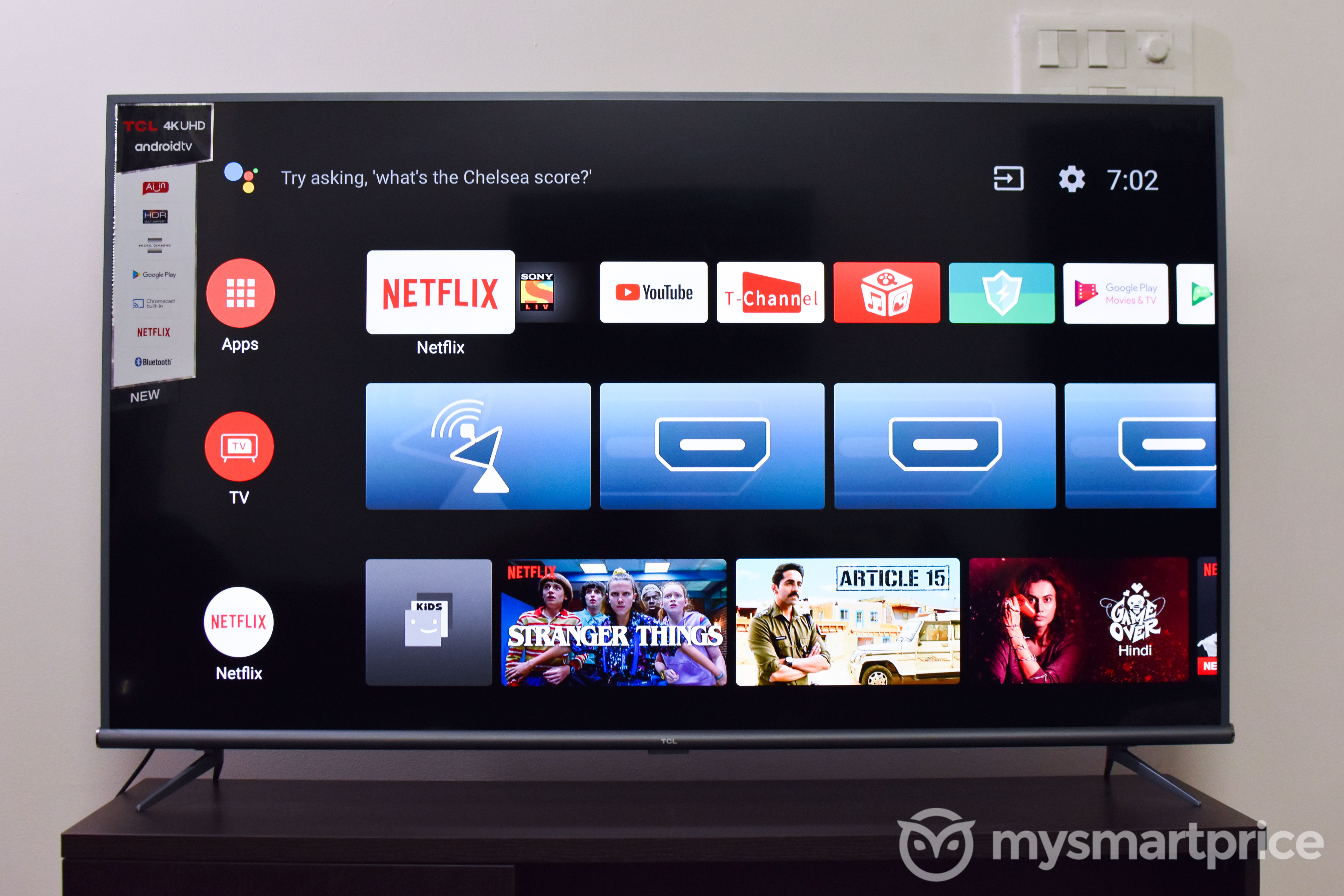 TCL is a globally well-known Chinese brand and it makes various consumer electronics, including ACs, refrigerators, smartphones, and washing machines. However, it is best known for its televisions. One of the latest offerings to emerge from the company is the P8 Elite (aka P8E) which is part of the brand's new Google-certified P8 series of smart TVs that launched just a few weeks ago in the Indian market.
The TCL P8E is a 4K resolution TV that comes with an HDR10 certified LCD panel, Android TV operating system, Google Assistant, and micro dimming. I had the pleasure of testing out the 55-inch variant of this TV that is currently priced at INR 40,999. Is this a smart TV worth spending your hard-earned cash on, or are there better options out there for you? Let's find out.
[P_REVIEW post_id=164692 visual='full']
TCL 55P8E Build And Connectivity
The TCL 55P8E has a sturdy build with a silver/grey colored metallic frame, reasonably slim bezels, and a plastic rear panel. The frame does a good job of keeping the flex to a minimum while the plastic rear helps keep the overall weight light enough so that it is easy to move around. The TV ships with metal feet that can be affixed to the base of the television using the bundled screws. Conversely, you can hang the TV up on the wall using the standard VESA mounting points at the back. I relied on the metal stands for the duration of this review and found them to be well-designed at keeping wobble to a minimum.
The TV is pretty slim at the sides, while the bottom rear part bulges out as it houses all the necessary electronics and ports. On one side, you have the power port, while the other is where you will find 3x HDMI ports, 2x USB 2.0 ports, 1x LAN port, 1x antenna cable input, 1x optical port for digital audio output, 1x AV input, and a 3.5mm headphone jack. A pair of 10W box speakers have been integrated in the base of the TV.
To connect to the internet, you can use either the ethernet port or Wi-Fi b/g/n. While this TV's official spec sheet on TCL's website says that it supports dual-band Wi-Fi, I found this not to be true as I could only detect and connect to 2.4GHz networks. There is also Bluetooth support provided, and this is how the included remote control interacts with the TV. This means that you don't have to point the remote control unit towards the TV while pressing buttons.
TCL 55P8E Performance, Software, And UI
Powering the 55P8E is a Cortex-A53 quad-core CPU that runs at 1.1GHz and is paired with 2GB of RAM and 16GB of internal storage. Out-of-the-box, this smart TV runs Android 9 (Pie) with TCL's TV+3.0 UI. This is pretty close to Google's TV Android interface with a couple of extra features thrown in. As such, you get quite a few video streaming applications preloaded, including Netflix, YouTube, Eros Now, and more along with full access to a library of applications and games that can be downloaded via Google's Play Store. An app called TV Guard is included, which essentially lets you clean up the storage on the TV. There is even support for Alexa on this TV (that only works via an Alexa speaker), which is rather odd considering you can't load Amazon Prime Video.
To interact with the TCL 55P8E, you are primarily dependent on the provided remote control as there aren't any buttons on the TV itself. Other than the standard navigation, menu, and volume controls, the included remote has dedicated keys for Netflix and Google Assistant. This remote runs on two AAA cells that need to be purchased separately. To play many of the games that can be installed on this TV, you will need a Bluetooth controller. I managed to pair a wireless Xbox One controller rather easily, and could even use it for navigating through the TV's menus.
A key highlight TCL flaunts in its marketing for the TCL 55P8E is its far-field hands-free voice interaction feature. Unfortunately, we did not receive the dongle from the brand that is required to use this feature and can't judge how well it performs. In fact, only those who purchased the TV on July 15 and July 16 seem to have received the dongle, and even those customers have complained that it doesn't really work for them. At the time of writing this review, I couldn't find any listing to purchase the dongle separately either.
Coming to the actual UI, the remote does a decent job of letting you access the TV's features and getting around the menus and libraries. All the necessary buttons are present to let you adjust aspects such as video and audio profiles on the fly. Navigation is a bit slow immediately after powering on the TV, but it gets much faster with use over time. Using the Google Assistant to launch various apps and searching for content is pretty straightforward. I also managed to get the TV connected to my Google Home app that allows a few basic commands to be issued via the smartphone. The connection between a phone and the TV isn't perfect though, as the latter occasionally stops responding or being detected by the Google Home app.
If you do happen to misplace the remote or run out of batteries, TCL offers its proprietary T-Cast app that can be used to control the TV using your smartphone. As long as you are on the same Wi-Fi network, the T-Cast app will let you control the TV in pretty much the same way you would with the remote, along with additional support for casting videos and images via your gallery. You can also capture screenshots using this app. The TV also comes with Chromecast built-in that allows you to cast a wide variety of content either via the Google Home app or through other supported services. I tested casting via multiple smartphones, including those that have inbuilt casting features in their gallery apps. I found T-Cast to be faster and more reliable when compared to integrate casting, but mostly because of the TV's tendency to stop responding. Then again, both T-Cast and Google Home cast only at the smartphone's native resolution, making content on the 4K TV appear pixelated. That said, Amazon Prime Video casting works considerably better.
TCL 55P8E Picture Quality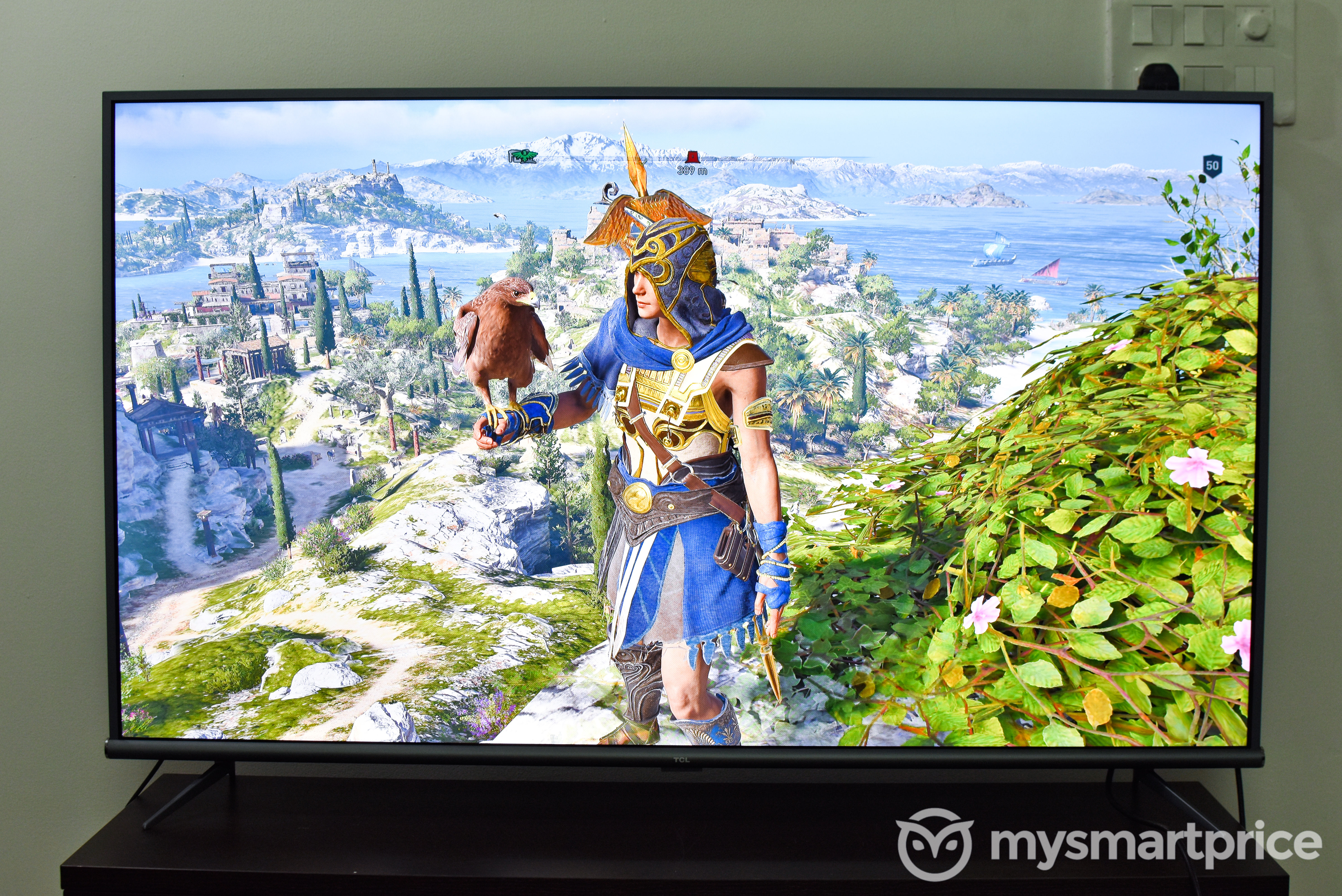 The 55P8E offers a 4K LED-backlit LCD panel that gets an HDR10 certification. With a rated 450nits of typical brightness and a contrast ratio of 4000:1, the overall image output of this TV is pretty good relative to its price, but not as good as the Mi TV 4 55-inch that we reviewed last year. I put the TV through a plethora of in-house tests that reveal the black levels and contrast levels of its panel to be remarkable. The range of colors covered is also impressive as long as you are on the "Standard" picture preset. Unfortunately, gamma levels are slightly off regardless of which preset is selected, and thus the color accuracy suffers a bit. There is also a slight color banding issue where the transition between gradients isn't as smooth as it should be.
Furthermore, viewing angles on this TV aren't the best as I noticed a shift in colors at less than steep angles. This could mean that the company isn't using an IPS LCD panel, and the company hasn't specified which type of display panel it is using on its website. We are forced to think that it's a VA panel, hence those narrow viewing angles. But then, only LG, MarQ (by Flipkart), and Sanyo are using IPS LCD panels on their TVs.
Turning the lights off and loading up a plain black image shows the presence of some backlight bleed at the edges of the panel. Thankfully, overall image quality doesn't take too much of a hit because of this. Micro dimming is another feature that helps the TV, and I have mixed feelings about how well it works. On its own, the TV seemingly does a decent job of keeping light bleed to a minimum with white sources against dark backgrounds, so much so that I thought micro dimming was already enabled on the tv out-of-the-box. Later, however, I found a toggle for the feature in the display settings menu, and it was turned off. The change to image quality after turning the feature on wasn't discernible to me.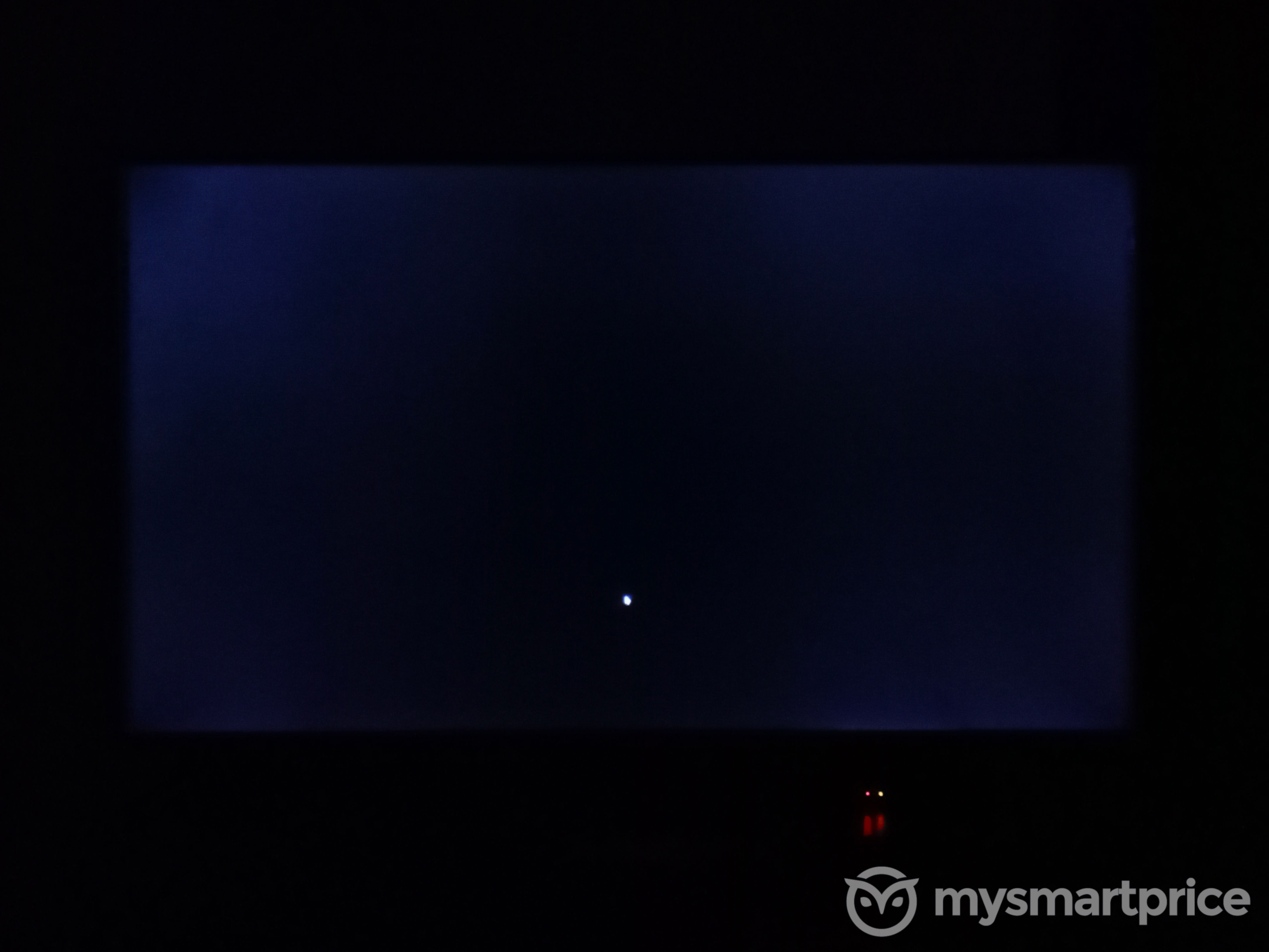 Coming to the most important aspect of this TV, the ability to play 4K HDR content, which is an admittedly a difficult task considering how difficult it is to find such content. The Netflix app is the only real source if you want to run 4K HDR videos on this TV out-of-the-box. The YouTube app supports 4K resolution but does not play HDR videos for some reason. And since you don't have Amazon Prime Video loaded onto this TV, you have to resort hooking up either a PC or a gaming console for this purpose. Getting HDR running perfectly via a PC is a separate hassle in and of itself. It is technically possible to cast Prime Video via Chromecast, but it was again difficult to cast content in 4K with HDR.
Once you do manage to get 4K HDR up and running on this TV, the experience is rather pleasant. Blacks are wonderfully deep, and whites certainly get as bright as a panel of this caliber allows. While I wasn't able to confirm using dedicated tools, HDR levels do seem to sustain themselves even with the TV being subjected to challenging scenes for hours. I thoroughly enjoyed running games like Assassins Creed Odyssey and Battlefield 5 at 4K with HDR enabled for hours. For the best experience, I would recommend disabling "dynamic brightness," which can potentially hamper the experience by lowering the TV brightness on its own. Also, there is a Smart HDR feature present on this TV that is supposed to turn standard (SDR) content into HDR, but I would recommend not using it as the display merely turns the brightness down, and the overall result is not that impressive.
TCL 55P8E Audio Quality
The TCL 55P8E comes with a pair of 10W box speakers (for a combined 20W RMS audio) that certainly get the job done. They are loud enough that around 30 percent was sufficient to fill up the average-sized hall of my apartment. There are various audio presets included, although I expect most to be satisfied with the 'Dynamic' setting. Other options such as surround virtualizer, bass enhancer, dialog enhancer, and definition let you further tweak the audio output to your heart's content.
Understandably, the bass is pretty much nominal on these speakers, and you would need to invest in a dedicated audio solution if you're looking for more punch. Getting something like a soundbar or a home entertainment system will also let you take full advantage of Dolby Digital that is supported by this TV.
Is TCL 55P8E Worth Your Money?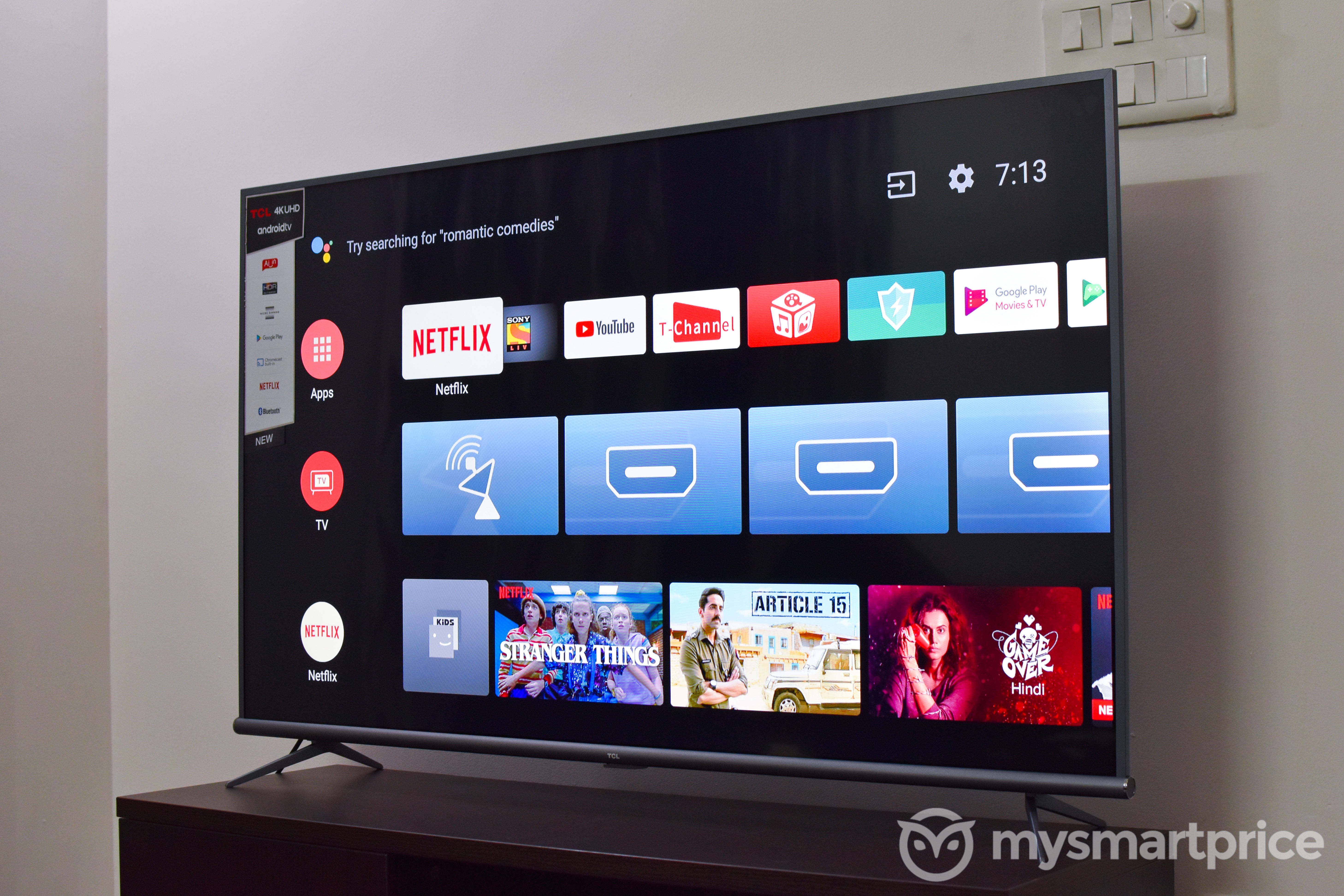 The TCL 55P8E is a compelling offer for those stepping into the world of 4K HDR TVs for the first time. Picture quality may not be the most accurate, but it is still fairly impressive, and HDR indeed helps improve the visual experience. As far as the audio quality is concerned, you get an adequate sound system considering how poor most integrated speakers are. The only compromise you'll be making will be in the bass and surround sound department, but this is true for even most high-end televisions, and the only solution would be to purchase an external speaker system.
As for the 'smart' aspect of the TV, I can't help but feel little let down because of the absence of the far-field dongle, a feature that is so tenaciously advertised on the website. Apart from that, however, there are enough apps to help serve anyone's incessant need for streaming content. Android 9 Pie-based software works smoothly, and navigation is quite easy with the intuitive remote as well as the T-Cast app. Google Assistant also perform reasonably well for most basic commands.
If you are in the market for a reasonably priced smart TV that offers sharp 4K and passable HDR performance, then the TCL 55P8E is surely worth considering. While the P8 Elite's display might be marginally inferior when compared to the Mi TV 4, the number of features it offers is substantially higher.
If you want something more, such as a true IPS LCD panel, you should look at LG's new affordable TV series, which runs webOS, but supports Google Assistant, and comes with AirPlay 2 as well as most audio and video streaming apps. If you want both Android TV and an IPS LCD panel, you should have a look at newer TVs from MarQ by Flipkart, but then you would also be looking at a lesser-known brand and unreliable after-sales and service.
What Is Good?
Vibrant, sharp screen with deep blacks and decent HDR capabilities.
Loud and clear audio output.
Plethora of connectivity options.
Access to many streaming services and apps via Google Play Store
Intuitive remote control, responsive UI.
T-Cast app for controls and cast is rather helpful and works well.
Incredible value proposition.
What Is Bad?
Slight backlight bleed issue, offset gamma levels.
Far-field voice dongle is not included, no clear avenue available to purchase it either
Smart HDR preset to convert SDR content into HDR doesn't work that well.
Amazon Prime Video app not yet supported.
Lacks support for 5GHz Wi-Fi network.