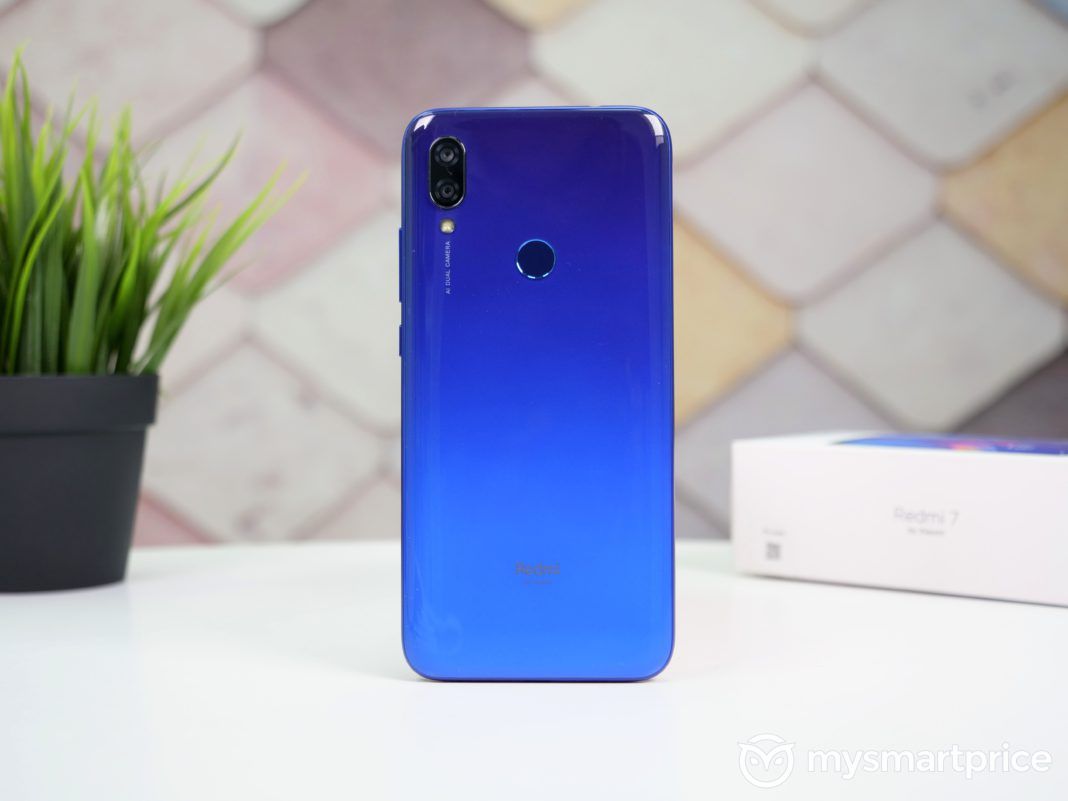 Xiaomi took a step backward with the Redmi 6 (review) when coming from the Redmi 5 (review), and I was concerned that the phone maker might do the same this time around. However, on paper at least, the Redmi 7's specifications sound promising, mostly. We all know reality can sometimes be quite different compared to on-paper specifications.
The Xiaomi Redmi 7 starts off at INR 7,999 for its 2GB RAM + 32GB storage variant, while our review piece came with 3GB of RAM and it costs INR 8,999. This is a bit strange considering the base variant of the Redmi 6 offered 3GB of RAM, and storage options went as high as 64GB. On that front, it looks like Xiaomi has downgraded the Redmi 7. With that out of the way, let's take a look at how much value the Redmi 7 offers on its own.
[P_REVIEW post_id=156348 visual='full']
Xiaomi Redmi 7 Design, Build
I admire the way phone makers have adopted the strategy of making even their budget offerings look modern and premium. All those who I showed the Redmi 7 to guessed its price to be at least twice of what it actually is. The striking blue gradient on the back of our review unit and the waterdrop-notch design at the front contributes highly to this impression and will allow owners to proudly flaunt their device in public. The fingerprint situation wasn't too bad either, and a quick wipe off my T-shirt would usually be enough to clear any smudges. The phone can easily be scratched, though, and the included silicone case will come in handy if you're a rough user. Interestingly, this case is black and mostly opaque, which ensures it impervious to ugly yellow stains that generally show up on transparent cases.
When it comes to the actual build of the phone, I wasn't too disappointed with what I received. The rear panel is indeed plastic, but it isn't too flimsy and held its shape when I tried to bend the phone. The frame is also plastic and again feels reasonably sturdy. On the right-hand side, we have the fairly clicky power button and volume rockers, while on the left we get a triple card slot for dual-SIM + microSD card setups. The top of the phone houses a headphone jack alongside an IR blaster, while the bottom houses speaker grills and a microUSB charging port. Only one of these bottom grills actually emits sound, and it does a reasonably moderate job with audio output quality and volume.
For biometrics, you have a rear-mounted fingerprint placed at a comfortable position, and you can even use the selfie camera for face unlock. The notification LED has been moved to the bottom chin near the charging port. This wasn't a problem for me, but it is curious as to why this was done considering the bezels aren't really that thin. That said, I did have just a bit of an issue with the volume levels from the earpiece and would have preferred if it could be cranked even higher.
Xiaomi Redmi 7 Display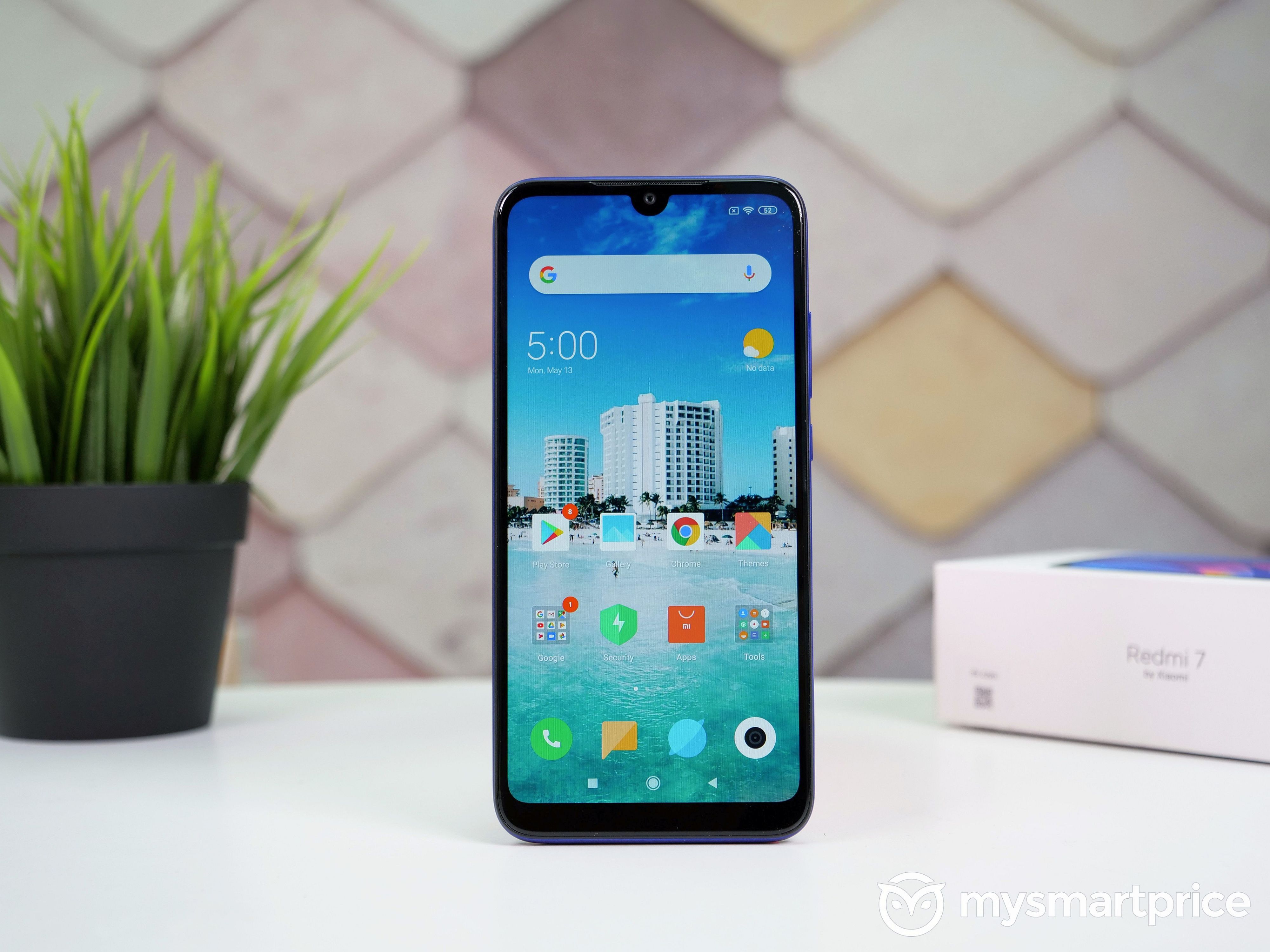 The front of the Redmi 7 is covered by a layer of Gorilla Glass 5, thus making it incredibly durable. There were minor scuffs by the end of my time with the phone and investing in a screen protector will always be a safe bet. Xiaomi also did a fairly decent job with how the screen's edges curve into the frame, thus contributing to a comfortable experience when holding and using the phone. When it comes to the viewing experience and panel quality, I was impressed by what I found.
This is an HD+ resolution (1,520 x 720 pixels) LCD panel that measures 6.26-inches diagonally. The only real complaint I have here is with the brightness levels as direct sunlight presented a fair bit of challenge in reading content on the screen. Otherwise, the colors are punchy, and details appear relatively sharp. Xiaomi provides a color wheel and contrast adjustment if you want to tweak the overall hue of the screen, which is another plus. As for the 'dot notch' above the screen, I wasn't too bothered by it as the intrusion is admittedly minimal.
Xiaomi Redmi 7 Performance, Software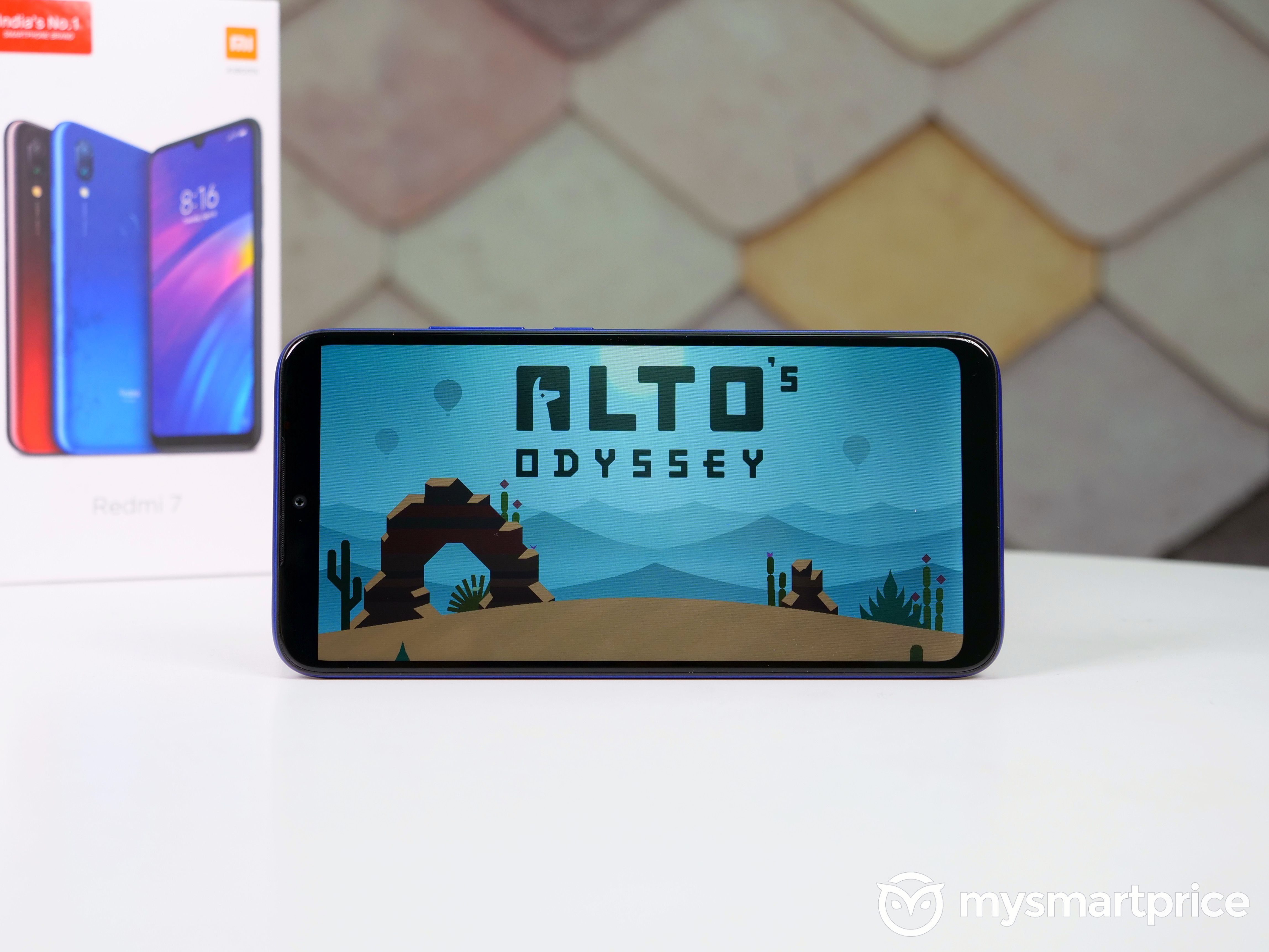 For a sub-INR 10K smartphone, this is one of the smoothest UI I have used in some time. The Redmi 7 comes powered by a Snapdragon 632, paired with 3GB OF RAM on this review unit, and it handled most daily tasks with absolute ease. I'm not necessarily a heavy user but I do require a fair bit of multitasking, and the Redmi 7 held up pretty well. You still get MIUI 9 based on Android 9.0 Pie on this phone and not MIUI 10, but honestly, it did not feel as if I was missing out on much.
Let's start off with raw performance. Not only is the UI and navigation speed more than adequate, but the gaming experience on the Redmi 7 is also very good. This might not be the best device to run a game like PUBG, which defaults to low graphics settings, but titles such as Asphalt 9 and Alto's Odyssey run quite well. Even with heavy gaming, heating isn't much of an issue.
As is typical with Xiaomi software, there is indeed a bunch of bloatware that comes pre-loaded. And, of course, there is the matter of advertisements that are baked into the OS. Xiaomi's music app is essentially a library for Hungama Music and lets you play songs without setting up an account. Apps such as the Browser and Mi Video have an incredible number of ads integrated within. Luckily, some of the bloatware can be uninstalled, and some of the annoying ads can be disabled (to an extent). Considering I don't use Xiaomi applications all that much and rely mostly on third-party services, my overall experience with this OS wasn't that bad
This phone only supports 2.4Ghz Wi-Fi b/g/n connectivity, which is typical at this end of the market. I did not feel this hampered the experience, though, as both range and speed were pleasantly acceptable. The rear fingerprint scanner was quick to register, fairly accurate at detecting fingerprints, and really fast at unlocking the device. Face Unlock also works surprisingly well even in slightly dim environments. This obviously isn't as secure as the fingerprint sensor but is a good option if you just want your phone to be up and ready for use.
Xiaomi Redmi 7 Camera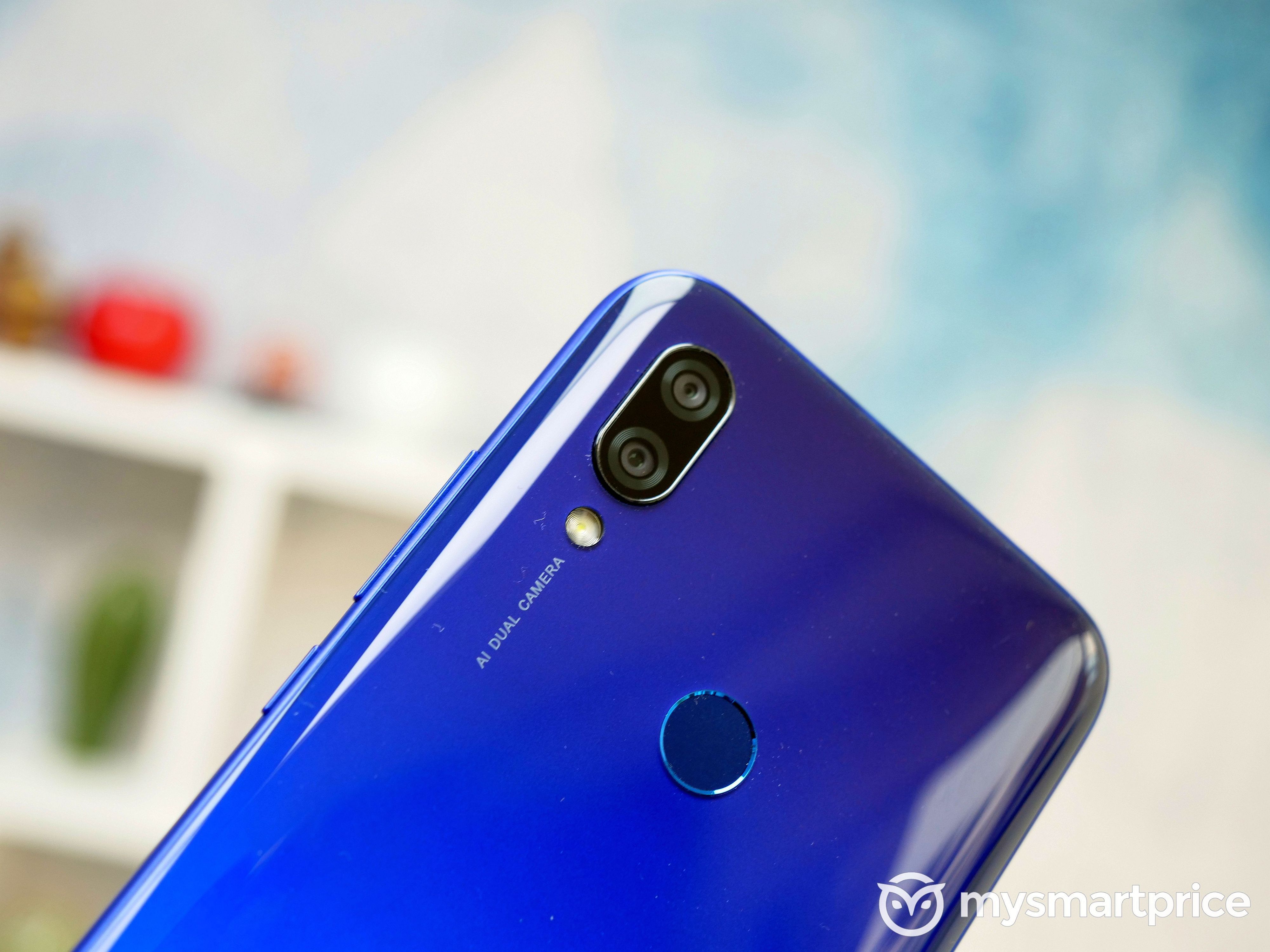 Imaging performance on the Redmi 7 is exactly as you would expect from a sub-INR 10K smartphone. The back of the phone offers a 12MP+2MP setup, while the front houses an 8MP selfie camera. Daylight shots with both the front and rear cameras have decent detail and good colors. The camera focusses well, and you will need HDR enabled if you want acceptable dynamic range. Portrait mode does handle good bokeh and satisfactory edge detection most of the time.
With that said, details are lost a bit when you move the images over to a larger Full HD resolution monitor, but they are still suitable for social media. Portrait shots have inconsistent results where the photos can sometimes be soft and washed out. Image quality goes down progressively with reduced ambient lighting, and night-time shots are grainy and soft.
Xiaomi Redmi 7 Battery Life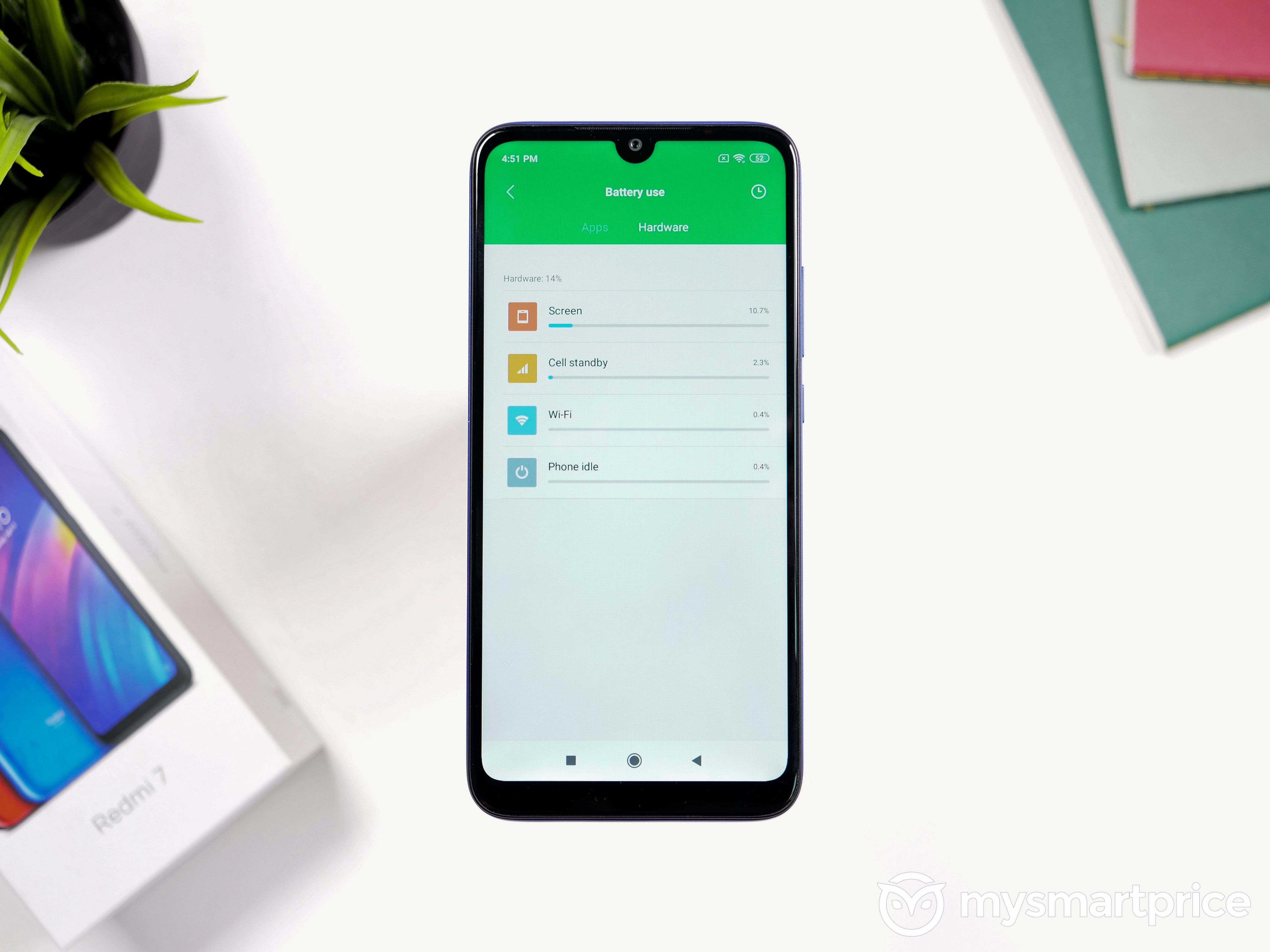 The Redmi 7 comes with a 4000mAh battery. Considering the relatively low resource demand of the Snapdragon 632 and HD+ resolution display, the phone managed to offer excellent battery life. With average use, I easily managed to make the phone last for two days straight with a screen-on time of 8 hours. Even heavy usage allows the phone to last a day and a half easily. This is much better than the Redmi 6 series, where Xiaomi had downgraded its battery capacity compared to their predecessors.
Should You Buy The Xiaomi Redmi 7?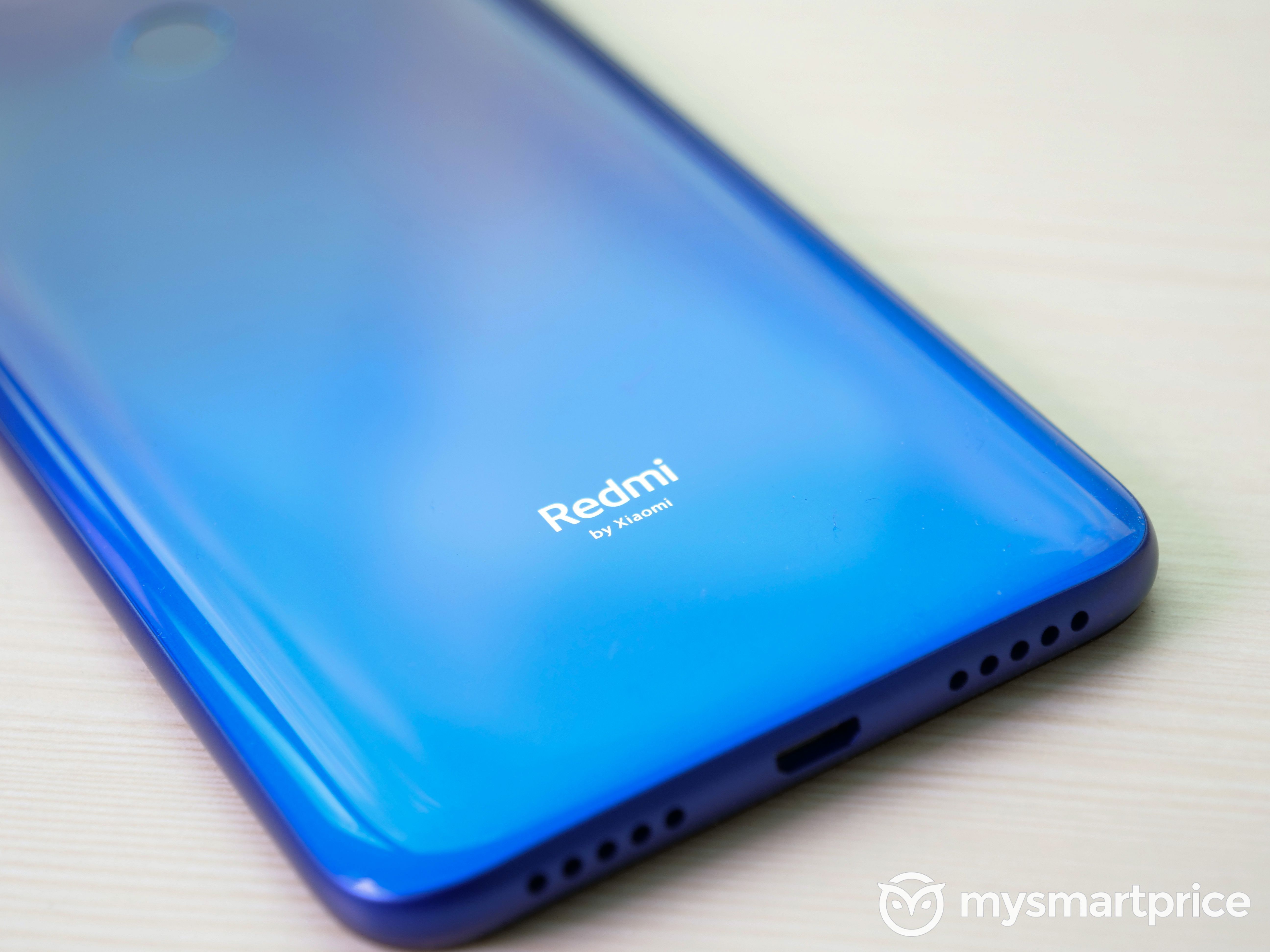 The Redmi 7 is a solid contender when it comes to phones priced under the INR 10,000 bracket. There aren't any major drawbacks here other than the standard caveats that you come to expect with Xiaomi phones and entry-level phones in general. The Redmi 7 looks great, has a good display, commendable performance, and exceptional battery life. The phone offers dual-SIM and microSD card support and also houses an IR blaster up top for controlling TVs. Sure, there are ads integrated within MIUI apps, but if you avoid using them and disable their notifications, the problem goes away.
With that said, I do not agree with Xiaomi's the decision to offer only 2GB of RAM on the Redmi 7's base variant, and to provide just 32GB of onboard storage on the higher priced model. While this phone does offer great value for its asking price, picking it up at a slight discount will certainly be a better deal.
If you are an Android purist and would rather stay away from the MIUI experience, then something like the Asus Zenfone Max M2 (review) might be worth considering. The M2 might not have the same aesthetic charm as the Redmi 7, but you do get stock Android and a hefty 4000mAh battery.
Design and Build Quality
8.0/10
What Is Good?
Great aesthetics with a fairly robust construction.
Excellent battery life.
Decent performance with smooth UI.
Acceptable imaging in bright conditions
IR blaster is always a welcome feature.
What Is Bad?
Bloatware-filled MIUI with annoying ads.
Only 2GB of RAM on the base variant, and no 64GB storage option whatsoever.
Low audio volume from earpiece for calls.
Thanks for reading till the end of this article. For more such informative and exclusive tech content, like our Facebook page