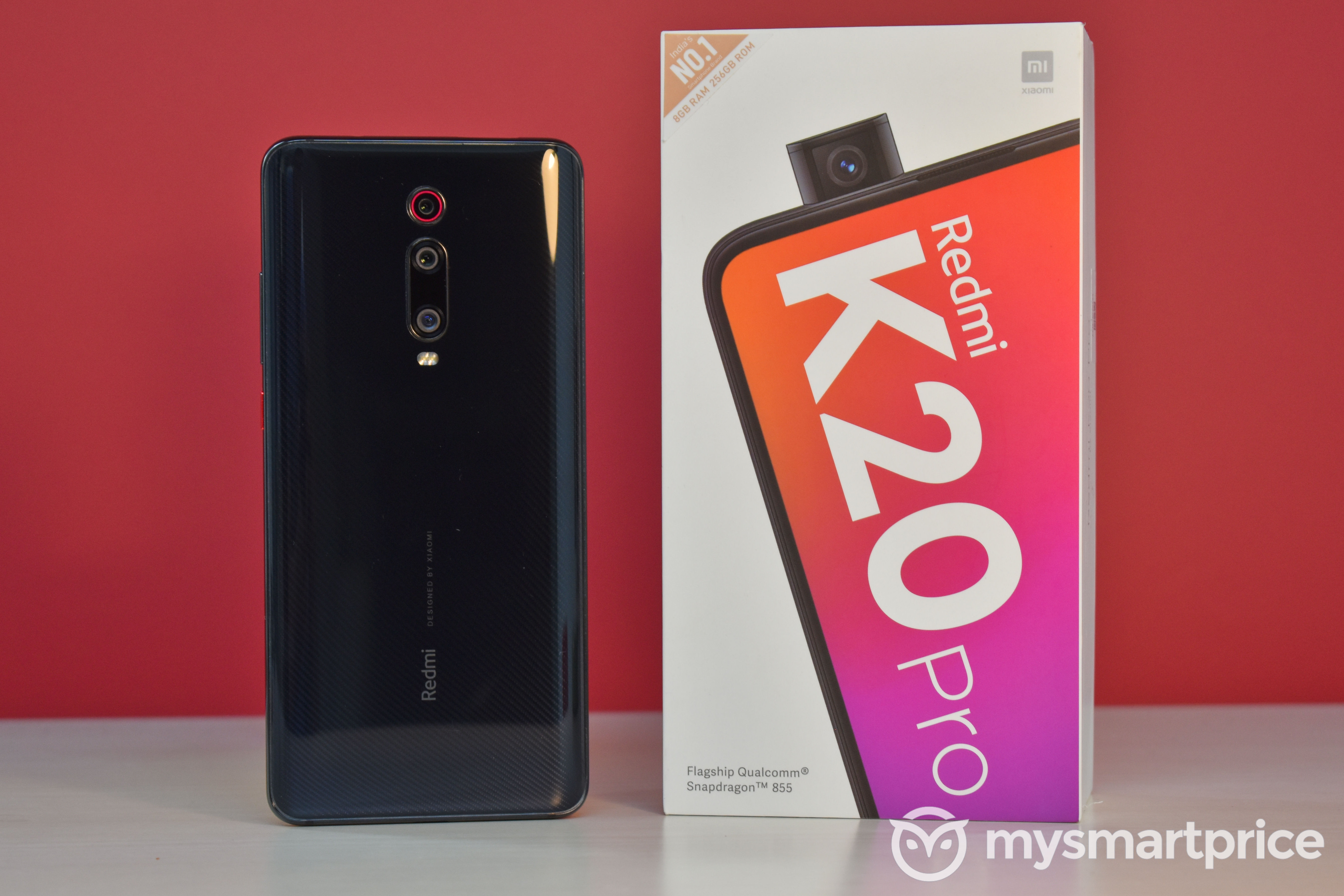 These days, spending an obscene amount of money is no longer necessary in order to enjoy flagship features on a smartphone. With last year's POCO F1 (Review), Xiaomi proved that a sub-INR 20K smartphone could perform just as well as many expensive phones out there. Instead of releasing a direct sequel, the phone maker decided to be a bit more ambitious this year by offering even more high-end specs at a relatively affordable price tag.
Admittedly, the Redmi K20 Pro isn't as cheap as the POCO F1, but it has so much more to offer that its starting price of INR 27,999 doesn't seem all that unreasonable. In fact, it was quite apparent from the very beginning that the phone would deliver on Xiaomi's promise of high-end user experience. Despite cutting a few corners, the smartphone largely outperforms phones like the OnePlus 7 (review) in more than one aspect. Let's now take a closer look into exactly how Xiaomi managed to achieve such a feat.
[P_REVIEW post_id=164127 visual='full']
Xiaomi Redmi K20 Pro: What's In The Box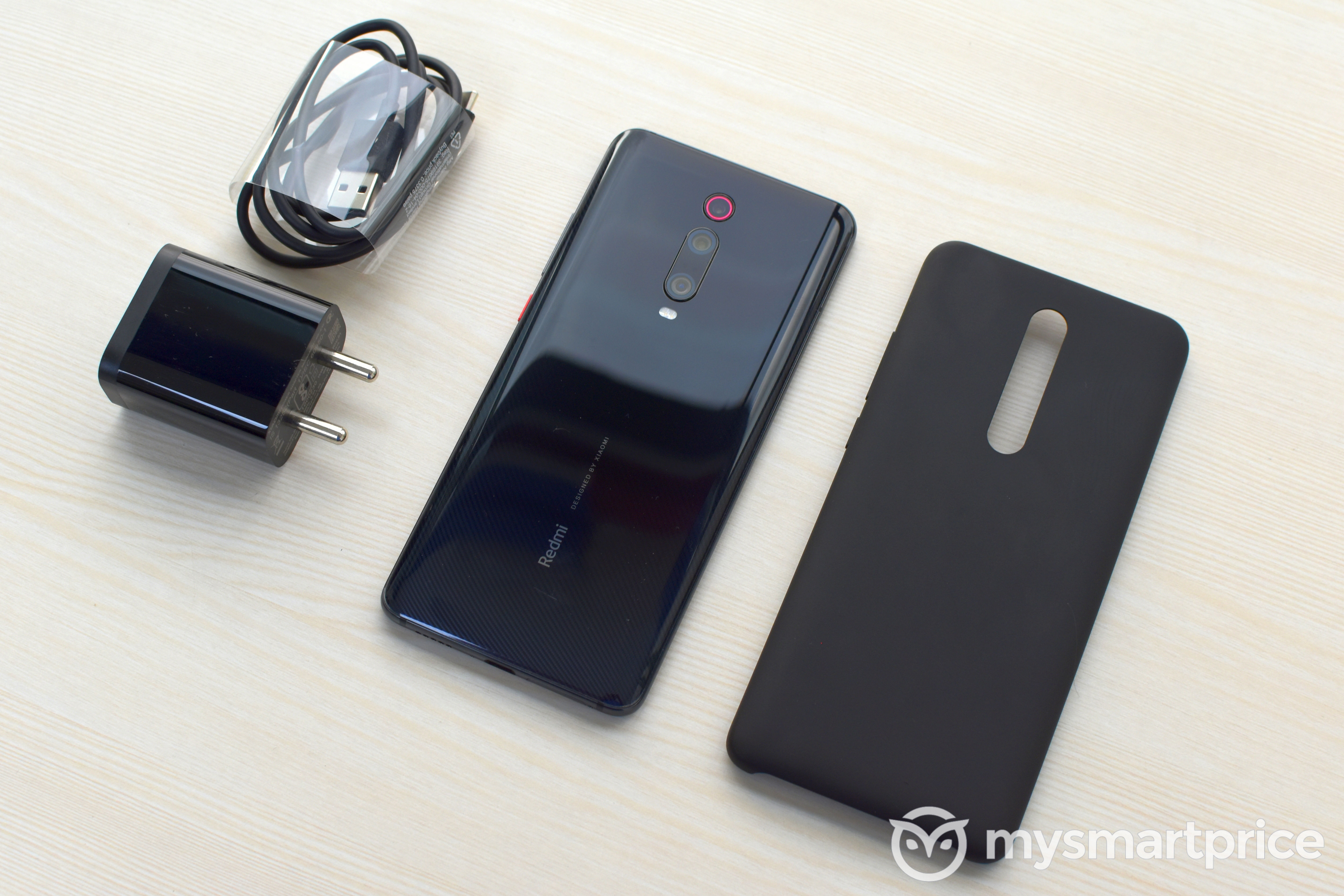 Let's start off by exploring what exactly Xiaomi is offering with the Redmi K20 Pro. This is a dual SIM smartphone that comes in two storage variants and neither offers microSD card expansion. For this review, I used the 8GB RAM + 256GB storage model that costs INR 30,999, while the base variant with 6GB of RAM and 128GB of storage comes in at INR 27,999. While I tried out the rather less flashy "Carbon Black" model, you also have the Glacier Blue and Flame Red flavors to choose from.
Inside the box, you have a soft-touch plastic protective case, an 18W charging brick, USB-A to USB Type-C charging cable, SIM ejector tool, and the standard collection of warranty and instruction pamphlets accompanying the smartphone. For the duration of this review, I used a single SIM on the K20 Pro with 4G VoLTE enabled.
Xiaomi Redmi K20 Pro Design, Build
From the Gorilla Glass 5 rear panel to the pop-up selfie camera at the top, everything about the Redmi K20 Pro screams premium. The aluminum frame of the phone gets a glossy coating that does a decent job of masking smudges. The entire rear panel also bears a clean aesthetic and a sense of symmetry with the triple rear cameras vertically stacked at the top-middle portion. The carbon fiber pattern on my review unit is subtle, and the red-colored power button and a radium-esque red ring around the top rear camera contrast with the dark handset quite wonderfully.
While Gorilla Glass 5 protection on both the front and rear make the handset more resistant to damage, I did notice a few scuffs on both panels about a week into this review. The back of the phone can remain protected with the use of the included protective case; however, you will have to install a screen protector if you want the display to survive daily abuse.
You don't get many of the fancy features like water resistance or wireless charging on the Redmi K20 Pro, but this isn't a deal-breaker when you consider how affordable the handset is. Then again, Xiaomi says it has applied a P2i water-resistant coating and lined all the ports with rubber rings to reduce chances of water damage. Xiaomi also managed to equip the phone with a USB Type-C port, 3.5mm audio, and a pop-up selfie camera.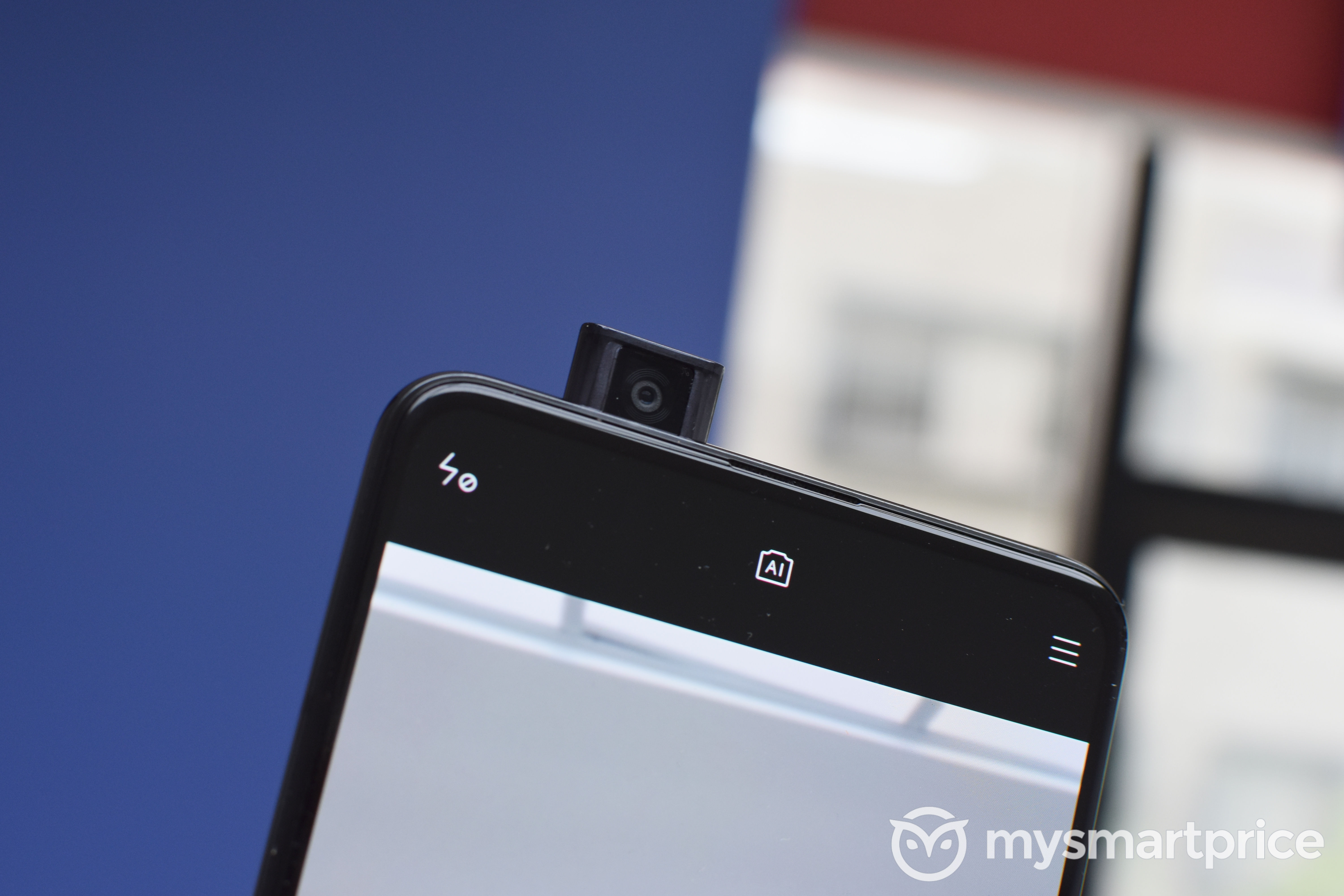 This pop-up camera sits flush at the top of the handset when it is not in use. The moment you tap on the front-camera button in the camera app, the selfie camera quickly reveals itself. In this color model, red LED lights have been integrated surrounding the selfie camera, and they light up each time the unit opens or closes. Furthermore, a transparent ring at the top of the module allows the light from the LEDs to shine through when you get notifications and also when the phone is being charged. There are also quite a few sound effects that can be assigned when the camera opens or closes. You can choose to disable the sound effects entirely of you so choose. It is worth mentioning that there is still a slight mechanical noise that is barely audible each time the motor activates.
Coming to the actual durability of the pop-up unit, I don't feel there are any major areas of concern. There isn't any wiggle to it even with deliberate force. The unit did manage to support the weight of the handset when I held on to just the selfie camera with my fingers. Forcing the camera unit inside does present with some resistance, but the module closes by itself if you manage to push it halfway. Conversely, when gripping the camera in its open sate and closing the camera app, the phone tries its best to close the unit for about a second or two before giving up and throwing a "Couldn't close front camera. Try again," error. There is also the feature where the camera retracts itself when the phone detects a sudden shock or freefall.
With all this said, Xiaomi does have room to improve when it comes to the actual speed at which the selfie camera opens and closes. This is the primary reason I opted to stick with the in-screen fingerprint scanner for biometric unlock for most of this review, and only used face unlock via the front camera for a single day before getting fed-up by its slow speed. This matter is also concerning when it comes to automatically retracting in freefall. In most of my tests, the camera closed completely only after the phone touched the ground (my bed mattress).
Xiaomi Redmi K20 Pro Display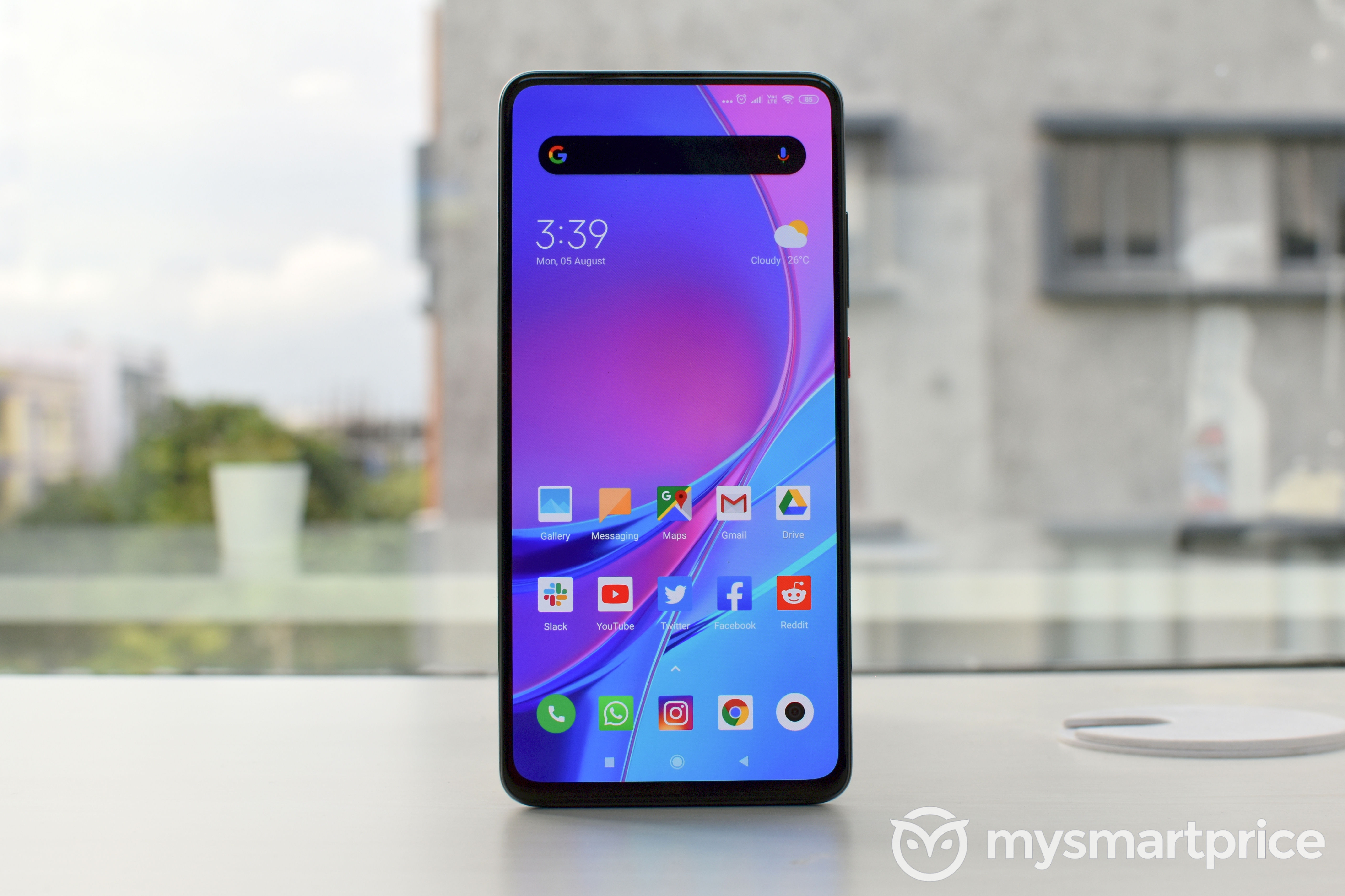 The display is another department where the K20 Pro delivers in spades. Here we have a wonderful 6.39-inch AMOLED with a 1080 x 2340 pixel resolution that houses an in-screen fingerprint scanner. The bezels are extremely thin, and there is no intrusive notch up top thanks to the pop-up selfie camera. Thanks to the HDR10 certification, this screen is truly a sight to behold with vibrant colors and deep blacks. The use of an AMOLED panel also allows for a true system-wide Dark More that looks exceptional. Minute control over the display's hue and color tone have been provided with a full-color wheel, along with an automatic contrast that adjusts how the display looks based on ambient conditions. There is also the ambient display feature that lets you set an always-on graphic with over the lock screen with time, date and notification details. This can be scheduled to turn off at a certain part of the day to preserve battery.
I had no problems using the phone even in direct sunlight. The other end of the spectrum is also impressive as reading on this phone with the lights turned off is quite comfortable. The baked-in Reading Mode further helps in this regard by turning down blue-light levels. Full coverage of the DCI-P3 color gamut allows for impressively vibrant outputs. Viewing angles are also very good. Then we have the anti-flicker mode that is designed to reduce eyestrain by using a DC dimming technique. By looking at the display via another phone's camera, I can confirm that the feature indeed works.
Xiaomi Redmi K20 Pro Software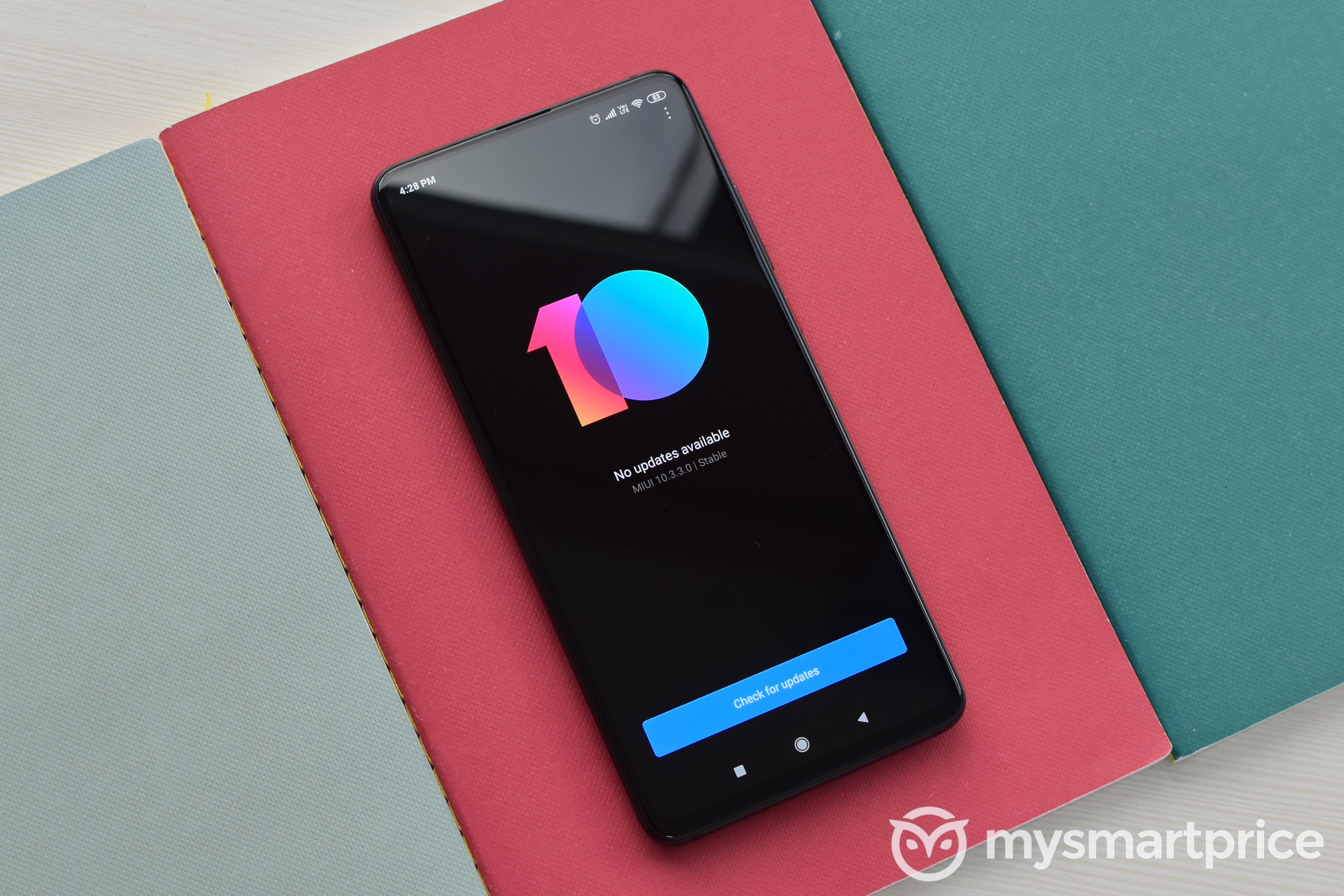 The K20 Pro ships with Xiaomi's MIUI 10 that is based on Android 9 Pie. To keep in line with user demand, the phone runs POCO Launcher out-of-the-box. This allows all the applications to be systematically arranged within an app drawer. For a Xiaomi handset, the bloatware situation is surprisingly low, and you can uninstall all of the third-party ones such as Dailyhunt. Xiaomi also promised that there wouldn't be any ads on the K20 series phones, and this holds mostly true. While I wasn't bombarded with pesky ad notifications, the Mi Video and Music apps still annoy me with their integration of online content such as Hungama. I'm also not a fan of Xiaomi's browser, and while you can clean it up, I prefer to rely on Google Chrome for my internet browsing. Same goes with most of my daily tasks such as music and video streaming where third-party services help me steer clear of any of Xiaomi's multimedia apps that can't be uninstalled.
That said, the rest of MIUI is a rather polished and well thought out Android skin that doesn't feel like it takes much of a toll over system resources. Navigation is also a rather intuitive ordeal with various options including three-key navigation buttons, gestures, and quick ball having been provided. You have all the nifty Android features such as split-screen, one handed-mode, and Google Assistant quick-launch. Xiaomi also added the ability to quickly trigger a 'browser search', 'QR-code scan', or 'add calendar event' by keeping your finger placed on the fingerprint scanner for a couple of seconds after the phone has been unlocked. Dual apps and App lock are other handy features that come included with this software.
Xiaomi Redmi K20 Pro Performance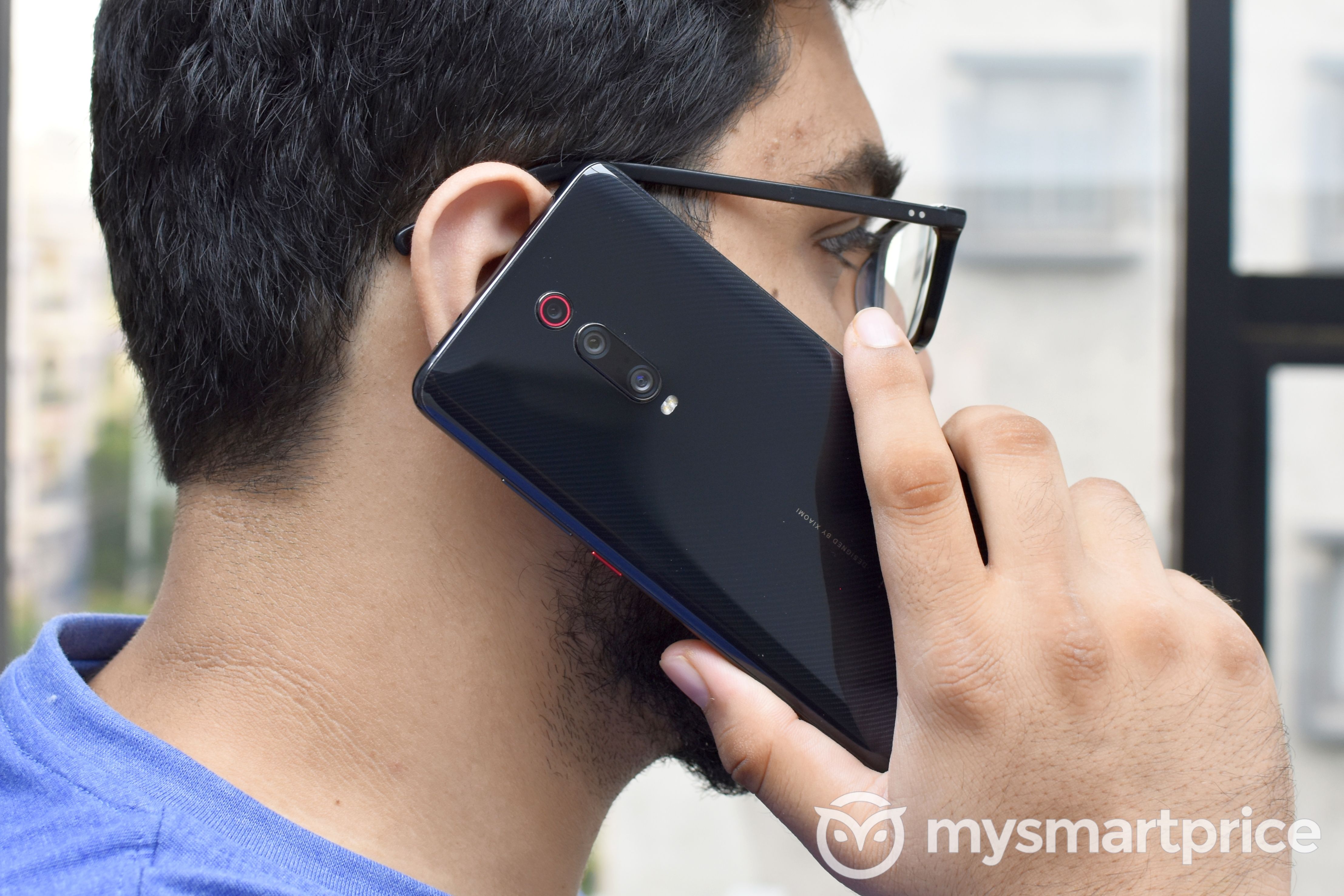 With the use of a flagship-grade Snapdragon 855, there wasn't really a doubt as to the incredible performance of the Redmi K20 Pro. Everything from standard multitasking to running heavy games, the K20 Pro breezes through without breaking a sweat. Pair that with 256GB of storage and 8GB of RAM on my review unit, and I was left completely satisfied with what the phone has to offer. A quick run through the usual list of benchmarks including 3D Mark, AnTuTu, Geekbench 4, and GFX Bench further proves how the K20 Pro has what it takes to compete with the big boys.
The Redmi K20 Pro is a dual SIM-capable smartphone. I used a single 4G SIM card for the duration of this review and found the call quality and network performance to be more than acceptable. This phone also boasts a Dual GPS functionality, and I suppose it works as intended as I never noticed any problems with navigation. Unlocking the phone via the provided in-screen fingerprint scanner is also a rather pleasant ordeal. Unlocking speeds are reasonably fast for this type of sensor, along with an impressive rate of accuracy. Face unlock also works reasonably well via the selfie camera, but as I mentioned earlier, the slow speed of the pop-up mechanism makes it difficult to use this as the primary means of unlocking the handset.
Audio was one of the key points of focus for Xiaomi with the K20 Pro. While the phone does not offer a dual stereo speaker setup like the OnePlus 7, the single bottom-firing loudspeaker of the K20 Pro is undeniably louder. Even with some minor distortion at max volume, this loudspeaker impressed me with its clarity and sheer loudness. Then we have the 3.5mm headphone jack of the K20 Pro, a feature that is entirely absent from the OnePlus 7. Xiaomi takes this aspect a step further by integrating a Hi-Fi DAC that allows 192KHz/24-bit audio playback on this phone. Although there isn't a pair of headphones that come packed within the box, there are a plethora of sound customizations and equalizer presets MIUI provides for you to play around with.
Xiaomi Redmi K20 Pro Camera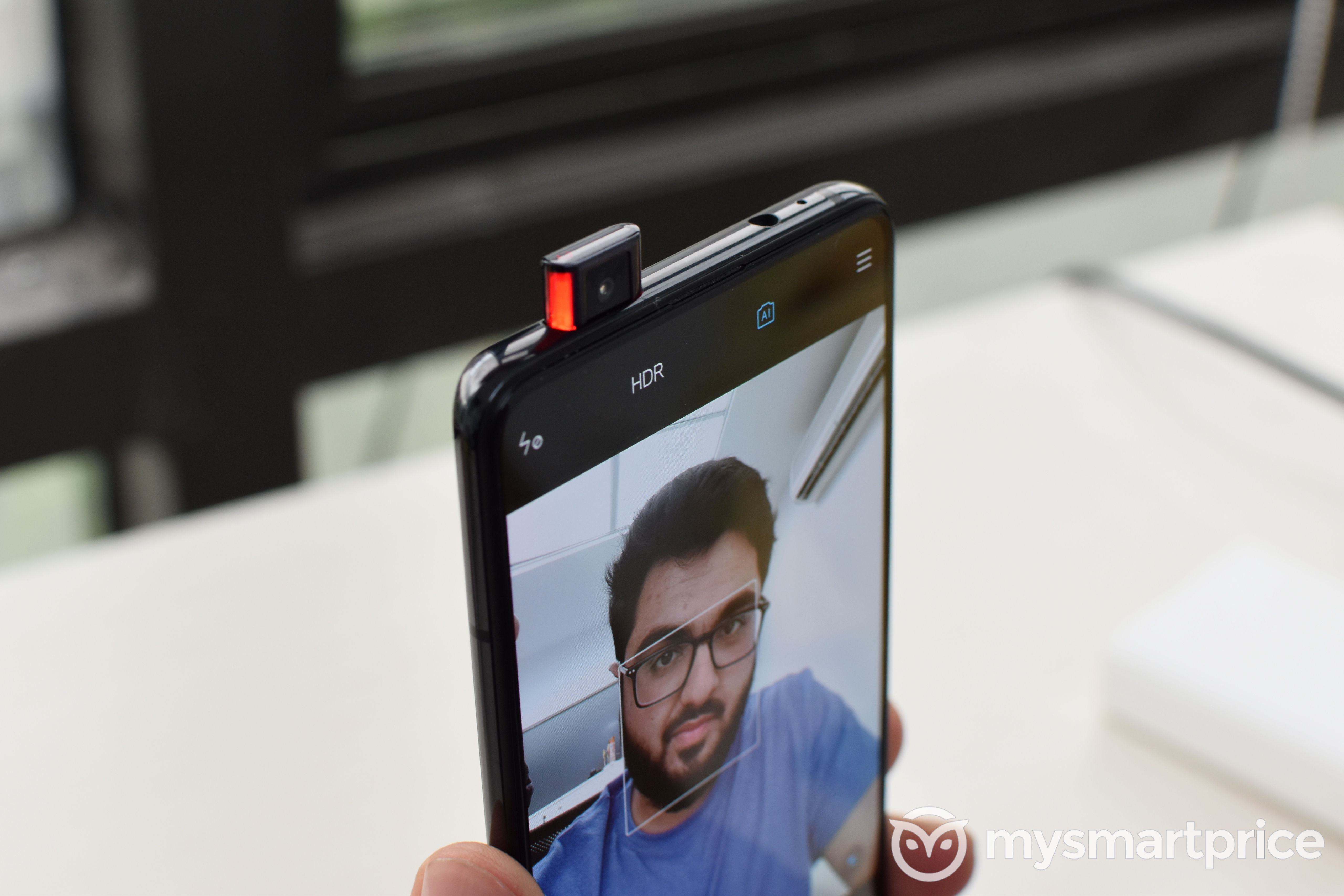 For a phone that starts off at INR 27,999, the Redmi K20 Pro performs remarkably well when it comes to both rear and front photography. On the back, we have a 48MP Sony IMX586 primary camera with an f/1.75 aperture. Images captured using this camera generally produce sharp images with vibrant colors. This is especially true when you have sufficient ambient light. An included AI mode makes colors pop even further, but some will likely consider these images to be oversaturated. By default, this camera takes 12MP resolution images where it uses 4-in-1 pixel binning to retain more detail. There is a dedicated 48MP camera mode that can help capture higher-resolution photos, but this only works well if you have enough daylight lighting up your scene. With average and low-light, you'd be better off sticking to 12MP shots. Portrait mode also only works with 12MP images, and this software-based effect is surprisingly accurate at edge detection.
The primary rear camera is accompanied by a 13MP ultrawide-angle camera with a 124.8-degree field of view and an f/2.4 aperture, while the third sensor is an 8MP camera with a 2x optical telephoto lens and an f/2.4 aperture. With smaller aperture sizes, both these camera sensors take images with comparably less exposure. However, the overall image quality when compared to those taken from the primary camera isn't all that much worse. The 2x zoom lens in particular only activates when there is sufficient ambient lighting. Otherwise, you'll be capturing a digitally zoomed-in image via the primary camera. When you do capture images from the 2x lens, the colors are just a bit less vibrant. As for the wide-angle camera, you get pretty decent contrast levels and details. The only issue here is with barrel distortion where Xiaomi has added a feature to automatically correct warping at the edges, but this results in the edges appearing stretched out.
Selfies on the K20 Pro are handled by a sizeable 20MP f/2.2 aperture camera that is quite reliable at capturing well-detailed shots. By default, beauty mode is enabled, and the resulting images appear a bit soft. Manually disabling the feature allows for a respectable amount of detail. Portrait mode here is again software-based, and again, the edge detection of an individual subject impressed me. However, getting clear, stable shots requires more than one try as even the slightest hand movement results in a shaky shot.
Coming to low-light imaging and the K20 Pro takes a noticeable hit across the board. With how the phone is priced, however, the results are not too bad. Even though there is some noise and lack of sharpness, the resulting images in many such situations are generally useable. Night mode certainly helps bring back some detail and brightness, but it isn't as impressive as what I have seen on some Honor/Huawei smartphones.
A very impressive feature worth mentioning it the 'sky replacement' filter that does exactly what it says. You will find this feature in MIUI gallery right where you would apply a filter to an opened image. The phone is capable of intelligently detecting which part of the image is the sky, and you can choose from six different types of filters and even adjust their intensity. Options such as cloudy, rainbow, and sunset let you completely change the mood of an image, and the results are quite astounding.
The Redmi K20 Pro is part of the ever-increasing list of smartphones that support 4K 60fps video recording. While the inclusion of this feature is highly appreciated, the resulting video quality is merely on par with other devices in this price bracket. Both colors and details are reasonable, but there are some issues with overall video stability since the phone only has electronic image stabilization to work with. Especially when capturing videos indoors and moving around, there is a noticeable amount of shakiness.
Xiaomi Redmi K20 Pro Battery Life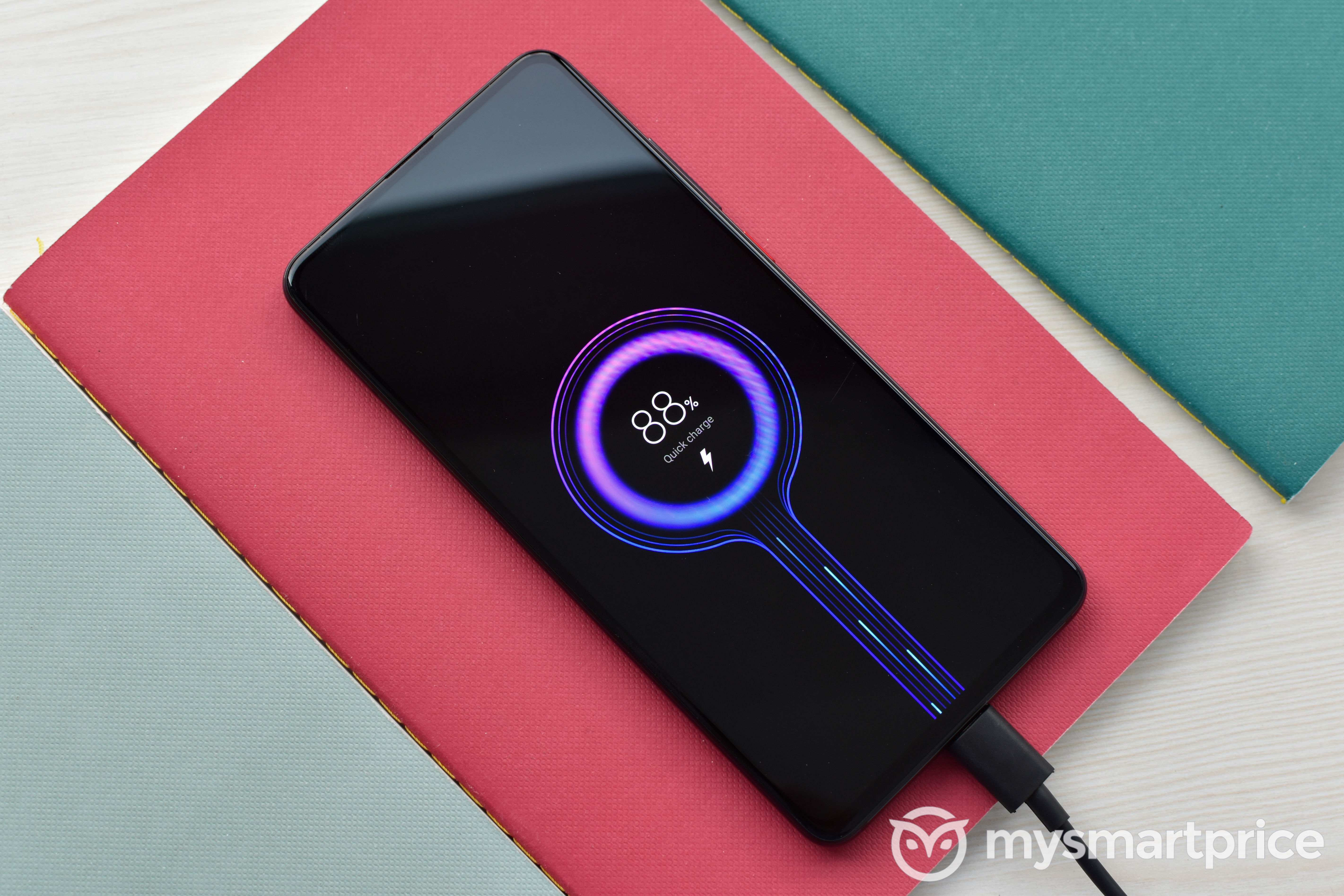 These days, a 4000mAh battery doesn't sound very impressive, and admittedly even I wasn't all too excited about the Redmi K20 Pro's potential battery life results at first considering the phone had a power-hungry AMOLED screen and a demanding Snapdragon 855 SoC. Boy was I wrong. The Redmi K20 Pro has one of the most spectacular battery lives I have seen for a phone this powerful. I was blown away to see around 9:30 hours of screen on time with close to 44 hours of standby on most days. Even with heavy use where I ran all of the benchmarks for this review, I managed to get 8:50 hours of screen-on time with 40 hours of standby. On most workdays, I easily managed to make the phone last for two full days before running out of battery, and this was without resorting to power saving features.
For charging, the Redmi K20 Pro ships with an 18W charger that supports Quick Charge 3.0. With this charger, you can get from 10% to 90% in just over an hour and a half. The last 10% doesn't charge as fast, and you will need around 15-20 minutes more to top up the battery entirely. The phone is said to support 27W Quick Charge 4+ that is claimed to get to 90% in 75 minutes. I did not have access to such a charger for this review, and I can't comment on whether this claim holds true just yet.
Xiaomi Redmi K20 Pro Verdict
The Redmi K20 Pro is a beast of a phone that doesn't leave a lot to be desired. In a way, this is what I wanted the OnePlus 7 to be. Sure, the K20 Pro lacks stereo speakers and UFS 3.0 storage, but it more than makes up for this with its 3.5mm headphone jack, notch-less AMOLED with HDR10, high-volume loudspeaker, and unbelievable battery life. We already knew that Xiaomi was capable of integrating a flagship processor on an affordable smartphone, but with the K20 Pro, the brand has succeeded in offering a robust all-rounder with top-end specs while maintaining a sub-30k price tag.
Yes, the Redmi K20 Pro is not as affordable as last year's POCO F1, but it was never meant to be a direct successor with a new chipset and marginal improvements slapped on. Instead, Xiaomi chose to offer more. It is becoming increasingly hard for brands to wow the masses, and Xiaomi has successfully made the flagship-killer space exciting again.
Xiaomi Redmi K20 Pro
₹27,999
What Is Good?
Exceptional performance.
Incredible battery life with Quick Charge 4+ support.
Vibrant, notch-less AMOLED screen with HDR10 support.
Comfortable form factor with robust build.
3.5mm audio with Hi-Fi DAC, loud bottom-firing speaker.
Impressive imaging capabilities considering the price.
Unbeatable value-for-money proposition.
What Is Bad?
Lacks stereo speakers.
Slow pop-up camera mechanism.
Quick Charge 4+ charger needs to be purchased separately.
Video capture is jittery at times.