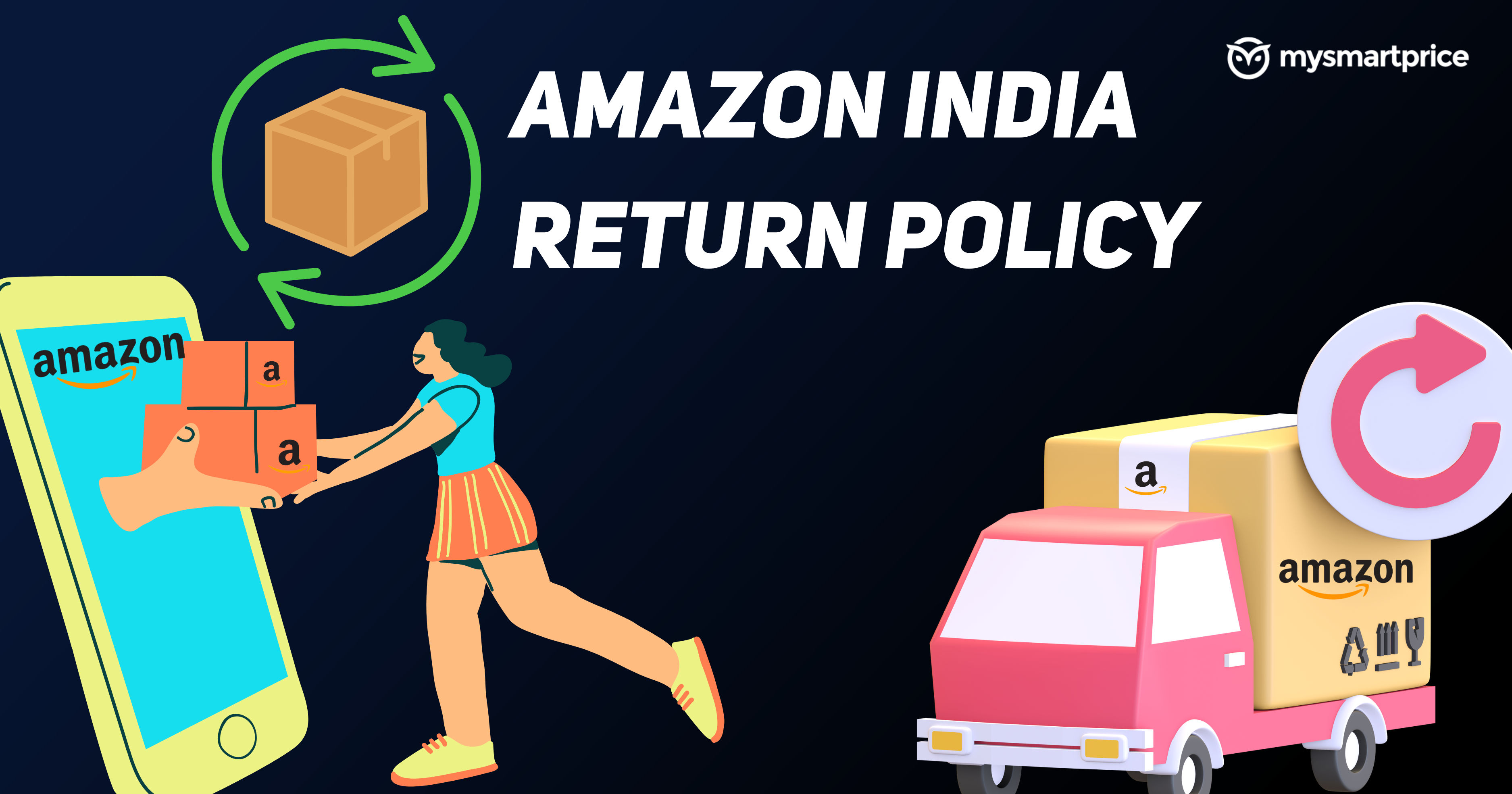 Amazon is probably one of the biggest platforms for e-commerce in India and you can virtually get any product you want from the platform. Moreover, the company also offers many sales across the year, ranging from monthly Amazon Prime Day to seasonal Amazon Diwali sales. During these, millions of users buy products from Amazon, and unfortunately, there are times when the delivered products are mixed up or damaged. Moreover, the product might not be the same as the one shown in the description, it could be defective, the size and fit could be an issue and more.
In these scenarios, the customer can return the product to get it exchanged or get a refund. But, it is crucial to be well aware of the return policy as well as guidelines. So, we've provided you with everything related to Amazon India's return policy including, a list of returnable and non-returnable items and how to place a return request for a product.
What is Amazon India's Return Policy?
Imagine a monthly sale going on at Amazon and you ordered a smartphone. After receiving it, you discovered that the product is broken and you wish to return it for an exchange or refund.
This is where Amazon's return policy comes into the role. And it is important. As per Amazon India's return policy, the buyer can easily return the product in case of wrong or damaged product delivery.
However, there are some guidelines that need to be followed before opting for the return procedure.
Some of the key points are:
The product must be in a returnable category.
It must be non-different from what is shipped to you.
It must not be damaged while in your possession.
It must be returned in original condition along with accessories and boxes (including MRP tag, user manual, and warranty card).
The rest are below in detail.
What are the Return guidelines?
These are the general return guidelines.
Damaged or different product – If the product is mentioned as a returnable product under the return window, it can be returned in case of physically damaged, defective, missing parts, or receiving different products as per the description on the website.
Delete personal information before return – If you purchased an electronic device such as a smartphone, Tablet, Laptop, or Smart TV. Make sure to delete all personal information if already filled in before returning. Amazon won't be responsible in any manner for any misuse or usage of such information.
Non-returnable product – However, the non-returnable products won't be returned because of prior mention. But, in case of physical damage, defective delivery, or wrong item delivery, Amazon can provide a full refund or replacement. You can contact Amazon within 10 days of delivery of the product.
No need to provide additional information – Additional information won't be needed in case of the product falls under the specific category.
Replacement is mainly dependent on the seller – Products can be replaced only if the exact same item is in stock of the seller.
Refund over replacement – In case of the absence of the exact same item, a refund will be given to the buyer instead replacement.
International customers are not eligible for returns – As per the return policy, international customers are not eligible for returns. However, they can have refunds, if contacted customer service within 5 business days of delivery.
Now, some extra precautions to make before returning.
Return is possible only:
If the product was not damaged while in your hands.
If it is not different from what was delivered to you.
It must be in its original condition along MRP tag, accessories, user's manual, warranty card, etc.
Note: At last, if customers are found misusing the return policy the company has a right to warn or even terminate such user account.
How to Place a Return Request for a Product on Amazon
You can place a return request by navigating to Amazon's app or desktop site. Then there:
Press on Return & Orders in the app's Menu.

Tap on the order that you need to return.
Scroll down to Need help with your item.

Press on the Return item. 
Enter the Reason for return and Tell us more. 
Click on the Continue button.
Then, move to the refund mechanism under How can we make it right?
Choose the pickup address date and time.
Now, follow the on-screen instructions and your return will be scheduled by the platform.
How to View the Status of the Return?
Return or refund status will only be visible on the order if you initiated it.

To check the status:
Navigate to Your Orders.
On mobile, press on the order for which you have initiated the return and select View Return/Refund Status.
On the desktop, press Next to the respected order, select View Return/Refund Status.
List of returnable items
Note: Except for special mentions on non-returnable, every item in this list is returnable under respective returnable period mentions.
Echo
Alexa
Fire TV Stick
Kindle E-Readers
Amazon Accessories for these devices
Kindle Books
Gaming Consoles
Books
Used books
Mobiles
Tablets
Work Space
Gadget Accessories
Laptops
Printers
Desktops
Monitors
Pen Drives
Hard Drives
Memory Cards
Internet Devices
Computer Accessories
Graphic Cards
CPU
Power Supplies
Motherboards
Cooling Devices
TV cards
Computing Components
Office & Stationery Supplies
Networking Devices
Televisions
Air Coolers
Air Conditioner
Refrigerator
Washing Machine
Dishwasher
Microwave
Digital Cameras
Camera Lenses
Camera Accessories
Security cameras
Speakers & Home Theaters
Headphones
Furniture
Pet – Habitats & Supplies
Apparel & Leashes
Training & Behavior Aids
Toys
Aquarium Supplies such as Pumps, Filters, and Lights
All home improvement supplies (drilling machines & accessories)
Mopping supplies
Ladders (step & telescopic)
fasteners & hooks
All Plumbing
Kitchen & Bath fixtures (like Taps, Faucets, Bath hardware, sinks)
Safety & Security systems (Safes, Home security systems, Door locks)
Sweeping cloths & wipes
Hot water dispensers
Building materials
Dimmer & Lighting controls
Cord & power management
Mixer grinders
Juicers
Blenders
Food Processors
Toasters
Induction
Rice Cookers
Oven toaster grills
Fans
Coolers
Water Heaters
Irons
Air purifiers
Humidifiers
Vacuums
Baby Toys
Prams
Strollers
Carriers
Baby Utensils & Feeding Sets
Baby Apparel
Diaper Bags
Baby furniture
Nursery Decor
Sports
Fitness and Outdoors
Treadmills
Exercise Bikes
Home Gyms
Multi Gyms
Activity Trackers
Ellipticals
Camping furniture
Bicycles
Sports Nutrition (Whey Protein Powders and related Diet Supplements)
Mobility and Disability Aids
Joint Supports
Wheelchairs
Shavers
Trimmers
Hair Dryers
Straighteners
Skincare
Nail care
Medical equipment
Clothing, shoes, and Accessories
Fashion /Imitation Jewelry
Silver jewelry
Precious Jewellery
Eyewear and Analog
Digital Watches
Smartwatches/ Activity Tracker
Backpacks
Handbags
Travel Luggage
Wallets & Travel Accessories
Rims
Car Parts & Accessories
Bike Parts & Accessories
Helmets & other Protective Gear
Vehicle Electronics
Fasteners
Industrial Electrical
Lab & Scientific Products
Material Handling Products
Professional Medical Supplies
Tapes
Measure & Inspect Products
Industrial Hardware
Industrial Power & Hand Tools
Packaging & Shipping Supplies
Industrial adhesive tapes & sealants
Food Service Equipment & Supplies
Airflow & air quality meters
List of Non-Returnable Items
These are non-returnable items.
Movies
TV Shows
Music
Harmonicas
Flutes
Video Games
Screen guards
Screen protectors
Tempered glasses
Software
Wax candles
Wall stickers
Pet Food
Pet Shampoos and Conditioners
Pest Control
Harnesses
Aquarium supplies
Pet Grooming Aids
Mops
Brooms
Dustpans
Paints
Brushes
Wallpapers
Wall paintings
Extended Warranty cards
Vouchers
AMCs
Diapering Pads
Covers
Nappy Liners
Wet Wipes
Feeding Bottles
Breastfeeding products
Teethers
Baby Personal Care
Baby Hair & Skin Care Products
Socks
Gym supporters
Guards
Swimsuits
Subscription packs
Gym vouchers
Fertilizers
Seeds
Live Plants
Beauty products
Detergents
Fabric Conditioners
Toilet Cleaners
Floor Cleaners
Hand washes
Tissues
Sprays
Gels
Toothbrushes
Toothpaste
Mouthwashes
Sanitary Pads
Panty Liners
Menstrual Cups
Razors
Blades
Shaving Foams
Brushes
Beard Oil
Beard Serum
Wax Strips
Creams
Razors
Infant Baby Food
Toddlers' and Kids' Health Drinks
Core Letter Vitamins
Multi-Vitamins
Contact Lenses and related products
Ayurveda Products
Pain Relief Products
Herbal Supplements
Medical Supplies
Adult Diapers
Medicines
Grocery
Gourmet
Amazon Pantry
Men & Women innerwear
Men's Vests
Women's Lingerie
Swimwear
Socks & Hosiery
Gold Coins
Gold Vedhanis
Gold Chips
Gold Bars
Silver Coins
Silver Bars
Silver Chips
Silver Bullion
Rakhi
Car Tires
Car Care
Chemicals & Fluids
Engine Oils
Masks
Gloves
Safety glasses
Lead-acid Batteries
Customizable Products