This year's iPhones are classic Apple-style 'S' upgrades, offering the same design and Face ID system that debuted with the revolutionary iPhone X (Review) from last year. There are slight improvements in processing speed, cameras, speakers, water resistance, software, charging speed, and battery life. I guess S stands for Slight, then?
Apple iPhone XS
Rs. 99,990 Onwards
Design and Build Quality
8.5/10
What Is Good?
Exquisite design.
Top-notch screen (no pun intended).
Massively improved cameras.
Blazing fast performance.
Improved software, better integration with Apple products.
A 5-year software update promise.
Good battery life and fast wireless charging.
What Is Bad?
Screen notch.
No 3.5mm headphone jack.
No fast charger and 3.5mm adapter in the box.
Insanely high pricing.
Do these slight improvements warrant a price jump, and more importantly, an upgrade for iPhone X users? Let's find out in our review of the iPhone XS.
About This iPhone XS Review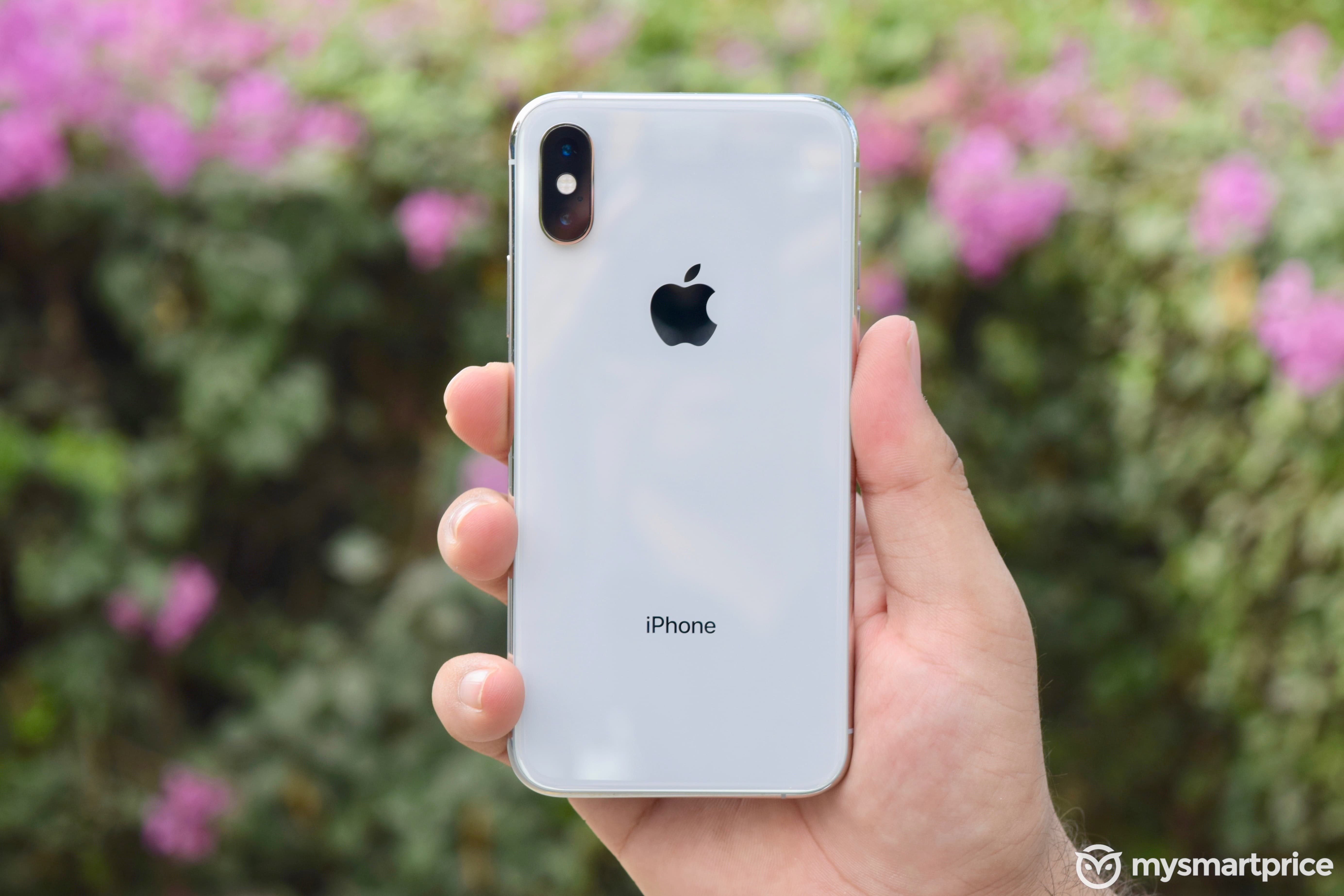 I, Asif Iqbal Shaik, used a 256GB storage variant of the Apple iPhone XS (Silver) in Hyderabad, India for close to two months before writing this review. I used the iPhone XS with my primary SIM card on Airtel's 4G LTE network. Although it is Apple's first dual-SIM iPhone, I couldn't test its performance in the dual-SIM mode because the feature only arrived with iOS 12.1 and I was near the end of my testing. I hope to publish my experience of using the iPhone XS in dual-SIM mode after a few weeks.
My usage included four email accounts synced with the phone as well as a bunch of social networking apps, Slack, and a bunch of messaging apps. I watch YouTube videos for half an hour every day and stream music through CarPlay while driving to and from work.
[P_REVIEW post_id=121699 visual='full']
iPhone XS Design & Build Quality
There's no change in the design and build quality of the iPhone XS compared to the iPhone X. Even if you show side-by-side to anyone, they won't be able to distinguish and tell them apart (except when the iPhone XS is in its new Gold color). The phone uses a stainless steel frame, which is sandwiched between two panels of Corning Gorilla Glass 6 (Apple is just calling it the world's toughest glass used in smartphones).
The front of the iPhone XS is mostly covered by the OLED screen. There are very thin bezels on all sides of the screen, except the top middle part where there's a notch. The notch hides the earpiece, the front-facing camera, and a bunch of sensors that are used in the Face ID mechanism. There's a big power button (which also doubles up as a button to summon Siri) and the nano SIM card slot on the right. Volume adjustment buttons and the mute switch are on the left side of the phone. Loudspeaker, microphone and Lightning port are located at the bottom of the device. A total of six antenna bands on the corners make sure that Bluetooth, cellular, GPS or Wi-Fi signal is reliable and strong. The rear of the iPhone XS has Apple and iPhone logos along with the vertically placed dual-camera setup.
The phone's corners and edges are rounded off for a seamless feel. Build quality is top notch, buttons are clicky, and haptic feedback (thanks to the Taptic Engine) is the best there is in the world. The stainless steel material gets scratched easily, though. Also, glass is, no matter how strong it is, fragile. So make sure that you protect this costly device in a high-quality case to save it from drops and scratches. Since the phone is IP68 certified, it is resistant to dust and water (for up to 1.5 meters deep of fresh water and up to a maximum of 30 minutes). Last year's iPhones were certified for IP67, so there's an improvement. Apple still doesn't offer any warranty for water damage, though.
iPhone XS Display & Audio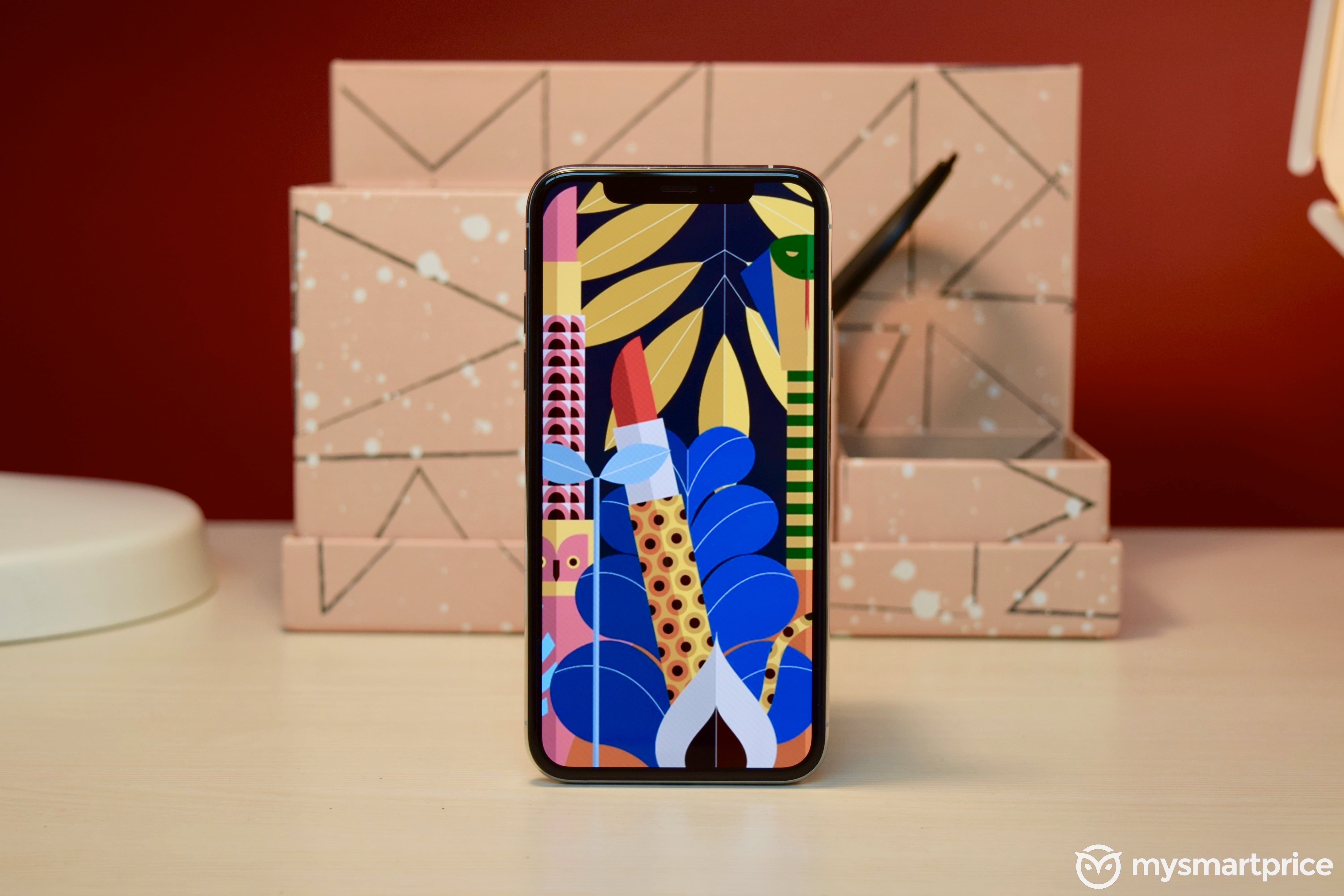 The 5.8-inch OLED screen (which Apple likes to call 'Super Retina HD Display') on the iPhone XS is exactly similar to the one used in the iPhone X last year. It has 2436×1125 pixels resolution (at 458ppi), which is slightly higher than the Full HD+ resolution used on many mid-range phones but lower than other high-end phones in the market these days. The multi-touch capacitive screen is also certified for HDR content playback (HDR10 and Dolby Vision). Amazon Prime Video, iTunes, and Netflix support HDR content streaming on the iPhone XS. Peak brightness is being pegged at 625 nits. The screen panel on the iPhone XS and the iPhone XS Max is manufactured by Samsung, so its performance is quite similar to the screen used in the Galaxy S9 Plus (Review) and the Galaxy Note 9 (Review).
The iPhone XS Max's has one of the best screens you can get on any smartphone in the world right now. It is a joy to look at, thanks to accurate colors (as accurate as phones with OLED screens go), high brightness levels and wide viewing angles. Even under direct sunlight, content is clearly visible. Color accuracy doesn't drop with an increase in brightness, which is the only difference between the iPhone XS' screen and the one on the Galaxy Note 9. The TrueTone feature takes into account the color temperature of ambient light and changes the screen's white balance accordingly, which Apple claims will make colors more accurate to the naked eye. The Night Shift feature reduces screen brightness and applies a blue light filter, making the content easier on the eyes during the night (you can also adjust the strength of the blue light filter as well as its schedule). The notch in the screen brings down the video viewing experience, though. Apple could've gone with a slightly thicker top and bottom bezel and a fingerprint reader to eliminate the notch. What Apple could've done to hide the existence of the notch is an option in the software to limit the video zoom just before the notch starts, but it didn't do that as well. I don't know whether its due to the company's arrogance, sheer incompetence, or a preparation of completely bezel-less iPhones in the coming years.
The stereo loudspeaker setup now sounds slightly louder and wider than last year's iPhones. The earpiece, which doubles up as one of the stereo speakers, now has more volume and depth, bringing both the speakers on the phone closer in terms of quality. If you're someone who enjoys sharing music with your friends in a room or flaunting your ringtones, you'll definitely enjoy the iPhones XS. Its speakers are one of the best in the market. There's still no 3.5mm headphone jack, though, and it's never coming back. What's worse for us consumers is that Apple has stopped bundling a Lighting To 3.5mm Headphone Jack Adapter with the iPhone XS, XS Max, and the XR. So if you want to use your existing wired earphones or headphones, you'll have to shell out an additional $9.99 (INR 990). If you decide to move to wireless earphones, make sure that they are compatible with AAC (and aptX, preferably) Bluetooth audio codecs for higher quality wireless audio. I ended up using my EOZ One and the FiiO μBTR for listening to music using the iPhone XS. High-end phones from LG and Samsung still offer dedicated 3.5mm headphone jacks along with even higher quality wireless codecs: aptX, aptX HD, and LDAC. Apple needs to stop being dramatically greedy and at least offer a 3.5mm adapter with its phones.
iPhone XS Camera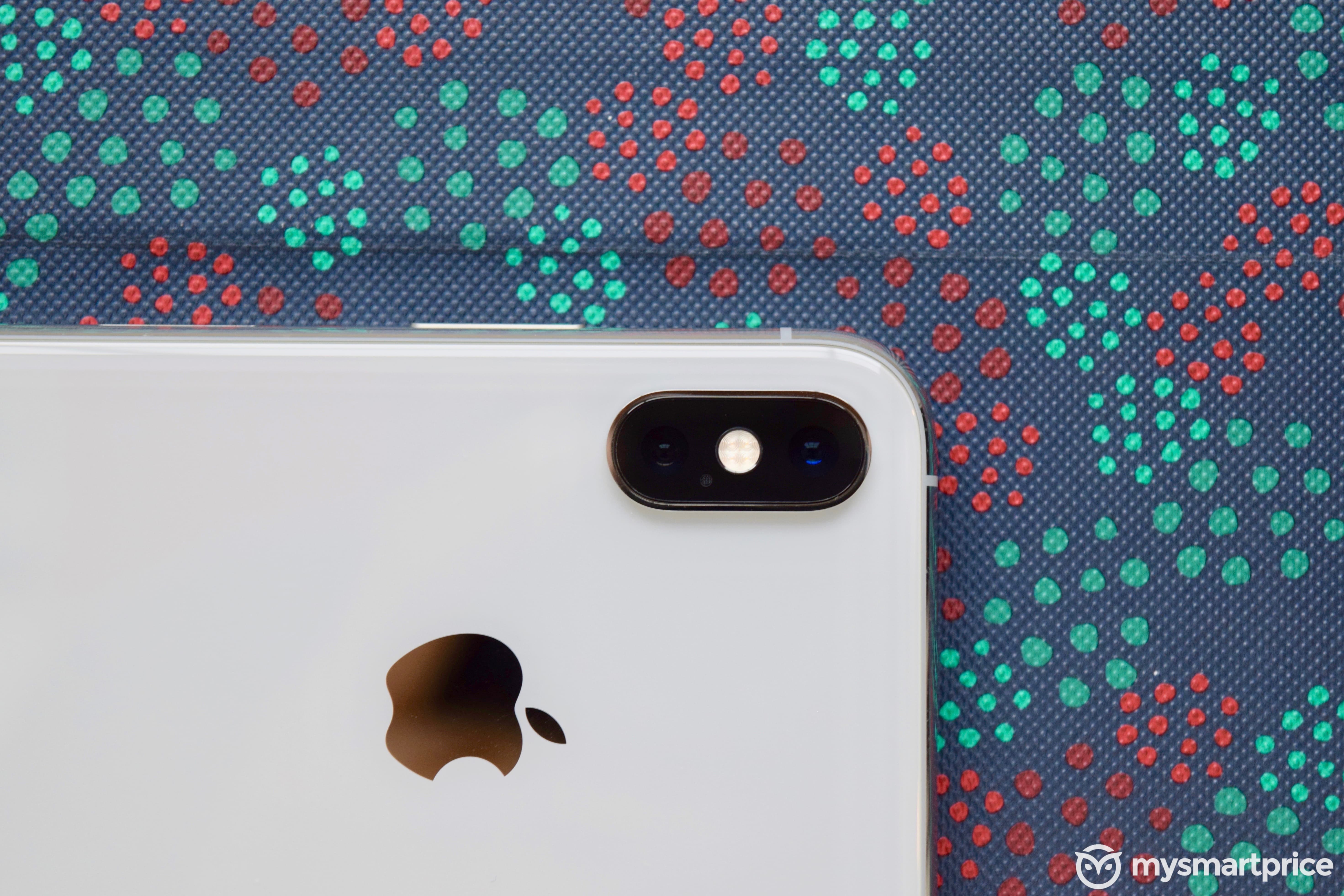 On paper, the iPhone XS might have the same camera setup as that of the iPhone X, but look closely and you'll find that Apple has not only used a larger rear-facing primary camera sensor but also improved algorithms for better still image and video quality. The iPhone XS has a larger, 1/2.55-inch camera sensor (resulting in a larger pixel size of 1.4 microns) with PDAF and OIS. The aperture and focal length remain the same at ƒ/1.8 aperture and 26mm, respectively. The secondary sensor is exactly the same that was used in the iPhone X: 1/3.4-inch size, ƒ/2.4 aperture, 52mm focal length, PDAF, and OIS. The rear-facing camera setup and record 4K videos at up to 60fps and slow-motion videos at up to 1080p 240fps. The front-facing camera setup uses a 7MP sensor with ƒ/2.2 aperture, 32mm focal length, fixed focus, and 1080p video recording at 60fps. The new feature in video recording is stereo audio capture with wider dynamic range, which means that your music concert videos won't have audio distortion. Since the front-facing camera is accompanied by Face ID's depth mapping system, it is compatible with Animoijs and Memojis, both of which are much better than the trash that Samsung offers.
Apple iPhone XS - Camera Samples (Daylight)
Over the past two weeks, using the iPhone XS, I've noticed that the image quality has improved tremendously over last year's iPhones, and a lot of that improvement comes from the Smart HDR feature, which is essentially Apple's version of what Google introduced with its Pixel lineup of phones. It captures multiple frames (five frames from what I know, including an overexposed shot), with various exposure settings, and merges them into a single image which has wide dynamic range, lower noise, and more details. Side-by-side, still images captured using the iPhone XS showcase a lot more details and wider dynamic range compared to the ones captured using last year's iPhones, and much of those improvements can be seen in low-light conditions, which benefit from the Smart HDR feature. I noticed the light flare issue with the iPhone XS. Moreover, Apple is still refraining itself from using the telephoto camera in low-light conditions. What happens when you switch to the 2x zoom mode then? Well, a digitally zoomed image from the primary camera sensor gets saved, which means that its quality is lower than it should be.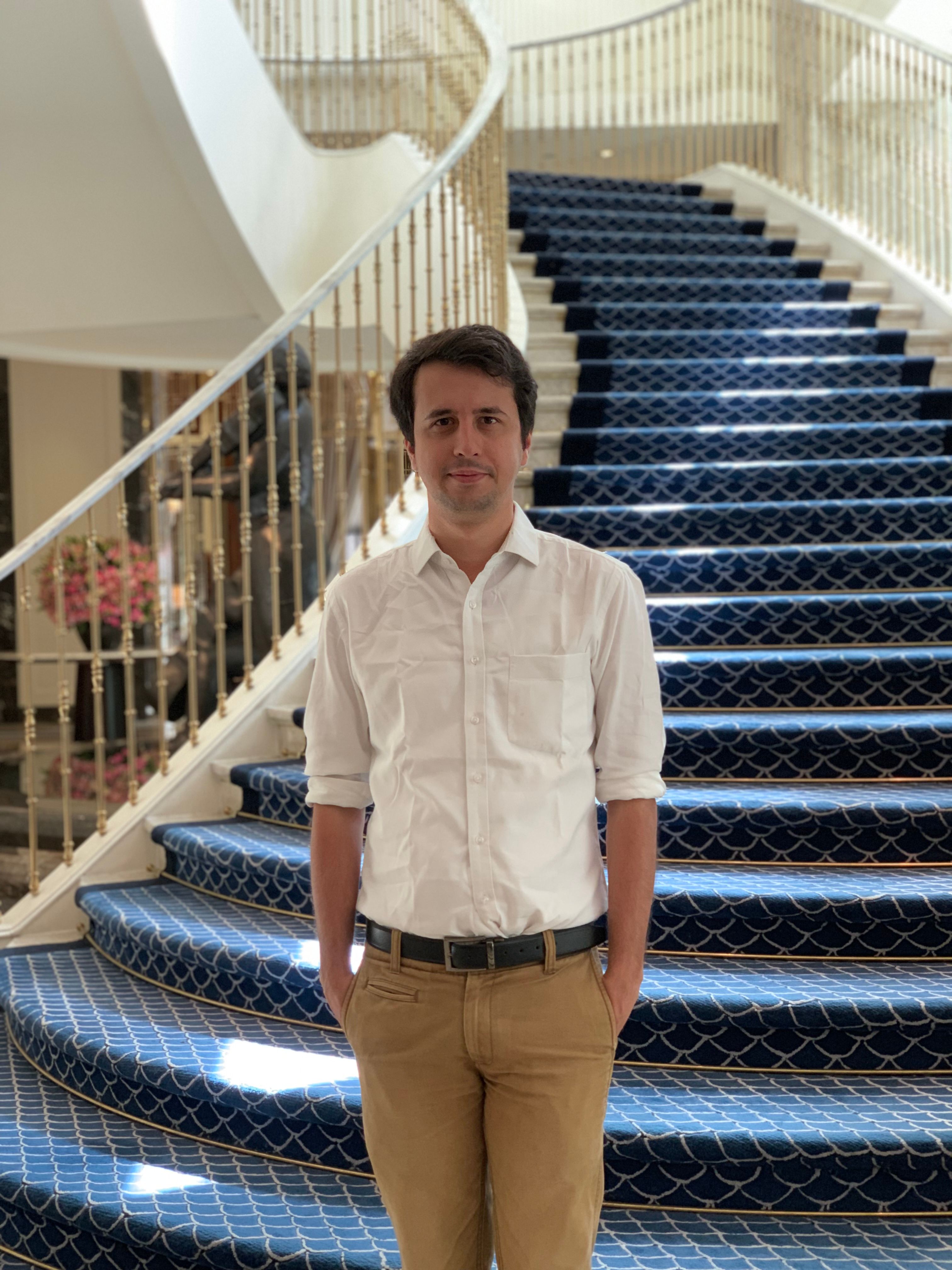 Portrait images come with improvements as well. Faces appear natural and light sources in the background have a natural looking blur effect. The iPhone XS also offers a feature that lets you adjust the amount of background blur after an image has been captured. While this feature has been present in Samsung and Huawei phones since last year, it works better on the iPhone XS. There's a lot of improvement to be made in self-portraits, though. Field of view of the front-facing camera is narrower than what's expected from modern day smartphones. As the light drops, noise starts to creep in, and images start to appear as if they're oil paintings.
Apple iPhone XS - Camera Samples (Low Light)
The low-light image quality of the iPhone XS's rear-facing camera setup is better than what the recently released Pixel 3 series offers (Pixel 3 XL review), though. Images shot in low-light conditions using the Pixel 3 series have a lot more noise and blown out highlights, especially light sources. Is the image quality better than what competing phones offer? Certainly not. I still think that the Galaxy Note 9 offers better image quality, especially in low-light conditions, with lower noise even if the colors are slightly off. In conditions when there's enough light, the Pixel 2 still beats out the iPhone XS, let alone the Pixel 3. The Pixel 2 and the Pixel 3 series of phones offer more accurate colors in both daylight and low-light conditions.
Apple iPhone XS - Camera Samples (Selfies)
When it comes to video recording, the iPhone XS is the best out there, offering sharp, noise-free and colorful 4K 60fps videos, using both wide-angle and telephoto camera sensors. 1080p videos have similar features. And finally, audio is captured in stereo and higher bitrate, rather than lower bitrate mono channel. Slow-motion videos have more details, too, compared to phones from other brands. Even though the frame-rate isn't as high as the gimmicky 960fps, you can slow down all the parts of the video without any time limit. On the other hand, phones like the Galaxy S9 series, Galaxy Note 9, and Xperia phones can capture 960fps videos for not more than a second, which is useless according to me. Videos recorded using the iPhone XS' front-facing 7MP camera are now saved in 1080p 60fps and they are electronically stabilized, which is a huge improvement over last year's iPhones.
iPhone XS Software Features & UI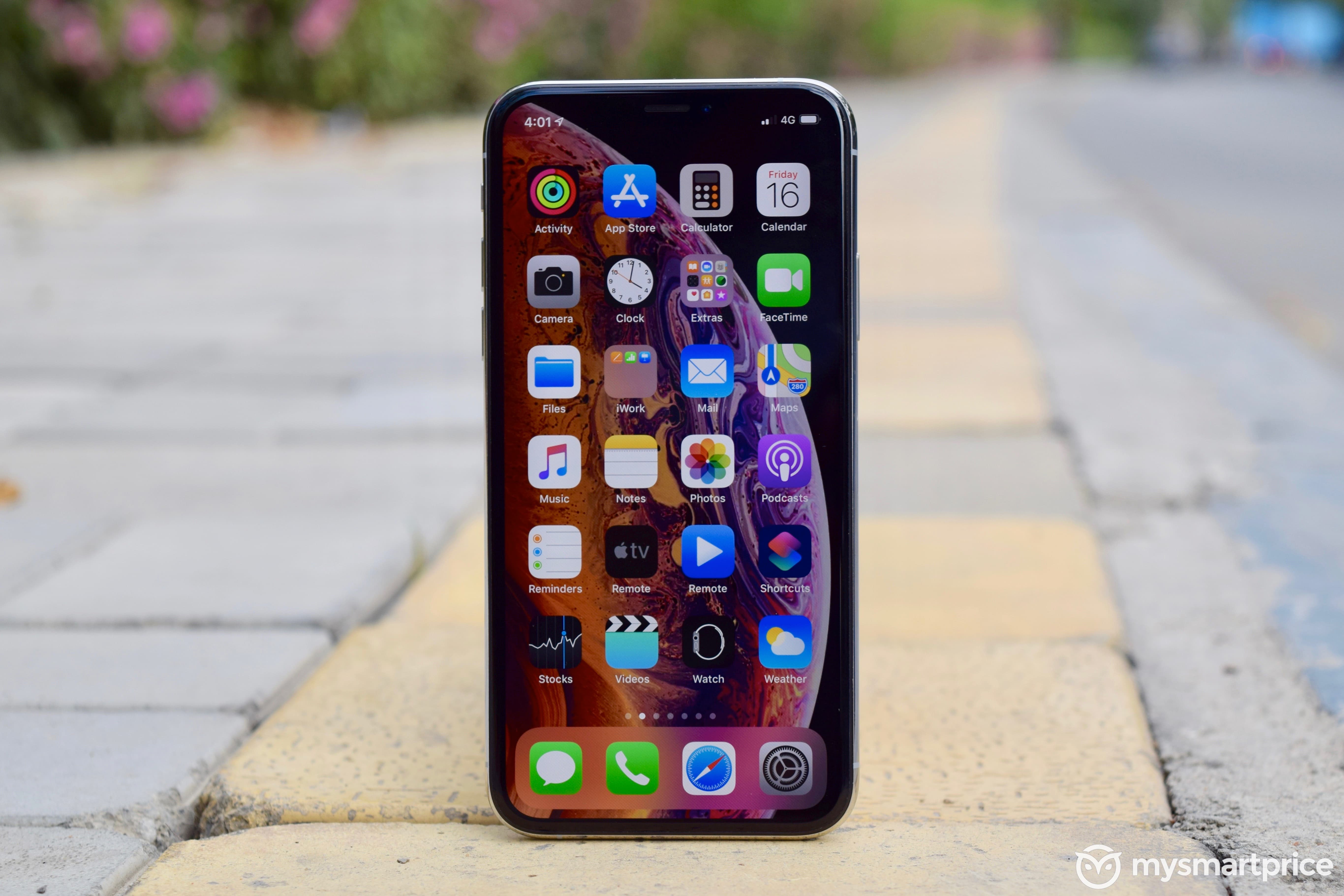 iOS 12 debuted with the iPhone XS and the iPhone XS Max, and Apple has focussed on improving performance rather than adding dozens of new software features with its newest smartphone operating system release. Animations and transitions are smoother and shorter, making devices feel faster. Except for bundled notifications and more control over them, not much can be noticed unless you dive deep into the settings menu and stock apps. A few new features include Bedtime Mode, Screen Time, Downtime, App Limits, more detailed battery consumption info, new wallpapers, an 'alternative appearance' for Face ID, improved multitasking gestures and the new Measure app.
Notifications form the same app are bundled into a single entry in the form of a stack. You can click on the stack to expand all the notifications and click on each one of them to view. You can also clear all of them at once by swiping the stack to the left and clicking the Clear All option. Clicking on the Manage option opens a pop-up menu that lets you deliver notifications from the app quietly or turn them off altogether. Clicking the Settings button takes you to more granular controls. 3D Touch on a notification shows quick actions. For example, 3D Touch on a notification from Instagram offers three quick actions: Like, Quick Reply and View Post.
Apart from the improved Do Not Disturb mode, Apple has also implemented the Bedtime Mode with iOS 12. In this mode, screen brightness is reduced, calls are silenced, and notifications appear only in the Notification Centre. When the Bedtime Mode ends, everything returns to normal and a 'Good Morning' message appears on the screen along with the weather information.
Screen Time is a feature that aims to reduce screen addiction and improve the digital well being of a person. It shows how much time you've used the phone with a complete breakdown of which type of apps you've used. The breakdown consists of the app and website usage, number of times you've picked up the phone, when do you pick up the phone the most number of times, and the number of notifications received. All this information can be seen for the current day along with an average number for the past one week. It even syncs with your iCloud account so that it can combine screen time information from all your Apple products. There's a dedicated widget that shows you an overview of Screen Time numbers. The App Limits and Downtime features are a part of controlling screen addiction. You can set a time limit for a particular app or type of apps on your device (and your children's iOS 12 devices if you possess a parent account). When the limit nears, you are notified. However, you can ignore set limits.
Battery stats are more detailed with iOS 12. You can see screen-on time, screen usage per hour, battery charge and discharge graph, and battery usage by app for the past 24 hours. Average screen-on time, activity and battery usage by app numbers can be viewed for the last ten days. Many stock apps—Apple Books, Apple News, Clock, FaceTime, Music, Photos, Podcasts, Reminders, Remote, Stocks, and Voice Memos—have been improved with added features. The Shortcuts app is a reincarnation of the Workflow app that Apple had acquired last year. This app allows you to run linked commands, binding multiple apps. For example, it can use Maps and Reminders apps to remind you about something when you reach your workplace. Many such 'Shortcuts' can be viewed and added to your arsenal from the app's Gallery section. You can also set custom Siri voice commands to activate those shortcuts.
Three new Live Wallpapers, which showcase inky blacks of OLED equipped iPhones, are available on the iPhones XS and iPhone XS Max. You can also register an alternative appearance for Face ID unlock. This is useful in situations when you're wearing sunglasses, helmet or a cap. Improved multitasking gesture include easier way to close open apps. A swipe up from the bottom to the middle part of the screen opens the card view of all the open apps. You can then just hold any card and swipe up to close that app. This action is much easier than what iOS 11 demanded: holding the card till a close (x) mark appears on the corner of the card and then swipe it up to close the app. The Measure app uses AR to take rough measurements of rectangular objects and to see the level of any surface.
iPhone XS Performance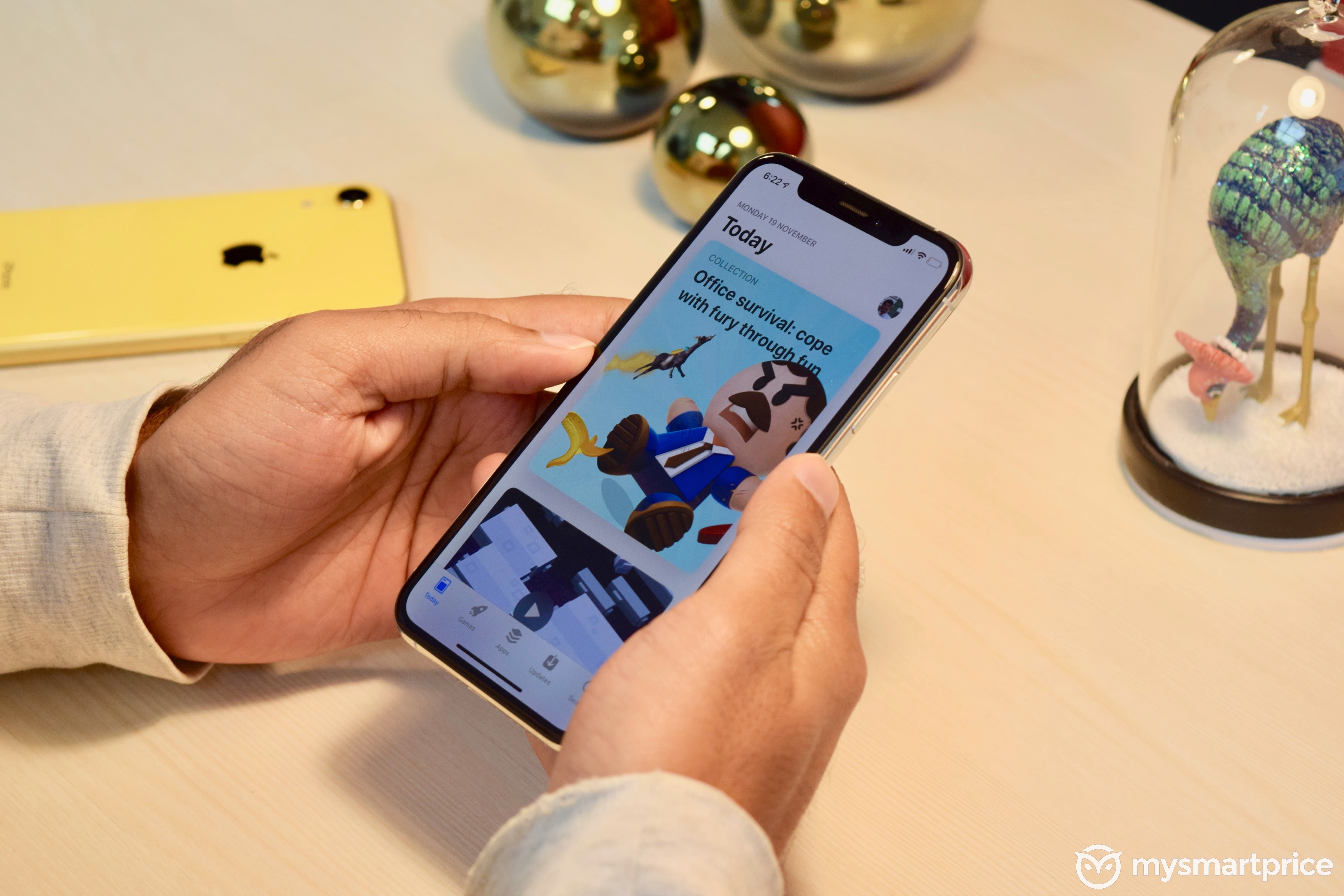 Apple has the lead in hardware performance since the past few years and it pushes the performance envelope even further with each passing year. Moreover, thanks to higher software optimization and low-level APIs and frameworks like Metal and Swift, iPhones generally perform much faster than Android devices. The iPhone XS uses A12 Bionic chipset, 4GB LP-DDR4X RAM (2133MHz @ 34.1GB/s, PoP: Package on Package) and 64GB/256GB/512GB of NVMe storage. The A12 Bionic is a 7nm chipset which uses two high-performance Vortex CPU cores clocked at 2.49GHz, four power-efficient Tempest CPU cores, an Apple-designed quad-core GPU and an octa-core Neural Engine (5 trillion op/sec). The chipset has an impressive 6.9 billion transistors.
As expected, the performance in synthetic and real-world tests are equally impressive. Everything feels fast and fluid. Thanks to increased memory, more apps stay in memory. Face ID is slightly faster. It can get quite hot, though, especially while playing graphics intensive games and running a series of benchmarks, and that leads to performance throttling. However, the phone still manages to outperform its closest competitors from the Android universe.
It performs faster than any other mobile chipset in the world, in both CPU and GPU intensive tasks. Here is how the iPhone XS scores in some of the most known synthetic performance benchmark suites.
iPhone XS Geekbench 4 Benchmark Results
Single-Core CPU: 4812 points
Multi-Core CPU: 10,711 points
Compute Metal: 21,141 points
iPhone XS AnTuTu Benchmark Results
2,94,679 points
iPhone XS Basemark OS II Benchmark Results
Total Points: 4370
System: 9314
Memory: 3517
Graphics: 6504
Web: 1712
iPhone XS GFX Open GL Benchmark Results
Manhattan Onscreen: 3032 Frames @ 48.9fps
Manhattan Offscreen 1080p: 3230 Frames @ 52fps
T-Rex Onscreen: 328 Frames @ 59.42fps
T-Rex Offscreen 1080p: 8560 Frames @ 152.8fps
iPhone XS Battery Life, Wired & Wireless Charging Speeds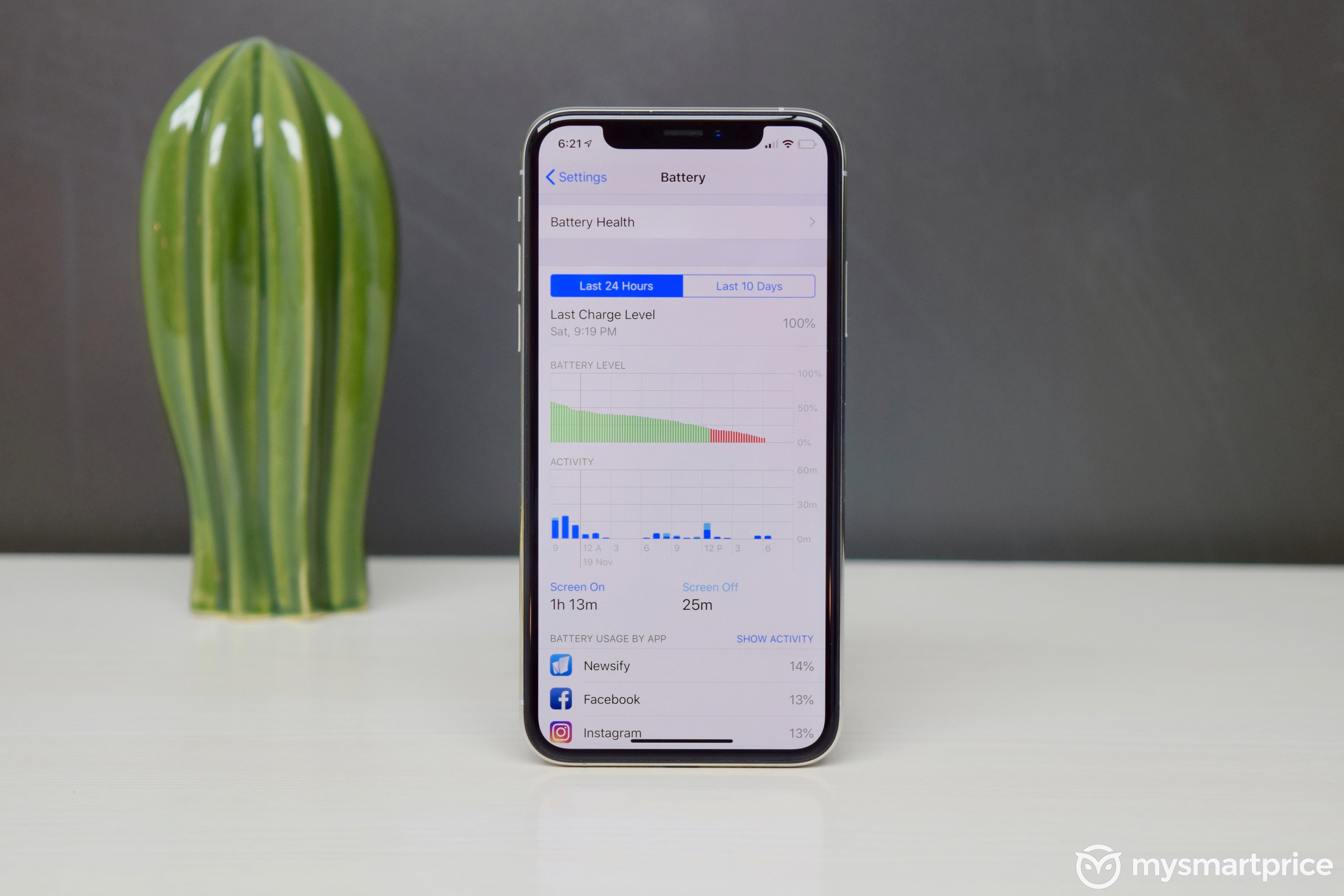 Even though the 2658mAh, L-shaped battery (as per a teardown by FixjeiPhone.nl) inside the iPhone XS is smaller compared to the 2716mAh battery inside the iPhone X, it still manages to outlast the iPhone X by a small margin. I was getting around 20 hours of usage on a single charge with 5 hours of screen-on time. This is based on 10-day average numbers from the phone's Battery menu.
It's truly shameful that Apple decided to bundle a measly 5W (5V/1A) charging wall adapter with such a costly phone, pushing the company's per-unit profits even higher. If you want to fast charge your brand new iPhone, you'll have to spend $20 on a USB Type-C To Lightning Cable and at least $15 on a USB-PD compatible charger. Charging the iPhone XS from 0-100% using the bundled charger takes more than three hours. If you have a compatible USB-PD charger and a USB-C To Lighting cable, you can reduce that time to close to half. I used a 60W USB-PD compatible charger from a brand called Helper which I ordered from AliExpress.
There's fast wireless charging, too. Apple has improved the wireless charging coils inside the iPhone XS, iPhone XS Max, and the iPhone XR, which means that it accepts up to 10W of power through compatible fast wireless chargers. It also offers you more freedom on how you place the new iPhones on a wireless charger. I tested the iPhone XS' fast wireless charging speed using Samsung's latest fast wireless charger.
Should You Buy The iPhone XS?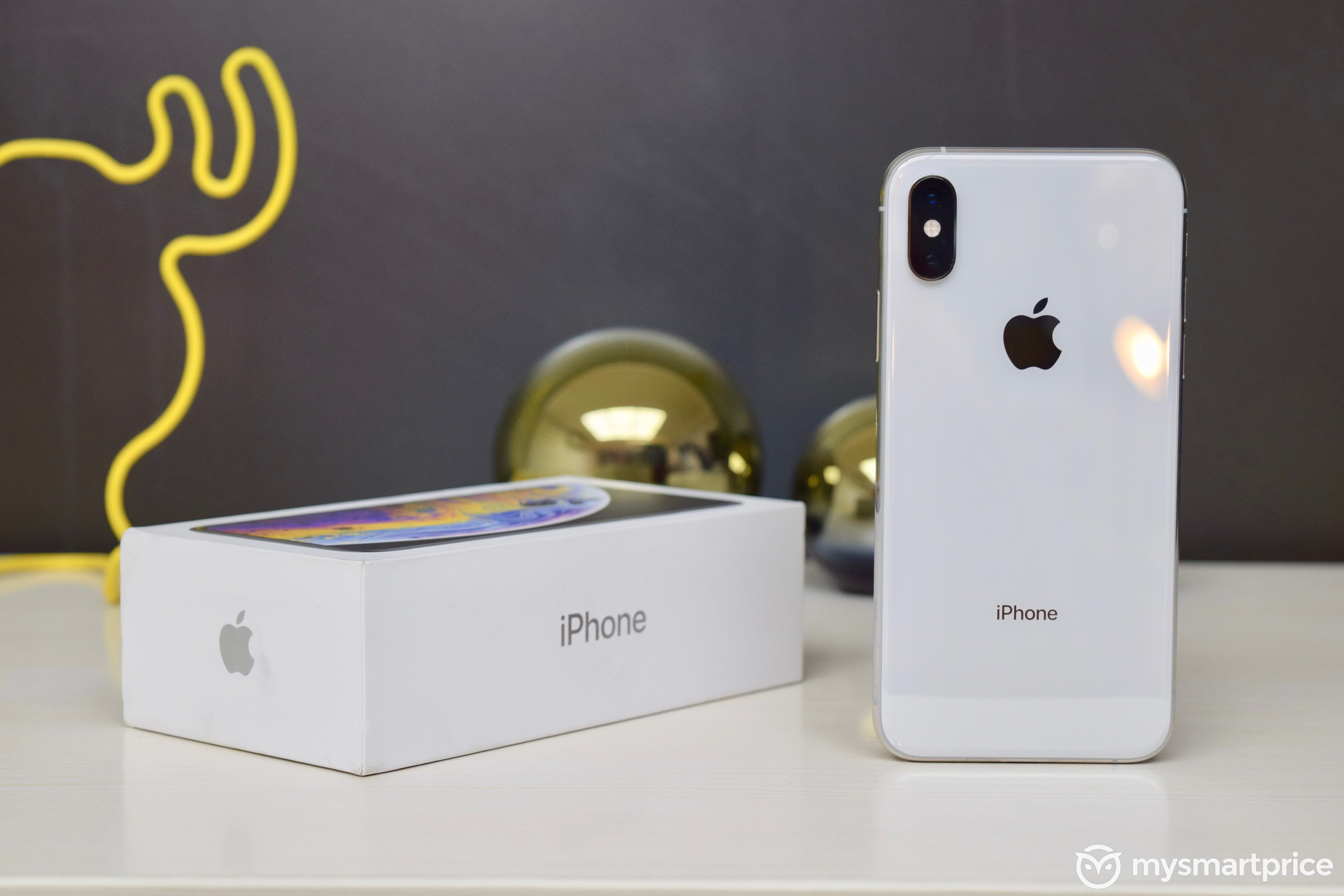 The iPhone XS offers greatly improved camera over the iPhone X and iPhone 8 and a dual-SIM feature (with iOS 12.1 update), but in most other areas improvements are minor. If you are sunk deep into the Apple ecosystem and yearn for a better camera or the dual-SIM feature, you should upgrade to the iPhone XS. The other scenario for upgrading to the iPhone XS could be that you're using an iPhone which is more than two years old. Otherwise, there are better phones out there that offer almost as much or even better than the iPhone XS but cost much lower.
The Samsung Galaxy Note 9 for example. It has offers a better screen (without a notch), better cameras overall, a versatile S Pen, Samsung Pay, storage expansion, and a 3.5mm headphone jack for 30% cheaper price tag. Huawei's upcoming Mate 20 Pro looks like a great phone from what I know so far at the time of writing this review. The Xiaomi Mi 8 Pro offers almost all the features of the iPhone XS at less than half the price. The Google Pixel 3 performs as smooth as the iPhone XS, has a brilliant camera for still images, and comes with a 3-year software update policy at 40% cheaper price. The OPPO Find X is cheaper as well, but features a cleaner looking design, a pop-up camera mechanism and more elegant IR-based 3D face recognition system. The OnePlus 6 is as fast as the iPhone XS in real-life usage, looks great, has a decent set of cameras and comes with less than half the price. Heck, even Apple's iPhone XR (except its LCD screen) comes with almost all the features and performance level of the iPhone XS, but has a 25% cheaper price.
I would suggest you to read our review of the iPhone XR (Review) before purchasing the iPhone XS. The iPhone XS is priced too high for what it offers and the only thing going for it which isn't being offered by competing brands is the 5-year software update policy and deep integration with Apple's products such as Macs and Apple Watch as well as the company's services such as Apple Music, FaceTime and iMessage. It's up to you to decide if you want to invest in the iPhone XS, whether Apple's walled garden or consistent software updates are worth the price difference.