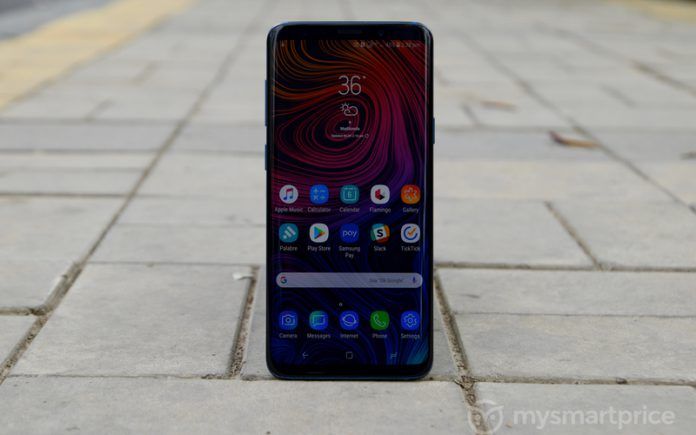 Hot on the heels of success it found with the Galaxy S8 duo (review) and then the Galaxy Note 8 (review), Samsung launched the Galaxy S9 and the Galaxy S9+ just ahead of the Mobile World Congress 2018 that happened in February in Barcelona, Spain. The phones claim to offer upgrades in processing speed, camera, and audio. The phone was launched in India last month.
The new Exynos processor is claimed to be the fastest in the Android segment, while the new dual-camera setup with dual-aperture claims to offer impressive images in low-light conditions. Thanks to the added processing power, the phone can now record 4K videos in 60fps and 720p slow-motion videos at a whopping 960fps. It's also the first Galaxy S series smartphone to feature stereo loudspeakers.
We've managed to put all these upgrades to test to see whether they help the Galaxy S9+ in ending past its competitors, and here's our in-depth review of the device after using it for four weeks.
---
Here's everything that comes inside the box of the Samsung Galaxy S9+.
Samsung Galaxy S9+ Review: What's Inside The Box?
Samsung has put up good amount of effort in designing the Galaxy S9+ box. It is black-coloured box with the S9+ branding in shiny blue colour. The exterior cover also mentions the phone's full name in a smaller font and the storage capacity on the front, colour variant on its side, and specifications/features on the rear.
After you slide open the cover, you're presented with a box which can be opened from the right side by lifting the latch. The first thing you see isn't the phone, but a smaller box that contains the SIM card removal tool, quick start guide, and a cheap cover for the phone. Underneath that box is the Galaxy S9+. The box also contains the following:
Adaptive Fast Charger wall adapter
USB Type-C to USB Type-A adapter
USB 3.1 Type-C to USB 3.1 Type-A cable
AKG-tuned in-ear headphones with mic, 3-button in-line remote, 3.5mm connector
Ear Tips: Two additional pairs (small and large)
Thin plastic case for the Galaxy S9+
Quick Start Guide
Warranty Information booklet
SIM ejector pin.
Overall, I am quite pleased with what Samsung has done with the packaging and accessories for the Galaxy S9+.
Samsung Galaxy S9+ Review: Design & Build Quality
Samsung introduced a brand new, bezel-less screen design last year with the Galaxy S8 and the Galaxy S8+. The company had finally ditched the physical home button, and was ready to move towards the future of smartphone design, shaming Apple. The design was so good that there was no need to change it this year. The Galaxy S9+'s body uses a high-quality metal (Series 7000 Aluminium) frame that is sandwiched between two Corning Gorilla Glass 5 panels. The glass back also means that the phone is compatible with wireless charging technology. The phone looks impressively sharp and beautiful, and Samsung is offering it in four colours: Black, Coral Blue, Lilac Purple and Titanium Grey (not available in India).
Most of its front is occupied by the curved screen, with the earpiece, front-facing camera, and the necessary sensors placed in a thin bezel above the display. The earpiece also acts as one of the loudspeaker in the phone's stereo setup. More on that later. The right side of the phone has power button, while the volume and a dedicated Bixby button on the left. All the buttons have great tactile feedback. I tried using the phone with the Bixby button enabled for a couple of weeks, but ended up disabling it since I was accidentally pressing it due to its placement just opposite to the power button. Samsung should really allow remapping of the Bixby button to an app or action of a user's choice if not removing it from its future devices.
Samsung Galaxy S9+ Design - Image Gallery
The rear of the phone has a dual-camera setup, LED flash, heart-rate monitor, and the fingerprint reader. The company isn't moving away from a dedicated 3.5mm headphone port anytime soon. You can find it at the bottom of the phone along with the primary microphone, main loudspeaker, a USB Type-C port. The top part of the metal frame consists of a hybrid SIM card slot in which the second SIM card slot can be used to expand the storage space using a microSD card. Like most phones these days, the battery is non-removable. The phone is IP68-certified for dust and water resistance, and it offers a sense of relief to use the phone near water such as the beach, pool, or in rain.
Most people won't be able to discern between the Galaxy S8+ and the Galaxy S9+ unless they have a look at the rear design of the phones. Such is the resemblance between the two phones. Samsung did make an improvement where it was needed: the placement of the fingerprint reader. It is now placed below the dual-camera setup, making it much easier to reach compared to the Galaxy S8/S8+. However, it is still grouped with the dual-camera setup, so there's a slight chance that you can still end up smudging the camera lens. I think that Samsung should've offered a circular fingerprint reader and placed it even lower to separate it from the camera setup for a perfect experience.
Fingerprint reader placement on Galaxy S9+ vs. Galaxy S8+. It's much easier to reach on the Galaxy S9+.
The Galaxy S9+'s design looks downright impressive. The build quality is top notch, and there's no flex whatsoever. It is symmetrically designed, has minimal bezels around the screen, and there's no ugly screen notch on the phone. However, due to the glass back, it is quite fragile, and I suggest everyone to use a full-cover case with the Galaxy S9 or the Galaxy S9+, just as I did last year with the Galaxy S8 and S8+ (or for most modern high-end smartphones for that matter).
Samsung Galaxy S9+ Review: Infinity Display
The 6.2-inch screen on the Galaxy S9+ uses a Super AMOLED panel with QHD+ resolution (2960×1440 pixels). Compared to the screen used on the Galaxy S8+, the new panel can go 100 nits brighter (at a maximum of 700 nits) under direct sunlight. It can go also as high as 1,000 nits, but that's only when the phone is playing back HDR10 video content. The Always On Mode can be used to display the clock and/or calendar widgets along with notification icons even when the phone is in sleep mode.
There's a pressure-sensitive area where the on-screen home button is displayed. This is similar to Apple's 3D Touch technology, but limited to a limited area on the screen. Applying some pressure on that area takes you to the home screen no matter which app you're using or whether the virtual home button is visible or not. It works even when the screen is turned off. The screen is protected by the Gorilla Glass 5 panel, which is resistant to scratches and scuffs, but don't make a mistake by thinking that it won't shatter. One fall from shoulder-level height, and the front and/or rear glass panels will most probably shatter.
Since it's an OLED panel, blacks are deep and inky, and the colours pop. By default, the phone comes with the Adaptive Mode, which shows slightly saturated colours and changes screen settings depending on the type of content that's being displayed on the screen. However, that doesn't mean the phone can't show accurate colours. The Basic screen mode shows the most accurate colours, maybe not as accurate as the iPhone X (review), but great enough for most users. There are AMOLED Cinema and AMOLED Photo screen modes as well, which are better while showing movies and images, respectively.
I think that the Galaxy S9+ has the best screen in the smartphone segment right now due to accurate colours, practically infinite contrast ratio, great sunlight legibility, and uniform bezels, resulting in immersive viewing experience.
Samsung Galaxy S9+ Review: Audio, Stereo Speakers
Thankfully, the Galaxy S9+ retains the 3.5mm headphone port, unlike most other high-end smartphones released in 2018.
Apart from its screen, I was also pretty impressed by the phone's audio capabilities, thanks to the stereo loudspeaker setup, AKG-tuned in-ear earphones that come bundled with the phone, as well as a dedicated 3.5mm audio port. Yes, it's such a bad time for audio enthusiasts that the presence of a 3.5mm headphone port on a high-end phone is considered to be a premium feature. The phone can playback Hi-Res audio files. There's Dolby Audio (Dolby Digital and Dolby Digital Plus), too, and while I wasn't expecting anything spectacular from it, activating Dolby Audio while listening to audio through loudspeakers widens the sound stage.
The primary loudspeaker is at the bottom, while the earpiece doubles up as the secondary loudspeaker. Combined, they offer a stereo loudspeaker setup, offering not only higher volume, but also richer audio. The audio through loudspeakers is impressively loud and immersive (for a smartphone, that is). The volume sits somewhere between the iPhone 7 Plus and the iPhone 8 Plus. The audio through the Galaxy S9+'s loudspeakers is slightly louder than the audio through iPhone 7 Plus' loudspeakers. However, the iPhone's loudspeaker offers more bass and depth. The earpiece was also loud and clear during voice calls.
The bundled earphones are pretty good, too, featuring dual audio drivers, and in-ear canal type design. I won't say that they are the best headphones ever bundled with a smartphone, but they're much nicer audio than whatever trash (read EarPods) Apple bundles with the iPhones. There's Bluetooth 5.0 for wireless audio, and it supports high-end wireless audio codecs including aptX, aptX HD, and LDAC. While these aren't mentioned on the official specs sheet, but the phone supports these codecs.
Thanks to Bluetooth 5.0's higher data transmission rate at 2Mbps, Samsung offers a feature called Dual Audio in which two Bluetooth speakers or headphones can stream audio from the phone at the same time. However, expect some lag between the two audio streams. For audio enthusiasts, the Galaxy S9 and the Galaxy S9+ are one of best smartphone solutions as they have a dedicated 3.5mm headphone port, stereo loudspeakers, Hi-Res audio support, high-quality audio codecs, and an impressive audio player app.
Samsung Galaxy S9+ Review: Dual-Camera
Samsung Galaxy S9+ gets a dual-camera setup, but the Galaxy S9 misses out.
The Galaxy Note 8 was Samsung's first high-end phone with a dual-camera setup at the rear, and the Galaxy S9+ is its first Galaxy S-series smartphone with a dual-camera. It uses two 12MP cameras, using either Samsung's ISOCELL SAK2L3 sensor or the Sony IMX345 sensor. Both sensors are virtually identical, featuring a sensor size of 1/2.55-inch, 1.4µm pixels, dual-pixel phase-detection autofocus, and 26mm lens. The sensor is paired to a dual-aperture lens (ƒ/1.5 and ƒ/2.4). The secondary 12MP sensor is much smaller in comparison (at 1/3.6-inch), and features phase-detection autofocus, 1µm pixels, and a 52mm lens. Both sensors are equipped with optical image stabilisation systems, though, and can record 4K videos at 60fps. There's an LED flash, too. At the front, there's an 8MP camera (1/3.6-inch; 1.22µm pixels) with ƒ/1.7 aperture, 25mm wide-angle lens, autofocus, and QHD video recording at 30fps.
Samsung's smartphones offer some of the best cameras, and the Galaxy S9+ is no different. Its imaging capabilities is one of its strongest suites, and the images as well as videos turn out great, no matter the lighting condition. Thanks to dual-pixel autofocus, focussing is instantaneous and reliable. shot-to-shot time is short, too. There's support for auto HDR, and the camera app also shows live HDR preview. This means that you can be sure how the HDR image will turn out. Images clicked using the Galaxy S9 turn out to be great with enough details, closer-to-accurate colours, and wide dynamic range. Similar to Google's HDR+ mechanism, Samsung captures 12 frames and merges them into a single image for higher dynamic range and sharper details. When there's very low light, aperture is set to ƒ/1.5, allowing more light to fall onto the sensor for brighter and relatively noise-free images. However, due to very wide aperture, images are slightly softer, but nothing to worry about.
Samsung Galaxy S9+ Camera Samples - Daylight
In Pro Mode, you can adjust aperture, exposure, focal length, ISO, metering, shutter speed, and white balance. There's an option to apply filters, too. There are options to create two filters of choice, in which you can adjust the colour temperature, contrast, highlight, saturation, shadows and tint. There aren't many smartphones that offer such extensive options in the built-in camera app. Other features include adding Snapchat-style filters and stickers and shape-correction. The selfie mode has a new option called AR Emoji, which tries to create your digital avatar, and it's pretty terrible. Then there's an option to capture selfies with background blur, and uses machine learning to spot a person's face, keep it in focus, and blur the rest of the image. It's a hit-or-miss affair. The camera also lets you capture wide selfies (think of them are panoramas through the front-facing camera to capture more of the scene in one image). Selfies come out sharper, but the phone has a tendency to soften the skin even with the beauty mode turned off.
Samsung Galaxy S9+ Camera Samples - Low-Light
The Live Focus mode is what you can use to click images with background blur using the rear dual-camera setup. Both, 26mm and 52mm cameras are used to click such images, and a great thing about the Galaxy S9+'s Live Focus mode is that the amount of background blur can be adjusted even after an image is captured. This is not possible with the dual-camera iPhones. The phone can also capture hyper-lapse and slow-motion videos. The Super Slo Mo video mode can capture 720p videos at a whopping 960fps. However, that's not something totally new. High-end Sony phones had this feature since 2017. Newer Sony phones like the XZ2 and the XZ2 Compact can capture 1080p videos at 960fps. To achieve this, the camera sensors are equipped with 1GB of RAM to store 0.2 second 720p video recorded at 960fps, which is then stretched to a 6-second slow-motion video played back at 30fps.
Samsung Galaxy S9+ Selfie Camera Samples
Thanks to the faster processor and a much powerful image signal processor (ISP), the Galaxy S9 and S9+ are able to record 4K videos at buttery-smooth 60fps, something that only the newest iPhones were capable of until recently. 9MP images can be captured while recording videos. The quality of the videos is top-notch, thanks to higher bit-rate and frame rate. However, 4K 60fps videos recorded during low-light conditions come out noisier compared to 4K 60fps videos recording using the iPhone X and the iPhone 8, 8 Plus. Exposure transition is smoother than the iPhones, though. Audio in the videos is much clearer as well. Overall, the Galaxy S9+'s camera captures bright and clear images as well as sharp and smooth videos, probably the best in the business right now.
Samsung Galaxy S9+ Review: Software Features
The Galaxy S9+ comes with Android 8.0 Oreo, and supports Project Treble.
The phone runs Android 8.0 Oreo-based Samsung Experience 9.5, and supports Project Treble, as most phones released with Oreo do. It supports App Shortcuts as well. However, it doesn't support an Android feature called 'Seamless Updates', which basically creates two partitions in the phone's storage. When a new Android update arrives, it gets installed in the background on the partition which isn't currently being used. The next time the phone restarts, it uses the partition with the latest software update, and the user doesn't have to wait for the update to be installed. It was first implemented in the first-generation Pixel phones by Google.
Samsung Galaxy S9+ - Samsung Experience 9.5 User Interface
The Galaxy S9+'s user interface design is almost similar to the one on the Galaxy S8 and S8+. It has a futuristic design, thanks to slick icons and Infinity Wallpapers. There are dozens of useful features on the phone, and some of them are listed below:
Blue Light Filter – Reduce blue colours on the screen during the night to reduce strain on the eyes. It can be set to activate at sunset and deactivate at sunrise.
Device Maintenance Tool – A tool to clear junk files, close background apps, run an anti-virus scan, and optimise performance of the device. There are four performance modes to choose from: Optimised, Game, Entertainment, and High Performance
Dual Messenger – Run two copies of the same app with different account information. For example, you can have two copies of Snapchat, each with a different account.
Samsung Pass – Secure password manager to store login information. It supports fingerprint reader, iris scanner, and PIN to authenticate a user. Data is synced across multiple devices with authenticated with the same Samsung account.
Samsung Pay – Make card-less payments using Magnetic Secure Transmission (MST) and NFC after adding your credit, debit, gift, and loyalty cards. You can also add UPI accounts and wallet apps like Paytm and MobiKwik.
Scrolling Screenshot – Capture a longer screenshot. You can stop it wherever you want or keep capturing the screenshot till the scrolling ends. You can then crop, edit, or annotate it before sharing it through installed apps or saving it on your device.
Secure Folder – Save sensitive information and files in a completely different area which can only be accessed by the phone's owner through PIN, fingerprint reader or iris. You can also add accounts, install apps or games in the Secure Folder, and the data will be kept separate. All the data can be synced to Samsung Cloud so that it can be recovered if the device gets lost.
Separate App Sound – The audio from one selected app can be set to always play through a particular mode: 3.5mm headphone port, smartphone loudspeakers, or a connected Bluetooth audio device.
Smart Switch – An easier way to import data from old smartphones running smartphone Android 4.3 or higher, BlackBerry 7 or higher, iOS 5.0 or higher. It even supports importing data from some older LG, Nokia, and Samsung feature phones.
Sound Alive – A built-in audio customisation tool which consists not only a 9-band audio equaliser, but also audio effects such as UHQ Upscaler (upscaling audio quality), Tube Amp Pro (tries to mimic soft timbre effect), and Concert Hall (music concert like audio ambience).
The Bixby Home screen on the Galaxy S9+.
Sadly, Bixby (Tips & Tricks) isn't one of those features that I find useful. Sure, it has some things going for it (especially deep integration with stock and even some third-party apps), which makes it unique compared to its competitors Alexa, Google Assistant, and Siri. However, its language recognition is not as good as its competition, and most of times, it's faster to just use your fingers to get things done. I personally don't prefer using voice commands for getting tasks done, unless when I can't use my fingers. However, if you're someone who enjoys getting things done through digital voice assistants, you may like Bixby. Bixby Home is pretty useless, though, and so is Bixby Vision.
I think that some stock apps on the phone are much better than Google's apps or stock Android apps. For instance, the Samsung Internet web browser is much smoother than Google Chrome, and offers more features, including extensions like advertisement removal tools and sports score tickers. Calendar, Gallery, Music Player, and Video Player apps are better than what Google offers as a part of stock Android. The slightly renewed camera app appears bloated now, though. Earlier versions of the app were cleaner to look at and easier to use as well.
Samsung Galaxy S9+ Review: Performance
Playing the The Wolf Among Us on the Galaxy S9+.
Indian units of the Samsung Galaxy S9 and S9+ come equipped with the company's own Exynos 9810 processor. It uses a 64-bit octa-core CPU, consisting of four Exynos M3 cores with a maximum clock speed of 2.7GHz and four Cortex-A55 cores with a maximum clock speed of 1.8GHz. There's Mali-G72 MP18 GPU. The new Exynos SoC is made using Samsung's second-generation 10nm FinFET LPP fabrication process. It is physically larger than both the Snapdragon 845 and the Apple A11 Bionic because it has wider pipelines. Unit sold in China and the US use the Qualcomm Snapdragon 845 SoC. The Galaxy S9+ comes with 6GB of LP-DDR4X RAM and 64GB/128GB/256GB of UFS 2.1 internal storage. Storage space can be expanded using a microSD card (up to 400GB).
It is a widely-accepted fact that Apple's chipsets offer much faster single-core performance compared to processors used in Android smartphones. However, the phone scored 3,641 points in Geekbench's single-core test, beating every other Android smartphone out there. The single-core score is close to the single-core score of the A10 Fusion chipset used in the iPhone 7 and the iPhone 7 Plus. So, I expected the Galaxy S9+ to perform much smoother than competing Android smartphones. However, I was disappointed by the phone's performance. I noticed that the high single-core and multi-core score did not convert into smooth real-life performance. I came across stutters and lag every now and then while reviewing the phone over the course of three weeks. Performance inside Google apps was particularly bad, a classic Samsung problem.
The 'Intelligent Scan' feature on the Samsung Galaxy S9+ scans a user's face as well as iris at the same time for a more secure authentication system.
Even though the Exynos 9810 is physically bigger and the CPU has wider pipelines, it didn't perform better than even last year's Exynos 8895, and I think that it is due to the lack of proper software optimisation. I waited till the first software update was released to see if the performance improves, but it didn't. In comparison, the OnePlus 5T and the Google Pixel 2 phones perform much smoother than the Galaxy S9+, which is a shame since the both phones are priced lower. All the new iPhones are considerably faster in day-to-day usage. The signal reception was pretty great, though, something that I always experience with Samsung phones. The phone features GPS, A-GPS, GLONASS, Galileo, BeiDou, dual-band Wi-Fi a/b/g/n/ac with MU-MIMO, Wi-Fi Direct, Google Cast, Miracast, Bluetooth 5.0, NFC, USB 3.1 Type-C port, and a 3.5mm audio port.
The Galaxy S9+'s fingerprint reader is much faster than the one used on the Galaxy S8, S8+, and the Galaxy Note 8. Moreover, registering a fingerprint is much easier as well. All you have to do during the process is swipe the finger across the reader once. The iris scanner seems faster, too. Moreover, Samsung has also implemented Face Unlock and Smart Unlock in its latest flagship smartphone. Face Unlock is nowhere near as fast as the OnePlus 5T's Face Unlock feature. Smart Unlock, which checks both face and iris, offers more convenience. It comes in handy when you can't reach the fingerprint reader or when the finger is sweaty or wet. The newer heart rate monitor can also record blood pressure, a first in any phone that I've ever used. Kudos to Samsung for that!
Samsung Galaxy S9+ Review: Battery Life
Performance is not the only area where I was let down by the Galaxy S9+. The phone's battery life left a lot to be desired. Although it has the same battery capacity (3500mAh) as that of the Galaxy S8+, I experienced shorter battery life. After a full charge (which takes about 100 minutes through a wired Fast Adaptive Charger), the phone lasted anywhere between 18-24 hours with a screen-on time of 3.5-4.5 hours. These figures were achieved by turning off the Always On Display mode. If you live in an area where there's lot of sunlight, and you spend a lot of time outdoors, or if you use the AoD mode, expect the battery life to be even shorter.
Samsung Galaxy S9+ Battery Life
All the newer iPhones last longer than the Galaxy S9+, and so do the Google Pixel 2 XL (review), OnePlus 5T (review) and the Mi MIX 2 (review). In comparison, the OnePlus 5T offers a screen-on time of greater than 6 hours, while the Pixel 2 XL and the Mi MIX 2 offer more than 24-hours long battery life with screen-on time figures of 5 hours or longer. The iPhone X's battery life is close to that of the Pixel 2 XL, while iPhone 8 Plus lasts slightly longer than the OnePlus 5T on a single full charge. The Galaxy S9+ is also compatible with Qi and PMA wireless chargers, and even fast wireless charging (7.5W), which I tested with Samsung's Fast Wireless Chargers from 2016 and 2017.
Samsung Galaxy S9+ Review: Verdict
The Samsung Galaxy S9+ is a near perfect Android smartphone. It looks sexy and is built quite well. The Galaxy S9+ has a one of the best screens in the market right now and arguably the best bezel-less design of 2018, devoid of the ugly screen notches we've come to see of late. It has loud, clear, and punchy dual stereo loudspeakers, plenty of useful software features and customisability, and Samsung Pay. The phone's biggest upgrade is its imaging. It can capture bright and sharp images with close-to-accurate colours. It can also record 4K videos at 60fps, a first for any Android smartphone.
However, the phone leaves a lot to be desired in real-world performance. The Exynos 9810's chart-breaking single-core performance doesn't convert into faster real-world performance. The UI stutters and the phone lags here and there. It's not as smooth as relatively cheaper-priced phones like the OnePlus 5T or the Pixel 2 XL. AR Emojis and Super Slo Mo videos are gimmicks at best, and the battery life is shorter than even its predecessor. On top of that, you have to pay a hefty price for the phone. If you're using any high-end phone from last year, the Galaxy S9+ won't be a huge upgrade. Save your money for the Galaxy Note 9, iPhone X, or the next-generation Pixel phone. The Galaxy S9+ isn't worth the money right now.
Samsung Galaxy S9+
Rs. 64,900
What Is Good?
Premium design, best bezel-less screen experience.
IP68 certification for dust and water resistance.
Excellent Super AMOLED screen, HDR compatibility.
Bundled accessories are of top-notch quality.
Impressive stereo loudspeakers, Dolby Audio kinda works.
Dual-camera setup with improved image and video quality.
Tonnes of software features, extensive UI customisability.
Dual-SIM option, storage expansion possible, too.
Fast wireless charging.
Samsung Pay.
What Is Bad?
Fragile, drops will most probably result in shattered glass.
Super Slow-Mo videos are practically unusable.
AR Emojis are a gimmick.
Stutters and lag appear from time to time.
Poor battery life for a flagship smartphone.
Hefty price tag.
Thanks for reading till the end of this article. For more such informative and exclusive tech content, like our Facebook page