Highlights
The Asus TUF Gaming A15 is priced at Rs 1,51,990.
It is powered by AMD Ryzen 9 7940HS processor and GeForce RTX 4060 graphics.
It secured 8.3/10 in our review.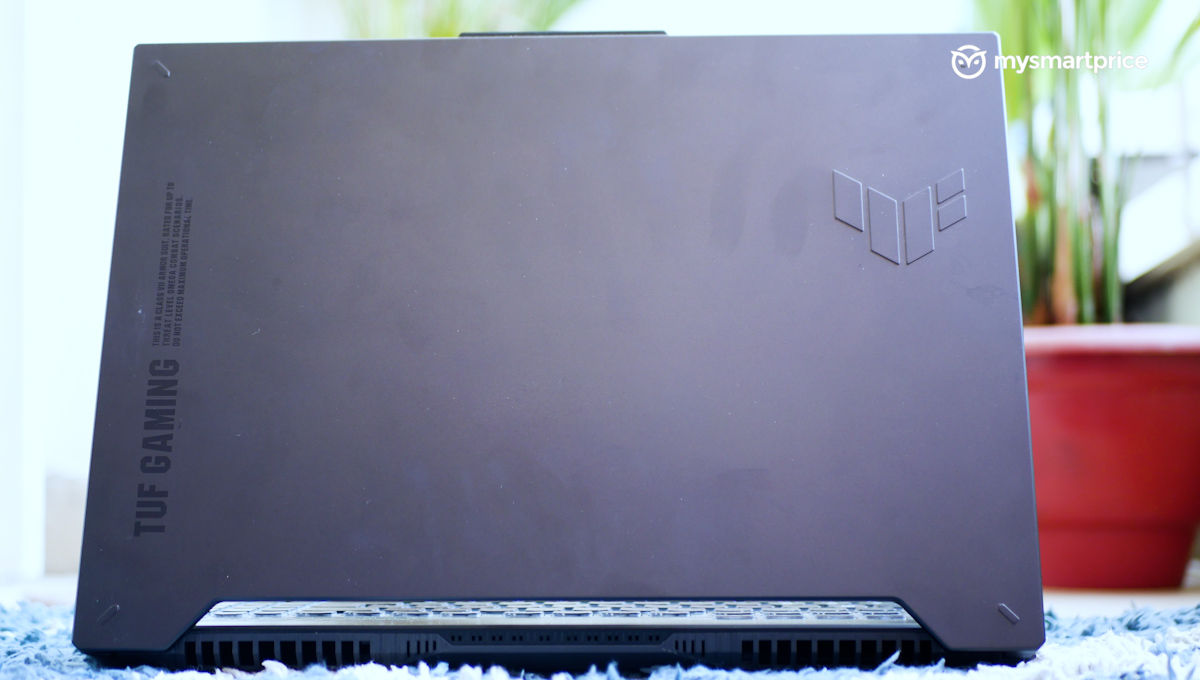 Asus' TUF Gaming A15 FA577XV (2023) is one of the most unique gaming laptops we have ever seen. It's decently specced – our unit came with a Ryzen 9 7940HS processor mated to Nvidia GeForce RTX 4060 graphics. So, it can play almost any popular triple-A title on the market right now. It has stealthy looks, a spacious keyboard, powerful processor, but it all boils down to a little trick up its sleeve that no other gaming laptop has – the ability to go an entire workday without requiring a charge. So, are we just lusting over it or loving it? Read on till the end to know.
Asus TUF Gaming A15 (2023)
Rs 1,51,990
KEYBOARD AND TRACKPAD
8.0/10
What Is Good?
Fantastic battery life
Good raw performance
Spacious keyboard
Portable, for a gaming laptop
Doesn't get hot under moderate loads
Durable build
Bright and vivid display
What Is Bad?
Catches fingerprints
Bulky charger with 15A plug
No centrally placed charging port
Asus TUF Gaming A15 Review: Design & I/O
The Asus TUF Gaming A15 has a durable yet portable design that complies with MIL-STD-810 standards
It features a total of seven physical I/O options, ranging from USB Type-A, and Type-C ports to full-sized HDMI outputs
The A15 (2023) builds on its predecessor's design but has a slightly smaller footprint. Being a TUF laptop, it has been tested with MIL-STD-810 standards for durability. You are sorted if you're a super-duper clumsy individual, prone to dropping your laptop or exposing it to extreme temperatures and humidity.
In fact, the lid of the A15 bears the details of its durability chops. That's right, and there's an entire paragraph embossed on the lid that reads, "This is a class VII armour suit, rated for up to threat level omega combat scenarios. Do not exceed maximum operational time.' Uh-huh?
We believe the 'threat level omega' is a homage to Marvel's Avengers.
Despite the safeguards against weather and drops, it's somewhat portable, too – weighing about 2.2 kilos. Given the all-metal chassis, it feels dense, and its weight is centred. The metal's texture is on the glossier side, and the paint job is black, so it's extremely susceptible to gathering fingerprints and gunk.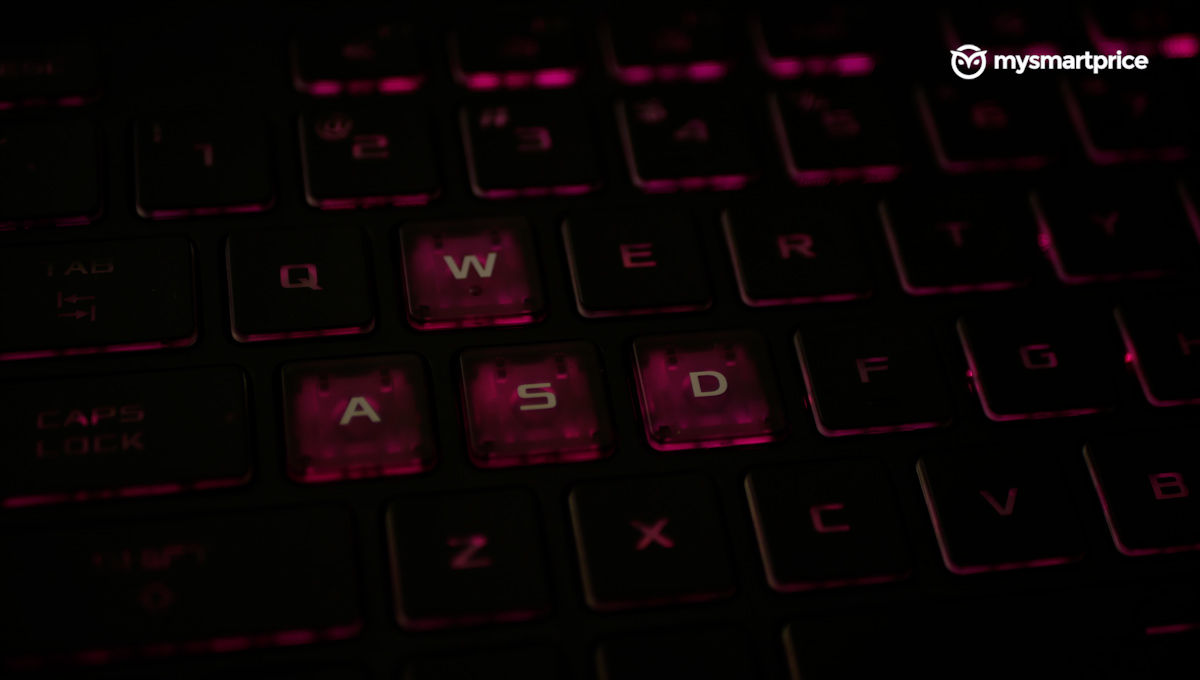 Opening up the lid reveals an RGB-backlit chiclet keyboard, which is spacious and well-laid out with a dedicated numpad. There are four hotkeys to the top left of the keyboard, which help in quickly increasing or decreasing the volume, muting your mic or changing the performance scenario without using the Fn key.
The keys are nice and big, and the WASD keys have transparent accents to aid gamers. The 1.7mm key travel is decent and neither too deep nor too shallow. The keystrokes are also on the silent side.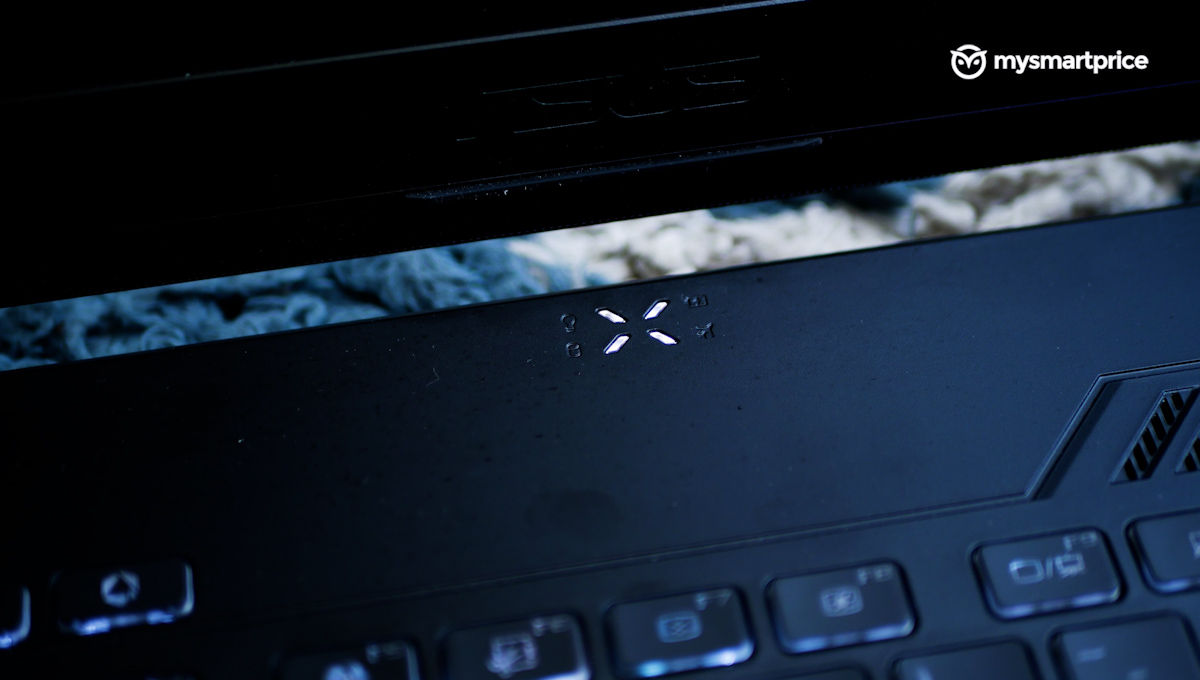 Above the keyboard are four status LEDs arranged in a cross. It's a small detail, but very space-effective.
The glass trackpad spans 15 cm diagonally, allowing a larger area to swipe and drag around the screen. It supports multi-touch gestures but isn't too accurate with finger inputs. This is fine for a gaming laptop, as most people use it with a dedicated gaming mouse.
The left side of the A15 features seven I/O options: a proprietary barrel charging port, an RJ45 ethernet jack, a full-sized HDMI 2.1 port, two USB Type-C ports, a Type-A port and a headphone-mic jack. While both Type-C ports can throw content using DisplayPort, one supports USB 4.0, and the other supports USB 3.2 (Gen2). The right side is relatively clean, with a lonesome USB Type-A port.
We were annoyed by the placement of the charging port on the left side, as the cord situation gets messy when connecting to a wall socket that faces your right. Also, the charging brick is shipped with a 15A plug, which is usually reserved for large appliances such as ACs. Good luck finding that in your house.
Asus TUF Gaming A15 Review: Display and audio
The Asus TUF Gaming A15 features a 15-inch 165Hz Micro-LED QHD+ display
It is also available with a 144Hz LED display with 100% sRGB coverage in a lower configuration.
Because we received the fully decked-up variant of the A15, we had the chance to try out the gorgeous 165Hz QHD+ Micro-LED display with full DCI-P3 coverage in its full glory. The lower tier variant comes with a 144Hz panel with 100% sRGB gamut coverage. All this together produces stunning brightness and saturation.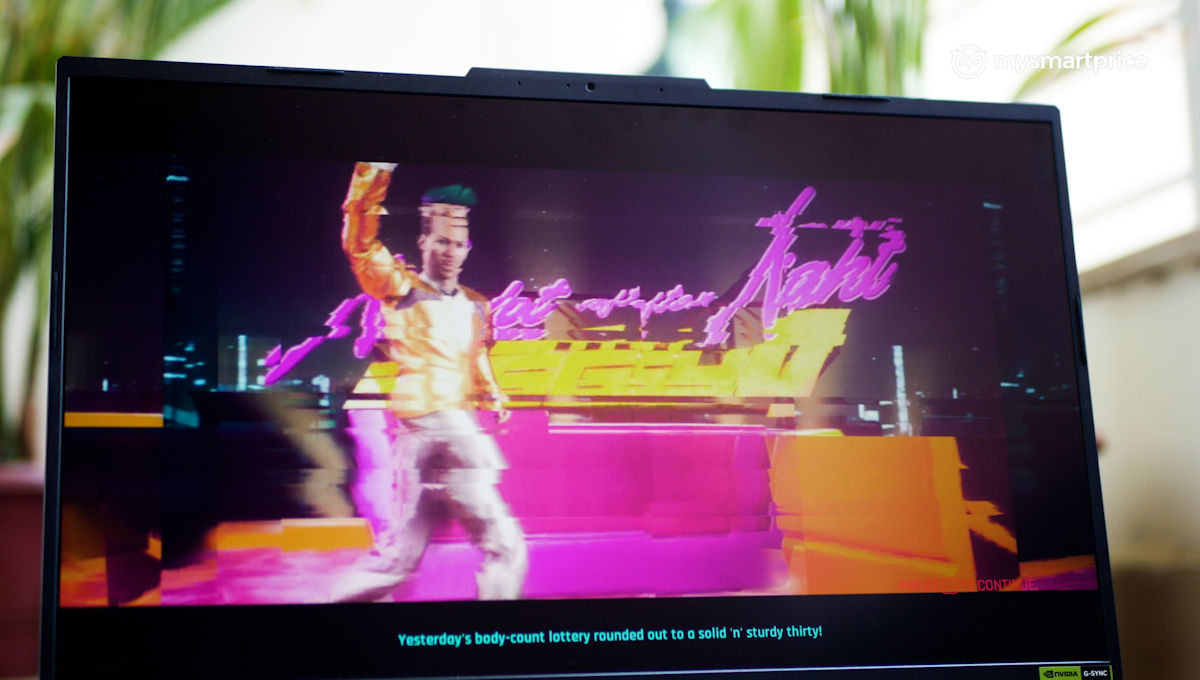 Also, because it's not OLED, such a high refresh rate could be accommodated in a relatively cheaper package without compromising too much on contrast. The slim display bezels also add to the immersion, provided you can ignore its chin, which can give Brad Pitt a run for his money.
While that was the visual experience, the audio experience is just meh. Sure, the speakers are louder than before and have some good depth, but that doesn't add up to much because they face downwards. We don't quite understand the rationale behind this – clearly, there's a ton of space on the sides of the keyboard.
Asus TUF Gaming A15 Review: Performance and battery life
The Asus TUF Gaming A15 features the Ryzen 9 7840HS and GeForce RTX 4060 in its top configuration
Its battery can last about five hours under low-to-moderate workloads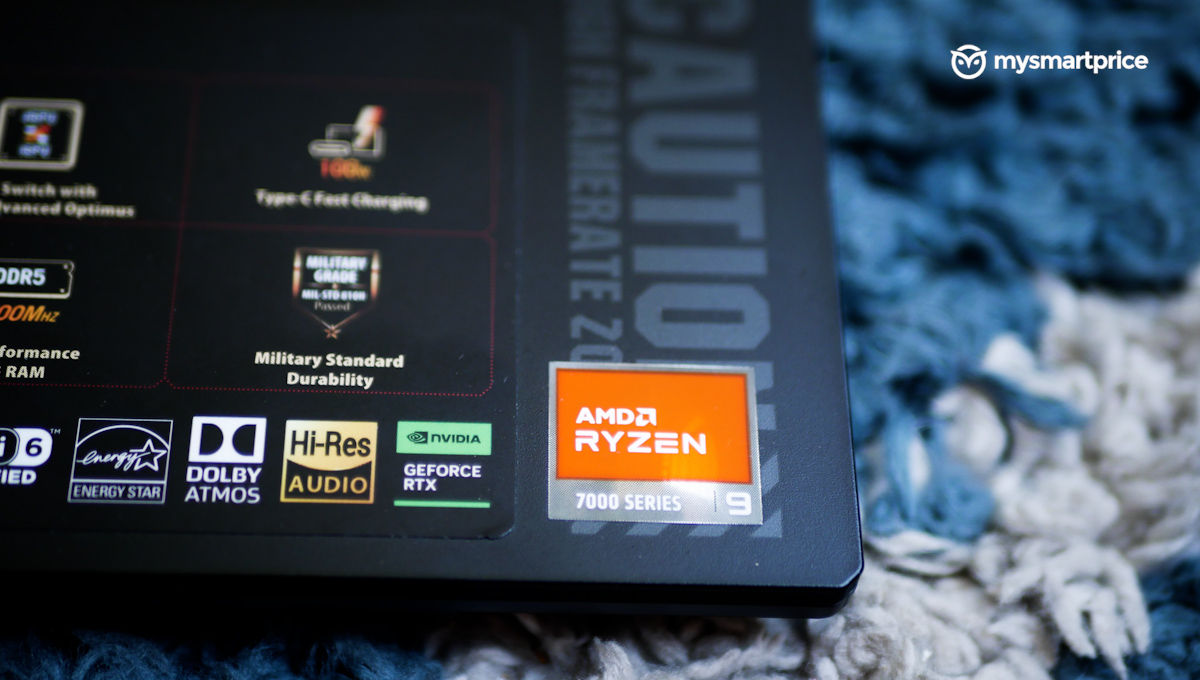 AMD's spanking-new Ryzen 9 7940HS (7000-series) powers the A15. It is based on TSMC's 4nm process and features the Zen 4 architecture, essentially a refined version of the outgoing Zen 3 architecture. This is mated to Nvidia's GeForce RTX 4060 GPU, which offers far better battery life than the previous generation.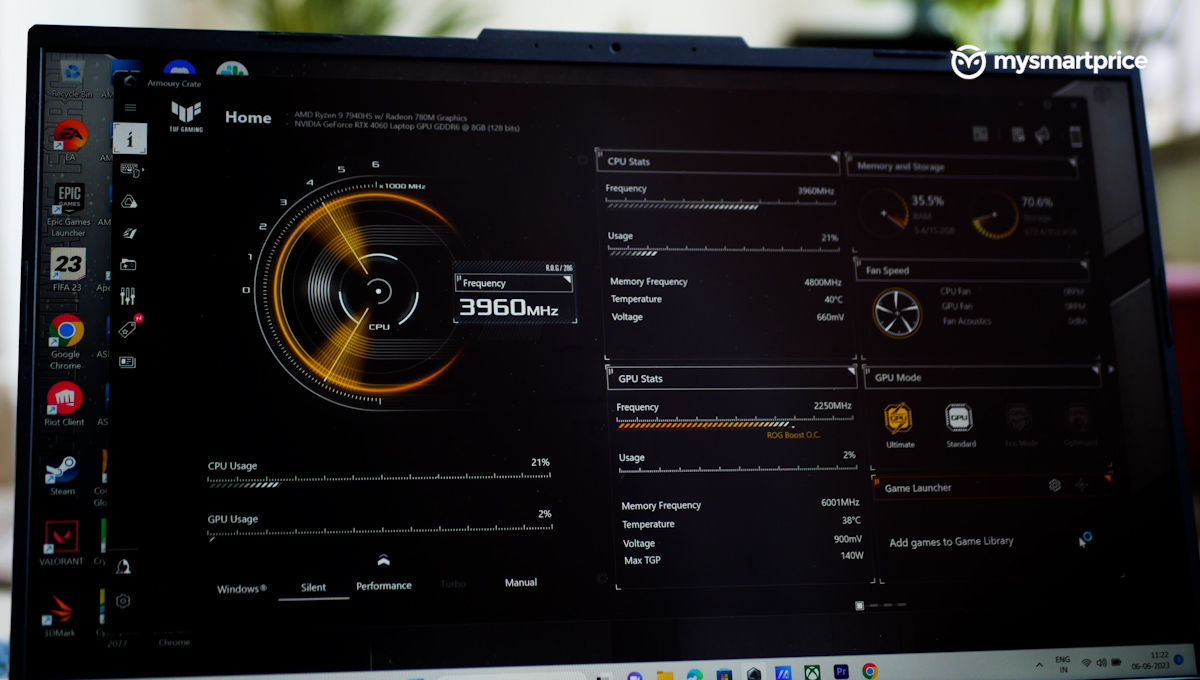 ASUS allows you to tweak the output by giving you three operating modes in its Armory Crate app – Silent which operates at the bare minimum 45W of TDP, Performance at 65W and Turbo at 80W. Going up these scenarios also increases fan speeds, but the fans aren't uncomfortably loud even on the highest setting.
In layman's terms, all this amounts to better performance and drastically improved battery life.
How much better? Let's start with synthetic benchmarks.
In Geekbench v6, the A15 managed 2574 and 11805 in single and multi-core scores, respectively. Cinebench R23 returned a respectable 17246 points and 1820 points in multi and single-core scores, respectively. It managed an overall score of 8,201 in PCMark 10, a benchmark designed to give an idea of the office capabilities of a laptop.
In gaming-centric benchmarks, such as 3DMark's Time Spy, it secured a 9,893 overall score. Here, individually, it scored 9611 and 11874 in graphics and CPU scores. Finally, CrytalDiskMark managed 5021.29MB/s and 3411MB/s sequential read and write speeds, respectively.
Simply put, the Asus TUF Gaming A15's performance is well within the top 80 percentile of the gaming laptops on the market.
It blazes through triple-A titles as well. Apex Legends, in its native resolution of 2560 x 1440 with all graphics parameters set at 'High', ran at a consistent 120 fps. Shadow Of The Tomb Raider benchmark averaged 106fps at the highest settings. Cyberpunk 2077, a game notorious for being under-optimised, hovered between 28 and 30 fps on high graphics with DLSS enabled and medium ray tracing.
Other popular shooters, such as CS:GO and Valorant, ran at 280fps on High settings and native resolution.
We also spent sizable hours editing videos on Premiere Pro and creating animations on After Effects on the A15. While it's a total timeline cruncher, it struggles a little when exporting some moderately heavy animations.
Despite the slim size, it could manage heat fairly well during day-to-day tasks and mild gaming. Even under high loads, exhaust temperatures never soared beyond 65°C. The AeroBlade fans can get mildly loud, but that's a comfortable trade-off for the effective cooling capacity.
Despite established gaming credentials, the A15 is a master at power management. We have been reviewing gaming laptops for a few years now, and they usually have a reputation for guzzling precious battery juice even when they aren't under duress. But that's not the case with A15.
On 'Silent' mode, with 15 or so Chrome tabs open, the A15 could last four to five hours. This is the only Windows laptop we have ever felt comfortable editing a video on during a flight journey, lasting over three hours on a moderately heavy Premiere Pro! And the best part? It charges within two hours using the giant 240W bundled charger.
Mac users would probably roll their eyes at this achievement because of how far Apple Silicon-powered MacBooks have come over the last three years, but this is a massive feat for a Windows machine. We can't wait to see what the next few years will be like!
Asus TUF Gaming A15 Review: Verdict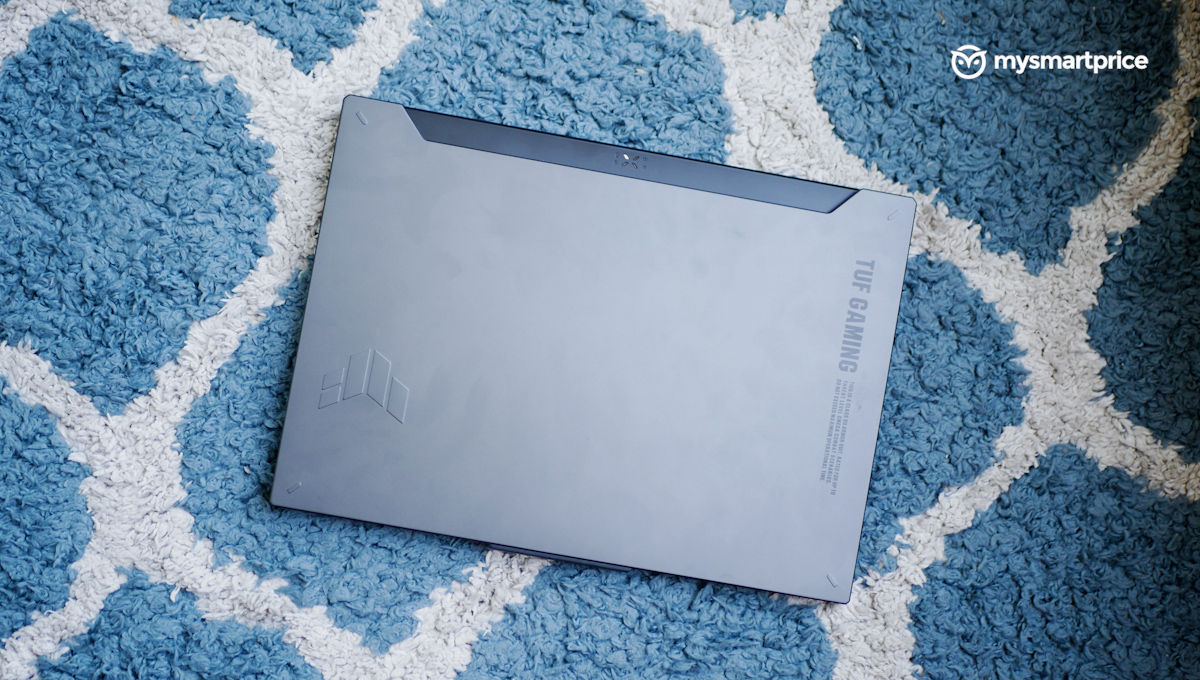 Because it's been keeping its pot boiling for a few years now, Asus' TUF Gaming line-up can no longer be called a proof of concept, and it is more mature than ever before. It offers an outstanding balance between performance and power efficiency. Some may think it's a great gaming laptop, but we think it's a fantastic content-creation option, especially in its top trim. If you fall in this target demographic, but the 1.5 lakh rupee price tag gives you heart palpitations, you should wait until the next festive sale.
In fact, for its price, the Asus TUF Gaming A15 can be a great MacBook Pro alternative, with a fantastic display, respectable power on tap and excellent battery life. It may not be as sexy or portable, especially with its charging brick, but you can game on it just in case you get bored working.