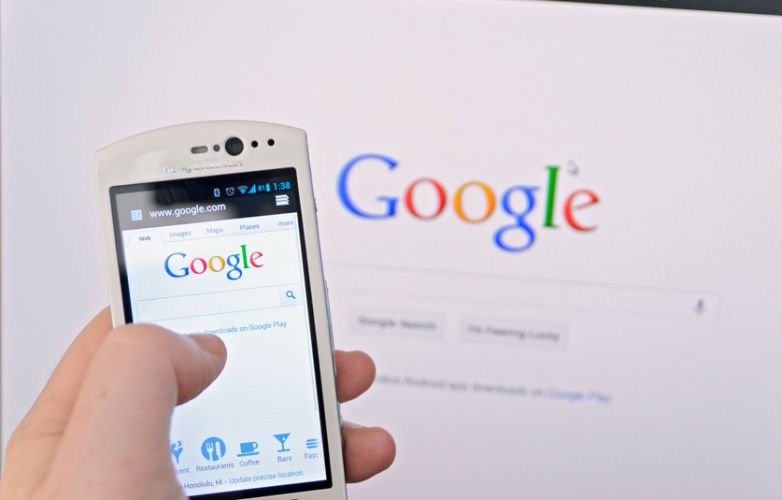 Back in March of this year, Google was experimenting a new search capability where the answers to some questions would be given without any search results. Danny Sullivan of Google had confirmed so in a tweet, where he had also mentioned that aspects like calculations, unit conversions and local time would specifically be condensed down to improve load times. That experiment seems to have come to fruition as the feature has now been spotted in the wild.
Sergey Alakov was the first to observe the feature. In situations where Google can answer a question with absolute certainty, zero search results will be shown alongside that specific response. Alakov tested this out with simple calculation queries across multiple browsers on various phones.
Since then, Google has confirmed the roll-out of this feature. In a statement issued to Search Engine Land, Google explained that for questions that it has "extremely high confidence" for, will display single results. Google again reiterates that this is mainly for unit conversions, mathematical calculation and local time bases questions where one can hope to see such results. Furthermore, advertisements will also be pulled in such situations, simplifying the experience. An option called 'Show all results' will still be provided in situations where you might want to see further results.
We further experimented this feature ourselves to see how well it performs. In one instance where we searched for a simple addition query as 2+6, Google displayed just a single result.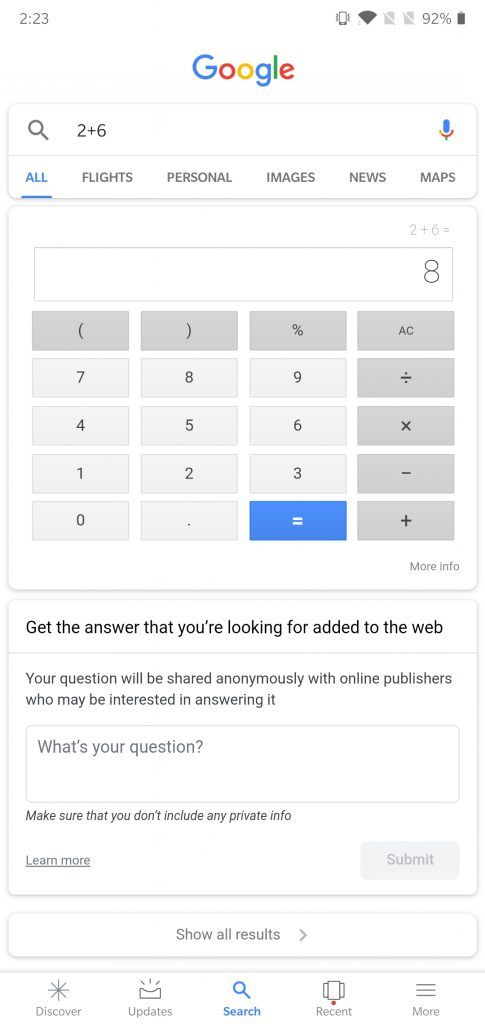 However, when we searched for 1+6, Google Search also displayed other results pertaining to the brand and its smartphones.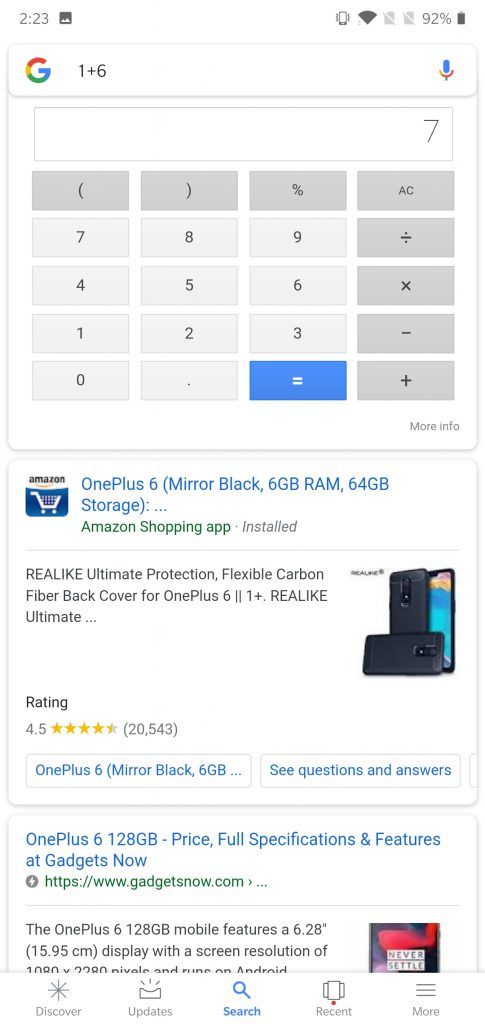 How Smart Is Google's New Algorithm?
When Google had first begun experimenting this 'zero search result' feature, many people were frustrated by how it worked. This was because the approach Google was using back then resulted in quite a few issues. One such problem was where brand names would not be pulled up. Another was an instance where dating sites would not show up as Google mistook those queries for calendar related ones.
For example, searching for something like "Date in London" would pull up the calendar date and not show anything related to the recreational aspect of the phrase.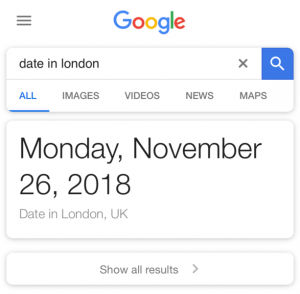 In another test, we searched for "time India", and sure enough, we were greeted with a single result showing the local time.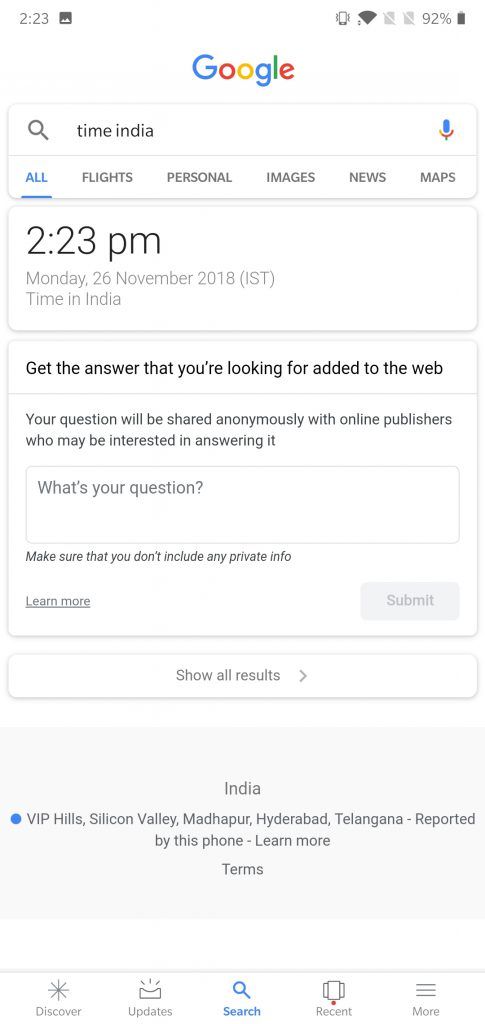 Then, when we searched for "times India," Google was able to tell the difference and instead pulled up all the relevant data for Times of India.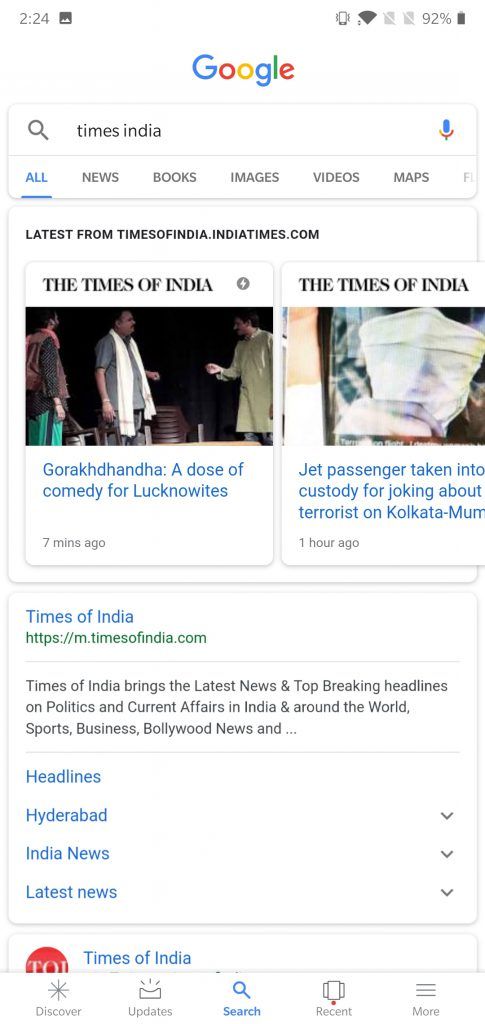 The feature has evidently become smart enough to differentiate between such phrases now and will pull up more relevant info. As for the roll-out, the feature seems to be live on all smartphone browsers across both Android and iOS. On desktops, however, you will still see Google's standard set of widgets and search results underneath the primary result.
Bad News For Math/Conversion Sites
The fact that Google will only display its own result for calculation, conversion and time based queries is not good news for dedicated sites that exclusively provided such services. Now, unless a user clicks the 'Show all results' button or searches for a relevant site manually, the traffic to such websites will certainly decrease.
We're not doing this for weather. I totally get the slippery slope concern around this issue. I get it freaks SEOs out. I also would stress again it's being tested for these specific cases where most people do not go past what's shown. Weather needs can be deeper than that.

— Danny Sullivan (@dannysullivan) March 15, 2018
It also remains to be seen how far Google decides to take this feature as it poses SEO related concerns for many site owners. Google did confirm during its testing phase that it did not intend to use this feature for weather-related queries as it understood that users' needs in that department would be "much deeper" than a single result.