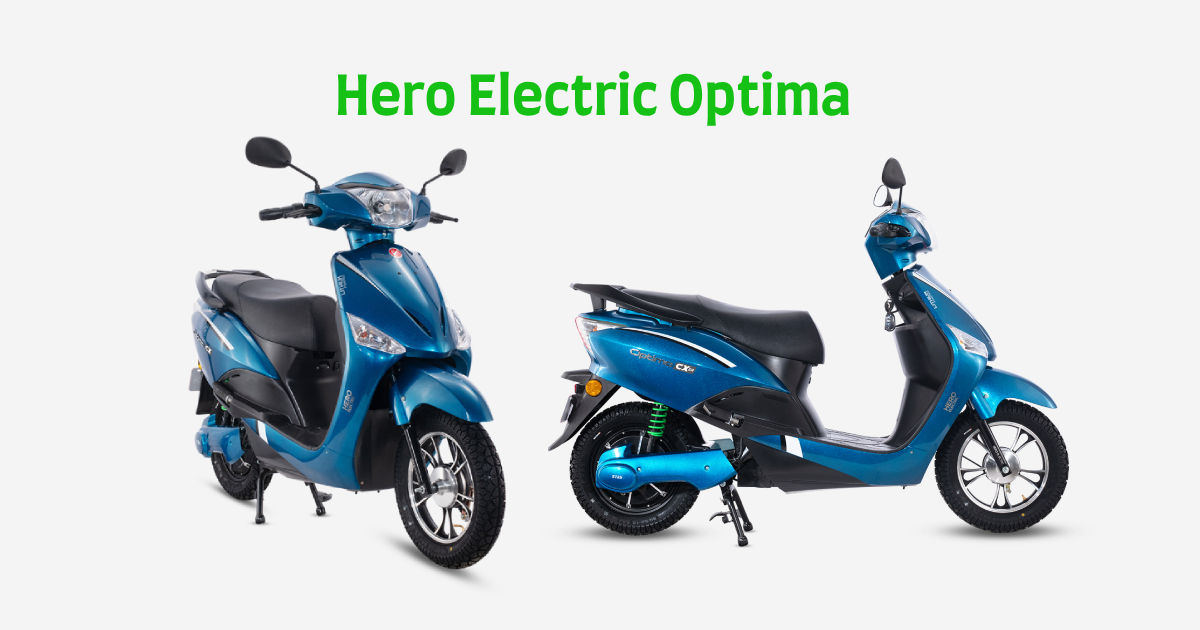 Hero Electric Optima is primarily available in the Indian Automobile market in two different variants, one being the CX single battery and the other CX double battery. Owing to the great discoveries made in the realm of the automobile and vehicle industry, it is only fair to expect good things from top-rated brands such as Hero.
Further, in the article, we will be discussing Hero electric optima in detail, followed by a brief description of its availability in India, Pricing offered by the brand, Key specifications, power, performance, battery, body, dimensions, smart features offered, warranty details, and much more.
Hero Electric Optima Price in India and Availability
Hero Electric Optima, the city scooter, is available in two different variants and dependent on the variant, the pricing of the vehicle has been offered. The starting price of this marvellous electric scooter is Rs 67,190, and it goes up to Rs 1.30 lakhs.
The pricing of the vehicle changes significantly in accordance to the different Indian cities but speaking on average, the Optima CX single battery variant ranges from a starting price of Rs 70,746, and Optima CX dual battery is Rs 89,038. As per the customer's knowledge, it has been specified that the on-road price breakup includes the ex-showroom price, RTO charges, Insurance, and other different costs regarding the variants.
Hero Electric Optima Price in Different Cities
| | | | | |
| --- | --- | --- | --- | --- |
| City | Ex-Showroom (INR) | Insurance (INR) | Additional Charges | Total Cost (INR) |
| Mumbai | 67190 | 2889 | 4032 | 74111 |
| Delhi | 67190 | 2889 | 0 | 70079 |
| Kolkata | 67190 | 2889 | 8735 | 78814 |
| Chennai | 67190 | 2889 | 2688 | 72767 |
| Hyderabad | 67190 | 2889 | 2688 | 72767 |
| Bengaluru | 67190 | 2889 | 2688 | 72767 |
Also Read: Tata Punch EV: Expected Launch Date, Price in India, Key Specifications, and More
Hero Electric Optima Photos
Hero Electric Optima Specifications
Perfect blend of modernity and efficiency
Equipped with various features and specifications
Offers a comfortable riding experience
BLDC Motor type with a peak power of 1200 watts
Good ground clearance of about 165mm
Top speed of 48-55 kmph
Range of 135km per charge
Available in two variants: CX dual and single battery
Battery capacity of 3kWh
Stunning overall look and appeal
Battery & Charging
The Battery capacity of Hero electric optima is 3kwh and it takes up to 6 hours to be fully charged. The battery functioning is one of the scooter's key features that makes it stand out amongst the lot. The scooter consists of 2 batteries delivering a continuous power of 1900 watts. The drive type features a hub motor.
Power & Performance
The electric scooter offers a range of 135km/charge and it happens to be a BLDC motor type that produces a continuous power of 1200 Watts. The scooter is available in two variants called the single mode and the dual mode. They are capable of producing a top speed of about 48-55 kmph making the scooter truly incredible and reliable.
Light and Indicator
Talking about the electricals of the scooter, Hero electric optima comes equipped with Headlight (LED), Taillight (LED), Turn Signal Lamp (LED), Side Stand Sensor, DRLS, LED Taillights, and Low Battery Indicator. The safety and security of the driver is the company's top priority and for this very reason, they have added such important features in the scooter to make it more efficient and user-friendly on the road.
Smart Features
The additional smart features of Hero Electric Optima include Bluetooth connectivity, an Anti-theft alarm, GPS, USB charging port, touch-sensitive buttons, mobile application connectivity, central locking, artificial sound, DRLs, voice assistance, and map-based navigation.
Brakes, Wheels, and Suspension
Hero electric optima have a telescopic suspension and feature both rear and front brakes (Drum). The scooter also has top-class alloy wheels, with both the front and rear wheel sizes being 304.8mm. The tire size is about 90/90-12 inches, both front and rear.
Body and Dimensions
Hero electric optima features a robust design having some highly efficient body and dimensions. It has a kerb weight of about 102kg and is noted to produce a ground clearance of 165mm. The body type of the scooter is electric that functions on a high-power electric motor along with a great battery pack.
Also Read: Suzuki Burgman Electric Scooter Expected Price in India, Key Specifications, Performance, Design and More
Hero Electric Optima Colour Options
Hero Electric Optima is available in 4 different colour options, including red, grey, blue, and white. The hues are vibrant and fit best to the overall robust structure of the scooter.
Hero Electric Optima warranty
Hero Motors have made sure to provide a premium warranty pack along with the Hero Electric Optima to its respective buyers. As per the company's guidelines, if the scooter is used for personal purposes, it comes with a warranty of 3 years, and if it is used for rental purposes, then the warranty gets diminished to 2 years.
Hero Electric Optima Service and Maintenance
The electric scooter comes with a warranty period of 3 years for people who have bought it for personal use, and the respective buyers can avail of the services through any Hero showroom. In case of rental purposes, the warranty gets reduced to a total time of two years inclusive of the service charges.
Hero Electric Optima Competitors
Ampere Magnus
Ola S1 Air
Ampere Zeal
iVOOMi S1
Bounce Infinity
Hero Electric NYX
Hero Electric Photon
Hero Electric Atria
Hero Electric Optima Reviews
Efficient and eco-friendly vehicle
Offers a great riding experience
Packed with amazing features and performance
Noted for comfort, reliability, performance, maintainability, and mileage
Positive reviews from the audience
Standout feature: Portable charging option for fast and easy charging
Considered a good option for city scooters
Hero Electric Optima News
According to circulating online news, there are indications and hopes that the makers of the Hero Electric Optima are working towards enhancing the scooter's range and performance.
It is anticipated that the existing model and design of the scooter might undergo some modifications to meet these expectations.
Key Takeaway
Hero Electric Optima also has a bunch of additional features, including Eco / Power, Parking Brake, Battery Safety Alarm, Drive Mode Lock, and Side Stand Sensor, which makes the scooter more appealing in the eyes of the targeted audience. If a person is looking for a good electric scooter that promises to offer a great driving experience coupled with an outstanding design, features, and performance, then Hero Electric Optima is definitely a choice.