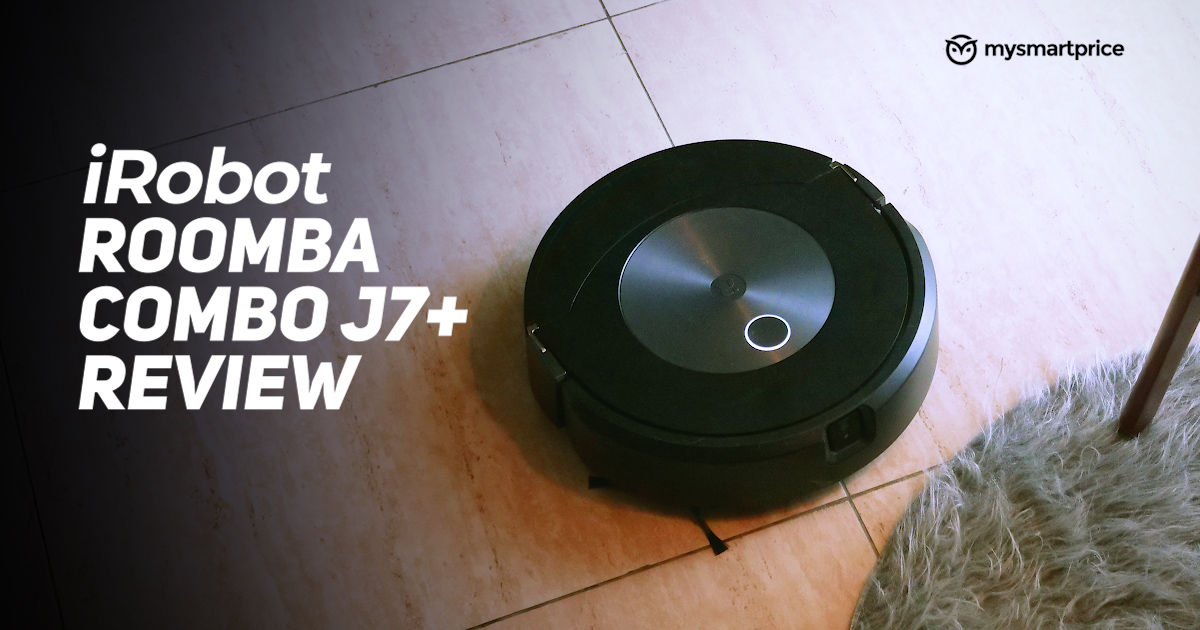 Very rarely do we form a human-like relationship with consumer technology products. A smartphone is just a slab of glass, a fridge is a box of metal and plastic, and a TV just flickers some images on a panel. So, anthropomorphising a vacuum cleaner would be the last thing you'd expect from a techmaker. But the iRobot Roomba j7+ robotic vacuum cleaner does just that. It's smart, with the ability to map out an entire house, and can vacuum and mop on your call. But can it replace the traditional jhadu-pocha? Find out in our review.
iRobot Roomba Combo j7+
Rs 84,900
App and connectivity
9.0/10
What Is Good?
Decent mopping and vacuuming abilities
Can map a house intelligently and the name the rooms by itself
Extremely cute and lovable
Runs on voice commands
Empties trash by itself
What Is Bad?
Runs a little loud
Limited battery life
iRobot Roomba Combo j7+ Review: Understand the basics before you buy
The iRobot Roomba isn't anything new – it has made its way to pop culture many times. Jesse from Breaking Bad had one, and he got it to keep him entertained during a rather dark time (and to pick up all the cigarette butts in his bachelor pad, of course).
Unfortunately, the Roomba line-up can be a little complicated to understand for people who're just starting out. There are three letters you'd find in a Roomba line-up (in an ascending order of features and pricing) – i, j and S.
The number as the suffix is the generation of the product; currently, it is in its seventh iteration.
You'd also find a '+' (plus) after the number, this means the presence of a self-empty clean base. Basically, you don't have to clean out your Roomba after every use – the base has a bigger bag that can store the trash for as long as 60 days.
Finally, Combo means the robot also has a mopping arm.
All this should help you make the right decision of which Roomba variant meets your requirements the best.
iRobot Roomba Combo j7+ Review: Getting started
Box contents: Roomba Combo j7+ Robot Vacuum, Clean Base, two dirt disposal bags, charging cord, extra filter and extra brush.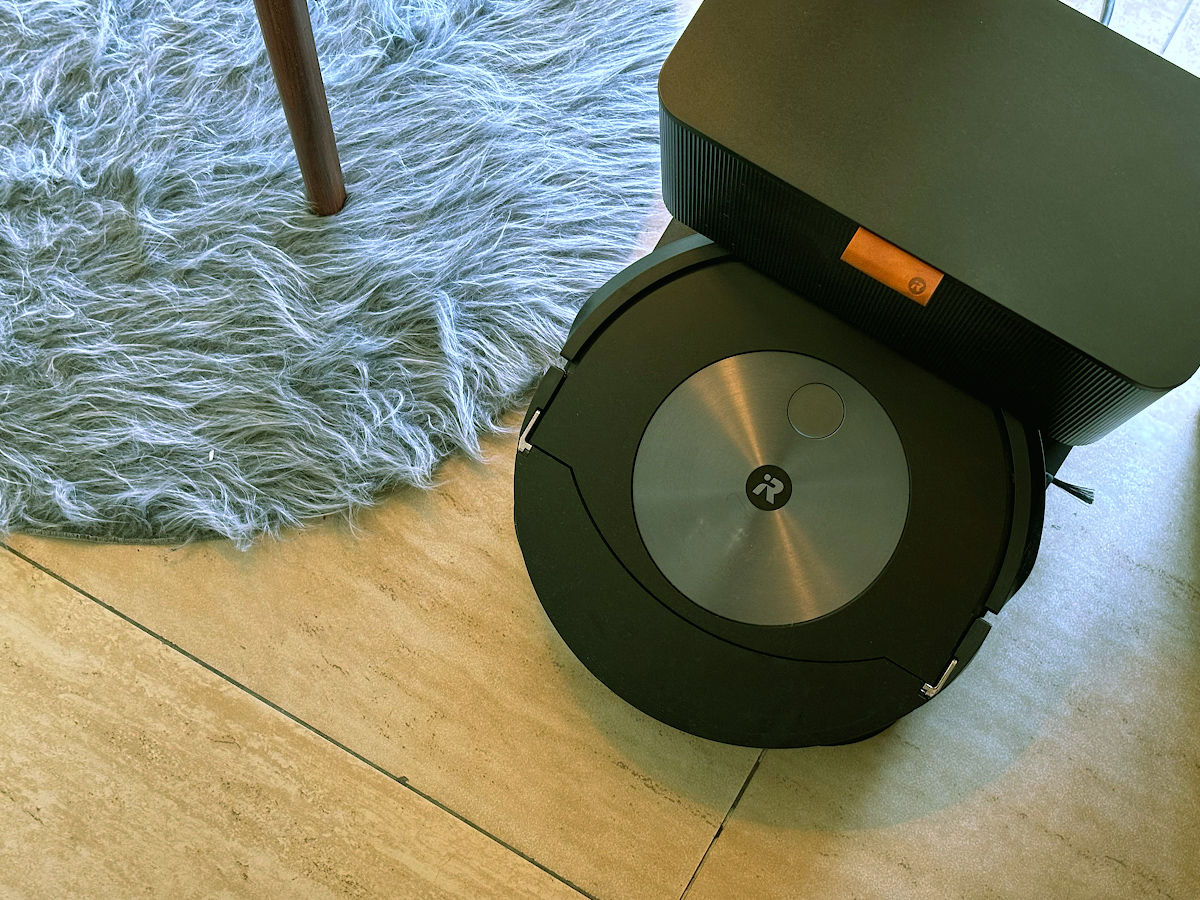 To get started, you power up Clean Base, dock the robot to charge it ,and then pair it with your smartphone using the iRobot app.
Once you're done with that, you'll be prompted to let the Roomba do its thing of mapping your home. This process is hilarious – the robot bumps into walls, chairs and obstacles. This is also the time when you start getting attached with the Roomba, as it's almost like having a new kid in the house. After a couple of hours, with the help of its on-board camera, the Roomba maps your home and would be ready to do its job, i.e. cleaning.
iRobot Roomba Combo j7+ Review: Mopping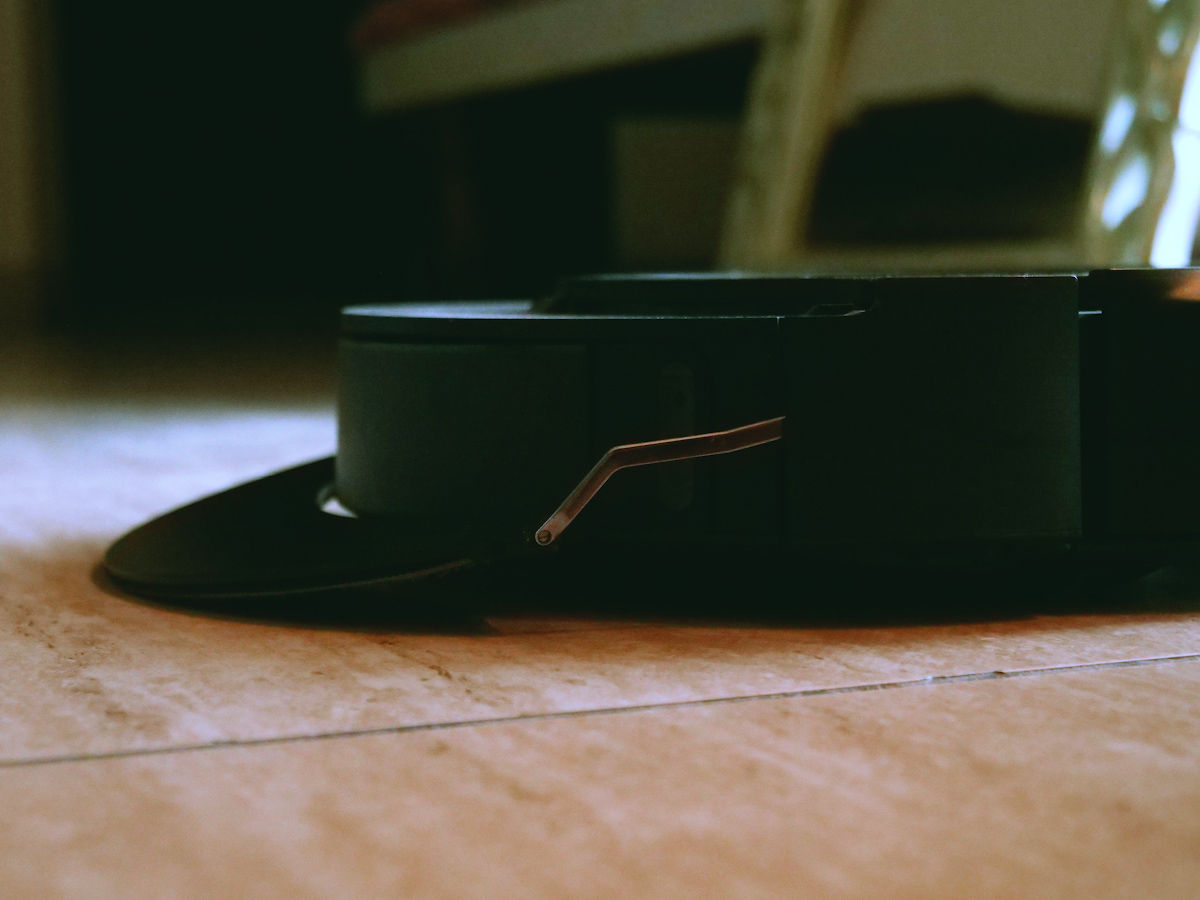 Because the Combo j7+ has the ability to mop, you will need to fill up its 200ml water and soap dispenser. iRobot recommends using its own cleaning fluid, but I like that fresh smell of Lizol so I mixed that too. I haven't faced any issues so far.
The first few cleaning cycles were clumsy as the Roomba Comba j7+ tried to understand the complicated layout of our house, but it got smarter and smarter after every clean-up.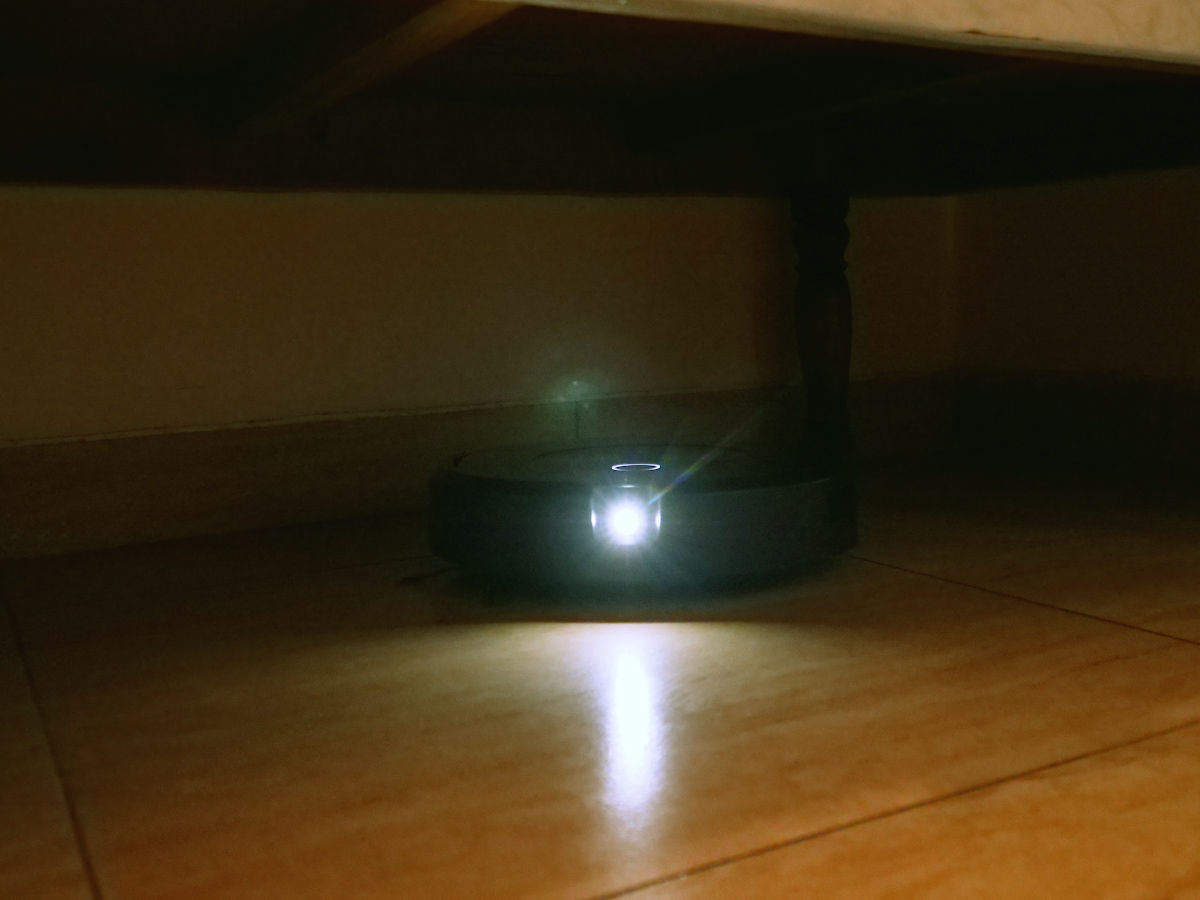 Because of its small size, it could squeeze underneath our beds and sofas and it did a much better job of cleaning such places than a human.
The Roomba Combo j7+ can mop the central areas and the edges of a floor really well, but it still struggles with corners because of its circular shape. To entirely clean up a 1000 sq ft. home, it takes about one and a half fill-up of cleaning liquid.
iRobot Roomba Combo j7+ Review: Vacuuming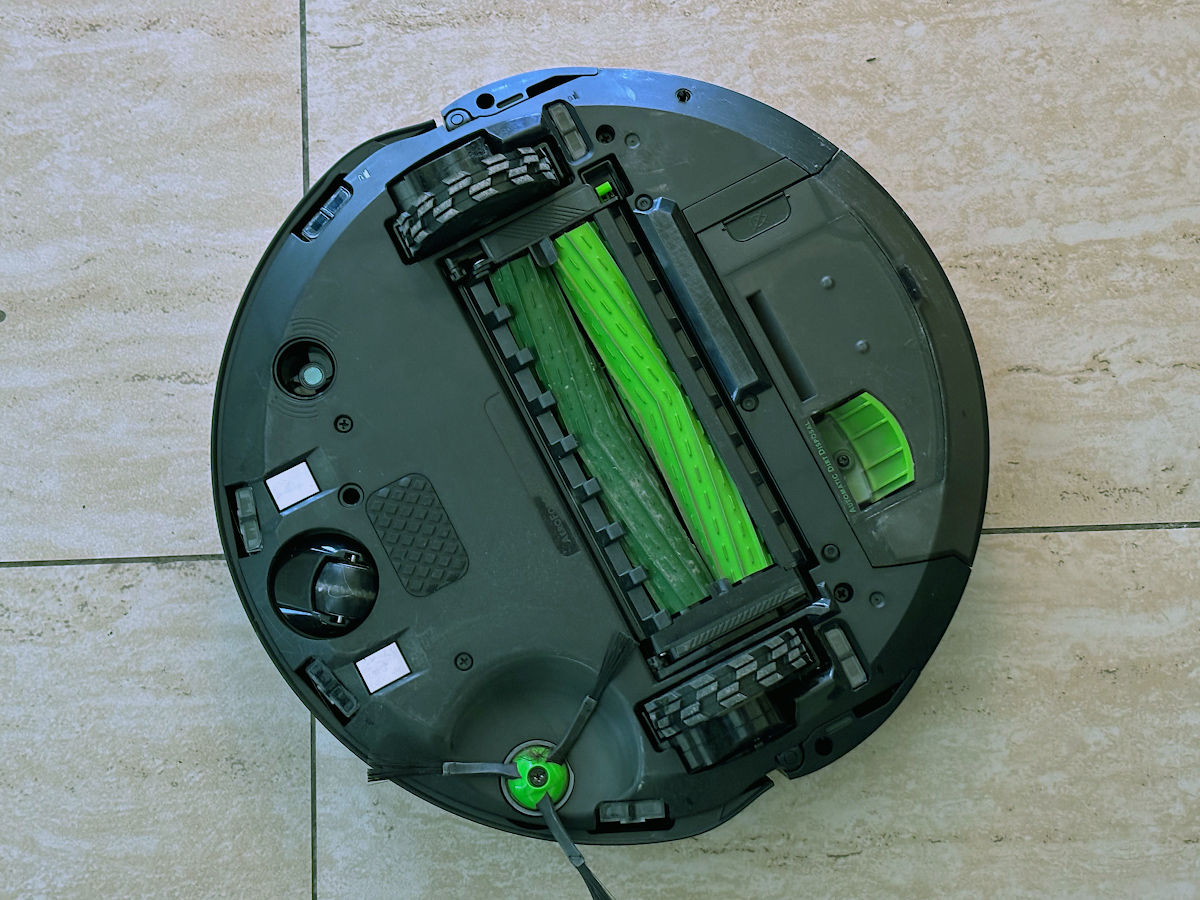 It has decent suction power, enough to suck in small particles and big furballs alike. It also detects when a carpet is in the way, and tucks in its mop to avoid making it wet – pretty smart.
I have some big shaggy carpets in my house, and it did a good job of picking up food particles from them without making the carpets bald.
iRobot Roomba Combo j7+ Review: App and connectivity
You can interact with the Roomba Combo j7+ in three ways – one is by tapping the only button on its body, second is via the app, and third is by using a voice assistant. We mainly interacted with it using the app and Google Assistant.
The iRobot app is pretty easy to use and allows you to schedule clean-ups, view the map of your home and create and name 'cleaning zones' or in simple terms, rooms. You can also send the Roomba to a specific room of your home using the app.
The app also allows you to link the Roomba Combo j7+ to your voice assistant. I personally love the fact that you can use phrases such as 'clean the kitchen' to summon the Kiddo – that's right, I've named it that. And, you can command it to clean up even when you're not home.
Because it has a camera to navigate, the Roomba Combo j7+ can also send you obstacle alerts with photographic evidence. One time my mom blocked its way of cleaning underneath the sofa, and it 'complained' to me about it – it was hilarious. But this also means that your privacy is in your hands, so make sure you're always wearing something while the Roomba is cleaning.
iRobot Roomba Combo j7+ Review: The Clean Base
Once it is done with its cleaning duties, it rolls itself back to its Clean Base and empties its dirty storage. This process can be really loud, so be prepared for that. While iRobot's claim is to store 60-days worth of trash, I found out that the bag was full in just a month.
iRobot Roomba Combo j7+ Review: Battery
It takes about a couple of hours to fully charge the Roomba, and this is good enough for about an hour and a half worth of vacuuming and cleaning. The good thing is before running out of battery, the Roomba Combo j7+ can smartly run to the Clean Base, charge up, and then resume the cleaning from where it left off.
iRobot Roomba Combo j7+ Review: Verdict
The iRobot Roomba Combo j7+ has powerful functionality, be it vacuuming or mopping and it can even clean up while you are not around. If you have furry friends in your house, it can be a blessing, as you can schedule cleaning cycles and keep dander away from your floor. And, with that Clean Base, you don't have to worry about emptying the Roomba out every time it's done doing a chore.
There is no denying that it is a handy thing to have if your daily help decides to take a leave someday. But it still cannot really replace the traditional cleaning methods – it can only supplement them. It cannot clean corners that effectively, and makes a bit of sound when it is working its way through your house.
That said, the Roomba Combo j7+ is priced dearly at Rs 84,900, but then you're also getting a new family member in the house and that's priceless, my friend!