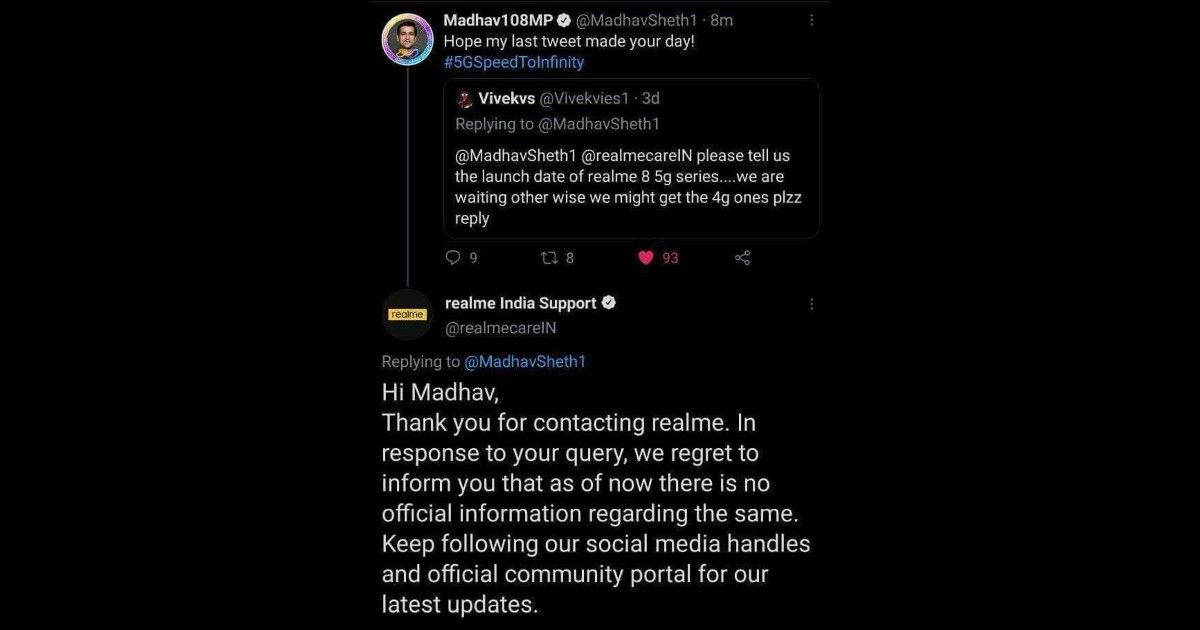 The Realme 8 5G is all set to launch soon. Earlier today, Realme chief Madhav Sheth tweeted about the launch event to be set for 12:30PM on Thursday, April 22. Keeping in spirit, Sheth even went ahead and replied to a Twitter user's query about the launch date of the smartphone, which is where Realme India's support chatbots decided that they simply cannot let the company CEO run away with all the attention. Stepping into the conversation, the Realme India Support account hilariously informed Sheth that there is "no official information" regarding the Realme 8 5G, and even urged him to "keep following our social media handles".
The incident was of course nothing but a minor glitch in the exception parameters that are generally fed to bots. Typically, company support handles use auto-response chatbots that scan for a number of keywords to issue a set response. The reason behind this is to ensure that a customer query isn't left unanswered, until human intervention is made. In Realme's case, which typically gets numerous user queries asking for phone launch dates and update schedules, such bots are critical to keep users in conversation.
However, in this one isolated case, one of Realme's chatbots on the official support handle appears to have ended up with a bit of a gaffe in its exceptions – hence leading to this rather hilarious moment where even the company CEO was not spared any privilege information. It was, of course, nothing more than just a brief, comical incident, and the tweet has since been deleted. However, keen-eyed social media observers made sure to immortalise this one of a kind interaction between a chief executive and his en masse company bot.
The Realme 8 5G is set to launch in India with the recently announced MediaTek Dimensity 700 5G SoC. It is expected to bring in features such as a 5,000mAh battery, a 90Hz display, a 48MP triple rear camera setup, 8GB RAM, 128GB storage and Android 11 out of the box. It is also tipped to feature a side-mounted fingerprint sensor, and other details should come our way soon enough – with the launch slated for the next week.