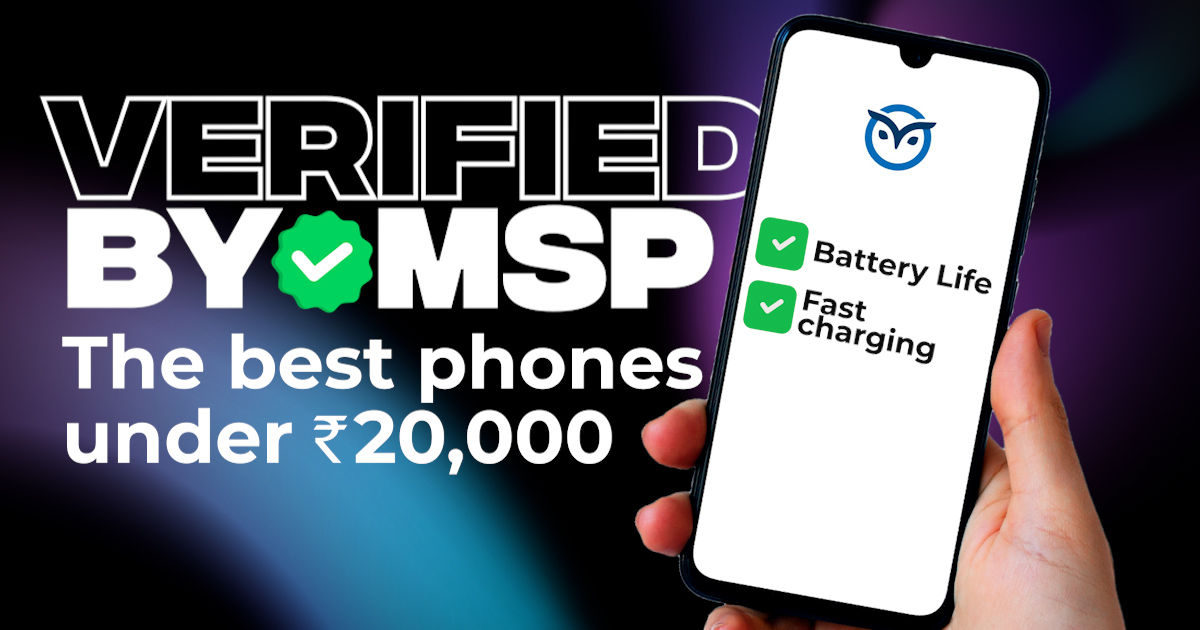 If the first thing on your shopping list this festive season is buying a reasonably-priced smartphone that lasts long and charges quickly, here's a buying guide for you. All the phones in this list have gone through our arduous battery and performance tests (process explained later), so you can be rest assured that there's no ambiguity as to which phone will be the perfect fit for you. To help you out further, we have also highlighted the key features of every phone. So without further ado, let's jump right in.

Redmi 12 5G – Best Battery Backup Under Rs 20,000
The Redmi 12 5G offers one of the best screen-on time we have seen all year – roughly nine and a half hours. This translates to approximately two days worth of use, but there's a caveat here – slow charging. Although it comes bundled with a 22.5W adapter, its peak charging is limited to 18.5W. So, once the party's over, you'll have to wait about two and a half hours for the handset to charge fully.
The Redmi 12 5G has another ace up its sleeves – it is the first phone in India to be powered by the Qualcomm Snapdragon 4 Gen-2 SoC. Because it is based on a 4nm process, the Redmi 12 5G's processor is capable of offering decent performance even under sustained loads, such as a long Battle Royale match on Call of Duty: Mobile.
We recommend getting the mid-tier 6GB RAM/128GB storage variant for the best bang for your buck.
POCO M6 Pro – Best Battery Backup Under Rs 20,000
The POCO M6 Pro shares a lot of similarities with the Redmi 12 5G – so you get identical battery life, performance, display and charging speeds. What's different is that it comes in slightly lower specc'd base RAM and storage variant with 4GB of RAM and 64GB storage which starts a grand below the Redmi 12 5G's base variant. So, if you are having a rough month and need a good starter phone, you may want to consider the POCO M6 Pro.
Moto G54 – Best All-Rounder With Clean UI Under Rs 20,000
The Moto G54 is one of the best all-round phones you can buy in this price range. While it offers a respectable eight and a half hours of screen-on time, it takes about two hours to revive itself fully from zero battery. It is surprisingly snappy too, as its 6nm Dimensity 7020 SoC was able to beat the Snapdragon 4 Gen-2 of the first two phones in this list in benchmarks. The device has a clean, functional UI and it even looks the part. If charging is no problem for you, you should definitely consider its base 8GB/128GB variant which is selling with a killer discount on Flipkart, at a price of 13,999 at the time of writing.
OnePlus Nord CE 3 Lite – Highest Charging Wattage Under Rs 20,000
If you care about nothing but the fastest charging available, there is a high chance you might already be eyeing the OnePlus Nord CE 3 Lite. But if you come down to the brass tacks, it takes about an hour to charge its battery from a standstill, which falls in the category of phones with support for 44W chargers. That's because quick charging of this magnitude dissipates high heat and the CE 3 Lite's Battery Health Engine technology within the phone uses its on-board thermometers to regulate charging speeds to ensure safe operation of the phone.
Nevertheless, the phone is capable of giving about six hours worth of screen-on time, or a little less than a day in real life. Its 108-megapixel sensor, flashy colours and cleanish OxygenOS interface wrap up the headliners, but its processor and other hardware specifications aren't exactly the best for a phone sitting on the upper spectrum of the Rs 20,000 segment.
It makes most sense to buy it in its base configuration of 6GB/128GB, as there are some better options above the Rs 20,000 mark.
Vivo T2 5G – Optical Image Stabilisation and Impressive Battery Backup Under Rs 20,000
The Vivo T2 5G offers the best of both worlds – fast charging and decently long battery life. It gives about 8 hours of screen-on time, or about a day and a half in real-world usage and takes about an hour to fully charge from 0%. Its processor and other internal specifications are similar to the OnePlus Nord CE 3 Lite, but you get that gorgeous AMOLED display for watching content and an optically-stabilised camera that's capable of taking some steady night shots. Here too, the base variant of 6GB/128GB configuration makes the most sense.
Realme 11x – A Bonus Choice Under Rs 20,000
The Realme 11x lasts about seven and a half hours with its screen on and charges up entirely from zilch in an hour and a half. If you ask us, it makes a lot more sense than the Realme 11 which commands a higher asking price. You are getting the same Dimensity 6100+ processor, battery life and 6.72-inch LCD panel in the 11x. The four grand premium only gets you a marginally better primary camera and saves you half an hour in charging. We believe getting the upper-tier 8GB/128GB variant here should work out the best for you.
MySmartPrice Battery and Charging Test Methodology
If you have not seen our battery tests on YouTube, this should be a great time to do so. We pit four smartphones of the same price tier to find out how long they last… all via a standard set of tests.
First, we fully charge all the phones, turn the flight mode on all of them, yank up the brightness and volume to 100%, connect them to the same Wi-Fi network and ensure the latest software and security updates are installed. We then proceed with the six rounds and log the battery percentage of every smartphone while ensuring the display is never turned off. Then we do the following:
YouTube videos round: We run YouTube videos in the highest possible quality for two hours straight. This helps us understand which smartphones have the best stock display quality (without tweaking the default colour balance).
Benchmarks round: We run AnTuTu and Geekbench synthetic benchmarks on each phone to have a qualitative understanding of their performance. Furthermore, we torture the processors of the phones by running the CPU throttling test to know how they work under sustained loads.
Gaming round: We run Call of Duty Mobile on every phone for an hour and look out for stutters or lag. This also helps us know the highest possible graphics settings of each phone.
Camera round: We turn the video recording on at the highest possible quality on each phone. This helps us know if there are any heating issues on a phone.
Social media round: We run reels on Instagram all the way till the phones start dying out one by one.
Charging round: Finally, using the bundled chargers, we charge all the phones up from dead state, and note down how long they take to reach 100% battery.