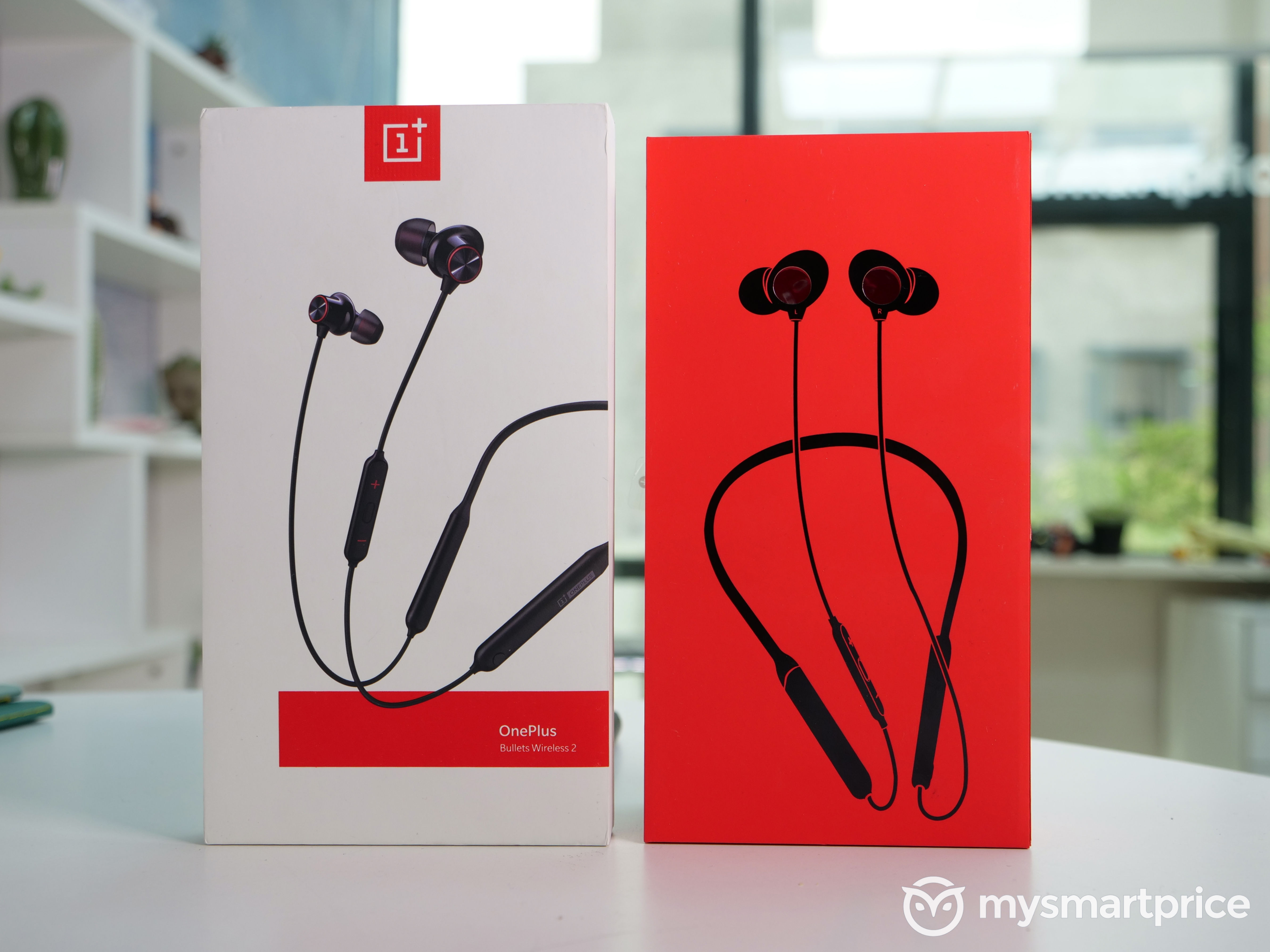 Last year, OnePlus released its Bullets Wireless earphones alongside the OnePlus 6 (Review). Back then, you still had the 3.5mm headphone jack, and picking up a wireless headphone was simply meant to be a matter of convenience. Now that OnePlus has moved on from the beloved 3.5mm headphone jack, an upgrade to the Bullet Wireless was perhaps necessary so as to offer audio quality on par with wired headphones. With the OnePlus 7 and the OnePlus 7 Pro, the company has released the Bullets Wireless 2 earphones.
OnePlus Bullets Wireless 2
₹5,990
What Is Good?
The headphones look premium and feel sturdy.
Triple drivers help produce great audio with detaile
Earbuds are comfortable and manage decent passive noise isolation.
Earbud magnets are stronger.
Incredible battery life with fast charging.
Great value for money proposition.
What Is Bad?
No IP or water resistance rating.
Using the in-line remote control is awkward.
Bass could have been more pronounced.
These pair of headphones have been drastically redesigned from the inside while looking more or less the same as its predecessor from the outside. The price has also shot up from INR 3,990 to INR 5,990. Have enough improvements been made to justify the increased price? Let's find out in our review of the OnePlus Bullets Wireless 2.
OnePlus Bullets Wireless 2 Design, Comfort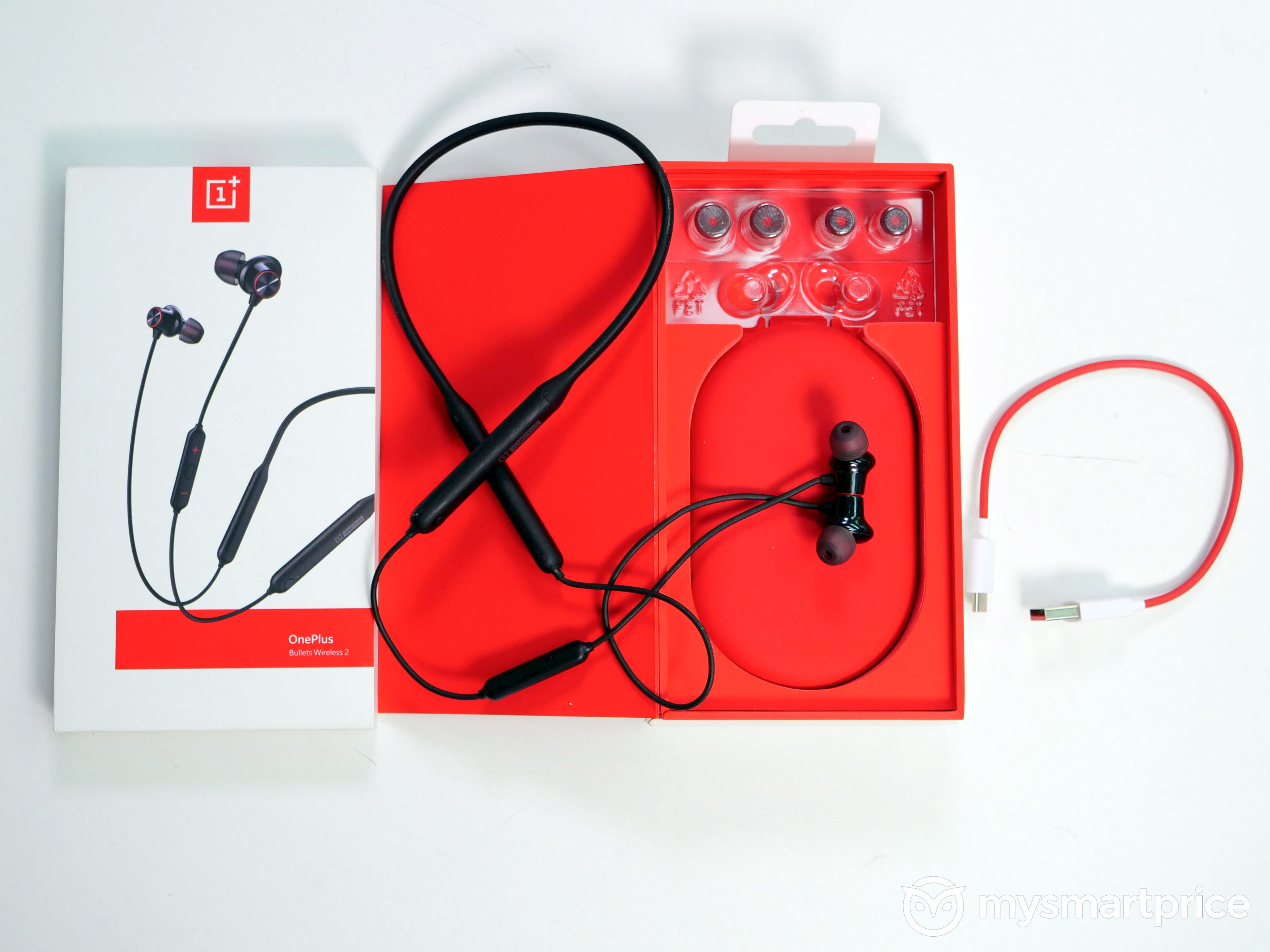 The Bullets Wireless 2 comes in the typical red and white packaging OnePlus has long been known for. In the box, you have the headphones along with two additional pairs of different-sized ear tips, and a USB Type-C Warp Charge cable. There is also the bright red silicone storage pouch which OnePlus also bundled with its older Bullets wireless earphones. This pouch has magnets on its opening lips that make a satisfying 'pop' sound each time you open or close it. It is slightly difficult to make the earphones fit inside this case at the beginning, but it gets easier as time passes, and I think this is because the neckband becomes more flexible with use over time.
Coming to the headphones themselves, the Bullets Wireless 2 has a sturdy build. They look almost identical to their predecessor, where the entire unit is matte black with some red accents on the earbuds. Both the earbuds are connected to each other by a neckband-style stiff cable. The ends of the neckband are thick and house batteries. The left end is where you find the USB Type-C charging port, power/pairing button and LED indicator, while an inline volume control is located in between this part and the left earbud.
OnePlus says that it used a "seashell-inspired stainless steel design" for the earbuds. While the original Bullet Wireless' earbuds had rubberized hooks to stay in ears, the Bullets Wireless 2's earbuds have a smooth metallic finish with a tilted oval shape. Comparatively, the older earbud design is more likely to stay in your ears, but it most certainly is not as comfortable as the new earphone design. Furthermore, the new silicone ear tips provided are comfier and offer a better fit. With these improvements, you now get better passive noise isolation.
Just like last time, the earbuds have magnets on their outer-facing ends that allow them to clip together when not in use. The benefits of such implementation include keeping the earbuds from moving around when not in use, preventing damage from them being pulled apart, and easier storage. After having used both the older and newer Bullets earphones, I can safely say that the Bullets 2's earbud magnets are noticeably stronger. This helps prevent earbuds from detaching accidentally and turning on, which is an issue I experienced quite a few times with the older Bullets Wireless, especially when storing it in its pouch.
Unfortunately, there is no water resistance (Ingress Protection or IP) rating for the Bullets Wireless 2. While I did not encounter any issues with the headphones coming in contact with sweat, there is no guarantee of what can happen with prolonged exposure. I would certainly advise you to avoid direct contact with water or sweat, which means you're not advised to take these earbuds for a workout.
Another issue I had with these headphones was with the inline volume control buttons which are impossible to look at when the left earbud is inside your ear. I did get accustomed to the location of the three buttons on the inline remote, but it was still hard to differentiate between them. It would have been preferable if these buttons were easily visible.
OnePlus Bullets Wireless 2 Features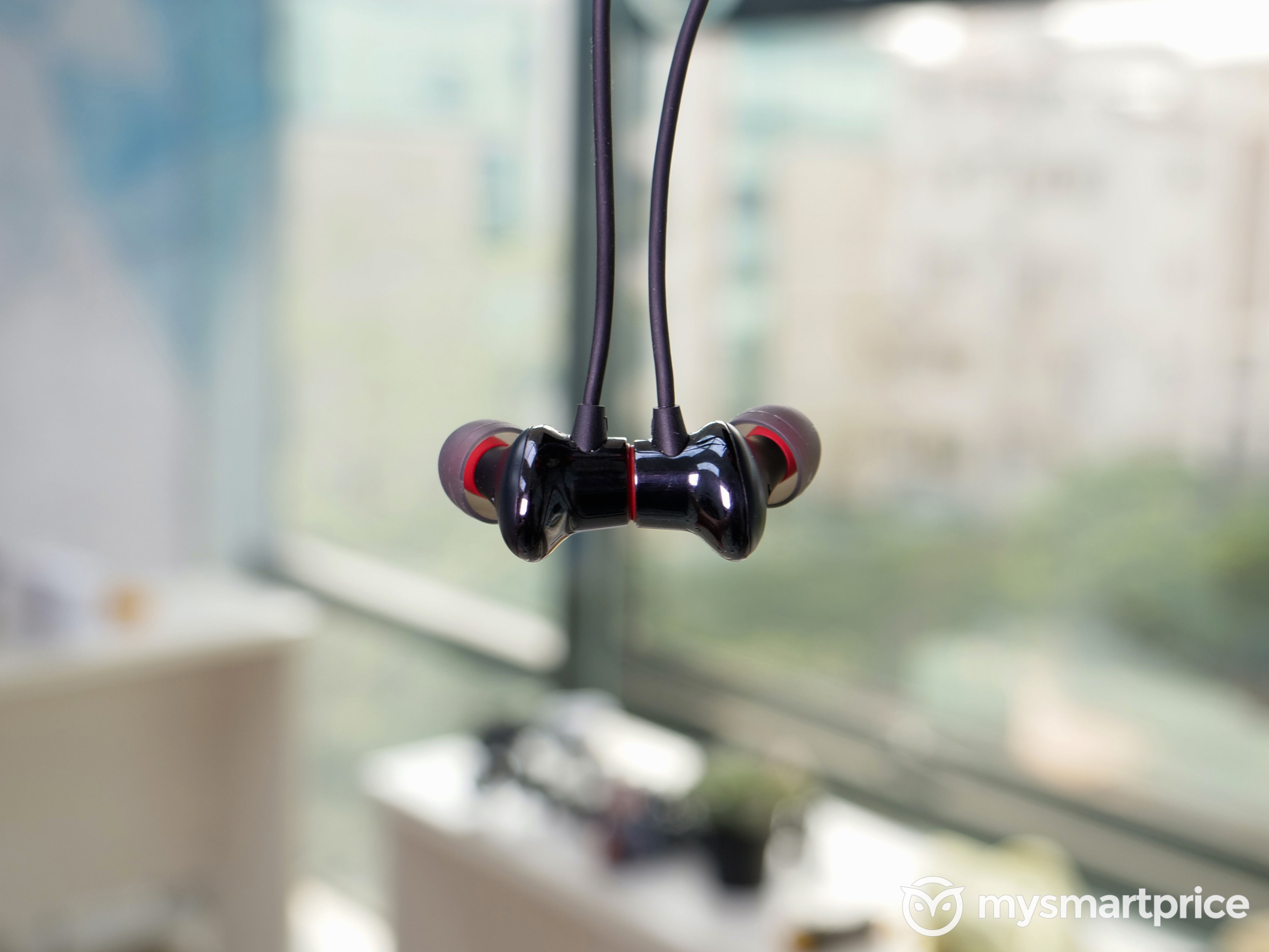 The Bullets Wireless 2 uses a hybrid-triple driver design where each earbud has two balanced armature drivers from Knowles to handle high-end (treble) and mid-range (vocals) frequencies, while a 10mm dynamic driver handles the lows (bass). The Bullets Wireless 2 offer support for Qualcomm's aptX HD Bluetooth audio codec, while the older only supported aptX. Also, the new earphones connect over Bluetooth 5.0 and can handle 24-bit Hi-Res audio, which is excellent for the price.
As mentioned earlier, the button on the left end of the neckband is for power on/off and pairing. Pairing is pretty straightforward: separate the magnetic earbuds and a supported OnePlus smartphone will push a connect notification, which is similar to how AirPods' connection request appears on iOS devices and how the Galaxy Buds request for a connection on Galaxy devices). Other smartphones require the pairing button to be pressed for a few seconds, and the Bullets Wireless 2 should pop up in your Bluetooth menu.
The Bullets Wireless 2 also offer the ability to easily switch between two paired devices with a double press of the pairing button. Once paired, the earphones turn on almost instantaneously every time you separate the magnetic earbuds. You will hear a jingle when the earphones successfully pair with a device. Then there is the three-button inline remote that offers a bunch of additional features that can be triggered with a single-press, a double-press, or a long presses.
OnePlus Bullets Wireless 2 Audio Quality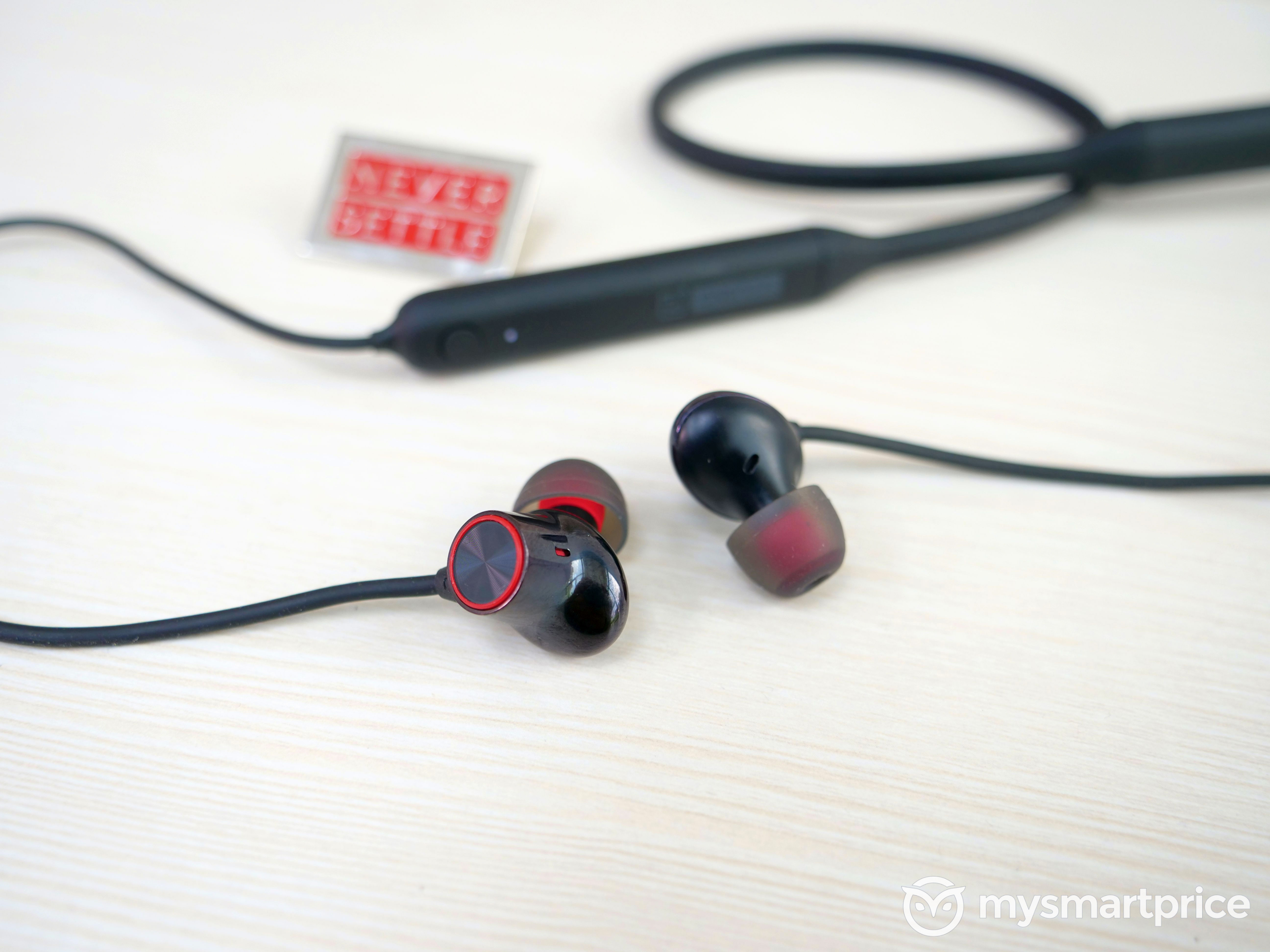 From the first moment I put on the Bullets Wireless 2, the audio quality improvements over the original Bullets were immediately perceptible. I tested out the earphones on multiple smartphones, including the Huawei P20 Pro (Review) and Samsung Galaxy S10 Plus (Review). When it comes to the call quality, I had no problems with volume and clarity on incoming calls. Those at the other end were also able to hear me reasonably well.
As for music, I should start by clarifying that the Bullets Wireless 2 are not for bassheads. OnePlus has tuned these headphones for natural sound that lends to a rather subdued response when it comes to the low-end. You won't feel the oomph that you might feel with some Sony or Bose earphones. With that said, the bass response is tight, controlled, and it has been significantly improved when compared to the first-generation Bullets Wireless earphones. I played multiple bass-heavy tracks such as Woodkid's Iron and Lindsey Stirling's Song Of The Caged Bird on both the Bullets Wireless and the Bullets Wireless 2 at full volume. While the original pair had a slightly deeper low-end response, the sound was quite muddy. Meanwhile, the Bullets Wireless 2 managed to produce cleaner audio.
It's the highs and mids where the Bullets Wireless 2 shine, though. In everything from Assassins Creed's orchestral tracks to pop songs from Sia, instrument separation is excellent, highs are crisp, and mids are well-pronounced. At full volume, the headphones do a good job at keeping distortions down, and very rarely do the highs become too harsh.
OnePlus Bullets Wireless 2 Battery Life
When it comes to battery life, I was impressed by how long the Bullets Wireless 2 managed to last on a single charge. The battery capacity hasn't been specified, but OnePlus does mention that 10 minutes of charging will get you 10 hours of use. On a full charge, the headphones are said to last 14 hours. In my experience, these claims hold mostly true. I was able to keep using the earphones for days without running out of juice. And indeed, when it came to charging them, the battery level went from 30% to 100% in less than 10 minutes with a standard QuickCharge 3.0 charger.
Should You Buy OnePlus Bullets Wireless 2?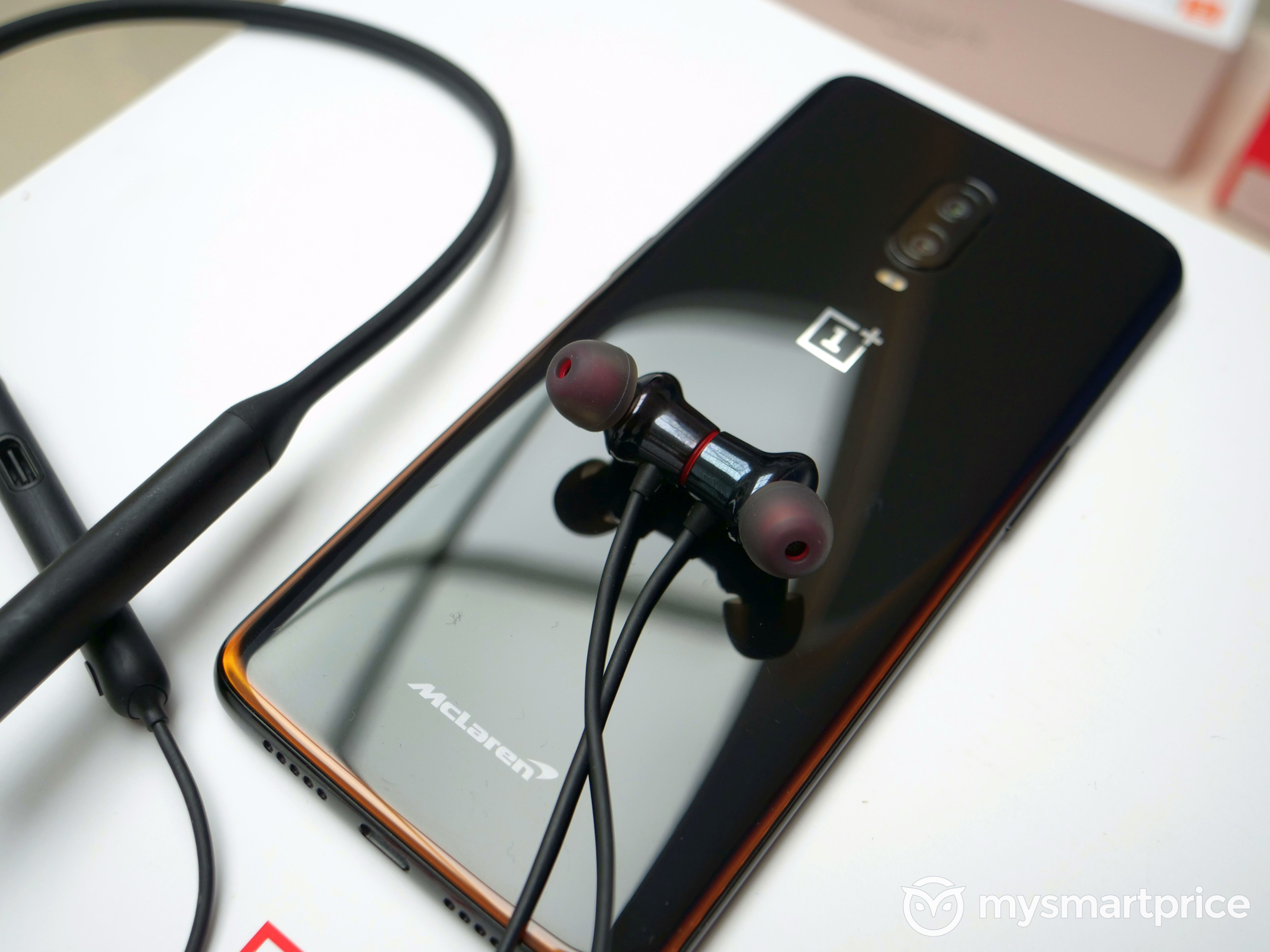 Yes, the Bullets Wireless 2 earphones are indeed worth an increase in the price over their predecessor. You get better audio quality and comfort, along with improved passive noise isolation and battery life. Although the bass response might not make everyone happy, it is hard to criticize the earphones as I think this was intentional on OnePlus' part so as to maintain a realistic audio reproduction. If you absolutely need heart-thumping bass, I would advise you to look elsewhere.
The only real issue here is the lack of an official water resistance rating which can be somewhat of a problem to those who intend to use the Bullets Wireless 2 during workouts. Also, the inline remote is a bit fiddly. With these minor gripes aside, the Bullets Wireless 2 gets a solid thumbs up from me. At INR 5,990, it succeeds and even surpasses in offering most of what one could want from an affordable pair of wireless earphones.