Highlights
OnePlus has officially acknowledged the green line issues in AMOLED displays.
The company will be providing a lifetime screen warranty to affected users.
OnePlus is also offering 70% discount coupons for new phones if repairs are not possible.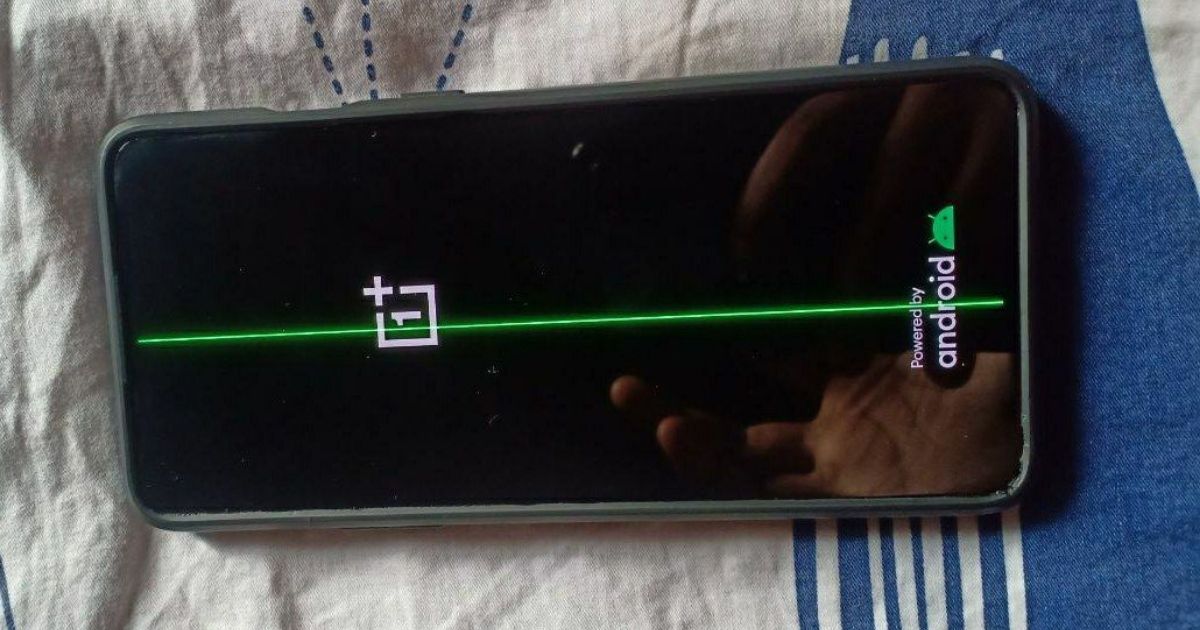 OnePlus will now provide a lifetime screen warranty for users who are affected by the green line issue. Over the last few months, smartphone users of several brands have been reporting complaints of permanent green lines on the display of their phones. The problem majorly affects devices with an AMOLED screen.
The green-line issue can be found on not just OnePlus phones but also on other brands such as Xiaomi, OPPO, Realme, Vivo, and even Apple. OnePlus is the first brand to acknowledge this problem, and the company is now providing free screen replacements for users affected by the green line issue.
OnePlus Official Statement On Green Line Issue
OnePlus has given a statement to Android Authority, where the company has announced that it will be offering free screen replacements on devices affected by the green line issue. The company has stated that this lifetime screen warranty will apply to all OnePlus phones, without any restrictions.
OnePlus says that this offer will only be valid in India. The company has not provided any details about the availability of this warranty outside of India.
OnePlus is offering discount coupons to upgrade phones
OnePlus says that it will provide free screen replacements on the latest OnePlus phones. However, the company has stated that it does have enough spare parts available for older OnePlus devices, namely the OnePlus 8T, OnePlus 9 5G, OnePlus 9R 5G, and the OnePlus 8 Pro.
In such cases, OnePlus will offer discount coupons worth Rs 20,000 to affected users. This coupon can be used on the OnePlus website to purchase any new OnePlus phone. On top of this coupon, the company will also provide an extra Rs 4500 if the user decides to upgrade to OnePlus 10R. Refer to the table below for exact details.
| | | | | | |
| --- | --- | --- | --- | --- | --- |
| Product Name | Voucher Value | 10R Bonus | Total Discount Value | Money To Be Paid By User | Discount Rate |
| OnePlus 8T | 20,000 | 4500 | 24,500 | 10,499 | 70% |
| OnePlus 9 5G | 23,500 | 4500 | 28,000 | 6,999 | 80% |
| OnePlus 9R 5G | 19,000 | 4500 | 23,500 | 11,499 | 67.14% |
| OnePlus 8 Pro | 25,500 | 4500 | 30,000 | 4,999 | 85.72% |
The above table is based on the information listed in a OnePlus Exclusive Service Centre. It was first spotted by a Telegram user @docnok63. The actual image from the service centre is attached below.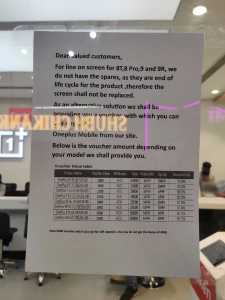 Why are AMOLED screens getting these green lines?
The green line issue is being observed in phones from almost every smartphone brand. Users, media publications, and even journalists have reached out to smartphone manufacturers to understand the root cause of this problem. However, none of the companies have an actual explanation for the green line issue.
This issue has frustrated a large set of smartphone users. The story gets even more complicated, as some users have been asked to pay for replacement screens in the past, with costs as high as Rs 15,000.
The new lifetime screen warranty scheme will surely be a sigh of relief for OnePlus users. But, this can't be considered as an end to this problem, as the user still has to visit the service centre and wait for the repairs, with no possible explanation for the origin of this issue.
We appreciate OnePlus for taking responsibility and offering replacements and discounted upgrade options to its loyal users. Other brands should also follow the same route as OnePlus, and lend a helping hand to its customers affected by the green line issue.