Highlights
The rare unboxed original iPhone broke the previous record set in February 2023.
The original iPhone was launched in 2007 by Steve Jobs.
It was released in 4GB and 8GB storage options but the 4GB model was discontinued just two months later.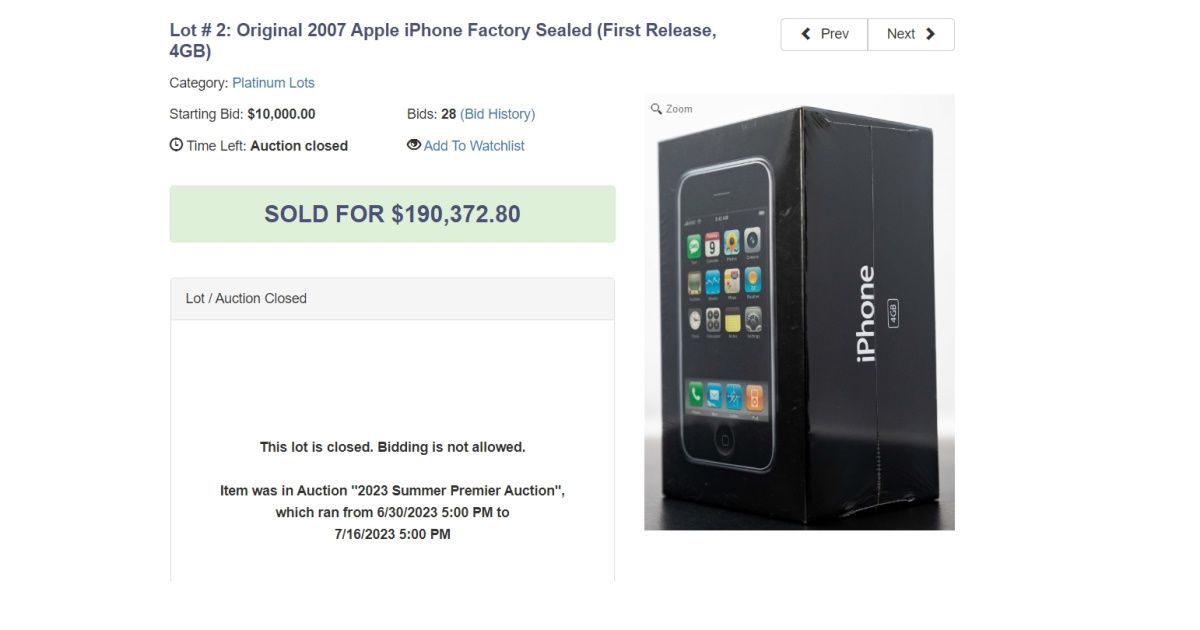 You may love or hate iPhones but you cannot deny the fact that they revamped the whole mobile phone market. This is the reason older iPhone models are in demand among tech enthusiasts and collectors in auctions. An unboxed original iPhone has just broken the record as it went under the hammer for a whopping USD 190,372.80 (about Rs 1.56 crore). The previous record was set in February this year which it surpassed by a massive 300%.
Original Unboxed iPhone Breaks the Record at Auction
LCG Auctions listed an original unboxed iPhone with 4GB storage as part of its 2023 Summer Premier Auction. It was said to be in pristine condition, factory sealed, and "virtually flawless" along the surface and edges. The auction house was expecting between USD 50,000 and USD 1,00,000 for the rare device but managed to get an astonishing USD 190,372.80. The starting bid was USD 10,000 and it received a total of 28 bids.
The original iPhone was launched in 2007 by Apple founder Steve Jobs at MacWorld in San Francisco. He introduced the world to the first iPhone by saying, "Today, Apple is going to reinvent the phone." It was seen as an ambitious claim by many at that time but as we all saw, it turned out to be the truth. The first iPhone laid out the path for the mobile phone industry and made smartphones with touchscreen displays mainstream. It was also named Time Magazine's Invention of the Year in 2007.
Apple launched the original iPhone in 4GB and 8GB storage options for USD 499 and USD 599 respectively. Since the vast majority of the buyers preferred to go for twice the storage by paying USD 100 more, Apple had to discontinue making the 4GB variant just two months later. This is the reason getting your hands on the 4GB iPhone is very rare, especially one in an unboxed condition.
The previous record was also held by a 4GB iPhone which was sold for USD 63,000 (about Rs 51,71,638) in February. The newest record amount is 300 times more and this is an increase of 380 times when compared to the launch price. An 8GB iPhone was sold for about USD 40,000 (about Rs 32,83,580) in October 2022. This shows that original iPhone models are seeing a demand among collectors.
To recall, the original iPhone was launched with a 3.5-inch display and 320 x 480 pixels resolution. It had a 2-megapixel rear camera but no selfie camera. The iPhone was packed with a 1,400mAh battery. It was first made available in 4GB and 8GB storage variants but a 16GB variant was also launched in February 2008.