Highlights
Samsung Odyssey G9 and Odyssey G7 gaming monitors are now available in India.
Both displays have a refresh rate of 240Hz and were introduced at CES 2020.
The monitor features Quantum dot technology, a 1ms reaction time, and is known to be the world's first Dual Quad High-Definition gaming monitor.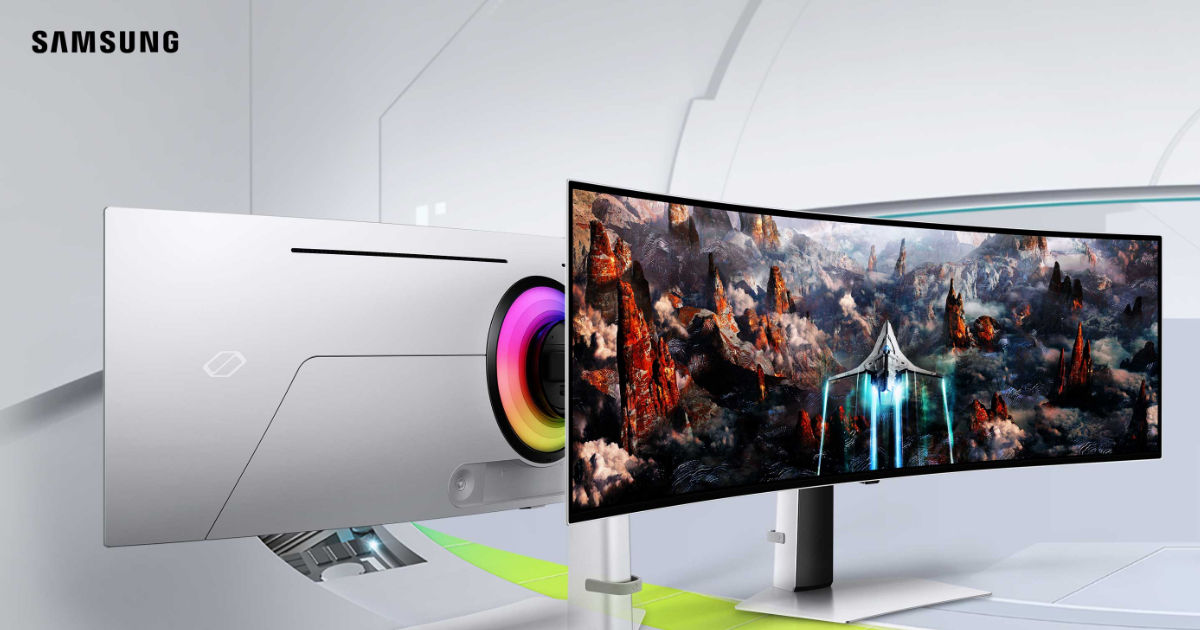 South Korea's tech giant, Samsung, India's largest consumer electronics brand, has today announced the 2023's series of Odyssey G9 OLED Gaming Monitors powered by Neo Quantum Processor Pro. The Odyssey G9 is a high-performance gaming monitor with DisplayHDR True Black 400 support.
The gaming industry has always been associated with innovation, offering players immersive experiences that push the limits of technology. In 2023, we are witnessing the emergence of high-performance gaming monitors that will push the boundaries of visual clarity, speed, and performance, significantly improving how gamers engage with their virtual worlds.
With the all-new Odyssey G9 monitors, gamers can get outstanding refresh rates alongside lightning-fast response times and low input lag. They display millions of bright colours, producing breathtaking graphics with depth and richness that can make you forget you're staring at a screen.
Also Read: Sony Accidentally Reveals Call of Duty Revenue Data and $200 Million Developments of The Last of Us 2, Horizon Forbidden West
Samsung OLED Odyssey: Price and Availability
The Samsung Odyssey G9 Monitors (49-inch screen) is available in two variants at two different prices.
Odyssey G95SC OLED (1800R Curvature) – Rs 1,99,999 Black color
Odyssey G93SC (1000R Curvature) – Rs 1,38,399
Both products are available at Samsung's official online store Samsung Shop. Gamers can also buy from Amazon and other leading retail stores. Odyssey OLED G95SC is available at no cost EMI with an instant cart discount of INR 3,500/- on major bank credit and debit cards.
Samsung Odyssey OLED G9: Specifications
Samsung's new Odyssey G9 monitors have a gigantic 1800R curvature that outmanoeuvres competitors with a spectacular 240 Hz refresh rate and 0.03 reaction time, as well as next-level AI upscaling technology that enriches every visual detail for optimised picture quality.
The Odyssey OLED G9, which measures 49-inch and has a 1800R curvature, is the first OLED display to offer Dual Quad High Definition resolution with a 32:9 ratio. The Odyssey OLED G9, which measures 49 inches and has a 1800R curvature, is the first OLED display to offer Dual Quad High Definition resolution with a 32:9 ratio.
The Samsung Odyssey G7 has a sleek, matte black design and colour-changing rear core illumination that can remain static or dim during gameplay and change colours dependent on the preferences of the player with the help of CoreSync and Core Lighting+.

Neo Quantum Processor Pro is what makes this Odyssey G9 monitor differ from other competitors in the market. It analyses images and automatically upscales to modify the needy while enhancing contrast, enabling the gadget to restore every detail and provide a spectacular output, pixel by pixel.
The Samsung Odyssey Gaming Monitor series is available in two variants which are listed below:
Odyssey G95SC OLED
Odyssey G93SC
The only thing that separates the G95SC (1800R Curvature) and G93SC (1000R Curvature) is the first variant supports Game Bar, Smart TV, IoT Hub, and Voice Assistance while the latter does not. Apart from these, both the variants share same specifications along with AMD FreeSync Premium Pro.
Also Read: Samsung Launches Game Portal, Dedicated Online Store for Gamers
MSP Gaming is the gaming arm of MySmartPrice. We are a one-stop destination for everything gaming. Join our community for regular tournaments and stay updated about the gaming ecosystem – https://bit.ly/msp_gaming_community