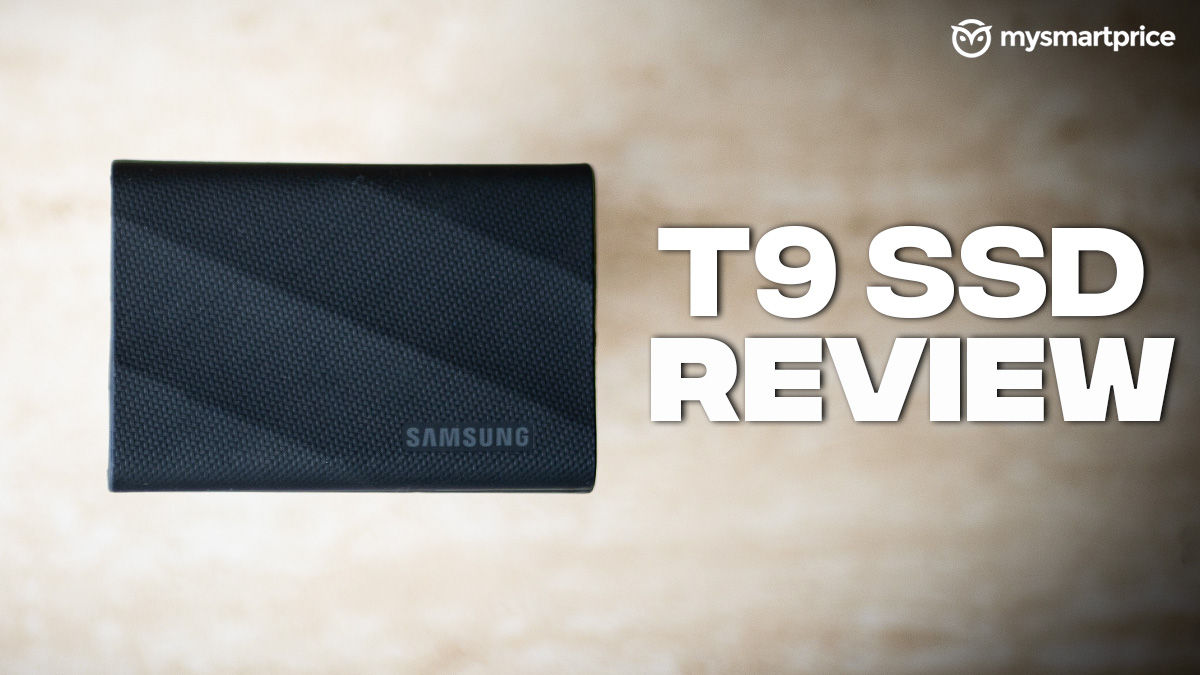 The Samsung T9 is another addition to the arsenal of flagship portable SSDs in the market. While it is particularly targeted towards professional creators, gamers and general consumers can also take advantage of the high speeds and substantial storage. The T9 promises a generational leap over the T7 SSD with double the speeds. All that is good, but only if you are blessed with the appropriate port (we will get into that later). But, at a starting price of Rs 13,890 for the 1TB variant, is the Samsung T9 Portable SSD the right choice for you? Find out in this review.
Samsung T9 Portable SSD
Rs 13,890
What Is Good?
Rugged design
Bundled USB Type-C and Type-A cables in the box
Samsung Magician software is useful
Up to 4TB capacity
Impressive transfer speeds and performance
What Is Bad?
Claimed speeds can only be achieved using a USB 3.2 Gen 2x2 port
Can be pricey
No IP rating
Samsung T9 Portable SSD: Design and build quality review
The T9 nearly matches the footprint of the T7, but is evidently thicker and heftier. The wavy rubberised outer coating is to be blamed for that, but it adds a bit of protection and helps with the grip. If you are as clumsy as me, worry not as it can withstand drops of about 3 meters. I have managed to drop it about ten times from a normal desk height, and it still works well. However, the T9 misses out on any sort of IP rating, which an adventurous videographer would surely frown upon.
The rubber coating is a great attraction for dust and debris. The petite size of the drive makes it easier to carry around in your backpack or a jeans pocket.
Capacity

1TB, 2TB, and 4TB

Interface

USB 3.2 Gen 2×2

Claimed speeds

Up to 2,000MB/s (Sequential Read/ 1TB, 2TB, 4TB)

Up to 2,000MB/s (Sequential Write / 4TB)

Up to 1,950MB/s (Sequential Write / 1TB, 2TB)

Weight

122 grams

Durability

Drop resistant up to 3 meters (9.84 feet)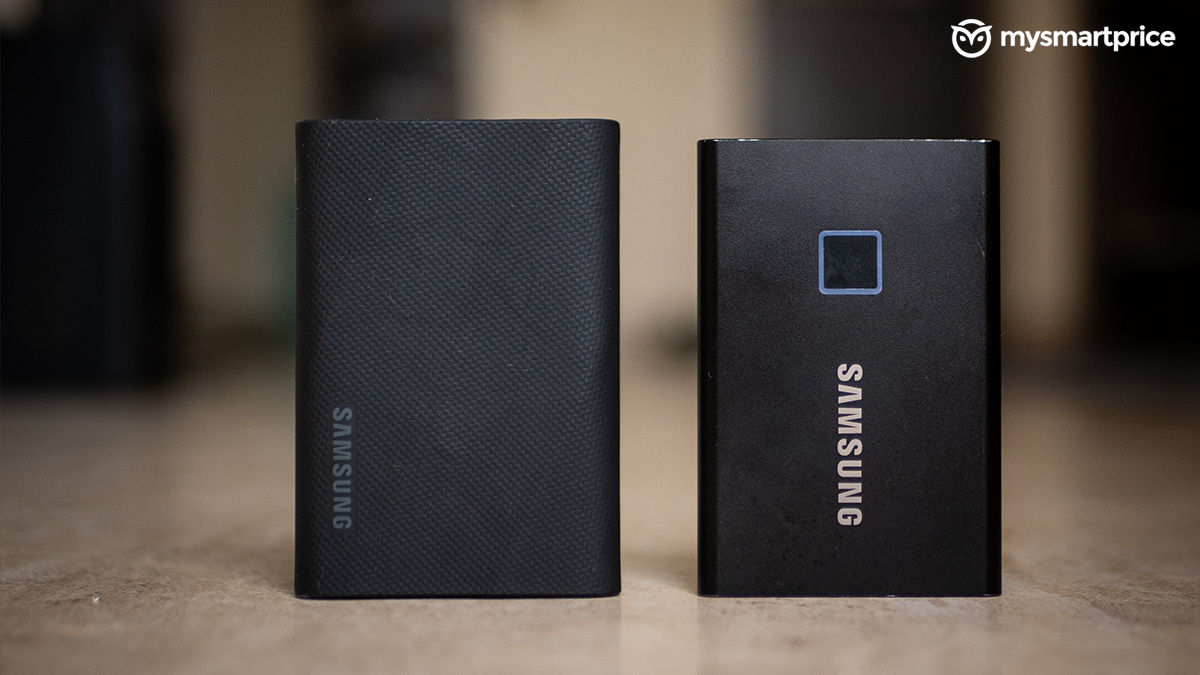 It has a USB-C port and a blue status light flanking it. The box includes both USB Type-A and Type-C cables, which is quite thoughtful. Samsung also offers five years of limited warranty on the T9. The drive is available in three storage variants, but only one colourway.
Samsung T9 Portable SSD: Performance review
The current USB 3.2 versions and nomenclature can be a bit confusing, so before getting into the nitty-gritty here's a primer to help you understand it better:
Current name

Previous name

Rated speeds

Interface support

USB 3.2 Gen 1×1

USB 3.1 Gen 1

5Gbps

USB-A, USB-C,

micro USB

USB 3.2 Gen 2×1

USB 3.1 Gen 2

10Gbps

USB-A, USB-C, micro USB

USB 3.2 Gen 1×2

USB 3.2 Gen 2

10Gbps

USB-C

USB 3.2 Gen 2×2

N/A

20Gbps

USB-C
The T9 officially supports the slightly uncommon USB 3.2 Gen 2×2 port. This means that only if your rig is blessed with one, you would be able to harness the T9's full potential.
But, thanks to backward compatibility, the SSD will still work with older standards. So, if you have a USB 3.2 Gen 2 port, the SSD will revert to Gen 2 speeds (10Gbps). Similarly, my older B450M-DS3H motherboard only supports USB 3.1 Gen 1 (first row in the table above) speeds, so the maximum transfer rates were around 3.6Gbps (450MB/s) in real-time tests.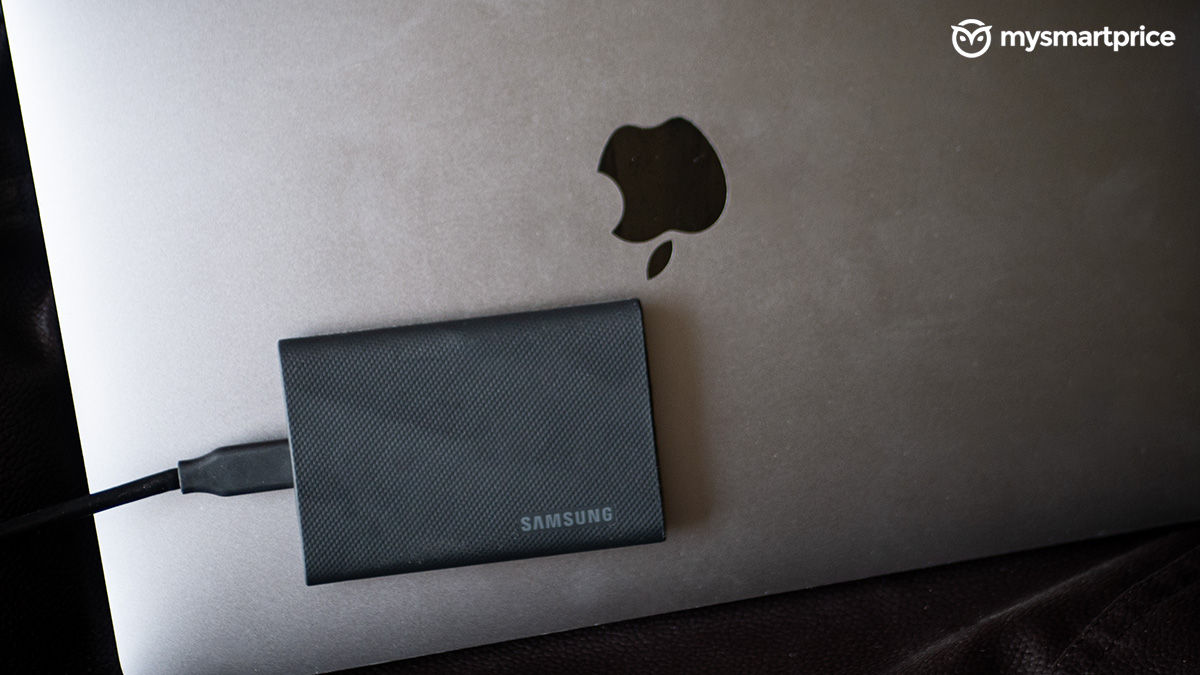 While it does not officially support the Thunderbolt interface, we were able to get respectable speeds on a MacBook.
We put the T9 SSD through multiple tests on different platforms such as a Windows PC, MacBook Pro M1 (2020), and PlayStation 5. These included benchmarks as well as real-life scenarios along with a comparison between the T7 and T9.
SSD

CrystalDiskMark (Windows)

AmorphousDiskMark (MacOS)

AJA Test (Windows)

AJA Test Lite (MacOS)

Blackmagicdesign Disk Speed Test

Samsung T9 Portable SSD

Seq Read:406MB/s

Seq Write:414MB/s

Seq Read:935MB/s

Seq Write: 751MB/s

1080p (1GB):

Seq Read: 399MB/s

Seq Write: 384MB/s

4K (64GB):

Seq Read: 416MB/s

Seq Write: 390MB/s

1080p (1GB):

Seq Read: 804MB/s

Seq Write: 384MB/s

4K (64GB):

Seq Read: 854MB/s

Seq Write: 723MB/s

Seq Read:813MB/s

Seq Write: 846MB/s

Samsung T7 Touch Portable SSD

Seq Read: 446MB/s

Seq Write:406MB/s

Seq Read: 732MB/s

Seq Write:640MB/s

1080p (1GB):

Seq Read: 411MB/s

Seq Write: 380MB/s

4K (64GB):

Seq Read: 418MB/s

Seq Write: 297MB/s

1080p (1GB):

Seq Read: 873MB/s

Seq Write: 605MB/s

4K (64GB):

Seq Read: 660MB/s

Seq Write: 394MB/s

Seq Read:665MB/s

Seq Write: 716MB/s
To help you understand these numbers better, here's what each of these individual tests mean:
CrystalDiskMark helps us get an idea of the write and read speeds on a Windows machine. Amorphous DiskMark is a similar tool but for Mac.

The AJA Lite test shows us that the T9 SSD manages much better speeds when larger video files are in use.
Finally, the BlackMagicDesign Disk Speed Test helps us gauge how the SSD performs under the pressure of different video codecs.
Both devices perform almost similarly on the Windows PC, but the T9 outperforms the T7 Touch on the Macbook.
The T9 SSD is also a great tool for console gamers. You can use it as a USB Extended Storage device to store games when you run out of space. Alan Wake (PS4) with a file size of 59GB took about 7 minutes and 30 seconds to transfer from the T9 to the PS5. However, it merely took about 3 minutes the other way around.
As for real-life tests, we transferred a bunch of files varying in size from the MacBook to the T9 SSD. It took the drive about 2 minutes and 47 seconds to transfer an entire folder of 143GB. A 4K movie file of 8.19GB roughly took 10 seconds to transfer on the MacBook, whereas the PC took about a minute. These speeds are quite fascinating indeed.
The T9 SSD comes with Samsung's Magician software which gives you a quick insight into the drive's health, temperature, performance, and more. It also helps you secure the drive and migrate data. The Magician software supports Windows, Mac, and Android.
Samsung T9 Portable SSD Review: Verdict
At its asking price, the Samsung T9 offers a durable design, good compatibility, a nice software suite, and a thoughtful inclusion of cables in the box. Moreover, the snappy speeds it provides are ideal for content creation and heavy-duty cinematography.
In fact, it is one of the best portable SSDs money can buy right now; but, only if you have a USB 3.2 Gen 2×2 port to take its full advantage. If that's the case, the T9 should definitely be in your cart, preferably the highest variant if you move around larger-than-life-sized files.
If not, the T9 is just an overpriced T7, because the compared speeds are very marginal. In this case, going for any other USB 3.2 Gen 2 portable SSD is ideal.
If you are looking for options with the same interface as the T9, the AmazonBasics SSD and HP P900 are alternatives you can consider at a cheaper price. However, you will be missing out on the rugged design and software suite.
If you want any other portable SSD, you can look at Samsung's own T7, Crucial X6, and the Sandisk Extreme.