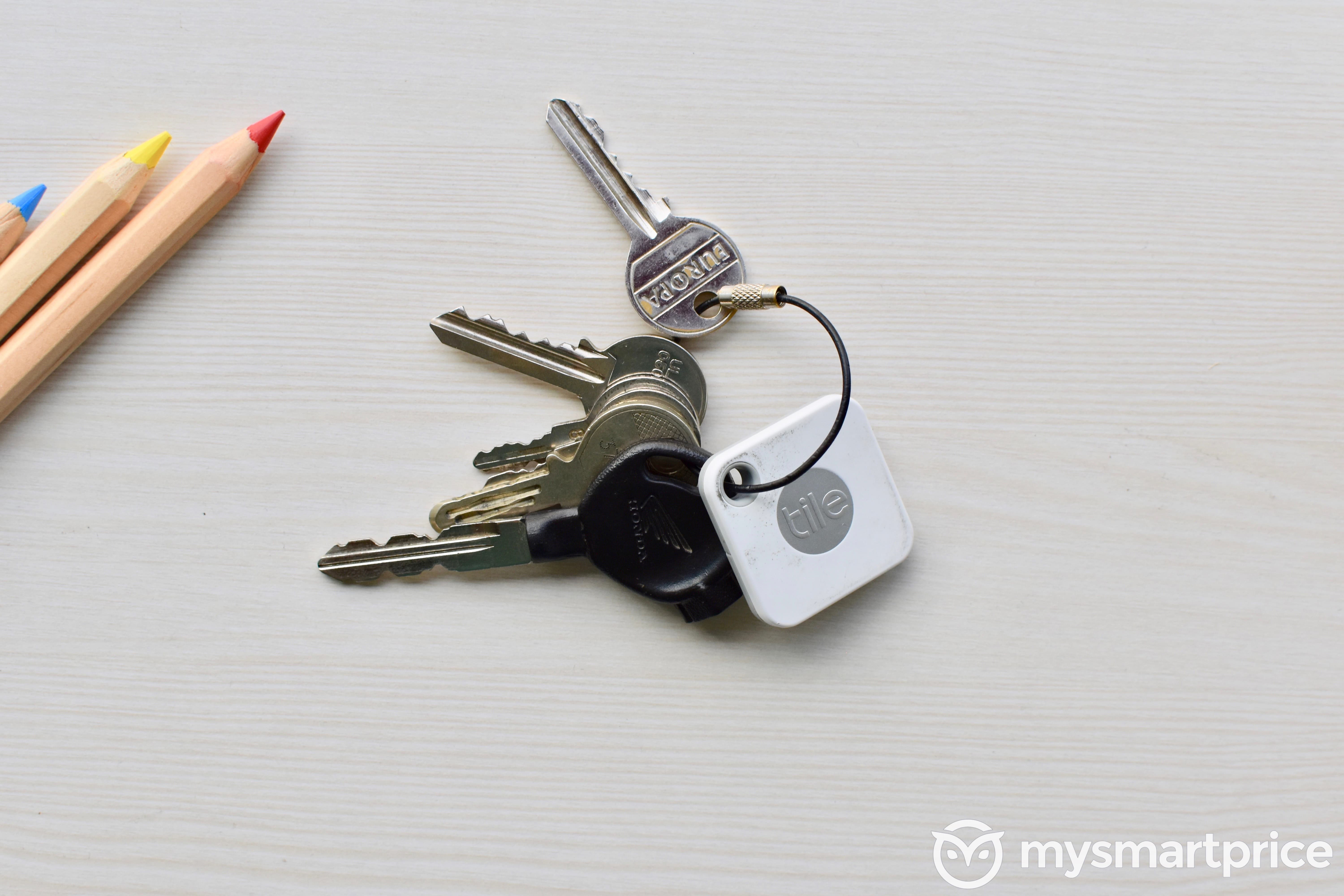 Do you frequently forget or lose things like your keys or wallet while heading out? If the answer is yes, then you should know that there's a new class of products in the market that help you in reminding and locating your stuff. Various brands have launched Bluetooth trackers that pair with your smartphone and help in locating things. Tile is the most popular brand among a sea of such products, and it has a range of products that you can buy, depending on your needs. Tile recently introduced the Tile Mate to the Indian market, and we had a chance to test it over the past few weeks.
Tile Mate Bluetooth Tracker
₹2,499
What Is Good?
Useful in finding stuff when you leave them behind.
Long Bluetooth range and decently-loud speaker.
Good battery life, easily replaceable battery.
Good app UI and ecosystem.
Alexa & Google Assistant integration.
What Is Bad?
No NFC.
No easy way to stick it to things, at least in India.
Very expensive.
[P_REVIEW post_id=166292 visual='full']
Tile Mate Design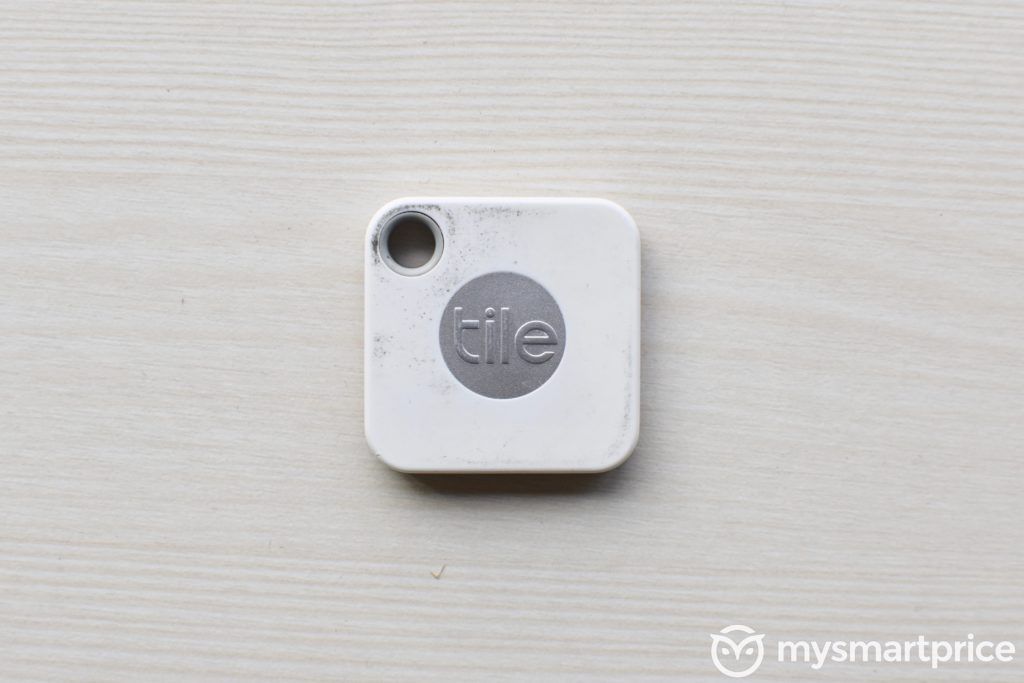 The Tile Mate is the company's mid-range product that sits between the Tile Slim ($20) and the Tile Pro ($35), but neither of these has been launched in India, yet. The Tile Mate has a plastic body with a single and easy-to-hit button on the front and the cover for replacing the battery as well as the loudspeaker on the rear. It comes only in white, measures 35mmx35mmx6.2mm, and weighs just 7 grams. It has a keychain hole on one of its corners, which makes it quite easy to attach to your keys. Thanks to its small size and lightweight design, you can also store it inside a wallet to, you know, locate your wallet. I attached the Tile Mate to my bike keys during the review period.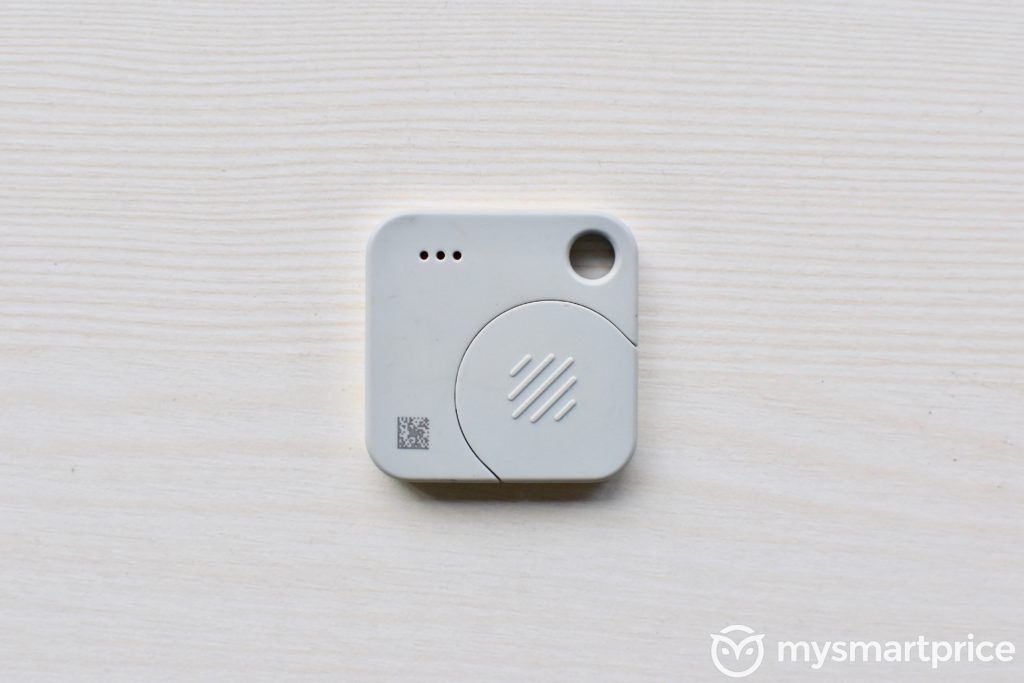 If you were planning to attach it to things like your laptop, tablet, or other things that don't have a hanger, you can't do that easily. Yes, I know, the company sells a custom-cut adhesive for $3 a pop which you can use to attach to all the things that do not have a keychain hole, but that's not available in India right now. You'll have to use a make-shift double-sided 3M tape if you want to do it yourself. The Tile Mate uses a CR1632 replaceable coin-shaped battery and it is hidden inside the battery cover that's really hard to remove. However, considering that you won't have to replace the battery frequently, it's not an issue as such. I am surprised to see that Tile hasn't used an NFC chip inside the Mate, which would've made things like pairing and registering a lot easier.
Tile Mate Setup Process & App Features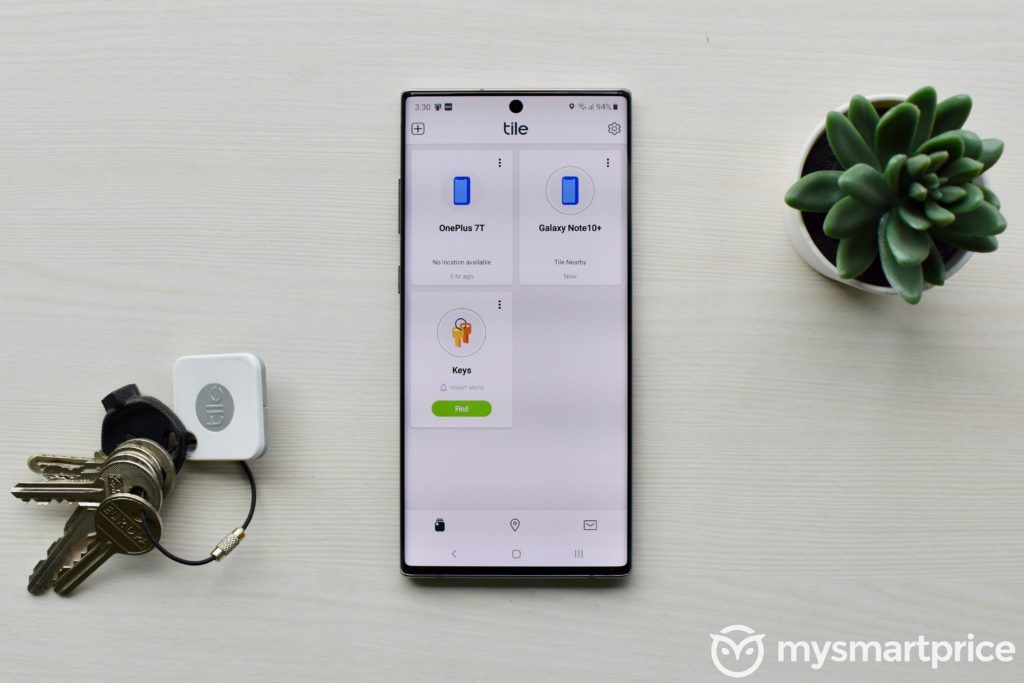 You have to download Tile's app on either Android (v6.0 or newer) or iOS (v11 or newer) smartphone with Bluetooth LE connectivity. As soon as you install and open the app, you'll be shown how to pair the Tile Mate with your phone.
Open the Tile app.
Tap the Plus button.
Choose the Tile Mate (or any other appropriate Tile product which you're using) from the list.
Click the Tile logo on the Tile Mate once. The Tile Mate will now play a tune.
Place the Tile Mate next to your phone.
The Tile Mate will then be activated in a few seconds.
Once the app is set up and the keys are registered, you can open the app and simply click the 'Find' button to find your keys. Inversely, the Tile Mate can be used to find your phone by double-clicking the Tile button on the Tile Mate. The app also shows some directionality while finding your keys in the Find menu: the closer you get to them, the more the number of circles you can see around the logo. The app uses the phone's GPS data to tag it to the Tile Mate when it is in the range, and this happens every few minutes. You can see the entire location history of your keys, labeled with addresses through the Google Maps database. You can change the ringtone of the Tile Mate and set the default volume of the loudspeaker on the device. You can choose the name of the thing that you've attached the Tile Mate to and select a logo for it.
There's a Tile Premium membership that you can buy. It offers unlimited sharing of Tiles, Smart Alerts, 30-day location history, premium customer care, and an extended warranty (three years). The company will even ship you a new battery every year. The premium membership costs Rs 220 per month.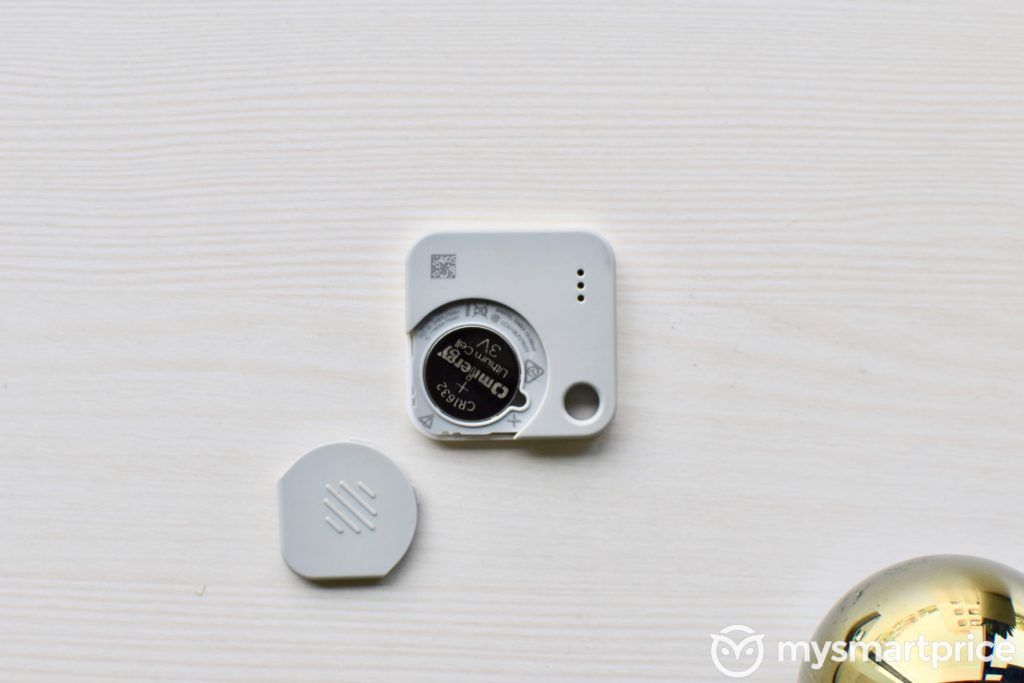 There's a 'Smart Alerts (Beta)' feature that notifies you if you've left your home or work without your keys. For this to work properly, you'll have to keep Bluetooth turned on always and make sure that your Android phone doesn't kill the app in the background. I noticed that my Galaxy Note 10+ was killing background apps, including Tile, which led to delayed notifications for Smart Alerts. The app also allows for adding places such as Home, Work, and more. You can simply choose a location by dragging a pin marker on the Google Maps view and name it as per your choice. There are also options to replace a tile, transfer a tile to someone else (maybe to your friends or family members), or hide a tile (whatever is that for?).
Even the phone is registered as a type of Tile and you can even share its location with someone else by adding their email ID or by sharing a link. The Tile app now supports a few Bluetooth wireless headphones/earphones (from Bose, Plantronics, Sennheiser, and Skullcandy), compact key organizers (from Nomad), compatible wallets (Fossil and Herschel) and technical accessories (from Nomad). Alexa and Google Assistant integration is present, too, so that you can ask them to find your Tile Mate or the phone (or any supported accessories). However, I could not find the Tile skill in the Alexa app in India. The Google Assistant integration worked well. After linking my Tile account to Google Assistant, I was able to find my phone as well as my keys using voice commands through Google Home.
Tile Mate Performance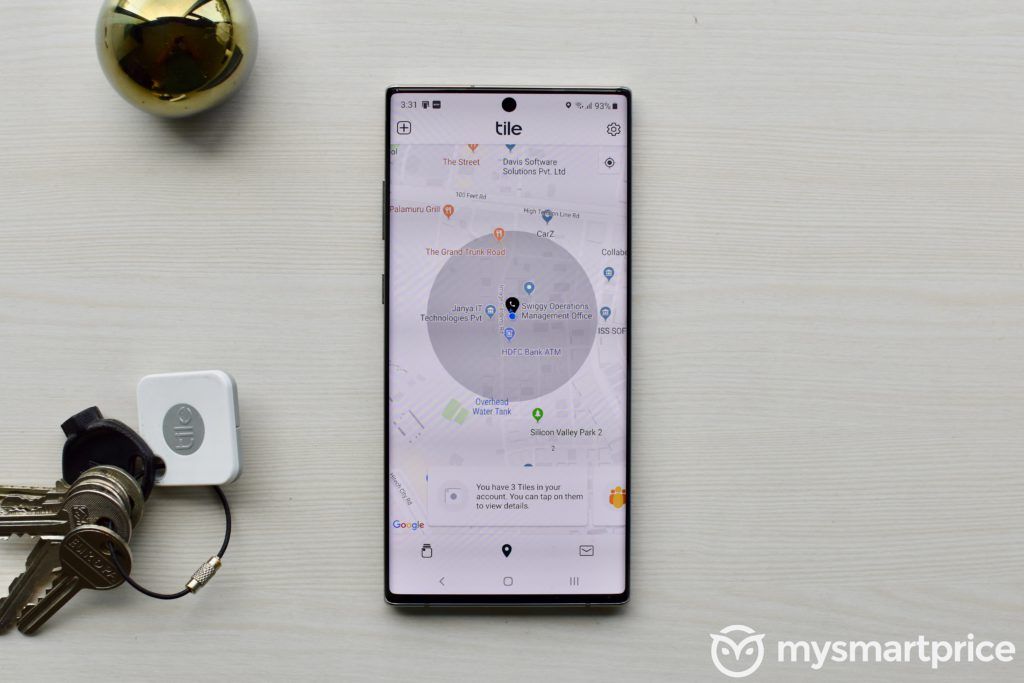 Coming to the performance of the Tile Mate, it only needs to do a few things right. It must have a good Bluetooth range, have a rugged body, and a loud-sounding loudspeaker, and the Tile Mate has all these features. It is IP55-rated, too, for dust and water splash-resistance. The Mate's range is quoted to be around 150 feet, and I was able to locate it from any corner of my 3BHK apartment (which is around 1300 sq. ft.). The loudspeaker sounded loud, too. There's no way to see the remaining battery capacity of the Tile Mate, though, something that would've been really useful.
Is The Tile Mate Worth Buying?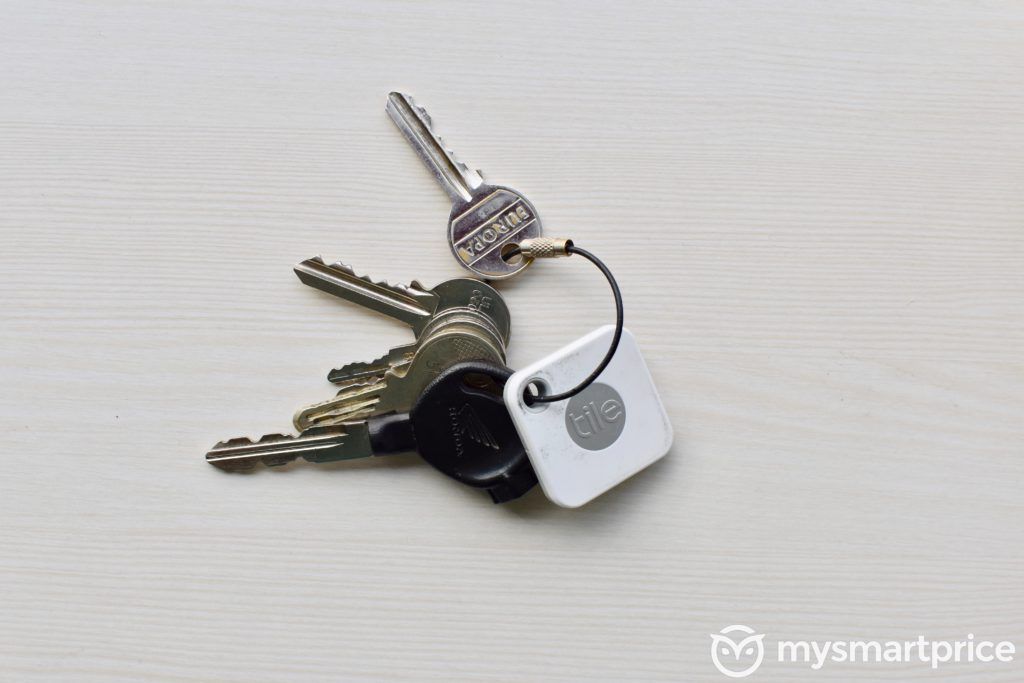 The Tile Mate has a handy size, rugged body, good Bluetooth range, a good app, and a nice ecosystem. It even features Alexa and Google Assistant integration. If you lose your things attached to the Tile Mate, you can get it registered as lost and the community members will help you find it. It is one of the most feature-rich and nicest trackers in the market. However, it all comes down to the pricing. At Rs 2,499, I think that the Tile Mate is really expensive for a Bluetooth tracker. At this price, the company should've bundled a lifetime premium subscription. The company might not find many takers in India with its pricing. You can find similar trackers through AliExpress at less than half the price.