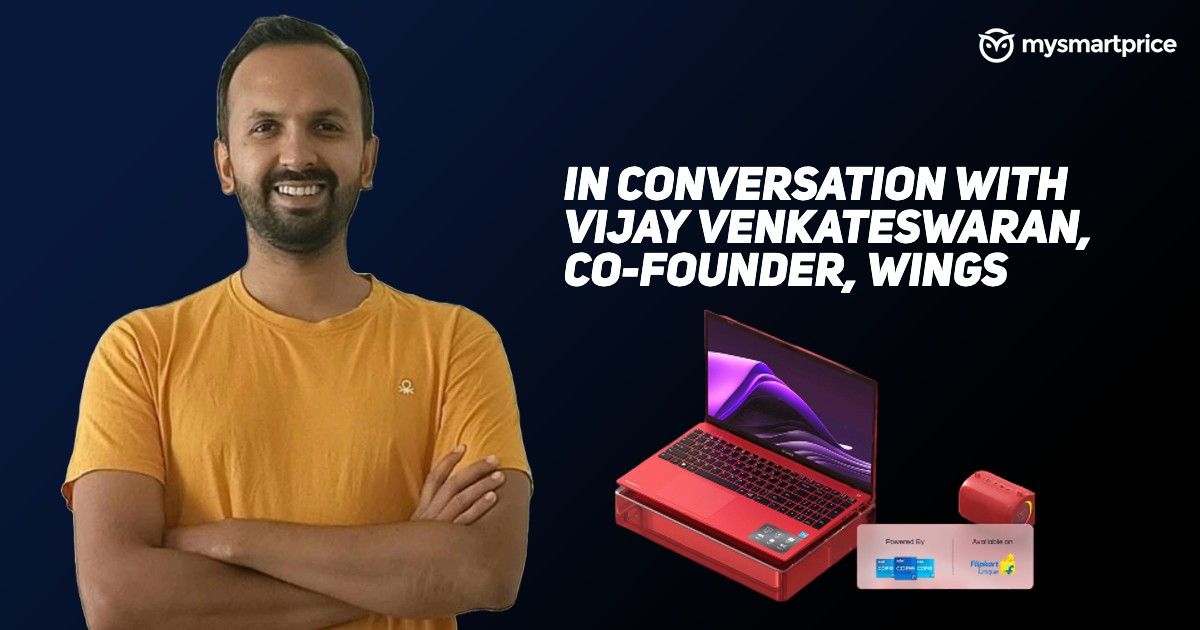 Wings is a popular audio manufacturer in India that has an extensive range of products including wireless earbuds, mobile accessories, smartwatches, and more. However, the brand recently announced that it has entered the laptop segment with the launch of its new Wings Nuvobook laptop series that promises a value-for-money proposition to customers.
The Wings laptops start at a price point of Rs 27,990 and goes up to Rs 47,990. With this, Wings is all set to make some tremors in the crowded laptop segment by pitching itself as a brand that caters to Gen Z and Millennials. This is not it, the brand is committed to launching Made-in-India laptops that cater to different segments, including gaming and productivity. Moreover, the brand is also planning to implement an extensive network of customer care service centres that will help users quickly resolve any problem.
So, how exactly does the roadmap of Wings laptops look and how is the brand planning to stand out in the markwt? We got the chance to interact with Vijay Venkateswaran, co-founder of Wings Lifestyle, to understand this and more. Here are some of the edited excerpts.
1. Wings is venturing into the laptop segment. Could you share your thought process to enter this category and not any other segment such as smart TVs, after earphones and smartwatches?
The idea of entering into the laptop segment came to us in a meeting last December. We were basically identifying newer categories to expand into so that we can appeal to the larger audience as a generic consumer electronics brand. And that is why we decided to launch into lifestyle earbuds, Bluetooth speakers, sound bars, smartwatches, mobile accessories like powerbanks, cables, chargers, and things like that. So laptops were one additional category that we were looking at, primarily to target the same user base.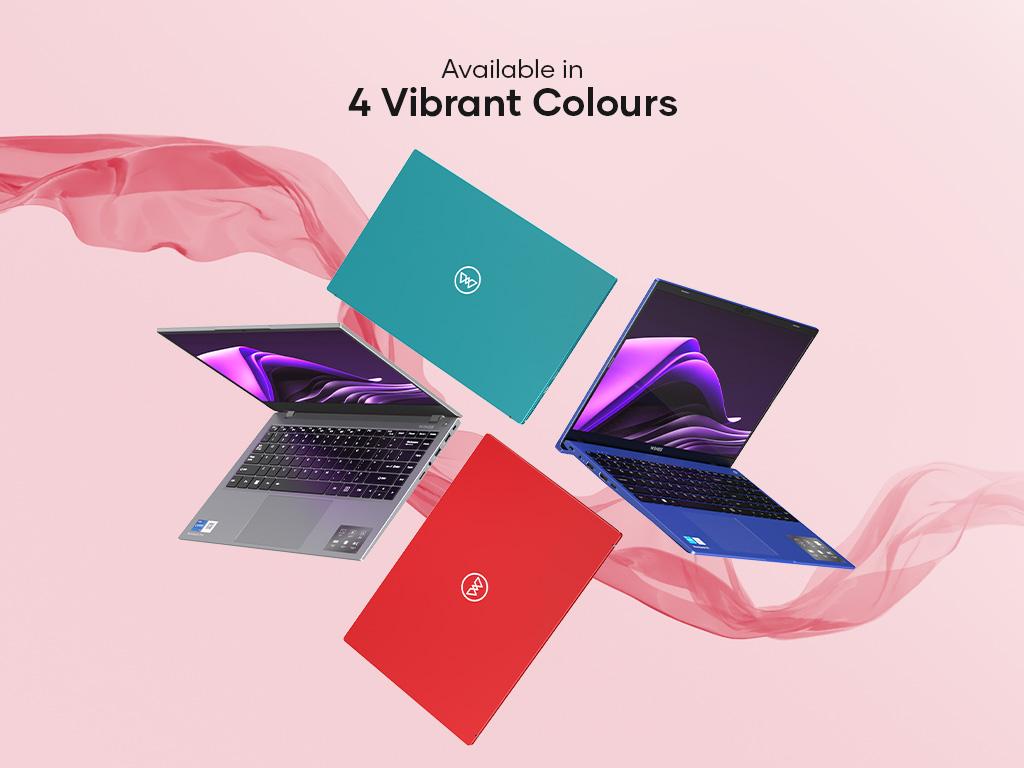 Essentially, our focus towards Gen Z and millennials has not changed, right? Because our gaming audience we realised is largely 18 to 25-year-olds. So we decided to launch more categories, while still remaining relevant to this particular cohort of customers. Laptops are something that we kind of chanced upon and realised is a huge whitespace, so we did our research. And that is why we decided to kind of take a plunge.
2. When did the idea of launching Wings laptop start? Does the Indian government's recent ban on laptop imports have to do anything with it?
No, not at all. So firstly, we started off back in January, as I said above. A lot of groundwork has happened since our first meeting regarding laptops. This has actually nothing to do with the latest government ban that had happened. Because when we kind of decided to get into the space, we were quite clear that we wanted to do it as make in India to begin with.
And our friends at Intel were kind of firm believers in this as well, which gave us a lot more confidence. That said, this initial lot of items that we're launching with, unfortunately, we weren't able to turn it around and make them in India because of time constraints as we want to launch it before the Diwali. But we were anyway planning this and our Indian factories have already been aligned. And all of the laptops post Diwali will 100% be made in India.
3. Could you share some details about the Wings Nuvobook laptops beyond their specifications? What can consumers expect in terms of user experience? 
There were two or three whitespaces that we identified. The first obviously is a little bit more vibrancy in terms of designs. Since we're targeting typical college-going students or someone who's probably in their first job, right, so typically 18 to 25 age group is the sweet spot. We also realised that existing incumbent brands don't really have that pop culture appeal in terms of the product designs, that's something that we were very keen on.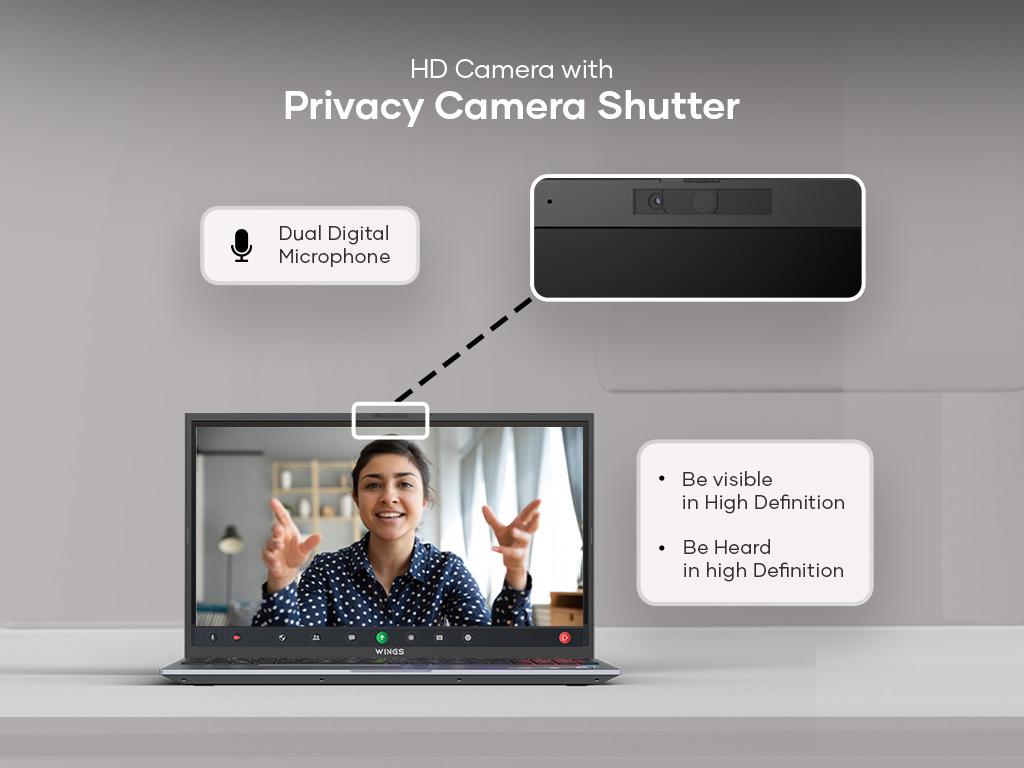 Secondly, you have to understand the segment that we'll be playing in. The sub-15k to 20k segment is largely driven by Celeron processors. So, we were clear that we didn't want to target that because we felt that at least Intel Core i3 is the bare minimum that our target audience would want.
So our focus was quite clear in terms of using the Intel Core i3, Core i5, and Core i7 to begin with. Apart from that, we are able to kind of offer a lot of value at a fantastic price, compared to what the existing international brands are offering. And the way this has also been achieved in case a lot of people will be wondering is primarily a lot of support from Intel and of course the Make-in-India initiative.
We have a large part of the cost of the laptop is actually driven by the processor itself. So, because we have such a close tie-up with Intel, we are getting certain price benefits there. Apart from that, the kind of performance and build-related features the consumer really looks for, those will be there too.
So all of them would feature thin and lightweight aluminium alloy body and full HD resolution, among others. There will be two variants on offer – one is the i3, available on the Wings Nuvobook S1 and the i5 variant is known as V1 and V2. And then there's a NuvoBook Pro, which comes with Core i7, a backlit keyboard, and many more flagship specs So I think all in all, it kind of packs everything our cohort is looking for in terms of aesthetics, design, and performance.
4. The laptop segment is dominated by traditional players like Asus, HP, Lenovo, and more. How do you plan to stand out from the competition?
As I said, design or style in terms of colours and pop culture, look and feel of the products, and of course, price is definitely a big factor. We will also be positioning the products as something that is a lifestyle accessory, and those will be possibly.released at a later stage. We will team up with different laptop sleeve manufacturers to create designer sleeves, laptop bags, and more for our product lineup too.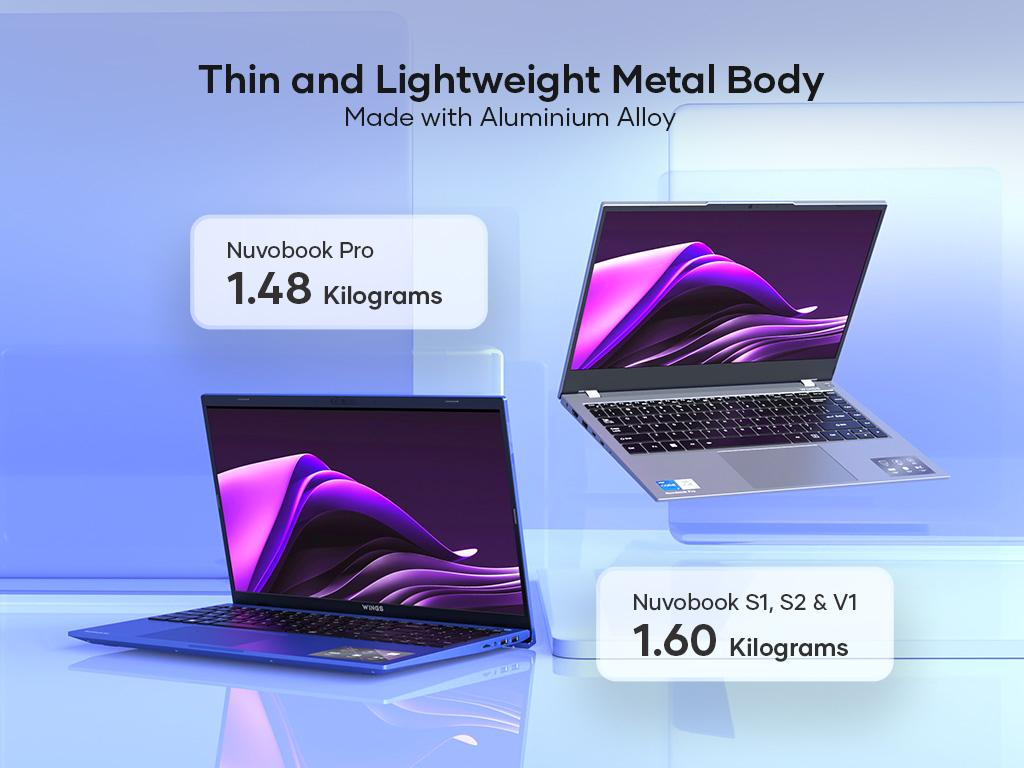 We want to position Wings as a lifestyle brand. Because I think that is something that has to be done in the laptop space. Because if you look at the traditional players, all of them are known as tech brands, right? That's something that we're looking to change.
5. Considering laptops are a higher-ticket product as compared to mobile accessories which can also be an impulse purchase, what's your marketing strategy for Wings Nuvobook laptops?
So we broadly identified two or three different types of audiences. One is obviously we'll be launching exclusively on Flipkart. So a large part of the audience will be customers who are been looking out for a laptop in the last six months and haven't purchased it, right? That becomes one very low-hanging fruit.
Secondly, we have a customer base of over a million customers for our audio products. We have actually run a bit of surveys and identified that almost 60% of them actually are potential customers, wherein they may have purchased the Wings earbuds they have bought from us over the last four years. But at the end of the day, 60% of those customers either have already bought a laptop in the past three, or four years.
Even if someone purchased it three years or four years ago, laptops today have a three to four-year refresh cycle anyway. So that becomes the second segment. We feel that customers who purchased our earbuds, anyway have a sense of trust and relationship with the brand.
And I think the third one is actually the part that we're looking to unlock, which we feel is essentially new customers who have never, who would never purchase a laptop never even thought of purchasing a laptop: this will definitely be a Tier II or Tier III audience.
6. How do you plan to position your products in the market? Will it be more on affordable lines or dedicated to niche audiences like gaming, video editing, etc.?
We are definitely going to be launching many more series of laptops over the next six months. We will be getting into gaming and touchscreen segments which are higher price points, and that work is already underway. But if I look at just the NuvoBook series to start with, that segment is essentially going to be marketed towards 18 to 25-year-old college students.
We are essentially positioning and packaging this as something which essentially is an everyday accessory where all of your daily activity can be done on this laptop Things like daily gaming, VR entertainment, excel work and assignments and emails, or even coding or even basic amounts of video editing and graphic designing.
So that's where we're calling it as built for everything that's essentially the campaign with which we're launching for our debut laptops. That is how we are positioning and marketing this product as you're all in one sort of product for anyone who's that.
7. One of the biggest questions that customers have in mind is about the after-sale support, especially for laptops as people buy them for long-term usage. How do you plan to tackle this?
This is a very relevant question. And I think that's something that was the crux of our discussions, right, since day one, when we decided to enter into this space. As important as the product was, we realised that having a stable and expansive after-sales customer service network in India, servicing multiple PIN codes, and having penetration was absolutely critical.
This is something that we started working on pretty much since January, and we are proud to say that we've set up an expansive after sales customer service network of almost 350 service centres, which will be live this month. This network will be serving almost 15,000+ PIN codes.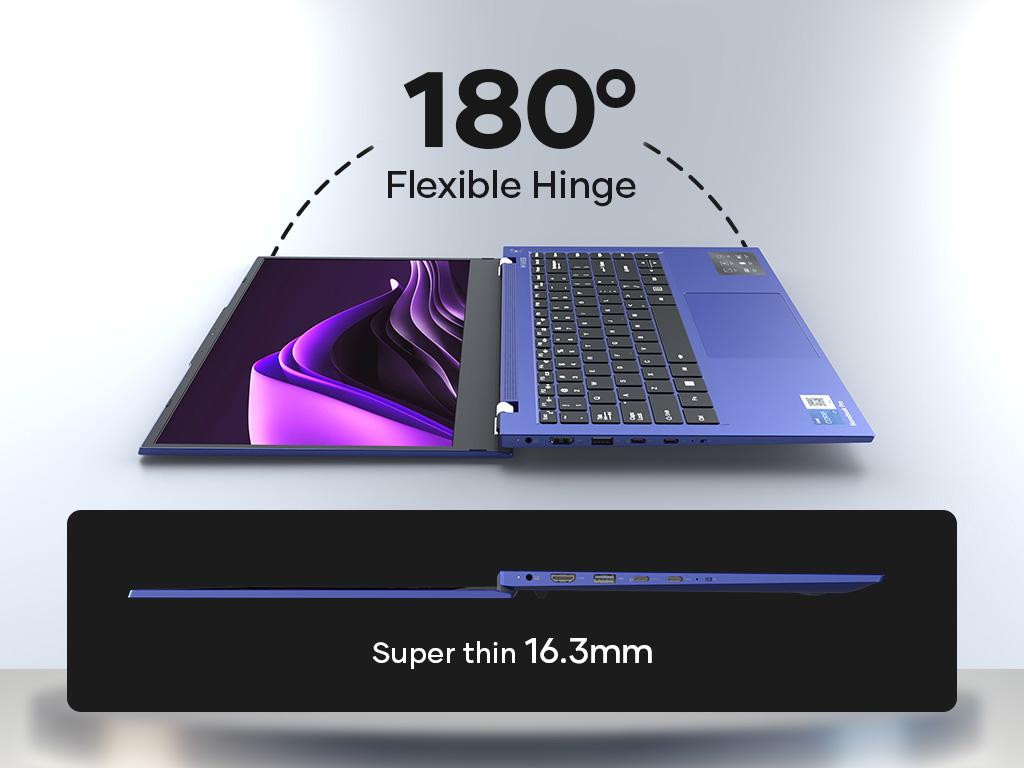 And how this will be serviced is we kind of did our research and, and learned a lot from the processes of existing brands who are catering in laptops or even mobiles or even televisions for that matter. And that is essentially on-site visits. If a customer has an issue, I think the first step would be for them to raise a ticket on our website.
And if the problem can be resolved on call, then great, but if not, then we would actually be sending one of our technicians to their doorstep to actually service it on-site, right, via the software or a hardware issue. Obviously, if there are hardware issues, we can provide a replacement for the components at a nominal cost. We are trying to ensure a very seamless aftersales experience which is similar to what something like Samsung or an Apple would do, and I'm very confident to say that we have been able to achieve that in the last year.