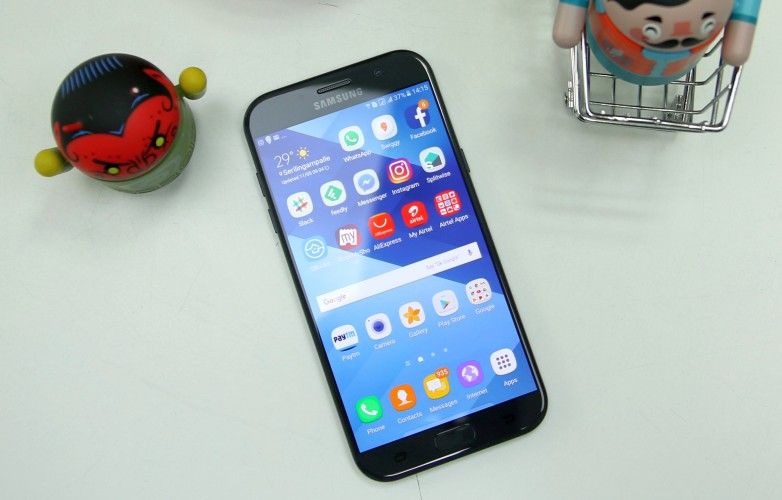 Samsung sure has come a long way. From copying Apple's offerings to becoming the industry leader in design and build quality, the Korean electronics giant may have surpassed Apple in the smartphone game, but that logic only truly applies to its flagship smartphones. In the mid-range mobile space, it's an uphill battle against a host of players that outmatch Samsung when it comes to specifications and value for money. If you're wondering what I'm hinting at, it's the king of the mid-range smartphones – the OnePlus 3T. I can tell you at the outset that the Samsung Galaxy A7 (2017) is no match for this Chinese mid-range king despite its ₹33,490 price tag.
Samsung Galaxy A7 (2017)
Rs 33,490
Design and Build Quality
10.0/10
What Is Good?
Looks gorgeous
Excellent build quality
Waterproof
Samsung Pay
Good battery life
Terrific AMOLED screen
What Is Bad?
Spotty performance
Expensive
Mediocre camera
Lacks Nougat out of the box
That doesn't come as a surprise since Samsung isn't exactly known for offering good value for money in the mid-range and low-end segments. The Galaxy A7 is no different with its 3GB of RAM and the sort of SoC you'd generally find in phones costing half as much. However, comparing a behemoth like Samsung with a lean operation such OnePlus is quite unfair. You see, Samsung phones are are expensive because each unit produced is burdened with greater overheads for R&D, marketing, and maintaining brick-and-mortar retail outlets as well as traditional offline sales route.
Given these factors, it's not just hard but nigh impossible for Samsung to match its Chinese competitors, especially in terms of features and value for money. I might sound hard to believe, but an overwhelmingly large number of consumers are susceptible to marketing and are a lot more brand conscious. Apart from phone geeks, a vast majority of "normals" that don't care about SoCs and megapixels nevertheless prefer Samsung for its brand value. So if you're the kind who values hardware specifications over brand appeal, you're obviously better off with the OnePlus 3Ts of the world.
However, if you're willing to overlook that in favour of brand value and after-sales support, then the Samsung Galaxy A7 (2017) becomes a viable contender for your hard-earned money. Let's find out if Samsung has played its cards right with the Galaxy A7 (2017).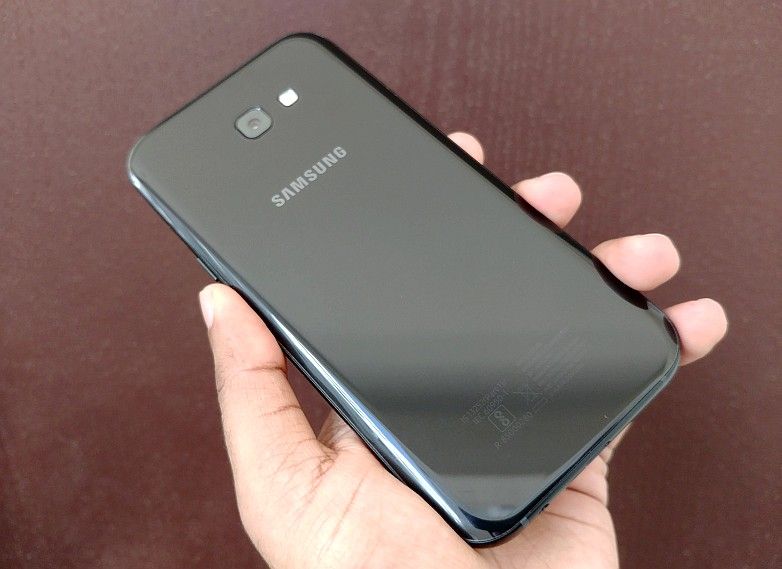 Samsung Galaxy A7 (2017): Design and Build Quality
One look at the phone and that's good enough to assure you that Samsung knows what it's doing in this segment. While it cannot match the OnePlus 3T in terms of specifications, the Korean smartphone maker has made the wise choice of reinforcing its image as a premium phone maker through the design of the third iteration of the Galaxy A7.
Moving from the Galaxy C9 Pro, I couldn't help but notice how gorgeous the Galaxy A7 looks in comparison. Mind you, I don't mean to say that the Galaxy A7 doesn't look great on its own. Borrowing design cues from the more expensive Samsung Galaxy S7, the Galaxy A7 inherits the same impressive curves moulded into the hard anodised aluminium frame sandwiched between two plates of curved Corning Gorilla Glass 4. The phone may not have expensive hardware under the hood, but the exterior wouldn't look out of place on a flagship phone.
The phone measures in at a manageable 6×3 inches despite a 5.7-inch display thanks to a great screen-to-body ratio of 73.6 percent. Combine this with its 186 grams of heft, and the Galaxy A7 leads to a sort of visual dissonance, wherein the phone looks delicate owing to its glass-ensconced design, yet feels brutishly tough due to its sheer heft. The Gorilla Glass 4 fascias tend to be fingerprint magnets, especially on the all-black review unit, but you won't see me complaining considering how gorgeous the phone looks.
The 5.7-inch phone obviously isn't designed to be used one-handed, and that's apparent from the button placement that's optimised for two-handed usage. The discrete volume buttons conveniently fall within the reach of the thumb when the phone is held in the left hand, with the power button on the other side being easily accessible to the index finger. The Home button at the bottom doubles up as a fingerprint sensor, which is pretty fast as well as accurate and doesn't even require you to press the Home button to wake up the phone.
Although the button sits flush with the rest of the front fascia, it's demarcated both visually and by touch by the means of an embossed ridge encircling it. I'm genuinely glad that Samsung stayed away from horrible chrome lining. In fact, even the Samsung logos on either fascias are tastefully printed in grey so they don't stand out and detract from the phone's sleek black design theme. Even the grey antenna lines are grey and inconspicuous.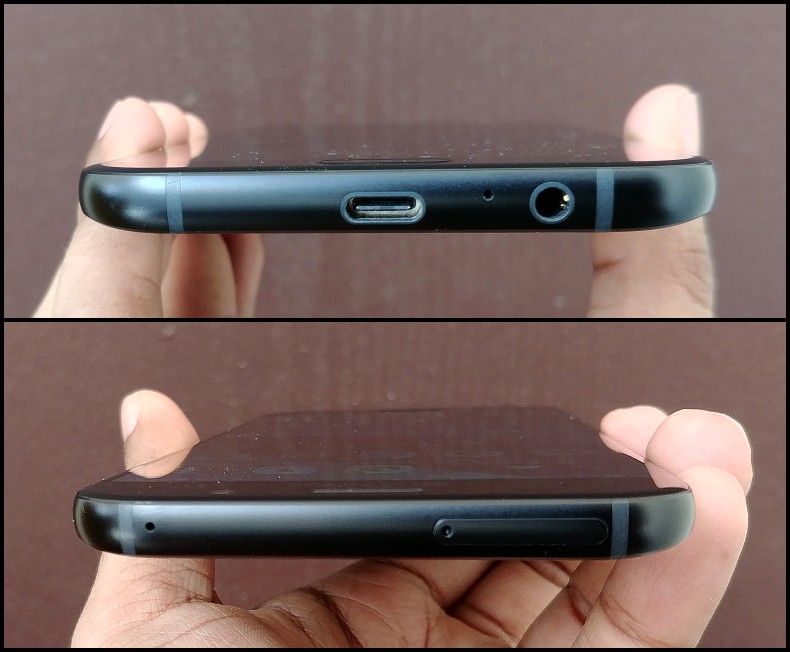 The physical home button is flanked by two backlit capacitive buttons for the multitasking pane and back functions. The bottom edge holds the 3.5mm headphone jack, USB Type-C port, and microphone. The tastefully-machined speaker grille is placed next to the power button on the right-hand side and doesn't get occluded by your finger no matter how the phone is oriented. The monaural speaker isn't loud, but it sounds great for an inbuilt speaker. The top edge houses a SIM tray and a secondary mic for noise cancellation.
There's another SIM tray on the left-hand side, which exclusively houses the primary SIM, whereas the one on the top edge is meant for the secondary SIM as well as the microSD expansion card. This is a great setup, because you don't end up losing network signal and hence missing calls even when you're inserting/changing the secondary SIM or removing/installing a microSD card.
Until now, you had to spend big bucks on flagship smartphones to enjoy water resistance. The Samsung Galaxy A7, however, breaks the mould by offering this sort of protection at this price point. What's more, even as the Google Pixel lacks any degree or waterproofing and the iPhone 7 sports an IP67 rating, the Galaxy A7 boasts of a better water resistance rating of IP68 for a much lower price. With a water resistance certification that's just one point shy of the highest possible rating, the phone can practically withstand (fresh) water to a depth of up to 1.5 metres for 30 minutes.
In practical terms, although you can't take the phone swimming for extended duration, it can still resist showers and even a dunk in a bucket of water, or a puddle for that matter. Considering the number of sheer phones people lose to water damage, this is a welcome addition in the Galaxy A7. Here's hoping this phone sets a precedent and prompts other smartphone manufacturers to make waterproof phones in this segment.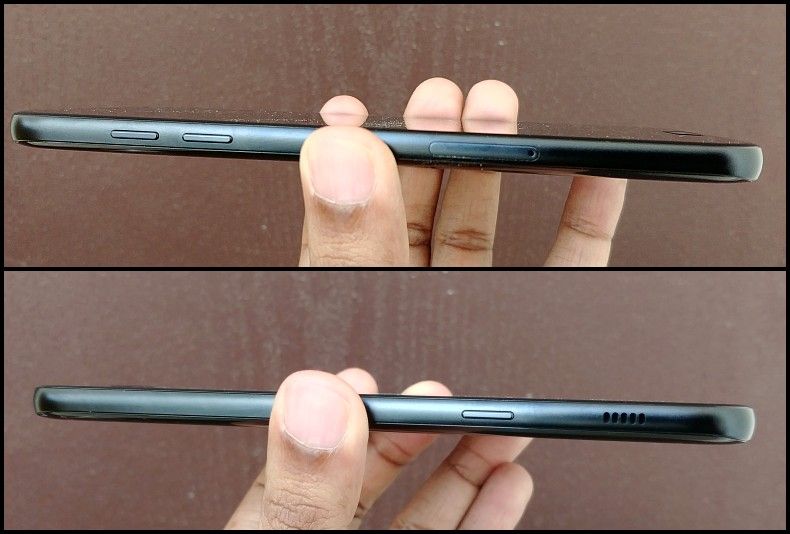 Samsung Galaxy A7 (2017): Hardware, Connectivity, and Performance
The Galaxy A7 carries the Exynos 7880 octa-core chipset, which features eight ARM Cortex-A53 efficiency cores clocekd at 1.9GHz. This and the 14nm FinFET fabrication of the SoC means that this phone is geared more towards efficiency and battery life than squarely on performance. This is well reflected in the Antutu score of 47,673, which isn't impressive considering the price you're paying for the phone. The presence of eight cores, as opposed to four cores on more powerful chipsets such as the Snapdragon 820 allows it to score a decent 3700 points in the Geekbench multi-core test, which puts it pretty close to more powerful phones – at least in benchmarks. However, what matters the most in real-world conditions is the single core performance. The Galaxy A7 scores a rather modest 762 points on the Geekbench's single-core benchmark.
Although the Galaxy A7's Exynos 7880 competes with the Snapdragon 625, the latter has definitely been optimised a lot better. While the phone may not look all that bad in benchmarks, this lack of optimisation is frankly quite evident in real world usage. While the UI is smooth most of the times, the phone sporadically tends to lag and stutter when either a number of heavy apps are opened or the storage is being accessed. A considerable amount of lag is also evident when waking up the phone with too many apps open; even when the fingerprint sensor isn't to blame.
While the Facebook Android app is notoriously impossible to run smooth on any hardware, I noticed that the Galaxy A7 performed poorly compared to other similarly specced Snapdragon 625-equipped phones I had used. Having said that, these issues aren't consistent and pop in and out too infrequently for most users to notice. Most of the time, the phone navigates through the apps and interface with a lot of smoothness and refinement.
Samsung's decision to include 3GB of RAM — as opposed to 4GB — at this price range seems questionable, but it doesn't impact regular usage all that much. While you will find that switching between apps takes a bit longer, especially when you have a lot of those open, the Galaxy A7's reduced memory didn't cause conspicuous issues. That is, until I moved on from testing heavy video-streaming apps and instead switched to HTML5-based video streaming websites on the mobile browser. This is where the Exynos 7880's flaws were laid bare open. More often than not, I'd find that the websites and the browser would catastrophically crash or be rendered frozen for long periods of time. I encountered similar slowdowns when accessing heavy apps such as Google Maps while streaming music in the background, which is something an average user would invariably do while driving. Thankfully, the phone would become inoperable only when running HTML5-based video streaming from the browser.
On the bright side, the Mali-T830MP3 GPU is quite capable of handling demanding games at smooth framerates. Both Asphalt Airborne 8 and Modern Combat 5 ran without any issues on the phone. In fact, these games were a treat to play on the phone's brilliant AMOLED screen. The connectivity department is pretty well sorted with support for dual-band Wi-Fi 802.11ac standard, Bluetooth 4.2, and clean network connectivity as well as 4G internet that worked flawlessly throughout the course of the review. The GPS is quick to acquire a lock on satellites and didn't disappoint on its promise to deliver precise turn-by-turn navigation sans interruptions or dropped signals. The storage is quite lean at 32GB (the slower eMMC type) and that's a shame considering Samsung demands Rs 33,490 for it. As a consolation, you do get a microSD card slot.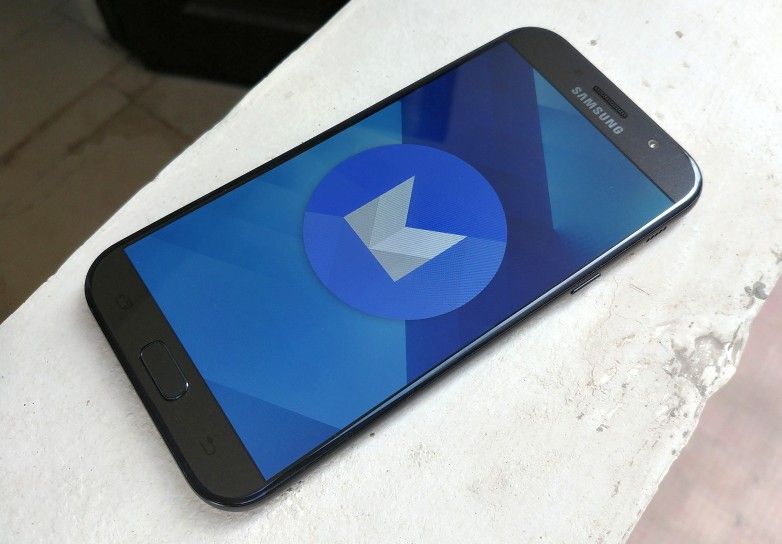 Samsung Galaxy A7 (2017): Display, Software, and UI
It's hard to beat Samsung when it comes to mobile displays, and the Galaxy A7's 5.7-inch AMOLED panel doesn't buck the trend. The Full HD display sports a pixel density of 386ppi, which delivers a sharp picture that works well for fine text legibility. AMOLED displays, however, are known more for their excellent colour reproduction, which the Galaxy A7 masters with consummate ease. The best measure of the display's calibre is its accurate white point, which works well with the wide colour gamut and great saturation levels that aren't tuned to go overboard. Once you change from the default Adaptive Display mode, which tends to sex up images, you have a recipe for fairly accurate colour reproduction. This is fairly apparent from skin tones that look natural. Playing video games and watching movies is a terrific experience not only due to the ample 5.7-inch screen, but due to the great response time and other inherent virtues of AMOLED tech.
Because AMOLED screens are emissive in nature with the ability to turn individual pixels off, the phone excels when it comes to achieving deepest black details and an amazing contrast ratio. What's more, the display is bright enough to be used outdoors without a hitch. Outdoor legibility is an aspect where AMOLED displays tend to falter, but that thankfully isn't the case with the Galaxy A7. With wide viewing angles and virtually non-existent response time, the A7's display is ideal for everything ranging from mobile gaming to sharing movies with a friend.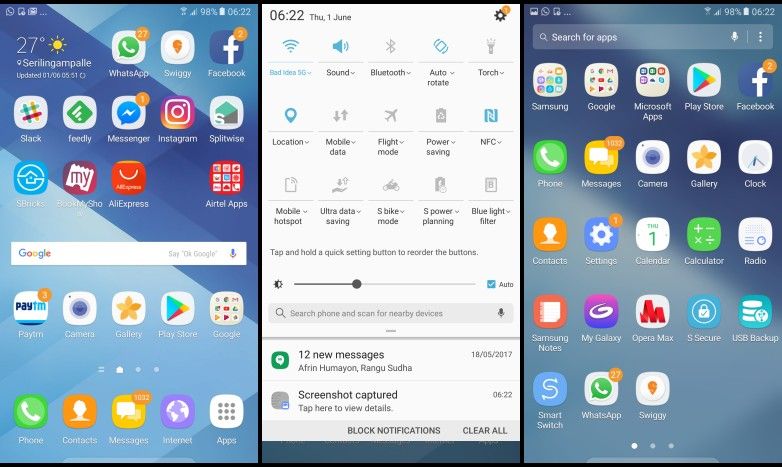 While the screen on the Galaxy S7 2017 is commendable, the fact that the phone is still running Android 6.0.1 Marshmallow is a dealbreaker. The phone is nevertheless slated to receive the Nougat update, which is already under testing and should roll out shortly. Unlike most Samsung phones, the Galaxy A7 doesn't run TouchWiz UI baked on top of Marshmallow, but Grace UX instead, which initially debuted on last year's Note 7. This is a much leaner UI compared to the bloated TouchWiz, which is one of the reasons Samsung has managed to get away with just 3GB of RAM on this phone.
In addition to smoother animations, the notification shade is decidedly white with a very minimalist approach to icons. Overall the UI sports subdued colours and softer rounded icons that I believe looks a lot more subtle and hence better than TouchWiz. The best part is that it retains some of the better TouchWiz features such as multi-tasking, Smart Manager, Ultra Power Saving Mode, Blue Light Filter, and Game Tools.
However, what's different on the Galaxy A7 is Samsung Pay. It's the perfect way to pay for purchases with your phone in India, where it's nigh impossible to expect every retailer to put in investments to upgrade their Point of Sale terminals for compatibility with modern payment delivery systems such as the NFC-enabled payment alternatives. Samsung gets around this by incorporating Magnetic Secure Transmission (MST) technology within the Galaxy A7. In simple terms, it allows smartphones to emit a magnetic signal that mimics the magnetic strip on a traditional payment card. Using this feature has been an absolute pleasure and practically allows me to keep my credit and debit cards safe at home, while I use my phone to swipe at regular card machines (POS terminals), much to the amazement of the sales clerks.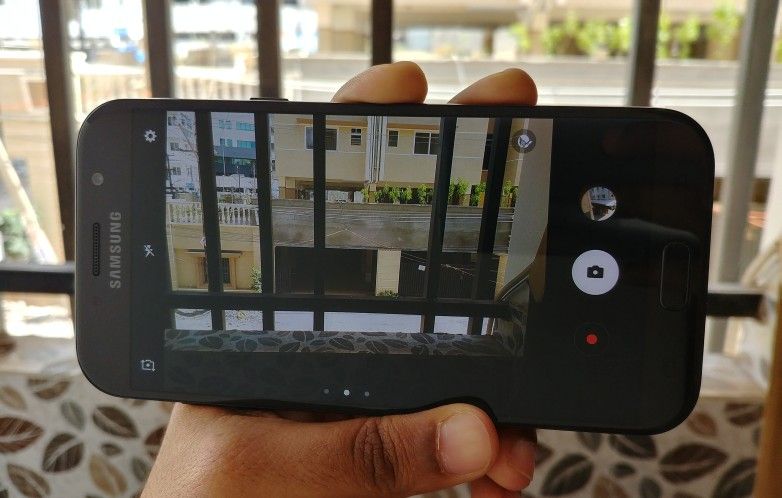 Samsung Galaxy A7 (2017): Camera
The camera setup on the Galaxy A7 is nearly identical to that of the Galaxy C9 Pro I had reviewed earlier. Both front and rear cameras are 16 megapixel units with an aperture of F1.9. The only notable difference is the lack of phase detection type autofocus and dual LED flash, with the Galaxy A7 having to make do with regular autofocus mechanism and a single LED for the flash. As with the C9 Pro, the A7's camera manages to deliver great image quality in daylight conditions. Focusing is quick and sharp while photos are taken, processed, and stored rapidly. Both the colour fidelity and the amount of detail captured is quite good, with the captured image looking natural and quite close to reality.
The same is true indoor, but only if you maintain bright lighting conditions. If the light falls below anything that can be considered bright, the camera begins to falter. For starters, the lack of Optical Image Stabilisation (OIS) renders the image blurry, which is made worse by the camera algorithm apparently choosing to keep the shutter open longer instead of changing the ISO values to compensate for low light. Focusing too takes a hit and you'll find the camera taking much longer to get the frame sharp enough. Even if you do manage to keep your hand steady, indoor shots in less than perfect lighting conditions lack the sharpness and detail evident in the outdoor daytime shots. The image quality deteriorates even further when you present it with true low-light conditions. Expect blurry photos with considerable lack of details for nighttime photography in dim lighting conditions.
The 16 megapixel front camera delivers better selfies than most mid-range cameras, but there's still some softness in the photos. While the front camera won't accurately render your skin tones, it thankfully doesn't make your face look too posterised and artificial like most selfie cameras. Needless to say, the photo quality goes to hell in a handbasket under low-light conditions. Video recording is pretty decent at 1080p (30fps).
The camera interface is the typical Samsung affair with one side of the screen edges meant for the virtual camera shutter button, video recording button, camera switching, and preview, whereas the other edge has options handy for settings, picture resolution, flash, and timer. Additional modes include the standard Panorama, which is decent enough to capture wider vistas and a Pro mode that gives control over exposure, ISO, metering, and white balance. The Hyperlapse mode is meant for taking time lapse videos. Then there are the standard HDR, Food, and Night modes as well. Furthermore, you can download additional effects and modes such as the animated GIF and Sports Shot, with more being hopefully added in the near future.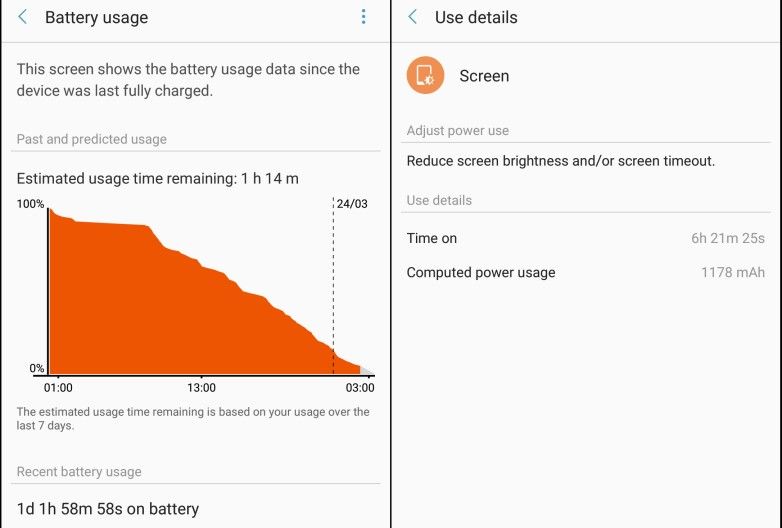 Samsung Galaxy A7 (2017): Battery
The Galaxy A7 might not have the 4000mAh battery of the Galaxy C9 Pro, but it's Exynos 7880 Octa chipset features a power efficient 14nm FinFET fabrication process and frugal Cortex-A53 processors to make the most of its sizeable 3600 mAh battery. Combine this with a Full HD AMOLED screen that can save power further by switching off individual pixels, and you have a phone that can last well over a day even with heavy usage.
Despite keeping the always on-display feature switched on and subjecting the A7 to plenty of gaming, video playback, 4G browsing, GPS usage, and quite a bit of messaging as well as social media app usage, the phone gave more than a day's worth of usage with an impressive screen-on time of six and a half hours. These figures make the Galaxy A7 the sort of phone that will last you an entire day without worrying about recharging and then some. What's more, the provided quick charger can top up the phone from empty to 100 percent in well under two hours.
Samsung Galaxy A7 (2017): Verdict
As explained at the outset, it's hard to beat the OnePlus 3T in every aspect that matters. If you're someone who's willing to overlook pedigree and design flair for better performance, features, and value you're better off with the Chinese smartphone. However, if you want a sturdily built phone that looks downright gorgeous, the Samsung Galaxy A7 is pretty hard to beat at this price range. What's more, flagship features such as IP68 dust/water resistance and the brilliant Samsung Pay make this phone all the more practical.
The overall performance and optimisation of the Exynos 7880 chipset however remains a pain point. Having said that, unless you're going to watch heavy, unoptimised HTML5 video streaming websites, you probably won't even notice these performance gremlins. Hopefully, the few incidences of lag and stutter will be addressed with a performance update in the future. If you're willing to overlook these factors, it's difficult to find a phone that looks this gorgeous and is as well built at this price range.