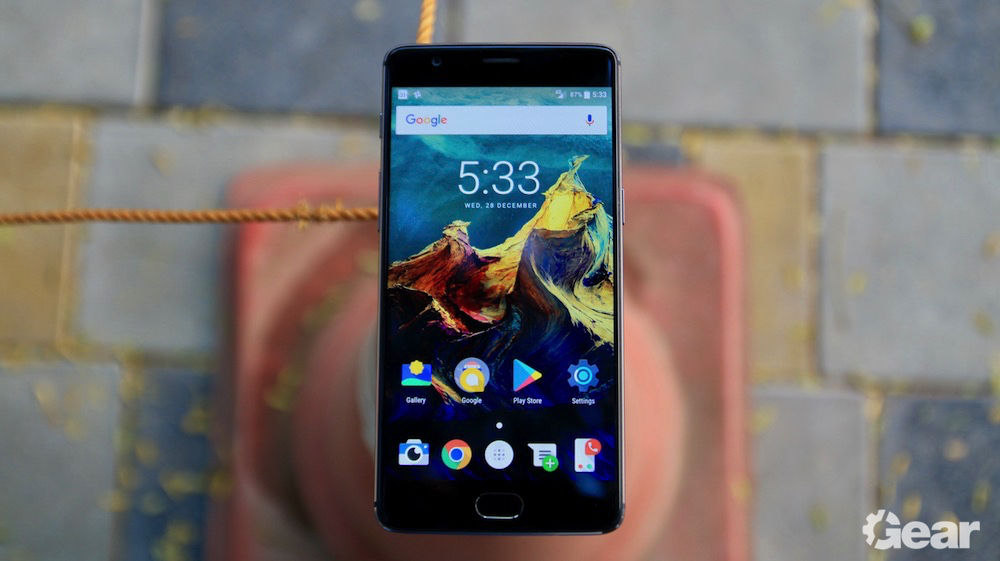 The OnePlus 3 quickly became one of the best smartphones released in 2016. When we reviewed the phone earlier this year, we came away very impressed with the display, overall performance, and camera prowess. It blazed through everyday tasks, and looked good while doing it. No one imagined that OnePlus would release an upgraded variant of a smartphone that's already selling hot cakes, but that's exactly what it did with the OnePlus 3T.
Design and Build Quality
9.0/10
Software & Performance
8.5/10
What Is Good?
Well-designed metallic body with good ergonomics
Bright and colourful AMOLED display with deep blacks
Very good general and gaming performance
Dash Charger is awesome
Decent all-round camera quality
Fast fingerprint sensor
Android 7.0 Nougat with Daydream VR compatibility
Bloat-free software
What Is Bad?
Average battery life
Below par loudspeaker volume
Selfie camera not as great as advertised
Is the OnePlus 3T a huge upgrade over the OnePlus 3? Not really. The new smartphone comes with a higher resolution front-facing camera, a slightly faster processor, a beefier storage option, a slightly higher capacity battery, a newer colour, and a higher price tag. Do these upgrades make the OnePlus 3T a much better smartphone than the OnePlus 3? Let's find out.
OnePlus 3T: What's Inside The Box?
OnePlus 3T (with a factory-applied screen guard)
USB To USB Type-C Cable
Dash Charger
OnePlus 3T: Design & Build Quality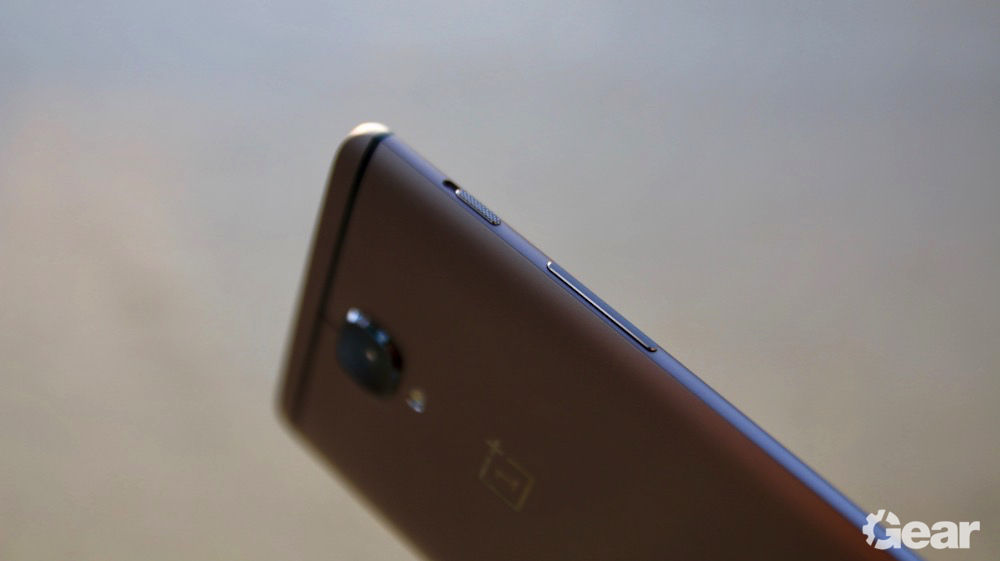 The OnePlus 3T looks and feels exactly like the OnePlus 3. Except the new colour option, there's nothing new here. The shell of the device is made out of an aluminium unibody, with the back sporting a slightly contoured design. The buttons offer great tactile feedback, and the front is covered by Gorilla Glass 4. OnePlus is still sticking with the three-way Alert Slider, allowing you to toggle between Android's sound profiles with ease. The company is still the only one to offer this feature, and once you've used it, you'll miss it when switching to another device. The OnePlus 3T has rounded corners, making it comfortable to hold.
The front-facing capacitive home button also doubles up as a fingerprint sensor. There are capacitive navigation buttons on either side of the home button, but you can switch to on-screen buttons if you want. It feels ergonomic to hold, especially compared to the slippery Pixel XL that we reviewed a few weeks ago. There's sapphire crystal covering over the camera lens, so you won't have to worry about it getting scratches over time. Overall, the OnePlus 3T looks attractive, and it holds its own next to premium phones, Android or otherwise.
OnePlus 3T: Display & Audio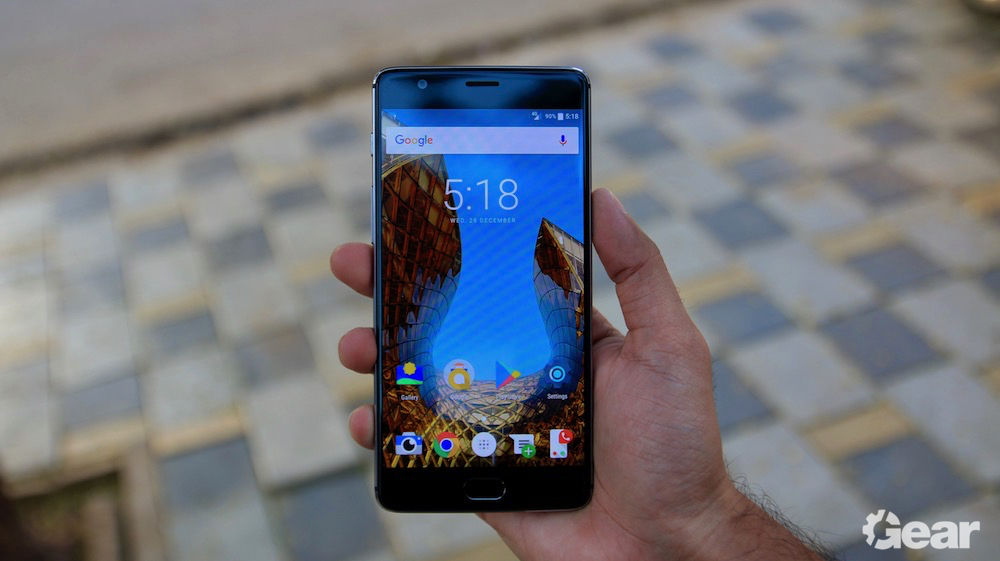 The OnePlus 3T uses a 5.5-inch full-HD (401ppi) Super AMOLED panel from Samsung, which the company is calling Optic AMOLED for marketing purposes. It's covered by Corning's Gorilla Glass 4 protective glass panel. The screen is bright enough to be able to display content without any issue even under bright sunlight. However, it is nowhere near as bright as displays on some phones by Samsung, Xiaomi, or Apple.
I didn't notice any touchscreen or touch-related issues on the OnePlus 3T, but I did notice a pinkish hue at times. OnePlus offers three colour modes: Custom, Default, and sRGB. Even though there was a screen calibration tool inside display settings, I wasn't able to adjust it to get to the exact colour tone I was looking for. The phone comes with a factory-applied screen guard, but you're better off just removing it. In fact, one of the first things you should do after unboxing the phone is to remove the screen guard.
Android 7.0 Nougat update brought a new 'Screen Size' setting inside the display settings menu. Essentially, it is a feature that you can use to alter DPI values. After using QHD screens, I was looking to increase the DPI settings to be able to get a satisfying experience. There are Light and Dark modes available for the overall UI, and the dark mode especially looks great on the AMOLED panel. You can even set custom accent colors if you're looking to customize the phone to your liking.
OnePlus 3T: Camera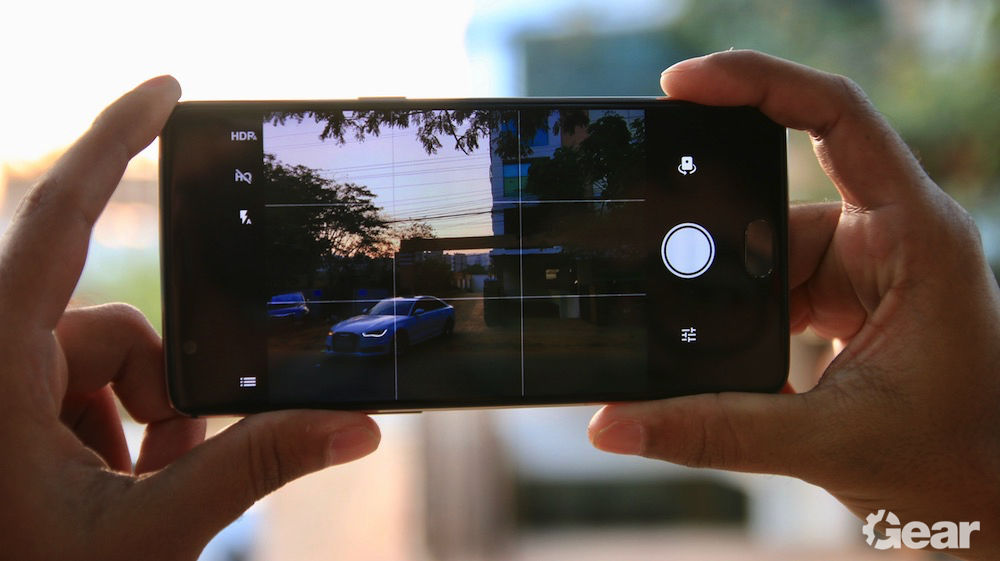 The OnePlus 3T features a 16-megapixel primary camera at the back with phase-detection autofocus, OIS, EIS, F2.0 aperture, single LED flash, support for RAW image capture and 4K video recording at 30fps. It can also be used to record 720p slow-motion videos at 120fps. However, we've seen all of the above in the OnePlus 3. What's new then? One of the major talking points of the OnePlus 3T is its 16MP front-facing camera, with the sensor sourced from Samsung. The company promises better selfies and video chats from its upgraded front-facing camera.
The camera app on the OnePlus 3T is quite simple, and is similar to what you'd find on Nexus and Pixel phones. There are six camera modes – Time Lapse, Slow-Motion, Photo, Video, Manual, and Panorama – tucked under a hamburger menu (which is hard to spot at times). Each mode has individual settings: Time Lapse videos are limited to 1080p resolution, while slow-motion videos are limited to 720p resolution. 4K videos can be recorded at 30fps using the Video mode. The Manual mode can be used to tinker with ISO, shutter speed, focal length, and white balance.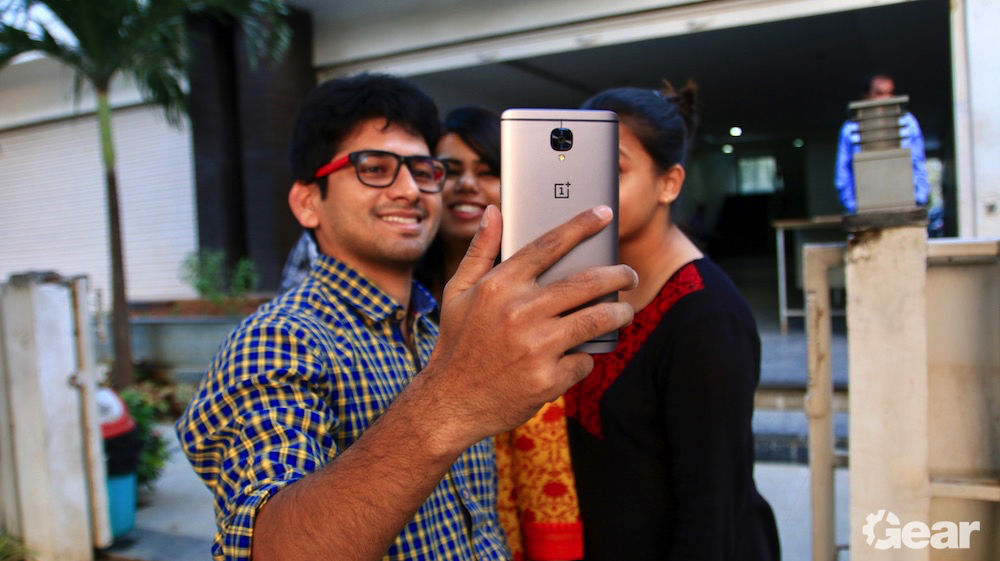 The rear-facing camera captures images and videos that are identical to those taken with the OnePlus 3. There is a minor variance in colours, but nothing else has changed. If you're not a seasoned user, you won't notice any difference in image and video quality. Even though the OnePlus 3T looks capable on paper at low-light imagery, images taken on the phone are not as good as the ones shot using the HTC 10, Pixel, Galaxy S7, or the iPhone 7. Same goes for videos: even though the phone has OIS and EIS, videos aren't as smooth as on high-end phones from major brands. That said, the OnePlus 3T shines in daylight conditions, and can easily hold its own against the likes of the Galaxy S7, HTC 10, and the Pixel.
Coming to the advertised 16-megapixel selfie camera, you won't get twice the picture quality compared to the 8-megapixel front-facing camera on the OnePlus 3. There's a slight improvement in low-light selfies, and that's about it. Images are blurrier than those taken using the OnePlus 3. I think that the Pixel takes much better selfies than the OnePlus 3T when it comes to overall detail and dynamic range. The field of view isn't as wide as on the Galaxy S7, but still wide enough for group selfies. Overall, don't expect to be blown away by the 16-megapixel front-facing camera on the OnePlus 3T.
OnePlus 3T: Software & Performance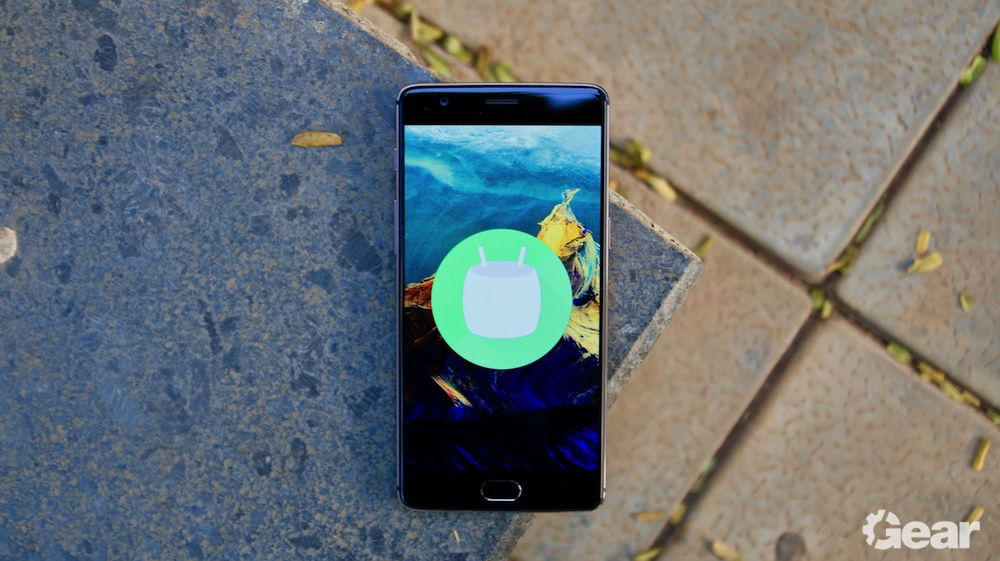 The OnePlus 3T features a Qualcomm Snapdragon 821 SoC with a quad-core Kryo CPU clocked at 2.35GHz and an Adreno 530 GPU clocked at 653MHz. There's 6GB of LPDDR4 RAM and either 64GB or 128GB of UFS 2.0 storage. Theoretically, the OnePlus 3T should be marginally faster than the OnePlus 3. Thanks to the powerful Adreno 530 GPU, which is compatible with Vulkan 1.0 API, the phone is Daydream ready, so you can use Google's Daydream View VR viewer.
The OnePlus 3T was launched with Android 6.0 Marshmallow-based OxygenOS 3.5 onboard, but the company released Android 7.0 Nougat-based OxygenOS 4.0 on December 31 (as promised). The performance of the OnePlus 3T was quite satisfactory, but the UI wasn't as fluid as that on the Pixel or the Pixel XL. The company clearly needs to work more on software refinement as the user interface could be much smoother than it already is, especially since the Snapdragon 821 is such a highly capable SoC.
Coming to the software features of the OnePlus 3T, the UI is bloat-free and offers a number of customisation options. Android 7.0 Nougat also brings multi-window goodness, allowing you to use two apps side by side. The new design for notifications and quick settings toggles looks much better than what I've encountered on Marshmallow. Overall, the software and hardware performance is very satisfactory, but not Pixel-level smooth.
OnePlus 3T: Battery Life
OnePlus somehow managed to cram in a larger 3400mAh battery (compared to the 3000mAh battery inside the OnePlus 3) in the OnePlus 3T smartphone without increasing its dimensions. The secret behind this is a higher density battery. It also features the company's Dash Charge technology that helps the phone get charged at an astounding pace. The company also sells a Car Dash Charger. The OnePlus 3T gets charged so fast using the supplied charger that it changed the way I charge my phone.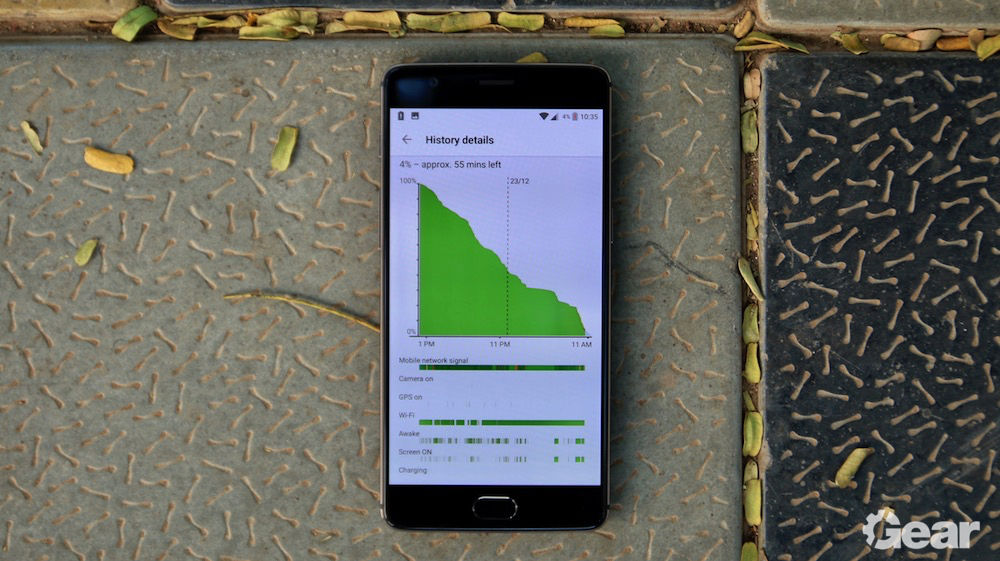 Coming to the actual battery life of the OnePlus 3T, I wasn't too impressed with it. The phone couldn't last as long as the OnePlus 3 did when I reviewed it on a single charge, even though the OnePlus 3T comes with a larger capacity battery. The phone managed to last anywhere between 20-24 hours with a screen-on time of just 3-4 hours. Unrefined software could be the only reason for the phone's shorter battery life. I am yet to completely test the phone's battery life after the Android 7.0 Nougat update, but thanks to enhancements to Doze, it should be better.
OnePlus 3T: Conclusion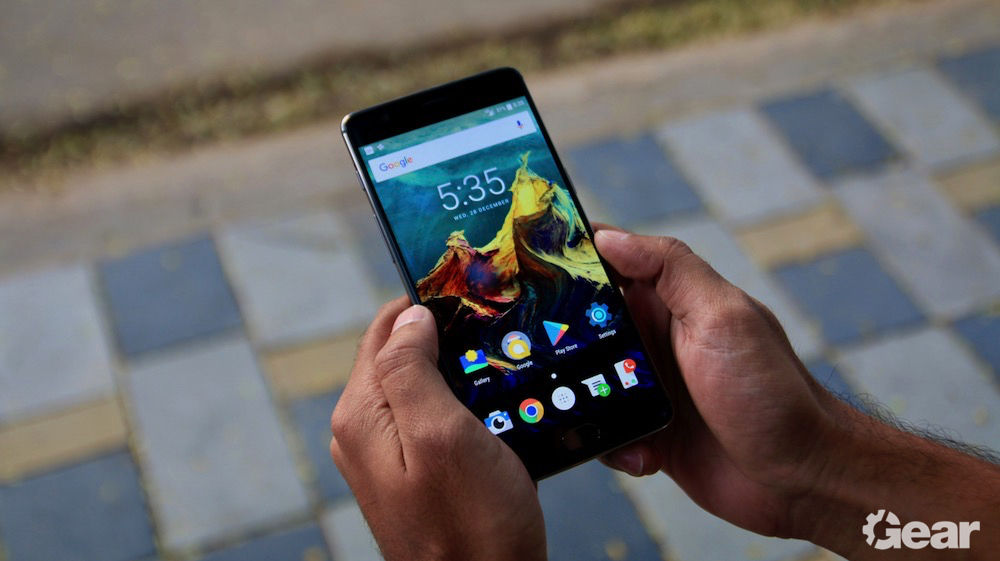 The OnePlus 3T is a great smartphone, more so for its price tag. However, it's not a huge upgrade over the OnePlus 3. So, if you're a current OnePlus 3 owner, you do not need to upgrade to the OnePlus 3T. The battery life isn't any longer than the OnePlus 3, at least as of now. Moreover, the 16-megapixel front-facing camera is not a huge upgrade over the 8-megapixel front-facing camera on the OnePlus 3 in terms of image quality.
If you're not a current OnePlus 3 owner, then it makes sense to buy the OnePlus 3T. We recommend you to purchase the 128GB storage variant of the smartphone as there's no microSD card slot. It's a well-built and well-designed smartphone, offering a good screen, great performance, a good all-round camera, and it comes with bloat-free Android 7.0 Nougat-based software. What more can one ask for at the price?
Sure, the loudspeaker and battery life aren't that great, but for what it costs, it is a steal. If you're looking to buy a smartphone that doesn't cost more than ₹35,000, your first choice should be the OnePlus 3T.