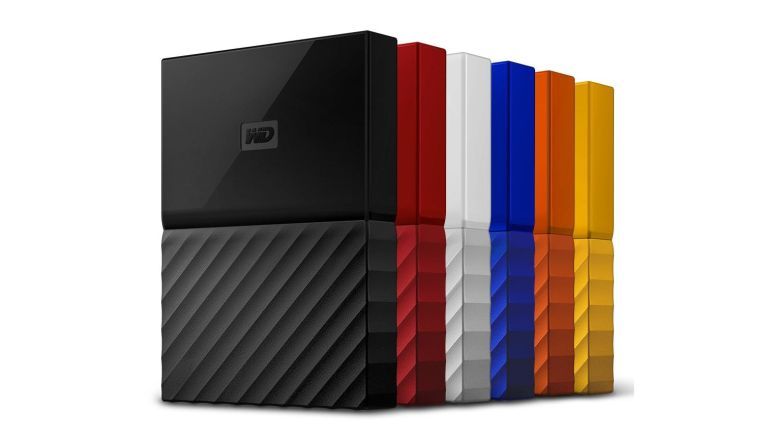 All things considered, your garden variety mechanical hard drives should have been extinct by now, at least in the portable storage space. When you have a heavy magnetic platter spinning at anywhere between 5400rpm and 7200rpm, while the fragile head rests precariously over this spinning mass just a few nanometres away, such a complicated mechanical solution doesn't seem to be the best choice for a portable storage drive. This is especially true when the application expects the drive to survive the rough and tumble of your backpack as you go about your day. Therefore, the only logical choice should be an SSD, right?
Well, you'd technically be technically correct to assume that, but, to this date, the majority of portable storage drives being produced continue to be mechanical hard disk drives. And there's a simple reason for that. The average 500GB external portable SSD costs anywhere between ₹15,000 and ₹20,000. A mechanical alternative will cost as little as a third of that amount and yet deliver up to four times as much storage space. The last time I checked, hard drives (portable or otherwise) were primarily about storing stuff and hence about storage space.
Most users are okay with treating their portable HDD with kid gloves and waiting a few extra seconds, or even minutes, for data transfers, as long their portable storage drive has enough storage capacity for their needs. The WD My Passport 2TB portable storage solution is the kind of portable drive that caters to this sort of consumers. Let's take a look at the drive and figure out if it lives up to its promise of being cheap, fast, and reliable.
Design and Build Quality
The new design of the WD My Passport family of drives is a major departure from the old chassis. The drives now come in six new colours ranging from the familiar black and white hues to the bizarre orange and the downright ugly blue. Western Digital decided to send us the ugly blue variant (not the official colour designation, I must add). One would assume the rationale behind the colour coding might make sense for those who prefer to categorise their data backups by colour, or even to identify backups by associating a colour to each day of the week, while assuming Sunday is a holiday of course.
Apart from the ghastly colour, the drive is fairly portable thanks to dimensions that roughly measure in at 11cm x 8cm, but the thickness of 2cm is disappointing considering our review unit is the regular 2TB version. The weight too is manageable at 225 grammes thanks to its tacky polycarbonate chassis that looks like it will crack at the first drop. The build quality is mediocre and evident in the large panel gaps and rather worrying chassis flex present in the bottom panel. I wouldn't drop this puppy, if I were you. And this is where the point out the irony wherein the textured half of the drive chassis is slippery, whereas the smooth part offers better grip. Don't be fooled into gripping the drive by the, well, grippy textured half, and always hold it by the smooth side instead.
Apart from the tiny rubber feet that help plant the drive firmly on your desk, there's nothing fancy about the WD My Passport portable drive. There's a tiny LED power indicator on one of the shorter edges, which is flanked by a micro-B USB 3.0 port. There's a distinct lack of a USB Type-C port, but let's not forget that this is a budget drive. If you own a MacBook Pro which needs fancy USB Type-C devices, you probably can pony up the cash for the fancy Samsung portable SSDs that come with that port. The bundled colour coded cable is way too short to reach your computer table from the primary rear USB ports.
Software Bundle
The software side of things is another aspect that underscores the budget leanings of this drive. Western Digital hasn't included any fancy drive partitioning utilities as witnessed in the more expensive high-end portable drives. You'll have to rely on the good ol' Windows partitioning utility for the job. Thankfully, the company hasn't completely given up on the My Passport portable drive. You do get a simple and neat backup tool that does a decent job of scheduling and setting up data backup and synchronisation from specified folders from your drives. The tool can even sync with a Dropbox account.
One of the other tools bundled is a basic maintenance tool that lets you run a quick SMART drive health analysis and run some simple diagnostic routines. This involves quick drive problem checks and also gives an option to scan the drive by each sector to diagnose more serious issues. However, the most useful bundled tool for the security conscious would be the one that allows the entire drive to be encrypted by a pretty secure 256-bit AES encryption. The good thing about this tool is that you don't need to install it on every PC.
Performance
While the WD My Passport comes in sizes ranging from 1TB to 4TB, our review unit is the 2TB variant. Diagnostics pegged the drive speed at 5400rpm, which comes as no surprise as these drives have to strike a balance between performance, durability, and power utilisation. For the real-world test, I transferred a 42.3GB videogame backup. This is an ideal mix of large, medium, and small files and gives a good bearing on how the disk will perform in the actual use conditions. Before we jump to the test results, here are the specifications of my test rig:
Processor: 3.4GHz Intel Core i5 6500
Motherboard: MSI B150 PC Mate
RAM: Corsair Dominator DDR4 2333MHz
GPU: NVIDIA GeForce GTX 1060 (6GB)
Storage: Samsung Evo 750 250GB SSD
OS: Windows 10
The total time taken to transfer the 42.3GB videogame backup from the 250GB Samsung Evo 750 SSD to the WD My Passport drive was recorded at 6 minutes and 35 seconds, which pegged the average write performance speed at 110MB/s. A nearly similar result was also recorded in the synthetic drive benchmarks. We recorded a sequential read speed of 116.6MB/s and write speed of 115.7MB/s in CrystalDiskMark 5.5.0.
Verdict
That's pretty decent performance for a portable hard drive that can be bought on the street for ₹5900 and comes with a 3-year warranty. The MRP of the drive is pretty high at ₹11,910, but portable hard drive prices tend to be heavily discounted on the street. You can buy the older versions of the WD My Passport for a few hundred bucks lower, and you won't be losing much in terms of performance either, but ₹5900 is a great price for a drive that's relatively fast, albeit not very attractive or well built.
Having said that, if you're worried more about performance, portability, and good looks, you're better off ponying more cash for a snazzy external SSD drive., The WD My Passport 2TB drive is worth considering for those seeking lots of portable storage space for cheap.