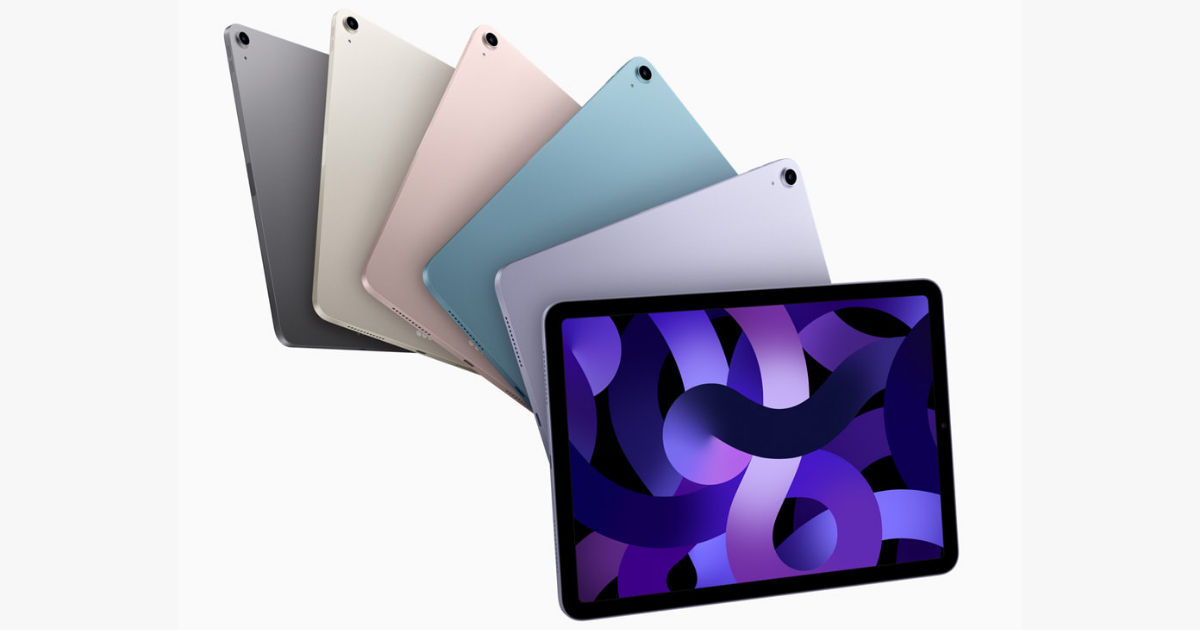 Apple recently announced its Back to School offers for 2022. Under the program, students, teachers and university staff can claim discounts and freebies on the purchase of Mac and iPad devices. The offer is currently live and will be valid till September 22.
Customers who want to claim the Back to School discount offers need to first check if they are eligible under the program. If they are, they can get 20 per cent off on the purchase of Apple Care+ along with 10 per cent off on Mac, and iPad models. Let's take a look at the Apple Back to School offers, discount deals and other details.
Apple Back to School Offers 2022
Apple Back to School offers are currently live for customers in India. Under the program, current and newly accepted university students, and teachers and staff at all levels can claim discounts on several Apple products.
Eligible customers can buy the M1 MacBook Air for Rs 89,900, instead of paying the typical MRP of 99,900. The offer is also applicable on the new M2 MacBook Air and MacBook Pro, which were launched for Rs 1,19,900 and Rs 1,29,900. Under the Back to School Program, buyers can get the machines for Rs 1,09,900 and Rs 1,19,900, respectively.
The MacBook Pro 14-inch with the M1 Pro chip has an offer price of Rs 1,75,410, whereas the 16-inch MacBook Pro can be bought for Rs 2,15,910. Those who want a desktop can look at the iMac with a 24-inch display available for Rs 1,07,910.
There are also offers on the iPad Air and iPad Pro models. The iPad Air price in India under the program starts at Rs 50,780, whereas the iPad Pro has a starting price of Rs 68,300. Customers can also buy the Apple Pencil or Smart Keyboard for a discounted price.
Free AirPods and Apple Music for 6 Months
Customers who purchase the above-mentioned Apple products under the program can also claim their free AirPods along with six months of free Apple Music. They can choose to upgrade to AirPods Gen 3 or AirPods Pro by paying an additional Rs 6,400/ Rs 12,200 respectively.
Also worth noting is that the Apple Music Student plan includes free access to Apple TV+.
How to Check if You Are Eligible for Apple Back to School Program
Head to Apple's education offers page and scroll down till you see "Get verified with UniDAYS."
Click on the button and click on continue.
Follow the process and fill in all the required information. An Apple Specialist will verify your eligibility using your university ID or acceptance offer.
If approved, you will be able to shop for a new Mac or iPad with the Apple Education pricing.
You can also add your free AirPods and claim 20 per cent off on Apple Care+ while adding a Mac or iPad to the cart.
It is worth noting that an eligible customer can buy only 1 iPad and 1 Mac under the program. The promotional Apple Education Pricing on AppleCare+ is available for eligible products purchased during the promotional period only and cannot be combined with non-promotional Apple Education Pricing. Lastly, the offer may end earlier than slated depending on stock availability.