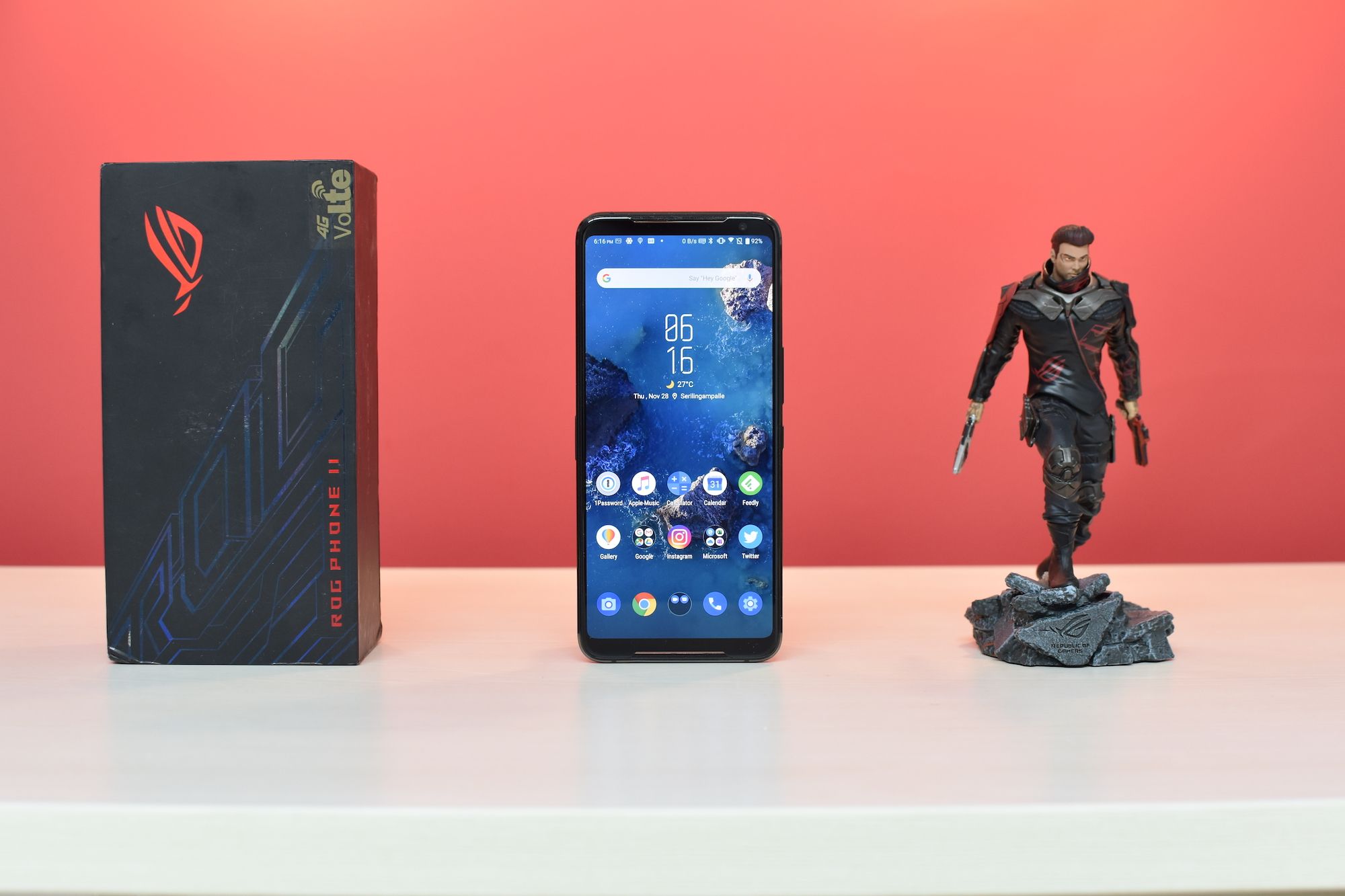 Are gaming phones really worth it? What separates gaming smartphones from non-gaming high-end smartphones? Can you really notice the difference and improve your gaming skills with such phones? These were the questions in my mind as I started reviewing the ASUS ROG Phone II.
While it is the first gaming smartphone that I reviewed, my colleague had reviewed the Black Shark 2 (Review) a few months ago. The ROG Phone II is definitely the most high-end and complete gaming smartphone until, at least on paper.
ASUS ROG Phone II Specifications
The ROG Phone II has the fastest processor in the Android realm, the Snapdragon 855+, which is paired with 8GB of LPDDR4X RAM and 128GB of UFS 3.0 storage. And, you can go as high as 12GB RAM and 512GB storage if you live in India. The phone uses a 6.59-inch AMOLED screen with up to 120Hz refresh rate, 240Hz touch refresh rate, Full HD+ resolution, and HDR10 content playback. There are stereo loudspeakers, too. The phone runs Android 9 with stock Android UI with some additional software features and tools for gaming.
At the front, there's a 24MP selfie camera. At the rear, there's a 48MP wide-angle camera and a 13MP ultrawide-angle camera. There's an under-display optical fingerprint reader. The ROG Phone II is a dual-SIM phone with 4G LTE, Wi-Fi b/g/n/ac/ad, Wi-Fi Direct, Bluetooth 5.0, a 3.5mm headphone jack, and not one, but two USB 3.0 Type-C ports. The phone is powered by a massive, 6000mAh battery which supports up to 30W Quick Charge 4.0 charging. It also supports 10W reverse wireless charging.
At just Rs 37,999, this phone is packed with exciting features, isn't it? Well, let's find out how good a gaming phone it is and if a non-gamer can stay satisfied with the device.
ASUS ROG Phone II
₹37,999
Design and Build Quality
8.0/10
Front-Facing Camera
7.0/10
Rear-Facing Camera
7.5/10
What Is Good?
Large, bright, and colourful AMOLED screen with fluid-looking 120Hz refresh rate and no notch. There's HDR10 playback, too.
Loud and punchy front-facing stereo speakers.
Blazing fast performance for any type of task.
Fast fingerprint reader.
Simple-looking yet feature-rich software.
Excellent battery life and fast charging.
AirTriggers are useful while gaming.
Secondary USB Type-C port is useful when gaming while charging the phone.
Great set of gaming accessories available.
Very well-priced.
What Is Bad?
Cameras could've been better.
The phone is heavy for sure.
Still no Android 10.  
ASUS ROG Phone II: What's In The Box?
ASUS ROG Phone II (8GB RAM + 128GB Storage)
USB Type-A To USB Type-C Cable
18W Quick Charge Wall Adapter
SIM Ejector Pin
User Manual
Warranty Card
Special Case
If you buy the higher-priced variant of the phone with 12GB RAM and 512GB storage, you get a 30W ROG Hyper Charger and the ROG Aerocooler II accessory that actively cools the phone for more pleasant gaming experience, faster heat dissipation, and unthrottled performance.
ASUS ROG Phone II Design
The ROG Phone II is really well-built, just like any high-end phone should be. Its body is made using a metal middle frame and two slabs of Gorilla Glass 6 with curved edges and sides. The phone has an unmistakeable gamer-ish look. There are distinctive lines at the rear along with the ROG (Republic Of Gamers) logo with RGB LED lighting. The logo's colour, lighting pattern, and behaviour can all be customized using the built-in app. There's also a heat vent-like element at the rear, complete with a grille. However, there's no actual fan inside it. It is just for aesthetics and to make it look a gaming device.
Even the cutouts for the camera sensors and LED flashlights have diagonal lines and polygon shapes. However, it is commendable that ASUS engineers designed such a big phone (171×77.6×9.5mm) in a way that it feels smooth and rounded. It is heavy (240g), too, but the well-done weight distribution makes its weight more bearable. The only thing missing from the design standpoint is the lack of IP68 certification for dust and water resistance.
There are two ports at the bottom, a USB Type-C port and a 3.5mm headphone. The USB port is situated towards the left edge of the device instead of being at the centre. I would've liked it to be at the centre since it is not particularly solving the problem of being in the way of your hands while gaming.
Power and volume buttons are placed perfectly within the reach, but since both are on the right side of the device, left-handed users might face some issues while using them. There are two additional USB Type-C ports (hidden within a rubber flap) on the left side of the phone but only one of them can be used for charging, data transfer, and audio. The other USB port (which is red coloured) is exclusively used for official gaming accessories. Since the stereo loudspeakers are front-facing, they sound excellent.
It's great to see that the fingerprint reader on the first ROG Phone, which was hard to reach, is now gone in favour of an optical fingerprint reader under the display, It is easy to reach and use.
There are two pressure-sensing areas (one at the top and the other at the bottom) on the right side of the phone. These zones act as shoulder buttons while playing games. ASUS calls them 'AirTriggers II' since they now support taps, squeezes, and swipes. Force levels can be adjusted from the AirTriggers menu in the Game Genie section. The phone also supports the squeeze gesture that we usually see on Pixel phones. It supports both short and long squeeze actions, and you can customise it to open any specific feature or app you like. It is really handy. I set it to open Google Assistant on short squeeze and for opening the camera app on a long squeeze.
The phone also uses two linear vibration motors for more powerful haptic feedback. The company says that its 'haptic actuators' are three times more powerful and six times faster haptic feedback. Still, I felt that Apple and OnePlus use better haptic feedback than the ASUS phone.
All in all, the ROG Phone II might be chunky and heavy but its design makes it handier than its size. Plus, it can justify being large and heavy because it also brings much better gaming experience, a large screen, front-facing stereo loudspeakers, a massive battery, and all the ports you might need. I would take a heavier phone over a phone that lacks enough ports any day of the week.
ASUS ROG Phone II Display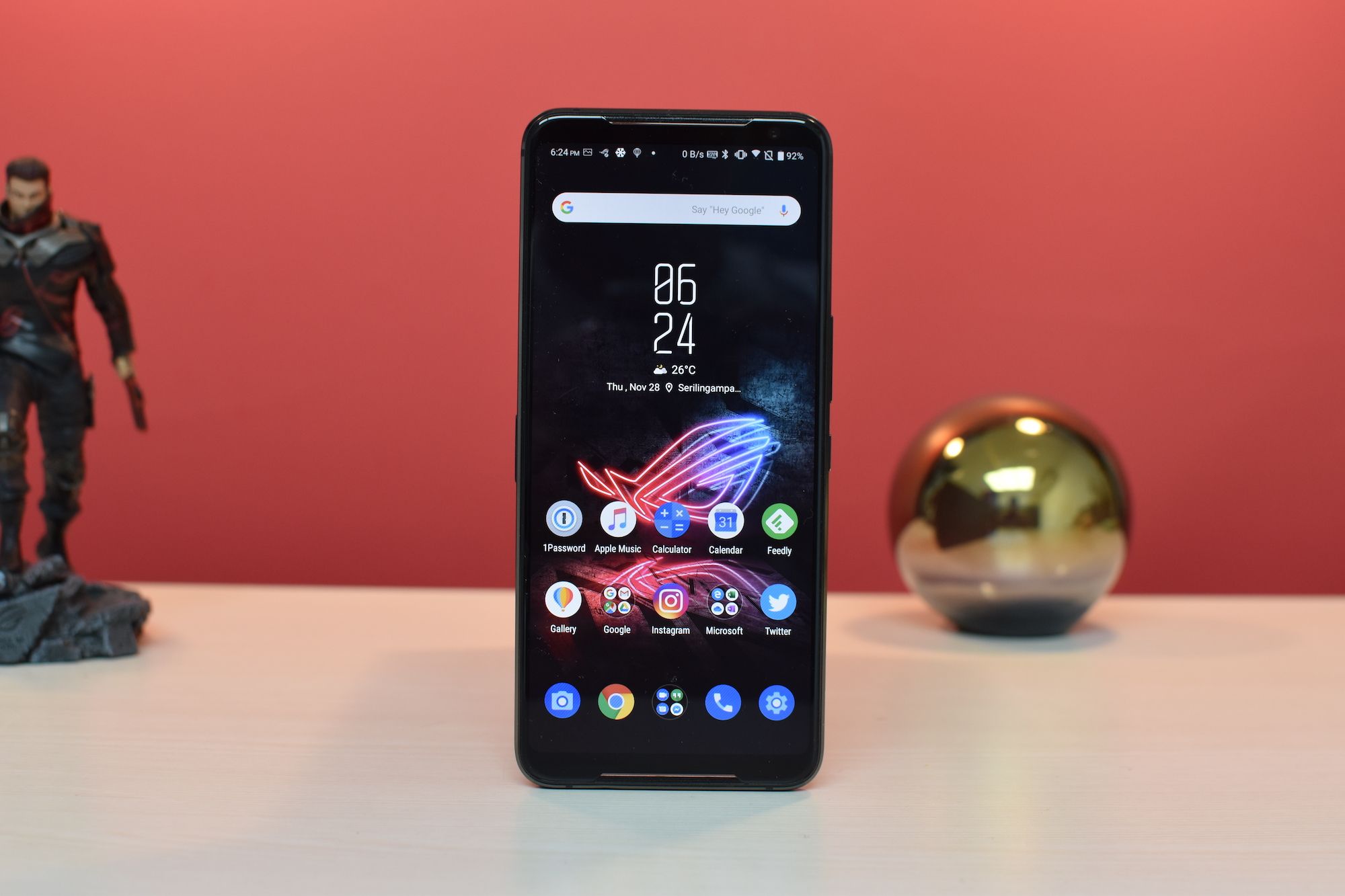 The 6.59-inch screen uses an AMOLED panel with Full HD+ resolution, 120Hz refresh rate, 240Hz touch-sensing refresh rate, and HDR10 content playback. There are bezels at the top and the bottom. While most other phones are going completely bezel-less, I appreciate ASUS prioritizing front-facing stereo speakers over completely bezel-less screen design. Since there are bezels at the top, there's no weird notch or punch hole for the front-facing camera. There's an optical fingerprint reader in the bottom half of the screen.
Coming to the actual quality of the display, it performs quite admirably. It is bright, colourful, and colour-accurate. Since it's an OLED screen, it has inky blacks. There are various colour modes: Natural, Optimal, Cinematic, Standard, and Customized. Screen colour temperature can be customised in all the colour modes using an easy-to-use slider. The Customized mode also lets you fine-tune saturation levels. Kudos to ASUS for using one of the best screens in the market on its gaming phone.
The Adaptive Brightness feature optimizes brightness as per the ambient light levels, but I think there's a need to optimise its behaviour as it does not adjust the brightness level as frequently as it should. The Night Light feature reduces blue colour when activated so that the display is easier on the eyes in low-light conditions. I think a dark theme makes more difference in eye comfort while using the phone during the night. There are two colour themes on the phone: Dark and Light. There's no quick setting toggle, though, which would've made it easier to switch between the two UI colour schemes.
There are three refresh rate options (60Hz, 90Hz, and 120Hz) to choose from. Display size, font size, and font can be customised as well. App scaling is available for those apps which don't support taller screens by default. This feature forces them to stretch across the screen. The Always On Display mode (ASUS calls it Always-on Panel) is present, but I think there should be more clock styles and an automatic brightness adjustment feature. I noticed that the Always-on Panel is quite bright even when there is no need for it, and it eats up a lot of battery.
ASUS ROG Phone II Cameras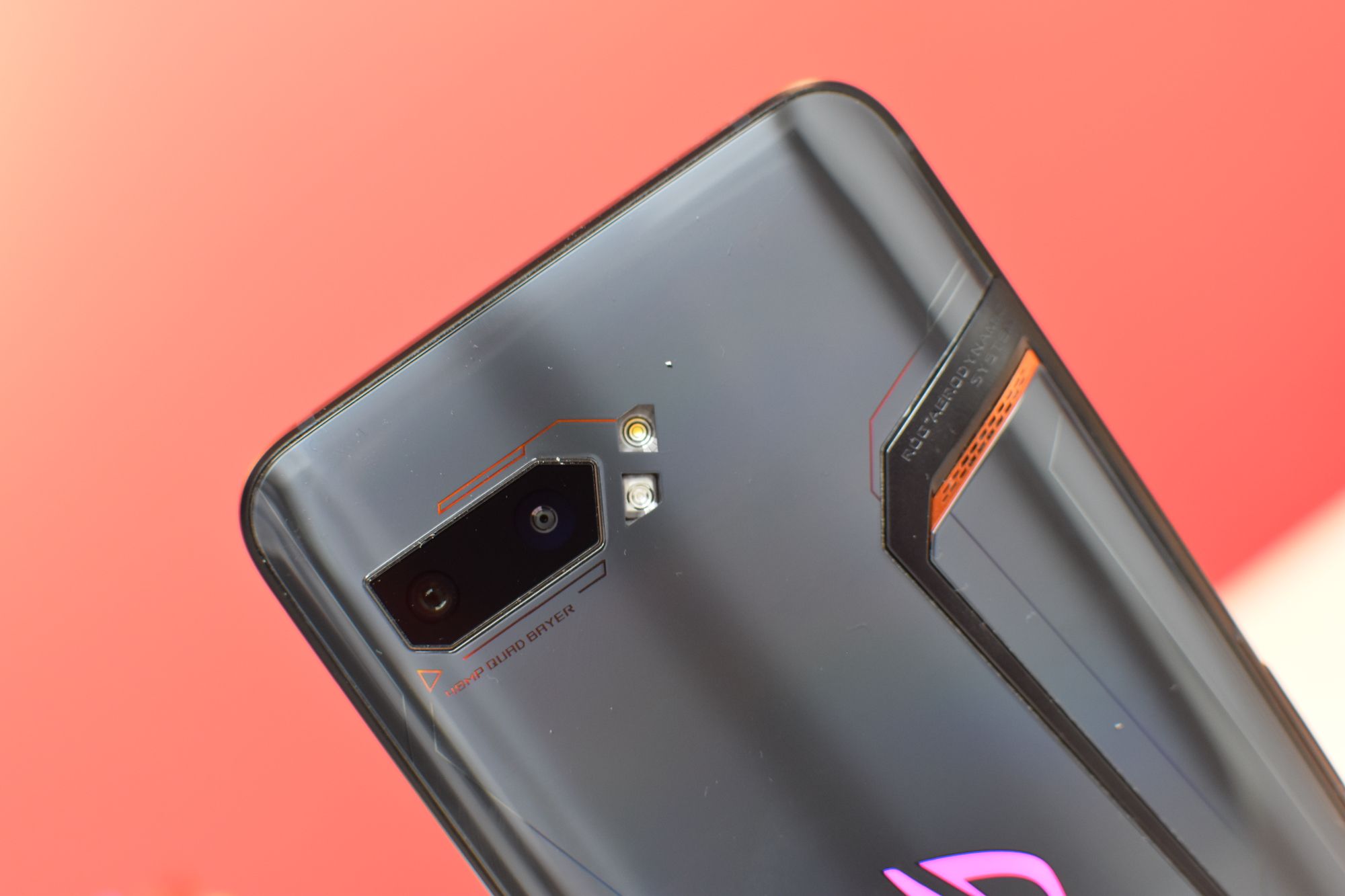 There are two cameras on the rear, as opposed to three or even four cameras on competing phones. There is a 48MP Sony IMX586 camera sensor, featuring F1.8 aperture, PDAF, Laser autofocus, EIS (electronic image stabilisation), and up to 4K 60fps video recording. The secondary rear-facing camera is a 13MP sensor with F2.4 aperture and 11mm ultrawide-angle lens. It lacks autofocus, though, and it can do only 4K 30fps videos. There is a dual-LED flash at the rear. At the front, there is a 24MP sensor with an F2.2 aperture and 1080p 30fps video recording. I would've liked to phone to feature OIS but its EIS system works pretty well.
ASUS ROG Phone II Camera App
The still images shot using the 48MP camera are pretty good, featuring low noise and wide dynamic range. The phone shoots images in the HDR+ mode by default. However, I noticed that the dynamic range isn't as wide as some competing phones like the Realme X2 Pro and the OnePlus 7T. If you like brighter images with more contrast, you can choose the HDR+ Enhanced mode, which takes several seconds to capture a single image. Naturally, using the HDR Off mode results in duller images and clipped highlights. There are a lot of details in the 12MP images (the default resolution after 4-in-1 pixel binning from the 48MP sensor). There's a 48MP mode, too, which uses multiple frames and a remosaic algorithm to turn 12MP images into 48MP images. This mode is only useful in bright conditions, and the details are marginally better in such situations. In low-light conditions, 48MP images are worse than 12MP images.
ASUS ROG Phone II Camera Samples - Daylight
The ultrawide camera takes alright images with punchy colours and wide dynamic range. Noise in such images is higher than the ones in the images shot using the primary camera. Since there's no autofocus, macro shots suffer since the lens can't move to focus on nearer subjects. The Realme X2 Pro, on the other hand, captures better images using the ultrawide-angle camera.
There is no dedicated telephoto camera on the phone, so the 2x button in the camera app just offers a digital crop from the central part of the 48MP sensor.
The lack of a telephoto sensor or a depth sensor also hurts the phone in terms of portrait image capture quality. A few portrait images showcased inaccurate blurring of ears, glasses, and the hair. The Pro Mode allows tweaking focal length, shutter speed, ISO, exposure value and white balance. Needless to say, it works with both the rear cameras.
In low-light conditions, the primary camera performs fairly. However, I couldn't help but notice that still images shot using the Realme X2 Pro in similar conditions have lower noise and are sharper (which may also be due to oversharpening algorithms).
With the Night Mode turned on, the ASUS phone captures brighter images that have lower noise, and it does a fair job at it. Details are lower than what's expected from a phone in its price segment. And there's slight softness in the images. They are not the best in its price segment, but they are not bad either. The Night Mode can be used with the ultrawide camera as well. It has the same effect on the ultrawide-angle shots, but they still showcase some noise. Once again, the Realme X2 Pro captured much better-looking ultrawide images with the Nightscape mode.
Selfies captured using the 24MP camera are saved in 6MP resolution by default due to the pixel-binning process. They are decent but nothing spectacular. You can also save 24MP selfies. There's no autofocus or a secondary camera (or any kind of ToF sensor), so portrait selfie images are a hit-or-miss affair. The Night Mode doesn't work with the front-facing camera, yet, unlike on the Realme XT and the Realme X2 Pro. So, low-light shots suffer and there's a fair bit of noise in them.
Video recording is where the phone struggled a bit as the stuttering and frame drop issue that I noticed with the ZenFone 6Z raised its ugly head once again with the ROG Phone II in the 4K 60fps video mode. While it did not happen all the time, the issue was present in a few videos where I noticed micro stutters due to frame drops. I am sure ASUS could fix it with a software update. Other than this particular problem, the ROG Phone II was really good in the video mode. There is plenty of detail in videos and they appear bright. There's not as much pop in the colours when compared to the OnePlus 7T or Realme X2 Pro, but I think ASUS went with the natural approach. So, there's a chance that you might not be awed with the videos in the first look.
Our worries about ROG Phone II not being able to match the best camera phone in its price segment turned out to be true. While it's cameras are not bad by any means, there's a scope for improvement, especially in terms of video recording smoothness and dynamic range in the scenes with a strong backlight.
ASUS ROG Phone II Software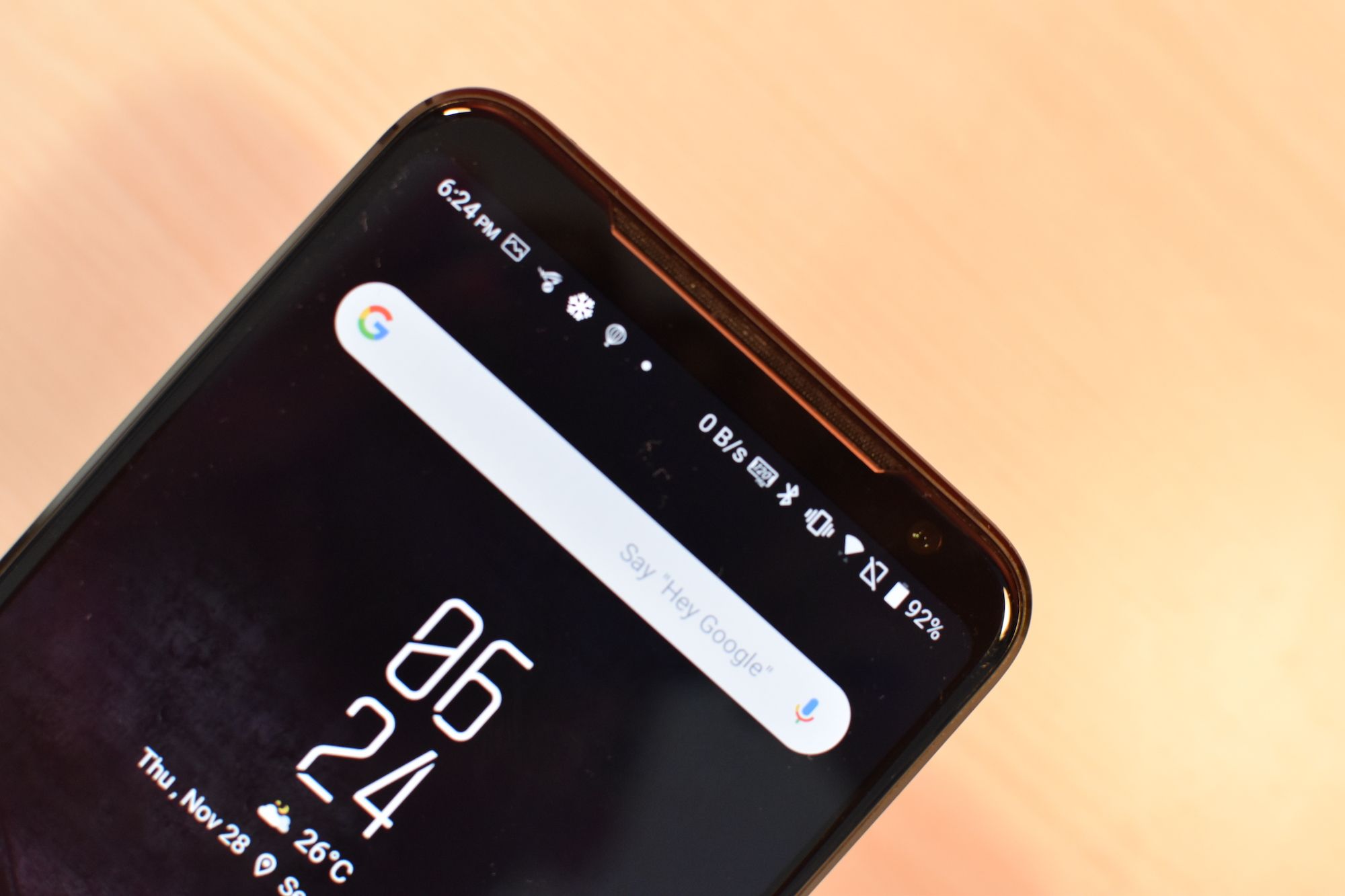 ASUS has clearly moved away from its days of heavily skinned Android versions, and the ROG Phone II runs Android 9 with a near-stock version of Android UI. There's an ROG theme, too, with gamer-ish accents and colour scheme. Frankly, I prefer the stock Android look compared to the ROG theme, but your choice may vary.
There are two UI colour schemes: Dark and Light. If you are one of those who like to take the full advantage of AMOLED screens power efficiency using a black theme, you can do that on the ROG Phone II.
The ASUS Launcher app resembles stock Android UI. A swipe up action offers access to the dedicated app drawer, while the swipe down action opens the notifications shade. You can customise the swipe down gesture to open the system-wide search feature. The preinstalled app launcher offers a lot of customisation features, including changing app icon grid size, app icon badges, icon alignment, scrolling effect, icon label text colour, shape of folders, and home screen rotation behaviour. There are options to hide and lock apps as well. The app drawer also supports folders, custom placement of app icons, and smart grouping of apps.
There are various quick setting toggles, including the usual ones. Some new quick setting toggles that the ROG Phone II offers are:
AirTriggers
Audio Wizard
Auto Start Manager
Calculator
Camera
Fan
Glove Mode
Memory Cleaner
One-Hand Operation
Outdoor Mode
Refresh Rate
Scan (Mobile Manager)
Screen Recorder
Screenshot
System Lighting
X Mode.
Of course, you can customise their placement, and whether or not they should appear in the notifications shade. The multitasking menu shows opened apps in the form of cards, and each card has four options: Lock, Side-By-Side Multitasking, Information, and Close.
The Settings menu is quite simple and intuitive. There's a search bar which can be used to find the setting that you are looking for. There's an option to join a Wi-Fi network by just scanning a QR code. The phone generates a QR code for every Wi-Fi network you connect to, so you can share it with your friends and let them easily connect to the same network. The Bluetooth menu displays the battery level and audio codec that's being used for the connected wireless earphones. The AudioWizard section allows audio customisation through preset equalisers and an earphone-by-earphone basis (via DTS:X Ultra technology).
Various battery and power-related features can be found under the Battery section in the Settings menu. The PowerMaster section offers an auto-start manager, various battery modes, battery-saving options, and Battery Care. The Battery Care feature shows you if your charging habits are good. It also dynamically adjusts the charging rate to fully charge the battery overnight during a period that you schedule. Battery-saving options stop unnecessary background apps, detects the apps that are draining the battery, and offers you low-battery level notifications. Battery modes include Balance, Power Saving, Super Saving, and X Mode (for higher performance).
ASUS ROG Phone II Software Features
The Mobile Manager app, which can also be accessed from the Settings menu, shows RAM and storage consumption. It also displays data upload and download usage (via both cellular and Wi-Fi networks). It also features a junk files cleaner and a memory cleaner. The Privacy Security feature scans all the apps for viruses and malware. It also displays various other data privacy-related information and tips to improve the security of the device.
The Game Genie feature shows the game toolbar while playing games and displays real-time information (CPU, GPU, battery level, system temperature, FPS counter, and remaining phone usage time based on current battery level). You can also connect it to your Twitch and YouTube accounts for live streaming your gaming sessions. The maximum live video streaming resolution tops out at 1080p. You can either stream in-game audio or audio from your microphone. Screen recorder can record up to 1080p videos of on-screen action, and you can customise recording quality, file storage location, screen orientation, audio recording (off/internal audio/microphone), show or hide touches, and whether or not to show notifications.
Other features that the ROG Phone II offers are Twin Apps (create two instances of the same app), Safeguard (quickly send SOS message in an emergency), and OptiFlex (which accelerates app launches, reduces app reloads and saves battery power in the standby mode). Gestures like Life To Check Phone, Flip Down To Mute, Hands Up, and Double Tap To Turn On/Off Screen are available, too. You can also draw alphabets on the lock screen to launch a particular app or feature. For example, you can draw a W on the lock screen to directly open the weather app. You can enable or disable all the features as per your preference.
There's also an option to back up the phone's data to the cloud or to a local file. The ASUS Data Transfer feature allows offers you a way to transfer the phone's data such as call logs, contacts, messages, images, videos, documents, apps, games, and other files to another phone and vice versa.
Stock apps are quite feature-rich, too. The Phone app allows call recording and has a call blocking feature. The Calculator app includes currency and unit conversion, and it can be opened in a floating window. The Clock app has a feature that turns on the phone during the alarm time even if the phone is otherwise turned off. The File Manager app classifies all the files stored on the phone, shows remaining space, allows transferring files to a PC wirelessly, and offers a file vault where you can save sensitive data and files (and they open after fingerprint authentication).
ASUS has done a commendable job in striking a balance between features and UI design. There are dozens of useful features without making the software appear bloated. I would say that the list of software features that the ROG Phone II offers is close to what Samsung does, and it does so without getting bogged down in performance. I wonder how ASUS will improve upon this when it offers the Android 10 update to the phone.
With regards to Android OS version updates, ASUS has been pretty good for its ZenFone lineup. The ASUS ZenFone 6Z and the ZenFone 5Z have already received Android 10 updates. However, the OG ROG Phone has only now received the Android 9 update, which gives me a few reasons to be troubled over the future software upgrade scene of the ROG Phone II. The Taiwanese firm has still not spoken anything about the Android 10 stable update for its latest gaming phone, but it has started a beta program for those who want to test the beta Android 10 OS software update on the ROG Phone II. I think it will receive the Android 10 update sometime early next year, but I have little confidence of the phone receiving the Android 11 update.
ASUS ROG Phone II Performance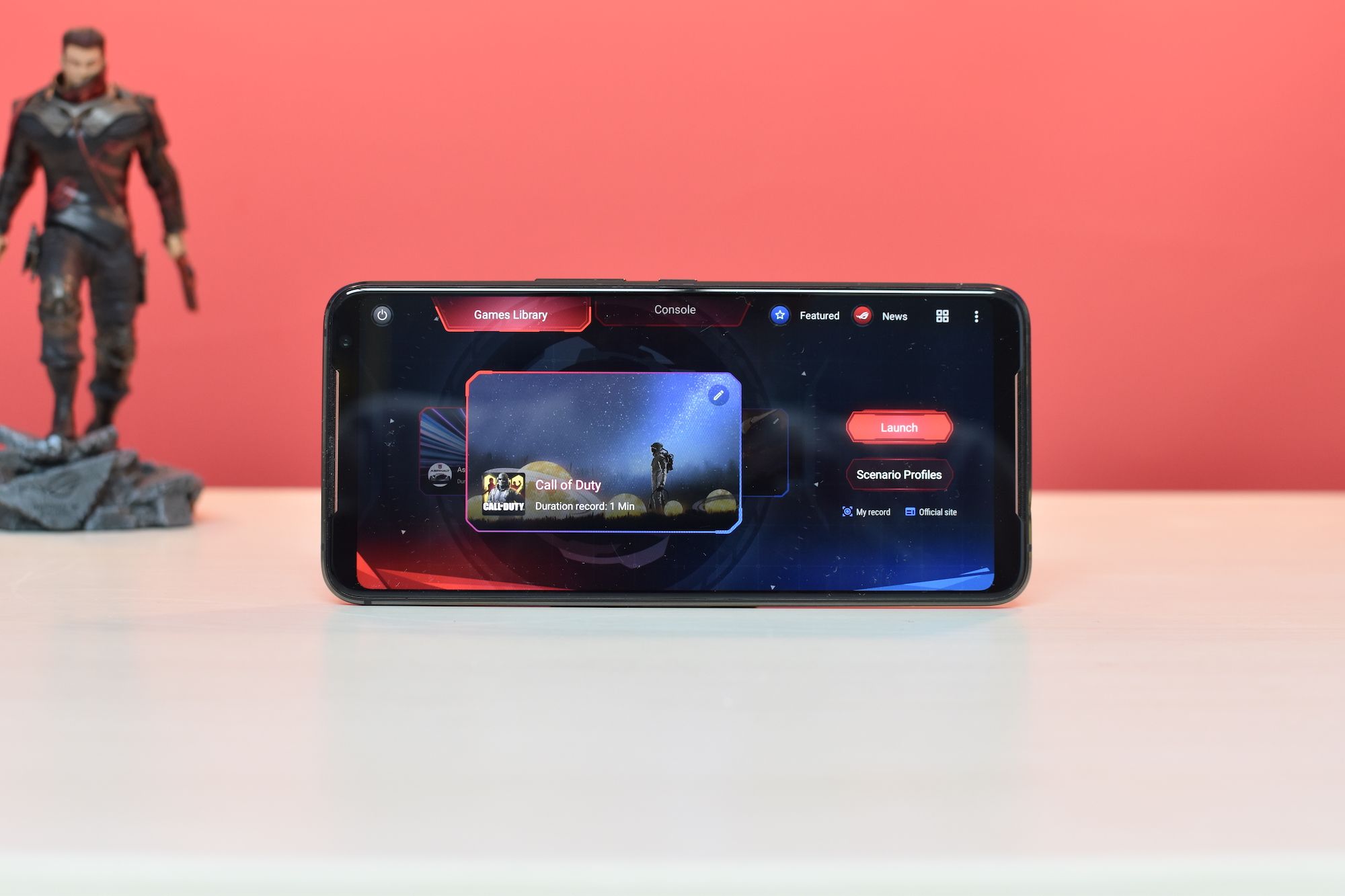 The ROG Phone II stayed true to its promises and performed like a champion. The Snapdragon 855+ chipset, 8GB RAM, and 128GB UFS 3.0 storage is a winning combo. The phone was fast and smooth during all the tasks, be it gaming or during the benchmarks. Apps and games opened swiftly. There were no frame drops or stutters of any kind. Day-to-day tasks were a breeze for the phone. Even after hours-long gaming sessions, the phone only got warm and there was no noticeable performance throttling.
I played Call Of Duty Mobile and PUBG Mobile every day during the three weeks-long review period, and I must say I immensely enjoyed gaming on it. The combination of fast performance, notch-less screen, 120Hz refresh rate, powerful and clear loudspeakers, and long battery life made me realize that it is the best smartphone I have ever used for playing games.
ASUS ROG Phone II Performance Benchmarks
It also scored the highest in all the performance benchmarks among Android smartphones, except the single-core score where the Galaxy S10 and Galaxy Note 10 series of phones seem to dominate. Turning on the X Mode and X Mode Ultimate boosted the performance but by a negligible margin.
Although the phone features 120Hz refresh rate, very few games are actually compatible with the higher refresh rate feature. ASUS has listed all the games that support higher than 60fps frame rates on its website. Neither Call Of Duty Mobile nor PUBG Mobile is listed on the webpage, but the latter will soon bring support for 90Hz refresh rate and true 10-bit HDR. I did not get a chance to use any of the gaming accessories launched by ASUS for the ROG Phone II but the AeroActive Cooler II and the Kunai GamePad would be useful for most mobile gamers. I think that other accessories such as the TwinView Dock II, WiGig Display Dock Plus, and Mobile Desktop Dock are superfluous.
Coming to the other aspects of the phone's performance and usability, the optical fingerprint reader is among the best as it is quite accurate and fast. The stereo loudspeakers are loud and clear.
There are multiple antennae for Wi-Fi and they are placed and optimised for better landscape use while gaming. I did notice faster Wi-Fi speeds on my home network when compared with the OnePlus 7 Pro.
ASUS ROG Phone II Battery Life
The 6000mAh battery takes a little over 2 hours to fully charge but it easily lasts one entire day even with multiple gaming sessions and the refresh rate set to 90Hz or 120Hz. If you don't spend hours on gaming, you should expect the phone to easily last a day and a half on a single charge. Turning off the Always-on Panel would help a lot, too. If you set the screen refresh rate to 60Hz, it might last 2 days on a single charge but a lot also depends on whether you are using two SIM cards or what's your usage pattern.
The phone's 128GB variant comes bundled with an 18W Quick Charge 4.0 charger. If you want to experience its fastest charging speed, you should get the 512GB variant of the phone which comes with s 30W USB PD charger. While the ROG Phone II lacks wireless charging, it makes up for it with the 10W reverse wired charging feature. It's a good feature if you want to charge your wireless earphones or your friend's phone.
Who Should Buy ASUS ROG Phone II?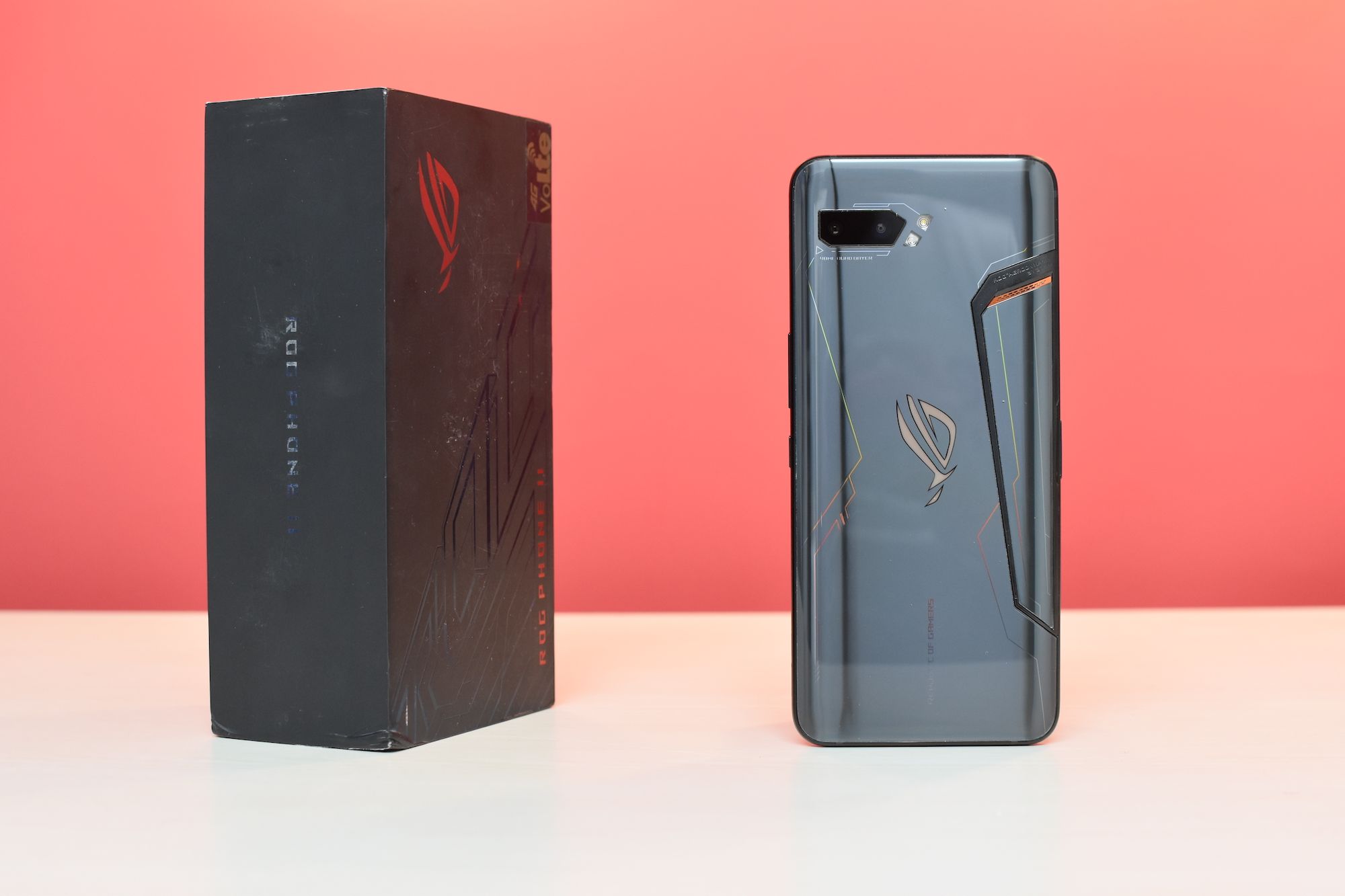 Unless you want the absolute best camera phone (under the Rs 40,000 price mark), you should get the ROG Phone II over any other phone. It has an amazing display, wonderful loudspeakers, unquestionably fast and smooth performance, tonnes of software features, extremely long battery life, and a dedicated headphone jack. On top of that, there are not one, but two USB Type-C ports.
For gamers, there are shoulder buttons, 120Hz refresh rate screen with HDR, various mobile gaming-related software and hardware features, and flashy looks with RGB lighting.
The only area where the ROG Phone II could've done better is the camera. The camera is not bad. In fact, it is pretty good. However, there are a few areas where it could improve, and these are the problems that can be easily fixed with software updates, especially since the company has used top-notch camera hardware. If the company fixes these issues, I would personally buy the ROG Phone II over any other phone this year.
Coming to the questions that we had in mind, yes, if you are a competitive gamer, the ROG Phone II improves your gaming skills and offers you a competitive edge over others who use non-gaming smartphones.
ASUS ROG Phone II
₹37,999
Design and Build Quality
8.0/10
Front-Facing Camera
7.0/10
Rear-Facing Camera
7.5/10
What Is Good?
Large, bright, and colourful AMOLED screen with fluid-looking 120Hz refresh rate and no notch. There's HDR10 playback, too.
Loud and punchy front-facing stereo speakers.
Blazing fast performance for any type of task.
Fast fingerprint reader.
Simple-looking yet feature-rich software.
Excellent battery life and fast charging.
AirTriggers are useful while gaming.
Secondary USB Type-C port is useful when gaming while charging the phone.
Great set of gaming accessories available.
Very well-priced.
What Is Bad?
Cameras could've been better.
The phone is heavy for sure.
Still no Android 10.