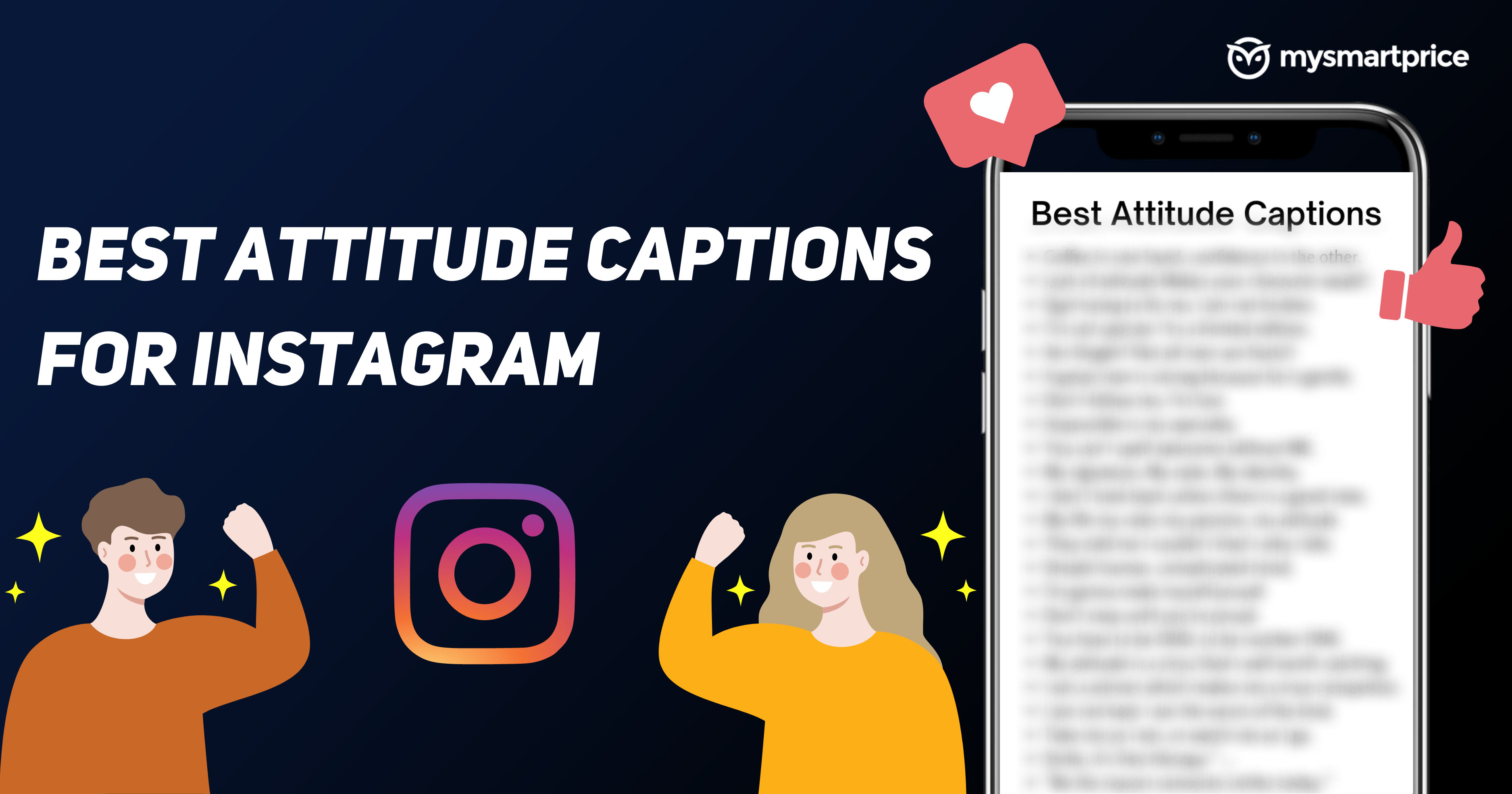 If you have the attitude, it's time to show it. These are the best attitude captions for Instagram. These quotes and captions will be perfect for your images, selfies, photos with your friend group, and more. It will also be ideal for showing off your attitude if you're a boy or a girl.
We have organised these Instagram captions according to various collections, such as Instagram Captions for girls' attitude, attitude Instagram Captions for boys, positive attitude quotes, smile attitude captions, and more. We have compiled a detailed list of 200+ best attitude captions and quotes for Instagram. Read on to find all the best attitude captions for Instagram; feel free to copy them for your posts.
Best Attitude Captions for Instagram
If there is no one to hold your hand put your hands in your pocket and continue your walk.
My attitude is based on the way you treat me.
When life throws a rock at you, build a catapult and hurl back a boulder.
If you ever think I am ignoring you, I swear I am. My phone is in my hand 24×7.
People understand you by your attitude. If your attitude is bad, you are bad. If your attitude is good, you are good.
I'm at the point where I don't want to impress anyone anymore. If people like me the way I am, great. If they don't, well, it's their loss.
For success, Attitude is equally as important as Ability.
Your attitude is like a price tag, it shows how valuable you are.
Silence is the best response when you're dealing with an idiot.
I'm not sorry for being rude; I'm not sorry for being myself.
Never get so busy doing the kingdom's work that you forget who the King is.
he difference between a pizza and your opinion is that I only asked for the pizza.
That which kills you is that which challenges me and makes me feel alive.
I am that magical wind that can turn into a storm when broken.
I refuse to have a battle of wits with an unarmed person.
I do good, but I am not an angel. I do sin, but I am not a devil.
I define my own life. I don't let people write my script.
I tried being like you, my personality didn't like it
Attitude is like a wristwatch. Every watch shows a different time than others, and everyone thinks his watch is showing the right time.
I am multi-talented; I can talk and piss you off simultaneously.
You couldn't have handled me even if I came with instructions. I'm not weird; I just fall outside your narrow view of the world.
The harder you fall, the higher you bounce.
My attitude is a reflection of my personality.
I'm not bossy; I just know what I want.
A bad attitude is like a flat tire; you won't get anywhere till you change it.
The only time I look down on anyone is when I'm trying to help them up.
My true colours may not always be pleasant in the eyes of others, but as long as you find them beautiful, I don't need anyone else to accept them.
They told me I couldn't, that's why I did.
It's not an Attitude, It's the way I Am.
Don't let Monday get you down; let's get up and get going.
Your attitude can make all the difference in how your day will begin and end.
Instagram Captions for Girls Attitude
If you treat me like a queen, I'll treat you like a king. If you treat me like a game, I'll show you exactly how it's played.
You can't compare me to the next girl because there is no competition. I'm one of a kind, and that's real.
I just finished blocking some numbers on WhatsApp; if you can read this, you got lucky!
There is always a wild side to an innocent face.
Treat me like a princess.
You cant break a girl that has walked through fire and danced in storms.
Aside from gravity, nothing in life can keep me down.
Maturity is when you realise self-respect is more important than love.
Beauty is only skin deep. Attitude is down to the bone.
Attitude is the mirror of your entire being.
If you want to improve your life, start working on your attitude first.
If you don't like something, change it and If you can't change it, change your attitude.
My "style" isn't for everyone, but my "personality" is.
I got it from my mama.
Not every queen needs a king.
Fashion, food, friends and frosty drinks. Friday nights in the best way.
Attitude and knowledge are the best foundation of real beauty.
I'm the perfect combination of all my flaws.
Be picky with selfies and pickier with men.
The better you feel about yourself, the less you need to show off.
Attitude, knowledge, and skills are the real beauty.
A negative attitude is nine times more powerful than a positive attitude.
A can-do attitude is all one needs it acts as a bridge between success
and failure.
I'm the way I'm, and I will always be.
Not always 'Available'… Try your Luck.
Please don't interrupt me while I'm ignoring you.
It is a positive attitude towards life that makes dreams come true.
Also Read: Instagram Captions: 250+ Best, Cool & Short Captions For Your Instagram Post and Selfies
Attitude Instagram Captions for Boys
Always hold your head up
Just living my best life.
I hear them talking behind my back; at least there is a reason why they are behind me.
Don't confuse my personality and my attitude. My personality is who I am. But my attitude? That depends on YOU.
My attitude is based on your behavior.
Good is not good enough. I deserve more, and that's greatness.
I don't take shit personally from someone who doesn't know me.
Whatever comes my way, I take it with a smile.
If you want to cry, use a tissue not your status.
A bad attitude is like a flat tire,you won't get anywhere till you change it.
If you don't control your attitude, then it will control you.
I'm not usually one for taking selfies, but this one is pretty great.
I'm not really into taking pictures of myself, but this one turned out pretty well.
I'm making yesterday jealous by making today awesome.
When you take control of your attitude, you take control of your life.
Let me file that under "I don't care."
Give the world a reason to remember your name.
A strong positive mental attitude will create more miracles than any wonder drug.
Keep your face towards the sunshine. You will never see the shadow.
I don't have an attitude problem. You have a problem with my attitude, and that is not my problem.
Being a male is a matter of birth. Being a man is a matter of choice.
You couldn't have handled me even if I came with instructions.
When you take control of your attitude, you take control of your life.
Don't judge someone's attitude until you have felt their pain.
People say smoking kills, but what about feelings, bro?
I will sacrifice whatever is necessary to be the best.
Success is the by-product of your attitude.
Positive Attitude Quotes for Instagram
There can be no positive result through a negative attitude. Think positive. Live positive.
A problem is a chance for you to do your best.
I can't change the direction of the wind, but I can adjust my sails always to reach my destination.
Sometimes you will never know the value of a moment until it becomes a memory.
A positive attitude causes a chain reaction of positive thoughts, events and outcomes. It is a catalyst, and it sparks extraordinary results.
Put your positive pants on!
Don't change so people will like you. Be yourself, and the right people will love the real you.
Be not afraid of life. Believe that life is worth living; your belief will help create the fact.
Positivity brings about peace of mind which relaxes your whole being.
If you can't change your fate, change your attitude.
Winners focus on winning, and losers focus on winners.
I am not perfect, but I am a limited edition.
Don't be afraid of being outnumbered; eagles fly alone. Pigeons flock together.
When it rains, it pours? But soon, the sun shines again. Stay positive. Better days are on their way.
The more you feed your mind with positive thoughts, the more you can attract great things into your life.

I really don't care what you think about me. Unless you think I'm awesome. In that case – you're totally right. Carry on!

There is a sense that things if you keep optimistic about what can be done, do work out.
A positive attitude can really make dreams come true.
Everywhere you go, make positive deposits rather than negative withdrawals. You can be a people builder.
Never argue with a fool or an idiot otherwise you will be known one of them
If you are positive, you'll see opportunities instead of obstacles.
A positive attitude will lead to positive outcomes.
Rise up and attack the day with enthusiasm.
Your attitude is like a price tag, and it shows how valuable you are.z
Also Read: Instagram Brother Quotes 2022: Best Funny, Love and Inspiring Brother Captions for Instagram
Smile Attitude Captions for Instagram
The good news is I'm smiling. The bad news is it's the kind of smile that people should fear.
I like to smile. I smile even when I'm nervous since it calms me down and shows my friendliness.
You shouldn't ever regret something that made you smile.
Smiling is the best way to face every problem, crush every fear and hide every pain.
The best way to start your day is with a smile.
Smiling is the best way to face it every day.
Wear a big smile and have fun!
A smile is a curve that can set everything straight.
Killer smile, killer attitude.
A big, toothy grin is sure to make others smile
Sending you a big smile, and hoping it brings a big smile to your face too.
Smile and the world will smile back.
Attitude is not what you learn from school, it is part of your nature from within.
Your smile is the first thing they notice. Make sure it's on point.
If you're happy, let your smile be your umbrella.
My smile is a reflection of my positive attitude and my happiness.
Smile often, laugh uncontrollably, and never forget how much you are loved.
Wear a smile and have the world wonder what you've been up to.
Smile more, stress less.
We're all for any outfit that makes you smile.
The best way to spread happiness is by smiling.
I smile even at my enemies.
It's smile Monday. Let's see if we can make it last all day.
Smile, life is beautiful.
You know it's going to be a good day when you put on your favourite pair of sunshine. A smile on your face and a song in your heart are just all you need to rock through life!
Thanks for the smiles.
It doesn't matter where you are or what you're doing, a smile always brightens up everything. So learn to wear one.
Smile, and the world will smile with you.
Cool Attitude Caption
Don't follow me; I'm lost.
My life. My rules. My attitude.
It is wise to adopt a change in life.
I'm the girl you've always wanted.
I hate compromising my dreams for others.
No guts, no glory, no legend, no story.
How can I miss something I never had?
There is a perennial construction going on on the road to success.
Your attitude determines your direction.
I am not afraid to walk this world alone.
Develop your own style. Never copy.
For success, Attitude is equally as important as Ability.
Take control rather than complain.
Don't be ashamed of who you are.That's your parent's job.
Never sacrifice yourself for anyone; come what may.
Keep your heels, head, and standards high.
I am not afraid to walk this world alone.
Let me adjust my crown and get my day started.
Who the people decide what attitude I have?
Following my orders is so much simpler.
Be the one to make them stare.
What others think of me is none of my business.
These times are so hard, and they're getting even harder.
Different from everyone!
I don't need to explain myself because I know I'm right.
Learn to live than to exist.
Attitude Captions for Instagram in Hindi
Jo nafrat krte hai, Zara shaukh se kare, Nafrat ko hum mohabbat mante hai.
Raftaar meri dheemi hi sahi, Magar udaan jarur lambi hogi.
Utha lo fayeda meri majburi ka, Varna kal fir mat kehna, Mauka nahi diya barbaadi ka.
Khata itanee thi ki unako pane ki koshish ki, agar chhinne ki koshish karate to beshak vo hamaare hote.
Wo khel khelna jante hai, Aur hum khel badalna.
Hum duniya se alag nahi, Humari duniya hi alag hai.
Hum bhi shariff the magar afsos ab nahi rahe.
Itana attitude mat dikha janeman, kyonki tere javaani se zada, hamaare tevar garam hai.
Muskurane ki aadat hai doston, Hum udasiyon ko muh nahi lgate.
Akela hona aur akela rona, Insaan ko bahut majbut bnata hai.
Jo maza badal jaane mein hai, wo badle mein nahi.
Aap to hame bilkul hi bhul aaye apni aukat ki tarah??.
Attitude Bike Captions for Instagram
Faster, faster, faster, until the thrill of speed overcomes the fear of death.
She told me not to ride bikes a lot; I miss her sometimes!
When riding a bike is your favourite way to get around town.
New bike. New adventures. New milestones.
Ride or die attitude.
I love my bike more than people.
All we need is a bike.
If you want something, biker, you've got to make it happen yourself.
Who needs two feet when you have two wheels?
Good girls sit, bad girls ride.
You don't need a destination, just a drive.
Life is a beautiful ride with you.
You ain't never seen a bike like this one before.
If you don't ride in the rain, you don't ride.
Out on the open road is where you really feel the sheer joy and freedom of riding. Free your spirit and ride!
No matter where life takes you, there's nothing better than a bike to get there.
I don't need a therapist; I have a motorcycle.
Ride big, Ride long, Ride Free.
Riding a car is like watching a movie; riding a bike is like starring.
Bike to work, bike to play, bike tomorrow, bike today!
You can't buy happiness, but you can buy bikes, and that's the same thing.
You need two legs to walk but two wheels to live.
Life is like riding a bike; to keep your balance, you have to keep moving.
It's not just a hobby but my escape from reality.
Riding a race bike is an art – a thing that you do because you feel something inside.
Also Read: Facebook Caption Ideas: 300+ Best, Cool and Short FB Captions for Profile Picture, Selfie and Post
Short Attitude Captions for Instagram
I'm not a hoarder; I'm a collector.
Do Reckless. Be Fearless.
Life goes on, with or without you.
You can't do epic shit with basic people.
I'm not lazy; I'm in energy-saving mode.
Living my best life.
My attitude is kinda savage.
Life is better when you're laughing.
I couldn't be happier.
I'm not short; I'm fun-sized.
Typical me.
Just me.
Sorry if I Looked interested; I'm not.
Me doing me.
Laziness will cause you pain.
One neglect makes ten regrets.
Impossible is my speciality.
Some days start better than others.
I wasn't lucky, and I deserved it.
If I were you, I would adore myself.
Born to express, not to impress.
Be the best version of yourself.
Man of the year.
Kindness is so gangster.
Different from everyone!
Don't be busy, be productive.
My Life. My Rules. My Attitude.
Be yourself, and you can be anything.
Silent people have the loudest minds.
I respect a person who respects me when I'm not around.
I know, I'm lucky that I'm so cute.
I'm sorry if you don't understand my level of thinking.
My opinions may have changed, but not the fact that I am right.
Some people just need a High-Five… On the face.
Attitude is like underwear – don't show it just wear it.
I am who I am, your approval is not needed.
You can either take me as I am or watch me as I leave.
Be yourself, who else is better qualified?
Attitude Captions for Instagram with Emoji
Having a 🐳 of a time.
🍷 about it.
🥂🍻 -Cheers!
Take a 🍺 it will last longer
🐝😊 – Be happy
🙃🙃 -Turn that frown upside down.
You're 🐨☕️
🙋🏻We can all use more of this every day. 🙋🏼 Whether it's helping a friend, volunteering in your community, or simply being kind to a stranger, it has an impact. 🙋
Got 👀 for a new adventure? ✌️❤️
☕️ A cup of coffee is waiting for you.
Make the most out of this weekend, everyone! ☀️ 🍂
🍂 Get out there! ☀️ 💪
So many places, so little time. . ☀🌎