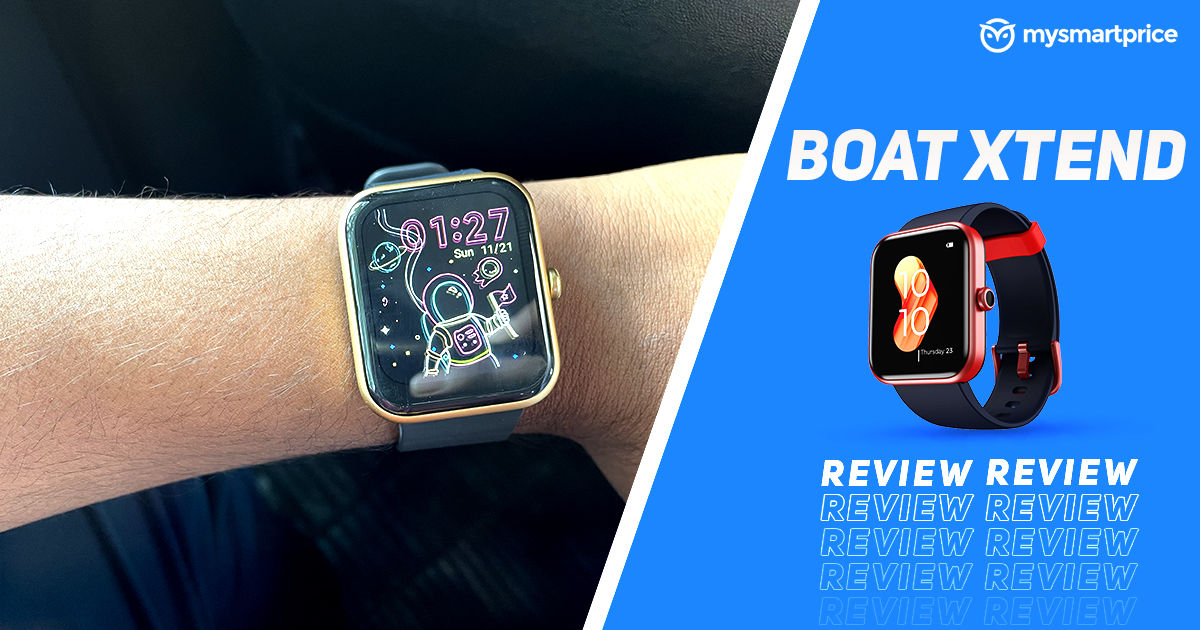 boAt is currently on a roll to launch smartwatches in India, the brand has already launched two new budget smartwatches, Zenit and Xplorer O2 last month and is launching another watch, Mystiq in the coming days. The brand debuted its first smartwatch, Storm last year in October and since then it has added a bunch of smartwatches to its portfolio. boAt is currently among the top five wearables brands globally.
We have been using the boAt Xtend smartwatch for more than a week now that comes at a price tag of Rs 2,999. It features Amazon Alexa, SpO2 monitoring, 14 workout modes, and more. The sub-3K category is filled with a lot of fitness bands and there are not many smartwatches out there in this category. Can the boAt Xtend create its unique identity among the others? Let's find out.
boAt Xtend: Design, Build and Fit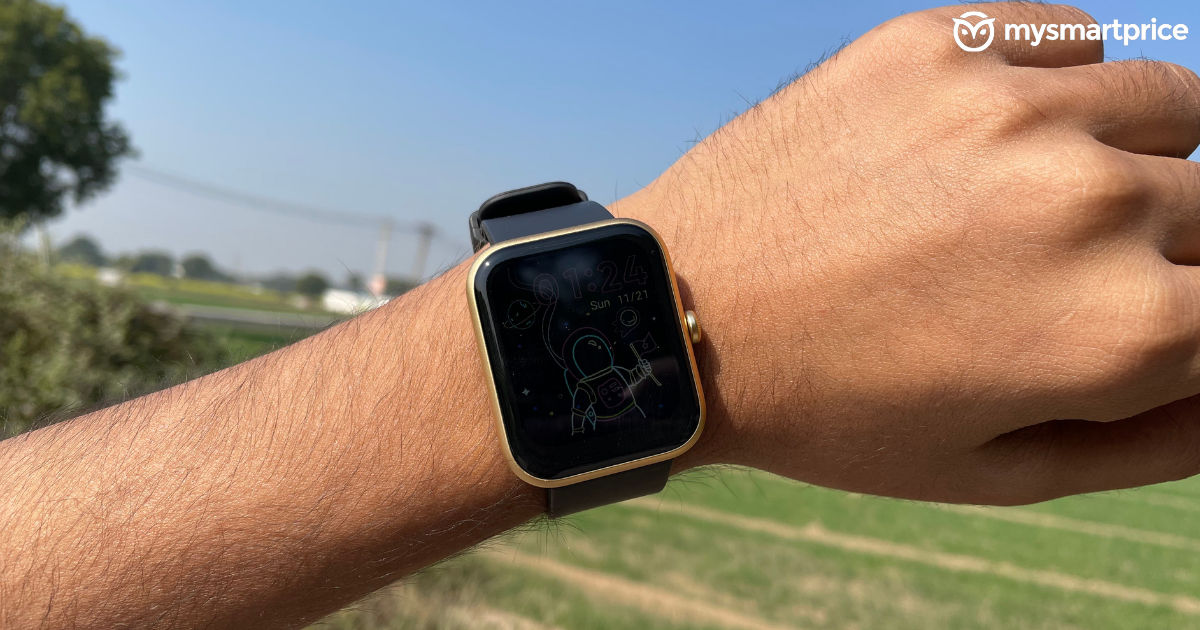 The boAt Xtend resembles an Apple Watch and additionally has a circular crown on the right side that helps in UI navigation. Despite being a low-budget smartwatch, the boAt Xtend feels super premium thanks to its premium look and golden coating on the sides.
It has a square shaped frame with flat sides and curved edges. Despite being made out of plastic, the watch feels premium. The boAt Xtend is attached to two soft silicone straps that can be replaced with any 23mm straps. It is rated to be waterproof up to 5 ATM that means you can easily use it during your workouts including swimming.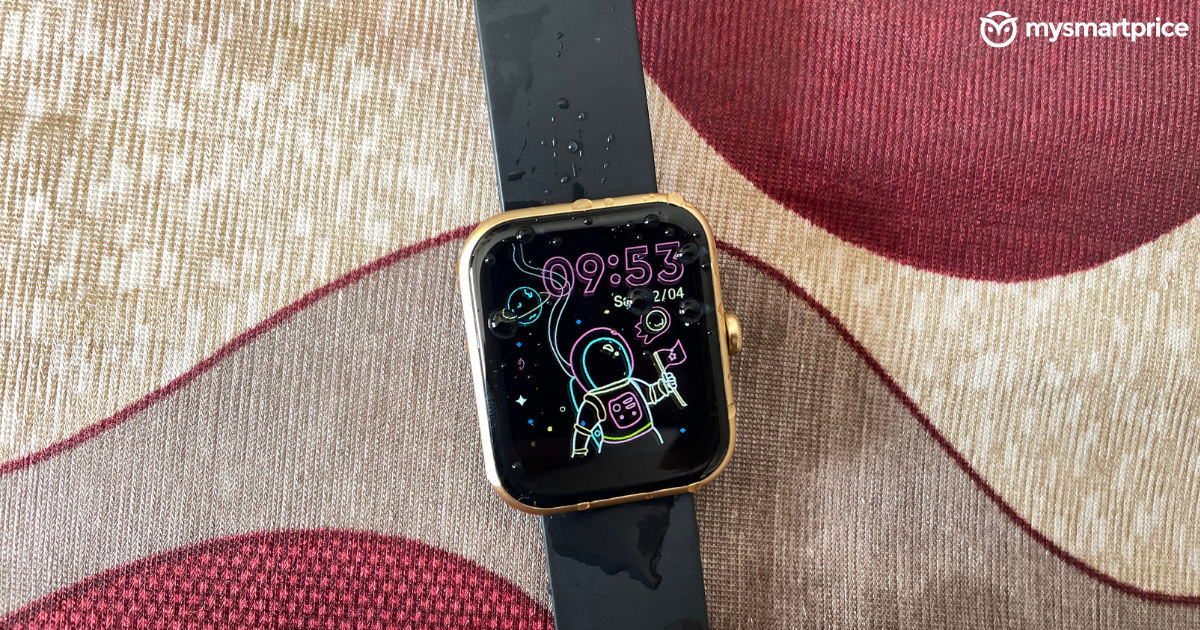 boAt Xtend is a smartwatch that focuses more on being stylish and hence there are various colour options available such as Charcoal Black, Deep Blue, Olive Green, and Sandy Cream. We received the Pitch Black edition which has a Black finish with Golden coating, and felt that this colour combination worked out well.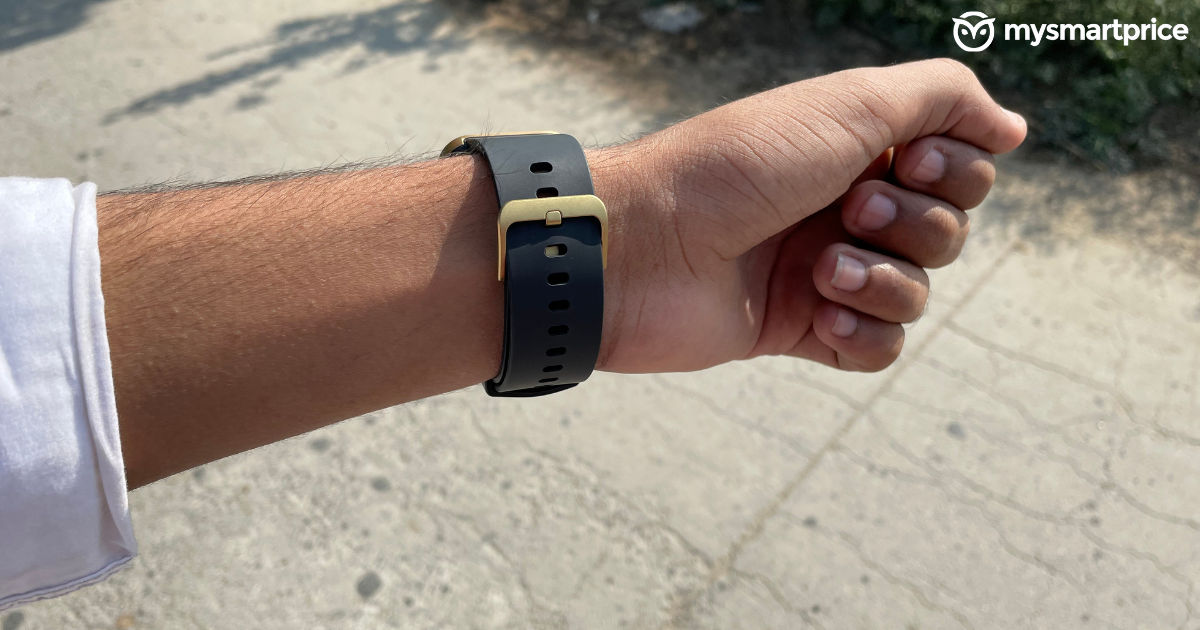 The boAt Xtend smartwatch is super lightweight and very comfortable. I have been wearing this smartwatch for the whole day during the review period without any discomfort.
boAt Xtend: Display
The boAt Xtend features a large 1.69-inch LCD square display with thin bezels around the corners. It feels good when the bezels are less to fit a larger display in a budget smartwatch. The display usually turns off after 20 seconds but you can set it according to your needs.
The display doesn't catch fingerprints or smudges easily even without an additional coating over it. It has 5 different brightness levels and it can detect the environmental lighting conditions and set its brightness automatically. While the smartwatch offers a good amount of brightness indoors, it fails to show anything in bright sunlight. You can't use it on a sunny day, I had to struggle to check the time on the watch.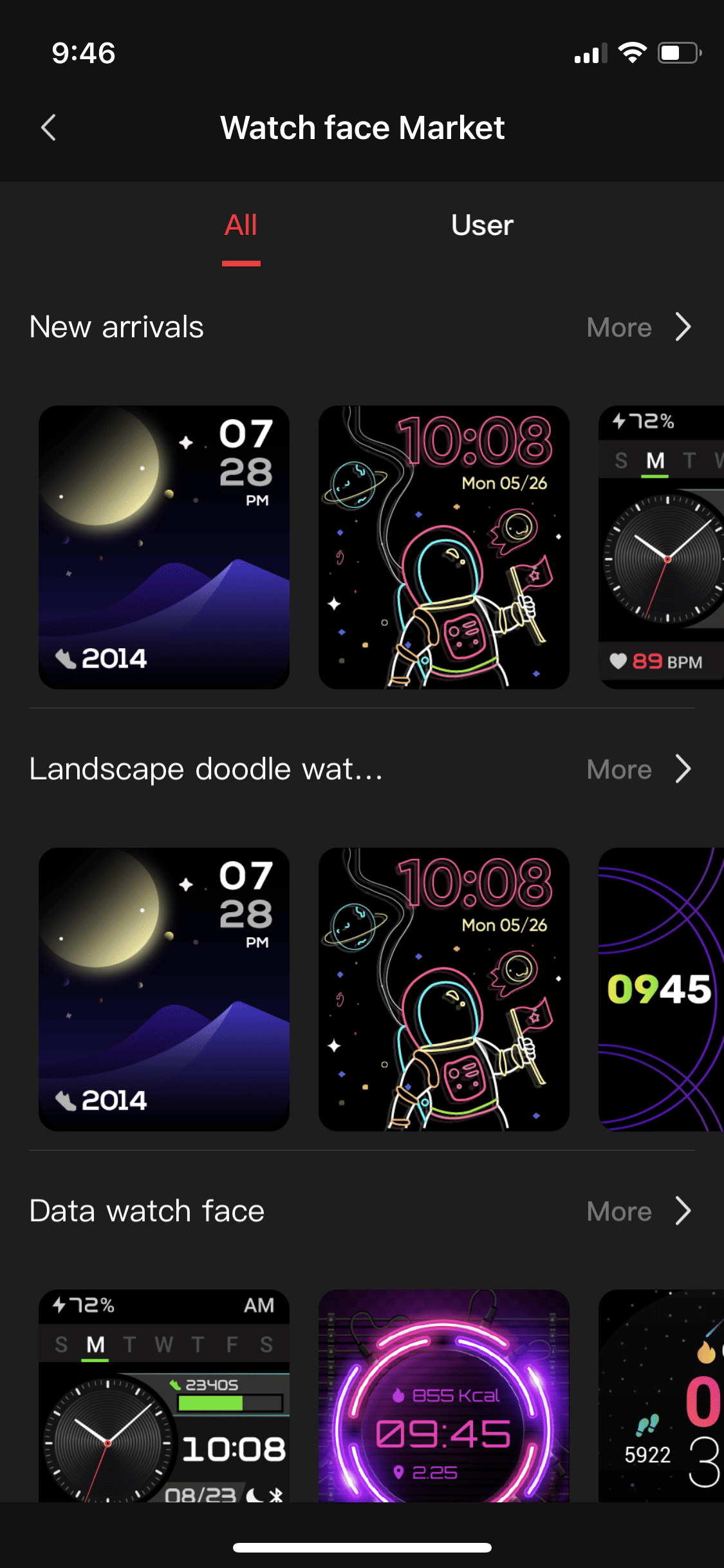 You can choose any Watch face from the 50 options available on the boAt Wave app, however, on the watch, you get only 5 watch faces to choose from. boAt really has a good collection of watch faces available on their app and we liked the astronaut watch face. If you have a hard time finding a watchface you like, you can still set your custom photo as the wallpaper on the watch.
The screen gets turned on either by touching the screen or when you raise it. The 'raise to wake' function works smoothly and wakes the screen within seconds. Overall, we liked the boAt Xtend display but the outdoor brightness is something of a sore spot.
UI, Features and Fitness Tracking
The boAt Xtend offers a plethora of features such as Stress Monitoring, SpO2 Monitoring, Heart Rate Monitoring, Amazon Alexa, and more. The user interface of the watch is very sluggish and the touch response is not impressive either, it takes more than a single touch to respond sometimes.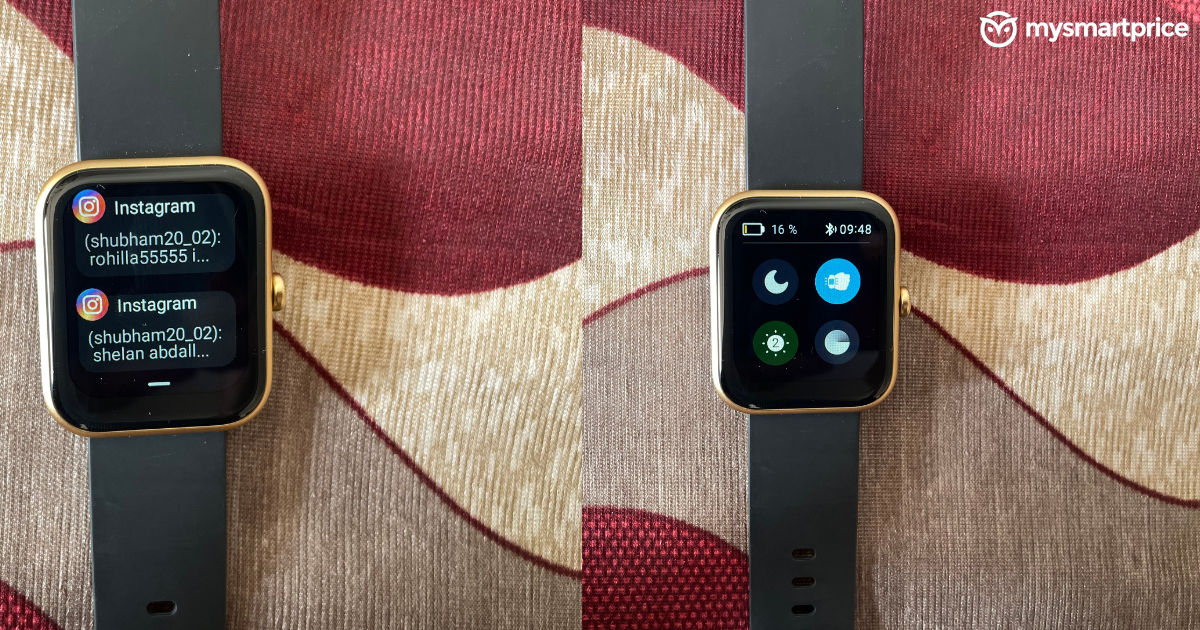 Swiping up will show you notifications whereas swiping down will show you battery level with four different options – DND, Raise to wake, Brightness level, and Find phone. Yes there's a Find Phone feature too, but we are yet to figure how this feature works. All we can see is just a blue rotating radar which does nothing. Anyway, swiping left and right from the main menu will get you features such as steps count, heart rate monitoring, stress monitoring, workout modes, SpO2 monitoring, and Amazon Alexa.
There is a crown button on the right side, pressing it will take you to the menu tab. You get a lot of options to choose from including the Breath training, Weather, Music, Stopwatch, Alarm, and more. In the settings menu, you can select between the Wake gesture, DND, Watch faces, Brightness, Power Off and restart.
The boAt Xtend shows you notifications with a few lines, if it's a long message then you will have to pick up your phone. You can't answer to any of the notifications from the watch directly. It can receive call alerts and reject them only. You can also control your music directly from a smartwatch.
Coming to the health-based features, the boAt Xtend matches scores with a similar watch in this price range, the Amazfit Bip U fairly accurately. The heart rate measured by the Xtend matches the reading on the Amazfit Bip U we have. Similarly, the SpO2 measured by it was very similar to the Bip U. About the stress monitoring, we are yet to figure out how the watch measures it so I won't be talking much about it.
The Xtend watch monitors your sleep tracking which we tested, however, the results were not satisfactory. It somehow recorded the sleep data despite not wearing the smartwatch on wrist. Below are some screenshots in which you can see that the watch has also mentioned the deep sleep and light sleep time, which is false. That said, you cannot be dependent on the Xtend smartwatch for its health-based features.
The boAt Xtend comes with 14 different sport modes including hiking, cricket, swimming, elliptical, and more. The Xtend doesn't have a built-in GPS but it can track your sports activities and show you a bunch of data in the watch itself. It has a dedicated health data and sports record which shows you your previous sports activities and other health data in the watch itself. The watch counted very few steps than what we actually walked, to prove this we walked a total of 50 steps while the watch showed us only 35 steps, which is 15 steps less than the actual. For the GPS, you need to connect your phone and then use it to get a complete overview of your activity on the map.
Another useful feature you get on this budget smartwatch is Amazon Alexa but there are few circumstances to use it. First, your smartwatch should be connected to the phone with the internet turned on and second, you can just ask a few basic questions only. Many times, Alexa failed to catch up with my words and I had to repeat the command again and again. Hence, I used Alexa on the first day of my review period only.
boAt Wave App
boAt has a dedicated boAt Wave app on Google Play Store and App store to connect to your smartwatch. While setting up your watch for the first time, you need to scan the QR code on the app to set up your watch. While signing up, it asks you for your basic information including your height and weight.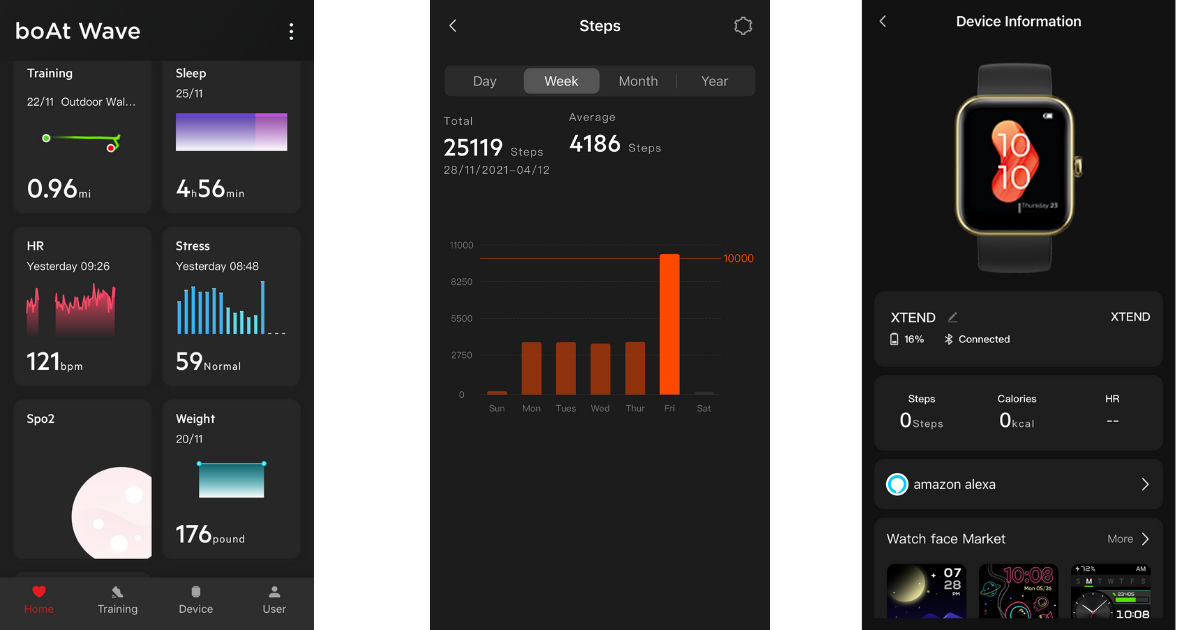 Once connected, the app will check if there is any update for the watch or not. I received two firmware updates on my watch during my review period. On the homescreen, it shows you some of your health information and previous sports activities in a very detailed manner. You can also start your sports activity directly from the app. Plus point for the app to send its users a health report card every week which consists of a lot of health data about the user.
boAt Xtend: Battery & Charging
The boAt Xtend has a 300mAh battery, the company claims that its watch can last upto seven days on normal usage and upto five days on heavy usage. The watch takes almost two hours to fully charge its battery through the magnetic points on its back. I used the smartwatch most of the time without connecting it to my phone. Also, the auto brightness and notifications were enabled, the heart rate was set to automatic and 30-mins of workout each day. It lasted me for 8 days actually, 1 day more than what the company claimed. This is pretty impressive for a watch at this price range as other smartwatches in this range provide similar battery life.
Is boAt Xtend the Best Smartwatch Under Rs 3,000?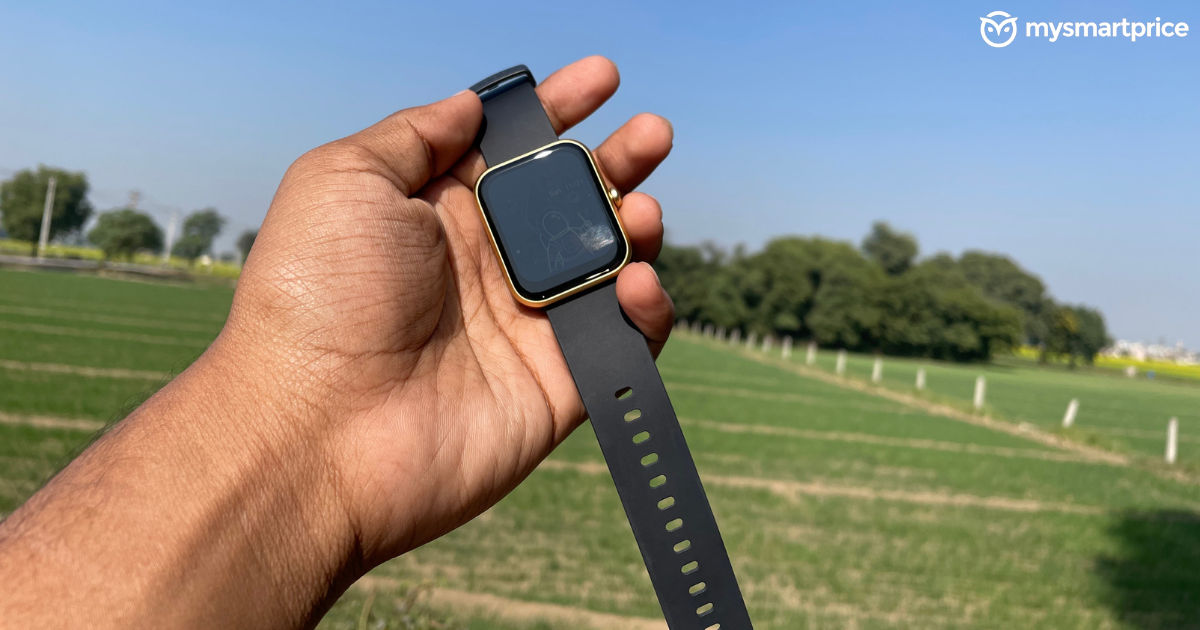 The boAt Xtend smartwatch is priced at Rs 2,999. At this price point, the boAt Xtend is a decent smartwatch. The display is large but the outdoor brightness is low, the watch faces are cool but the UI is very sluggish. It gives that premium look and comes with the built-in Amazon Alexa. There is some issue with the sleep tracking but it does monitor the heart rate and blood oxygen level fairly. The boAt Xtend offers a good battery life but the charging speed could have been faster. It comes with a few compromises but given that the watch offers a lot of features at this price, you can go for it.
If you want to explore more options in the sub-3K segment then you can check out the Noise Colorfit Ultra or the newly launched boAt Watch Xplorer O2 which comes with a built-in GPS and SpO2 monitoring.