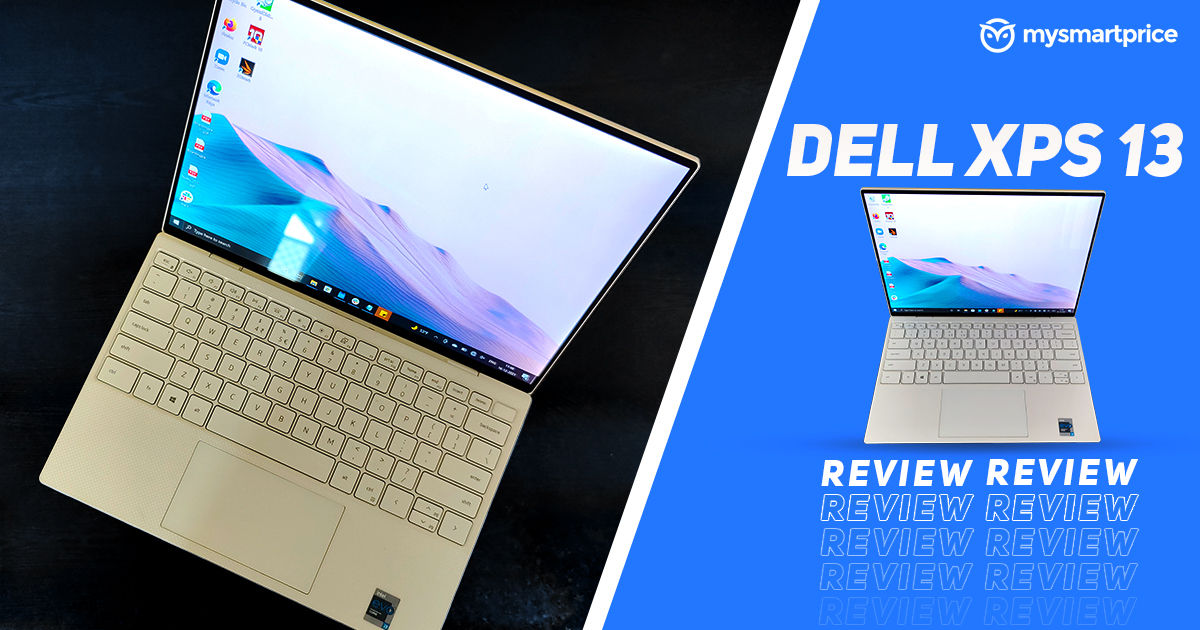 The Dell XPS 13 9310 encompasses everything that has given the XPS lineup a cult status of sorts. A razor-thin profile, premium woven glass finish and a gorgeous 4K display have all been hallmarks of the Dell XPS laptops, but in 2021, it might be losing its lustre. If it was any other year in the past, the mighty high price tag of Rs 2,31,690 would have felt justified considering how everything comes together in this ultraportable form-factor, but with the likes of the new MacBook Air and so many cheaper ultrabooks (some with OLED displays, some weighing less than a kilogram) available in the market, it makes little practical sense to buy the Dell XPS 13, unless you're a fan of this iconic lineup. If that's the case, the 2021 XPS 13 has everything you'd want from a thin and light laptop. Here's our review —
Dell XPS 13 9310
Rs 2,31,690
Keyboard and Trackpad
8.0/10
What Is Good?
Premium, woven glass finish
Best display on a Windows laptop
Silent typing
What Is Bad?
Uneven backlight
Heavy for its size
Exorbitantly priced
Specs and Features
For a 13-inch laptop, there's a lot packed inside the Dell XPS 13. As part of the company's most premium consumer offering, the XPS 13's top variant (which is what we're reviewing here) features the 11th-Gen Intel Core i7 1185G7, which is just a better binned version of the more common Core i7 1165G7, with slightly boosted core and GPU clock speeds. It'd be interesting to see if this makes a big difference in performance over the more common Core i7 laptops. There's 16GB DDR4 3200MHz RAM integrated into the main board, and can't be replaced. For storage, you get 1TB PCIe 4.0 SSD from Toshiba, along with a twin fan cooling system.
A long-champion of the ultrabook form factor, the XPS 13 gets the Intel Evo badge, certifying its adherence to Intel's revised specifications of how a thin and light laptop should function. The focus is more on tangible, real-world benefits like instant wake, longer battery and faster connectivity.
The key highlight of the XPS 13 is the 13-inch 4K touch display, along with a tactile, backlit keyboard and glass trackpad. And as is the norm with most razor-thin laptops recently, it only offers a trio of Thunderbolt 4 USB-C ports, with no USB-A option to plug your peripherals. There is a microSD card slot though, along with a 3.5mm audio jack.
All this is machined into a rather heavy chassis, but one that's as slim and sturdy as the MacBook Air. I got the Arctic white variant for review, and I gotta say, it's hard to resist keeping your hands off from this laptop.
Performance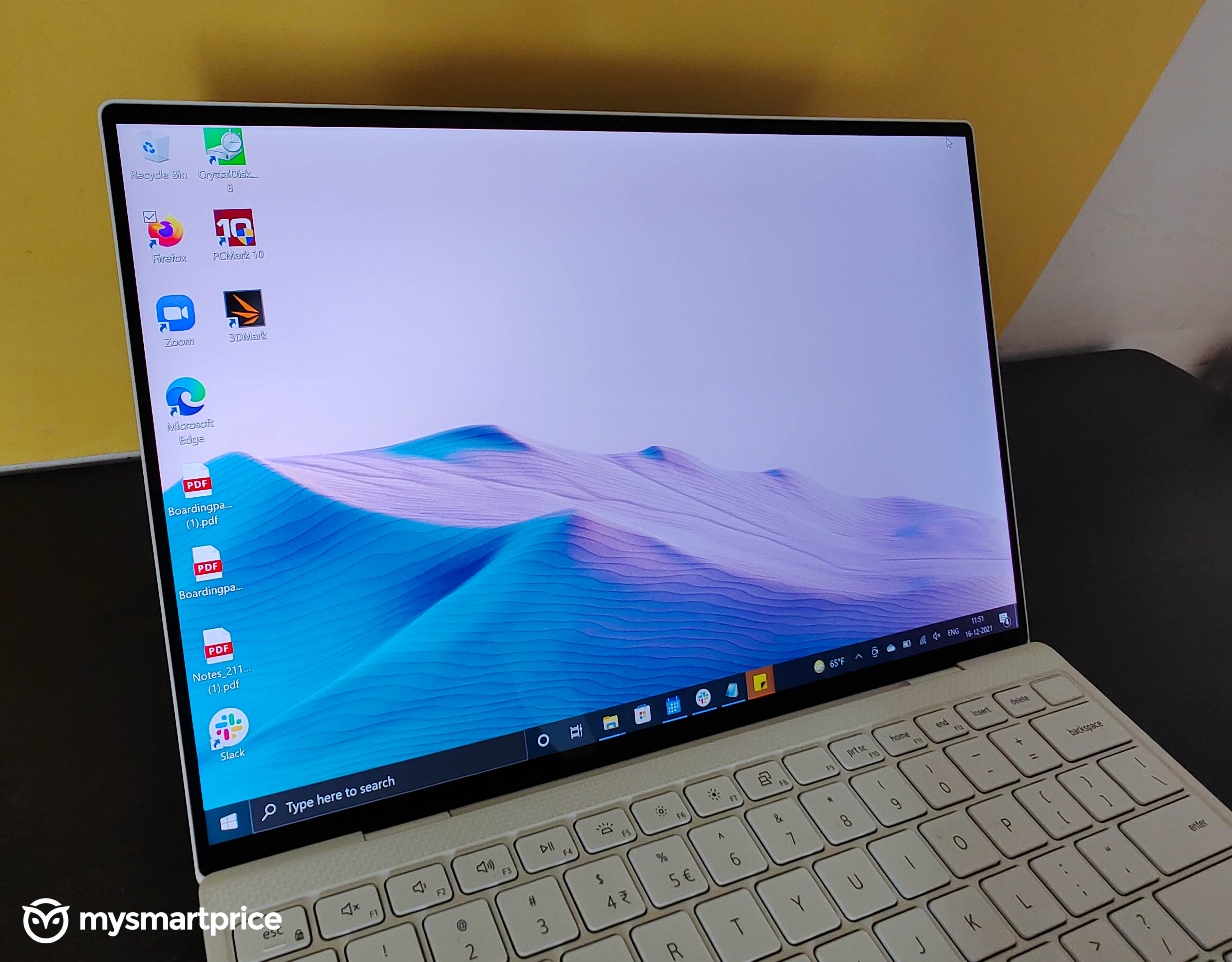 Luxury aside, what a Rs 2.5-lakh machine should absolutely nail is the performance. And here, the Dell XPS 13 gives nothing to complain about, except for the fact that the use-cases for which most people will want to consider this will also get accomplished just as well on cheaper ultrabooks. The Core i7 1185G7 is Intel's flagship mobile offering in the Tiger Lake platform, but you can just as well settle for the more common Core i7 1165G7 for regular office work and home use. I didn't find a reason big enough to recommend this better binned processor over the regular Core i7, unless it's the desire to live at the bleeding edge.
That said, the XPS 13 performs decently welll on benchmark tests. From the charts above, you can deduce the XPS 13 is in the same ballpark as other thin and light ultrabooks we've tested this year. But if you're looking for record-breaking performance in this form factor, this isn't the best candidate. The Core i7 config is good enough to compile complex code, edit RAW photos from a DSLR and even indulge in some casual gaming.
It's beaten by the Asus Expertbook B9 and the Lenovo Yoga 7i in most of the tests, which could be because it's the only 13-inch notebook in this chart, while the rest are all slightly larger with 14-inch displays. Dell must have tuned the CPU conservatively, to prevent the glass surface from heating up too much.
Display and Audio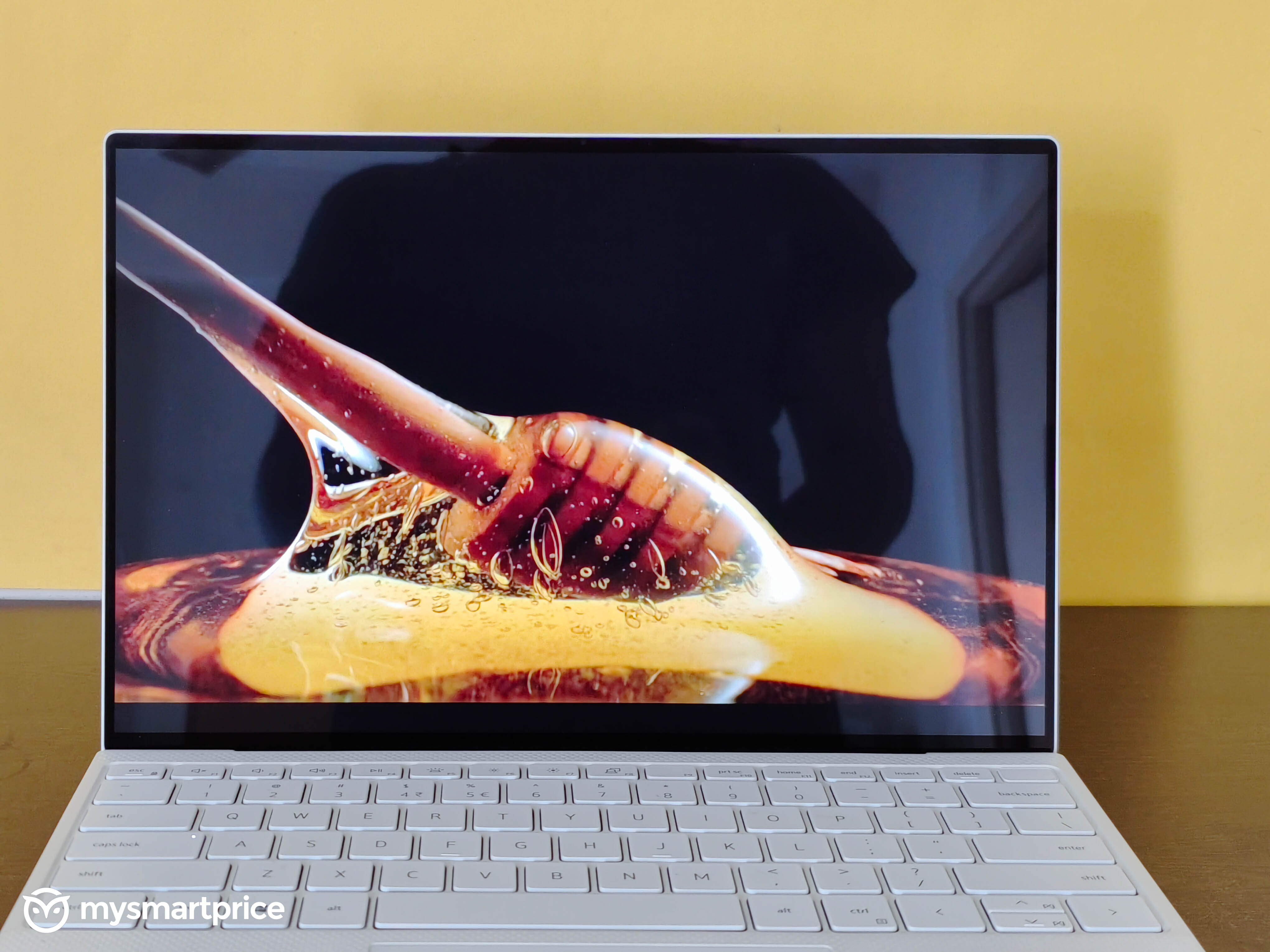 The performance of the XPS 13 is what most users will take for granted, and for good reason considering you're paying such a high premium. But the real reason for that obscene price tag is the 13-inch 4K touch panel. It's easily one of the better displays I've come across on a laptop this year — One that comes dangerously close to the MacBook displays. Dell advertises a high 500 nits peak brightness, but it mostly operates within the 400 nits range unless you're running HDR content. Yes, this supports 100% DCI-P3 gamut and is rated to run to Dolby Vision content. Everything you do on this screen looks super rich and vibrant, be it editing a white Word doc, or watching a movie. The screen is also bright enough to be legible under direct sunlight, and can be easily used in the backseat of a car.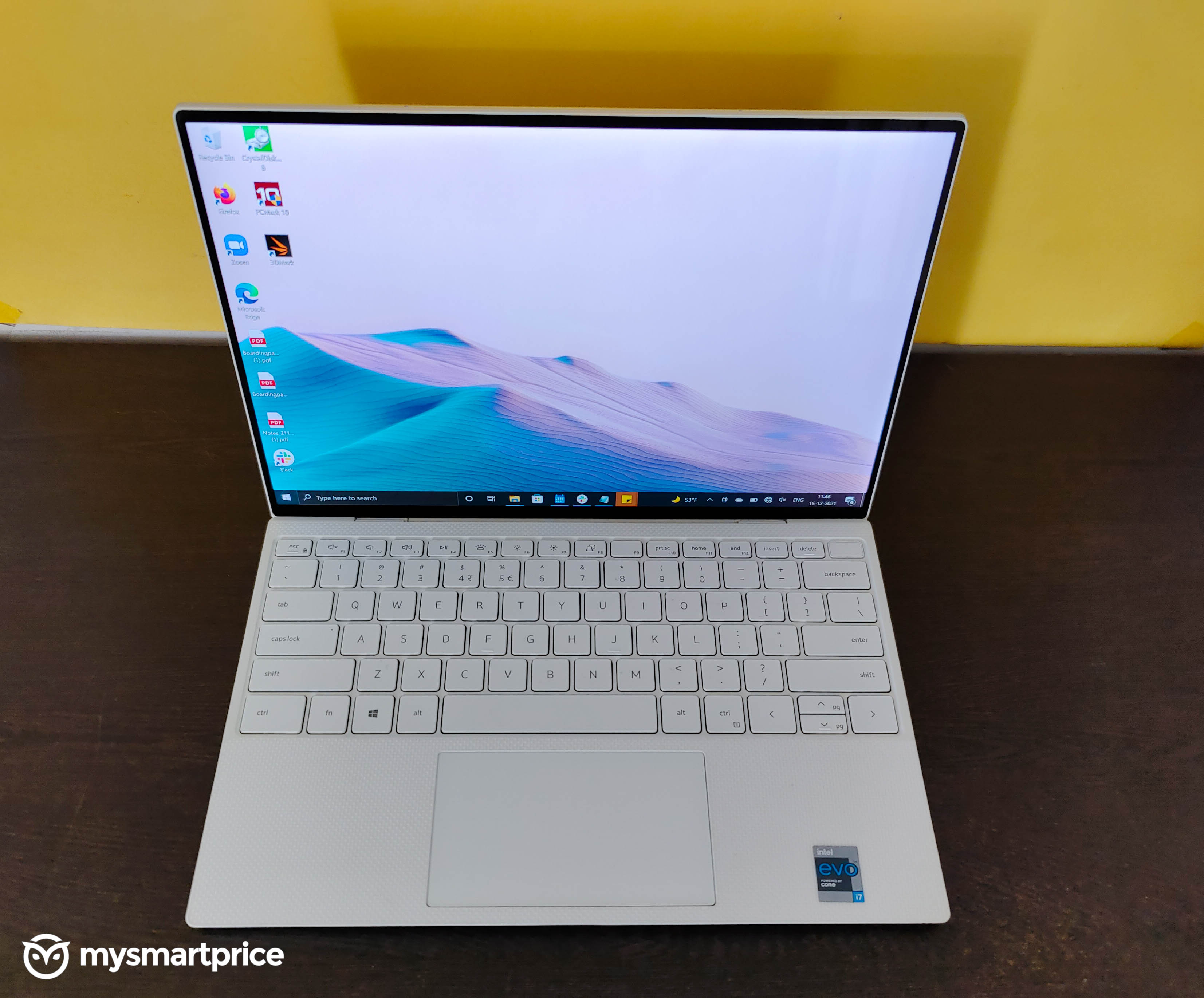 In a rare case, I also found myself using the touchscreen a lot in my daily use. Maybe it's the accessible form factor, or the smooth glass surface, but I repeatedly found myself using the touch to resize and crop images, select multiple files together, and scrolling on the sides. Sadly, this doesn't lay flat in a 180-degree angle. You can open it to a max 120-degree angle.
The XPS 13 features a quad-speaker setup that outputs loud, crisp output which is a bit unexpected coming from such a small chassis. The speakers likely have powerful drivers and the metal chassis helps in amplifying the output even more. I hardly had to plug in my headphones during meetings or while watching an episode. The sound is loud enough for the person using the laptop to enjoy any kind of content.
Keyboard and Trackpad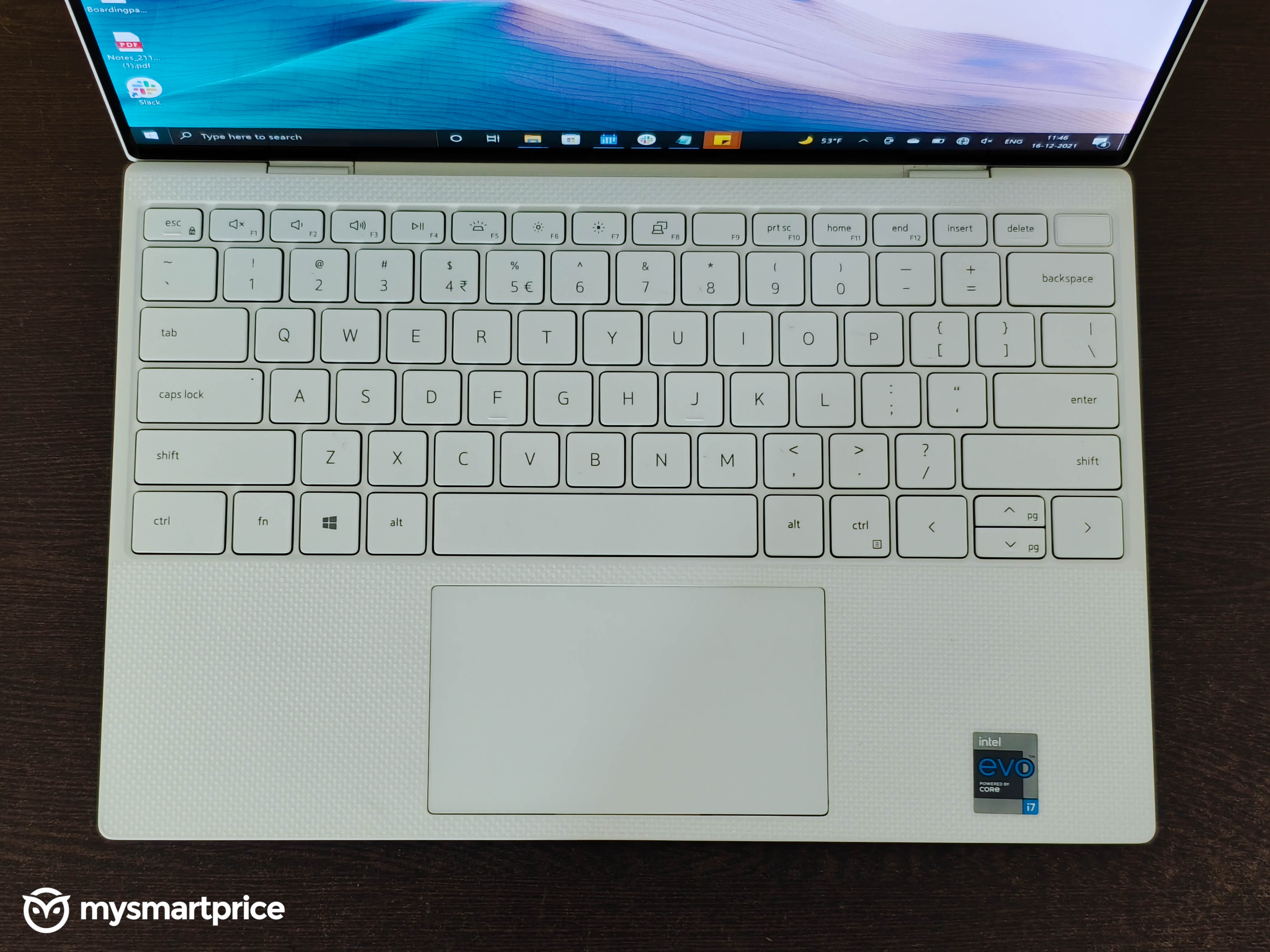 Typing on a 13-inch laptop wouldn't ideally be the most relaxing typing experience, but Dell here seems to be bending some laws of physics to include full-sized, flat keys in a chiclet layout. Save for the arrow keys, everything else is of the expected size, and typing on this feels as intuitive as ever. The keys themselves feel springy, and really tactile and is usually quiet, except for little squeaks sometimes. However, the backlight has a lot of room to improve. It lights up the keyboard unevenly and light leaks through some keys. Also, white backlight on a white chassis is counterproductive because I could hardly make out the labels in the day.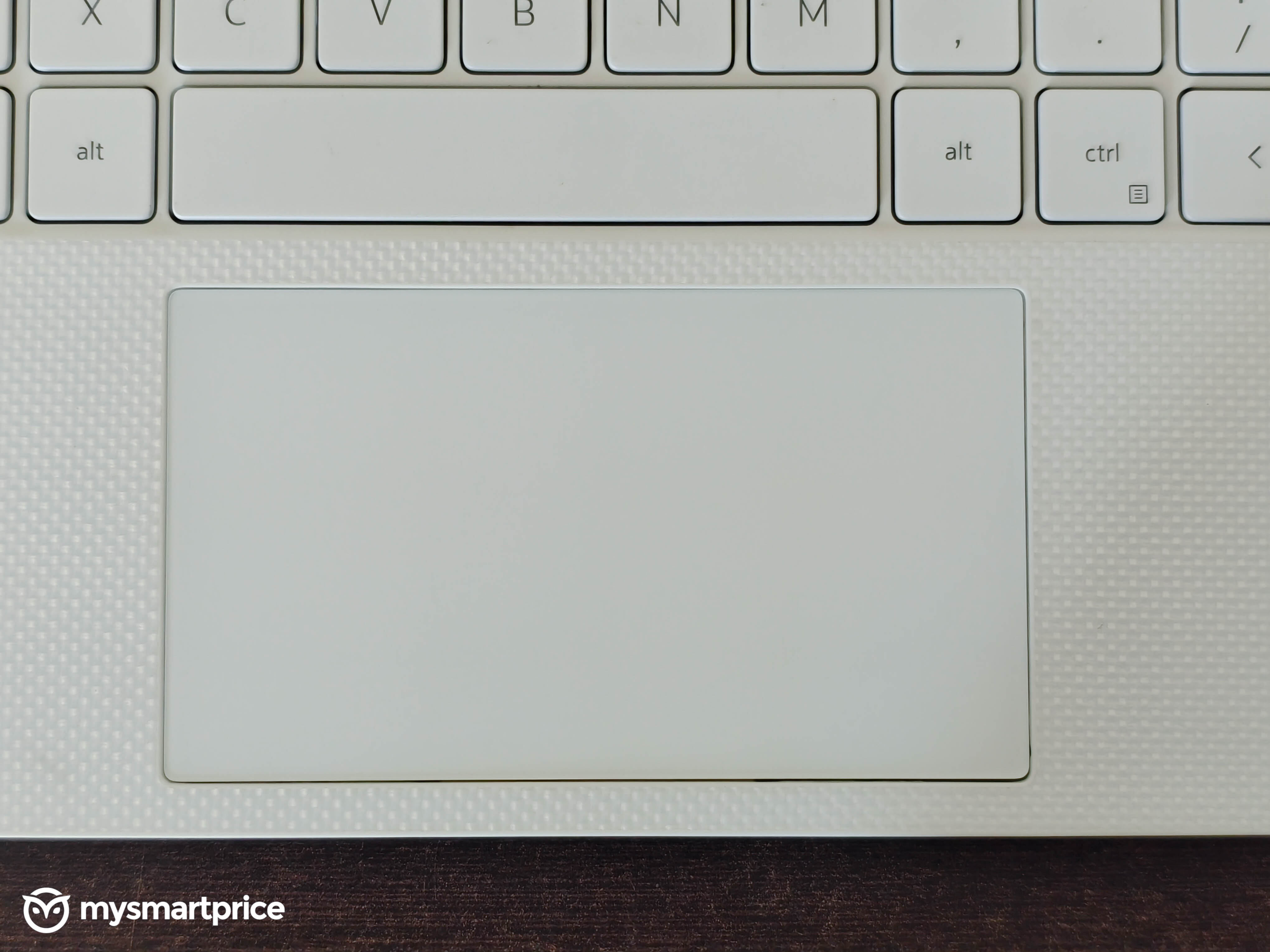 The glass trackpad, if nothing else, is a very good reason to splurge on this laptop because it's simply the best I've used on a Windows laptop. It's relatively large for a 13-inch laptop, and oh-so-smooth. The finger just glides on the surface and you can quickly reach where you need to.
Design and Build
The XPS lineup is now synonymous with the most premium laptop designs. XPS laptops are not the regular, utilitarian machines but ones you can flaunt as a fashion statement. Like HP's Spectre x360, the XPS 13 has attained a cult status of encompassing luxurious finish with uncompromising performance. 2021's version is no different. In fact, it has gained a few notches of luxury with a woven glass palm rest and an anodized metal lid that feels solid for using the touchscreen. No wobble at all, and can be easily opened with one finger. The edges are also treated with another layer of polish to make it resistant to scratches. In all, the XPS 13 feels solid, sharp and dapper in its arctic white avatar.
Battery Life
While battery life is one of the main aspects of Intel's Evo certification, the XPS 13 bucks it with a high-power 4K display. As a result, it's far from the 11 hour battery life you would expect from a Evo machine, but it's still modest for such a bright display and a Core i7 CPU. I got a decent 5 hours of screen-on time with my usage that ranged from working on my reviews, replying to emails, watching YouTube videos and doing a few photo edits on Lightroom. You can stretch it more by dialing down the brightness, or by opting for the cheaper 1080p variant.
Should you buy the Dell XPS 13?
I've been dreading this question since I started my review. But as much as I enjoyed my time with the maxed-out config of the XPS 13, I never felt it worth that steep price-tag. A few years back when having a compact and powerful laptop was still a pipe dream, I'd still consider it, but now that even the mainstream offerings have started shaving off the extra weight, it makes little sense to splurge on this one. That does not take away any of the perfections achieved by Dell in the XPS 13 this year. It's still marvellously portable, gorgeously bright and vibrant, and just so luxurious to hold and feel. It's a work of art, and all good art is expensive.