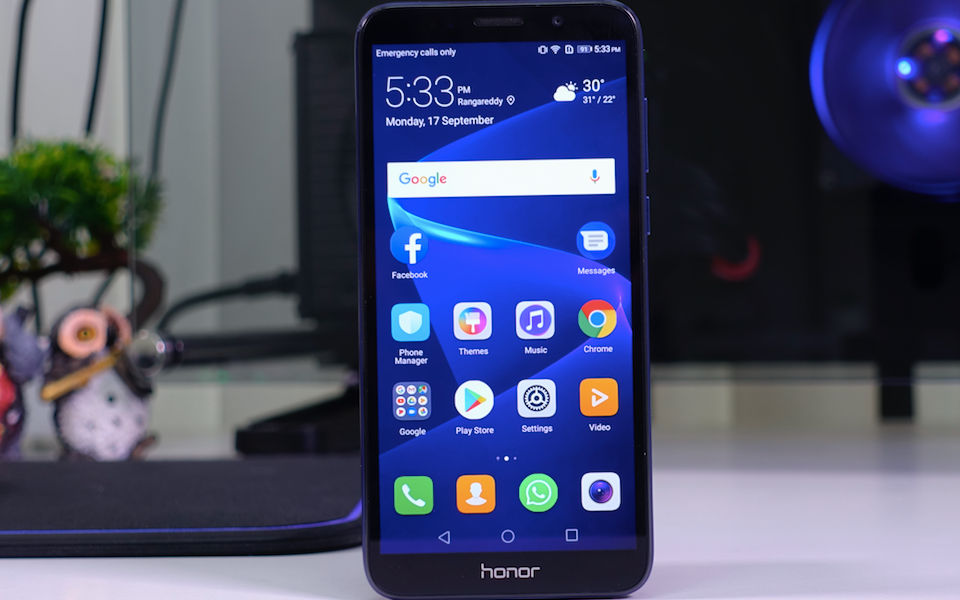 The summer of 2018 has been really crazy in terms of smartphone launches. Phone manufacturers have absolutely bombarded consumers with new launches over the past few months. Huawei has been on such a streak itself, too, trying to launch a smartphone at any and every price point. At the very bottom of its price pyramid comes the Honor 7S, Huawei's latest offering in the budget smartphone segment, which is still heavily dominated by Xiaomi's Redmi series of smartphones in the Indian market.
The Honor 7S packs in decent hardware specifications and at a price point of Rs. 6,999, it seems like a great value-for-money buy. But, there's a solid twist to the plot and if you have any plans of buying the Honor 7S or if you are contemplating buying a smartphone in the Rs. 7K-8K price range, there are some things you absolutely need to know about this phone. So let's cut to the chase now. This is our full review of the Honor 7S.
[P_REVIEW post_id=109717 visual='full']
Honor 7S Review: Design & Build Quality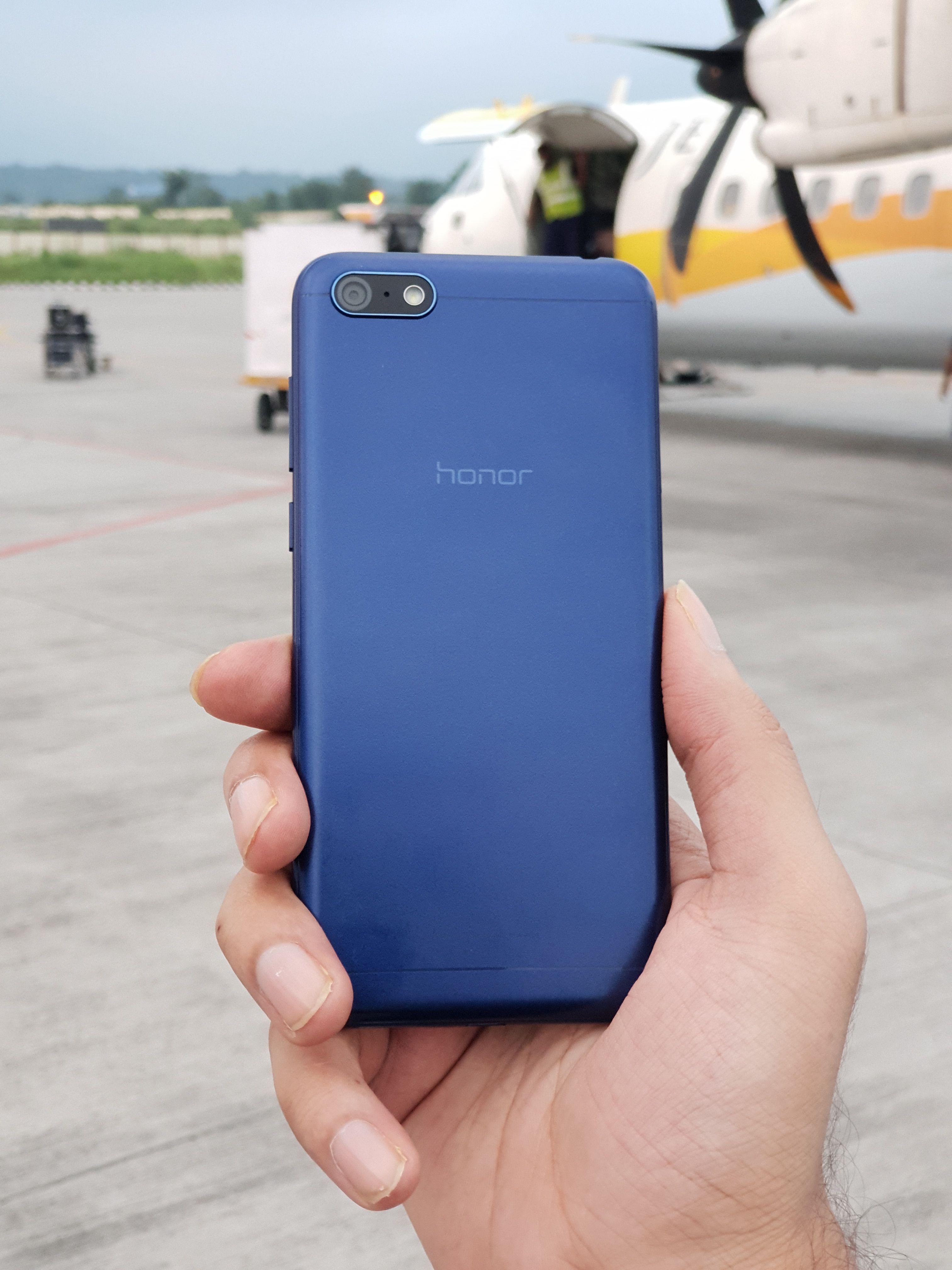 The Honor 7S is an ultra-budget smartphone and for its price point, I'd have to say that Huawei has built a solid device. The Honor 7S has an all-plastic back and comes in deep metallic shades of Black, Blue, and Gold. The front of the device is covered by glass and the smaller screen size means it's perfectly easy to hold in one hand, thanks to dimensions of 146.5×70.9×8.3mm. The phone weighs 142g and if you're comparing it to a Redmi device, it feels almost too light. The phone doesn't feel any special to look or hold, but at the same time, it isn't ugly or tacky by any means.
Both volume rocker and power button lie on the right side of the device, and are clicky enough, offering solid travel. The phone comes with dual-SIM support and also has a dedicated microSD card slot, all of which lie on the left side of the device. On the bottom of the device is the primary microphone and a microUSB 2.0 port (yes, still no USB Type-C port, guys). Thankfully, you still get the 3.5mm headphone jack on top of the device. Another intriguing design choice that Honor made is that the 7S comes without any dedicated loudspeaker. Instead, the earpiece doubles up as the loudspeaker and its output is decently loud and the quality is average at best.
Talking about things that the Honor 7S misses out, there is no fingerprint scanner. Yes, the phone comes with Face Unlock as its default screen unlocking method, but it takes a considerable amount of time and doesn't work at all in low-light situations. More often than not, you'll be stuck using a PIN or pattern lock, and if you're planning to buy the phone, I would recommend you to keep the on-body detection on as it will save you the hassle of unlocking your phone repeatedly using PIN or pattern unlock. All of this could have been avoided if Honor could have just added a fingerprint reader on this device. If Xiaomi can offer a fingerprint reader on its devices that are priced similar to that of the Honor 7S, why can't Honor do the same?
Honor 7S Review: Display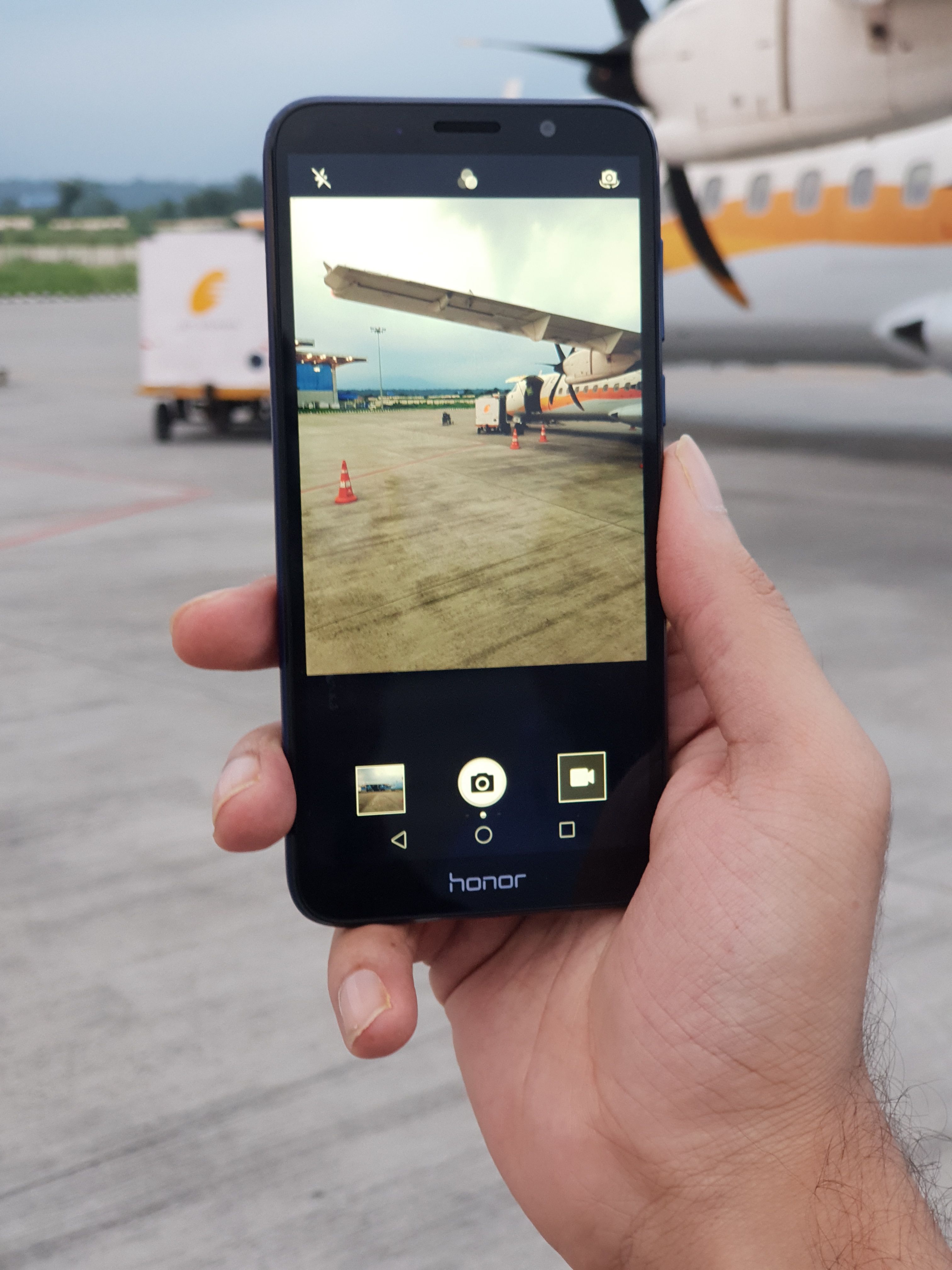 The Honor 7S follows the 2018 trend of going for an extra tall display with an aspect ratio of 18:9 and minimal bezels around the screen. However, it misses out on the other major trend: screen notch. There are thick bezels at the top and bottom of the screen, and the side-bezels aren't non-existent either. Between all the bezels sits a 5.45-inch IPS LCD "FullView" screen with a resolution of 1440×720 pixels (resulting in a pixel density of around 295 ppi). Although the HD+ screen resolution doesn't sound up to modern standards, the display feels sharp enough and has a decent colour reproduction. Since there are no rounded corners, there is no issue of content being cropped out. The display surprisingly also gets bright enough so outdoor legibility isn't an issue.
One thing that bothered me about the display during the review was the implementation of the 'Auto Brightness' feature. More often than not, I found the display to be either too bright or too dim as per to the ambient light. In such scenarios, when you try to adjust the screen brightness with 'Auto Brightness' turned on, it just turns off the Auto Brightness feature completely and if you turn it back on, the brightness will again go back to being what it was. It got so frustrating after a point in time that I turned off the Auto Brightness feature altogether. Everything said and done though, the display of the Honor 7S is one of the few things that wouldn't disappoint you.
Honor 7S Review: Camera and Imaging
Cameras have taken more or less the centerstage when it comes to our smartphone buying decision. On one hand, we have brands trying to cram in as many cameras as possible into their smartphone, on the other hand, we have companies investing heavily in AI features to improve the mobile photography experience. But don't get your hopes up yet. Yes, the Honor 7S does feature decent camera hardware for its price. But its real-life performance is something that can be classified as below-average at best. Starting with the specifications, the phone comes with a 13MP rear-facing camera with ƒ/2.2 aperture lens and LED flash. There is no phase-detection in this camera, so it relies on contrast-detection autofocus mechanism, which is slow and inaccurate at times. The front of the device houses a fixed-focus 5MP camera with ƒ/2.2 aperture and an LED flash.
The Camera app is fairly simple and intuitive to use. Swiping to the right gets you the camera settings and swiping to the left pulls up the different shooting modes available. You do get the standard photo, video, HDR, Beauty and Panorama modes. There is a 'Perfect Selfie' mode on the front camera, which tries to take pictures of your face from multiple angles to create a 3D map of it, and then you can tinker around with your face (yeah, never thought I'd be saying something this) like adjusting your eye size, nose, skin tone, jawline, and more. It sounds really cool as a concept but when you actually use it, the results are mostly weird (even laughable) and you're better off sticking to the usual beauty mode for your selfies.
Honor 7S Front Camera Samples
Talking about the front-facing camera, it can click decent looking shots when the lighting conditions are good. In low-light situations, though, the performance dips considerably and the front-facing LED flash doesn't help its case. Without the flash, there is a lot of noise in the low-light selfies and when the flash is turned on, the skin looks softened and the image gets overexposed. The beauty mode works aggressively on clearing out your skin's blemishes and you can see the results for yourself in the samples above. Overall, the Honor 7S has a decent selfie camera, not too far off from what you'd expect from a phone in this price range.
The rear-facing camera is another reason why the Honor 7S will disappoint you. The 13MP camera can deliver crisp looking photos, with a good dynamic range in well-lit conditions. However, the performance and camera experience is marred by the fact that there's a considerable delay in clicking images and you need to really hold the phone steady for 3-4 seconds for it to click a picture. The problems only increase in low-light with the camera really struggling to take a decent looking picture. There's just too much noise in images shot during low-light conditions. For a 13MP camera, the details you get in the photos are disappointing.
Honor 7S Rear-Facing Camera Samples
Honor 7S Review: Hardware, Software & Performance
The Honor 7S uses the MediaTek MT6739 processor with a 1.5GHz quad-core CPU. There's 2GB of RAM onboard and you get 16GB of internal storage, out of which only about 10GB is available to the end user. The phone comes pre-loaded with Android 8.1 Oreo, with Huawei's custom EMUI on top. EMUI isn't a bad skin, especially if you're a fan of Apple's iOS. The phone comes with lots of bloatware, though, and that's responsible partly for the 6GB of occupied space right out of the box. In Geekbench benchmark scores, the Honor 7S scores a paltry 644 points in the single-core CPU test and 1792 points in the multi-core CPU test. For comparison's sake, the recently launched Xiaomi Redmi 6 scores 785 points and 3639 points, respectively, in the same tests. I didn't even bother running any other benchmarks on this phone, and the reason for that will be clear to you in about 10 seconds from now.
Coming to the actual performance of the device, I can't stress it enough. This phone is a performance disaster! It's excruciatingly slow, whether it is unlocking the phone, opening apps or just swiping across the UI. There's considerable lag in almost every action you take, and almost every time you try to open any heavy app like the Chrome web browser, you'll have to kill all the other open apps or see the phone freeze on you. Don't even get me started about gaming on this device. You can forget playing even moderately graphics intensive games like PUBG on this phone as it struggles to keep up the pace with basic games like the Temple Run 2. There are lots of frame drops and the games almost become unplayable after a point. Even the internet speeds on this phone feel a lot slower than what you get on other phones, and I'm only comparing it to the phones in the Rs. 7K-10K price range. For connectivity, there is 4G with VoLTE, GPS, Wi-Fi 802.11 b/g/n, and Bluetooth 4.2.
Honor 7S Review: Battery Life
The Honor 7S comes with a 3020mAh battery. The battery life of this device is nothing exceptional, but it's not bad either. With medium to heavy usage, you'll get around 4 to 4.5 hours of screen-on time (SoT), and it should easily last you a full day. The phone doesn't come with any form of fast charging, though, and it takes this phone almost three hours to charge from nil to full. This is what you would expect from a budget smartphone, though.
Honor 7S Review: Should You Buy This Phone?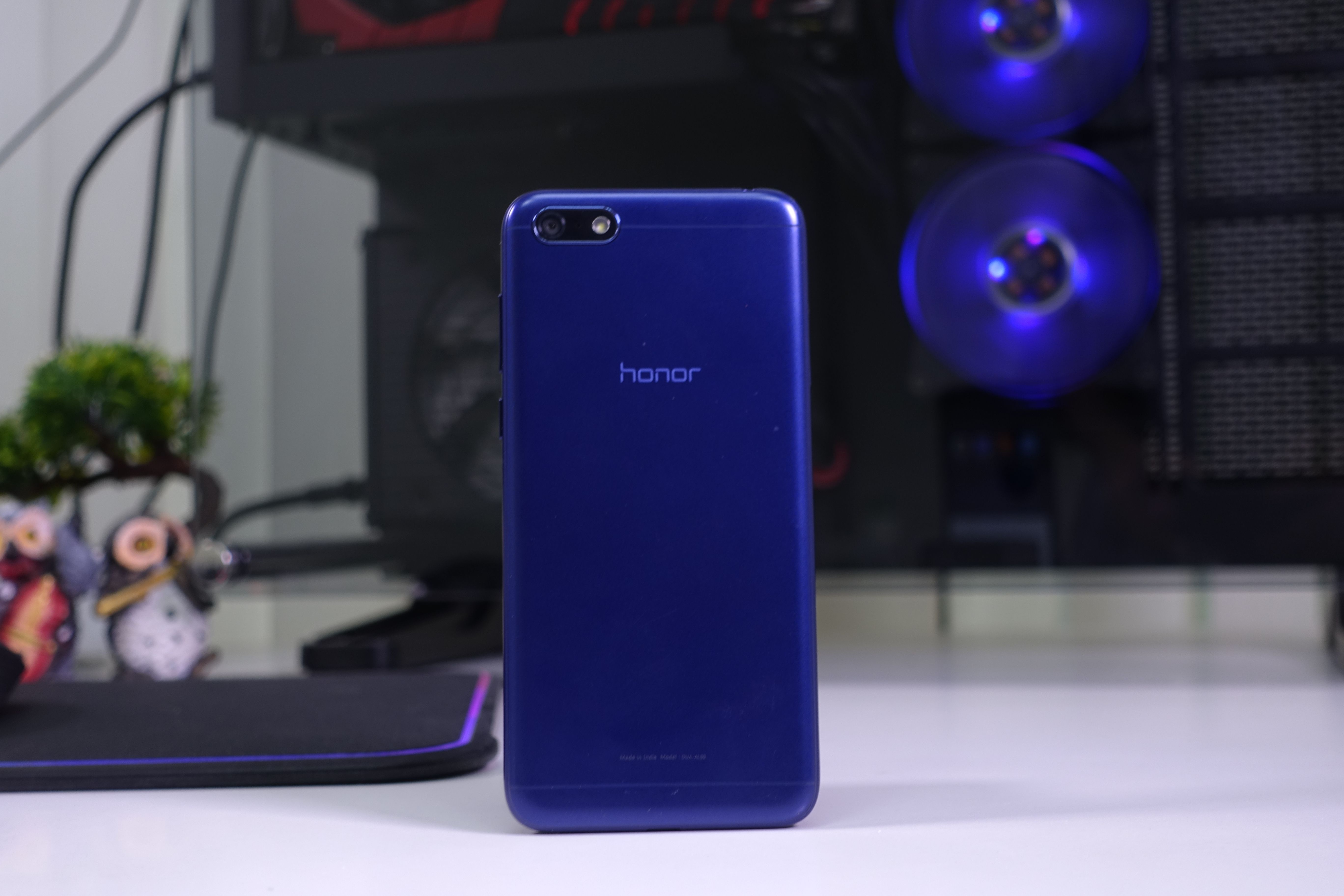 We can easily understand why Huawei-owned Honor would want an entry-level smartphone in the market. We Indians really love value-for-money smartphones. The Honor 7S promises to be a great choice at that tempting price point of Rs. 6,999, but in reality, it turns out to be anything but tempting when it comes to actual performance.
The phone has below-par performance and the UI stutters and lags, making the phone unusable at times. The camera performance is average, but it is marred by slow speed. Combine this with the bloatware-filled software, missing fingerprint reader, and average battery life, and the Honor 7S turns out to be a phone that we'd recommend you to steer clear off.
If you're looking to buy a budget smartphone, the Xiaomi Redmi 5A (Review) which sells for the same price as the Honor 7S, makes for a much better choice. If you have a little more money to spend, you can go for the recently launched Redmi 6, which offers good performance, dual-camera system and also a fingerprint scanner. All this for just Rs. 1,000 dearer than the 7S. Meanwhile, we sincerely hope that Huawei can come back stronger and their next budget offering will be able to give Xiaomi a run for its money.
Design & Build Quality
6.0/10
What Is Good?
Priced really cheap
Bright screen
Front-facing camera flash
What Is Bad?
Terribly slow performance
No fingerprint reader
Dismal battery life
Below-average camera performance
Bloatware-filled software