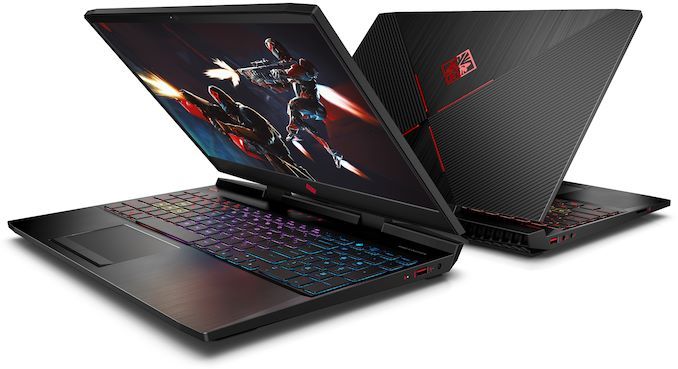 HP has announced upgraded versions of its gaming desktop and laptop during the ongoing CES 2019 expo in Las Vegas, US. The PC company has also announced a bunch of new computing devices, including professional laptops, all-in-one PCs, big format gaming displays, monitors and a new Chromebook. Let's have a look at all of them.
The new HP Omen 15 gaming laptop brings the world's first 15.6-inch Full HD 240Hz refresh rate display, and it has the hardware to keep up with the latest AAA gaming titles (even the ones with ray tracing graphics). The HP Omen Obelisk gaming desktop brings the latest hardware, including Intel Core i9 series CPUs, Nvidia's RTX GPUs, and up to 32GB DDR4 RAM.
Let us have a look at detailed specifications and pricing of the HP Omen 15 and the HP Obelisk.
HP Omen 15 Gaming Laptop (2019) Specifications, Pricing
The new HP Omen 15 gaming laptop's headline feature is its 15.6-inch TN display with 1080p resolution 240Hz refresh rate and 4ms response time. However, this variant of the laptop will only be available in July 2019. The regular model, which be available for purchase in February 2019 includes a regular IPS LCD panel with 60Hz refresh rate. In terms of internal hardware, the laptop features an Intel Core i7 8750H CPU, Intel UHD Graphics 620, Nvidia RTX 2070 Max-Q GPU, 16GB/32GB of DDR4 2667MHz RAM, 128GB M.2 SSD, and 1TB 7200RPM HDD. There's a full-sized SD card reader, too. HP is also boasting about easy expansion through single panel access to RAM and storage.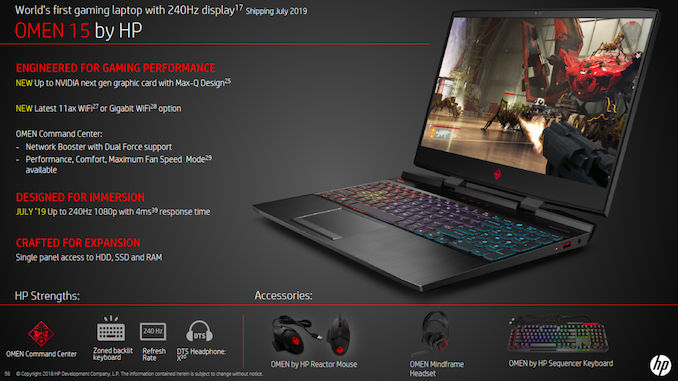 In terms of I/O, the new HP Omen 15 gaming laptop has Realtek 802.11b/g/n/ac 2×2 Wi-Fi, Bluetooth 4.2, one USB 3.1 Type-C ThunderBolt 3 port, three USB 3.1 Gen1 Type-A ports, one Mini DisplayPort 1.3, one HDMI 2.0 port, gigabit ethernet port, HP WideVision HD webcam, and a headphone jack. There will be a variant of the laptop with 802.11ax or Wi-Fi 6 wireless connectivity. There's an off-center trackpad, stereo speakers, and a 70WHr battery. The laptop weighs 2.38kg and its pricing will start at USD 1,370 (approximately, INR 97,553). Pricing for the variant with 240Hz display hasn't been announced yet.
HP Omen Obelisk Gaming Desktop (2019) Specifications, Pricing
HP's Omen Obelisk gaming desktop debuted last year with intriguing USD 1,000 price tag for the entry-level variant and an easy-to-expand design so that gamers can upgrade their systems at a later stage. This year, for 2019 comes with the most high-end parts, including up to Intel Core i9 CPUs or equivalent AMD CPUs, up to 64GB DDR4 Hyper X RAM, up to Nvidia RTX 2080 Ti GPU, up to 512GB SSD, and up to 1TB HDD. Even this year, HP is gunning for its tool-less design for easy expansion or upgrades.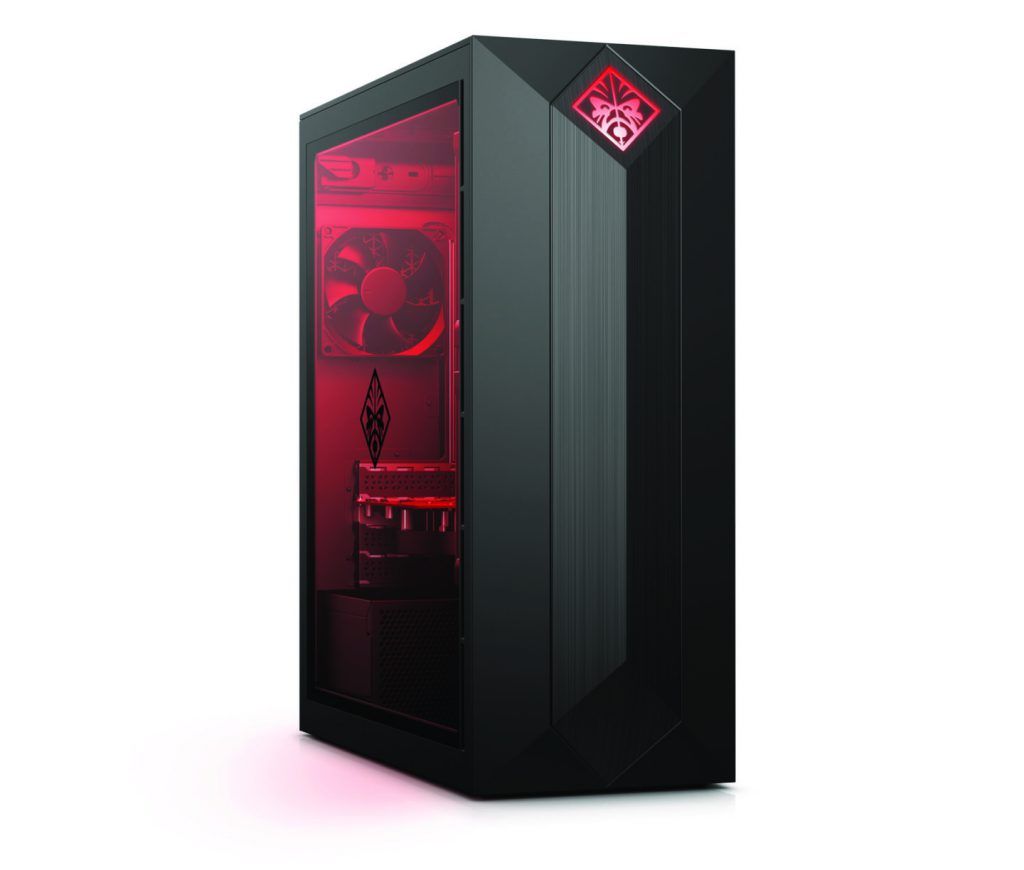 There are two models in this year's lineup: HP Omen Obelisk 875 1010 and HP Omen Obelisk 875 1020. The HP Omen Obelisk 875 1010 features an Intel Core i7-9700K CPU and an Nvidia RTX 2080 GPU. The HP Omen Obelisk 875 1020 uses an Intel Core i9-990K GPU and the Nvidia RTX 2080 Ti GPU. This gaming desktop will go on sale in March in the US and the starting price is set at USD 2,249 (approximately, INR 1,60,111).
HP Omen X Emperium 65 G-Sync Ultimate HDR BFGD Specifications, Pricing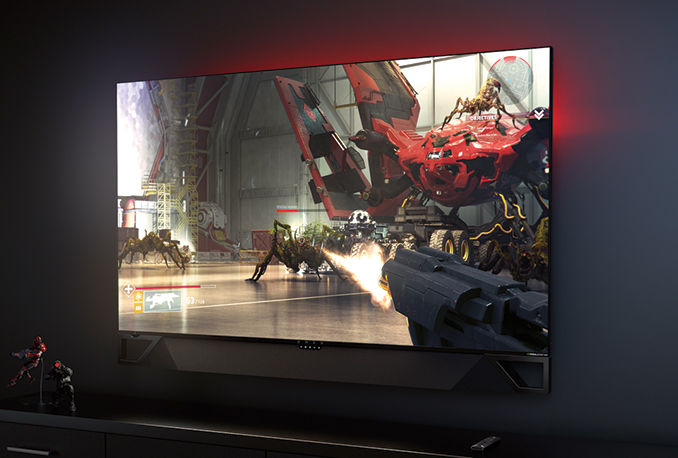 After announcing a partnership with Nvidia last year to launch BFGD (Big Format Gaming Display) devices, HP has announced the Omen X Emperium 65 display. It is a 4K gaming monitor with TV-sized screen, at 65-inch, and an integrated 120W soundbar. BFGDs feature high and variagle refresh rates, enhanced HDR performance and an integrated Nvidia Shield TV console.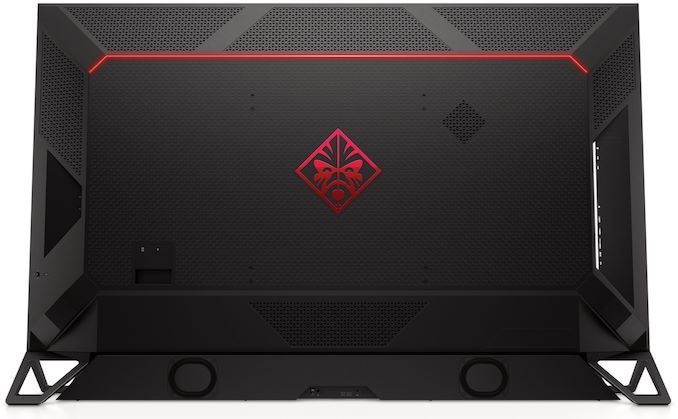 The HP Omen X Emperium 65 features a 65.4-inch 4K 8-bit AMVA panel with up to 1000 nits brightness, 4000:1 contrast ratio, 120-144Hz refresh rate, 4ms GtG response time, 384-zone full direct-array backlight, quantum dots, and 95% DCI-P3 color gamut coverage. It is also G-Sync Ultimate compatible (previously called G-Sync HDR) and comes with VESA's DisplayHDR 1000 certification. The Omen X Emperium has 178-degree horizontal and vertical viewing angle, one DisplayPort 1.4 port, three HDMI 2.0a ports, and one USB-B port. There's one Line Out port and one S-PDIF out port.
It will go on sale next month with a jaw-dropping price tag of USD 4,999 (approximately, INR 3,55,891).
HP EliteBook x360 830 G5 Laptop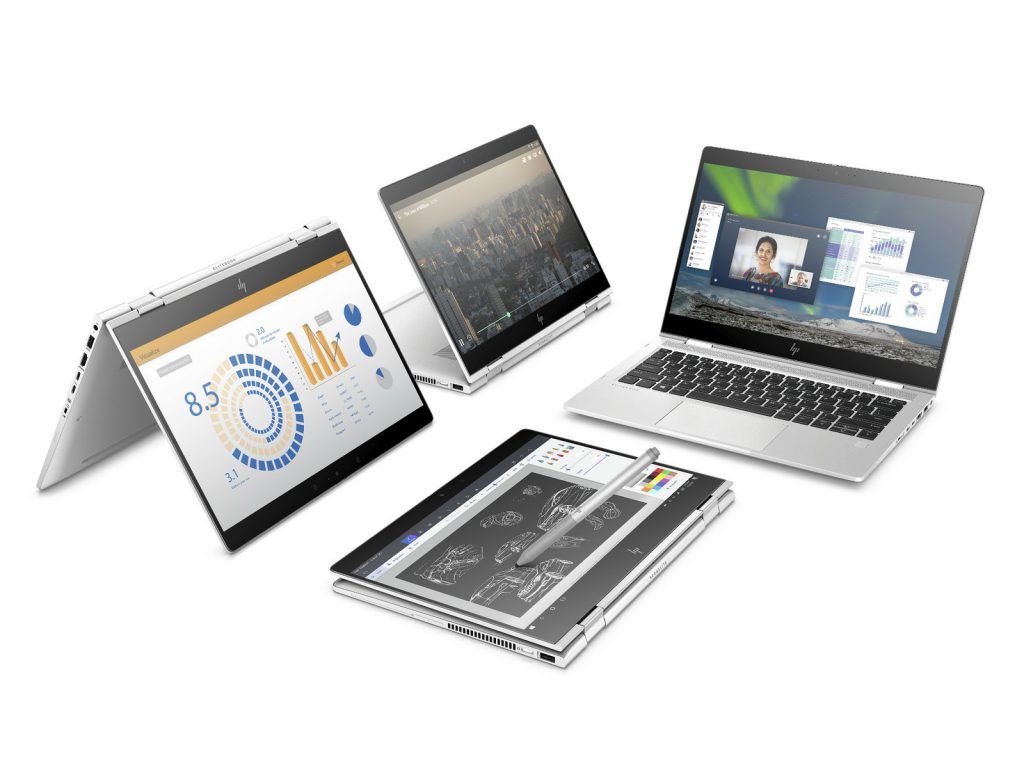 HP's high-end convertible laptop for the enterprise market is the EliteBook x360 830 G5 and it has a 13.3-inch touchscreen with SureView privacy screen. The company is offering Intel's 8th Gen. Core U-series processors, up to 32GB DDR4 RAM, and up to 512GB SSD storage.
There's hardware-enforced security with self-healing BIOS and a hardware webcam shutter (which also has Windows Hello IR authentication hardware). The laptop has two USB Type-C ports with Thunderbolt, one HDMI 1.4b port, and a nano-SIM card slot for 4G LTE connectivity. This laptop will be launched in March 2019 and pricing will be announced closer to the launch.
HP EliteOne 800 G5 Desktop
The company's new all-in-one PC was also showcased in the form of the HP EliteOne 800 G5. It has a 24-inch 1080p LCD Sure View screen and a pop-up webcam, complete with Windows Hello authentication. It comes with Intel Core series processor options, up to 64GB DDR4 RAM, up to 500GB storage, Intel UHD 630 Graphics or an AMD Radeon RX 560 GPU. Connectivity features include one HDMI port, one DisplayPort, one Ethernet port, two USB 3.1 Gen 1 ports, four USB 3.1 Gen 2 ports, one USB 3.0 Type-C port and an SD card reader (optional). Pricing will be released later and the PC will be available starting July 2019.
HP EliteDisplay E243p Monitor
HP also showcased the EliteDisplay E243p monitor for the enterprise market. It's a 23.8-inch LCD monitor with Full HD resolution, 60Hz refresh rate, and 14ms response time. HP's Sure View Gen 3 technology, which acts as privacy guard, helps keep the content on the screen from prying eyes. Users can also separate windows into different sections of the monitor using HP Display Assistant. There's one DisplayPort 1.2 input, one HDMI port, three USB 3.0 Type-A ports (one upstream, two downstream). It will be available starting February 2019 for USD 380 (approximately, INR 27,053).
HP Pavilion 27 Quantum Dot, Pavilion 27, Pavilion 32 Monitors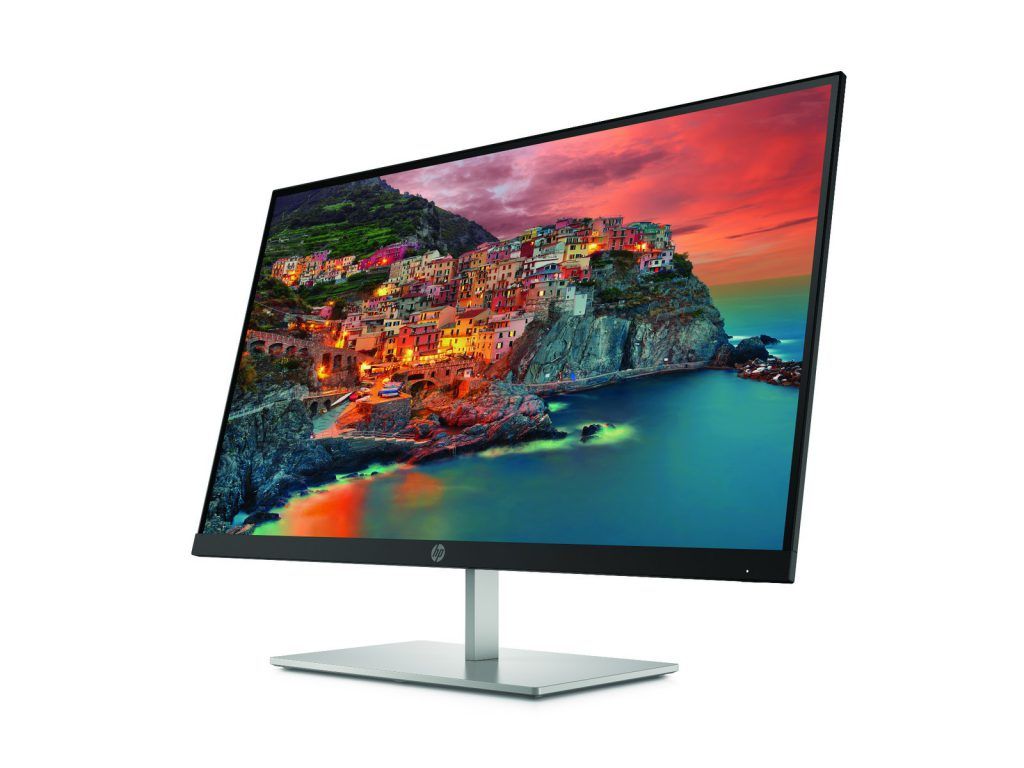 Remember QLED TVs and monitors from Samsung? Well, they're nothing but LCD TVs with a special coating for slightly improved picture quality. Looks like HP has launched monitors with Quantum Dot technology. The HP Pavilion 27 Quantum Dot features a 27-inch Quantum Dot screen with QHD resolution, 60Hz refresh rate, and 5ms to 14ms response time. Gamers can use FreeSync technology with compatible AMD Radeon GPUs. I/O includes a DisplayPort 1.4 input, one HDMI, one USB Type-C port, and a two USB 3.0 Type-A ports. It is priced at USD 400 (approximately, INR 28,477) and will be available in March.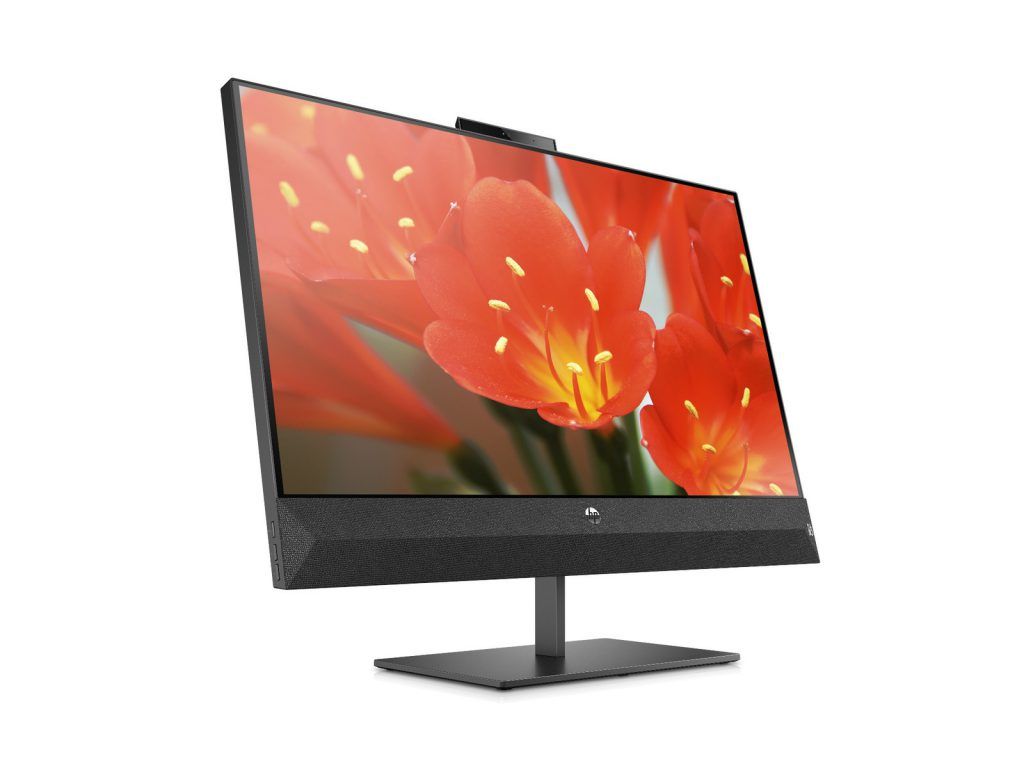 There is a non-Quantum Dot 27-inch variant (called HP Pavilion 27) with 1080p LCD screen, 60Hz refresh rate, and FreeSync support. It also features a pop-up webcam for enhanced privacy. HP also showcased the Pavilion 32 monitor with a 32-inch QHD LCD screen. It has the same features and I/O ports as that of the other two monitors. The HP Pavilion 27 will be available in March 2019 for USD 330, while the HP Pavilion 32 will be available in June 2019 for USD 380 (approximately, INR 27,053).
HP Spectre x360 15 Laptop With AMOLED Screen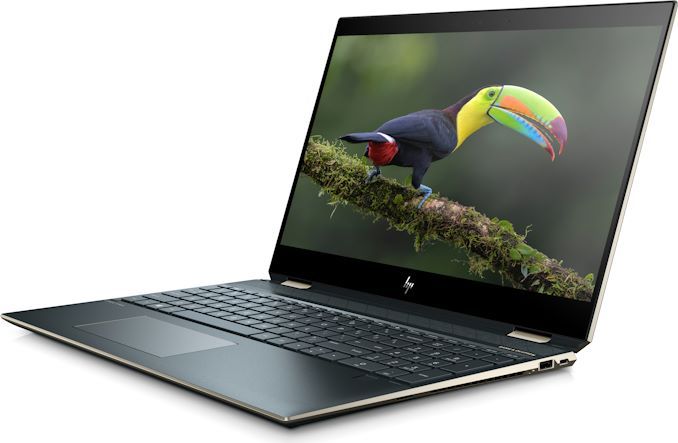 The new HP Spectre 15 x360 laptop comes with a 15.6-inch AMOLED screen, something that is rarely seen in laptops. This isn't the first laptop with an AMOLED screen, though. Lenovo had released one such laptop three years ago but never came up with an updated version and it could be due to problems with screen ghosting and burn-in issues.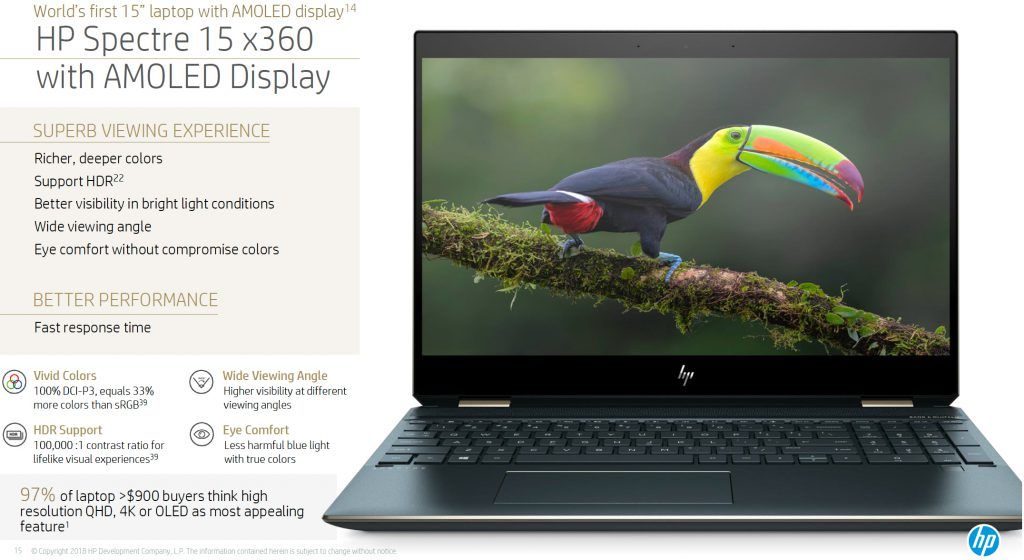 The AMOLED screen on the HP Spectre x360 15 shows deep blacks, wide viewing angles, covers 100% DCI-P3 color gamut, produces 100,000:1 contrast ratio, 0.1ms response time, and reproduce HDR content. The convertible laptop also features an ultra-thin form factor and will go on sale starting this March. While the company hasn't disclosed the specifications of the laptop, we expect it to use Intel's latest CPUs, integrated graphics, DDR4 RAM and NVMe SSD storage.
HP Chromebook 14 Specifications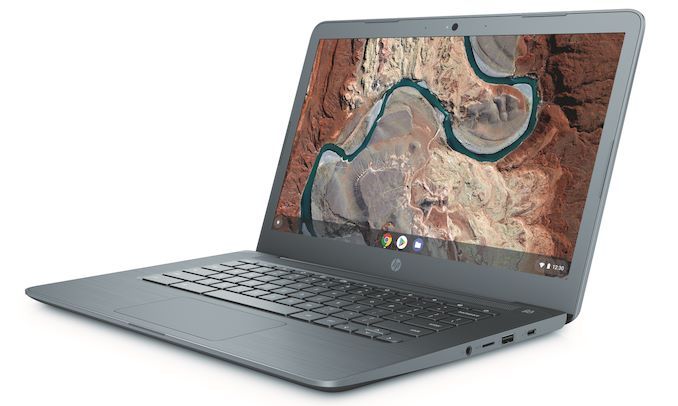 The HP Chromebook 14 is the first ChromeOS-powered laptop with an AMD processor. It has a 14-inch SVA screen with 1366×768 resolution, a 28nm AMD A4-9120C APU (with two Excavator cores clocked at 1.8GHz and GCN 1.2-based Radeon R4 iGPU), 4GB DDR4 RAM, 32GB eMMC storage, and a microSD card reader.
The HP Chromebook 14 also features dual-microphone array and Bang & Olufsen stereo loudspeakers. There's a textured chassis and the laptop features Wi-Fi ac, Bluetooth 4.2, two USB 3.1 Type-C Gen 1 ports, two USB 2.0 Type-A ports, and a headphone jack. There's a 47.36Wh battery that is claimed to last nine hours and fifteen minutes. HP hasn't announced its pricing yet but mentioned that it will arrive next month.