The Huawei P20 Pro (Review) was the world's first smartphone with a triple-camera setup at the rear, featuring Leica lens and a 1/1.7-inch primary sensor. It received rave reviews for its image quality, and the phone managed to grab the highest score in DxOMark's mobile photography tests. The Huawei P20 Pro was released in April, and even six months after its launch, no smartphone has been able to beat it in DxOMark's test, be it the recently released iPhone XS or the Pixel 3 XL (Review). According to DxOMark, it is still the best smartphone camera out there.
Huawei P20 Pro Still Unbeaten in DxOMark Score For Mobile Photography
For the uninitiated, DxOMark is an independent agency that analyzes and tests consumer cameras, camera lenses, professional cameras, smartphone cameras. The agency rates products in their respective categories and offers them scores. In terms of smartphones, DxOMark tests still images for artifacts, autofocus, bokeh, color, exposure, flash, noise, texture, and zoom performance. It also tests the video recording performance, which also takes the stabilization mechanism into consideration. This makes sure that all the aspects of smartphone imaging are taken care of while reviewing its performance.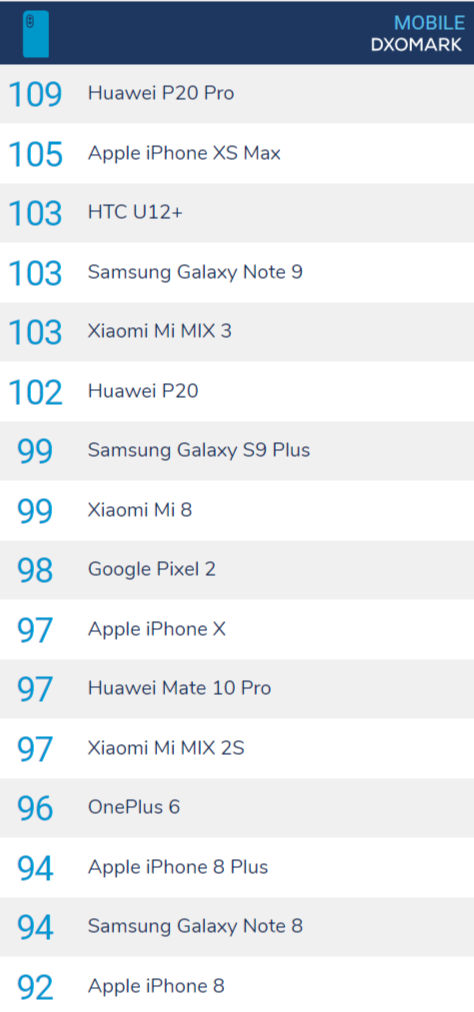 The Huawei P20 Pro was the first smartphone to cross the 100 score mark, scoring 109 in the Mobile DxOMark benchmark. Some of the other phones to cross the score of 100 are the Huawei P20 (102), Xiaomi Mi MIX 3 (103), Samsung Galaxy Note 9 (103), HTC U12+ (103), and the Apple iPhone XS Max (105). The Huawei P20 Pro managed to outscore all the other phones in both still and video capture, thanks to its incredibly large primary sensor and two additional sensors. It features a 40MP (1/1.7-inch) primary sensor with f/1.8 aperture, OIS, PDAF, 27mm wide-angle lens, and 4K video recording. There's a 20MP (1/2.7-inch) monochrome sensor with f/1.6 aperture, OIS, PDAF, and the same FoV (field of view) as that of the primary sensor. The third camera sensor at the rear features 8MP resolution and 3x optical zoom lens, featuring OIS and PDAF.
Huawei P20 Pro Could Be Beaten in DxOMark By Huawei's Own Mate 20 Pro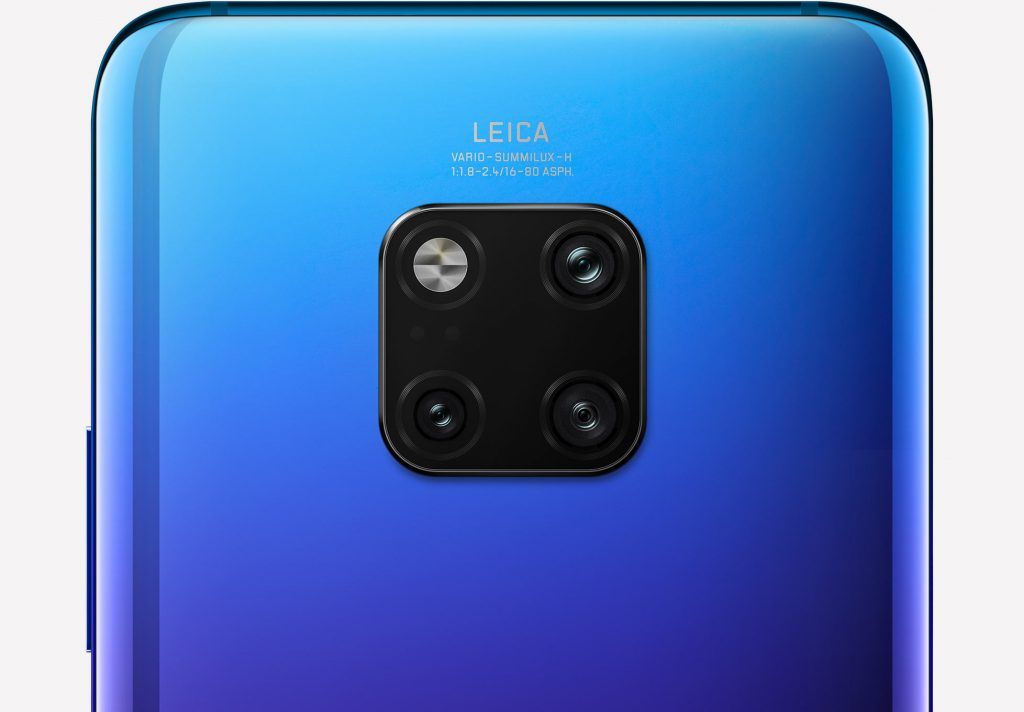 The Huawei P20 Pro could be beaten by Huawei's own phone, though. According to a recent leak, the Mate 20 Pro could score as much as 119 points in DxOMark's camera analysis. The recently released Mate 20 Pro is the Chinese smartphone giant's newest high-end smartphone. The new phone features a triple-camera setup at the rear, but there's a difference between the Mate 20 Pro and the P20 Pro. The Mate 20 Pro gets the monochrome sensor replaced by an RGB sensor, paired with an ultra-wide-angle lens. The main sensor and the 3x optical zoom camera remain similar to the P20 Pro. The phone also uses a multi-frame stacking technique for better dynamic range, lower noise levels, and more true-to-life colors.
The Huawei Mate 20 Pro also features the faster Kirin 980 processor which is built using a 7nm process and it runs Android 9 Pie based EMUI 9 software. There's up to 8GB RAM, 256GB internal storage, and a NM (Nano Memory) card slot for storage expansion. There's a better screen, now with HDR compatibility. There's iPhone X-like 3D IR face unlock mechanism in addition to an in-display fingerprint reader. The phone has an IP68-certified body for better resistance against water. It has a larger, 4200mAh battery with support for up to 40W charging and a compatible charger comes bundled in the phone's package.