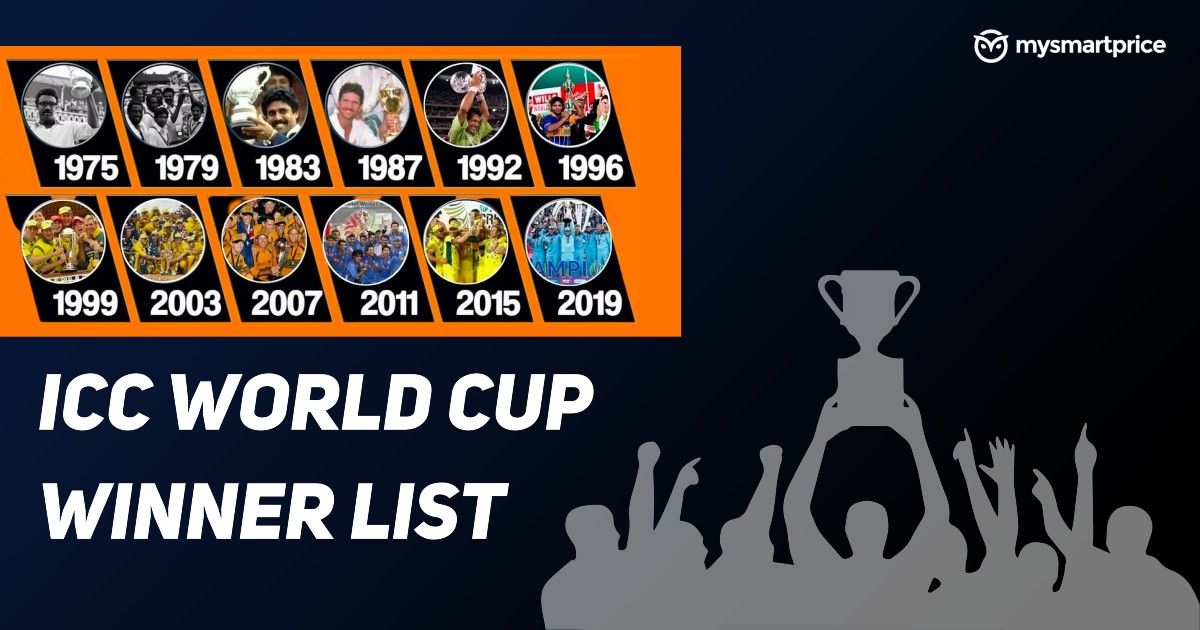 The Cricket World Cup fever is almost upon us. Starting next week, from October 5, India's favourite sport's biggest tournament returns to our homeland after 12 years.
India ranked as the number one ODI team in the world, will be favourites to lift the title for a third time — after its latest Asia Cup triumph. With scintillating fixtures including the all-important India vs Pakistan match on 14 October, here's looking back at the history of the Cricket World Cup — including its most successful teams, those that have missed milestones by a whisker, and everything else in between.
List of All Cricket World Cup Finals and Winners
Year
Final match
Scores
Result
1975
West Indies vs Australia
West Indies – 291/8

Australia – 274 all out

West Indies won by 17 runs
1979
West Indies vs England
West Indies – 286/9

England – 194 all out

West Indies won by 92 runs
1983
India vs West Indies
India – 183 all out

West Indies – 140 all out

India won by 43 runs
1987
Australia vs England
Australia – 253/5

England – 246/8

Australia won by 7 runs
1992
Pakistan vs England
Pakistan – 249/6

England – 227 all out

Pakistan won by 22 runs
1996
Australia vs Sri Lanka
Australia – 241/7

Sri Lanka – 245/3

Sri Lanka won by 7 wickets
1999
Pakistan vs Australia
Pakistan – 132 all out

Australia – 133/2

Australia won by 8 wickets
2003
Australia vs India
Australia – 359/2

India – 234 all out

Australia won by 125 runs
2007
Australia vs Sri Lanka
Australia – 281/4

Sri Lanka – 215/8

Australia won by 53 runs (D/L method)
2011
Sri Lanka vs India
Sri Lanka – 274/6

India – 277/4

India won by 6 wickets
2015
New Zealand vs Australia
New Zealand – 183 all out

Australia – 186/3

Australia won by 7 wickets
2019
New Zealand vs England
New Zealand – 241/8

England – 241 all out

Super Over:

England – 15/0

New Zealand – 15/1

Match tied after regulation time, and Super Over;

England won on boundary countback
West Indies
West Indies was the first Cricket World Cup champion, with a team that was feared by all back then. The island nation won two consecutive editions in 1975 and 1979, but has since fallen down the pecking order. Among seven nations that have played in all Cricket World Cup tournaments, West Indies ranks sixth in terms of the number of matches won — ahead of only Sri Lanka.
India
Nobody expected India to become champions when Kapil Dev lifted the historic title in 1983. Fast forward to India's famous home turf victory in 2011 — complete with a six by captain Mahendra Singh Dhoni to win it — and everyone expected India to be favourites. Today, India is the second most successful cricketing nation in history after Australia, having lifted the tournament twice and holding a win ratio of nearly 65%. This year, India is yet again a favourite to lift the title, being presently ranked at the top of ICC charts.
Australia
While Australia did become the third nation after West Indies and India to win the tournament, it has now, and for quite some time, been the most successful cricket-playing country of all time. Not only has it lifted the title five out of 12 times, it is also the only nation to have won it three times in a row. Australia has also won the most number of matches in the entire Cricket World Cup history, and has a win ratio of nearly 75%.
Pakistan
India's fiercest rival in cricket lifted the title in 1992 but has had fluctuating fortunes in the tournament — ranging from wildly underperforming, to being one of the best in the game. So far, 1992 remains Pakistan's only Cricket World Cup triumph. But, the team will be optimistic about its chances — with the added bonus of playing in India — with them being ranked second behind only India in the ICC charts right now.
Sri Lanka
Sri Lanka has the worst win ratio of all the seven nations that have so far played in every Cricket World Cup tournament, at less than 50%. The nation won the title in 1996, but like Pakistan, has had mixed fortunes since then. Their biggest triumph in world cricket has been lifting the T20 World Cup in 2014, but most recently, their forgettable final against India at Asia Cup is likely to haunt them.
England
The founding nation of the game was, until last year, without a World Cup title. With a final befitting of a thriller movie, England dramatically lifted the title, leaving New Zealand an unbelievable whisker away from getting their hands on it. Unbelievably, England and New Zealand were tied in both the match and the Super Over that followed — with England declared victorious on boundary count.
List of Teams That Have Never Won So Far
New Zealand
The entire cricketing world felt New Zealand's disappointment at the result of the final of the 2019 Cricket World Cup. One of the best cricket-playing nations in the world, New Zealand has the second most number of victories and the third-highest win ratio of all time in World Cups — and yet, has never won it. In fact, New Zealand is yet to lift either of the two limited-overs global cricket tournaments. However, it was the winner of the first World Test Championship in 2021, lifting its first major global title in world cricket for the very first time.
South Africa
South Africa has unfortunately created a reputation for itself as a choker on the world stage, having lost after reaching the semi-finals on four out of the eight times they've played. The team has the highest win ratio of all time behind Australia, India and New Zealand — yet, somehow, have never won it.
Others
Of 20 total nations that have played the tournament so far, 14 — including New Zealand and South Africa — have never won the Cricket World Cup so far. Zimbabwe is one of the most recognisable cricketing names in this list, alongside others that include Bangladesh, Kenya, Canada, The Netherlands, Ireland, Scotland, the UAE, Afghanistan, East Africa (now disbanded), Namibia and Bermuda.
Individual Cricket World Cup Records
Highest run scorer
India's Master Blaster, Sachin Tendulkar is the highest run scorer in Cricket World Cup tournaments so far — with a total of 2,278 runs.
Highest score by a batsman in a single inning
New Zealand opener Martin Guptill holds this record today, after scoring 237 not out against West Indies in the quarter-finals of the 2015 World Cup. New Zealand scored 393/6 and won the match by 143 runs.
Highest partnership
West Indies' Chris Gayle and Marlon Samuels added 372 runs for the second wicket during the group stages in 2015. West Indies lost their first wicket on the very first ball, and the second wicket on the very last ball of the match — with Gayle hitting 16 sixes on his way to a 147-ball 215.
Most Centuries
India's Rohit Sharma holds the records for both most centuries overall, and in a single tournament, with six centuries so far.
Most wickets
Legendary Australian pacer Glenn McGrath holds this record for taking 71 wickets across four tournaments that he's been a part of.
Best bowling figures in a single inning
McGrath holds this record as well, for his 7-wicket spell in the 2003 edition against Namibia. McGrath ended with figures of 7/15, bowling Namibia out for just 45.
Highest team score
Australia holds this record for scoring 417/6 against Afghanistan in 2015, powered by opener David Warner's 178 off 133 balls, and a ludicrous 39-ball 88 from Glenn Maxwell.
Lowest team score
Canada holds the indignation of this record since being bowled out for 36 runs during a group stage match against Sri Lanka in 2003.
Frequently Asked Questions on the Cricket World Cup
Which team has won the most number of tournaments and matches at the Cricket World Cup?
Australia has won the tournament five times, and has also won the most number of matches (69) in all of Cricket World Cup history.
Which player has hit the most sixes in Cricket World Cup?
West Indies' Chris Gayle unsurprisingly holds this record, having hit 49 sixes in all of his 34 innings at the tournament.
Which player has scored the most centuries in a single World Cup?
Rohit Sharma made this record his own in the last edition, notching up five centuries through the 2019 edition.
Which player has taken the most number of catches in World Cups?
Ricky Ponting holds this record for having taken 28 catches across all his tournaments.
What was the result of the first-ever match in a Cricket World Cup?
England defeated India by 202 runs in the first ever Cricket World Cup match. England scored 334/4, with Dennis Amiss scoring 137 runs. India, in what was a perplexing second innings, scored 132/3 — with Sunil Gavaskar 36 not out from 174 balls.