Highlights
The Infinix INBook Y1 Plus starts at Rs 27,990.
It features an Intel Core i3-1005G1 processor.
Y1 Plus has a massive 50Wh battery that supports 65W fast charging.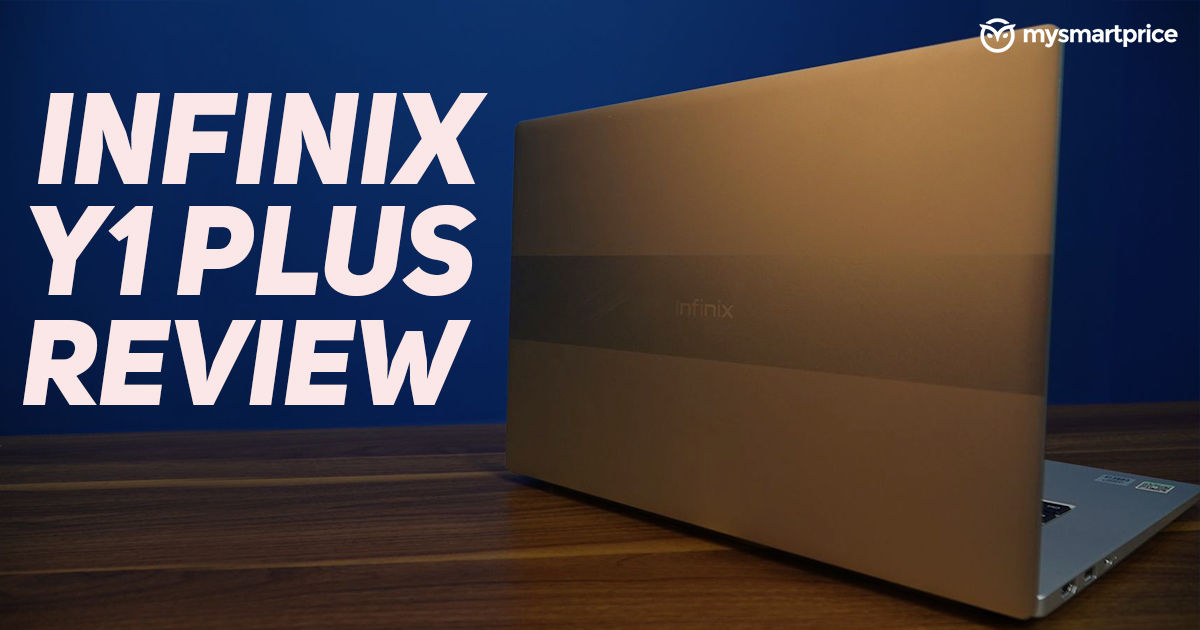 Infinix is usually synonymous with budget smartphones in the market. However, the company took a different tangent in December 2021 with the launch of its InBook X1 laptop series. Since then, they've made some interesting laptops in India at affordable prices.
Infinix INBook Y1 Plus
Rs 27,990
What Is Good?
Attractive price tag
Great build quality
Spacious keyboard and trackpad layout
Impressive battery life
What Is Bad?
Weak speaker
Panel brightness could've been better
Not adequate for power-intensive tasks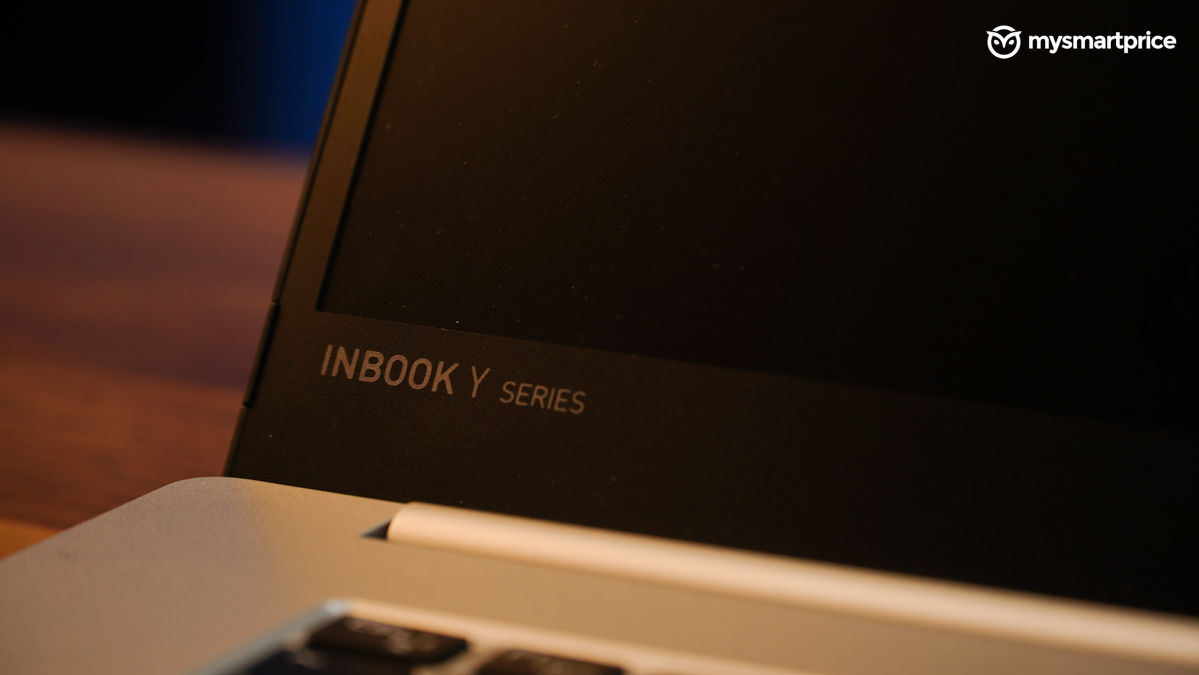 Continuing with the trend of affordable laptops, Infinix has recently launched the InBook Y1 Plus in India. At a starting price of Rs 27,990, the Y1 Plus offers a 15.6-inch FHD Display, an Intel Core i3-1005G1 processor, a nice and sturdy build and 65W USB Type-C fast charging. We've been using the Y1 Plus for over a month, and here's our detailed review.
Infinix INBook Y1 Plus: Design and build quality
The Y1 Plus has a 2MP FHD Webcam for video calls and meetings.
It weighs around 1.78kg and has a very solid metal build.
Y1 Plus has a metal chassis that gives a sturdy feel, adding a bit of premiumness. On the top of the lid, you get an Infinix branding in a horizontal rugged brush metal pattern that looks cool.
The laptop tips the scale at 1.78kg, and lifting the lid with one hand is also possible here, which is good. Speaking of which, the hinge is quite sturdy and, thankfully, does not resonate with the one on the Infinix Zero Book Ultra and actually stays in place. Even though it is a budget laptop, we appreciate the nice build quality and sturdy hinge of the Y1 Plus.
The keyboard has backlit LED keys, and additionally, they've included a two-step backlight feature, which, considering the price of the InBook, is excellent. The keys have a scissor-switch mechanism, allowing for a 1.5mm travel distance and providing great responsiveness during typing. The spacing between the keys is also decent. No issues there!
Below the keyboard, you get a touchpad around 6.36 inches in size and a glass surface for a smooth scrolling experience. The buttons on the bottom of the trackpad feel tactile when pressed, making clicking and selecting the content easy. Especially when using Windows 11 gestures, the overall scrolling and touchpad were smooth.
The way this laptop looks is pretty standard and can be an ideal choice for those who work in an office or for students who prefer a subtle appearance over something that is too flashy or sparky.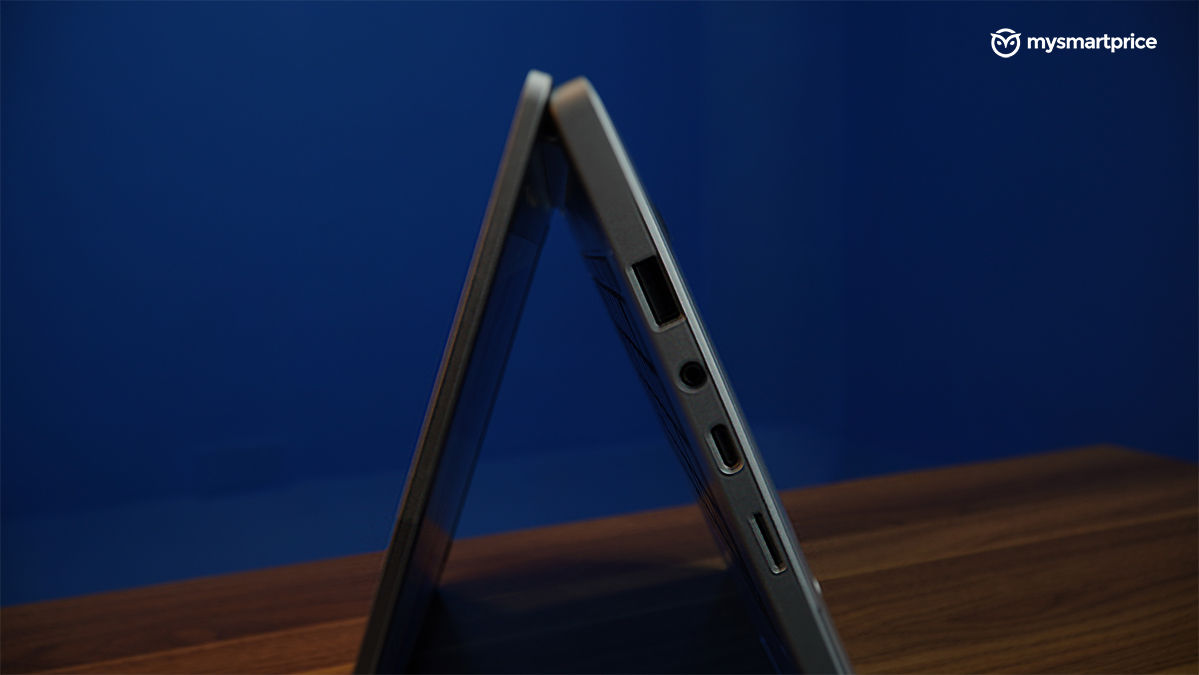 Talking about the ports, you get a USB-C that supports charging and data transfer, an additional USB-C port dedicated to data transfer, two USB 3.0, HDMI 1.4, a dedicated SD card slot, and a 3.5mm audio jack. For the price, Infinix has done a great job designing and selecting ports on the InBook Y1 Plus.
Infinix INBook Y1 Plus: Display and audio
Y1 Plus features a 15.6-inch Full HD display with 250 nits of brightness.
It also packs dual-watt stereo speakers.
In terms of display, Y1 Plus boasts a 15.6-inch Full HD display with a screen resolution of 1920×1080 pixels. Its vibrant panel delivers a peak brightness of 250 nits, which is a little less as per today's standard, but we can let it slide for the price. With an impressive 87 per cent of the sRGB colour gamut and 60 per cent NTSC colour gamut coverage, the panel ensures rich and accurate colour reproduction that makes your content a little more enjoyable.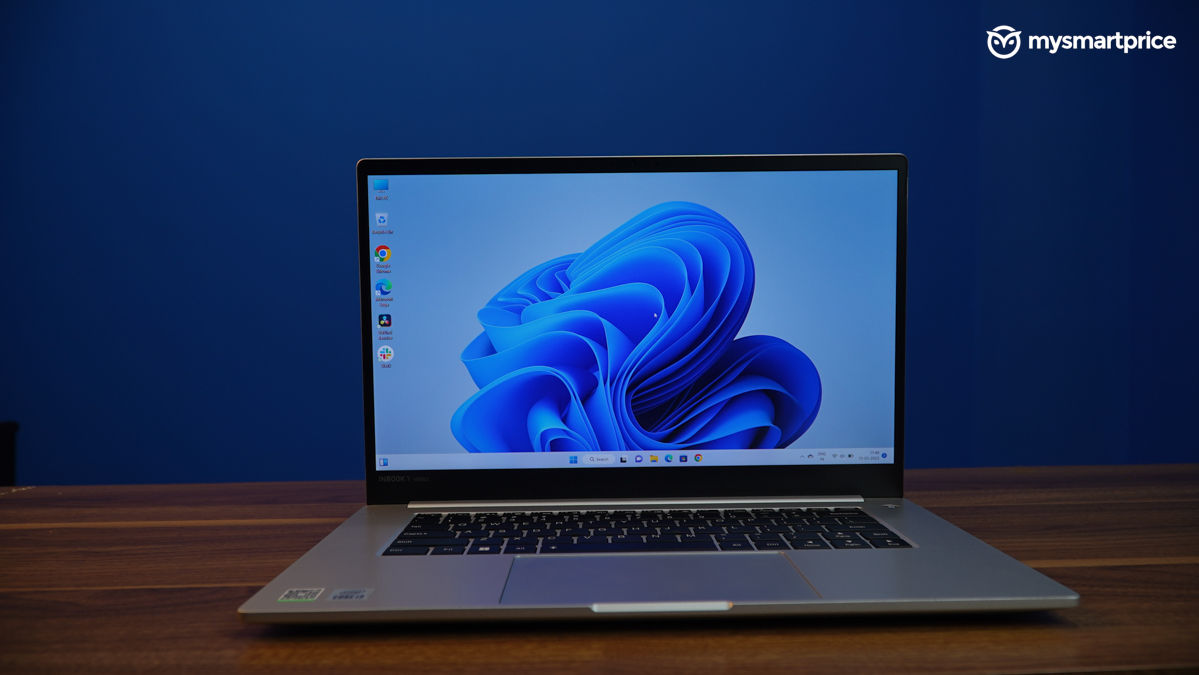 The display has relatively thin bezels on the left and right side of the screen, with a slightly taller one on the bottom.
On the bottom, you get a dual two-watt stereo speaker setup that produces decent output while watching content but lacks a good amount of depth. Even while watching anime such as Naruto, the fight sequences that make you want to jump out of your chair out of excitement didn't land well due to hollow sounds.
Infinix INBook Y1 Plus: Hardware and performance
Infinix Y1 Plus has an Intel Core i3-1005G1 processor.
It comes with Windows 11 Home pre-installed.
The Y1 Plus is powered by the Intel Core i3-1005G1, a dual-core processor, along with integrated UHD Graphics. For the base variant, you get 8GB of LPDDR4X RAM and up to 256GB of NVMe storage, thus offering a competitive set of specifications at a low price point. On the inside, you also get an Ice Storm cooling system to keep the temperatures in check.
Talking about the benchmarks, the Y1 Plus scored 1,922 on Cinebench R23 multi-core benchmark, indicating relatively limited processing power. Similarly, the notebook scored 1308 and 2859 in Geekbench 6 single-core and multi-core tests, respectively.
Talking about real-life usages, such as writing scripts, watching YouTube videos, and scrolling news feeds, we noticed no issues on Y1 Plus. However, the laptop started to lose steam for intensive tasks such as editing videos or having multiple Chrome tabs open in the background. While expecting a budget notebook to be an ultimate video editing machine is a long shot, extracting a bunch of basic editing out of it is something we expected.
It comes with Windows 11 Home pre-installed so that users won't miss out on essential functionality such as Device Encryption, Parental Controls, secure boot and Windows Defender, etc.
Infinix INBook Y1 Plus: Battery
It has a massive 50Wh battery that supports 65W fast charging.
Infinix claims that Y1 Plus can deliver up to 10 hours of video playback time.
The battery is one of the strongest selling points of Y1 Plus. Inside, there's a 50Wh battery that supports 65W fast charging, and it can charge up to 75% of the battery in about an hour of charge, offering superb convenience to users with on-the-go lifestyles. Infinix claims the laptop to have at least 10 hours of video playback time. In contrast, in our testing, it could easily deliver around six hours of screen on time with moderate usage, including writing scripting, scrolling Twitter, watching shows on Netflix, listening to music on Bluetooth speakers, etc.
Infinix INBook Y1 Plus: Verdict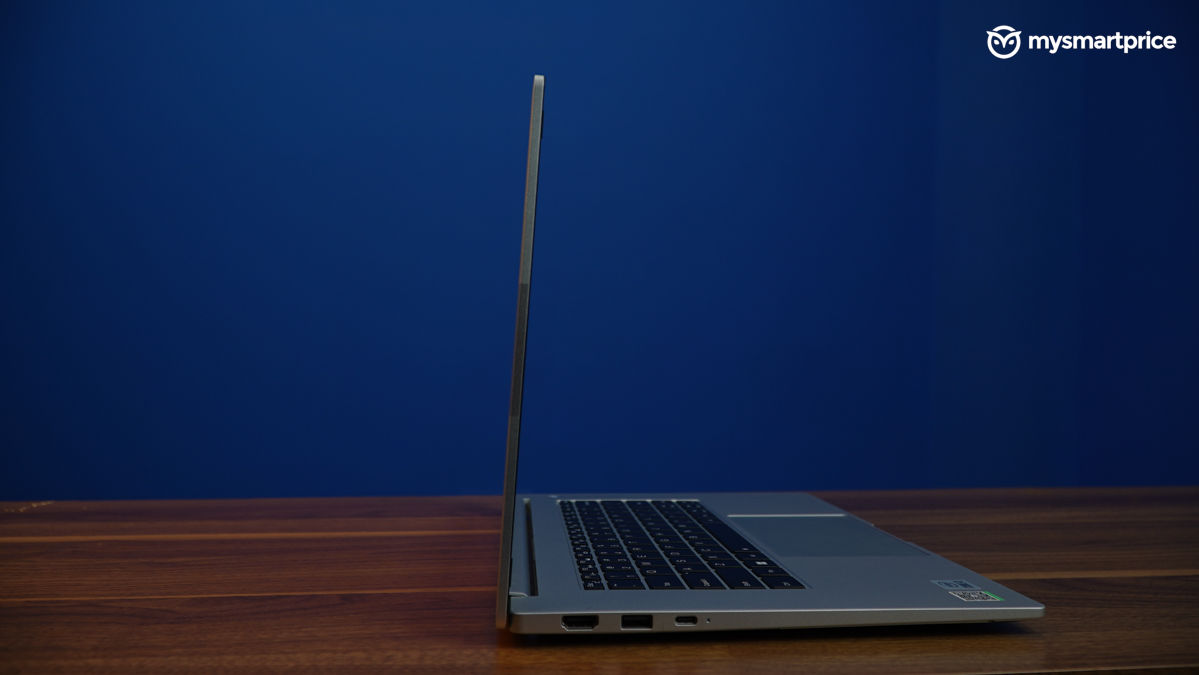 For Rs 27,990, Infinix has skillfully made strategic adjustments to create a device that caters to various daily requirements. It is important to note, though, that if your intention is to engage in graphically demanding tasks, there may be better options than this laptop. However, for general usage, moderate office work, and web browsing, the InBook Y1 Plus stands as a practical choice.
If you're looking for an alternative, there's Acer ONE 14 which is powered by AMD Ryzen 3 3250U, has two cores and four threads, clocked at up to 3.5GHz that you can consider.