Highlights
Within a short span of time, Jio Cinema has become the market leader of sorts in the digital medium
Jio Cinema is expanding its viewer base by brokering deal after deals
Strong and aggressive marketing strategies putting it to Numero Uno position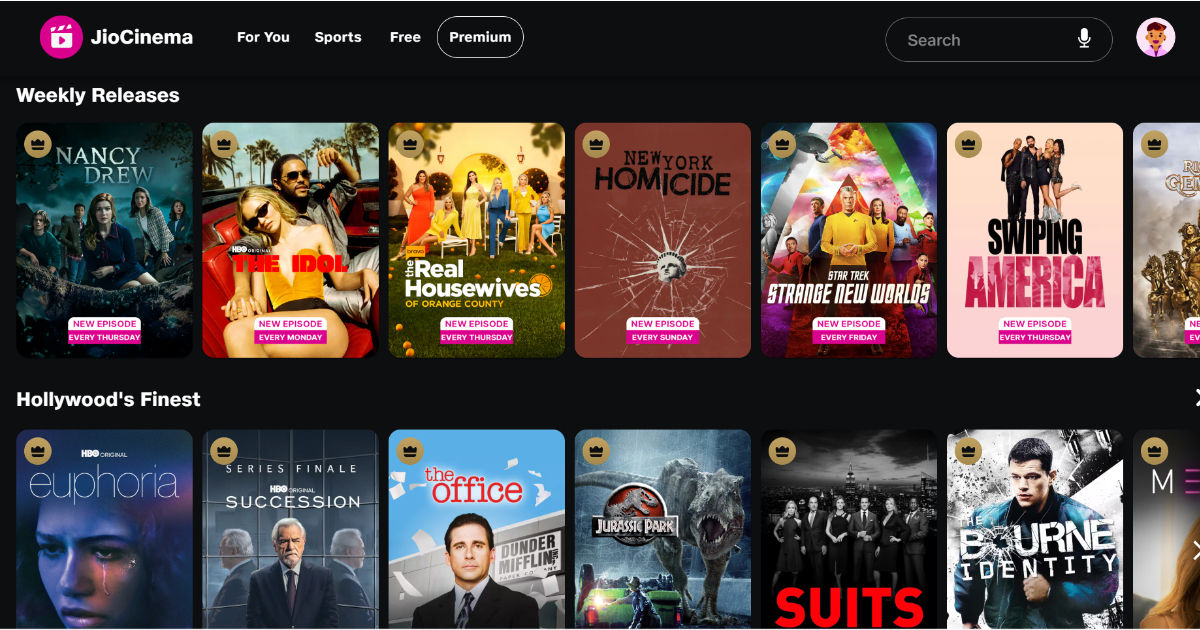 I was in my school when I had my first mobile handset. It was a Nokia 3310 and the call rates were Rs 25 for outgoing and Rs 16 for incoming. Cut to 2004-05, Reliance came up with the "kar lo Duniya Mutthi me" model and disrupted the telecom market. We started getting lower call rates and in fact free calls for most of us with Rs 440 packs.
Cut to 2016, Reliance comes up with another market disrupter with Jio. The telecom company has helped link India to affordable internet, and, with Jio's entry, it went from 4G to 5G.
Now, with the telecom market covered, Jio is all set to disrupt the digital medium in the country. With free streaming of IPL 2023, Jio Cinema, an entertainment division of Reliance, has been catapulted to a status in the digital space that very few can think of. Here's how!
JioCinema Becomes Largest OTT Player in India
The platform has now become one of the largest OTT players in the Indian market, bypassing the giants: Amazon Prime Video, Netflix, and Disney+ Hotstar. As per the latest data, the platform now has 141 million paid + free users, which is higher than Amazon Prime Video and other popular OTT platforms.
In no time, @JioCinema has surpassed all OTT incumbents in total (free+paid) subscriber numbers.
What JioCinema is doing right and how it's replicating the Jio 4G model in OTT 👇 https://t.co/OT10eIfaM4 pic.twitter.com/kCW6Pen7Gk

— Sohini M. (@Mittermaniac) June 20, 2023
With JioCinema, it most obviously appears that they are trying to duplicate their telecom success. Fans have already been drawn to the platform by films including Varun Dhawan's Bhediya (which was originally released in theatres), Shahid Kapoor's Bloody Daddy (which debuted immediately on the app on June 9), Sushmita Sen's eagerly awaited Taali, the new season of Asur, and Salman Khan-hosted Bigg Boss OTT 2.
Apart from that, for its JioCinema streaming service, Reliance India has teamed up with Warner Bros. Discovery Inc. in a significant push to deliver well-known Hollywood programming to the platform. Through an arrangement facilitated by Jio Cinema, all of the HBO and Warner Brothers material is now accessible on the site. HBO, Max Original, and Warner Bros. will all have new streaming homes on JioCinema India thanks to a multi-year agreement between Warner Bros. Discovery and Viacom18.
There are studies that claim that while metro areas have more than 79 per cent OTT penetration, OTT platforms must concentrate on smaller towns and cities for the next stage of subscriber growth. Jio Cinema is said to have negotiated an agreement with Telugu digital aha to move its material to Jio Cinema in order to accomplish this. It already owns Voot Select content on its platform and has moved Voot Select's viewers to its own streaming service.
What is the game here?
In recently released Pushpa movie, Allu Arjun's character says " Mai Yahan Kisi ke phatte me taang adaane nahi aaya hai, Mai Raaj Karne aaya hai." This is what Jio Cinema is aiming for, it seems. JioCinema claims to have aired IPL 2023 to over 97 million viewers every day, and the league's total digital audience was expected to exceed 500 million. During the IPL 2023, JioCinema established a global streaming record for cricket events with 17 billion video views. The site has frequently broke records for the number of people watching a live-streamed event at the same time.
The streaming service got 110 million views for its FIFA World Cup streaming in 2022. 60 million unique viewers tuned in to watch IPL matches and it also broke the record of being the most installed app in a single day, as Jio Cinema was downloaded 25 million times on Day 1 of IPL. According to insiders, Viacom18-owned JioCinema has earned between Rs 2,000 and Rs 2,500 crore in advertising revenue from IPL 2023.
JioCinema has quickly become a "serious player" in the OTT landscape thanks to its possession of important sports brands as well as HBO and NBC shows, driving subscribers away from market leader Disney+ Hotstar. Jio reportedly be developing a subscription service for consumers that will bundle its primary services in retail, shopping, entertainment, telecom, pay TV, etc., similar to Amazon Prime.
This all means Jio Cinema is all out to disrupt the digital market and with its aggressive marketing strategies, it seems to say " Mai Jhukega nahi, Saala."