Highlights
A new feature called Cubes is reportedly under development by Google for Android devices.
Cubes could allow users to categorize apps, and view all the information in a single place.
Code teardown reveals that Cubes could also offer a direct shopping experience to Android users, without visiting external sites.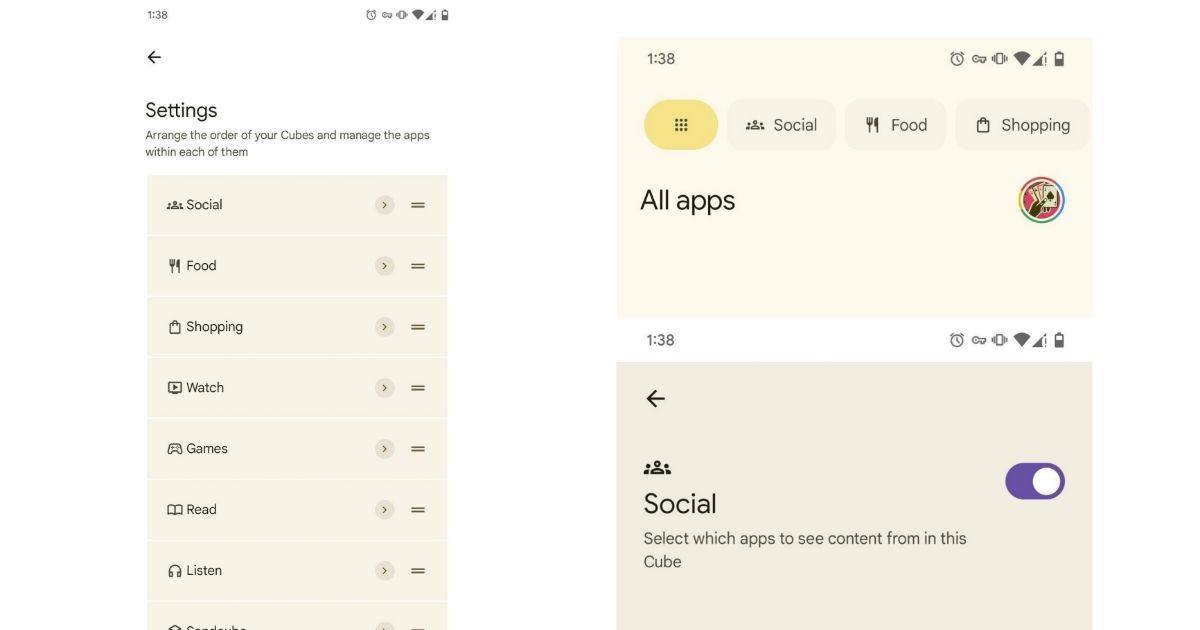 Google is said to be working on a new feature called Cubes, which will organize apps on Android devices categorically. Reports indicate that Cubes will act as a single-place dashboard to view information from all apps on the phone.
Cubes could also improve the overall app and content discoverability on Android devices. The feature has reportedly been in development for several months, and the basic outlines of Cubes have now been revealed with the latest Google Play updates.
Cubes in Android Could Be the Next Big Thing
The Cubes feature was originally spotted in January this year which hinted that Google was working on a new design to categorize apps in a better way. The design of the feature was leaked through beta programs and other sources but was soon hidden by Google.
The latest update of Google Play reveals several details about Google's ambitious Cubes feature. Screenshots from the Google News Telegram channel show that Cubes will be directly linked to the Google account of the user, just like the Play Store.
It will show the users multiple categories of apps such as Social, Shopping, Games, Read, Food, and more. All categories appear to be present across a single dashboard where the user can select apps based on their current requirement.
Google also appears to be working on a home screen widget for Cubes, which will give instant access to the app categories with a single click. Images also suggest that the user will have control over which apps to show in a particular category.
from here. It is going to have some cart system for shopping as well. (yupp, totally unbelievable, but you can look at code 🙊)

This feature does not work completely because the backend (server thing) is not public yet.https://t.co/Bb0XZPeNvp

— AssembleDebug (@AssembleDebug) November 16, 2023
AssembleDebug on Twitter reported that the Cubes feature could fetch all information across various apps on the phone of the user, and then categorically display them to the user. The code teardown of Cubes also reveals a shopping cart alike functionality hinting that the service could allow users to directly shop for items from these Cubes.
Further details of the Cubes feature are not available as of now. Google has not yet officially announced or even acknowledged this feature, as it was not mentioned in the recent Google I/O Event.
It looks like the development of Cubes is still going to take a while, as the backend system of the feature is still missing from the baseline codes. Considering that the usage pattern of smartphone users has been evolving rapidly, Cubes could be a big feature in the Android operating system.
While the feature sounds optimistic, the implementation will be crucial given the reduced attention span of smartphone users due to the emergence of short videos. It will be interesting to see how Google implements Cubes in the Android OS. It is possible that the Cubes feature could make its debut with the beta versions of Android 15 next year.