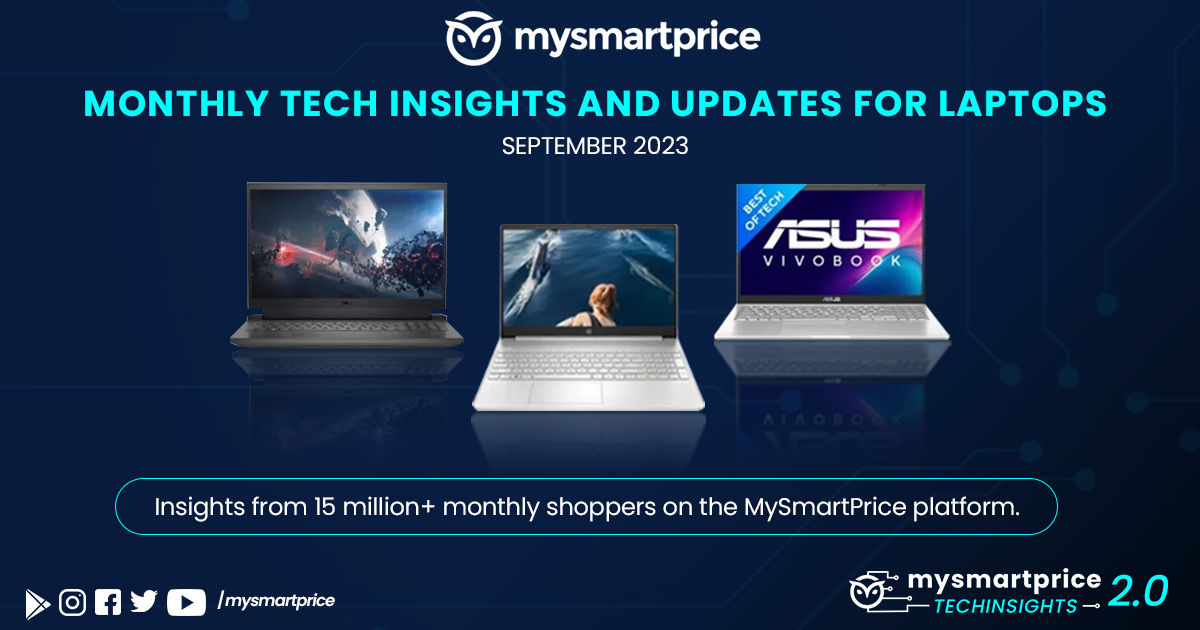 Similar to the Indian smartphone market, the laptop industry continues to be dynamic in the country. With the sale season coming, the laptop industry is witnessing a major shuffle in preferences. And as always, MySmartPrice is taking a look at the macro trends to surface insights on which brands are catching consumers' attention, most popular laptops, and more.
To get an in-depth learning about how consumers prefer to buy a laptop, we studied the buying habits of over 15 million people that visited our platform. Let's check out the MSP September tech insights for laptops.
HP is the Most Popular Laptop Brand in India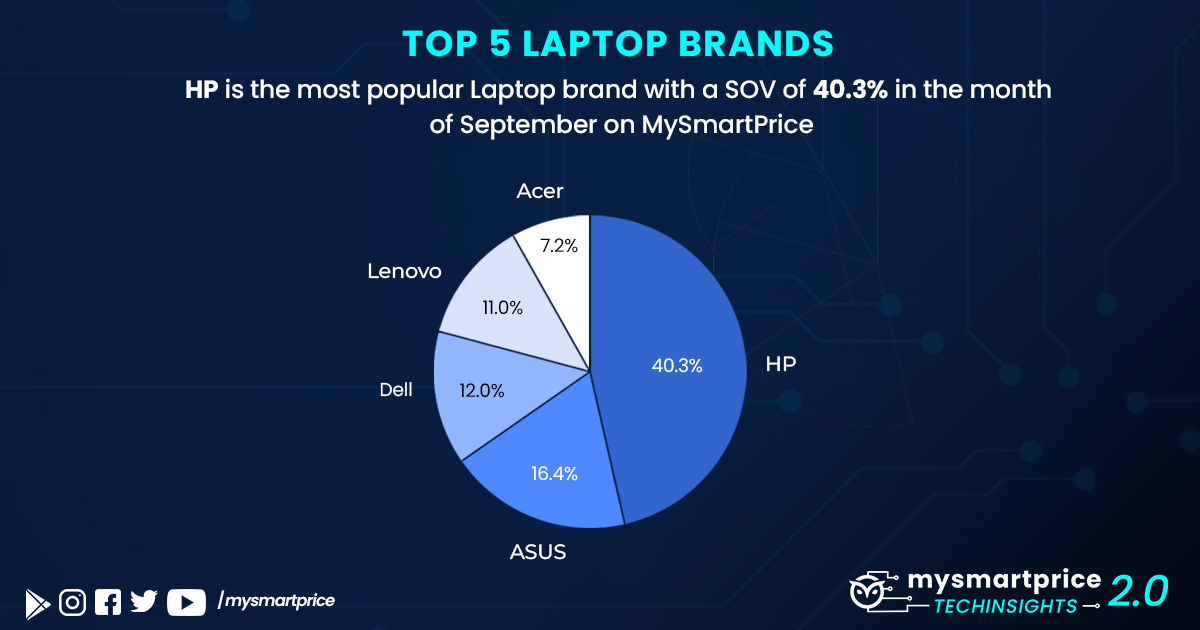 In September, HP continued its lead as the most popular brand position with a popularity share of 40%. Asus and Dell claimed the second and third spot respectively with 16.4% and 12% popularity, respectively.
Lenovo and Acer were at the fourth and fifth places respectively with 11% and 7.2% popularity.
Laptops Under Rs 50000 in Most Demand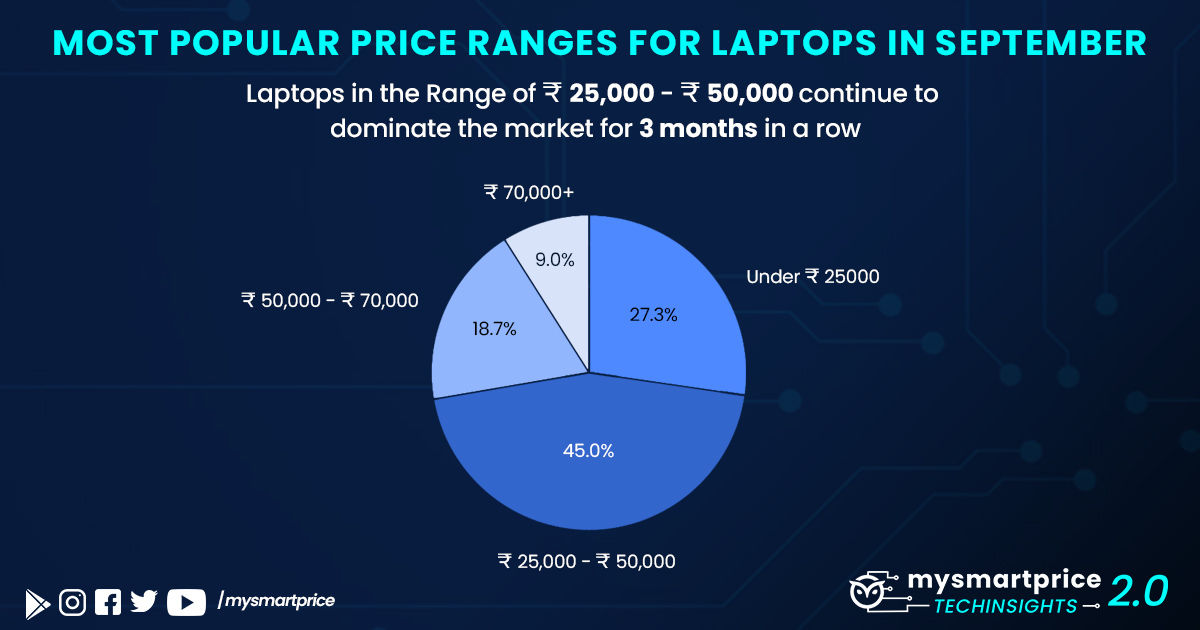 Indian consumers have shown a huge interest in mid-budget segment i.e. Rs 25,000 to Rs 50,000 for buying a new laptop. The price range accounted for 45% of searches. The entry-level category below Rs 25,000 was the second preferred choice for 27.3% of users.
The Rs 50,000 to Rs 70,000 received 18.7% from Indian consumers. Last, the premium segment i.e. above Rs 70,000 was the least preferred segment with just 9% interest.
Most Popular Laptops in India in September 2023
You would be surprised to know that out of 5 popular laptops in India, 3 of them are from HP.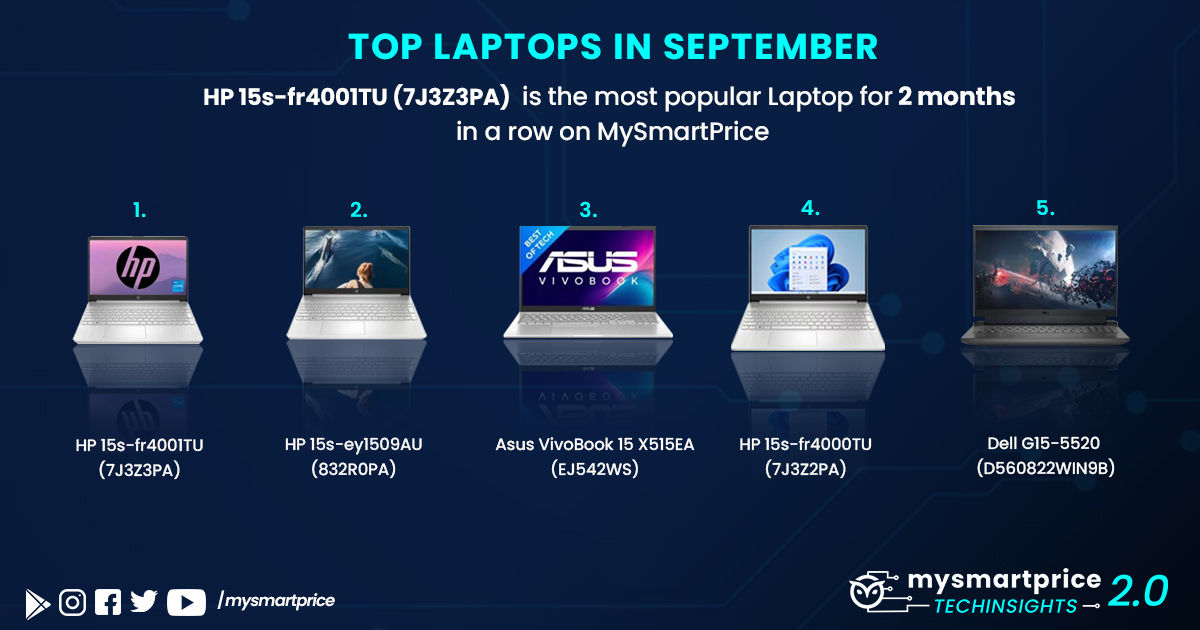 Laptop Users Prefer 16GB RAM
RAM, also known as Random Access Memory, helps your laptop to do the task more efficiently. More RAM means better usage. In our MSP Laptop Insights, more than half of the users showed interest in 16GB RAM. The 8GB RAM was the second most preferred RAM size with 38.2% interest. Last, the 32GB and above received less interest as they are mostly reserved for high-end premium laptops.
Intel is the Most Preferred Laptop Processor
A processor is the heart of a laptop and there are two brands that squarely compete in this league – Intel and AMD. A powerful processor can get almost all your work done easily compared to a less-powerful processor. Our portal observed that Intel is the most popular laptop processor brand with a massive 78% popularity compared to 22% of AMD. This just shows how dominant Intel is in India's laptop market.
Laptop Buyers Prefer Up to 14 Inch Screen
Consumers today are looking for no laptop whose screen size is less than 13-inch. MySmartPrice observed that while the laptop brands have been launching new laptops with 14-16-inches screen sizes, an average consumer is still looking for a laptop that has a screen size between 13 to 14-inches. Around half of consumers are looking for a laptop with this screen size.
After 13 to 14-inches, large screen sizes (more than 15.0 inch) are the second most searched screen size with 29.4% interest. The 14 to 15-inch screen size category reported around 14.2% search interest.
You can check out the full report here.