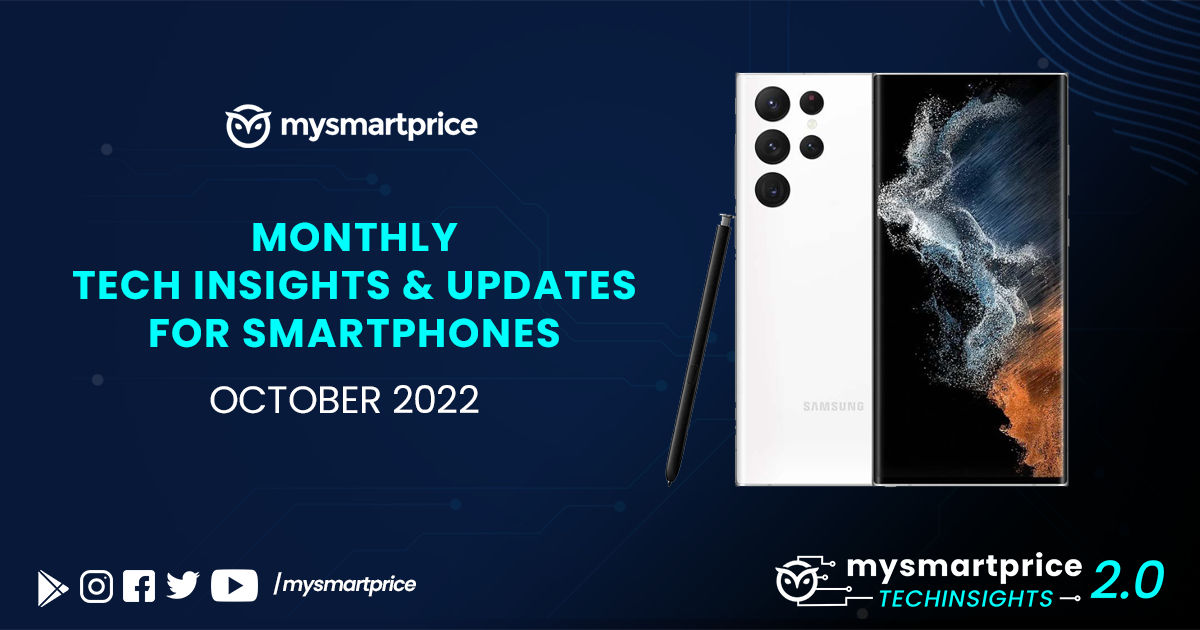 There are multiple new smartphones being launched in India each month and the market is flooded with options for customers to choose from. Smartphones are available in price segments that range from as low as Rs 5,000 to well over a lakh rupees. And with as many options in terms of different specifications on similar or same smartphones, it is no surprise that people need to look up about different smartphone to make an informed choice. And this is where we come in.
Every month MySmartPrice, conducts a survey and compiles a report based on the findings on the best brands, smartphones and trends in terms of the specifications and features. The Monthly Tech Insights and Updates for Smartphones is a report that provides stats for most aspects of a smartphone. Let's take a deep dive into the Monthly Tech Insights and Updates for Smartphones report for the month of October 2022.
Realme C35: Most Popular Phone on MSP for October 2022
Realme C35 which launched in India back on March 12, 2022 has become extremely popular with the different offers on Amazon and Flipkart during the festive season. The smartphone is also priced at Rs 11,349 which means it falls in the most popular price category as well. It was followed by four different Vivo phones which make sense since Vivo was the most popular brand for October.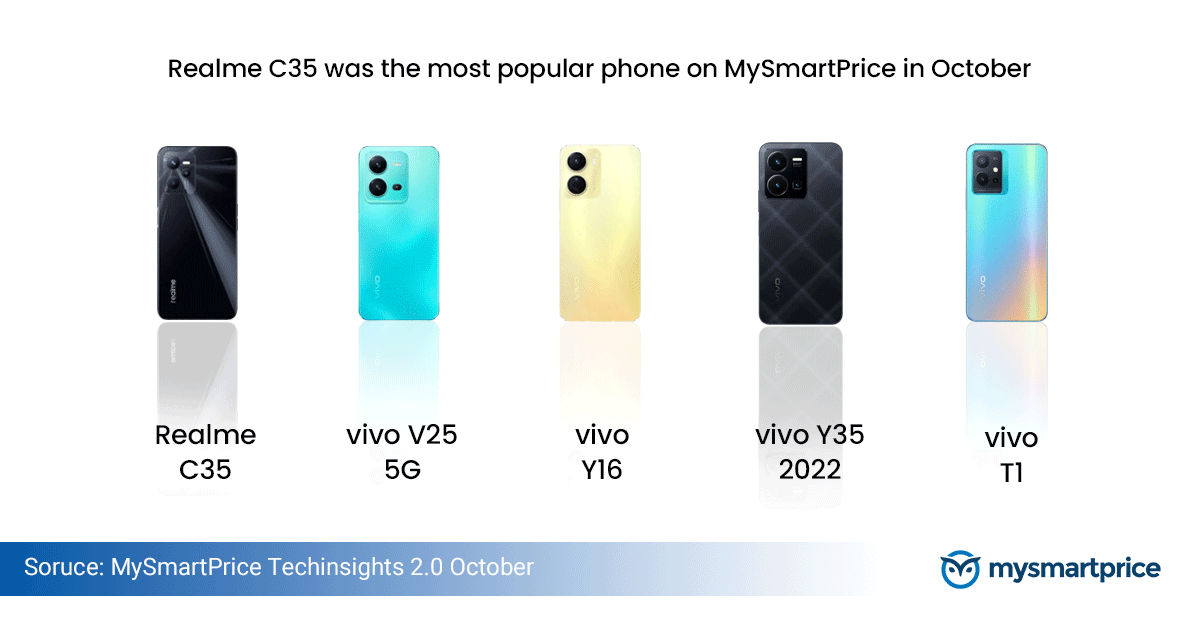 The Realme C35 comes with a 6.6-inch Full HD+ IPS LCD with a 1080 x 2408 resolution, 600 nits peak brightness and 180Hz touch sampling rate with a waterdrop notch. Under the hood, the phone has a Unisoc T616 SoC paired with 4GB of RAM and 128GB of internal storage. Users have the option to expand the storage up to 1TB via a microSD card.
On the back, it has a triple-camera setup with a 50MP main camera sensor with f/1.8 aperture lens along with a 2MP macro camera with an f/2.4 aperture and a black and white sensor with an f/2.8 aperture. For selfies, the phone has an 8MP front camera. The device packs a 5000mAh which is also the most preferred battery size among users this month along with 18W fast charging support. It runs Android 11-based Realme UI 2.0 out of the box.
In fact, this particular smartphone was so popular that the company launched a 6GB RAM + 128GB storage variant of the smartphone recently which capitalises on the most popular RAM and storage trends as well.
Vivo Beats Out the Rest to be the Top Brand
Apple was the most popular smartphone brand in India with the launch of the iPhone 14 series of smartphones. But with October the popularity of Apple dropped and Vivo claimed the throne as the most popular brand according to readers of MySmartPrice.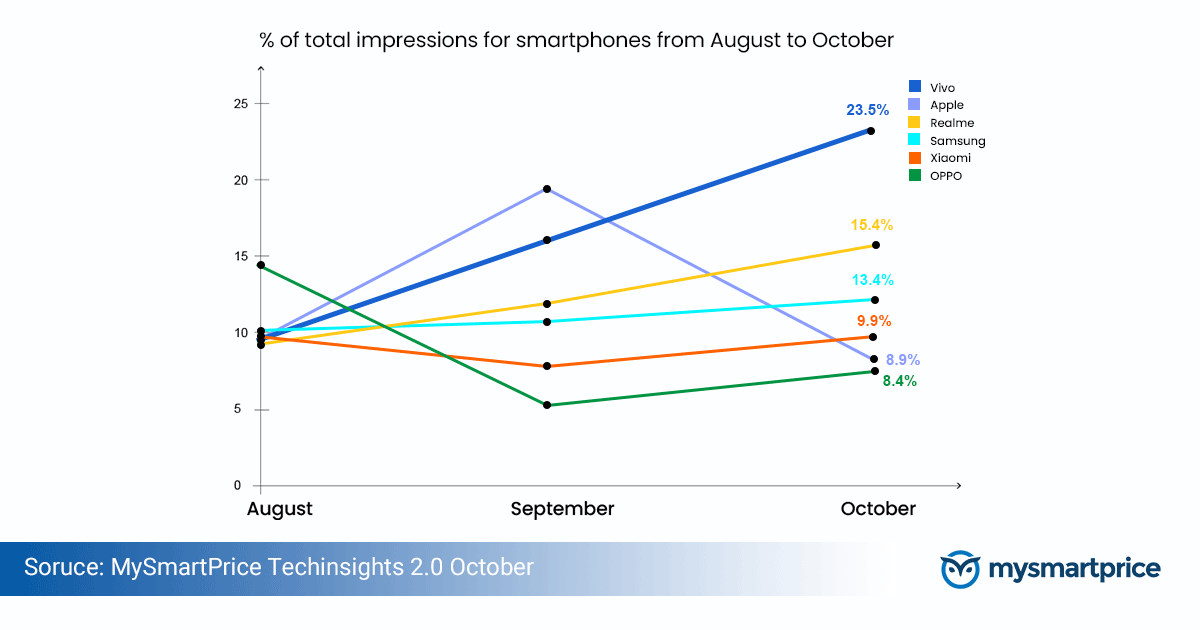 Vivo's smartphones like the Vivo V25 Pro 5G, Y35, T1 and others received lots of discounts backed by their great set of features propelled them into popularity.
In terms of the different price segments the Rs 10-15K segment was the most popular followed by the Rs 15-20k segment and then the Rs 5-10k segment. It is curious to note that people prefered to purchase smartphones in the Rs 5-10k segment more than they did in the Rs 15-20k segment back in September.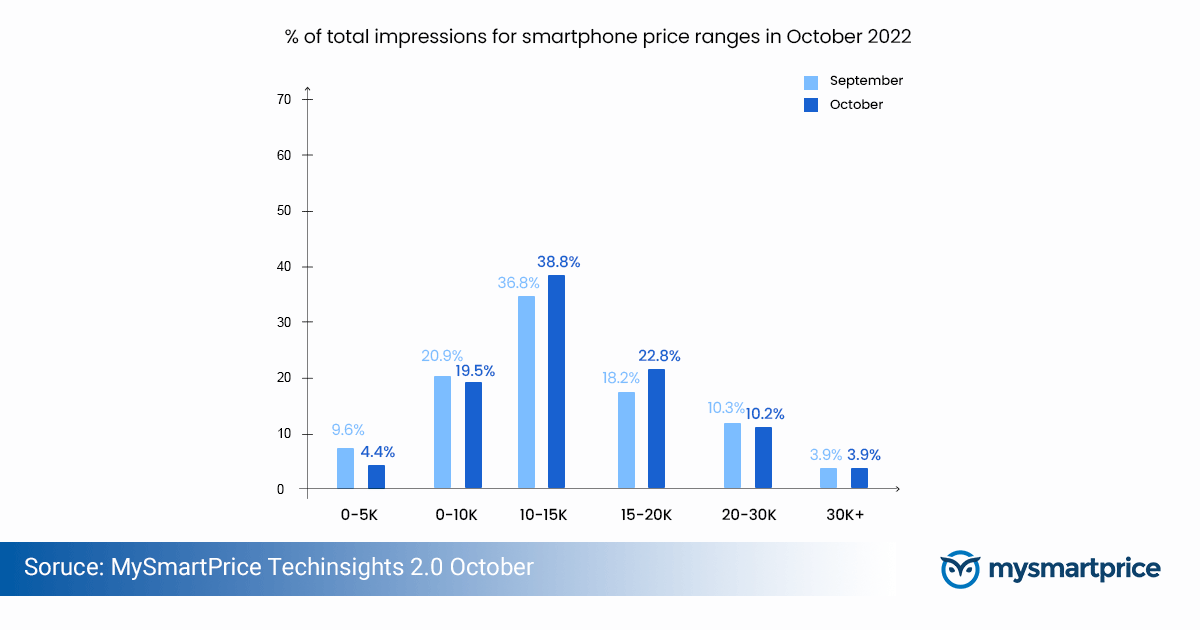 This could be a trend that shows that people were waiting for the Diwali sale on e-commerce to check and purchase some of the costlier smartphones at a lower price.
Processor and Storage Trends Don't Show Much Change, But RAM Trends Do
Qualcomm has been the most popular chipset maker for smartphones for the longest time, and continues to reign on top. But with the introduction of the Dimensity Series of chipsets, MediaTek has finally become a strong contender.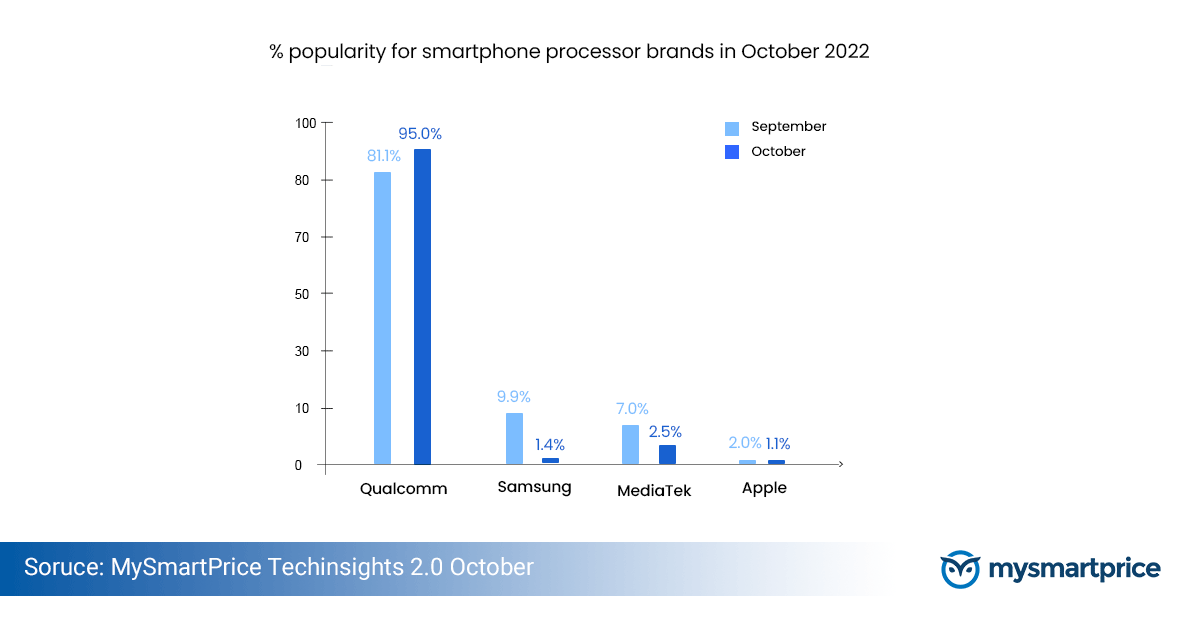 While that was apparent in the slideshow from September, things seem to have turned in favour of Qualcomm once again with in October. This time around though MediaTek has beaten Samsung to take the second spot for the preferred chipset brand.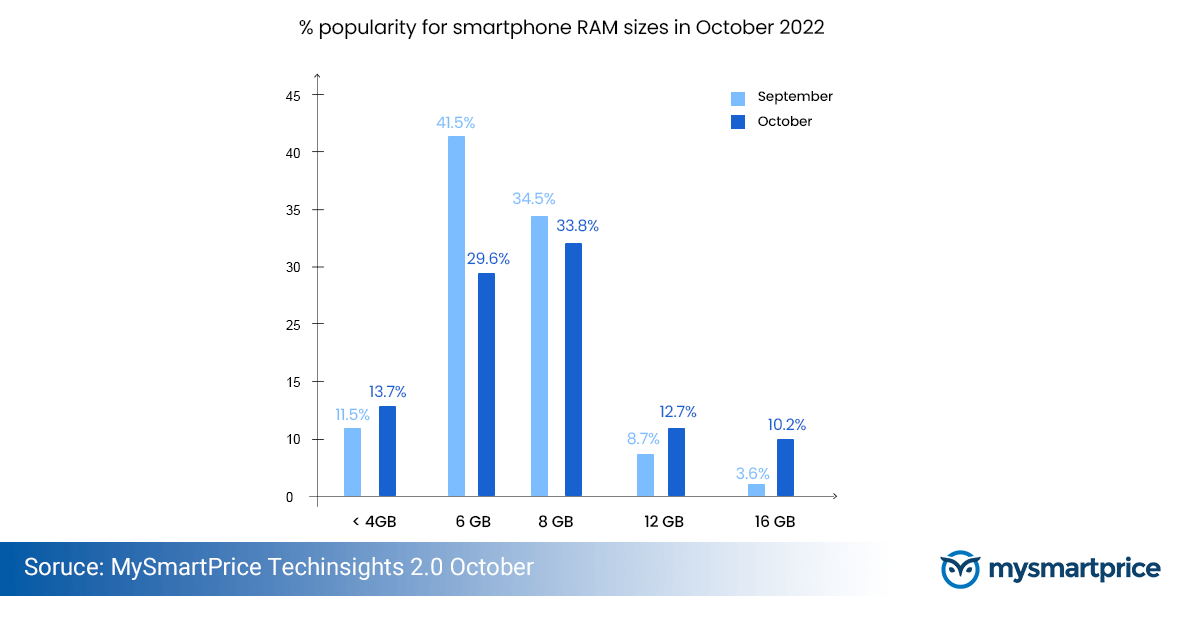 Preference of RAM seems to have changed a bit in the one month where 6GB RAM smartphones were the preferred choice in September, but 8GB RAM phones became the talk of the town in October. One reason could be that 8GB RAM phones saw a lot of discount which made users choose those over the 6GB ones.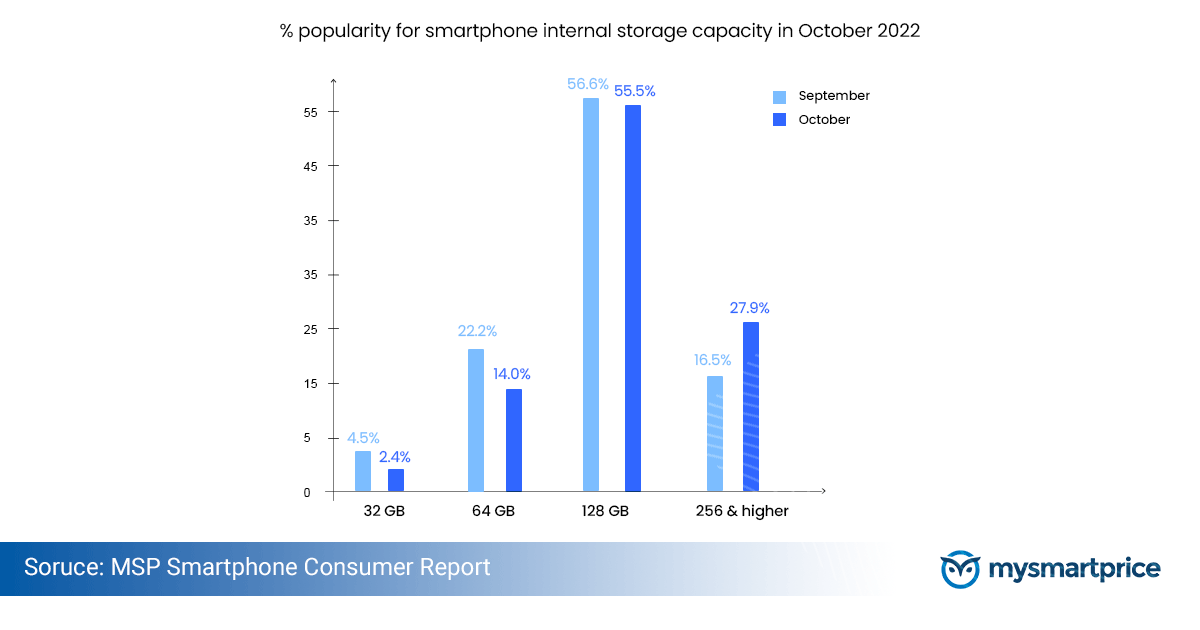 But internal storage which is essential and a key feature for users to consider a smartphone remained unchanged from September to October. People prefer their smartphones to give them as much storage as possible in a budget and 128GB seems the clear winner. There are many great smartphones that offer 128GB as their base variant. 64GB storage is too little and 256GB brings up the cost of the smartphone hence 128GB storge seems like the obvious choice.
People Prefer Large Batteries and Screen Sizes
People's preference for phones with large displays and large batteries to complement them remains unchanged. Smartphone display resolutions and image quality has been progressively getting better with each generation of smartphone, and its only natural for people to get smartphones that offer more real estate to view content.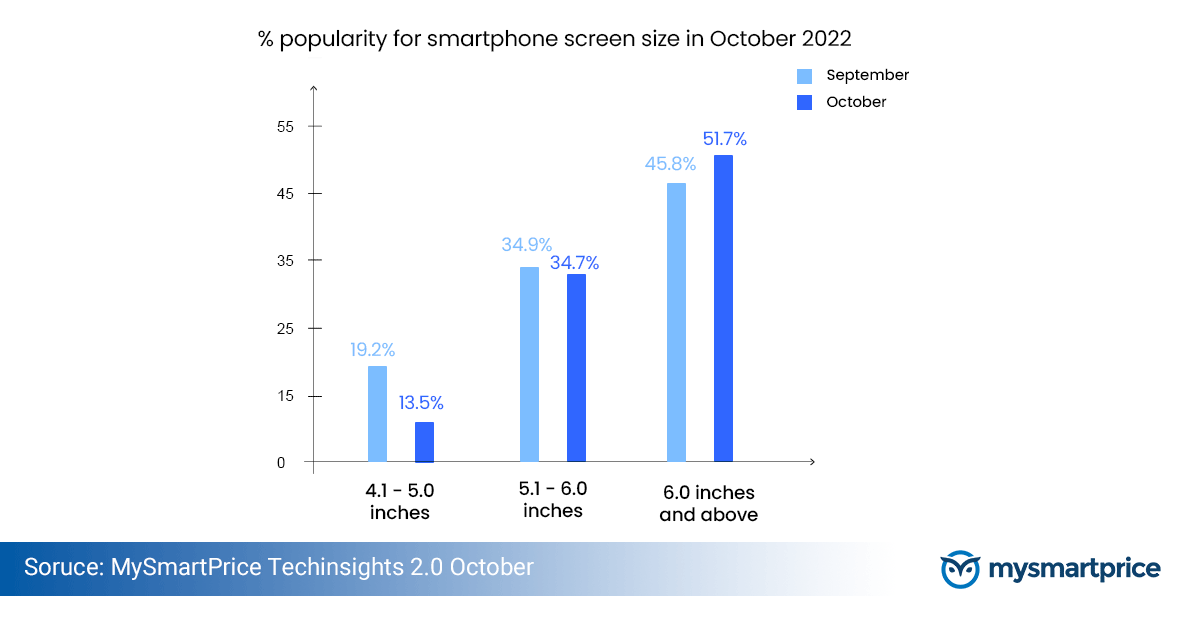 To that end, the smartphones that offer displays above 6.0-inch were the most popular with 5.1-inch to 6.0-inch display phones following the smaller ones.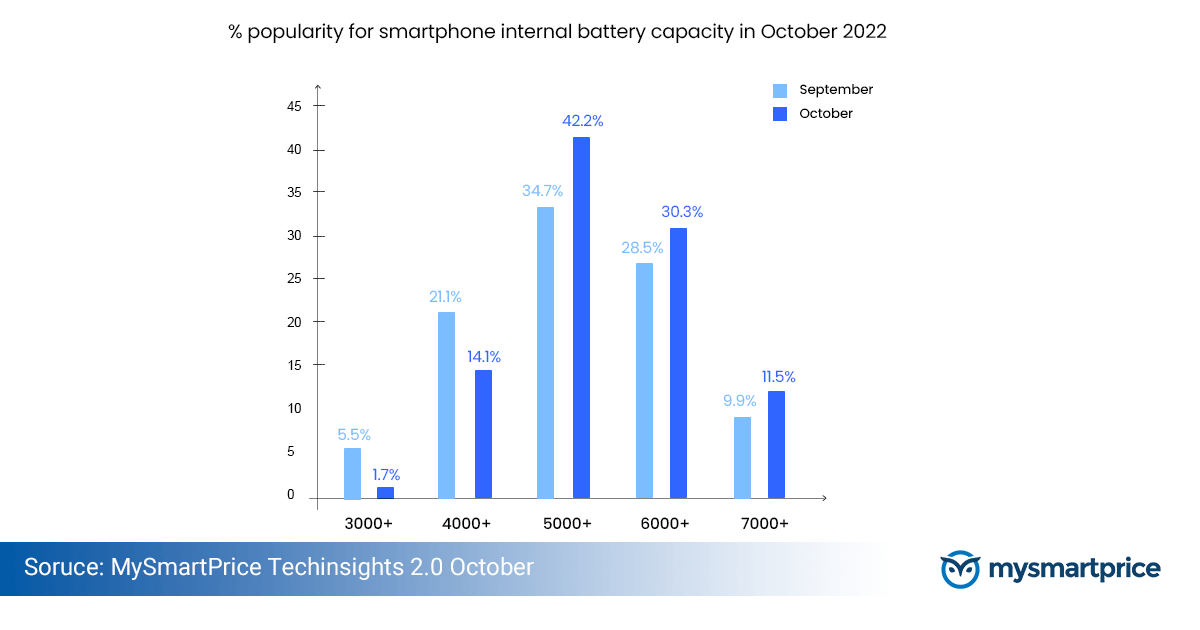 The case is the same with battery life, where a bigger display with technologies like AMOLED would require more battery capacity to run longer. Hence the requirement for a larger battery capacity. But battery capacities beyond 5000mAh become a little to difficult to fit in a regular slim smartphone with a display size of under 7-inch. This means that the 5000mAh battery wins out simply because there are more options compared to higher ones.
Samsung Galaxy S23 Ultra 5G is the Most Anticipated Smartphone
Samsung smartphones and its flagships have been some of the most popular smartphones to launch through the year, and that claim's merit shows when the survey finds that the Samsung Galaxy S23 Ultra 5G is the most anticipated smartphone.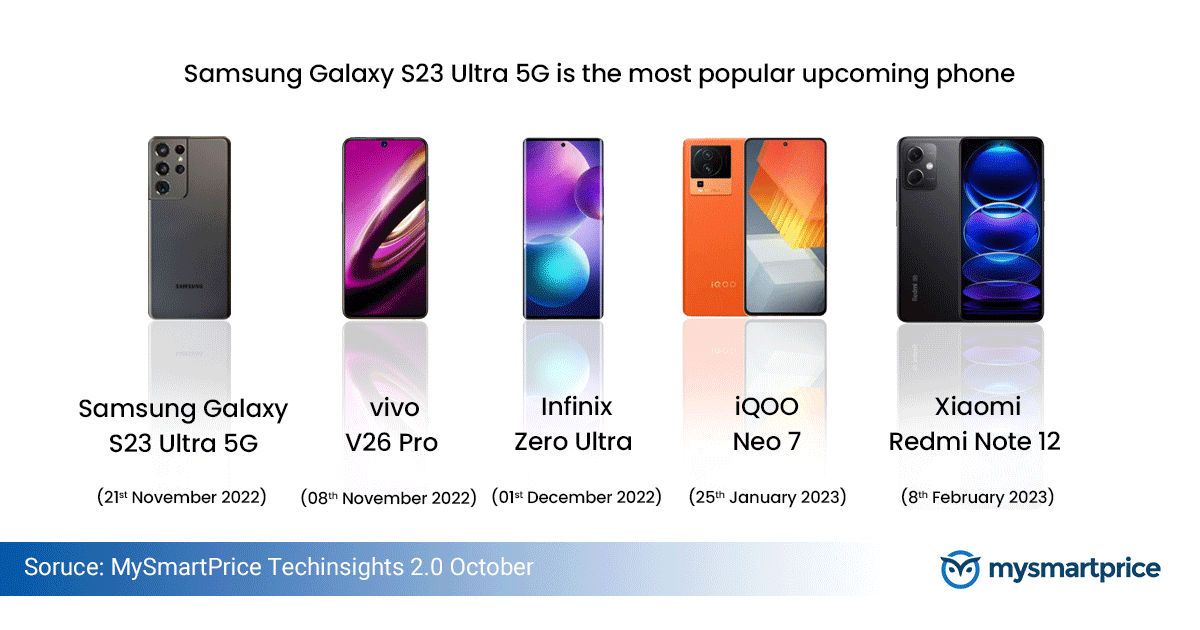 The Samsung Galaxy S23 series of smartphones are all set to launch in early 2023, and the hype machine has already started creating an expectation with all the leaked details and reveals.
You can check out the full Monthly Tech Insights and Updates for Smartphones for October here.