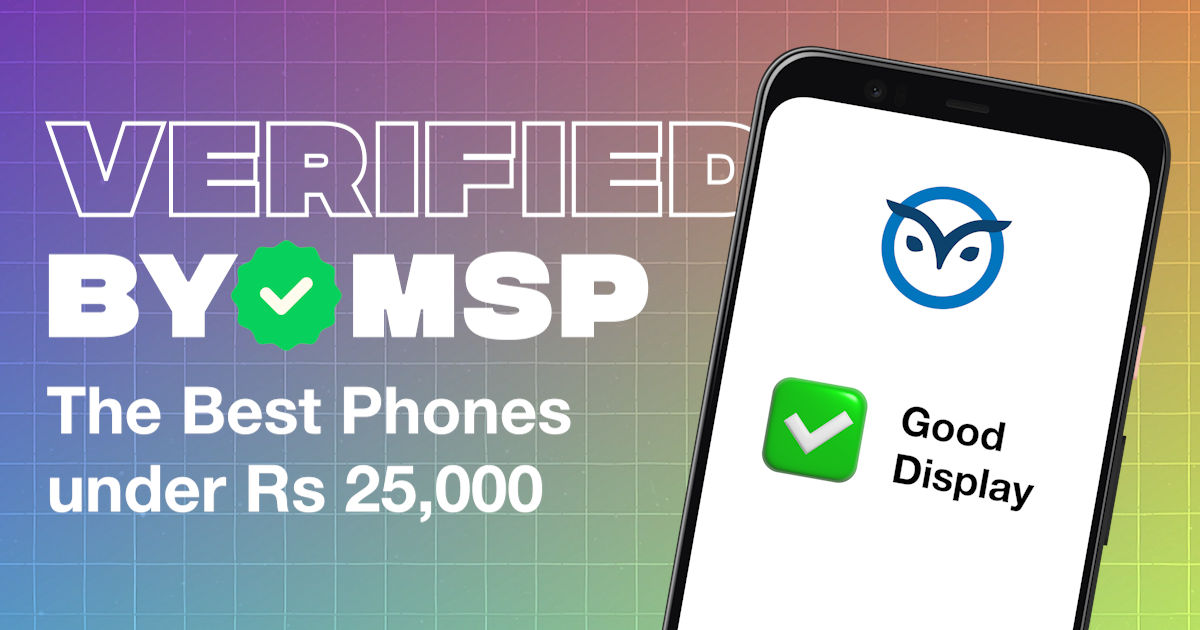 If you are in the market this festive season to buy a reasonably-priced smartphone with a good display, the myriad of choices can confuse you to an extent. Technical jargon around the screen such as brightness levels, screen technology, and refresh rate can also be a bit puzzling. However, a good quality display should not be an afterthought and can make or break your smartphone experience as it is the window to everything you do with the device.
While the current crop of smartphones all provide amazing display quality, there are certain aspects that you need to consider before buying a smartphone. So, in this buying guide, we put together a list of phones with great displays for your inner movies and TV show maniacs. All the phones fall under the Rs 25,000 price segment and have gone through MySmartPrice's rigorous testing process.
Motorola Edge 40 Neo
The Moto Edge 40 Neo, with a 6.55-inch pOLED panel, comes with the fastest display in this segment. Its 144Hz refresh rate screen gives you a great gaming and social-media doomscrolling experience. The full HD+ resolution produces sharp and crisp visuals. Moreover, the 10-bit colour depth ensures that your favourite movies and TV series look vibrant with deep blacks.
One downside with the curved display is mistouches, and we noticed a bunch of them while the phone was in our pockets. In fact, we somehow managed to pick up a WhatsApp video call by just using our butt. But that aside – something that could get fixed with a software update – the Edge 40 Neo is a fantastic package for the price.
iQOO Z7 Pro and Vivo T2 Pro
Both the iQOO Z7 Pro and Vivo T2 Pro also offer great displays with a bit more screen estate to play around with. The phones share a lot of similarities, including a 6.78-inch screen, which produces incredibly vibrant colours with blacks that are deep and inky.
The 120Hz panel looks and feels incredibly smooth in daily usage. This will also aid gamers massively. And with a peak brightness of 1300 nits, outdoor legibility is also not an issue for both these devices. Additionally, the curved display also gives the phones a premium vibe.
Realme 11 Pro and Narzo 60 Pro
Yet another dynamic duo that makes it to the list are Realme 11 Pro and Narzo 60 Pro. Just like the pair above, these devices also have similar specifications in the display department. Both of them feature a 6.7-inch OLED panel, with a full HD+ resolution and offer good colours and clarity. Unlike the Moto Edge 40 Neo, both these smartphones handle mistouches and palm rejection well too.
The 10-bit panel also does its magic and enhances colours in photos and videos. Whether you are binge-watching Netflix or conquering some gaming realm, the experience is as immersive as it gets.
The peak brightness of 950 nits is a bit less in comparison to the competition, but legibility under direct sunlight is still good, without giving your eyes any strain. While these panels have HDR capabilities, they are still yet to be implemented in some streaming platforms. YouTube on the other hand, works flawlessly.
Samsung Galaxy F54
If curved displays are not your thing, there are a few good options with flat panels. The Samsung Galaxy F54 with a 6.7-inch full HD+ panel produces saturated and vibrant colours, resulting in immersive experience when consuming content. The 120Hz refresh rate acts as a cherry on top.
Along with a good display, you also get a monstrous battery that can last you for a day and then some more. It is safe to say that this is a device made for people who want to be entertained. However, the low brightness levels can be irksome.
Moto G84
If you are on a budget but still want a device with a great display, the Moto G84 can be the ideal choice for you. It boasts a 6.55-inch Full HD+ pOLED panel with a 10-bit colour depth. Like most of the other phones, it also features a 120Hz refresh rate for smooth scrolling.
The 1300nits panel matches the peak brightness of smartphones priced above it. While it offers vibrant colour choices, the display quality also follows the same idealogy. Consuming content on it is also a fun affair. While it fulfills all the display cravings, the older Snapdragon 695 under the hood can be its Achilles heel. Regardless, the G84 offers everyday practicality.
iTel S23+ – An Honourable Mention
The ITEL S23+ emerges as a surprise contender at Rs 13,999, boasting a display that punches way above its price. It features a vibrant 6.78-inch curved AMOLED panel that makes it look modern and offers a sharp and vibrant output. The Corning Gorilla Glass 5 protection adds a layer of durability to the mix, ensuring you do not get any panic attacks after dropping your phone face first. But, with a price tag of this kind, there are a few limitations that you have to deal with.
Despite its impressive display, it operates solely on 4G. Additionally, its performance falls within the average spectrum. But, the 60Hz refresh rate can be a dealbreaker for many. While it may not be the performance powerhouse, the iTel S23+ deserves an honourable mention for those prioritising a vibrant display on a budget.
While these options are the best ones in the market right now in terms of the display, we will keep on updating this list as the newer and better models arrive. Feel free to let us know if you think we have missed out on any device in the comments below. Happy shopping!