Highlights
The Nothing Phone (2) starts at Rs 44,999.

It comes with a new Glyph interface whose integration is far more deep-rooted than its predecessor.

It scored 8.4 in our review.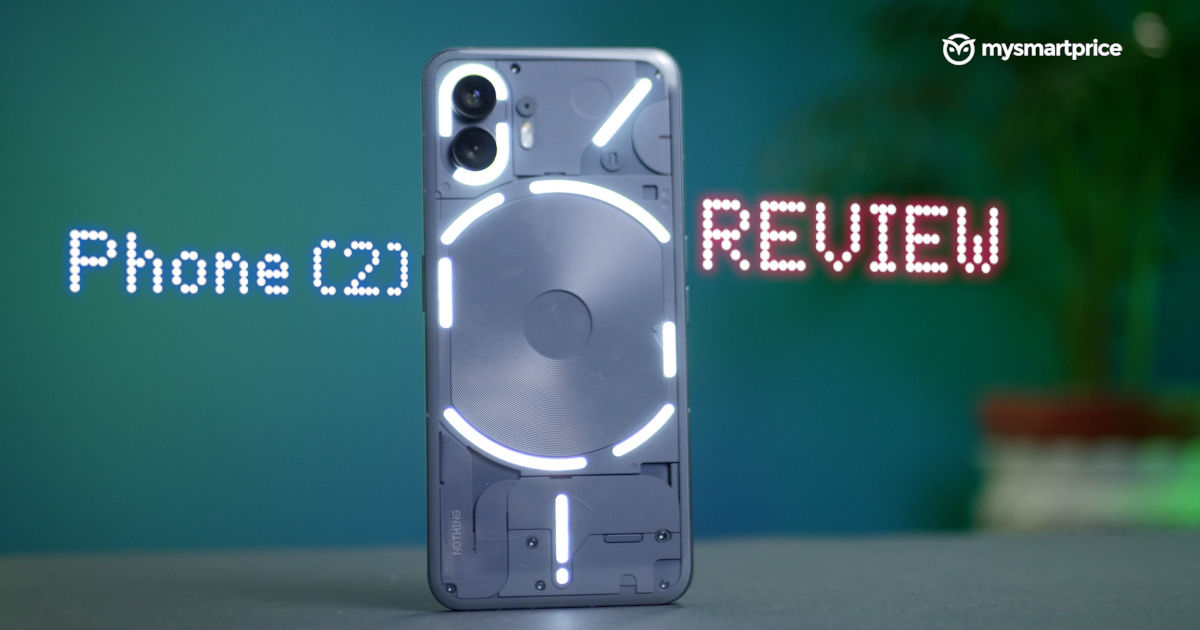 The Nothing Phone (1) was perhaps one of the most polarising pieces of tech ever made. Some thought it was nothing but a gimmick; others said it was overpriced at launch, considering how little performance headroom it offered compared to some of its other competitors at the time, namely the Poco F4 and iQOO Neo 7. But a year later, the London-based phone maker has launched the second iteration of its LED monster, the Nothing Phone (2), with upgraded internals, a Glyph interface and charging speeds. But is all that justified for a 10-grand price hike? Find out in our review.
Nothing Phone (2)
Rs 44,999
What Is Good?
Buttery smooth UI
Fantastic build and in-hand feel
Glyph interface is more integrated than ever before
Good battery life
Decent selfie camera performance
What Is Bad?
Primary camera struggles with resolving far subjects
Mediocre charging speeds
Pricey
Nothing Phone (2) Review: Design & build
The Nothing Phone (2) comes with a curved rear panel
It now has an IP54 rating for dust and water resistance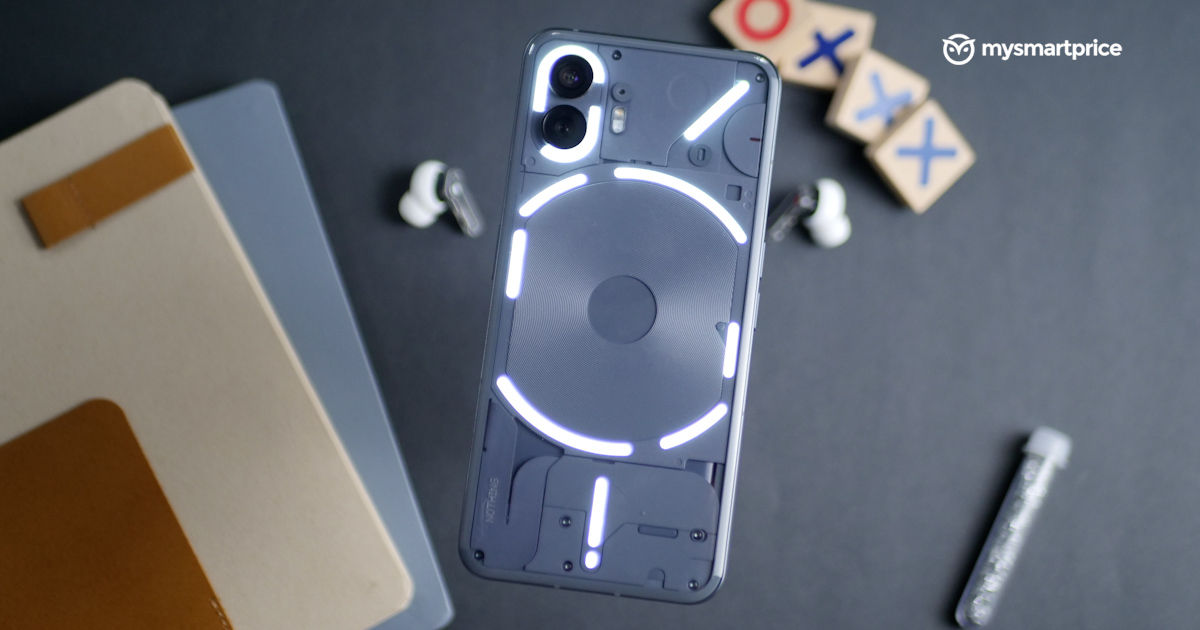 The Nothing Phone (2) is still one of those phones that you need to check out physically to understand its appeal. It has a flat metallic frame with a matte finish that feels extremely premium to hold. The fit and finish of the buttons and grilles are top-notch. The details of the naked components at the rear have also been enhanced with better definition and smaller gaps.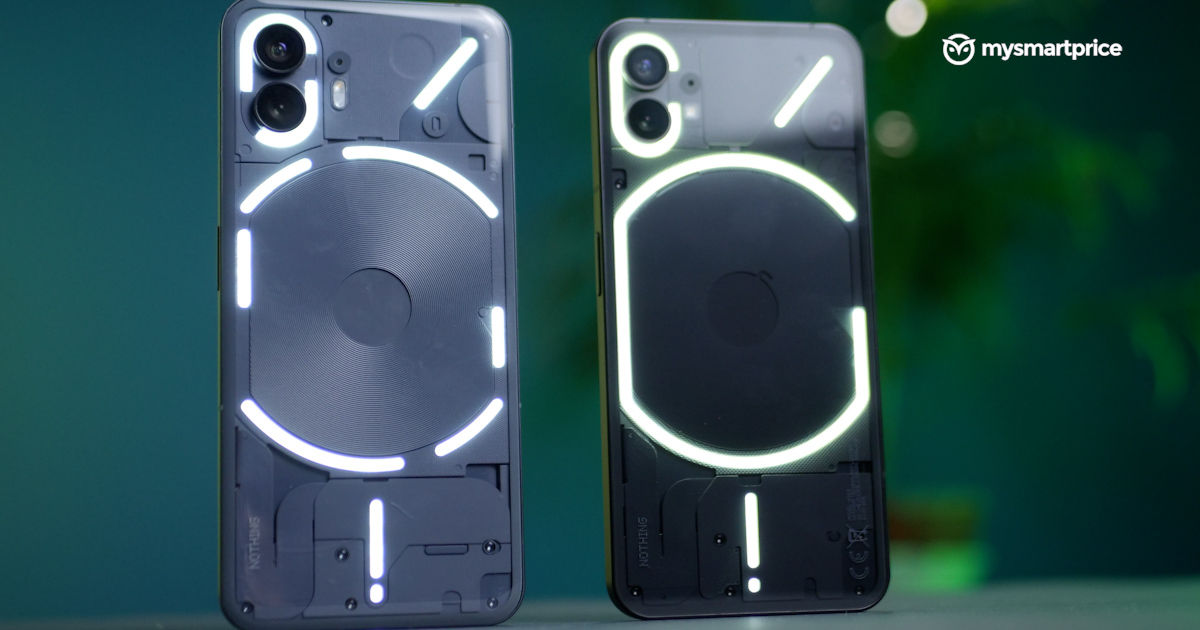 The overall rear design has also been slightly changed, and the Glyph's central 'G' is now split into six chunks and has 33 individually addressable zones. We have used it for two weeks, and so far, none of the lights have started peeling off. Durability-wise, there's Corning Gorilla Glass (no official mention of which generation) protection on display and an IP54 rating for dust and water resistance.
Nothing Phone (2) From All Angles
A curved 'pillowed' transparent glass encloses the Glyph and components. The curvature helps in gripping the phone better, and it helps in mellowing the sharp edges of the frame when the phone rests in your palm. Here's the downer, though – it picks up scratches much quicker. The Phone (1)'s glass was flush with the frame and hence didn't poke out as much when it rested in your pockets.
The black variant is now less black and more graphite, whereas the white variant looks the same.
Sure, there's no denying it's still based on the iPhone silhouette. The volume and lock buttons have identical dimensions as those in iPhone 13 and 14, but the Glyph and transparent design makes it stand out. You have to use it to understand the nuances that make it different from an iPhone.
Nothing Phone (2) Review: Glyph interface
The Glyph interface now shows the progress completion of selected apps
It can also act as a visual timer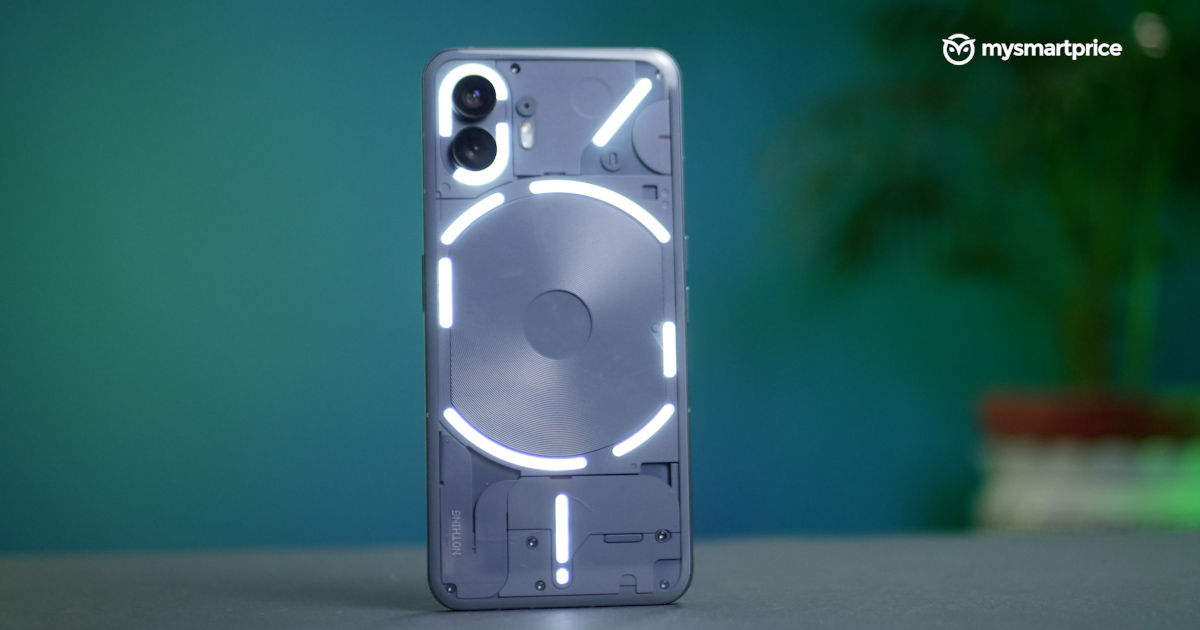 The Glyph is that one unique feature that makes Nothing's smartphones stand out from other boring glass slabs in the market. This time, it's been integrated even further.
Thanks to the new addressable zones, the Glyph interface now has the ability to be partially lit up. This makes way for some interesting new ways to interact with your phone. Most of this action takes place within the Glyph option inside the Settings app.
So, you can set a timer, flip the Phone (2) and see how much time is remaining by looking at the Glyph lights, specifically the top right section of the central 'G'. This usually requires you to wake up your phone or even unlock the phone entirely, depending on how much stuff is pinned on your lock screen. The same area also lights up when changing the volume, giving you an idea of the volume percentage.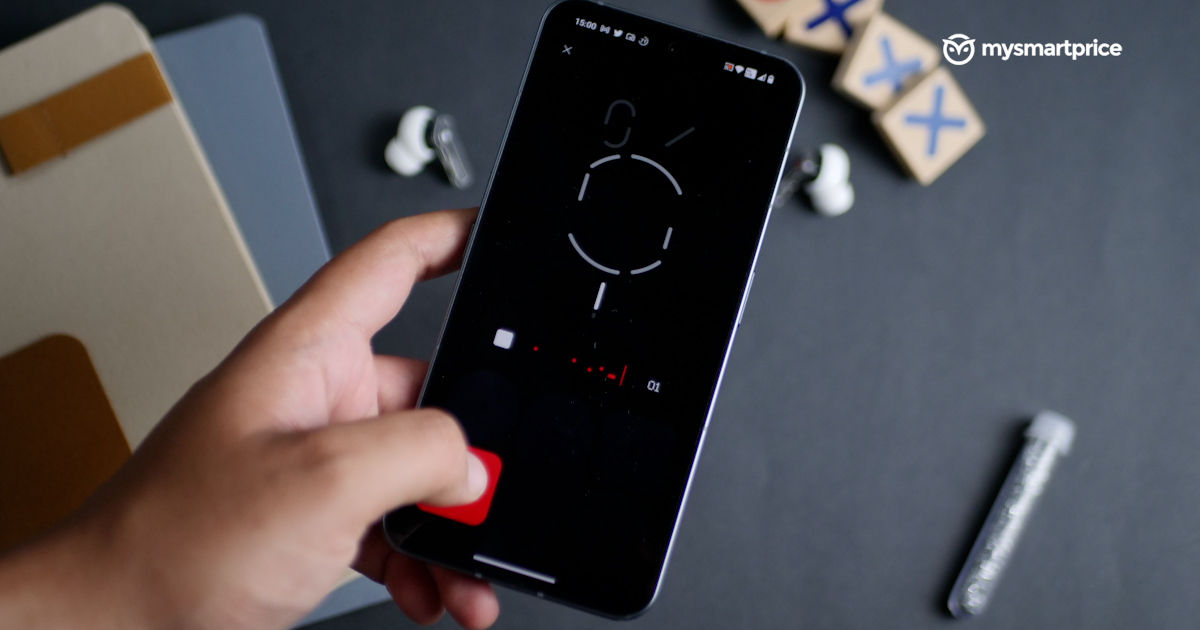 Another thing that got many of us excited after hearing MKBHD correctly pronounce 'Zomato' was a feature called 'Glyph progress'. It's an experimental feature that uses data from notifications of specific apps and shows you how much of an activity remains using the Glyph lights at the back. At the moment, it seems to be only working with Uber, not Zomato, and it's a bit unpolished. So, if you clear the notification tray by mistake, you'll no longer be able to see Glyph's progress.
The Glyph lights are also more accessible now; you can long-press the torch button in the notification shade to use Glyph lights instead. It was a daunting task to do this earlier, wherein you had to dive into the Camera app and then use the Glyph as a flashlight.
Also new in the Glyph interface is the Composer mini-app, which lets you make your 10-second ringtone. You can choose from five different sound packs, adding a unique customisation option. Strangely, a couple of weeks before launch, Nothing showed us a glimpse of a special Swedish House Mafia pack, but despite running the latest update, we couldn't find it in our unit.
Nothing Phone (2) Review: Display
The Nothing Phone (2) has a marginally bigger 6.7-inch LTPO OLED display
It's easier to view under direct sunlight, at 1,600 nits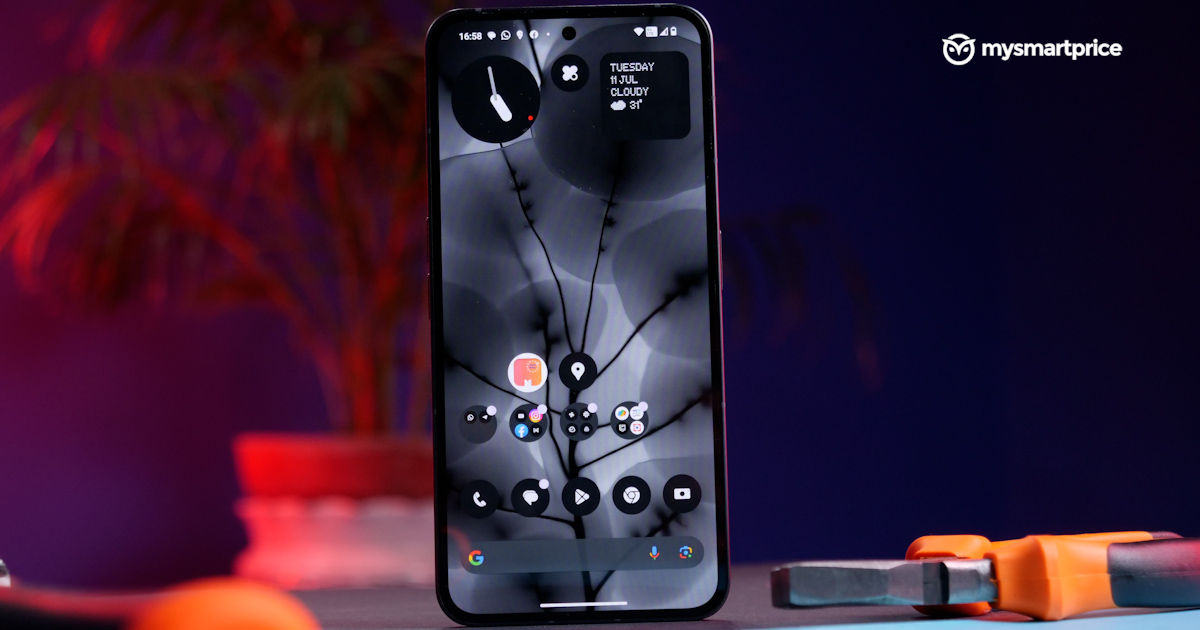 The Phone (2)'s display is something that most people will call a distinction without a difference. It's a 6.7-inch LTPO OLED display, with just 12 more pixels vertically than the Nothing Phone (1), but it is much brighter, at 1600 nits. It has the same 10-bit colour depth and HDR10+ compliance. Also, the camera cutout is now placed centrally.
Apart from better outdoor viewing and the overall responsiveness of the display, we weren't able to notice a generational leap in this particular regard. The Phone (2)'s display is nice and saturated. You can stream HDR content on Netflix, YouTube and Prime Video, thanks to Widevine L1 support.
We praised the Phone (1)'s wallpaper set for being so unique, colourful and alive. This time, they have gone for a monotone vibe, which matches the phone's colours and helps view Nothing's proprietary dotted font and widgets much better.
Nothing Phone (2) Review: Performance and UI
The Nothing Phone (2) is powered by Qualcomm Snapdragon 8+ Gen 1
It features a super-smooth version of stock Android with a layer of Nothing OS 2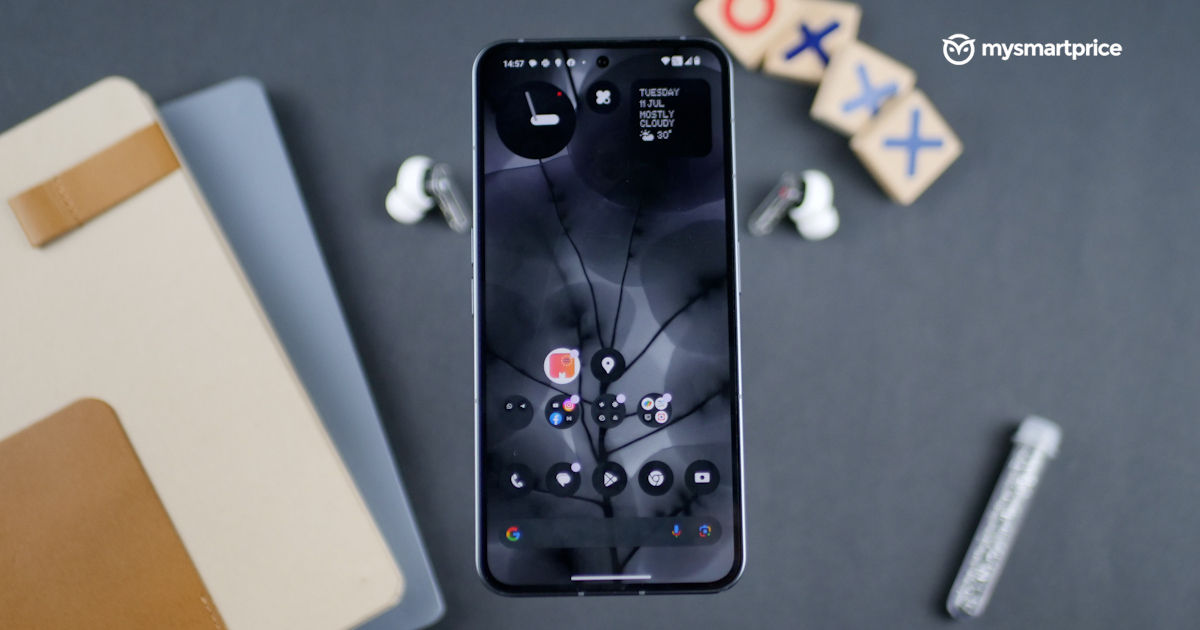 2022's top chipset, the Qualcomm Snapdragon 8+ Gen 1, powers the Nothing Phone (2), and this has caused a bit of a stir among tech enthusiasts. The chip is no longer that hot (figuratively), as phones that cost a little bit north of 30 grand now come with it. The strange thing is Nothing's founder, Carl Pei, announced this last year, and the move was widely welcomed at that time.
Nevertheless, the Phone (2) comes in three configurations – 8/128GB, 12/256GB and 12/512GB, all of which are priced at Rs 4,000 apart.
Taking strictly the Phone (2) into consideration and not the competition, it's an excellent performer in both heavy and non-heavy usage. It managed almost a million on AnTuTu v10, 1667 and 3908 single and multi-core scores, respectively, in Geekbench 6, so there's more than enough firepower here to get through a heavy day. We gamed on it with the highest possible settings in Call of Duty: Mobile, BGMI and Farlight 84, and it could play every single game smoothly without the need for silly-looking animation popping on the display that tells you, "Oh, your phone is now ready to take-off!" All this is despite the fact that the phone isn't even targeted at gamers.
What sets it apart, especially from its nearest competitor, the OnePlus 11R, is its smooth and polished UI. We aren't sugarcoating this, but it sometimes feels better to use the Phone (2) than a Pixel 7 Pro. It's completely stock, with a wafer-thin layer of Nothing OS 2 on top for extra yumminess.
Nothing Phone (2) UI Shots
The first bootup of the Phone (2) takes precisely 35 seconds, and you aren't asked to install any pesky apps. The UI is highly responsive, and things appear how and where they are supposed to be. So the notification shade in the horizontal orientation doesn't glitch out. YouTube Premium's PiP, something even the Pixel 7 series couldn't get right last year, is highly reliable.
No matter how heavy or light, every app opens with the same consistency without stuttering. These are the little things that the iPhones get right, but niggles almost every Android smartphone out there, no matter how expensive, and that's where most of Nothing's efforts go (and also where most of your money goes).
Nothing Phone (2)'s smooth UI is something that no review or video would be able to convey – it's only something you would experience after using the phone. If there was anything we had to nitpick about the UI, we'd say Nothing's custom icon pack needs wider support for apps.
Nothing Phone (2) Review: Camera
The Phone (2) features a new Sony IMX980 rear sensor
It struggles with resolving far-off objects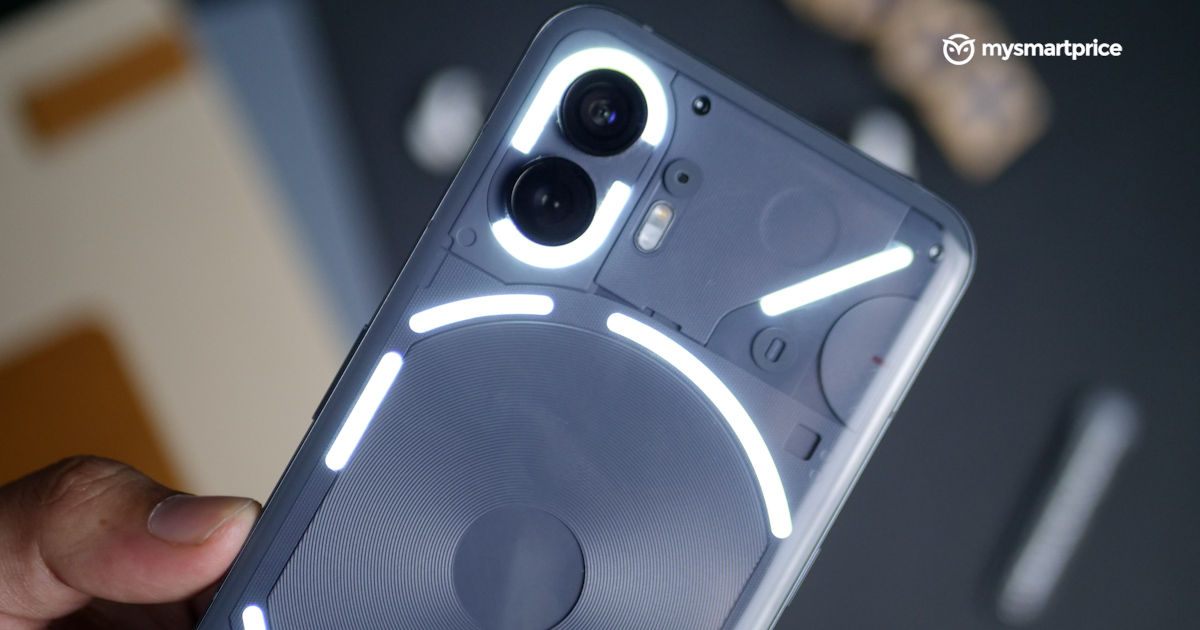 The Phone (2) features a new primary and selfie sensor. So now, we have a 50-megapixel Sony IMX890 leading the pack at the rear and a 32-megapixel IMX615 at the front. There's also a new 'Lenticular' filter, which takes inspiration from last year's Nothing wallpapers. Everything else remains the same, from aperture values to the lenses on top of the sensors.
Nothing Phone (2) vs iPhone 13
We noticed a few peculiar things about the Phone (2)'s camera. One is that it definitely takes a few cues from Apple's colour tuning, especially when capturing the skin tones of human subjects. On the flip side, even with face enhancement turned off, it smoothes skin textures.
Second, it doesn't like things that are very far. In the following pictures, the cars on the road appear evidently blurry, even in 50MP mode. For reference, we have also compared the photos of the Nord 3 in the same setting, and that was sharp. We aren't sure if this is the limitation of the lens or the image processing engine. Also, we tapped on the part of the image we wanted to be in focus before shooting, just to be sure it was not focusing on the foreground.
Nevertheless, it is capable of clicking some decent shots in the day, and the overall colour palette is nice and balanced. In tricky lighting, the processing allows some grain to seep into photos and makes photos a bit warm. Compared to its predecessor, the Phone (2) offers far better low-light performance.
Nothing Phone (2) Primary Camera Shots
The wide-angle camera performance is about the same as before, there's a bit of distortion around the corners. Compared to the competition's ultrawide cameras, the Phone (2) still stands proudly ahead with its superior resolution, but that's only in the day. It struggles with exposure and noise at night, just like the competition.
Nothing Phone (2) Ultrawide Shots
To sum it up, the inclusion of the IMX890 sensor is definitely a step forward – but in Nothing-land. When we consider the competition, it still struggles with landscape photography because of focusing issues. There are smartphones at this price point, like the OPPO Reno10 Pro, that offer a far better overall camera experience along with a nice telephoto camera.
Nothing Phone (2) Review: Battery and charging
The Nothing Phone (2) comes with an upgraded 4,700mAh battery
It now supports 45W fast charging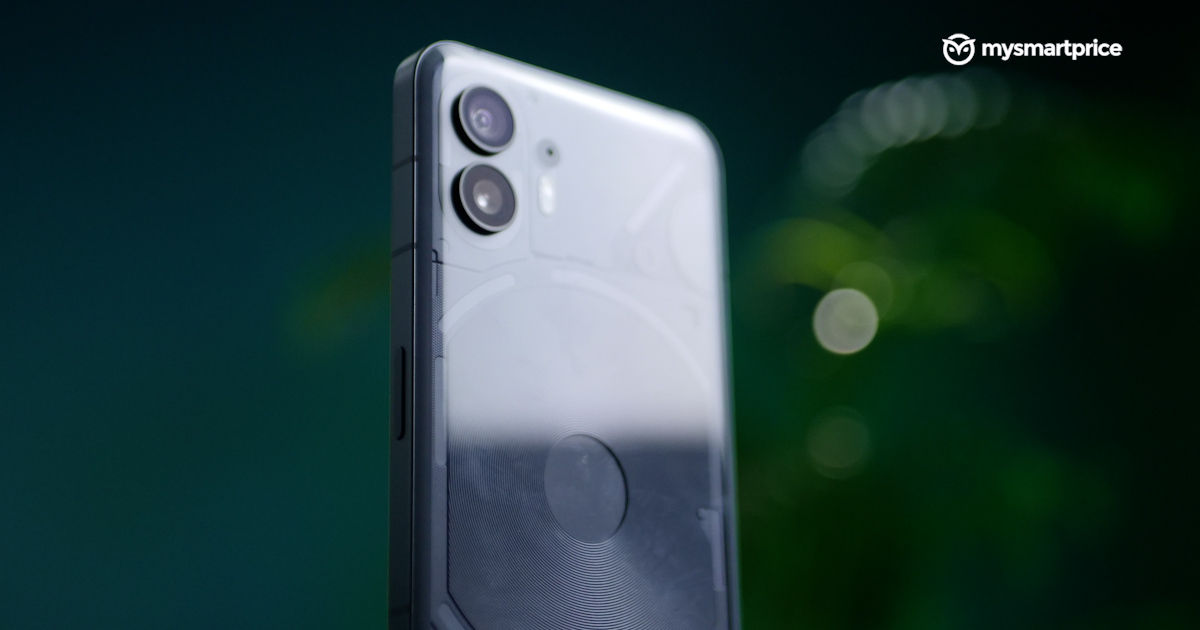 The Phone (2) comes with a battery upgrade, too; it now comes with a 4,700mAh battery pack. The charging speeds have also been hiked to 45W – so the charging wattage on the phone matches that of the official charger.
Despite gaining a measly 200mAh, the battery efficiency has improved drastically. The Phone (2) consistently gave us about seven and a half hours of screen-on time, even with all our apps loaded and running. This may be attributed to the new, power-efficient processor, but we also have a feeling that this could be some neat software trickery. It was an easy one-day phone, sometimes creeping into the second day with five or so per cent remaining.
Charging the Phone (2) takes about an hour, but it reaches 50% charge much quicker than before. So, you can take the phone to 50% charge in about 20 minutes. The phone doesn't heat much while charging, maintaining temperatures between 37 to 38 degrees Celsius.
Nothing Phone (2) Review: Verdict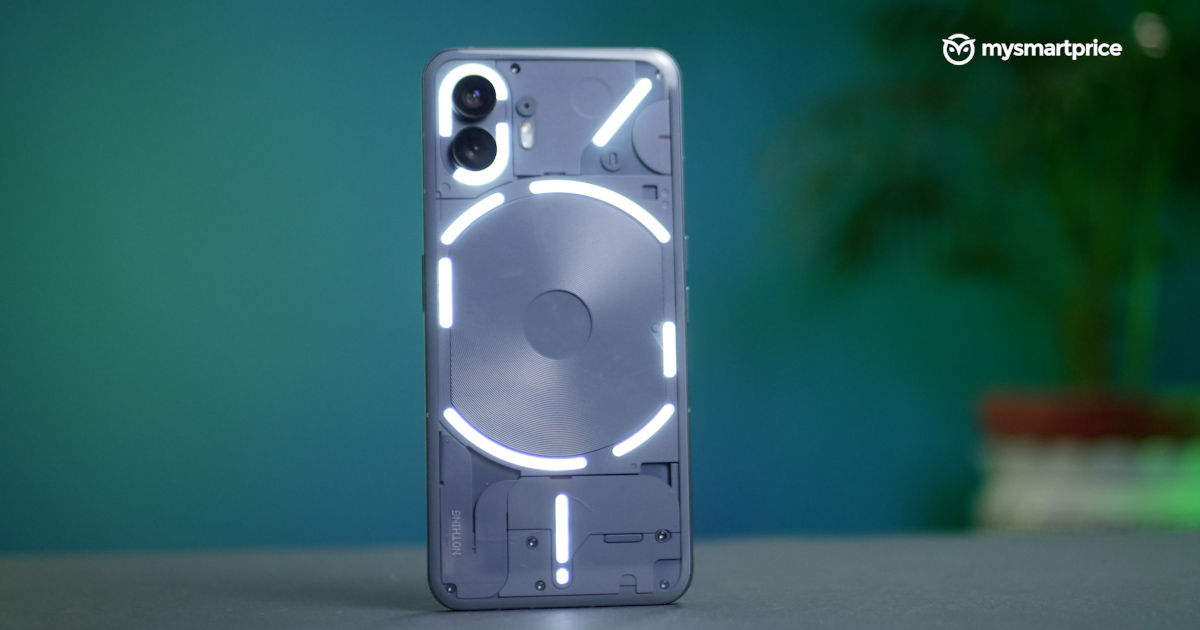 The Nothing Phone (2) is a unique, powerful phone which puts user experience at the forefront. The new Glyph interface integrates comfortably into the overall package this time and is way more seamless than before. We would even go on a limb and say it's a piece of art within the body of a tech commodity.
But, given its current selling price, it's something you'd enjoy using with someone else's money, not yours. Its camera is a bit conservative compared to its rivals, and so is its charging speed.
In a value-centric country like ours, buyers would much rather buy a two-year-old iPhone on a sale using all the bank offers and coupons possible or pick up a much cheaper iQOO or OnePlus for two-thirds the price.
The Nothing Phone (2) faces the same dilemma as its predecessor – do you go for a small brand that focuses on revolutionising the smartphone experience at a price, or do you go for the tried-and-tested-run-of-the-mill glass slabs that offer a castle in a pocket?
Guess we'll have to wait and find out how well Phone (2) sells during the sale season because that's when Phone (1) had a moment of thunder.