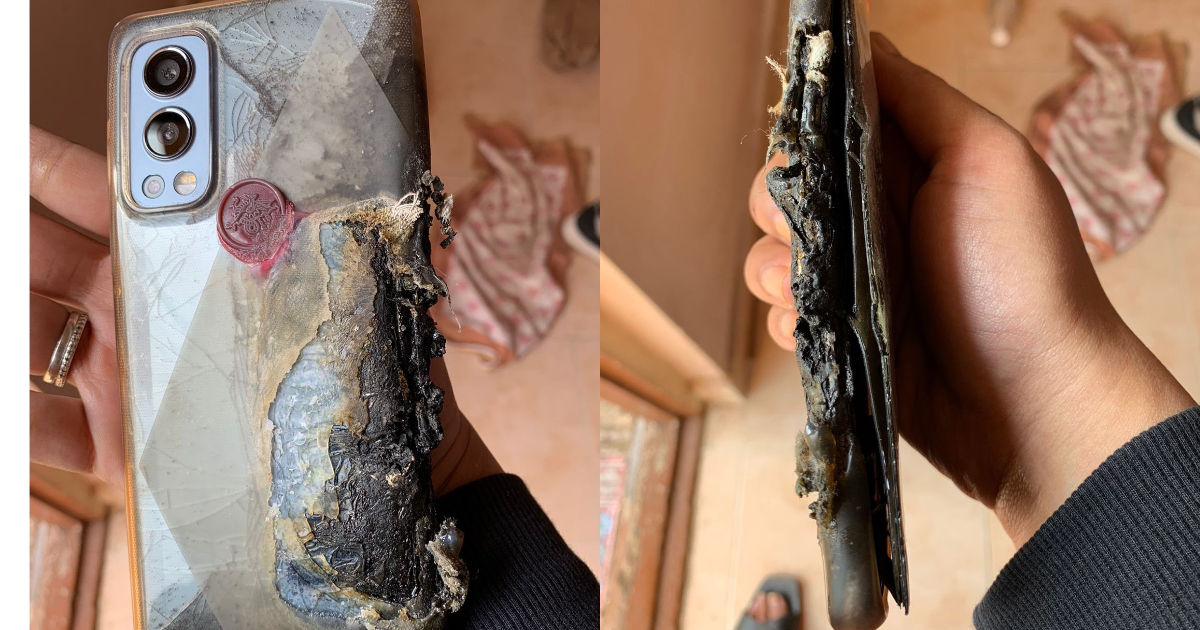 OnePlus confirmed the launch of the Nord 2 in a special Pac-Man variant. The new limited edition OnePlus Nord smartphone has design elements inspired by the retro video game and comes with some exclusive software tricks. The device is set to launch on November 15 in India. Another piece of news that is creating a buzz for the wrong reasons is the Nord 2 blast. A third case of the alleged blast involving the Nord 2 has surfaced online. A Twitter user has uploaded images of an exploded OnePlus Nord 2. One of the images also shows a severely injured thigh of the victim, which is said to be due to the blast.
The images show that the left side of the device and a portion of the rear panel are completely damaged. It could be due to the battery or any other component that could have caused the device to blast. MySmartPrice reached the user for more details. A relative of the victim told us that the incident occurred at around 12 midnight while he was riding his bike. The phone was purchased on Amazon two months ago. He further said that the weather was cold and that he did not experience any issues with the device prior to its explosion. The victim is currently hospitalized with severe second-degree burns on his right thigh.
What did OnePlus say?
OnePlus India has responded to the issue and stated that it is investigating the matter. The victim's relative informed us about the device being collected by OnePlus and sent to the company's Pune service centre. In addition to this, OnePlus India's operational head is also in touch with the victim for any help or queries. The victim told us the company has issued a refund and also assured to take care of the user's medical expenses.
OnePlus' statement shared last night also said that it takes such incidents seriously and is collecting more details as it continues with the investigation. However, we have reached to the company with the new details for more clarity and confirmation.
Previous OnePlus Nord 2 blast reports
As mentioned above, this is a third such incident wherein the Nord 2 was involved in an explosion. Prior to this, a Delhi-based lawyer claimed that his Nord 2 caught fire and later exploded while the device was resting idle. Gaurav Gulati, the victim here, told MySmartPrice that he would head to the consumer court to block the sale of the device. It is worth noting that Gulati refused to submit the device to OnePlus for investigation. Later, the company sent a cease and desist notice, calling his claims "disparaging" and "defamatory".
In the first case, the company stated that the damage was caused by external factors and that the device was not at fault.