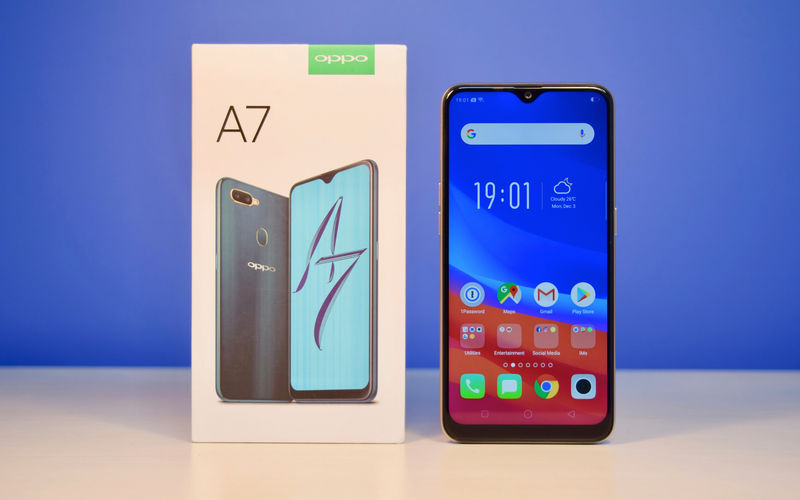 OPPO has always been at the forefront when it comes to adopting the latest trends in the smartphone industry. The brand, indeed, has set new trends in the smartphone industry with its innovations. Take the OPPO Find X (Review) for example. It was the first smartphone of 2018 to feature a sliding frame design, which allowed it to have a truly bezel-less display without a notch. Its design is innovative in a way that it is easy to implement. Hence, many other phone brands were inspired by the design and implemented it in their truly bezel-less smartphones. That being said, the OPPO Find X is a high-end smartphone, and it may be out of reach of many consumers. The audience for such smartphones is somewhat limited, at least in India.
Many Indian consumers end up buying entry-level and mid-range smartphones, and OPPO knows that. So, the brand keeps its affordable smartphone lineup up to date with all the new technologies, and the OPPO A7 is a clear example of that. The smartphone comes in with 4GB RAM and 64GB storage, and it costs Rs. 16,990. The smartphone has all the new features that we have seen in 2018 smartphones so far, such as a display with a waterdrop screen, a dual-camera setup, a large battery, and fast face unlock — all that comes wrapped under a beautiful body. There is also an octa-core Qualcomm Snapdragon 450 processor, which should take care of all the daily tasks and some gaming. We've been using the device for a couple of days now, and here is what we think about it.
OPPO A7 Has a Beautiful Design
The OPPO A7 features a metal body, which is not unusual these days. What is unusual, however, is the design of its back panel. Most mid-range smartphones these days have a glass back, which looks good. However, the OPPO A7 goes a step further. It has a glossy back panel with symmetrical lines on it, which makes the back looks even more beautiful. The rear panel looks even better under the light; it reflects in a way that you wouldn't want to let the smartphone go from your hand. There is no doubt that the OPPO A7 looks a class above.
Furthermore, we were surprised by how lightweight the smartphone is in spite of having a large 4230mAh battery. Usually, smartphones with large batteries are bulky. Take the Xiaomi Redmi Note 6 Pro for example; it weighs 182 grams. The OPPO A7, on the other hand, weighs just 168 grams. Due to the lower weight, the device feels comfortable to hold than most of its competitors. The rounded edges further improve the grip while you are holding the device in hand.
OPPO A7's Large Display has a Tiny Waterdrop Screen
The OPPO A7 features a 6.2-inch IPS LCD. Its screen-to-body ratio is approximately 88.4%, which is significantly higher than most of its competitors. Due to the higher screen-to-body ratio, the device is compact and feels comfortable to hold in the hand. More importantly, the display has a tiny waterdrop screen, which looks much better than the large traditional notch that we have come to see in other mid-range smartphones. The waterdrop screen design not only looks better aesthetically, but it also allows one to see more content on display.
The display has an HD+ resolution, which gives it a pixel density of 271ppi. The pixel density is good enough for most content to look sharp enough to the eyes. The display also has a vibrant color tone. Furthermore, the screen comes with a good-quality pre-applied screen protector. Other manufacturers also offer a free screen protector, but they are not pre-applied. With the OPPO A7, you won't have to go through the hassle of applying the screen protector yourself or taking it to a mobile shop to get it applied, which we think is a bonus.
Dual-Camera Setup Takes Good Portrait Images
The OPPO A7 has a 13MP + 2MP dual-camera setup at the rear. As you might have figured out, the 13MP sensor is the main camera while the 2MP camera is a depth-sensor for portrait photos. Speaking of which, we are quite impressed with the initial few portrait images that we took. We especially liked the blur pattern in the portrait photos. Instead of just blurring-out the background, the camera gives the blurred objects a circular pattern making them look like they have been taken with a high-end DSLR camera.
OPPO smartphones are known for having high-resolution front-facing cameras, and the OPPO A7 is no different. It has a 16MP selfie camera. As expected it delivers detailed selfies with a vibrant color tone. There is also a portrait mode in the selfie mode in spite of having a single front-facing camera. We are quite impressed with the portrait images captured using the A7's front-facing camera. The portrait mode works as good as it does on phones with two front-facing cameras, and sometimes even better. No matter if you like taking photos with the front-facing camera or the rear, the OPPO A7 has all that you need,
Super-Fast Face Unlock
Earlier, the face unlock feature was available only in high-end smartphones, but now even the mid-range smartphones offer it. However, face unlock on most mid-range smartphones is slow and inconsistent. Well, that is not the case with OPPO A7. The face unlock in this smartphone is blazing fast. The OnePlus 6 is considered to have the fastest face unlocking and having used the OnePlus 6 and the OPPO A7 we can say that OPPO A7's face unlock is as fast as that of OnePlus 6. However, if you are concerned about it being less secure than a fingerprint scanner, you also have a rear-mounted fingerprint sensor to go with.
4230mAh Battery Is Good for Two Days of Heavy Usage
There is one thing common among all the popular mid-range smartphones — they all have large batteries. The OPPO A7 has that very ingredient; it comes with a big 4230mAh battery, and we think it will contribute to its high sales figure. However, smartphones with large battery don't always have a longer battery backup. Some smartphones with large batteries have bad battery life, which happens due to either power-hungry processors or unoptimized software. Well, we are happy to say that OPPO A7 is not one among them.
Although it has been only a couple of days since we are using the smartphone, we got around 40 to 48 hours of battery backup even with the heavy usage. What we think is that its power-efficient processor and the well-optimized software contributes more to the longer battery backup, rather than the large battery capacity. If you are a heavy user, the OPPO A7 is the mid-range smartphone you should consider buying.
The OPPO A7 has all the features that became popular in the smartphone industry in 2018. If you are looking for a mid-range smartphone that only has all the trending features but also looks great and offers a long battery backup, the OPPO A7 is the perfect choice for you.
This story has been created in partnership with OPPO.