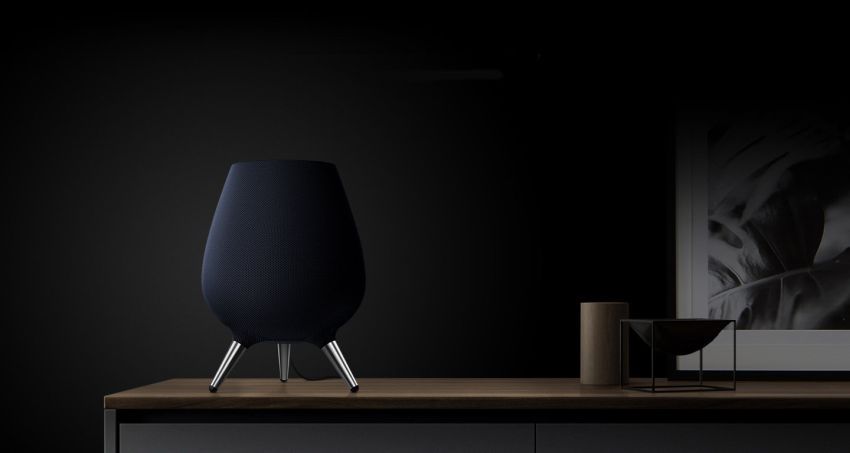 Korean consumer electronics major Samsung has filed a patent application for what it describes as a 'speaker device including touch display'. Described as a portable wireless Bluetooth speaker in the patent filing, the new Samsung device, however, doesn't seem to be a direct competitor to other touchscreen-equipped smart speakers such as the Google Home Hub, Amazon Echo Show, or Lenovo Smart Display.
Based on the drawings submitted in the patent application, the upcoming Samsung smart speaker appears to have a small circular touchscreen display, much like the similarly small Amazon Echo Spot. Although the patent application doesn't specify the dimensions of the display, the document nevertheless doesn't make any mention of video playback or any other sort of display-centric media consumption use case from the yet unnamed Samsung smart speaker. The possible use cases of the circular display are restricted to displaying UI elements and other metadata related to music playback such as song title, artist name, rating, and genre.

Successor to Samsung Galaxy Home: Could Be Front or Rear Firing Speaker Design
Although the patent documents do not reveal the general shape of the speaker, it nevertheless states that the circular display itself will be placed somewhere along the same axis of the speaker, which appears to be a standard moving magnetic coil type speaker. This bit of information is crucial as it alludes to a wireless speaker design that departs from the down-firing speaker configuration of the Amazon Echo.
Also Read: Google Home Speaker with Display Arriving Soon to Compete Amazon Echo Show, Lenovo, JBL Smart Display
Based on the patent application drawings, the sound in Samsung's design could most probably be directed along the front or rear of the device, which alone should make for better sound fidelity as far as speaker design is concerned. The yet unreleased Samsung speaker also seems most likely to adopt the general shape of the Amazon Echo, going by the drawings and description.
Successor to Samsung Galaxy Home: Integrated Rotation Knob with Haptic Feedback
The document also specifies a 'vibration plate' placed behind the touchscreen display along with a 'rotation knob' surrounding the circular display, which could be utilised for anything from volume control to UI navigation. However, the presence of both elements (rotation knob and vibration plate) alludes to the device making good use of haptic feedback to emulate volume control graduations and other haptic feedback to make both the touch input and the rotation knob a rich tactile experience.
Also Read: Samsung Galaxy Home vs Google Home Max vs Apple Homepod vs Amazon Echo Plus: Which is the Best Smart Speaker?
Interestingly, Samsung's patent filing comes a little over a month after Samsung unveiled its Galaxy Home smart speaker, which is slated to launch later in November. Since we already know that the upcoming wireless smart speaker will incorporate support for Samsung's own Bixby AI assistant, there's no reason to believe why the company wouldn't incorporate the same within the yet unnamed touchscreen based smart speaker.
Successor to Samsung Galaxy Home: No Word on Google Assistant Integration
As of now, there's no word on the exact launch date, expected pricing, or even if the Galaxy Home smart speaker will even incorporate support for Google Assistant. If Samsung doesn't choose to integrate Google Assistant integration, it just might prove to be a costly omission since the user response to Bixby Assistant has been categorically lacklustre. The patent filing, as expected, makes no mention of either Google Assistant or Bixby, but the smart speaker won't live up to its smart moniker without implementing at least one of the aforementioned AI assistants.
That's basically all we could glean from the patent filing, but Samsung's touchscreen-equipped successor to the recently unveiled Galaxy Home seems poised to compete with Amazon Echo Spot, with what could potentially turn out to be a better speaker configuration. This also leaves a spot wide open for another larger touchscreen enabled smart speaker along the lines of Google Home Hub and Amazon Echo Show. We will keep our eyes peeled for that, meanwhile you can watch this space for more updates on what could most likely be the second product in Samsung's Galaxy Home product range.