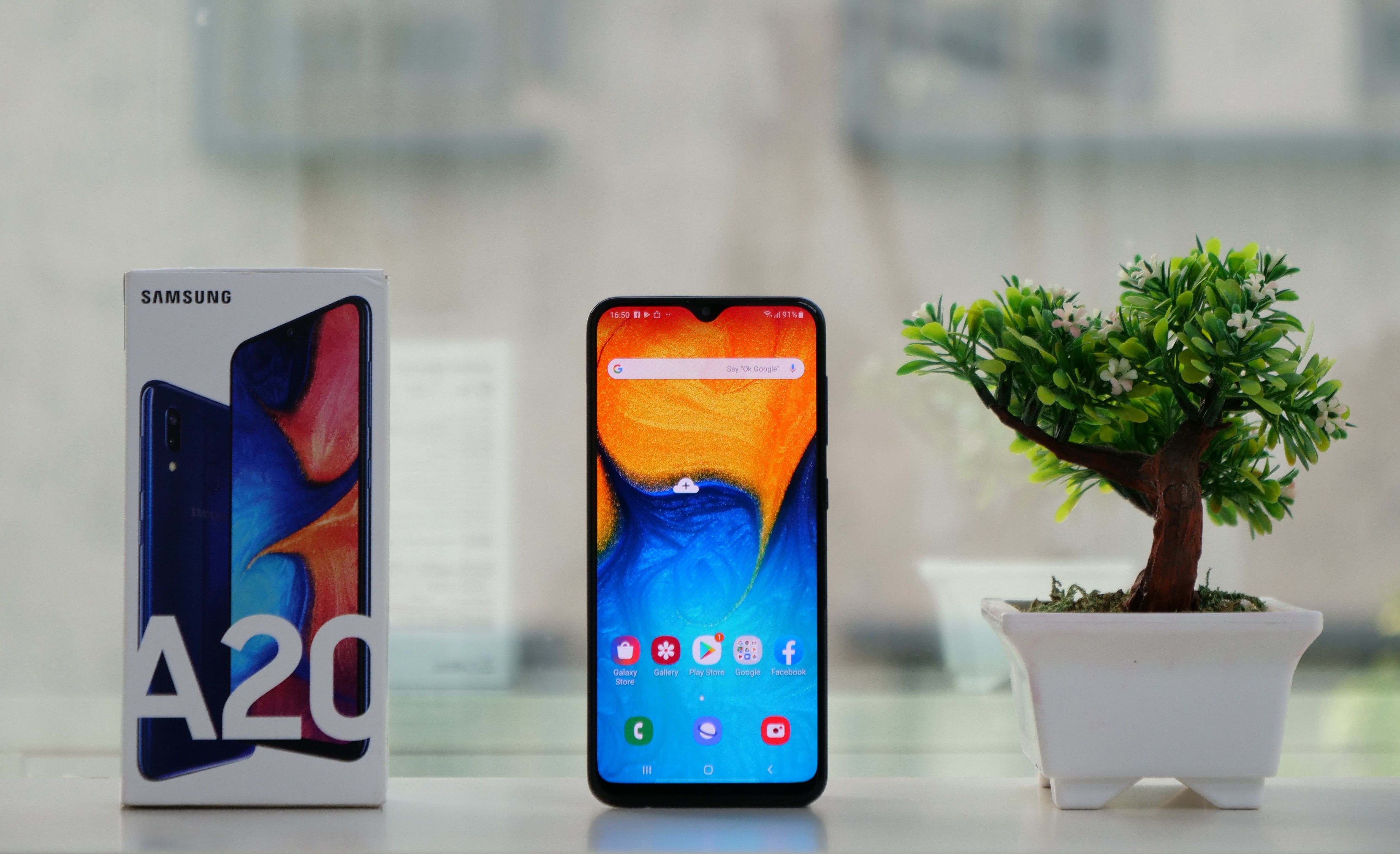 Samsung remains the global leader in the smartphone market. In India though, its Chinese competitor Xiaomi has edged past in terms of sales. As a result, Samsung has come up with a new strategy to cover every price point. Its Galaxy S and Galaxy Note phones fight it out at the premium segment. A-series was meant for those looking for a good mid-range smartphone. On the other hand, the M line-up was supposed to mount an attack on Xiaomi dominated budget segment. But let's face it, the M series didn't stand a chance against Xiaomi's Redmi line-up. But Samsung hasn't given up, it is now sending in the reinforcements from the A-series to take on the popular Redmi Note 7 (Review). Let's find out if the Galaxy A20 fares better than its cousin M20.
Samsung Galaxy A20 Design And Build Quality
The Galaxy A20 shares its core design with the M20. It looks fine but is nowhere as exciting as similarly priced phones from Xiaomi and Realme. The body is made completely out of plastic. The build is quite sturdy, but a metal frame would have been better for structural integrity. As you would expect from Samsung, the build precision is good. However, there are a few spots such as the USB port and speaker grille that look a bit sloppily done. Moreover, the volume rocker has inconsistent tactile feedback.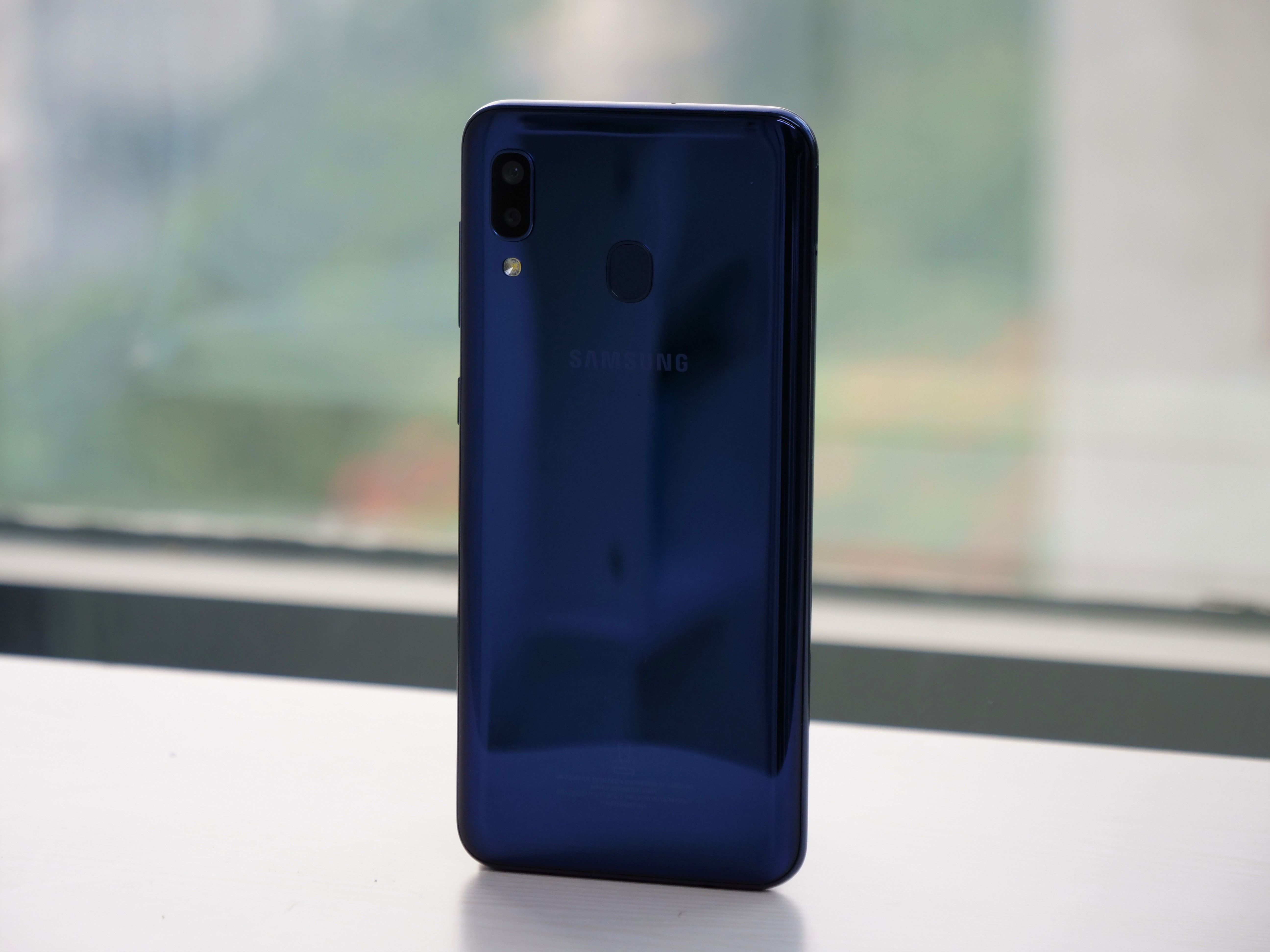 The blue hue on our review unit looks subtle save for its reflective nature. The phone features a recessed fingerprint sensor. The rear camera, however, is slightly protruding. Moving onto the front, you get a thin-bezel design. The phone has a waterdrop notch, which is tiny. For a budget phone, the chin area is compact too.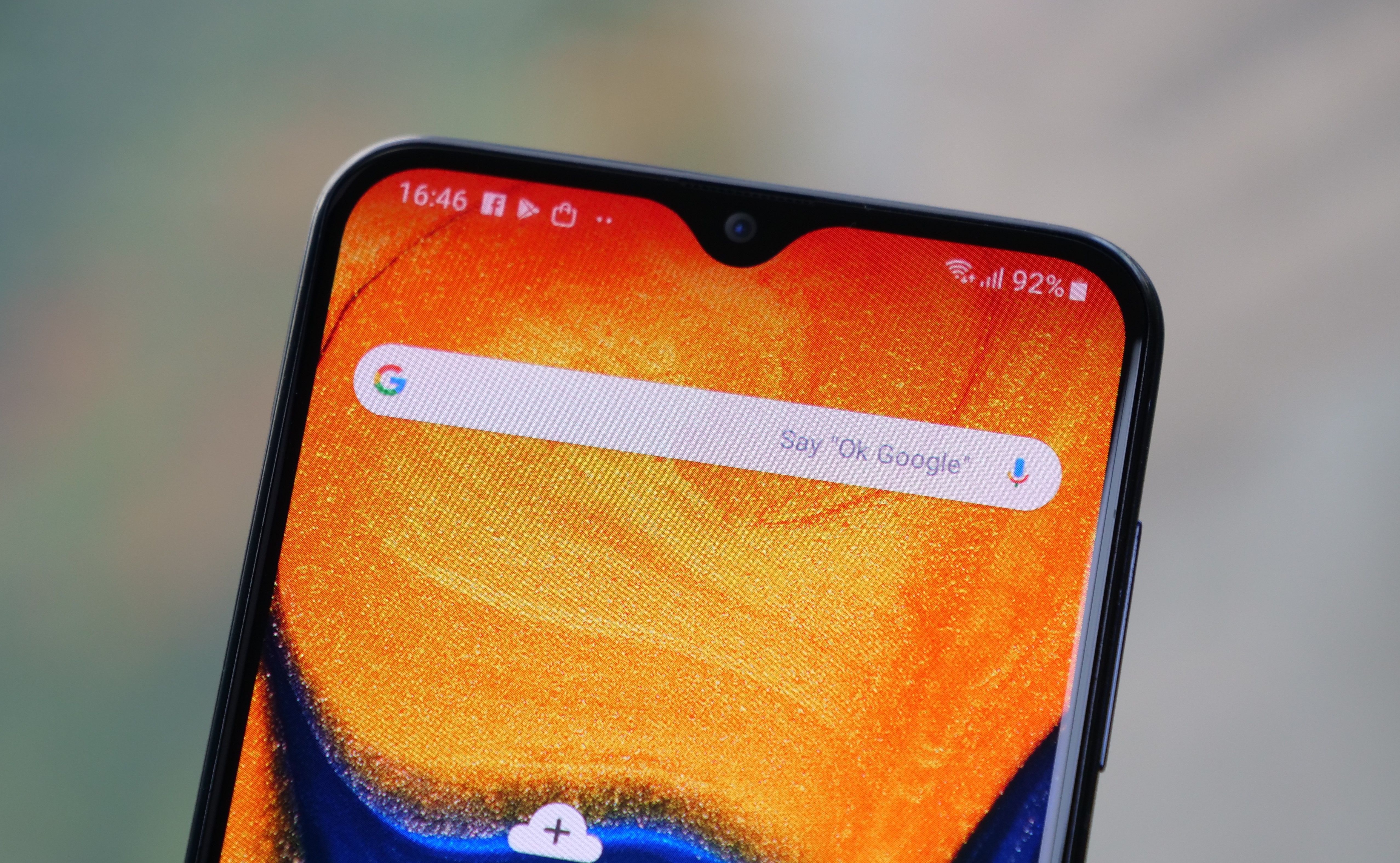 Samsung Galaxy A20 Display
Samsung has absolutely nailed it in the display department. The phone features a gorgeous 6.4-inch HD+ AMOLED screen. It offers stunning contrast and vibrant colors seldom seen at this price. The display offers deep blacks and its viewing angles are impressive too. Similarly priced phones with LCD screens simply cannot match Samsung's OLED panels. It is a smart move by the Korean company to play to its strength. Samsung is one of the biggest suppliers of OLED panels in the mobile industry, and it is cleverly using that position to its advantage.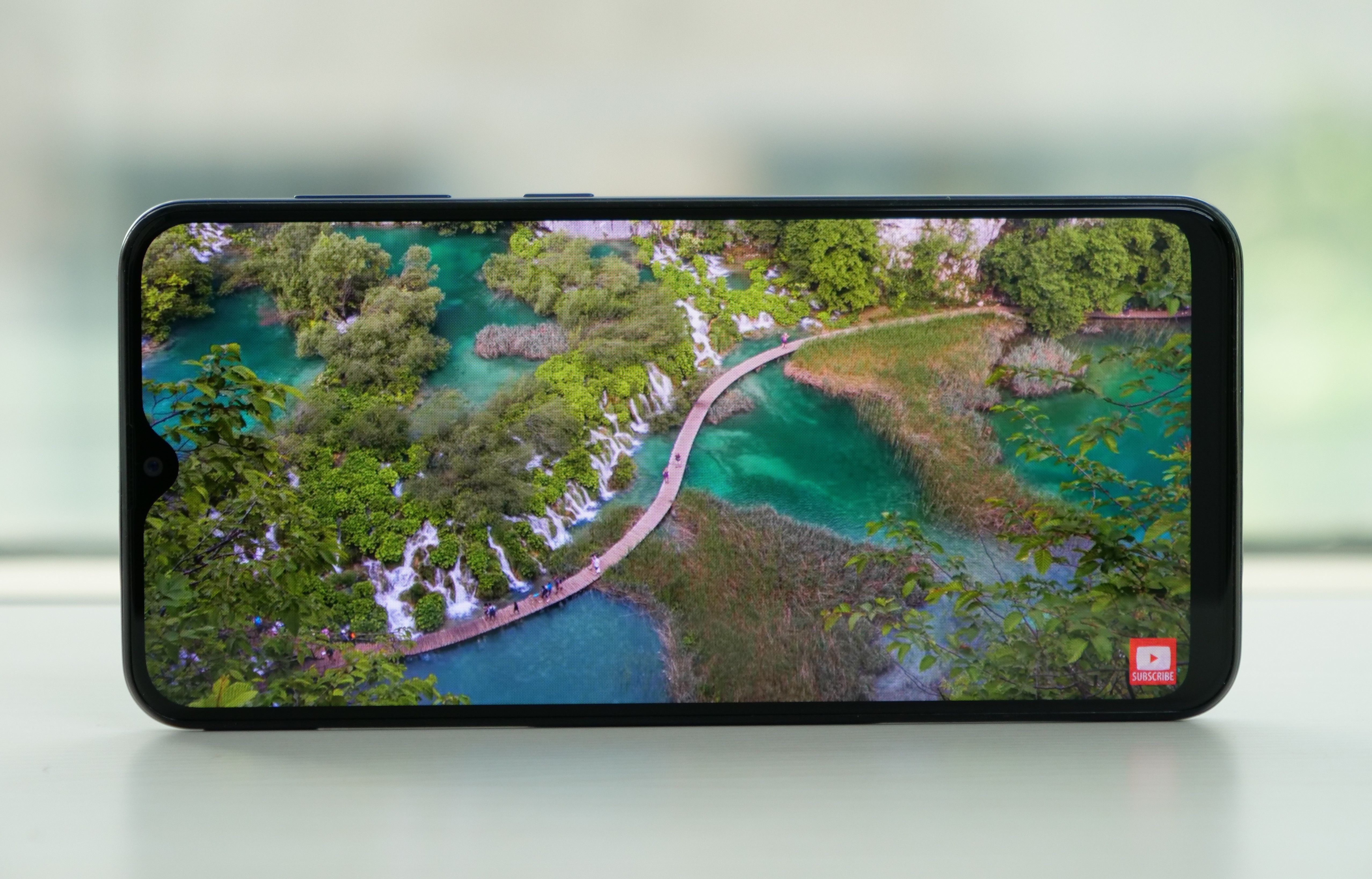 Samsung Galaxy A20 Software And Performance
In terms of software customization, Samsung has come a long way. Moving away from its cluttered and garish TouchWiz UI, the Korean brand now offers a streamlined One UI. In the Galaxy A20's case, you get One UI 1.1 based on Android 9 Pie. I like the new look, but I wonder why Samsung has decided to go with extra large icons. Thankfully, you can fix that by changing the grid pattern. The best addition is the dark theme, which looks perfect on the OLED screen.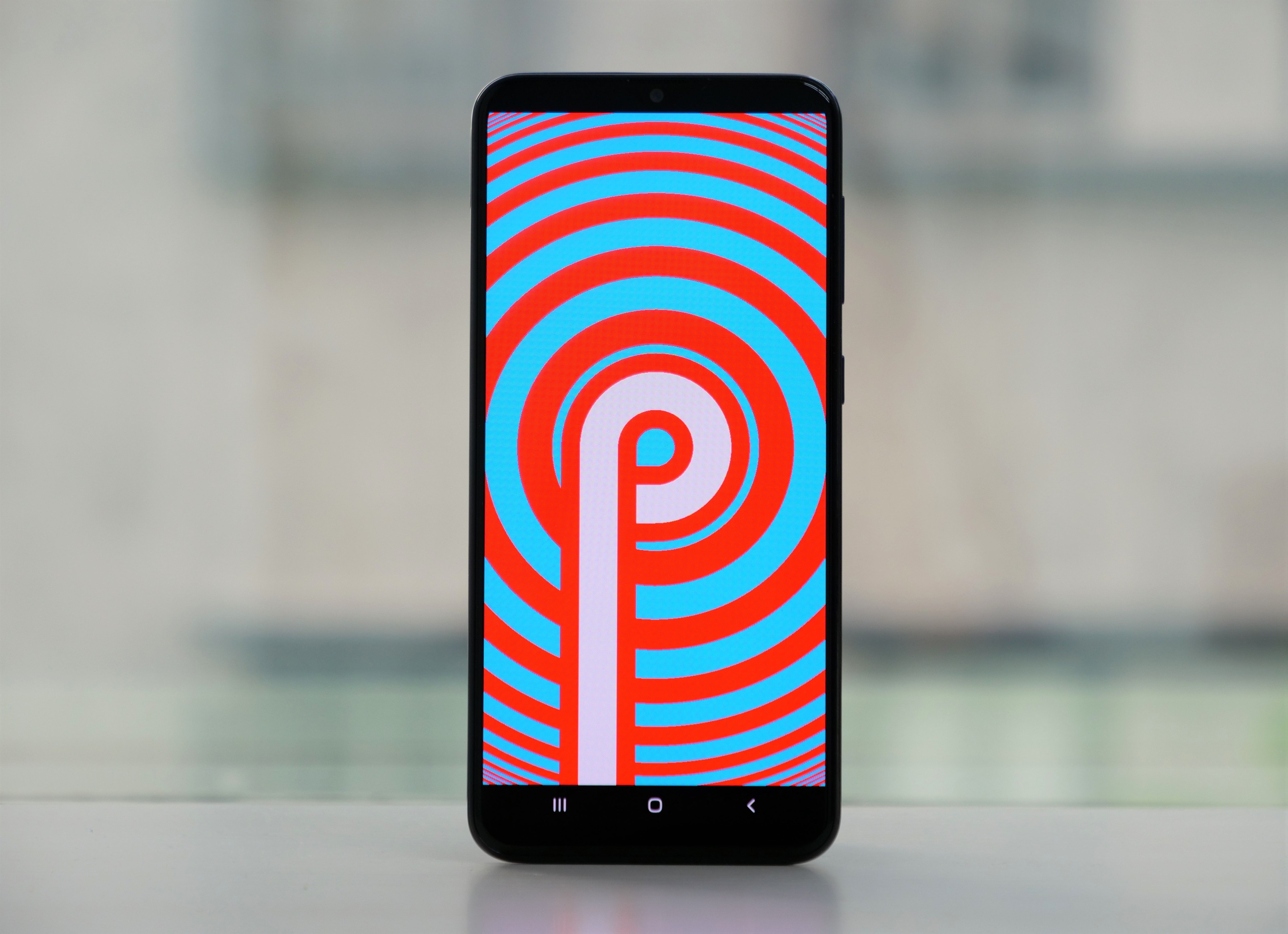 The phone's rear fingerprint sensor works like a charm. It is way better than the flaky in-display fingerprint sensor found on the more expensive A70 (Review). During the basic navigation, the phone works pretty well. I didn't notice any slowdowns while swiping through the home screens or bringing up the app drawer. However, the phone often stutters while multi-tasking. And if you have over half a dozen apps running in the background, switching between them requires you to put up with unusually long loading times. On the bright side, Samsung's app drawer search feature works faster than it did on the Galaxy A70.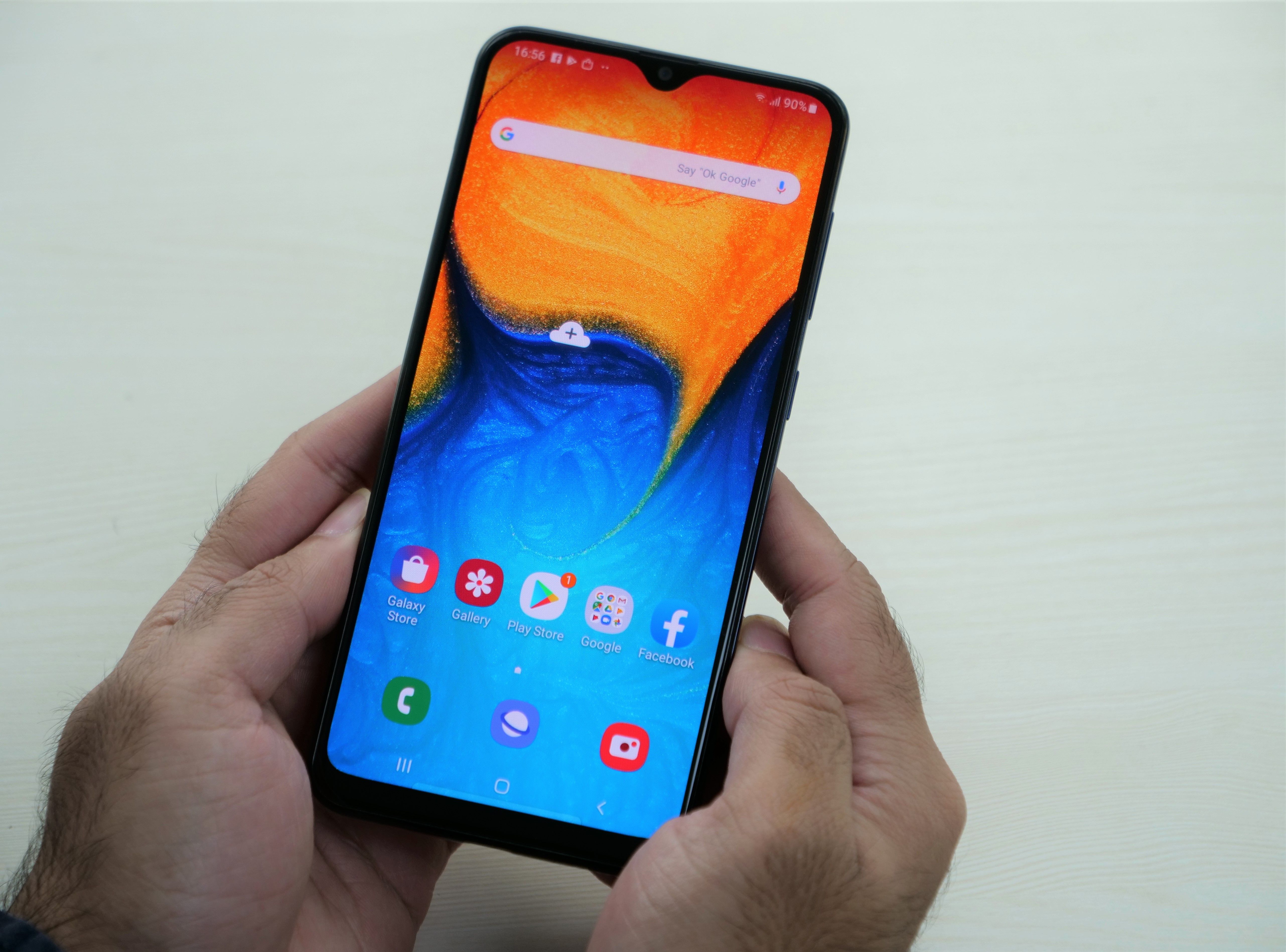 To change the wallpaper, you are required to wait for the sluggish marketplace to load. It is so unoptimized that scrolling through the list of wallpapers results in a stutter. A few times, the phone even exited the wallpaper and themes menu on its own. Because of this, I had a bad feeling about the phone's gaming performance. Surprisingly though, this budget phone runs PUBG on medium settings. The game looks great and runs smoothly most of the times. I did, however, notice a slight stutter while driving the in-game vehicle. Switching to the low settings fixes this problem. Considering its price, this handset with the Exynos 7884 chip paired 3 GB RAM performs well.
The Galaxy A20 ships with a pair of earphones, which is great. But after listening to it for an hour or two, you realize that these earphones are strictly meant for receiving calls. Things get a bit better when you hook up a decent pair of IEMs. Overall though, the output via 2.5 mm audio jack is not as good as its nemesis the Redmi Note 7. The onboard mono speaker is loud enough for you to enjoy random YouTube videos. But if you are planning to watch a movie, you are better off with the earphones or a Bluetooth speaker.
The phone comes with dedicated slots for SIMs and storage expansion. The phone's cellular performance was fine. However, I noticed that its Wi-Fi receiver isn't as strong as that of the Redmi Note 7.
Samsung Galaxy A20 Cameras
The phone's camera interface is pretty straightforward. You can swipe to switch between standard, panorama, live focus (bokeh), and video mode. Additionally, there's a pro mode that lets you fine-tune white balance, ISO, and shutter speed.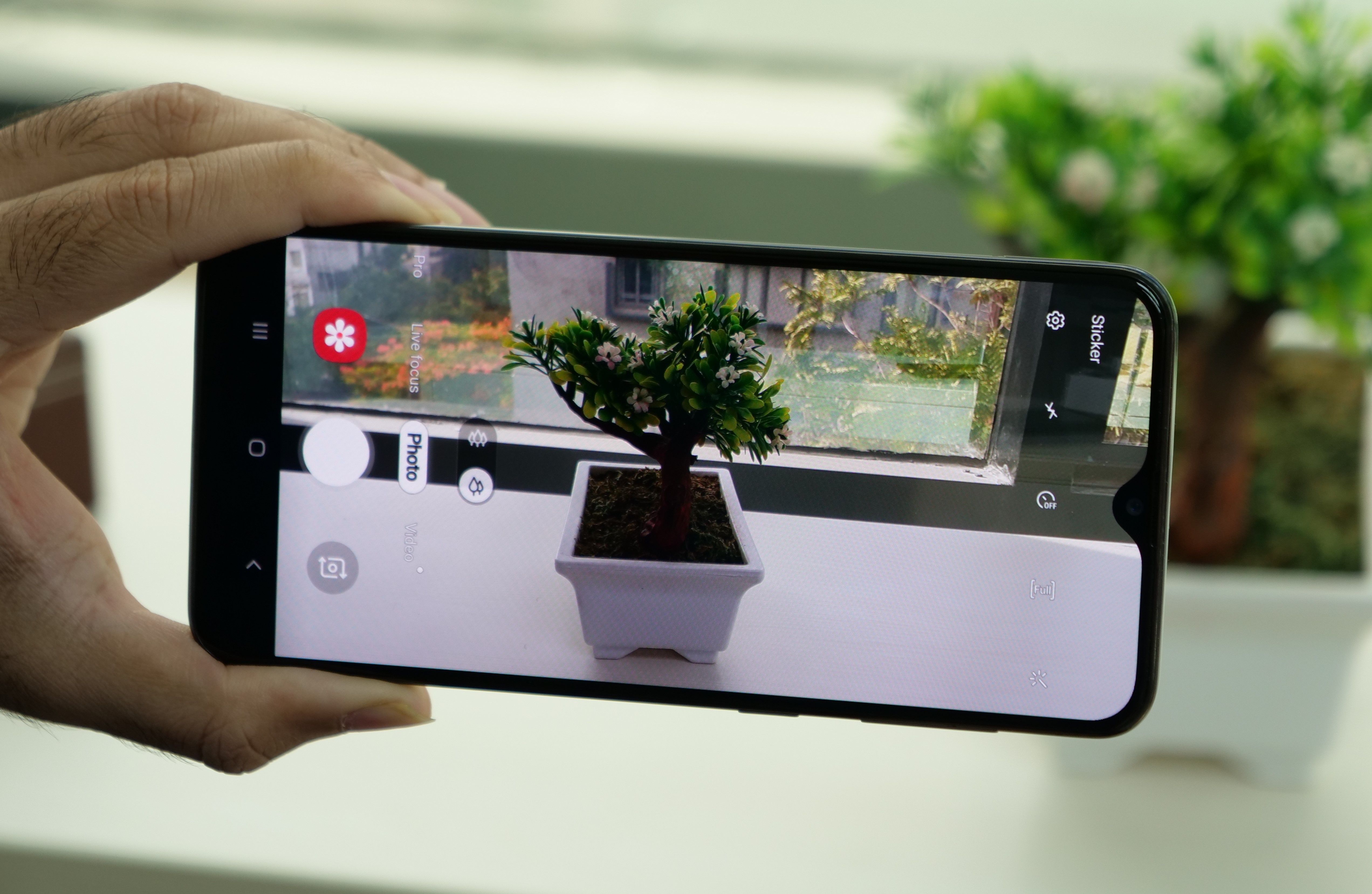 Coming to the subject of image quality, the standard sensor captures more detail than the wide-angle one. The latter also suffers from noticeable barrel distortion. The wide-lens, however, is better at reproducing colors. The images shot by the standard 13 MP camera exhibit cold blue tone with washed out colors. On the other hand, the 5 MP wide lens has a natural warm tone with much better dynamic range. The images are fine to be shared over WhatsApp and Facebook. But if you examine these pictures on a PC, you will be surprised by the amount of visual noise around the edges. The Galaxy A20's cameras lack a night mode. It is not surprising then that the low-light shots are ruined by the artifacts and pastel color effect.
Galaxy A20 Camera Samples
The Galaxy A20 records Full HD videos at 30 fps. Due to the lack of any stabilization system in place, the videos look jittery. The device has an 8 MP front-facing shooter. Samsung has also added a regular and wide mode to this fixed focus module. In reality, though, it is simply achieved with different zoom levels. The camera's beauty mode adds enough fuzziness to your face to make you look good.
Samsung Galaxy A20 Battery
The device houses a 4,000 mAh battery. It ships with a 15 W fast charger, which takes under two hours to fully replenish the juice. While using it as my daily driver, the phone constantly lasted for a day and a half on a single charge. My usage included a couple of PUBG drops, about six hours of music playback over Bluetooth, and checking WhatsApp and Twitter throughout the day.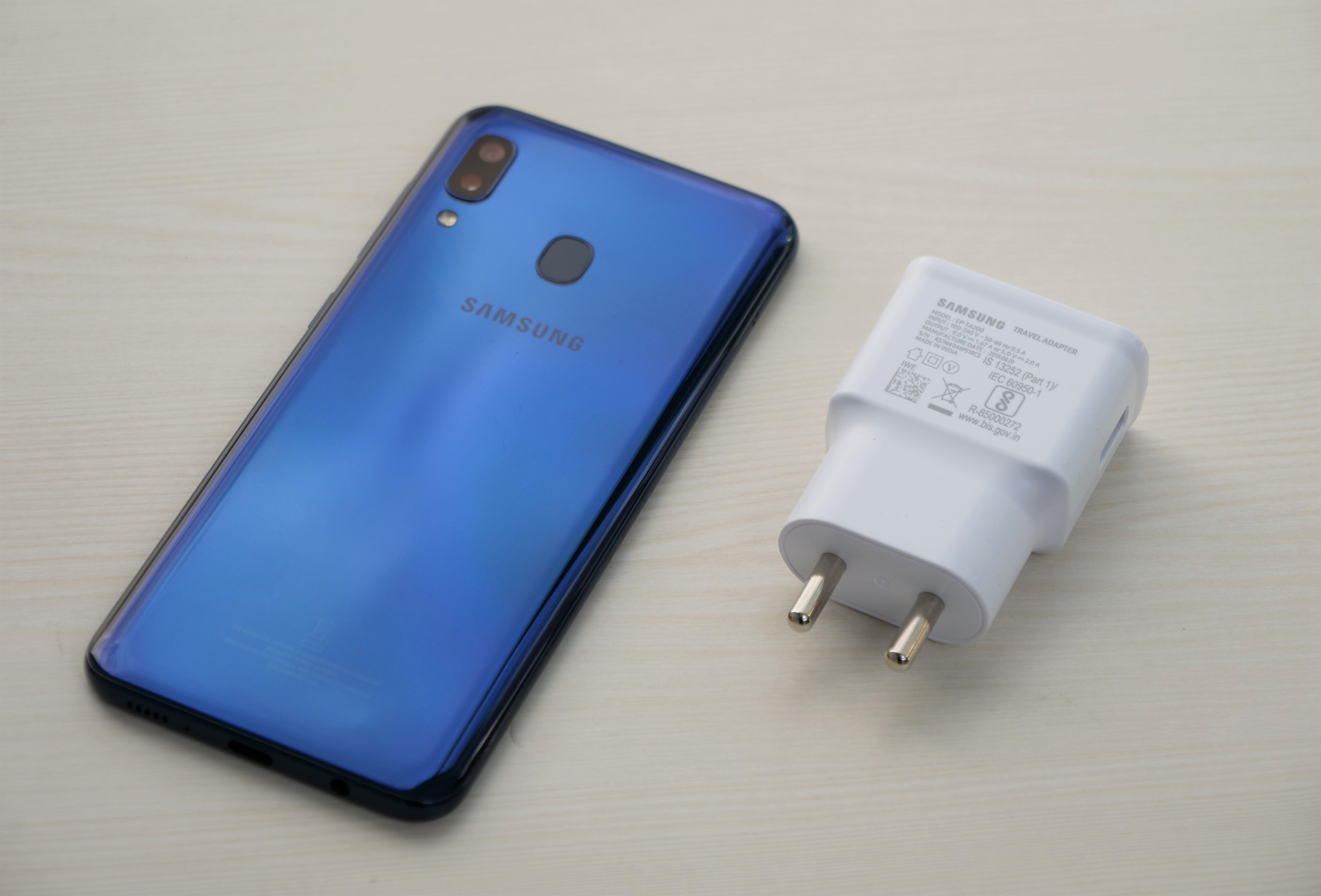 Verdict
Xiaomi's Redmi line-up has become a synonym for budget smartphones in India. It attracts consumers with exciting designs and powerful hardware. To compete with this Chinese company, Samsung is finally bringing its unique features to the tables. With the Galaxy A20, the Korean phone-maker has succeeded in offering high-end display at an affordable price. If you enjoy watching movies on your phone, the Galaxy A20 is ideal for you. However, if you are looking for a performance driven device with excellent cameras, the Redmi Note 7 is still a better choice.
Samsung Galaxy A20
What Is Good?
Stunning AMOLED screen
Sturdy build quality
Long battery life
Excellent value
What Is Bad?
Inconsistent performance
Camera lacks night mode
Wide-angle camera suffers from excessive barrel distortion
Mediocre sound output