Highlights
The Samsung Galaxy A54 5G emphasises build quality and design with an IP67 rating and Gorilla Glass protection on the front and back.
It comes with a 6.4-inch AMOLED FHD+ display which refreshes at 120Hz.
In our review, the phone scored 8 out of 10.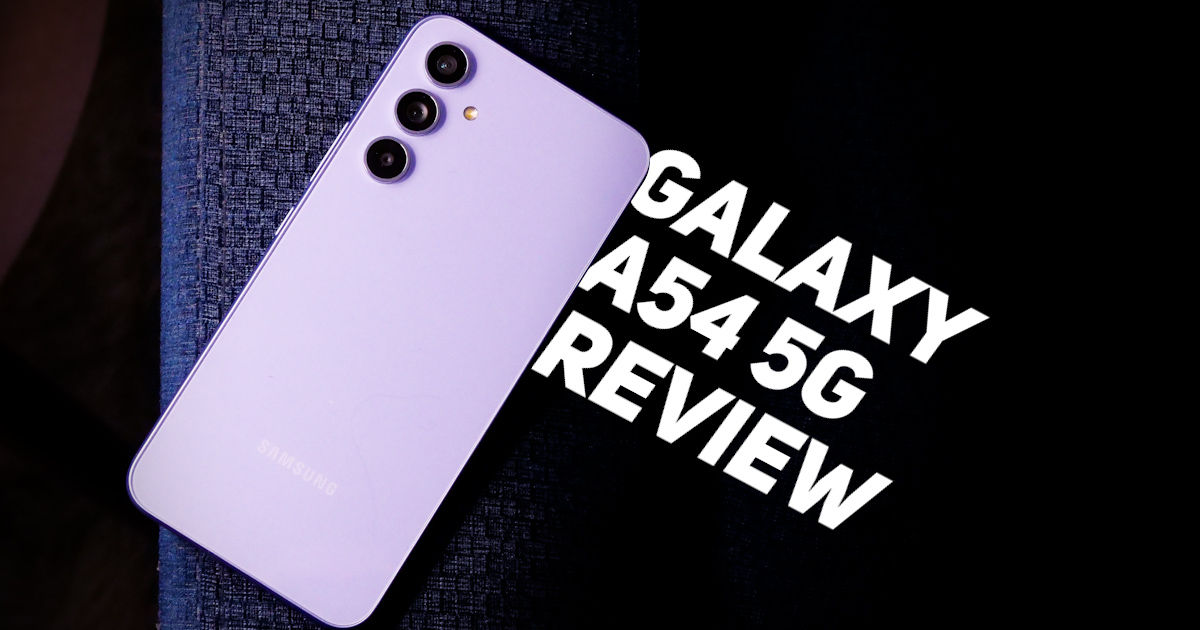 Flagship-killing is the term we fondly associate with OnePlus. Since 2015, the brand has been trying to undercut the latest and greatest flagships of the year. But around the same time, Samsung started doing the opposite of it – democratising its premium features so that mid-range smartphones can also look and feel like their flagship counterparts, just with watered-down internals and low prices, of course.
The Galaxy Alpha was born in 2014 which had a very similar look and felt to the Galaxy S5, along with some strikingly familiar set of features. However, it was quickly renamed the Galaxy A series the next year. Because of this, we have a hunch that the S in the Galaxy S stands for sigma.
The latest alpha dog from Samsung is the Galaxy A54 5G. Deriving the new minimalist look from the S23-series with an independent camera decor and a Gorilla Glass 5 back, the A54 5G can trick any onlooker into thinking it's an S23 Plus until you pull out the brochure and show them the colours. Apart from the design, there's an optically stabilised 50-megapixel primary sensor, a 5000mAh battery and up-to-date software.
So, does it mean you should be willing to throw Rs. 38,999 at Samsung's Robin Hood? Read on till the end of this review to find out.
Samsung Galaxy A54 5G: Pricing and variants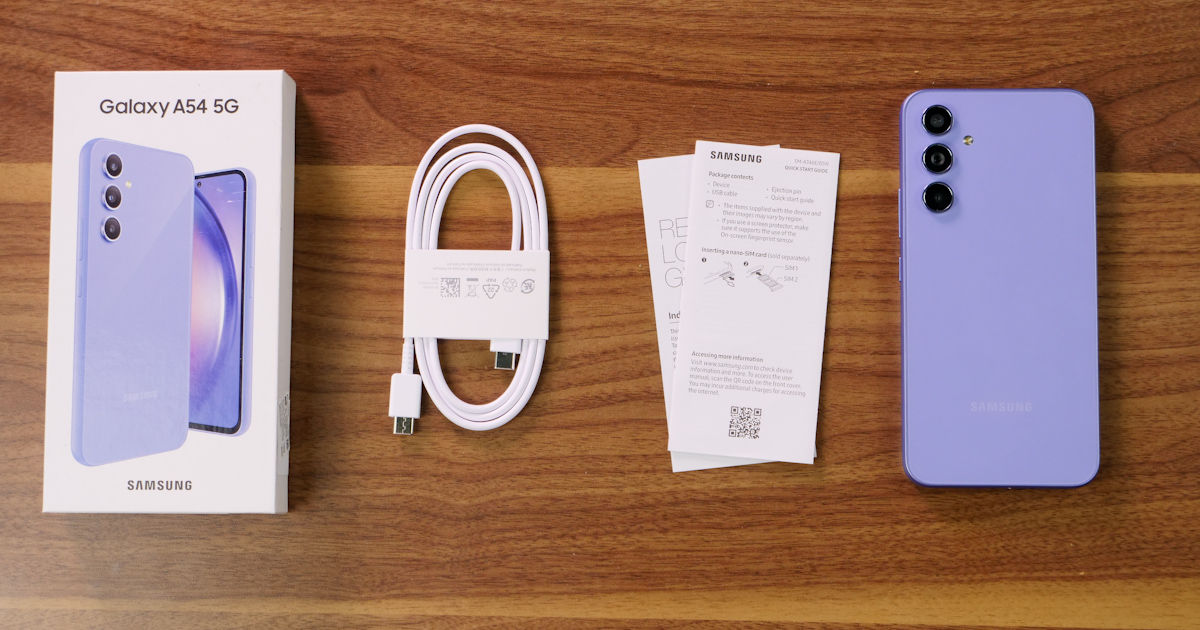 Pricing out the Galaxy A54 5G is simple. You get two configurations and three colour variants (Awesome Graphite, Lime and Violet) to choose from. The base configuration of 8/128GB starts at Rs. 38,999 whereas the top 8/256GB trim is priced at a cool Rs. 40,999. 'Easy EMI' options are available across Samsung exclusive and partner stores, Samsung.com, and other online platforms. If you buy the phone before 27th March, you can also get Galaxy Buds Live wireless earphones for a discounted Rs. 999.
Samsung Galaxy A54 5G Review: Design and display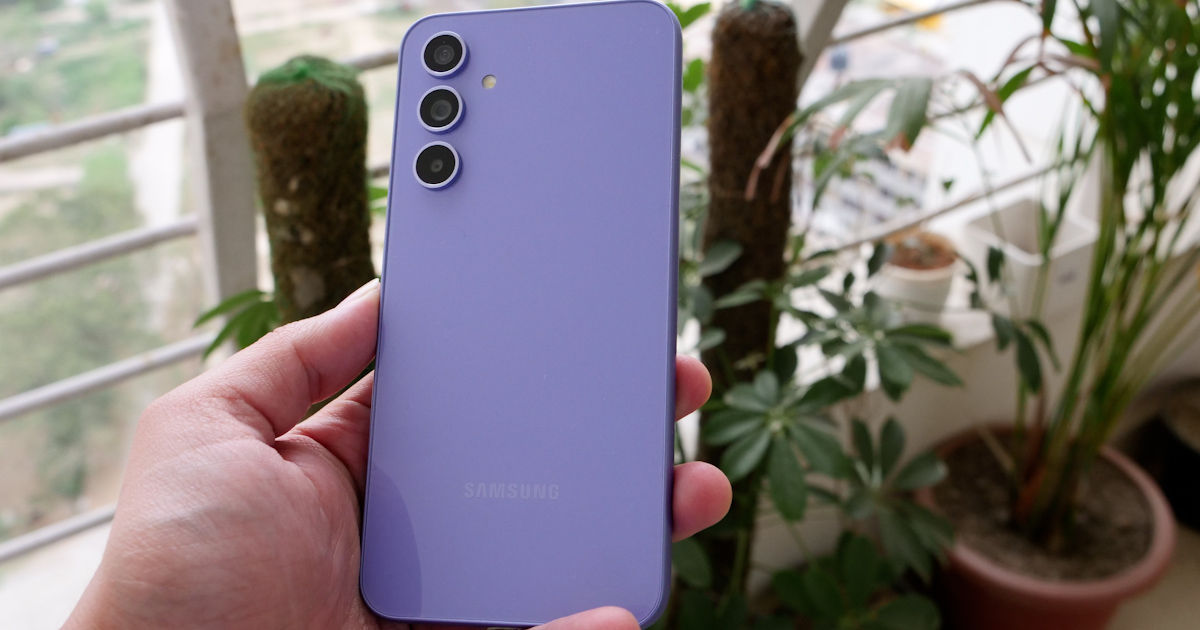 The only differences between the S23-series and A54 5G lie in three distinct places – the matte plastic frame without antenna bands, the slightly smaller camera rings and the bright, youthful colours. Samsung is pushing the envelope for sturdiness here. The front and back of the phone are reinforced with Corning Gorilla Glass 5, and there's IP67 certification, too, for dust and water resistance.
The A54 5G has a premium in-hand feel, nearly reminiscent of the Nothing Phone (1). Its matte railings make it surprisingly slipperier than the S23 series' glossy frame. In terms of ports and grilles, the top of the phone has a SIM tray and a mic hole, and the left is entirely clean. The bottom has a USB Type-C Port, a speaker grille and another pinhole for the primary mic. The right panel hosts the lock button and the volume rocker.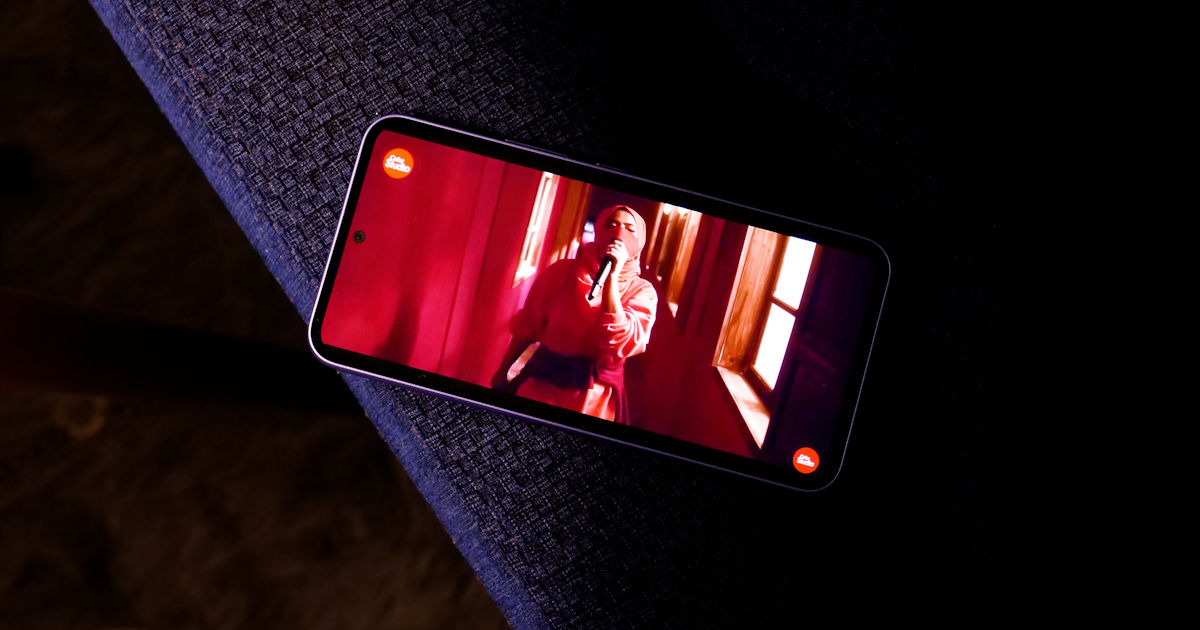 At the front is a gorgeous 6.4-inch AMOLED FHD+ display that refreshes at 120Hz, making touch inputs smooth. It improves from the Galaxy A53 5G by increasing its peak brightness to 1000nits, making it even more legible under sunlight. There are dual, Dolby Atmos-tuned stereo speakers surrounding it.
Samsung seldom goes wrong with its displays, and this is no exception. The content appears crisp, clear and vivid. All content streaming platforms run in Full HD with support for HDR playback. The speakers are also loud, with ample distinction between frequencies.
Another improvement from A53 5G is better haptics, thanks to the inclusion of a linear motor which gives crisp feedback. The intensity is lower than that of the S23-series, but it's so much better than before.
Samsung Galaxy A54 5G Review: Cameras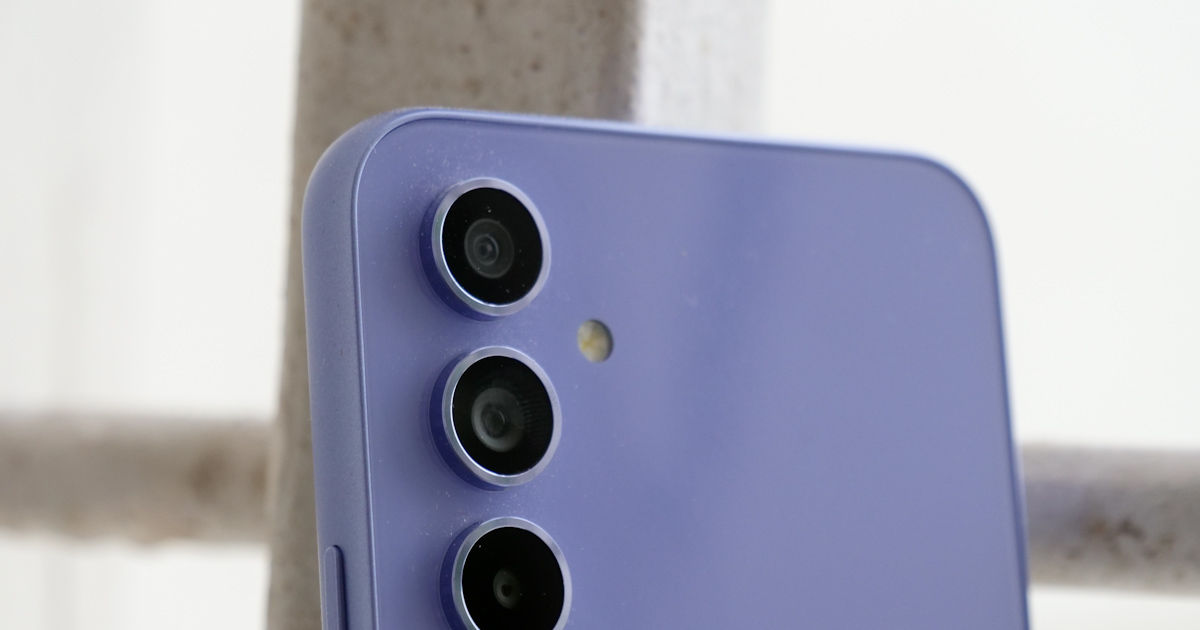 Underneath that S23-esque triple camera decor lies a 50-megapixel optically stabilised primary sensor, along with 12-megapixel ultrawide and 5-megapixel macro snappers. Samsung's top-tier Nightography night mode is here, which is supposed to avoid clicking washed-out, blurry low-light images. There's also a 'Fun' mode here that uses a few Snapchat filter presets from the camera app, making the phone's appeal to the Gen-Z apparent.
In daylight, the primary and secondary cameras clicked well-exposed photos without too much contrast. We observed colour and white balance inconsistencies sometimes, where the sky was a bit too blue, and the grass was too green. But here's where it differs from its Galaxy S brothers – it makes human skin tones a bit too warm.
We seldom found the need to click photos in Night mode specifically, even in low light, as the phone is smart enough to switch to it as and when required. Nevertheless, Night-time results were surprisingly good for a smartphone of its price. It was able to bring out the correct colours and exposures of subjects placed in a very dimly-lit area. It also did well with light flaring from street lamps. However, the best surprise was the ultra-wide performance in low light. Most ultrawide cameras of this category struggle with detail and noise when clicking photos of our dimly-lit drawing room at night, but the Galaxy A54 clicked some good shots.
We had some fun with macros because of the relatively high-resolution sensor. It's meant to work best in the daytime, with ample light. It clicks good quality photos but with noticeable purple fringing. But it's to get up close and personal with flowers and creepy-crawlies with this one.
It only falters under very low light with human subjects, with noticeable blur in shots taken by hand, despite the NoShake feature, which uses one and a half degrees of OIS. But it works very well even with a little bit of incident light.
Portrait mode needs a little bit of work with accurate cutouts, as is evident with this shot of Yash standing under a tree. The leaves above him are incorrectly included in the defocused plane. Low-light portraits were acceptable, however.
The front-facing 32-megapixel camera can click some detailed selfies during the day. It can click HDR selfies, but enabling that can result in inaccurate skin tones. At night, the selfie camera tends to soften the skin texture but still clicks well-exposed selfies.
Samsung Galaxy A54 5G Review: Performance and software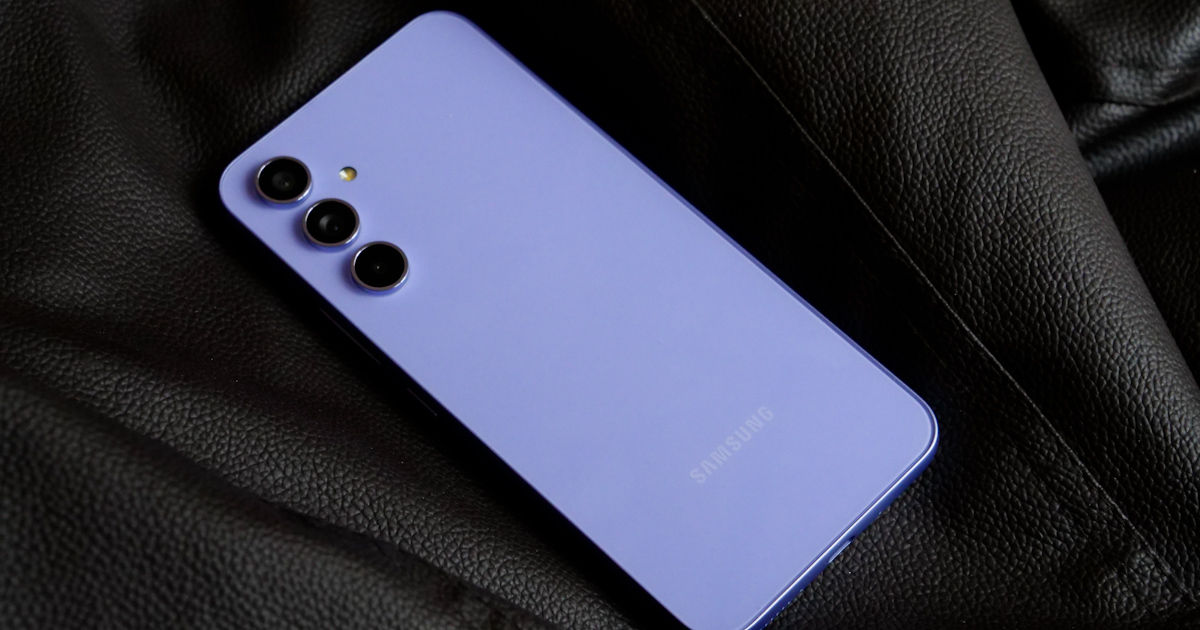 Instead of going with a sub-flagship processor such as the Snapdragon 8 Gen-1 or Dimensity 8200 like most other smartphones at this price, Samsung has fitted the Exynos 1380 SoC in the Galaxy A54 5G. It's an octa-core processor based on a 5nm process, with four Cortex A78 and four Cortex A55 cores each. Yeah, we raised our eyebrows looking at this, as it's a bit too frail against the competition. Remember, its competitors include the recently-launched OnePlus 11R, TECNO PHANTOM X2 5G and the Vivo V27 Pro.
It scored 513576 overall in AnTuTu v9, whereas in Geekbench v5, it managed 764 and 2657, respectively, in single-core and multi-core tests. For reference, the standard category hovers above the 800000 mark in AnTuTu benchmarks.
Moving from synthetic benchmarks to real-world use, the Galaxy A54 5G performs like a typical sub-Rs 30,000 would – mostly smooth, with a few stutters here and there. Background app management isn't an issue because of ample RAM on board; it's just that the lack of firepower results in the CPU getting a bit overwhelmed when running moderately heavy tasks such as full-fledged spreadsheets and Google Maps simultaneously.
Gaming is a decent affair, with Apex Legends Mobile and Call of Duty: Mobile defaulting to medium tiers of their respective graphics and frame rate settings. So naturally, the frame rate dropped during airdrops and squad fights, but other than that, it was a smooth-sailing experience.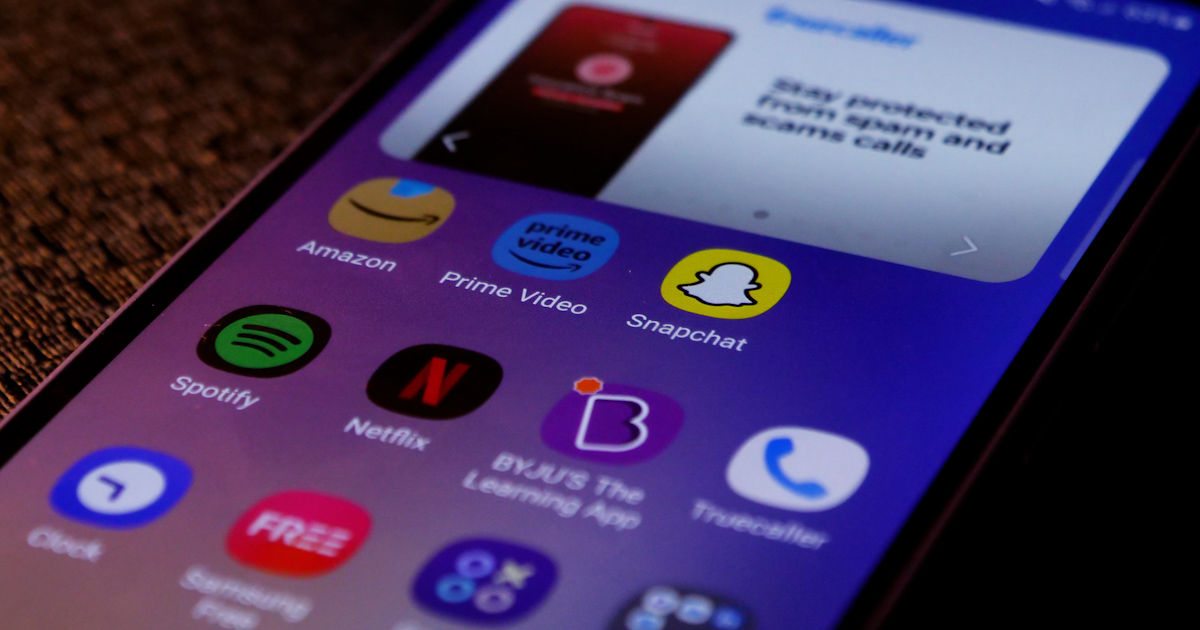 What Samsung wants you to try are software features such as Voice Assist, Samsung Wallet, Privacy Dashboard and whatnot. We have tested each of these on previous Galaxy devices, but our favourite feature is the ability to share your WiFi hotspot using a one-time password. Samsung's OS updates are timely for the new smartphones they launch, and our A54 5G received the February 2023 security patch. While OneUI is mostly the same, functionality and look-and-feel wise, compared to the S and Z series, there's still some bloat here in the form of Glance screen and Galaxy Widget. On the plus side, the ads are much easier to remove.
Samsung Galaxy A54 5G Review: Battery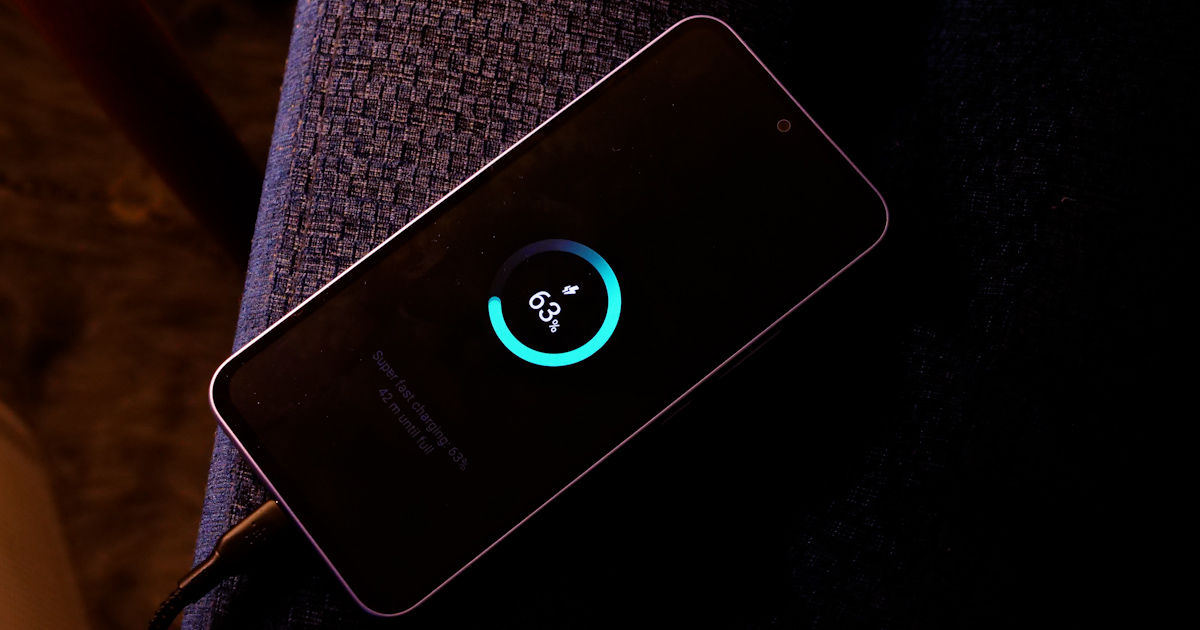 The Galaxy A54 5G is backed by a 5,000mAh battery which charges at archaic 25W peak charging speeds. However, the battery backup is very good, requiring a full charge every day and a half. We saw a screen-on time of roughly six and a half hours, which is about the same as most phones, but the secret sauce here is the background battery management. With 5G, location and Bluetooth connected to a smartwatch, the phone lost only 2-3% of its battery overnight.
As usual, Samsung's Achilles heel is charging because a one-hour charge at this price is simply an insult. That's right, 60 minutes, on the dot, for a smartphone worth around 40 grand. We wish Samsung brought the 'super-premium' 45W charging option here too.
Samsung Galaxy A54 5G Review: Verdict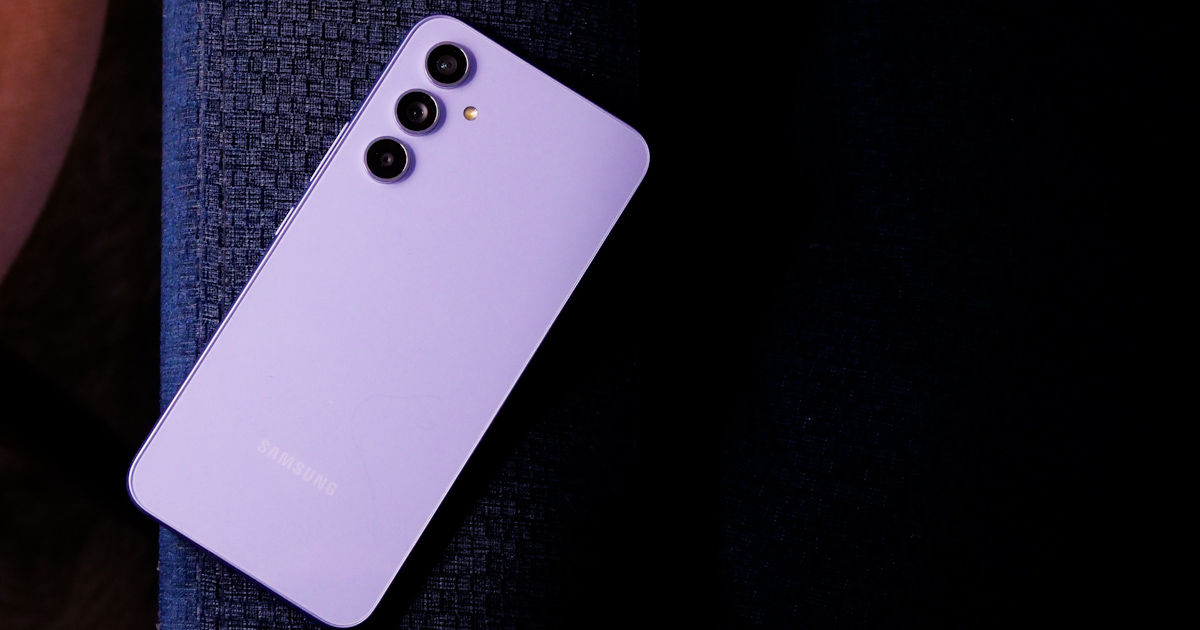 The Galaxy A54 5G is for the fashion-conscious on a budget. It's styled to ape an S23 Plus and does that well in terms of design, build and battery life. Its display is nice and smooth, and it exudes a very premium feel in hand. It's also good to see a coherent OneUI experience that makes porting from an older Samsung smartphone easy and some serious promises about software and security updates.
While the Galaxy A54 5G performs fine in mildly intensive tasks, it lacks the firepower to carry out super heavy tasks. We liked its overall rear camera setup for the price, but we wish the portrait mode and indoor selfies were better.
The lack of a charger in the box and any kind of fast charging capabilities is something that will make or break the deal for most buyers. So to address that, we'd like to recommend a few other options.
The OnePlus 11R is a competitively priced option to consider, with a much faster processor and charging speeds. The Moto Edge 30 Fusion is also a great alternative, but remember, these are gigantic phones with curved displays.
Samsung Galaxy A54 5G
Rs 38,999
What Is Good?
Premium design
Good battery life
Decent cameras
Great display
What Is Bad?
Mediocre performance
Tiny amount of bloat is still present
Only 25W charging
No charger in the box