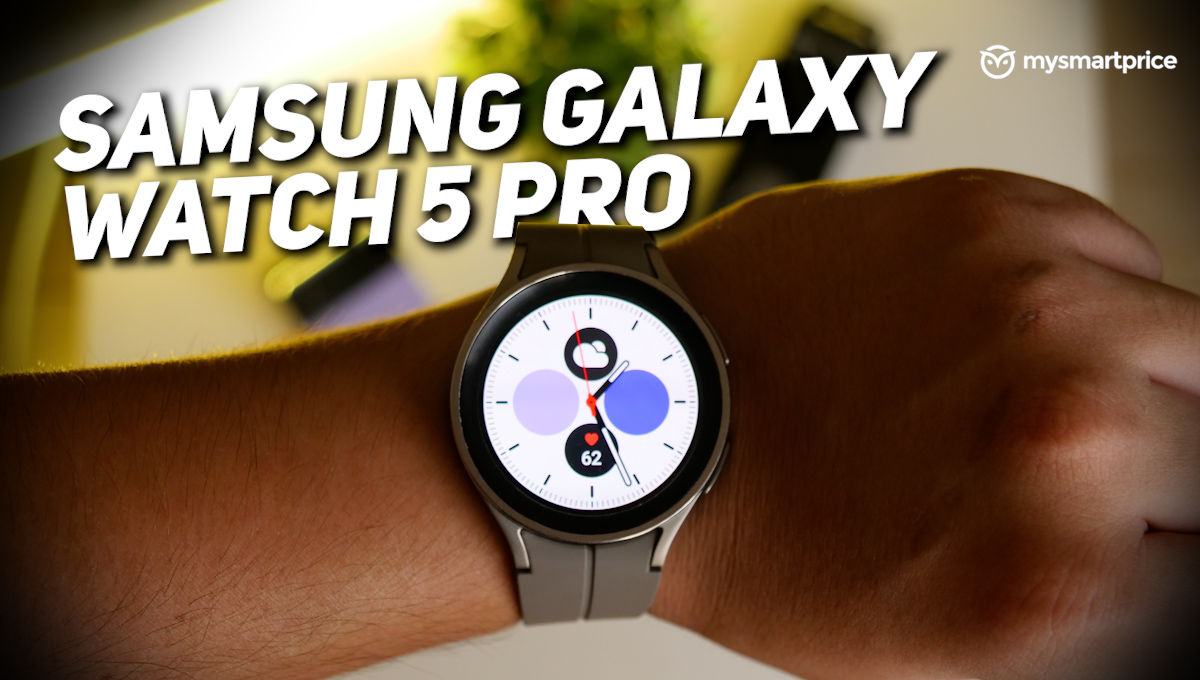 Samsung's take on the new Galaxy Watch 5 Pro is very clever – it's perhaps the only true Android-only smartwatch that's priced around Rs 45,000, so the competition surrounding it only comes from the Apple Watch Series 7, which is more centred around iPhones. So, much like the foldable, since there's no real 'Android' competition for a lifestyle-cum-durable watch, it becomes the best by veto.
Samsung Galaxy Watch 5 Pro
₹44,999
What Is Good?
Gorgeous display
Classy Titanium frame
Durable Sapphire Crystal protection
WearOS brings Google Play apps
Accurate heart rate tracking
GPX navigation has potential
Sleep coaching is useful
D-buckle is quick to snap
What Is Bad?
D-buckle can corrode
Bundled strap is bulky
Inaccurate SpO2 and stress tracking
Slow charging
Digital bezel is sluggish
Not enough fitness information for fitness freaks
This raises a glut of questions: is it worth the 13 grand premium over a vanilla Galaxy Watch 5? Is it still a Galaxy Watch you are waiting to get for dirt cheap with the next Galaxy S or Galaxy Fold smartphone? Does it make sense to buy it over the Galaxy Watch 4? How does it size up against the 'real' fitness-focused smartwatches from Garmin? And are there better options in the Android smartwatch space? There's a lot of ground to cover in this review.
Samsung Galaxy Watch 5 Pro Review: Design & build
The Samsung Galaxy Watch 5 Pro has the same circular silhouette as Galaxy Watches since 2018, but with a bit of a twist. The physical bezel, characteristic of the top variant of the series, has been replaced with a digital one. The case is now made of Titanium, although the base that houses the sensors is still made of plastic. The 'D-buckle' is also new – it's magnetic and has a satisfying snap that we quite like. It's easy to put on and take off, and we wish other watches could adopt a similar mechanism.
Another durability bump comes in the form of Sapphire Glass reinforcing the display. As you'd know: glass is glass. It scratches at level 6 (on the Mohs Scale), with deeper grooves at 7. Sapphire Glass won't scratch unless it comes in contact with diamonds regularly – if that's a problem for you, you would be better off looking at something like an Audemars Piguet or Hublot.
Coming back to the matter at hand, or wrist, our particular review unit's D-buckle started corroding within two days of use with just small splashes of water. The pristine matte finish on the buckle was diminished to a milky deposit, although it is still snapping into place just like before. Nevertheless, it has held up pretty well – it hasn't developed a single scratch in a month of use.
We are well aware that Noida's water can be harsh, but we have seen other stainless steel watches fare much better. We can't put our finger on what caused this, but it's a genuine problem for people spending Rs 44,999 on a watch made for white-collar adventurers. The watch is rated IP68 for dust and water resistance, so going underwater won't affect the electronics.
The physical buttons, mics, speakers and sensors have identical placements to the vanilla Galaxy Watch 5. The right side hosts the multifunction button and the back button. A single press on the multifunction button takes you to the home screen, a double press gives you a quick glance at your daily activity, and a long press activates the Bixby voice assistant. The back button has the sole motive of taking you to the previous screen.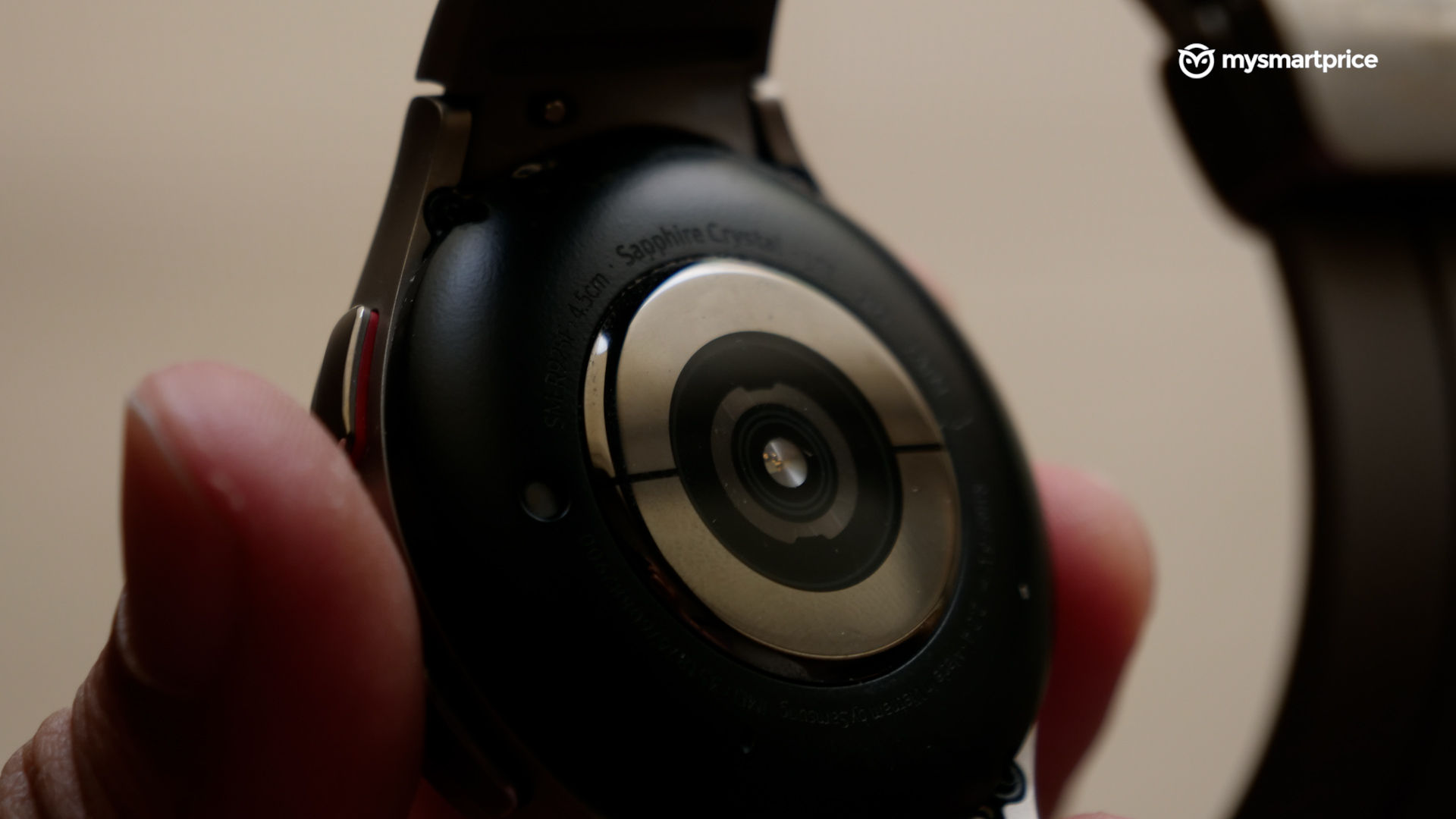 The bundled strap lacks breathability, so we often found our wrists getting uncomfortably damp with sweat. There are a ton of 20mm quick-release strap options available in the market, but then you will miss out on that magnetic buckle.
The Watch 5 Pro comes in a single, 45mm size, which looks fine on our wrist but can be big for smaller wrist sizes. We wish there were a smaller variant of the Watch 5 Pro, too, as it seems unfair not to provide smaller wrists with a chance to have something as premium as this.
Moving on, we aren't fans of the digital bezel, which is a personal preference. Sure, it's one less thing susceptible to dust and water damage, but the tactile feedback isn't there. The whole point of a physical bezel was to provide a more accurate way to interact with the rather small display of the Watch while performing a physical activity like running or cycling. In fact, for several buyers, this was the sole reason to prefer the Galaxy Watch over something else.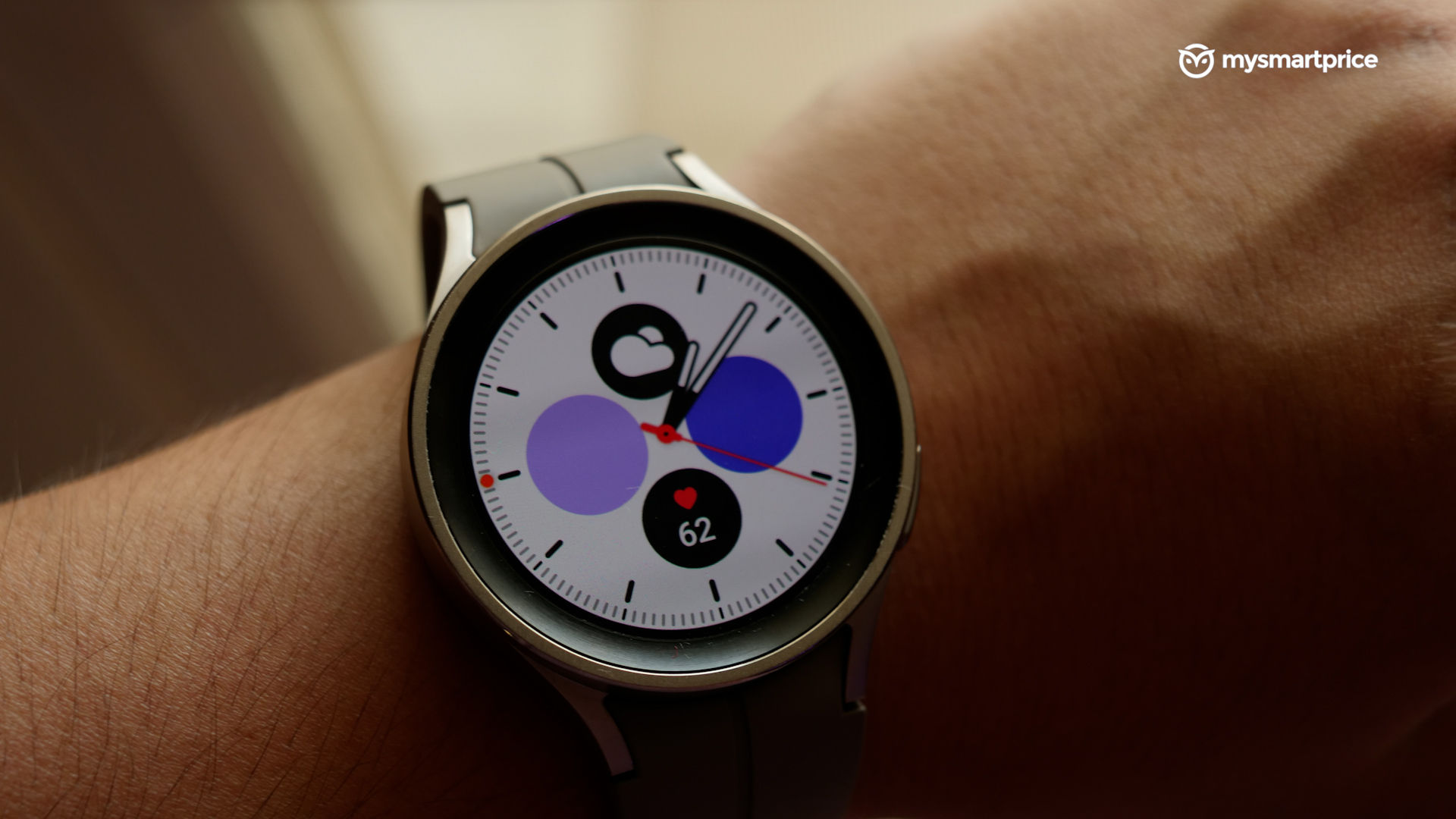 But, the digital bezel often left us unsure about our inputs and even after a month of use, we haven't grown accustomed to it. It freaks out when it encounters water or sweat, and considering the durable nature of the watch, this seems counterproductive.
The design and build seem to be a mixed bag for us. The durability enhancements put the Watch 5 miles ahead of all Galaxy Watches yet, but there are still areas for improvement.
Samsung Galaxy Watch 5 Pro Review: Real-world performance
While we have expressed our feelings about the digital bezel and the Sapphire Glass, the 1.4-inch circular AMOLED display is still the best we have yet seen on an Android smartwatch. It's bright, vivid, and can be viewed easily under harsh sunlight. Several smartwatch buyers prefer the circular display as it stays close to the analogue watch roots.
Our particular unit wasn't as responsive to touch inputs, sadly. We noticed a significant input delay and inaccurate registering of swipe gestures while interacting with the Watch 5 Pro. It was maddening sometimes, especially while working out. This may be a pre-production unit issue, but it was concerning.
The watch's internals have remained more or less the same. Samsung's Exynos W920 carries forward processing duties from the previous generation paired with 1.5GB of RAM. However, Google WearOS is present here, and we went to great depths to explain how it still feels like a Tizen smartwatch in our Galaxy Watch 5 review. Do check that out.
The Samsung Galaxy Wear app is still required for the first boot, although you can still use Google Fit to track fitness data. But to track sleep, you'll need Samsung Health. Huh?!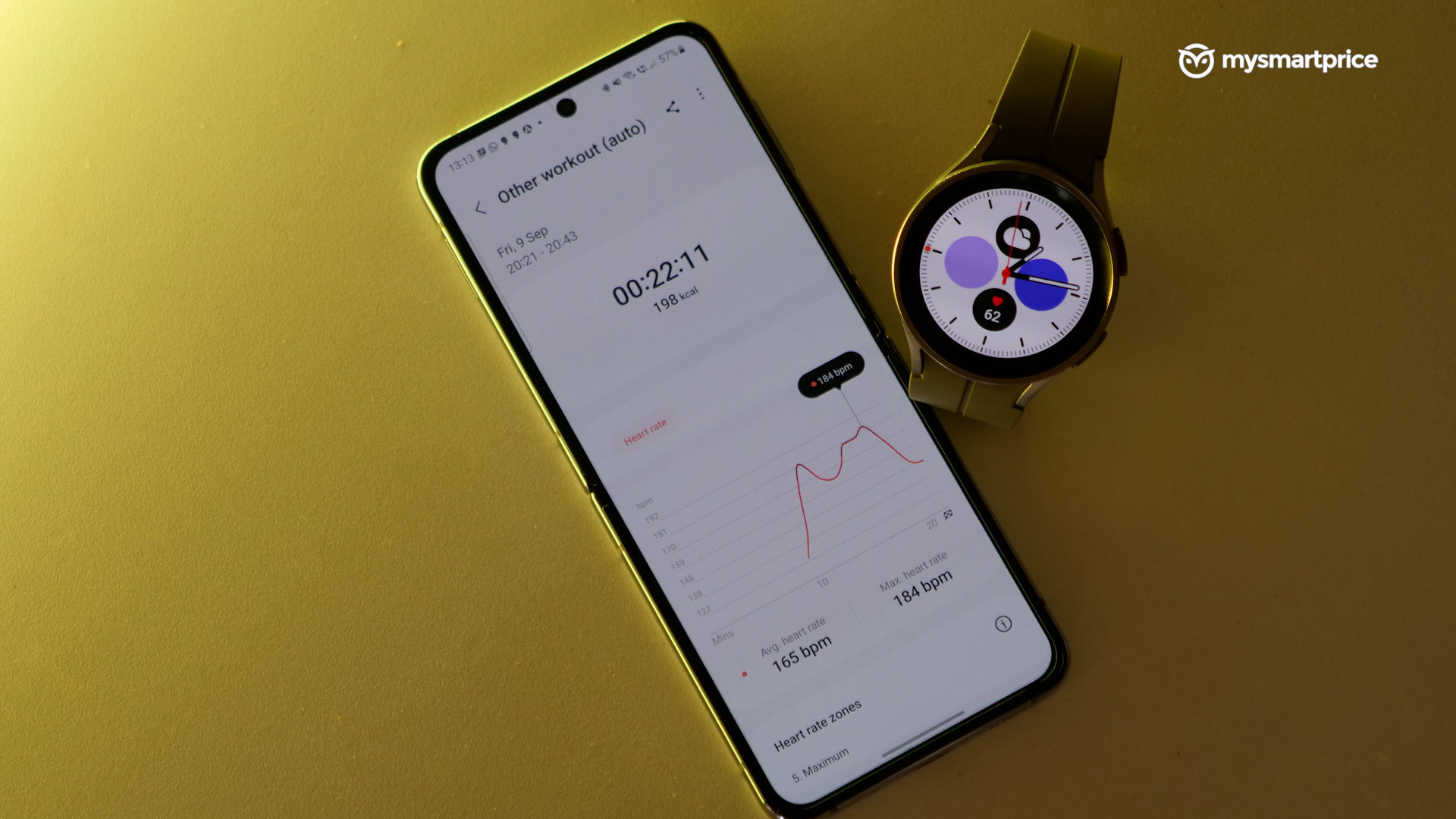 It's a hodge-podge of different apps required to run different functions, and we wish there could be a single, centralised app for everything. Garmin does it, Amazfit does it, why not Samsung? But WearOS brings about a ton of downloadable apps, so you're no longer restricted to the Galaxy Store.
There are new watch faces, but the overall way to interact with the menus is the same as the Tizen-based Galaxy Watches before. Unfortunately, Google Assistant isn't available in India as of now, and Bixby is still very mercurial – sometimes it recognises and does things in a jiffy, otherwise, it refuses to acknowledge our existence.
The fitness tracking chops are exactly the same as the Vanilla Watch 5. It has automatic activity detection, which is useful while working out, walking or running when your hands are busy. We were able to count 97 activity and training modes in total, many of which have repeating interfaces.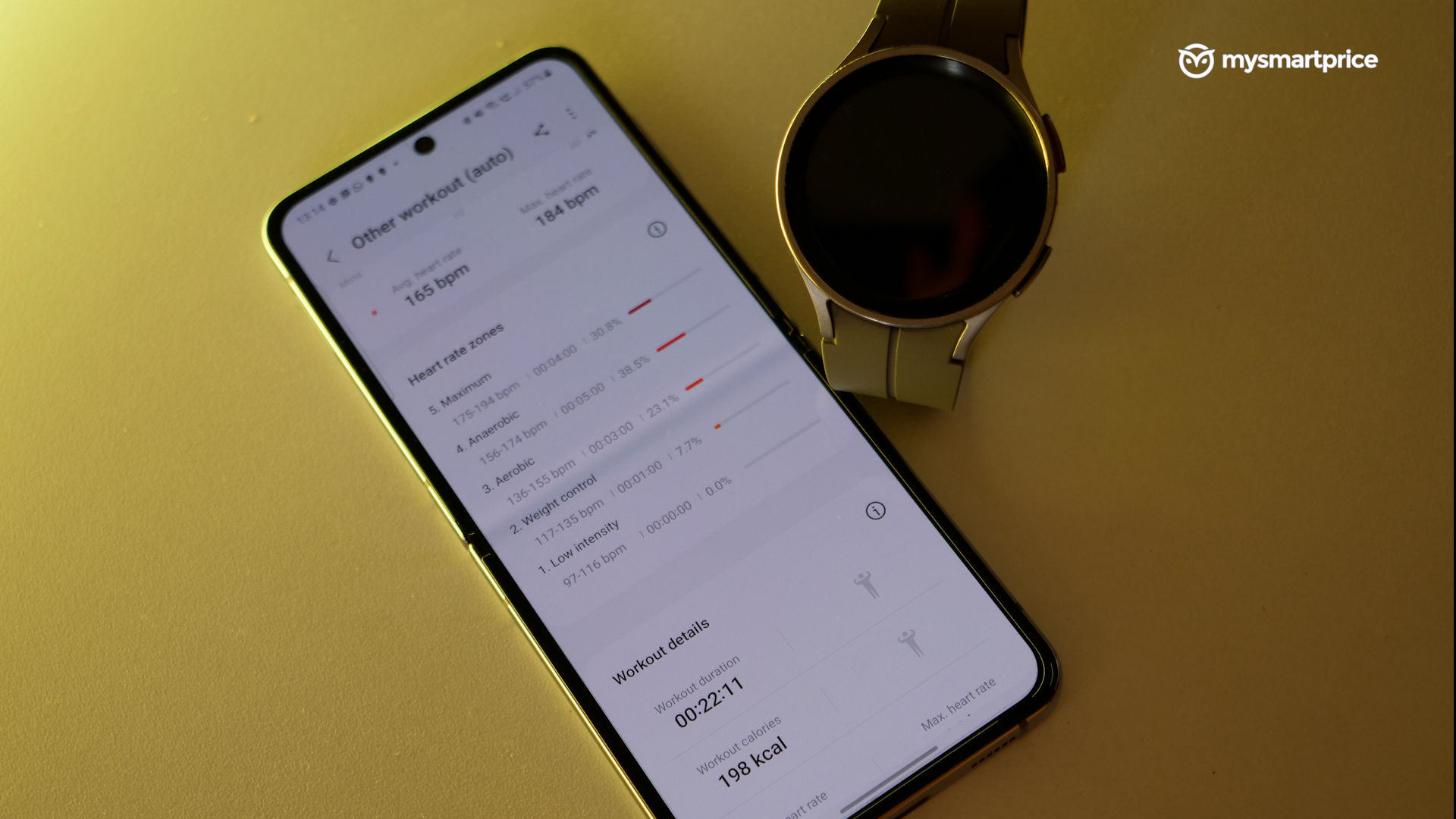 The data representation is not as OCD-level as the Garmin Instinct 2 or Forerunner series. The data in the Samsung Health app shows you the duration of a workout, calories burnt, and heart rate variations.
Garmin's watches give you more data points such as best pace, average speed, average and minimum heart rate, cadence and intensity minutes in the form of a single, easily digestible sheet. These are important for 'pro' users; even the Amazfit T-Rex 2 provides this information despite being half the price.
Heart rate accuracy was spot on, but using the SpO2 tracker is the stuff of nightmares. It requires you to place your elbow on a table and your wrist on your heart while you stay still. The magnetic D-buckle also doesn't help because tightening the grip of the watch is far more difficult than the regular buckle. And the worst part – it never shows you the right results! The Instinct 2-series takes rough SpO2 readings every few hours to support its fitness data, but at least they are effortless.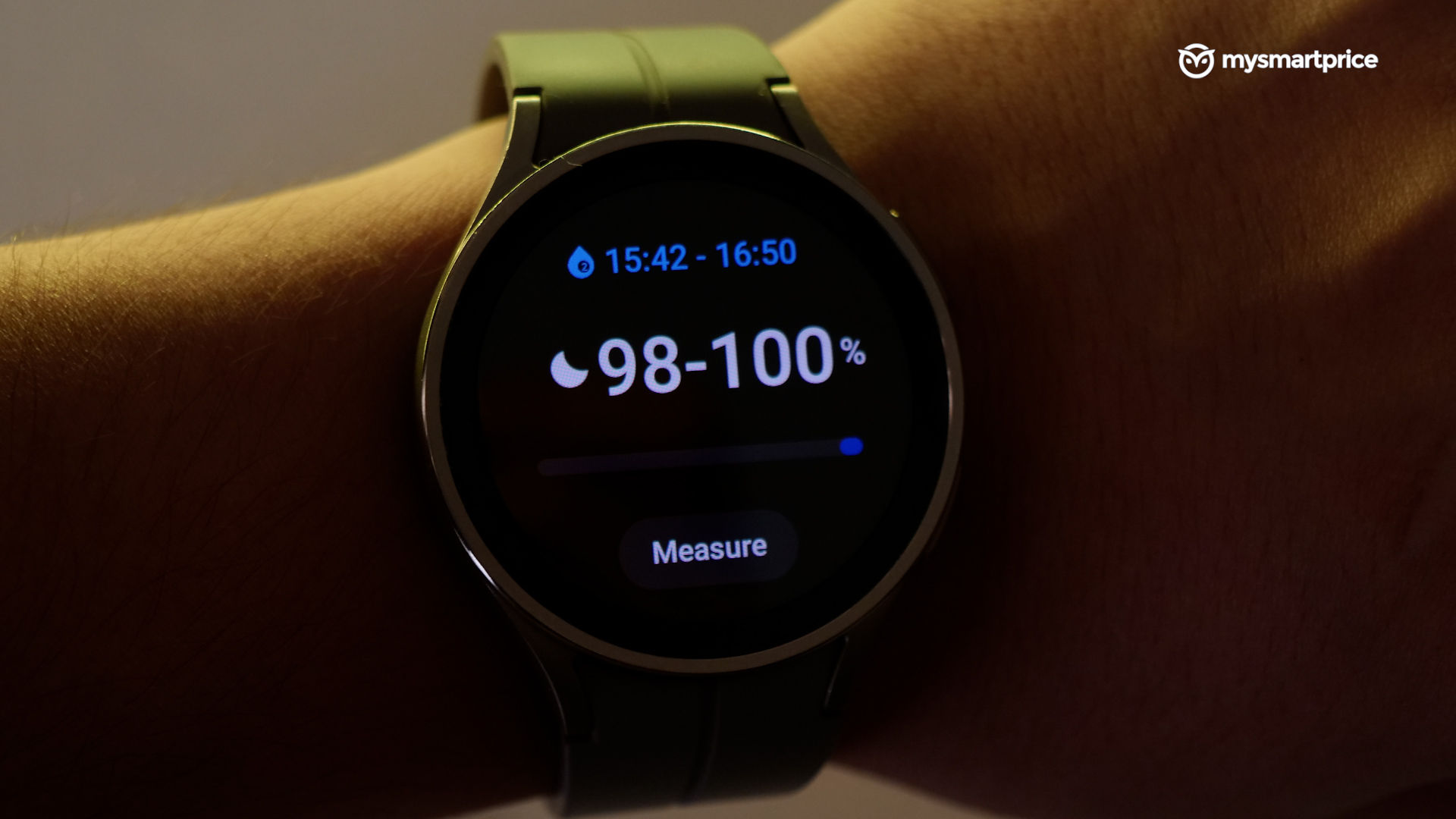 The stress monitor, too, seems to have a mind of its own. There was an instance when we were rather stressed out with deadlines, with our hearts pounding. Guess what? The Watch 5 Pro showed a reading of roughly zero stress. Our friend, trying to console us, had stress levels in the redline. It did make us laugh, so it's not entirely useless.
Nevertheless, step counting is nice and accurate, and we tallied it with our manual logs. Unfortunately, we weren't able to figure out a way to measure body temperature, nor did the data appear in our sleep logs, even after a month of use. It's a marquee feature of the Watch 5-series, so it's a little disappointing. We also like the 'drink water' and 'stay active' reminders simply because of the cool animations.
Coming down to the GPX, arguably the most marketed feature of the Watch 5 Pro, its potential is immense, but in its current form, it's nascent. It's turn-by-turn navigation for hikers, adventurers and some professionals like miners and geologists, who often wander about in rough terrains that don't have good network coverage. This is something we saw in the Instinct 2 Solar Tactical Edition too. There are two ways to use GPX coordinates: paying for a subscription from a website like AllTrails.com and downloading and importing the GPX directions. The other is manually logging your coordinates in a GPS-based workout and then importing the same on the Samsung Health app. It worked pretty well for us – there were times when we had to stop for the pointer to orient itself, but it was mostly reliable.
Since we used the watch for a fairly long period, we were able to try out the new sleep coaching feature. It requires you to analyse your sleep for five weekdays, and the weekend as well, the latter is extremely crucial if you're a party person. Luckily, our sleep analysis on the watch happened when Delhi had gloomy weather for almost an entire week. This made us sleep and wake up late, earning us the 'sleep symbol' of a Hedgehog – yep, it assigns you an animal.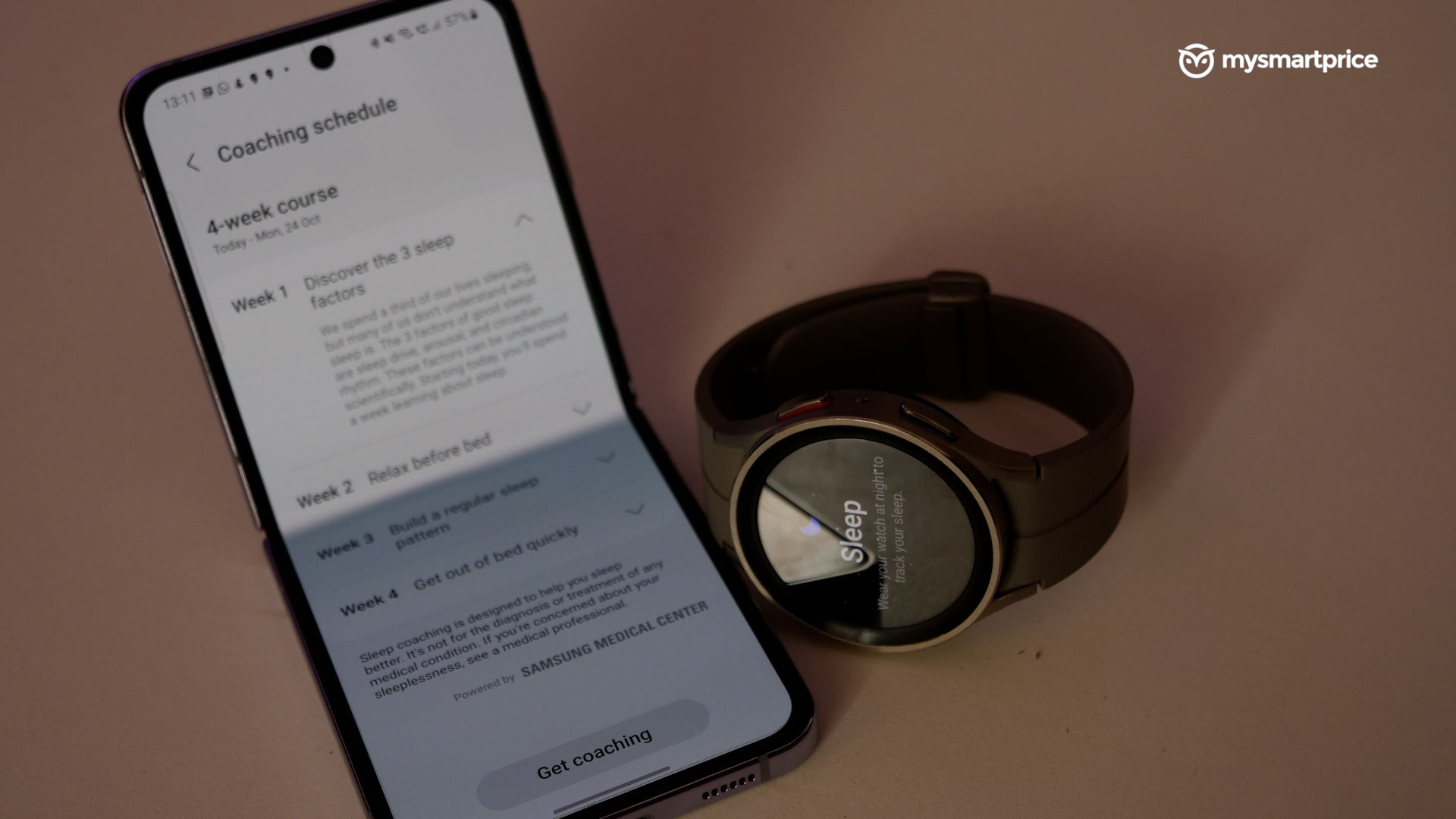 The coaching is a 4-week affair that involves educating you about a healthy sleep, changing some of your core habits, assisting you to build a pattern and finally getting you out of bed early. We are currently in week 4. The first week can be boring if you aren't all that much into reading, but the moment you start following the routine, you do start seeing results. It's a slightly nicer version of your parents nagging you to go to bed on time.
So, overall, in terms of activity tracking and BioSensor chops, not much has changed in the Watch 5 Pro. It's still a luxury smartwatch first and then a casual activity tracker. Although we aren't impressed with the prerequisite condition of having two Samsung apps to run it, we do like the inclusion of Google Play for apps and watch faces.
Samsung Galaxy Watch 5 Pro Review: Battery life
The larger profile of the Watch 5 Pro allows it to squeeze in a slightly larger battery at 590mAh. Without an always-on display turned on, it manages to run for a day and a half, but with AOD turned on, it's easy to kill it within a day if you are receiving calls, working out and receiving notifications constantly.
This is acceptable for a premium, somewhat slim smartwatch, but we really wish it could charge faster. Seriously, two and a half hours for a full charge is a drag. To put things in perspective, two and a half hours are about 13% of its 18-hour battery life.
The bundled charger is the same as that of the Galaxy Watch 5 – a magnetic hockey puck-style charger. The Watch 5 Pro can also charge via other Qi chargers and even via the back of your Samsung flagship that supports reverse wireless charging, although keeping it in place to charge can be a bit of a headache.
Samsung Galaxy Watch 5 Pro Review: Verdict
Looping the introduction of this review with its verdict – yes, the Galaxy Watch 5 Pro is still the best Android-only smartwatch you can buy right now. It's premium, has some real 'pro' functionality and can be paired with many of your outfits without looking like a kids' watch from the 2000s. With a Titanium case and Sapphire Crystal display, it's more durable than ever before. Among the new features, we believe sleep coaching is of most use, although given the reading material, many users might drop out in the first week itself. The GPX turn-by-turn navigation is also an excellent addition for adventurers.
There are a bunch of cons, too, such as the corrosion we observed on the buckle and the sluggish feedback of the display. The bezel has promise, but it can only be utilised if the Watch becomes snappier because, right now, it's a guess-and-miss affair. Although better than ever, the battery life is still just a couple of days at most, and the charging is still slow. Also, the stress and SpO2 tracking need some work.
We recommend the base variant at Rs. 44,999 to most people, but for adventurers and professionals who spend most of their life in the field, the Wi-Fi/LTE variant at Rs.49,999 is a must if you're planning to use GPX. Factor in the cost of subscription to maps too.
Having said that, it's time to look at the alternatives. We would strongly recommend the Garmin Forerunner 955 to people who are serious about fitness. The Polar Vantage M2 is also a lesser-known fitness watch alternative. For mere mortals, the previous-gen Watch 4 can also make the cut. It's on sale at the moment and is a much better value proposition at the moment. Apple users are better off not considering the Watch 5 Pro due to the lack of app support.