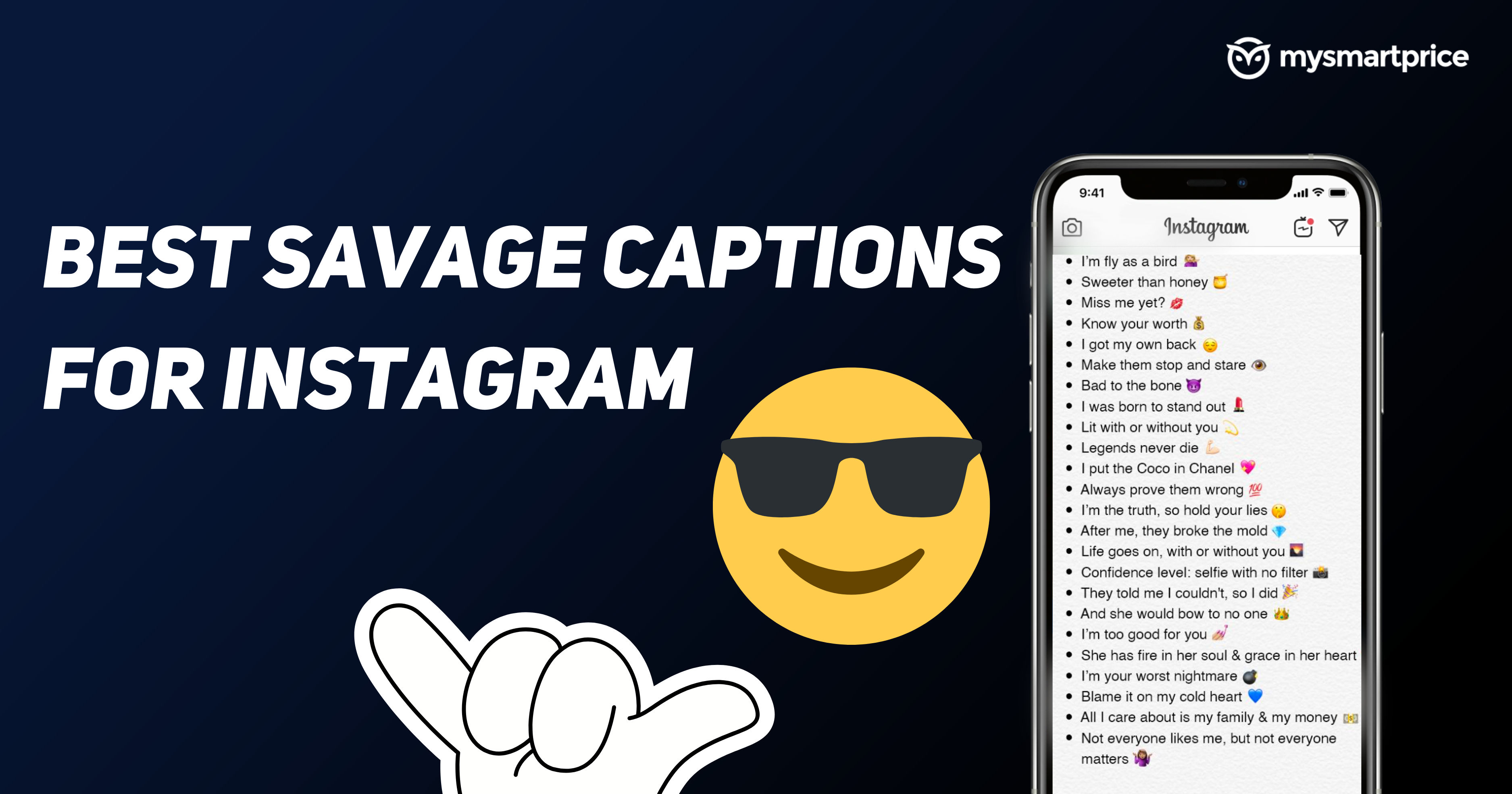 You need to be savage sometimes, and the best way to let everyone know your emotions is by posting on Instagram. But you need to have a great caption accompanying your images and videos.
Whether you're looking to roast a friend of yours, throw some shade at your hated ones, or spice up your posts, you need these savage Instagram captions we listed on this page.
In this post, we will talk about savage quotes and captions to use on your Instagram posts. We have listed quotes like savage aesthetic quotes, savage sky quotes, savage car captions and savage selfie captions. We also have over 200+ some awesome savage quotes, such as savage movie quotes and savage music quotes, where we take some of the best quotes and captions from movies and music. So let's jump right into the list of best savage captions for Instagram.
Best Savage Instagram Captions
I'm not a morning person; I'm a coffee person.
I don't need a filter. I'm naturally photogenic.
I'm not a second option; you either choose me or lose me.
I'm not perfect, but I'm always myself.
You don't deserve me at my best if you can't handle me at my worst.
Life goes on, with or without you.
You were my cup of tea, but I drink champagne now.
Tell me when I ask for your opinion.
I'm not always sarcastic sometimes; I'm sleeping.
Don't worry about those who talk behind your back; they're behind you for a reason.
I love sarcasm. It's like punching people in the face. But with words.
I would rather die on my feet than life on my knees.
It's not essential for everyone to like me. Not everyone matters!
Too blessed to be stressed.
50% Savage, 50% Sweetheart.
I love the sound you make when you shut up.
Savage Sky Captions For Instagram
Watch more sunsets than NetFlix.
I won't give up even if the skies get rough.
When you suck, look at the sky. It reminds you that everything can change.
I set my rainbow in the cloud.
You cannot reach the sky without taking a deep breath in the ocean.
The sky's got more stars than Hollywood.
Grey skies are just clouds passing over.
You must not blame me if I do talk to the clouds.
Happiness is the sun setting in the sky.
My favourite place to be is beneath the stars.
Skies the day!
Because when you stop and look around, this life is pretty amazing.
Sunsets taught me that beauty sometimes only lasts a couple of moments.
Between two different forms of the sky.
Skies the day I was born.
Savage Short Instagram Captions
I'm not a copy. I'm an original.
I don't chase; I attract.
I'm not a basic; I'm a classic.
Sorry, not sorry.
There's no "we" in fries.
Life goes on.
I'm cool. PS: You're not.
No boyfriend, no problems.
Don't test me. I have screenshots.
Queens don't compete with hoes.
Be savage, not average.
Move, peasants.
There's no 'we' in fries.
Making 'em stop and stare.
I'm none of your business.
No GPS, but it's my turn.
Savage Short Aesthetic Quotes
Keep it together.
Your thoughts become words.
Cold as ice.
Look at me now!
I respectfully don't care.
Love me or hate me, I'm still gonna shine.
I'm a mess, but I'll always be better than you.
I have a terrible case of good intentions.
On to the next one.
You are the architect of your destiny.
I'm feeling so blessed right now.
You can't compete; you don't compare.
It's not always going to be easy, but it's worth it.
This ain't a race, but I still take first place.
Silent but deadly.
Savage Celebrity Quote/ Captions For Instagram
"Nobody really likes us except for us" – Drake
"Don't get bitter, get better." – Alyssa Edwards
"I embrace mistakes, they make you who you are." – Beyoncé
"I am not apologizing for who I am." – Donna
"I've always been famous, it's just no one knew it yet." – Lady Gaga
"People will always have their opinion on you despite who you are and what you are capable of." – Ana Chable
"I refuse to be put in a box." – Jennifer Lopez
"The moral is that the shape of a society must depend on the ethical nature of the individual and not on any political system however apparently logical or respectable." – William Golding
"If you obey all the rules, you miss all the fun." – Katharine Hepburn
"You are allowed to be both a masterpiece and a work in progress simultaneously." – Sophia Bush
"You're not going to tell me who I am." – Nicki Minaj
"Just because I'm sassy and have a mouth on me doesn't mean I'm coming from a negative place." – Kesha
"Do not pray for an easy life, pray for the strength to endure a difficult one." – Bruce Lee
"If you touch me, I'll provide you with the opportunity to see if you can heal yourself." – Richelle Mead
"If you run into an asshole in the morning, you ran into an asshole. If you run into assholes all day, you're the asshole." – Raylan Givens
Savage Music Quotes/ Captions For Instagram
"Baby, just don't give a damn." – BTS, Love Maze
"I never trust a narcissist, but they love me." – Taylor Swift, I Did Something Bad
"I'm a savage, I ain't average" – Megan Thee Stallion, Savage
"I'm the one that's in control, not you" – Beyoncé, Formation
"I'm the realest in the game, no one can compare" – Kendrick Lamar, King Kunta
"I'm untouchable, they can't hold me down" – Eminem, Not Afraid
"I'm the one that's on top, can't bring me down" – Post Malone, Psycho
"You can't stop me lovin' myself." – BTS, IDOL
"I'm not a lady, I'm a savage." – Rihanna, Savage
"I don't need no friends, as long as the money straight." – Post Malone, Rockstar
"I don't give a damn about my reputation, you're living in the past, it's a new generation." – Taylor Swift, Reputation
"I don't need your validation, I'm the one in control." – Beyoncé, Formation
"I don't need no pity, I'll make my own way." – Eminem, Not Afraid
"I'll be the one to tear it down, I'll be the one to build it up." – Justin Timberlake, Mirrors
"I'll be the one to break you, I'll be the one to make you." – Billie Eilish, bury a friend
Savage Bio For Instagram
I'm not a model, I'm a role model.
I don't chase boys, I chase success.
My attitude is my approach.
I'm not a follower, I'm a leader.
My craziness is not everyone's cup of tea.
Sarcasm falls out of my mouth, just like stupid falls from yours.
Savage by nature, civilized by choice.
I am free of all prejudices. I hate everyone equally.
Spreading love and happiness won't be an uneasy task anyway.
Remember half the people you know are below average.
Take the risk or lose the chance.
Don't study me, you won't graduate.
Keep talking while I keep living.
Some people are here, just to waste your damn time.
My heels are higher than most people's standards.
Savage Movie Quotes/ Captions For Instagram
"You talkin' to me?" – Robert De Niro, Taxi Driver
"I'll make him an offer he can't refuse." – Marlon Brando, The Godfather
"I'm the king of the world!" – Leonardo DiCaprio, Titanic
"I'm gonna get medieval on your ass." – Vincent, Pulp Fiction
"I'm gonna break you." – Michael Douglas, Wall Street
"I'm not afraid to die. I just don't want to be there when it happens." – Woody Allen, Annie Hall
"I'll be back." – John McClane, Die Hard
"You can't handle the truth!" – Tom Cruise, A Few Good Men
"You're gonna need a bigger boat." – Chief Martin Brody, Jaws
"Life moves pretty fast. If you don't stop and look around once in a while, you could miss it." – Ferris Bueller, Ferris Bueller's Day Off
"You can't handle my level of fabulous." – Elle Woods, Legally Blonde
"I'm not bad, I'm just drawn that way." – Jessica Rabbit, Who Framed Roger Rabbit
"I'm not afraid to die anymore. I've been dying a little bit each day since you came into my life." – Heath Ledger, The Dark Knight
"I'm gonna kick your ass." – Bruce Willis, Die Hard
"I'll be watching you." – Alex Forrest, Fatal Attraction
Savage Car Captions For Instagram
Speeding tickets are just compliments from the cops.
I bought my first car. No one told me it'd feel this good!
Am I making this car look good?
Look at my new car, you all! Shifting to success mode.
Absolutely in love with my new wheels.
Happiness is the smell of your new car.
My baby has arrived. I can't contain myself!
I'm not fast. The others are slow.
Time to hit the road.
Every car needs special treatment.
My car and I make a great team!
I'm taking suggestions; where should I go for my first ride?
I bought my first car. No one told me it'd feel this good!
Focused on the grind, constantly pushing. Let's go.
Celebrate the freedom and possibilities of the open road.
What's happiness? Happiness is sitting in the driving seat.
My car is my pride, and I will not lose it.
I fell in love with showrooms the moment I went to buy this car.
If you can't take care of your car, don't buy it.
Treat your car well, and it will never give you a single problem after.
The first adult milestone. To more!
Savage Instagram Captions For Guys
Don't stand so close to the heart. Plastic melts.
Me every day: Slay, Me in December: Sleigh.
Beauty attracts the eye, but personality captures the heart.
I am not rude; I just have the guts to say what others don't have the guts to say.
Being pissed off gets old. I'm just at a whole new level.
Ignore me once, and I will ignore You so hard, You will start to doubt Your existence.
Just fitting in is not my style. I was born to STAND OUT.
Be a little more you and a lot less them.
Underestimate me. See what happens.
I'm not always sarcastic — sometimes, I'm sleeping.
I do not care what people think about me because I am busy living my life.
Remember when you were better than me? Ya, neither do I..
I love being me. It pisses off all the right people.
I don't care what others think about me. I am not here to please everyone.
I'm not shy; I just have no interest in talking to you.
If you have even one per cent doubt on me, then I am not for you.
You're on a different road; I'm in a milky way; you want me down on earth, but I'm up in space.
Suppose I had a dollar for every smart thing you say. I'll be poor.
Are you always so stupid, or is today a special occasion?
Savage Captions For Instagram For Girl
I got a good heart, but this mouth.
Don't test me. I have screenshots.
Make peace with your broken pieces.
I'm not a snack; I'm a whole meal.
I'm not short. I'm just concentrated awesome.
I'm not just a pretty face. I have a pretty mind to match.
I'm not a morning person, but my makeup is always on point.
Don't mistake my kindness for weakness; I'm a lioness.
I'm not afraid of being alone. I'm just tired of being disappointed.
You are so fake that even China refused to accept that they made you.
Too blessed to be stressed.
My mascara is too expensive to cry over stupid boys like you.
Do not mess with a girl of short height. 5 feet 2 inches but attitude 6 feet 1.
Sweet as sugar, cold as ice hurt me once I will break you thrice.
Did you fall from heaven? Because so did Satan.
The trash gets picked up tomorrow. Better get ready.
You can treat me like a joke, but then I will leave you like it's funny.
I would make a sandwich for guys like you.
Savage Captions/Quotes For Ex
When the past calls, let it go to voicemail. It has nothing new to say.
It only takes one bad boyfriend to realize that you deserve so much more.
Seeing your ex with someone uglier than you. Awesome.
Ain't no place to search for love than inside of me.
The sad moment when you see your ex and they act like you don't even exist.
My heart has no room for you, but the trunk of my car definitely does.
That feeling you get when you run into your ex and you are looking your best.
I don't need you to learn to love myself.
Whoever said money can't buy happiness clearly never paid for a divorce.
Never get jealous when you see your ex with someone else because our parents taught us to give our used toys to the less fortunate.
Now I got one less thing to worry about.
No need to block you; I want you to see what you have lost.
Love can make a great celebration out of your life -but only love, not lust, not ego, not possessiveness, not jealousy, not dependence.
The story of us looks a lot like a tragedy now.
What's a queen without her king? Well, historically speaking, more powerful.
The difference between you and me is that you always looked at me as an option.
They are like shadows, those fake friends. When you are in the sun, they are around you, and when you need to step into the dark, they immediately leave you.
Stop reading the last chapter, boy. Get up and move.
I laugh so hard at the fact that I loved you.
My ex? We're not friends, we're not enemies. We're just strangers with some memories.
Nobody cares about the past, they care about the present, so get over him!!!
Taking your ex back is like going to a yard sale and buying back your own mess!
As soon as your ex sees you smiling, that the minute they want you back.
Sometimes you have to forget what you want in order to remember what you deserve.
Savage Instagram Captions – Movie Quotes
"Here's looking at you, kid." – Humphrey Bogart, Casablanca
"You can't handle the truth!" – Jack Nicholson, A Few Good Men
"I'll be back." – Arnold Schwarzenegger, The Terminator
"Why so serious?" – Heath Ledger, The Dark Knight
"I'm not bad, I'm just drawn that way." – Jessica Rabbit, Who Framed Roger Rabbit
"There's no place like home." – Judy Garland, The Wizard of Oz
"I'm not a scientist, but I know what I like." – Tony Stark, Avengers
"You shall not pass!" – Ian McKellen, The Lord of the Rings: The Fellowship of the Ring
"The greatest trick the devil ever pulled was convincing the world he didn't exist." – Kevin Spacey, The Usual Suspects
"I'm the king of the world!" – Leonardo DiCaprio, Titanic
"I have been waiting for this moment for a thousand years." – Gerard Butler, 300
"I feel the need…the need for speed." – Tom Cruise, Top Gun
"I see dead people." – Haley Joel Osment, The Sixth Sense
"I'm not a girl, I'm a woman who can kick your ass." – Uma Thurman, Kill Bill
"I'm not afraid to die. I just don't want to be there when it happens." – Woody Allen, Annie Hall
"You can't always get what you want." – Mick Jagger, The Big Lebowski
"You're not too smart, are you? I like that in a man." – Marilyn Monroe, Some Like it Hot
"I'm not a princess, I'm a Khaleesi." – Emilia Clarke, Game of Thrones
"I'm not a toy, you can play with when you're bored or lonely" – Emma Stone, Easy A
"I don't want to survive, I want to live" – Will Smith, The Pursuit of Happyness
"I'm not a perfect person, but I'm trying" – Mandy Moore, A Walk to Remember
Savage Selfie Captions For Instagram
Proof that I can do selfies better than you.
Quiet the mind, and the soul will speak.
I have done my graduation from the university of selfies.
No real men take selfies.
Here I am not to comprehend twitter.
Life is too short to be serious, so laugh.
Trouble never looked this fine.
But first, let me take a selfie.
Get on our level.
Be a cupcake in a world of muffins.
Sweet like candy.
Changing life like the weather, do not remember your past live in present.
Thick thighs, thin patience.
Being happy never goes out of style.
Vodka may not be the answer, but it's worth a shot.
Just minding my own business.
Glitter is always an option.
Why are you looking at me funny?